On New Year's Eve, 2016, we were spending our second night in our brand new toy hauler, at a KOA in Orlando just outside Disney World on our spur of the moment Disney without the parks stop. We'd had big plans to spend the evening watching the Magic Kingdom fireworks from Fort Wilderness, but the full parking lots did not cooperate, so after a quick dinner and sightseeing at Art of Animation, we found ourselves back in the trailer playing board games and making lists of our favorite travel memories from the year.
And it turns out that we like that kind of New Year's Eve better than fireworks or parties, so we repeated it this year, only in a hotel in Birmingham, Alabama, wishing we were in our trailer (long story for another post, but what it comes down to is it's COLD everywhere this week!) This was a very big year in travel for us, with lots of shorter trips plus our big eight week cross country road trip; taking some time to look back at it was a wonderful way to close out the year.
With a little time to plan, our simple little ritual of sitting around talking about our favorite travel moments turned into a rather elaborate game that involved pre-made top ten lists turned into anonymous google docs, then read aloud so that everyone could guess who made each one. It was lots of fun and fascinating to see what did and didn't make everyone's lists.
Last year I just gave you all the lists, but this year's post will be a little more data driven. There are twelve things that made at least two of the lists, so I'm going to call those our collective Top 12 Travel Memories of the Year (in order from fewest to most lists. Only one thing made every single list and emerged the clear victor!) I've linked to the post about the destination when there is one….I need to get to blogging so that I'll have posts about all of these before we get too far into making our 2018 memories.
Grand Canyon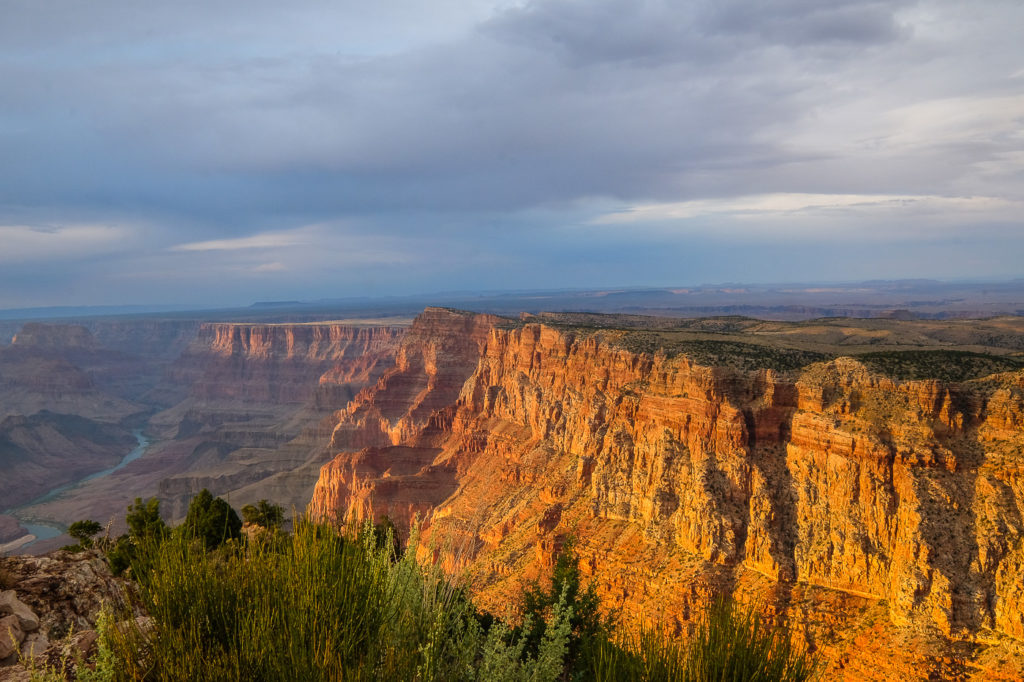 (two lists) I thought the Grand Canyon would rank a lot higher; I think its problem was that we saw SO many things this summer that it just barely got edged out on a lot of lists, including mine. But looking at this picture at sunset makes me want to go back and redo my list. Except what would I cut?! List making is hard.
Lava Beds National Monument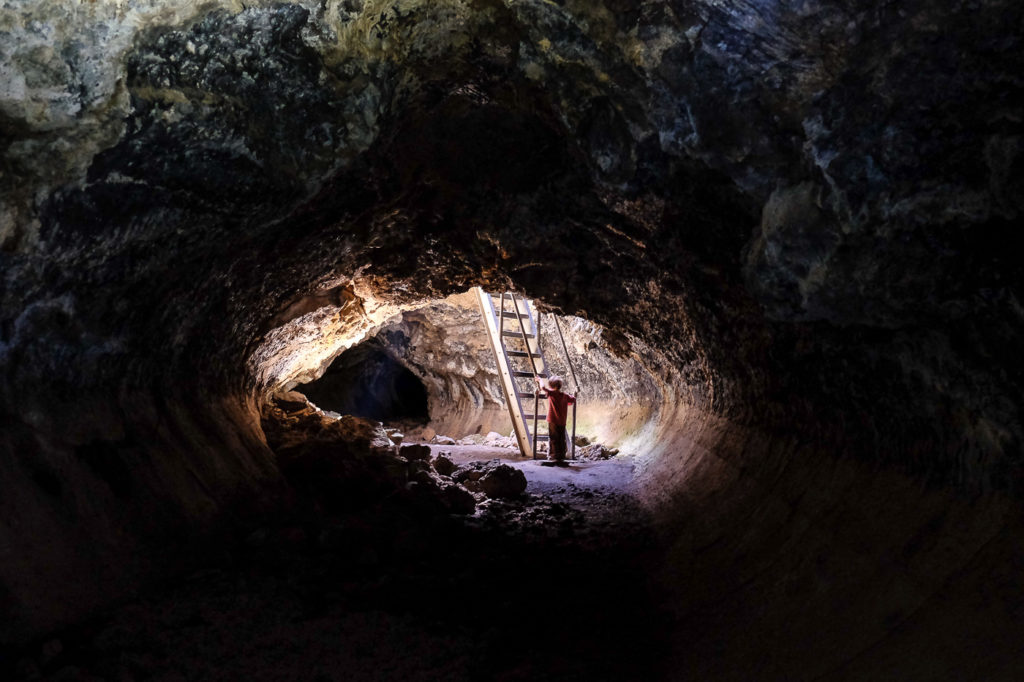 (two lists) This quick, half day stop to explore these lava tubes in Northern California was a favorite with many of the kids. It doesn't get as much attention or as many visitors as it deserves because it's in the middle of nowhere, but we were very glad we made the detour to see it. Dave wants to go back and do some of the more challenging caves, but I was good with the wimpy, small kid friendly choices we made.
Crater Lake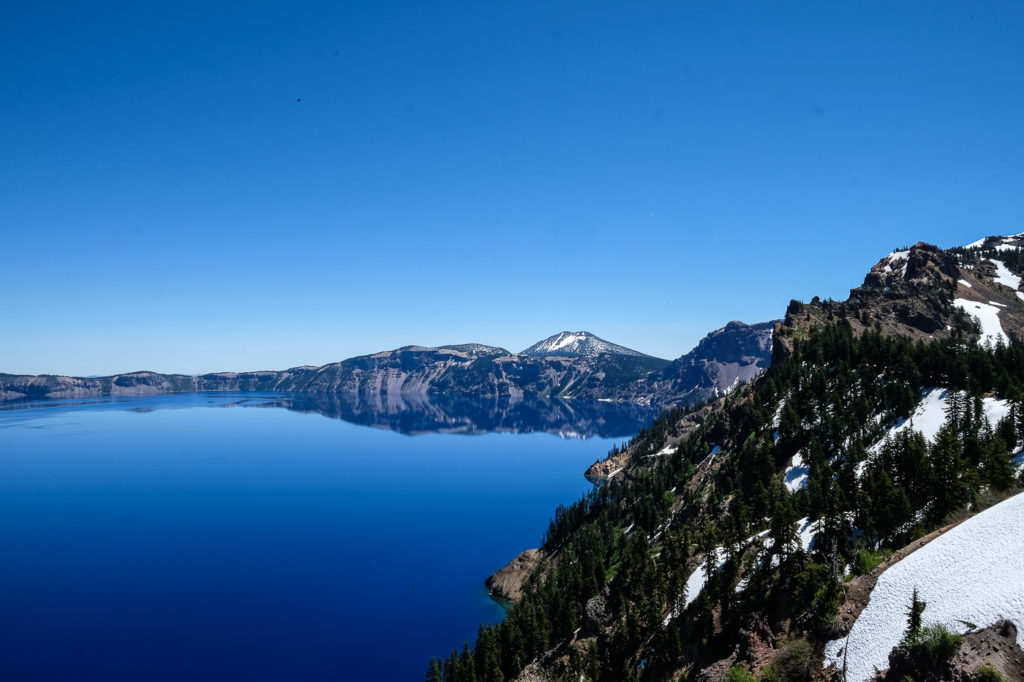 (two lists) I was originally planning to do this post as the eight things that made at least half of our lists, but then I couldn't stand the thought of leaving out both the Grand Canyon and Crater Lake. Like the Grand Canyon, Crater Lake would definitely make any list of the most beautiful or most impressive things we saw, but I think nothing about our day there stood out enough to elevate it to top 10 status for a lot of people. It was a lovely, pleasant day, but there was just so much competition this year. There was still a ton of snow and things that weren't yet open for the season; we had planned to take the boat ride out onto the lake but it wasn't operating yet….I bet if we had that would have elevated Crater Lake's status.
Wind Cave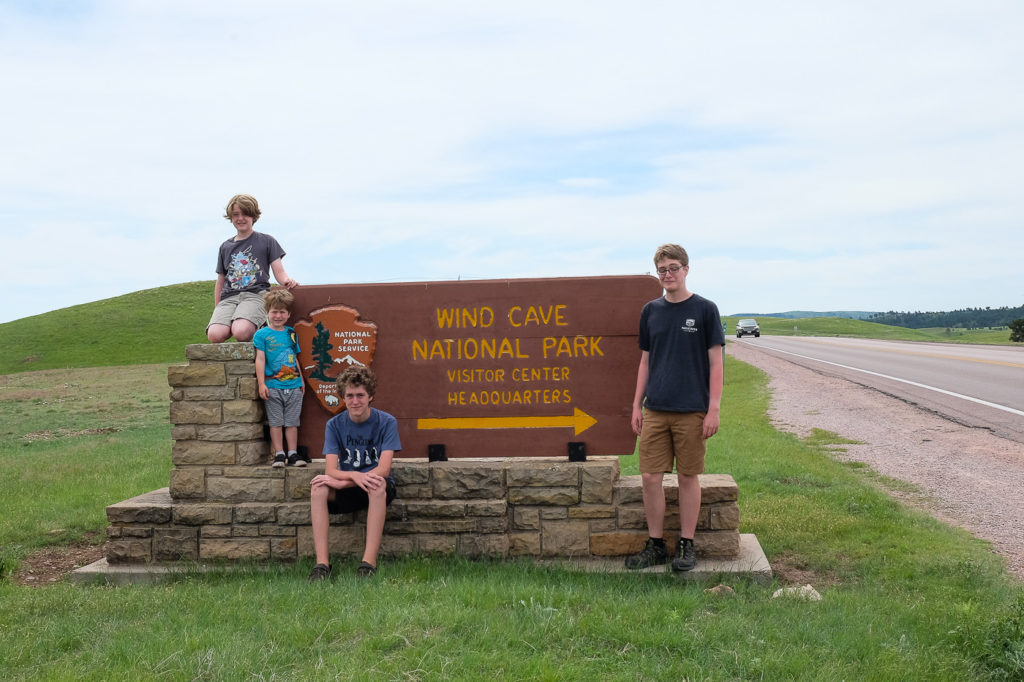 (two lists) About halfway through making his list, Dave looked up and said, "I'm learning something about myself….but I can't tell you what it is until we're finished guessing the lists." Turns out it was that he really likes caves. And Gus had the same observation; I think both of them had all three caves we visited this year on their lists. Wind Cave is cool because of its funky boxwork formations, but we also loved it because of the fabulous tour by our favorite ranger ever, Ranger Earl.
Rodeo Beach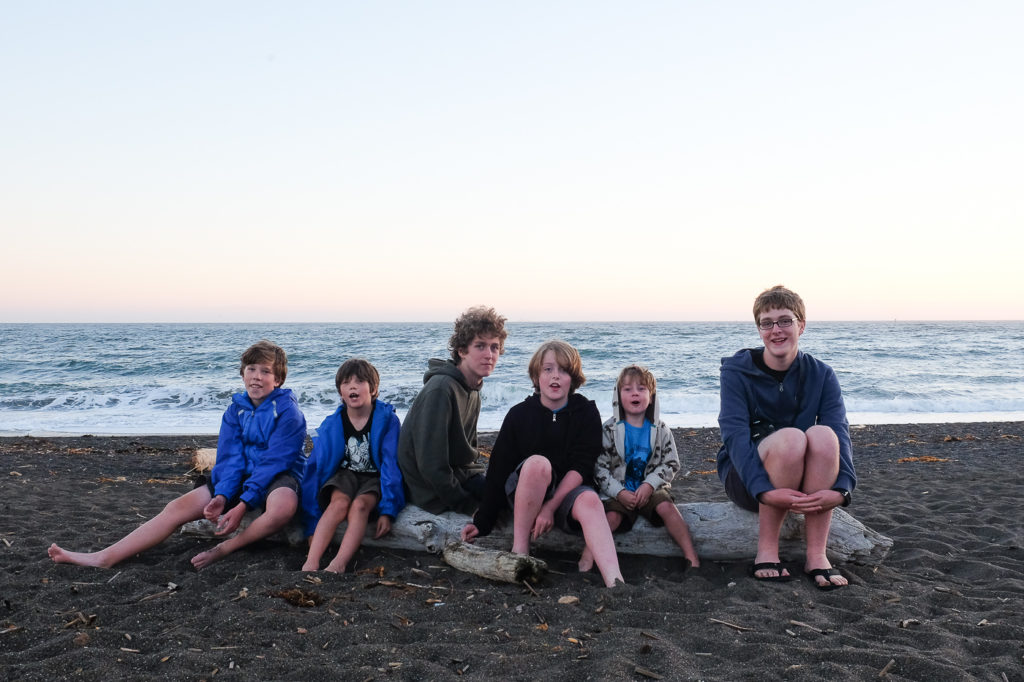 (three lists) This was the only beach stop of our entire summer trip, so it may have been at an advantage as the only representative of its category. But it was also a really lovely beach and we were there right at sunset. We didn't spend long here, but enough time for the kids to run around with their cousins and dip their feet in the water. For me at least it also had a lot of symbolic value in that it was here that we'd really made it all the way to the Pacific (after a camping trip to Charleston and the Atlantic in April), so it officially put the cross in cross-country.
Alcatraz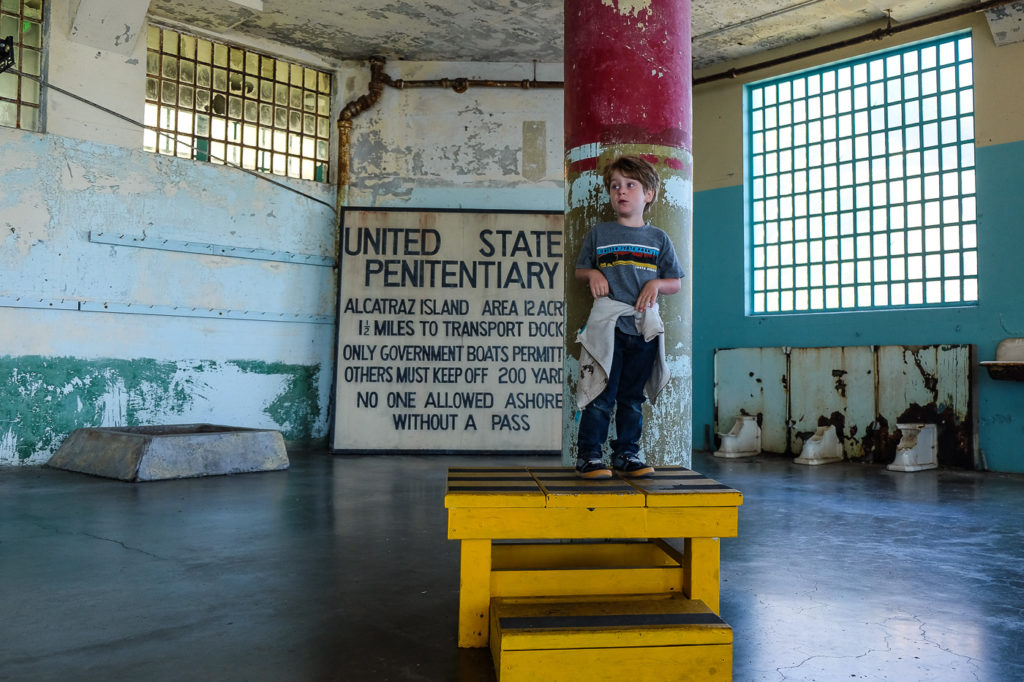 (three lists) Another California entry making a showing in the top 8. Alcatraz is a fascinating place, and we all thought that the whole site was run very well. The audio tour was awesome (well, for everyone except Abe), and it had one of the better Junior Ranger books we've done. And a nice little boat ride on either side of it was a bonus.
Carlsbad Caverns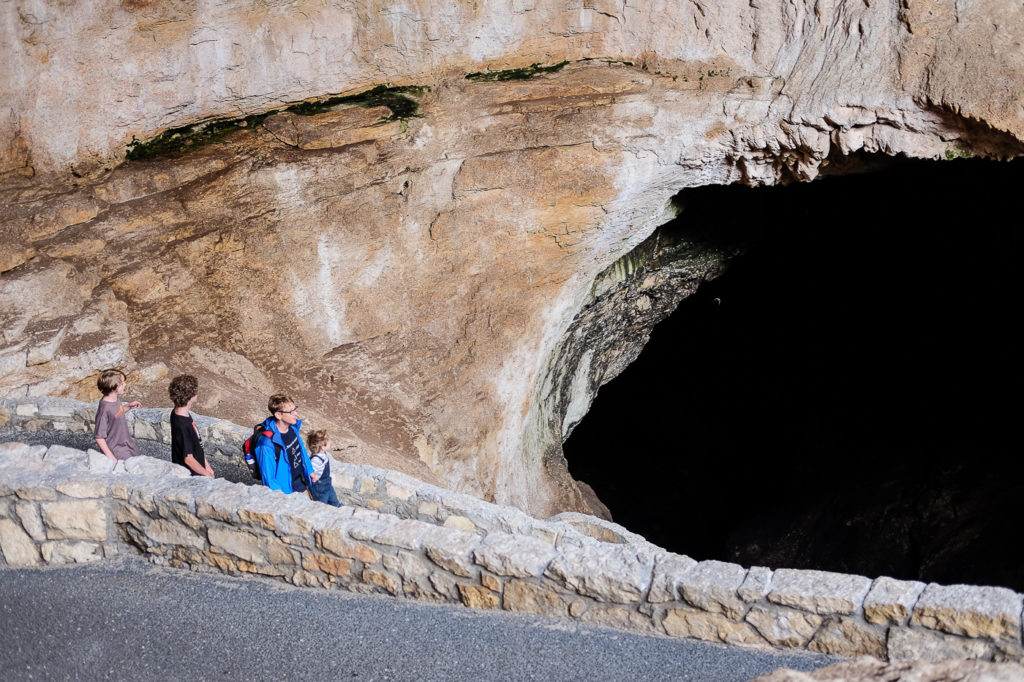 (three lists) Carlsbad Caverns might have made it onto four lists except I sort of forgot about it when I was making mine. Sorry, Carlsbad! Our summer trip was pretty cave-intensive, with Wind Cave National Park and the lava tubes at Lava Beds National Monument (both of which came pretty close to making the top 8), but we all agreed that Carlsbad Caverns is the best cave we've ever seen. It's on such a grand scale compared to any others we've been in, with tons of lovely formations, and I, for one, appreciated how claustrophobia friendly its wide open spaces are.
Museum of Clean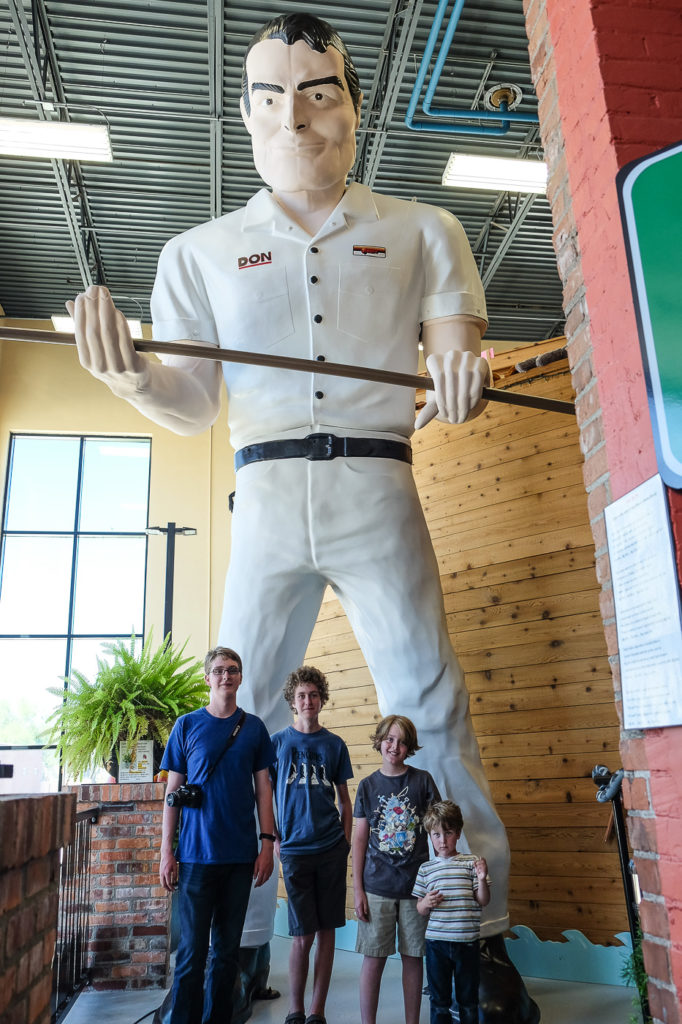 (four lists) The Museum of Clean, in Pocatello, ID is the only thing with the distinction of being on every kid list and neither of the grown up lists. It's not that I didn't enjoy the museum, but it didn't quite rise to top 10 status for me. But if you're ever near Pocatello, you must definitely make time to visit this fun, quirky place devoted to all things clean and cleaning-related.
Hiking Black Elk Peak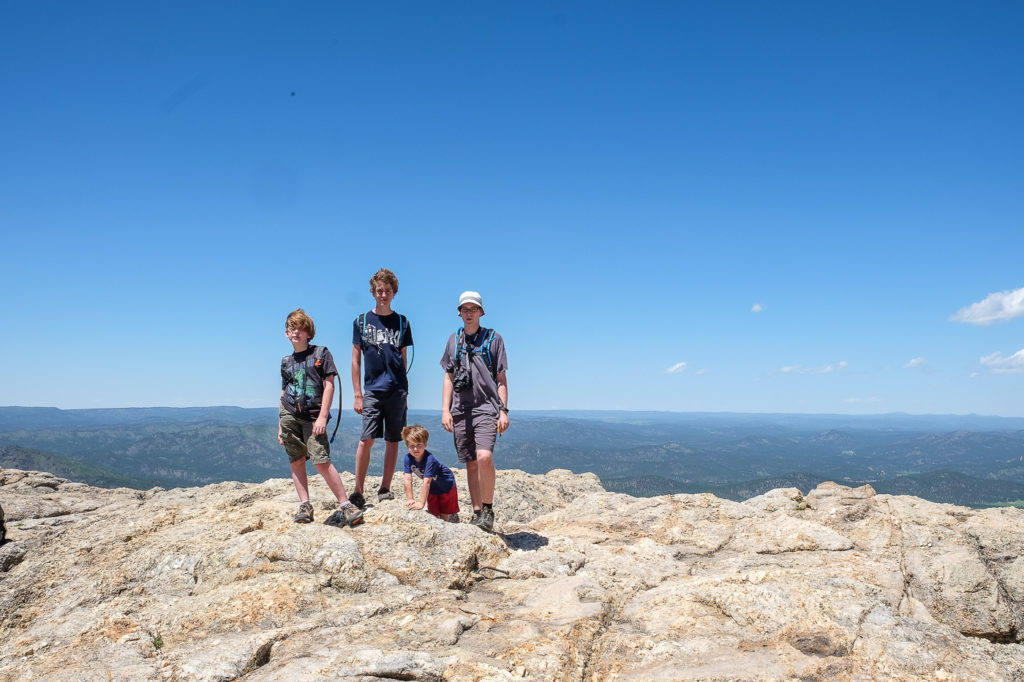 (four lists) I was surprised this hike made so many kid lists. At something like 7 1/2 steep miles round trip, Black Elk Peak is definitely the hardest hike we've ever done. I won't reveal who, but someone who ended up putting it on his top ten list did an awful lot of complaining while the hike was actually going on. So I'm very glad that the big payoff at the top plus the sense of accomplishment won out over the in the momentary discomfort when we were looking back at the year.
Solar Eclipse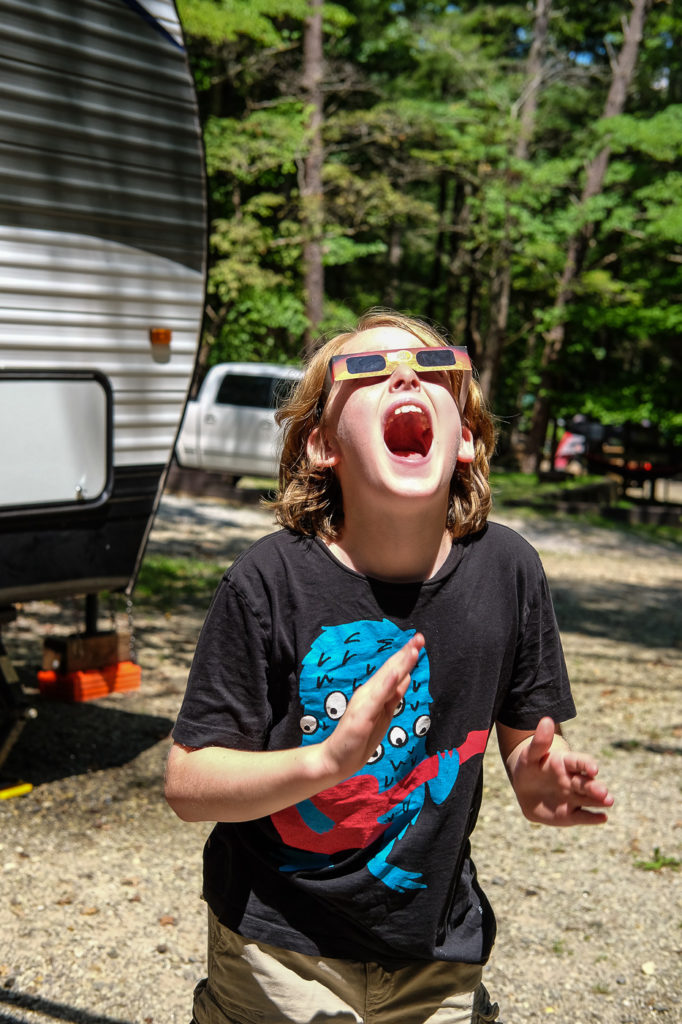 (five lists) All of us who did put the eclipse on our lists were a little stunned that someone (it was Gus) didn't, but, as Gus pointed out, top 10 lists are all about making tough choices. The eclipse has the distinction of being the only thing in the top 12 that's not from our big summer trip; in fact it was just a couple of hours from home–we could have seen it as a day trip and it wouldn't have been list-eligible at all. So seeing the solar eclipse from the zone of totality was an absolutely incredible experience, and we can't wait for the next one visible from the US in a few years.
Badlands National Park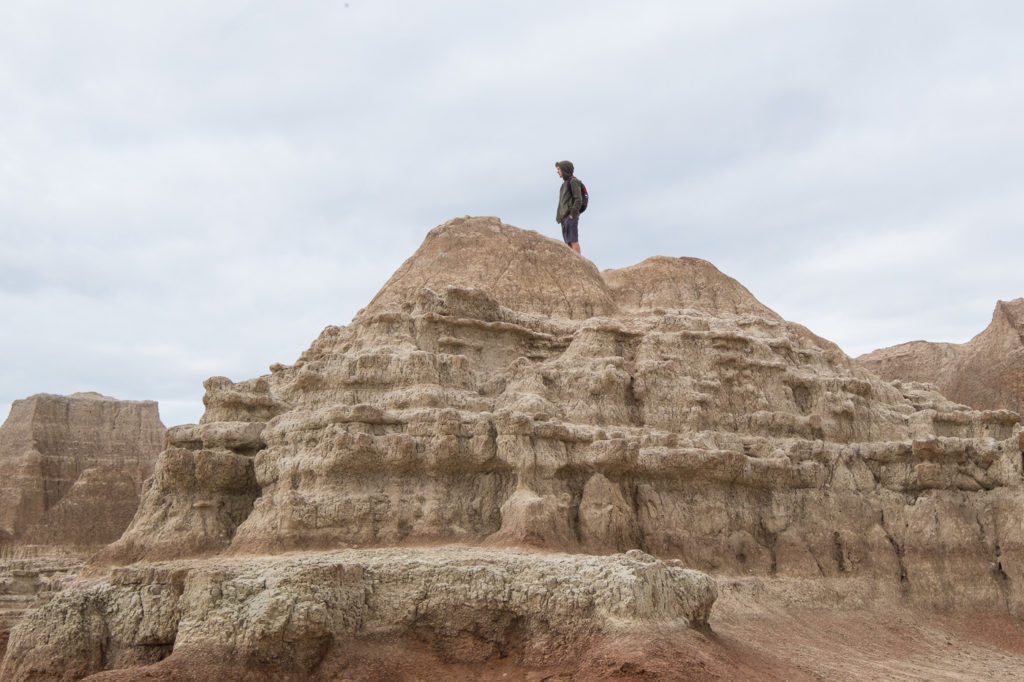 (five lists) A surprise choice for the top ranked National Park of our trip. Everyone loved the Badlands, which I described in my post about it as basically a giant, somewhat weird playground. We had two days here, and the kids spent most of that time climbing on anything and everything. The Badlands are fun to look at, fun to climb around in, and a great place for wildlife spotting to boot. We especially loved that we were staying right in the park, so we could spend the evenings going to ranger programs and getting in some sunset climbing time. My list actually specified "the first night in the Badlands" because I have such fond memories of our relaxing meal at the Cedar Pass Lodge restaurant, walking back to the campground with the kids running off to climb on the buttes, and then heading out to the evening ranger program later while watching lightning putting on an incredible show off in the distance.
Ingalls Homestead in De Smet, SD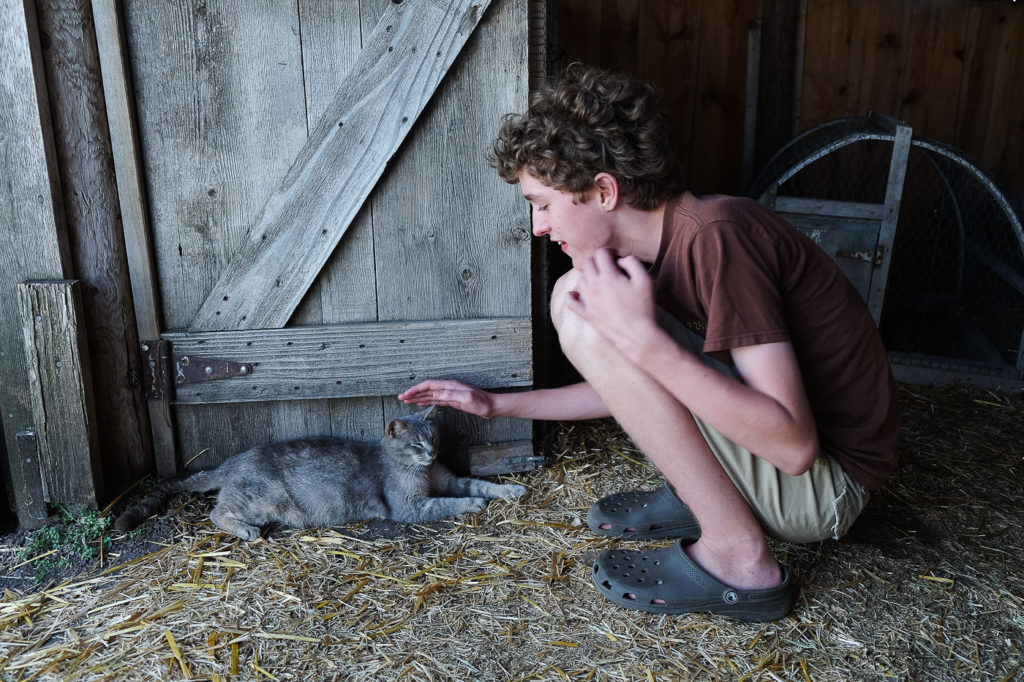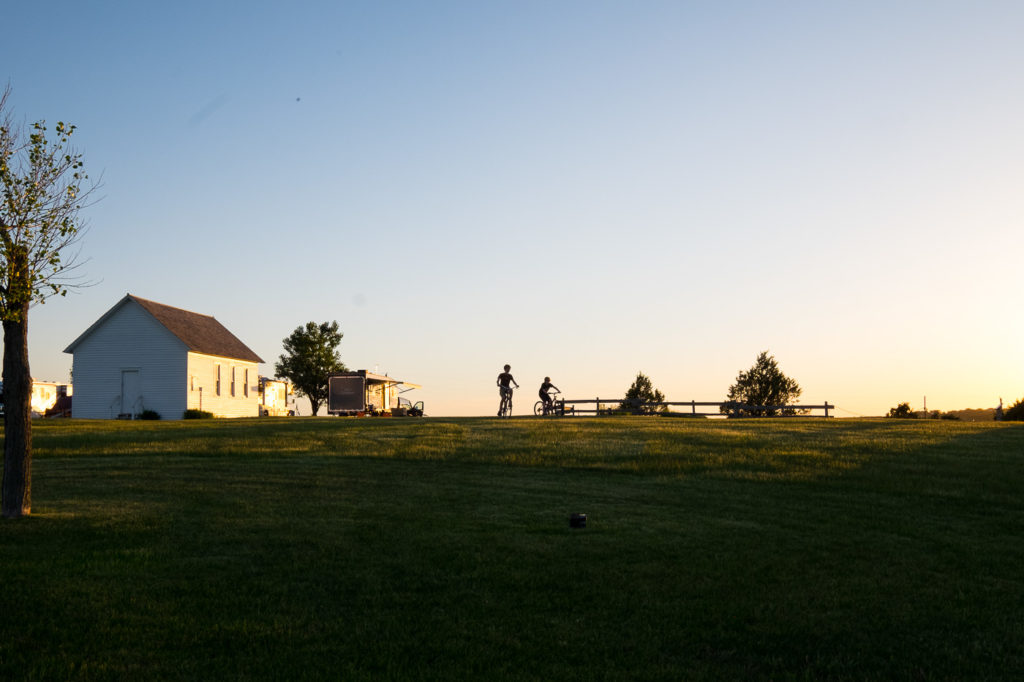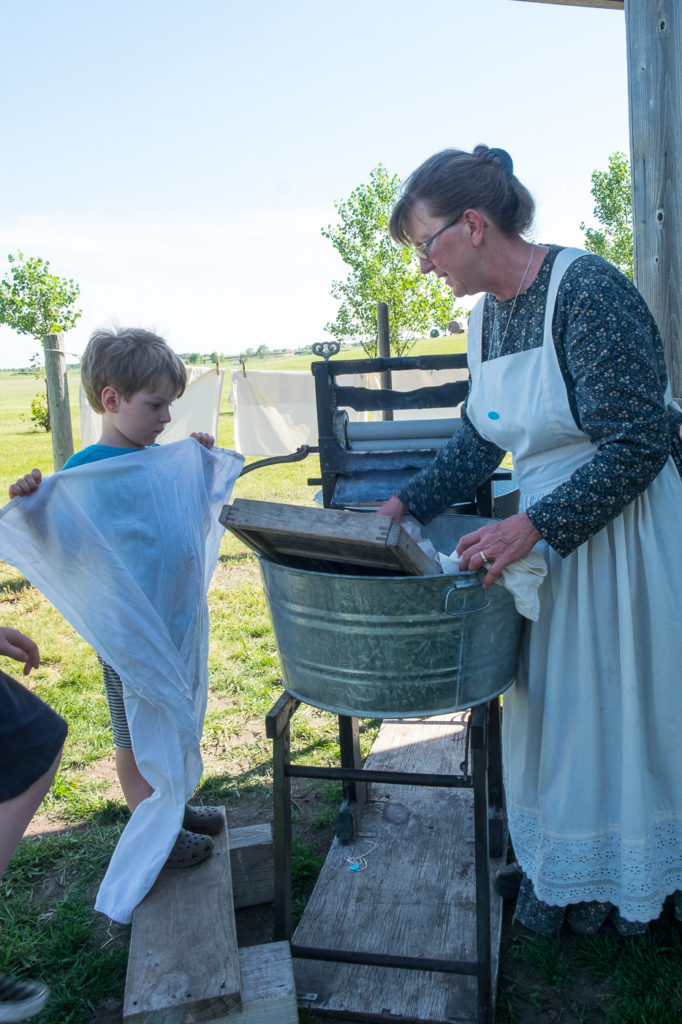 (all six lists) If you'd told me before our summer trip that the Ingalls Homestead was going to rise to the top spot I would have been surprised. But once the trip was over, I would have been much more surprised if anyone had left it off their list; it was a truly magical place, and everyone in the family loved it there. We spent two blissful days running around visiting kittens and other assorted baby animals and walking and riding bikes all over the prairie. Beforehand I assumed that Abe would get the most out of a visit here, but it turned out to be Milo (14) and Gus (11) who loved it the most. I was just thinking the other day that I'm not even sure I'd want to do a return visit because our first stay there was so perfect I'd be worried the next stay would fall short and be a disappointment. Maybe we'll save it for when we have grandkids.
So there you have it–the semi-scientific list of our top twelve travel memories of the year!
Interesting things to note: Yellowstone and Grand Teton are not anywhere on this list, even though they were certainly impressive things to see. Part of this is the fault of the ground rules we established for the lists: if we stayed at a given location more than one day we had to pick something specific about it for the list–we couldn't just say, "Yellowstone." (but we cheated for the Badlands, since we mostly just climbed on buttes there everywhere we went). But even if we combined everything anyone mentioned about Yellowstone or Grand Teton, they would only have made it onto the bottom of the list, with two mentions each. Our fairly long stay in Austin is also missing (I suspect largely because everyone's favorite part of that stop was hanging out with friends and that didn't sound epic enough to put on a list?  Abe's list was full of things like that, though–hanging out with his cousin, Jude in St. Louis, the little birthday party we had for my brother-in-law, Craig, when we were staying near Crater Lake, campfires with the cousins–not getting those "little" things on the lists is one of the disadvantages of not sharing each list individually. Ari, for example, had watching The Office DVDs in the trailer at night on his list).
I was also a little surprised at how totally unrepresented our trips outside of our summer trip are. The eclipse is the only exception: it took an incredibly rare cosmic even to break into the top 12 without being part of our cross country trip. We had some really great other trips during the year–we started the year in Florida at Disney-without-the-parks, went to Universal for Gus's birthday, had a great spring break in Charleston, and did several weekend trips including one that involved meeting a former president–but, as I've mentioned, there was just so much competition for the top spots. I think most all of us started out with a list of at least 14 or 15 things and had to make painful decisions about what to cut.
Anyone else like to end the year with list making? What was on your 2017 list?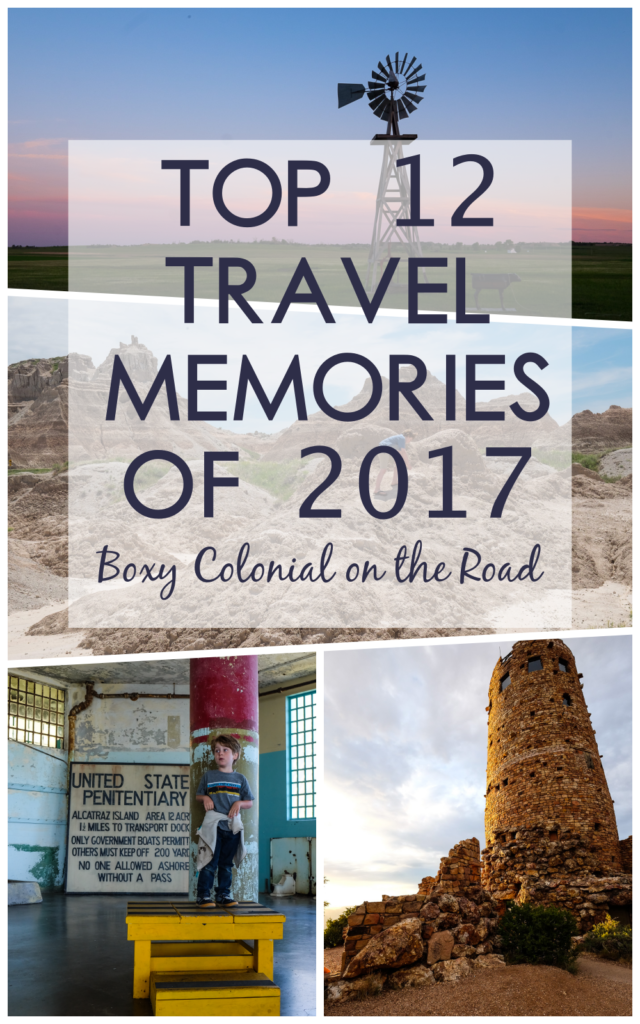 SaveSaveSaveSave
SaveSave