This is going to be a really great post, because I have so many kitten pictures: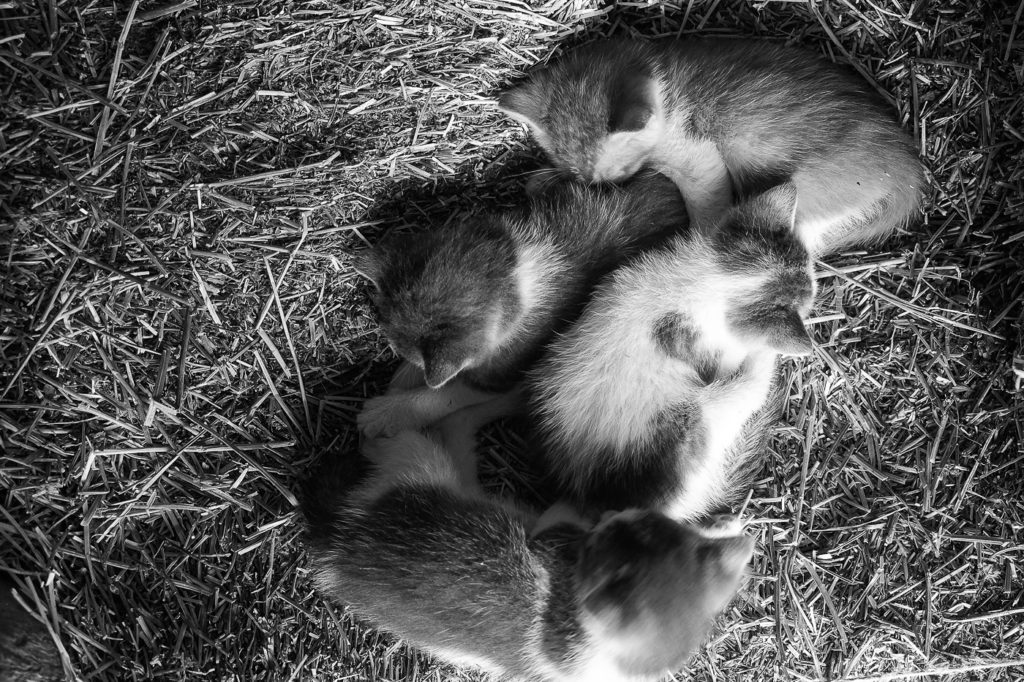 De Smet wasn't really on the way from Sioux Falls to the Badlands, but it wasn't that far out of the way, so when I learned awhile back that they have RV sites right there at the Ingalls Homestead, I decided we needed to plan a stop here.
And I'm SO glad we did.
Milo and Gus at least would probably tell you that this was their favorite part of a trip that included Yellowstone, the Grand Canyon, and a week hanging out in California with their cousins.
Milo with Mia, the barn cat: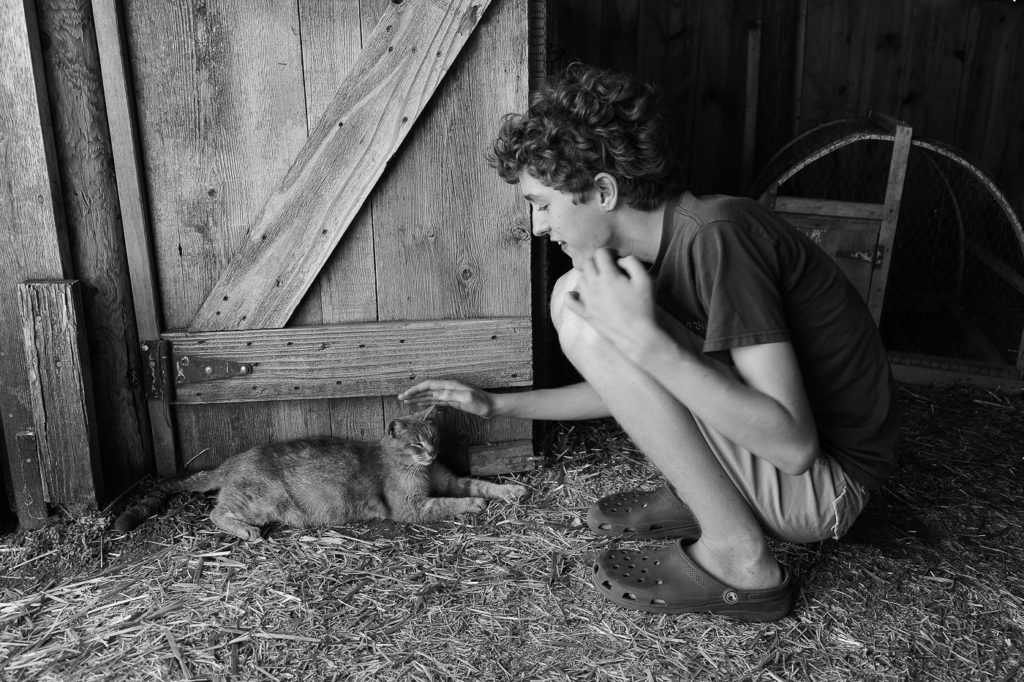 The Ingalls Homestead is a living history place on the land where the Ingalls family homesteaded back in the 1800's. They have several buildings, including a re-creation of the house they lived in, a couple of barns, and an old schoolhouse. You can see demonstrations about life on the prairie and participate in a number of activities yourself, like a covered wagon ride, washing clothes, making a corn cob doll and a jump rope, and on and on.
And, particularly if you go in early summer like we did, there are baby animals running around everywhere.
The Ingalls Homestead has four water/electric RV sites for $30/night. There's a dump station in the parking lot (when we were there, a sign on it said it was just for gray water, but when we asked they said it was fine to dump the black tank, too). They also have a handful of covered wagons that sleep either 3 or 5 for $60/night, a bunkhouse that sleeps 6 for $60/night, and primitive tent camping (no designated sites; you just find a place and set up) for $10/night.
So first let's talk about the only not so great part about staying at the Ingalls Homestead with your RV: the sites are a little wonky and hard to get into. Dave goes into this in detail in the video, but basically there's a fairly steep grassy slope just beyond the RV sites. We were assigned to the last one in the row, which meant we had to start pulling down that slope in order to back in, and I was terrified we were going to get stuck. What we ended up doing was backing in to the next site over, then pulling out as if we were leaving so we could back in from the other direction. Which of course only worked because the site next to us was empty (someone showed up and took it later).
While we were struggling to get into the site, the guy in the trailer in site 2 came outside to sit down in his chair and gawk at us and offer this helpful commentary: "that's a really big trailer." Yeah, thanks. We know.
So if you have a long trailer, I recommend asking for one of the first two sites, closest to the store, and then you should have plenty of room to work with. Once we were in our site (and not in a crumpled heap of aluminum and plywood at the bottom of the hill), our site was the best of the bunch, because we had a gorgeous, unobstructed view of the prairie.
Here's Dave's video, which talks more about the backing in situation and also has adorable kitttens:
Aside from the difficulty getting into the space, we loved everything about our stay. I had a hard time finding any pictures of the RV spots online when I booked, so I made sure to take plenty. Here's a view from above (taken from the observation tower behind the store) that gives you an idea of the layout. The building on the far left is the store and visitor's center where you check in. In the back, there are bathrooms with showers available to use (there's another bathhouse farther away, near the covered wagons).
You can see all four sites here; we're in the one farthest away, and two of them are empty (we were there two nights; one night all four spots were full; the other I think there was one other family there). Each site has a picnic table and a fire ring. There's a small, old fashioned playground right behind the sites, and that white building you see is an exhibit about the Ingalls family's travels.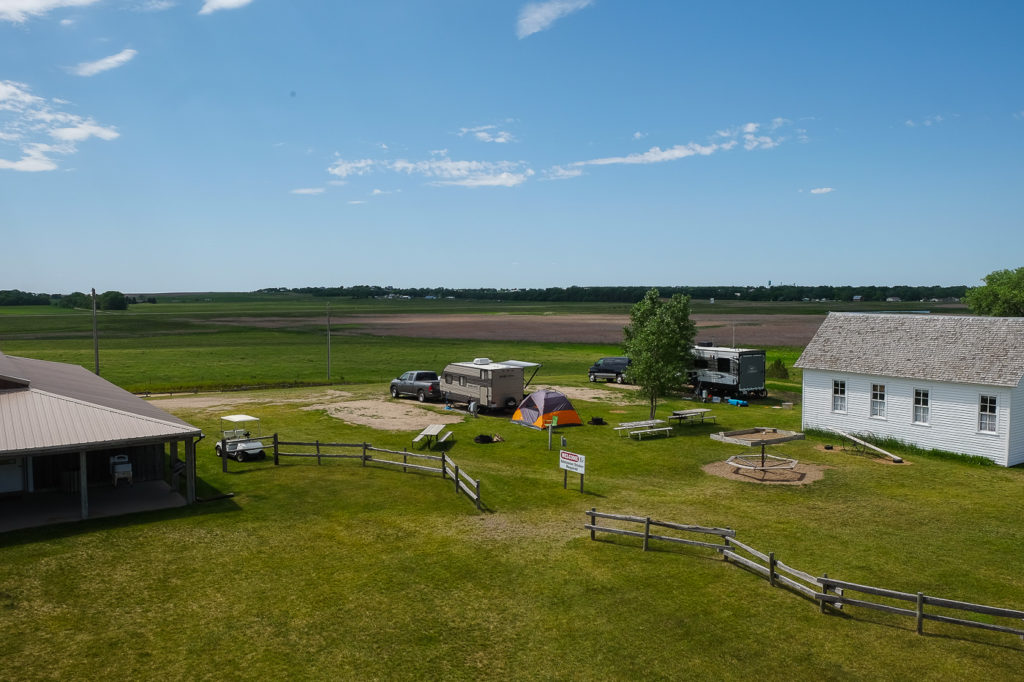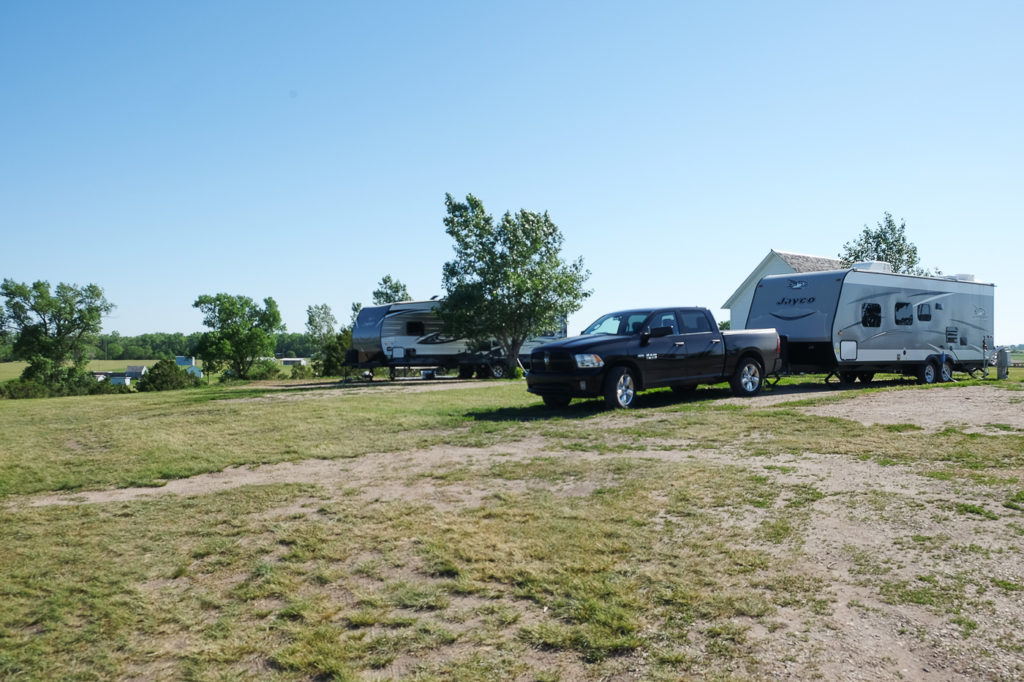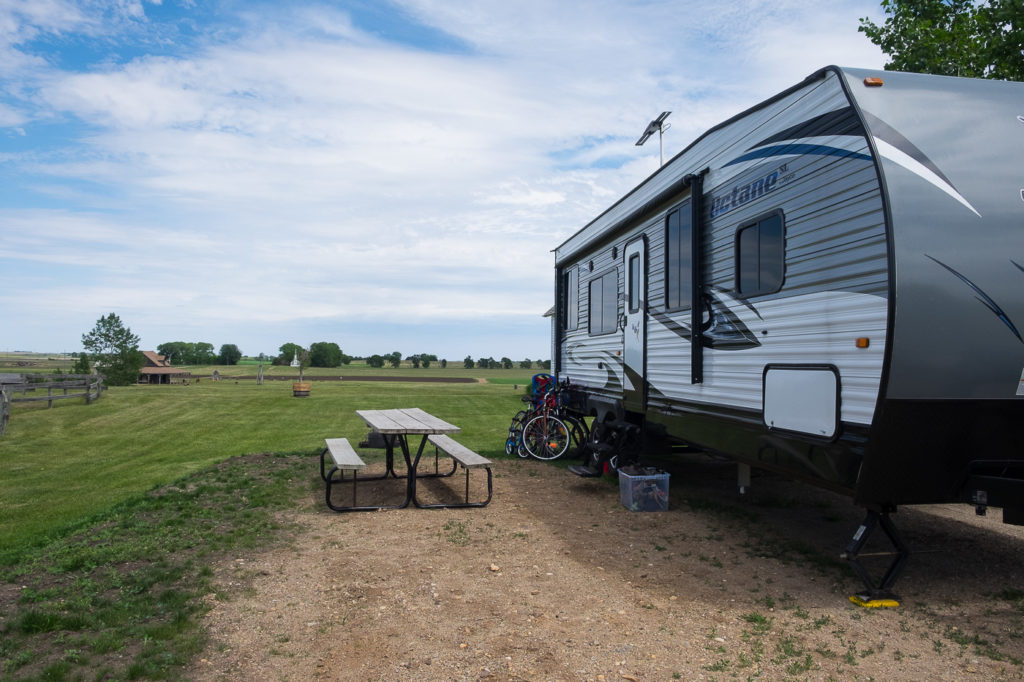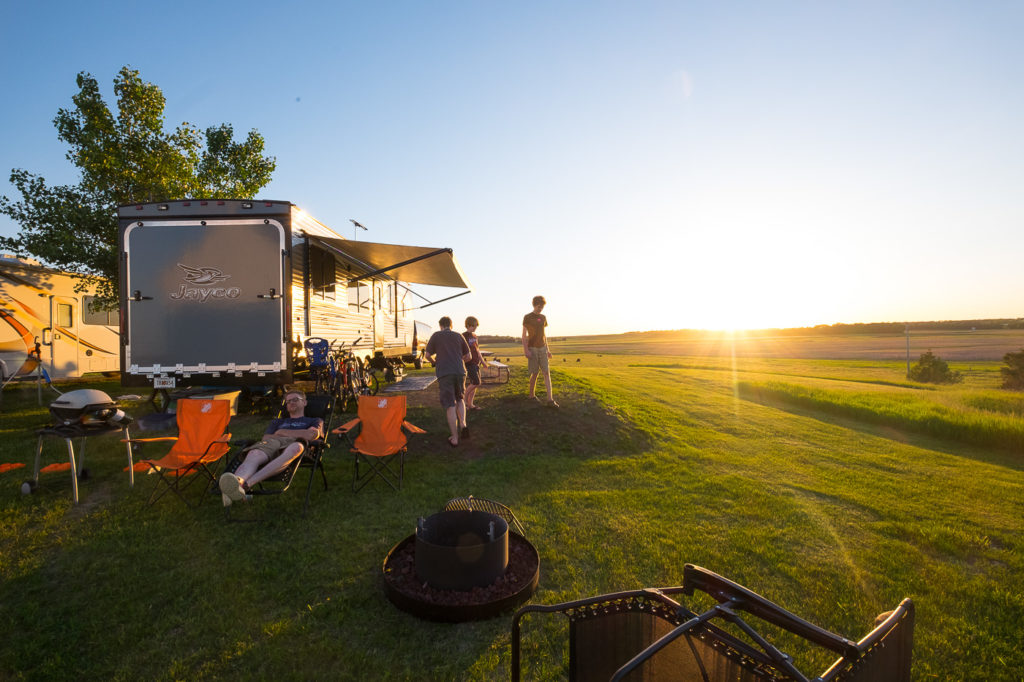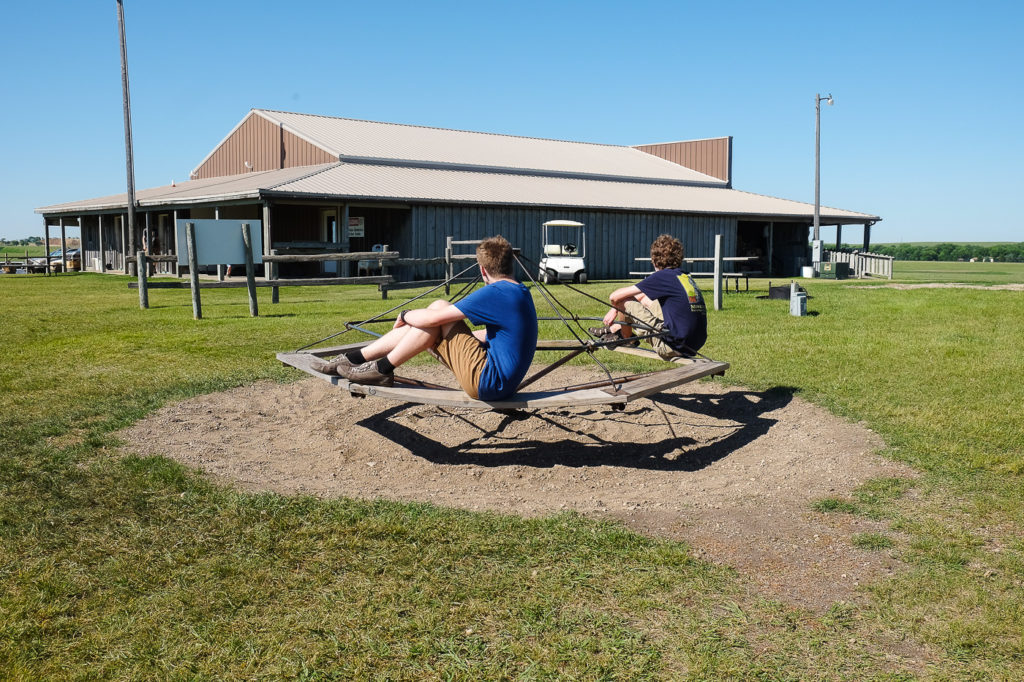 We had nearly two full days here, since we arrived early afternoon one day, stayed two nights, and pushed right up against the checkout time before leaving in order to fit in a few last kitten visits (and horses. We discovered that a foal was born the night before we left, and we got to visit him and his mother that morning).
There's quite a bit to do on the property; if you're not staying here, I'd allow at least half a day for a visit. Admission is $12/person (5 and over), includes all the activities, and is good for more than one day if you're staying in the area longer (you do pay admission in addition to your camping fees, and it's good for the length of your stay). We were here long enough to do and see pretty much everything they offer.
You can take a covered wagon ride out to the one room schoolhouse, and kids get a chance to help drive: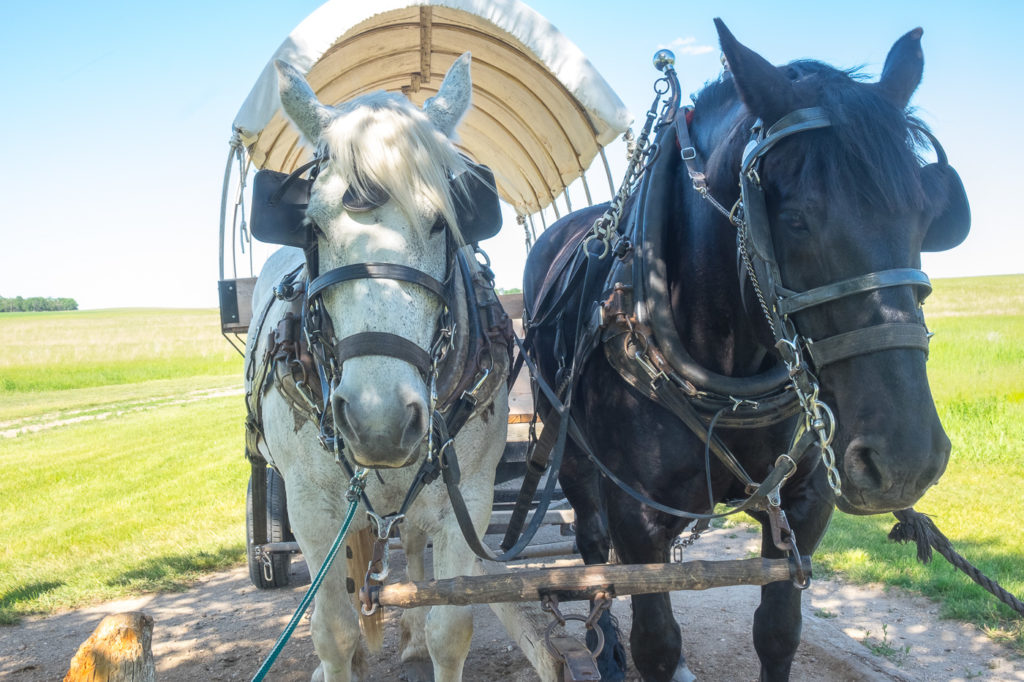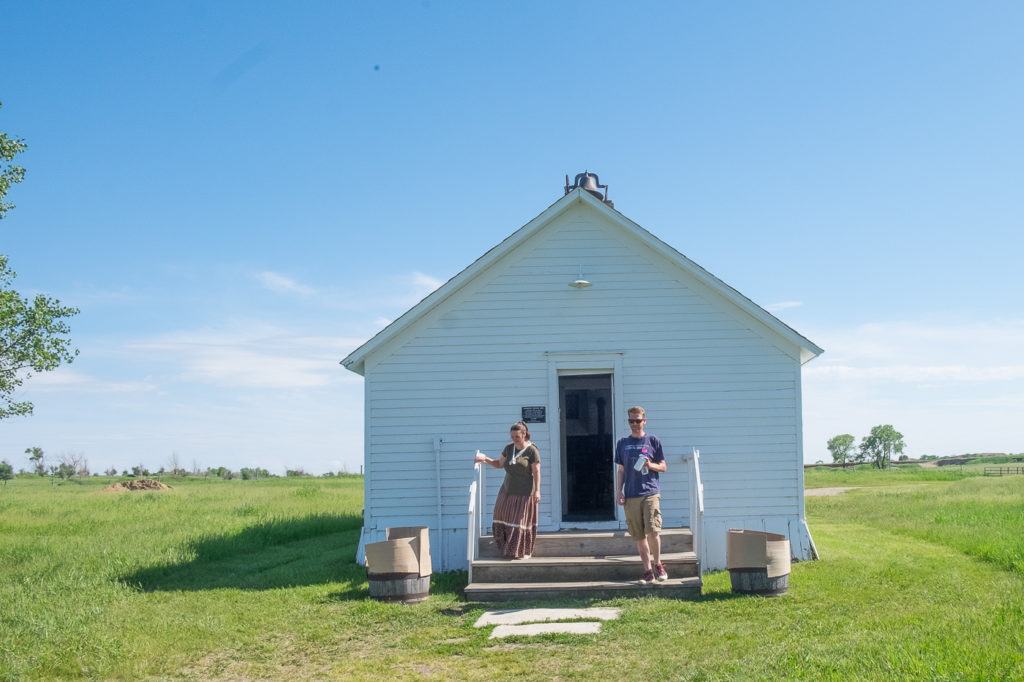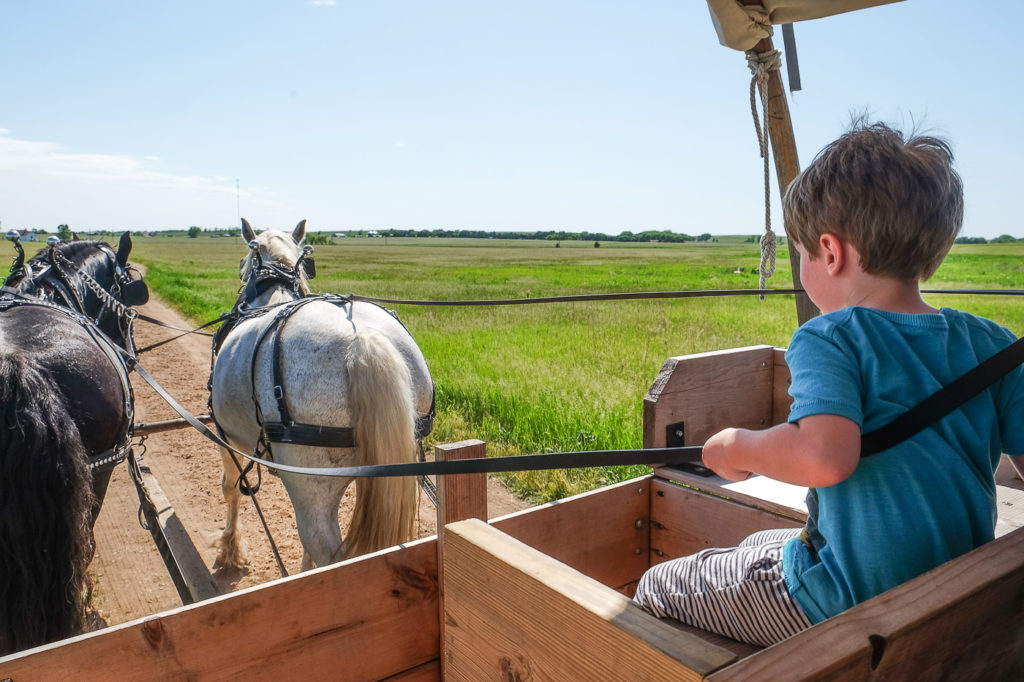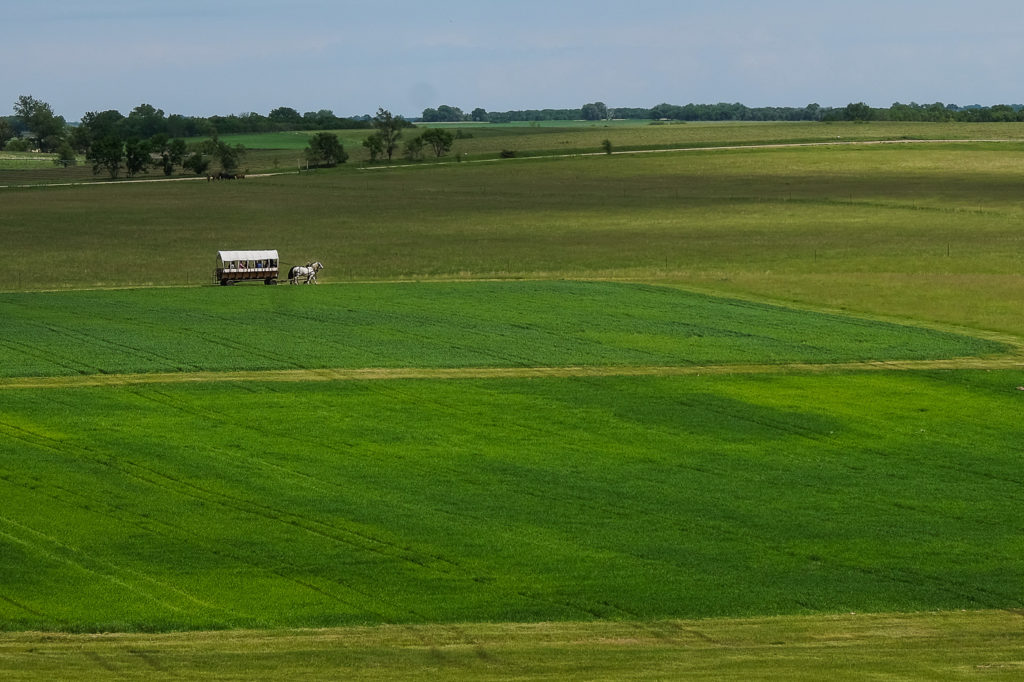 There's a teacher giving a "lesson" at the schoolhouse (about the books and about what school was like in Laura's day) before you head back: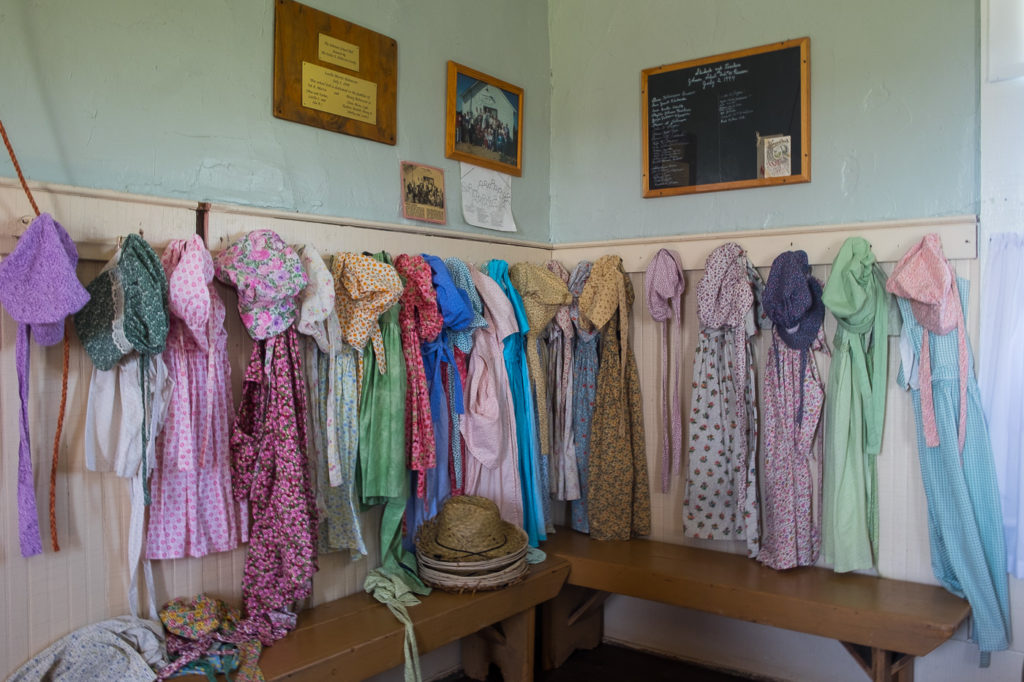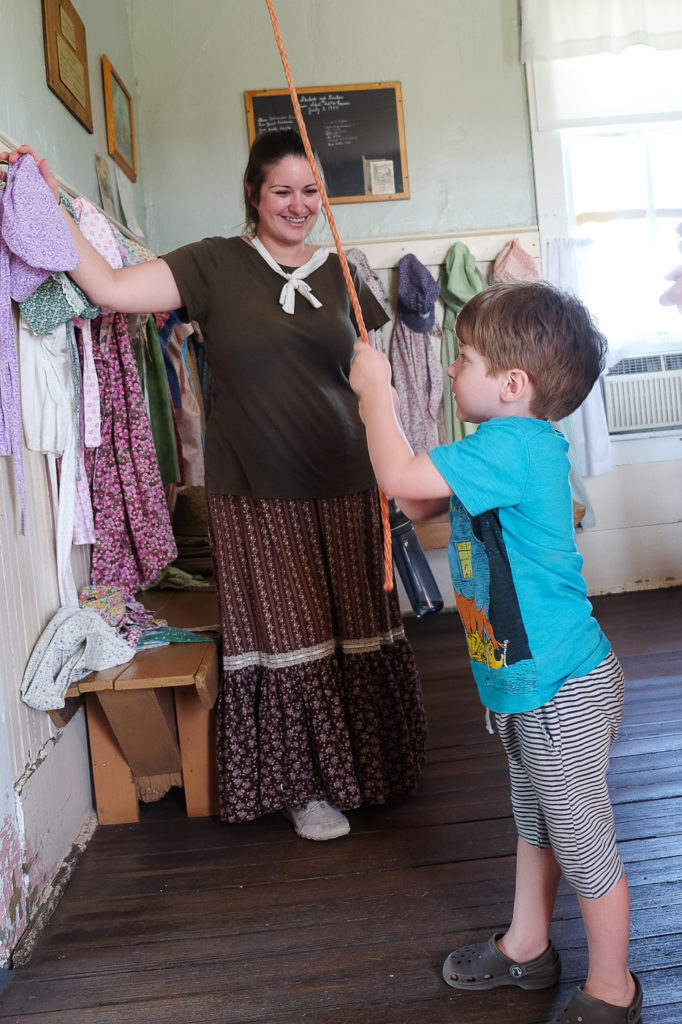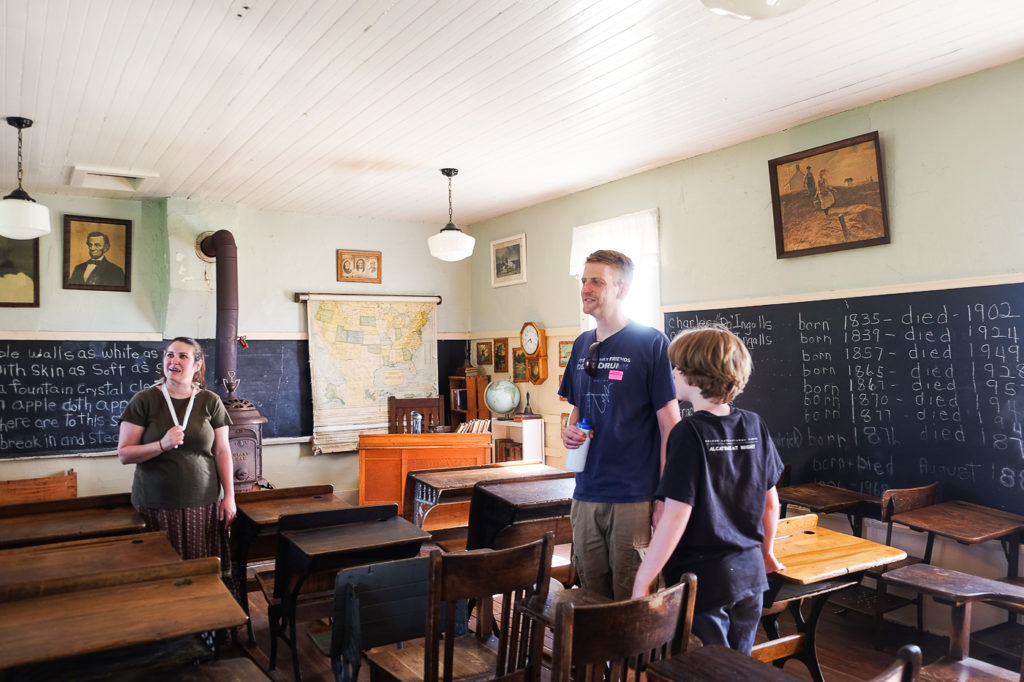 For some reason, the thing Abe was the most excited about was washing clothes: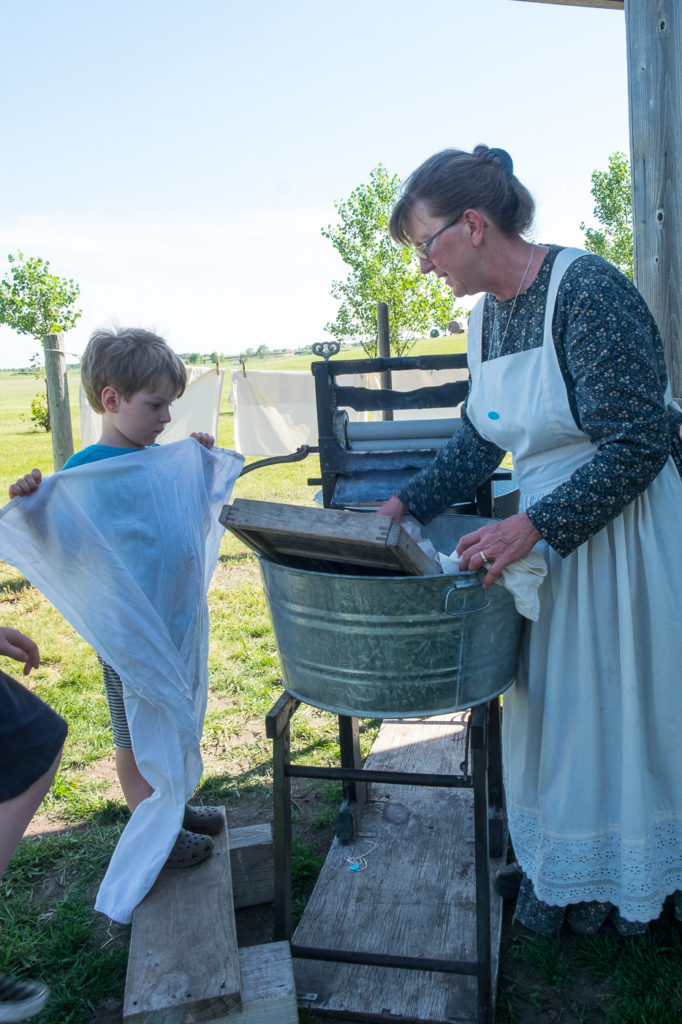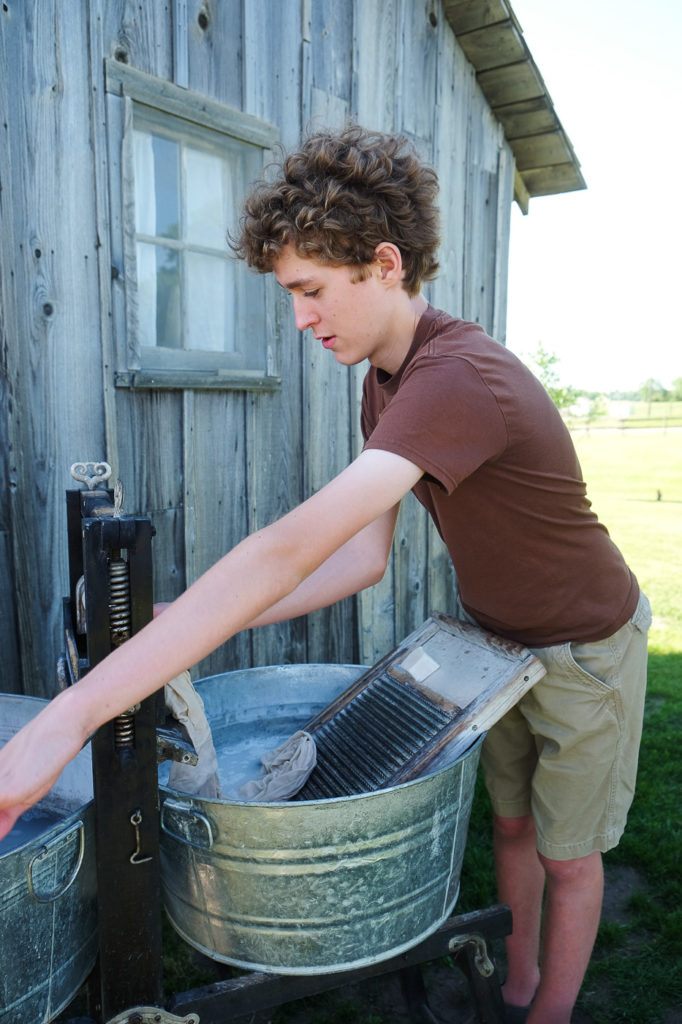 You can take a tour of a reproduction of the Ingalls' homestead house: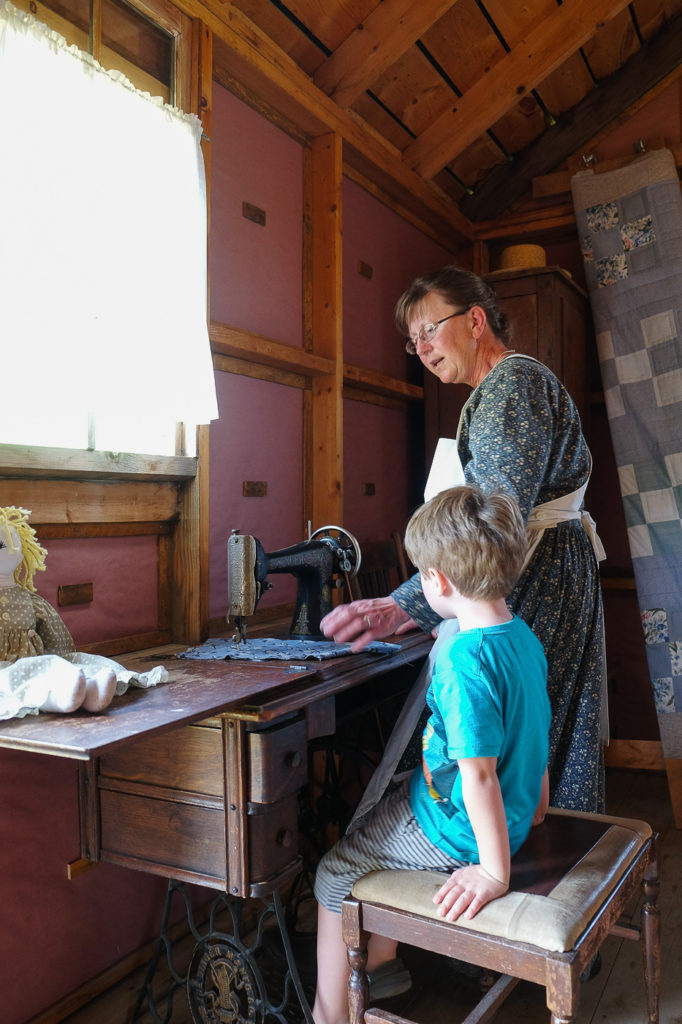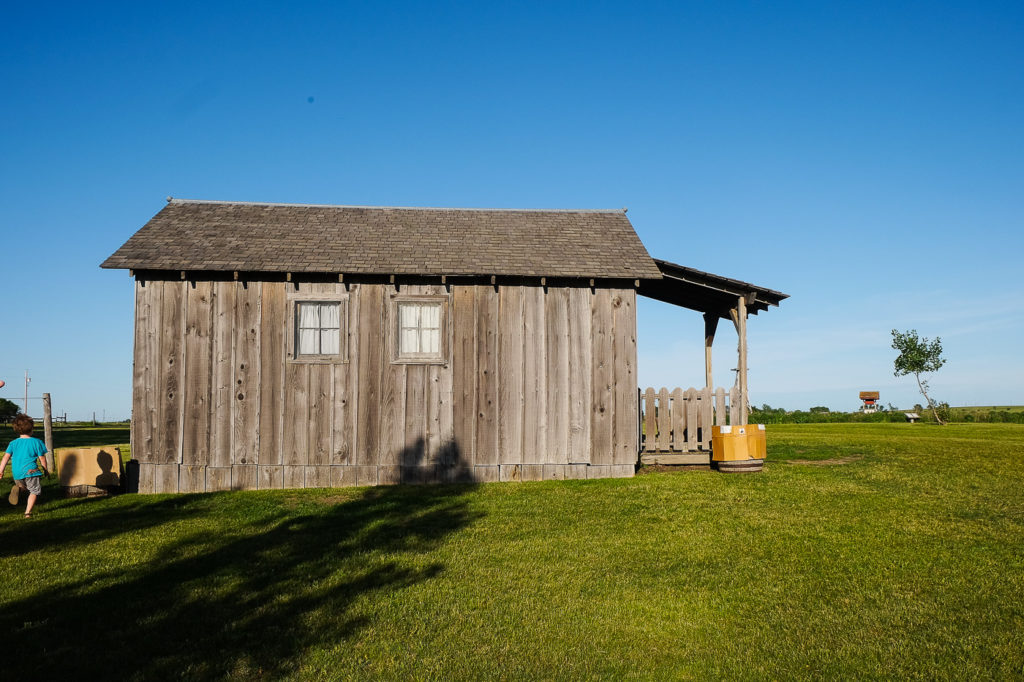 Kids can make jumpropes and corncob….er, ninjas (or dolls. But Abe's was a ninja):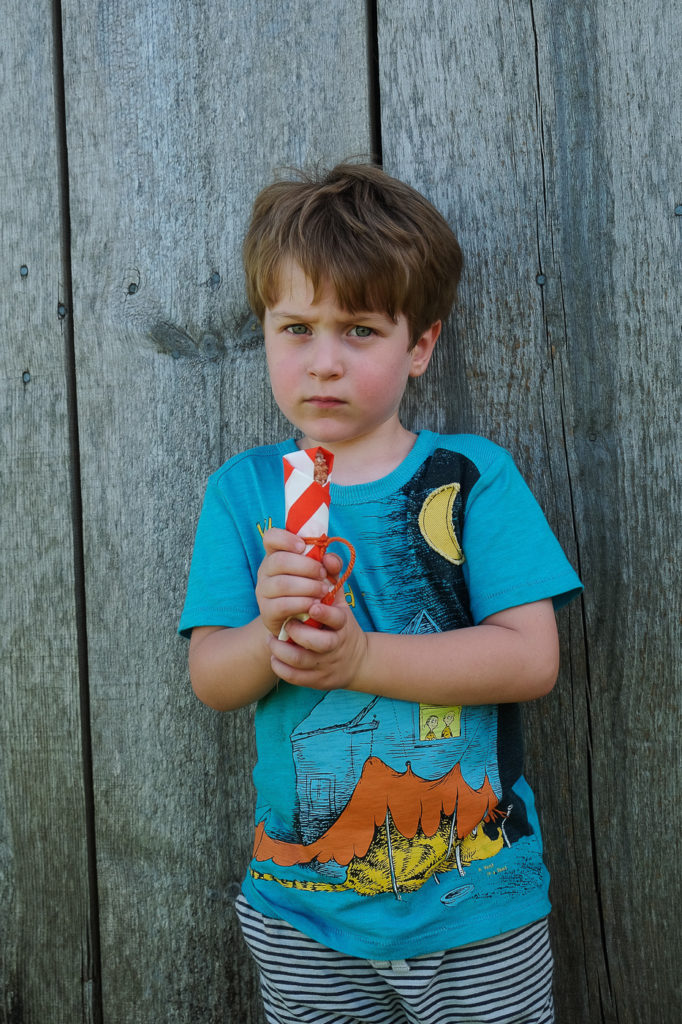 There are pony rides and cart rides: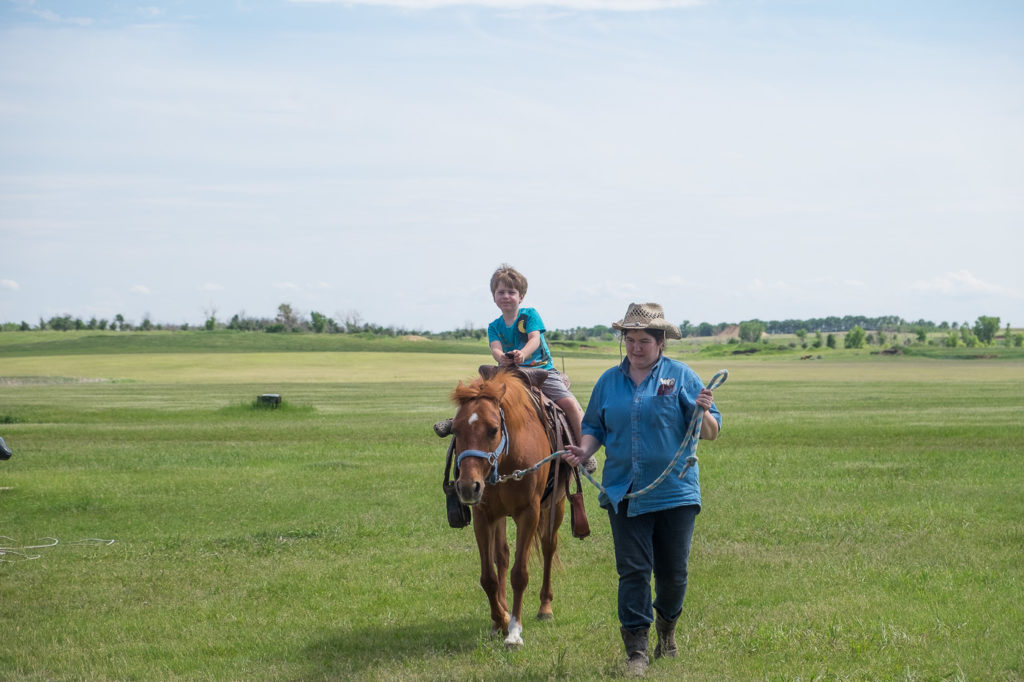 You can take a walk across the prairie to visit an old church that was moved to the site awhile back (and play the piano):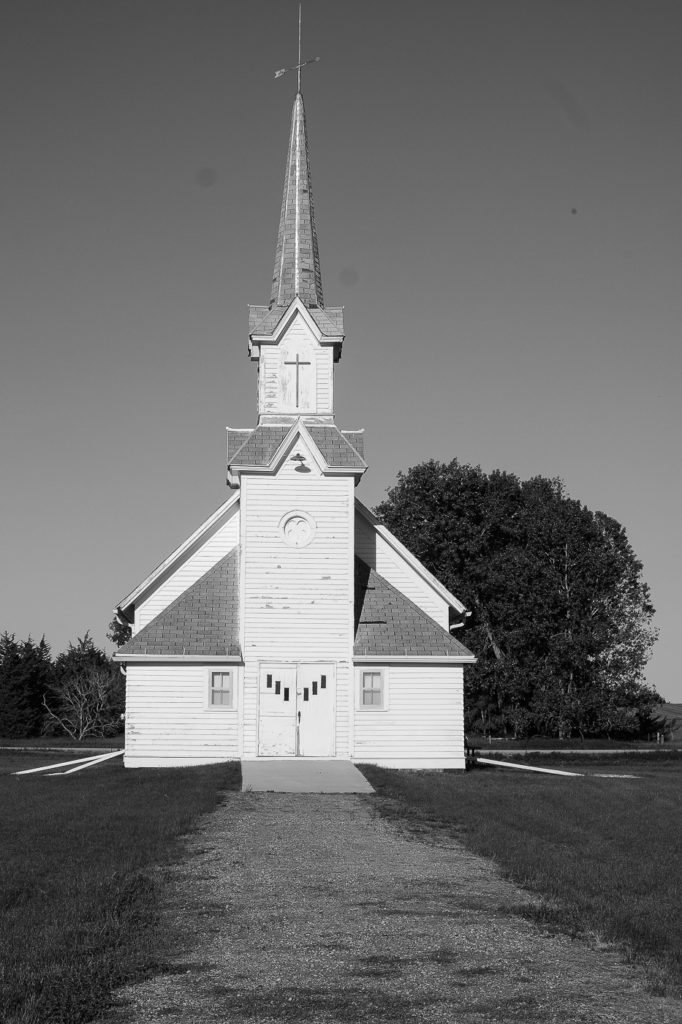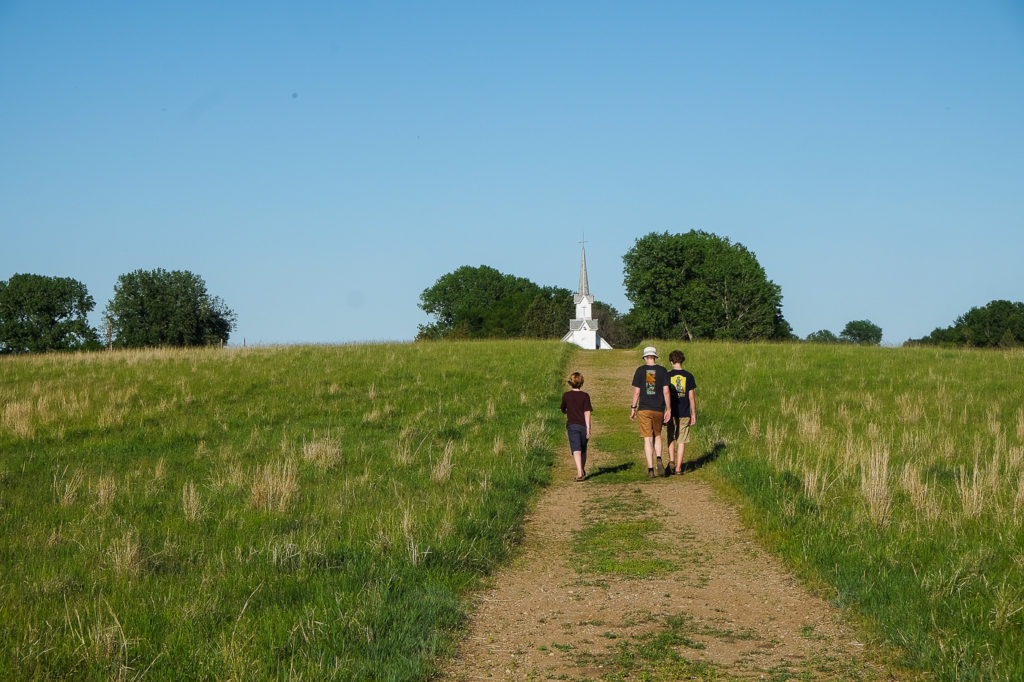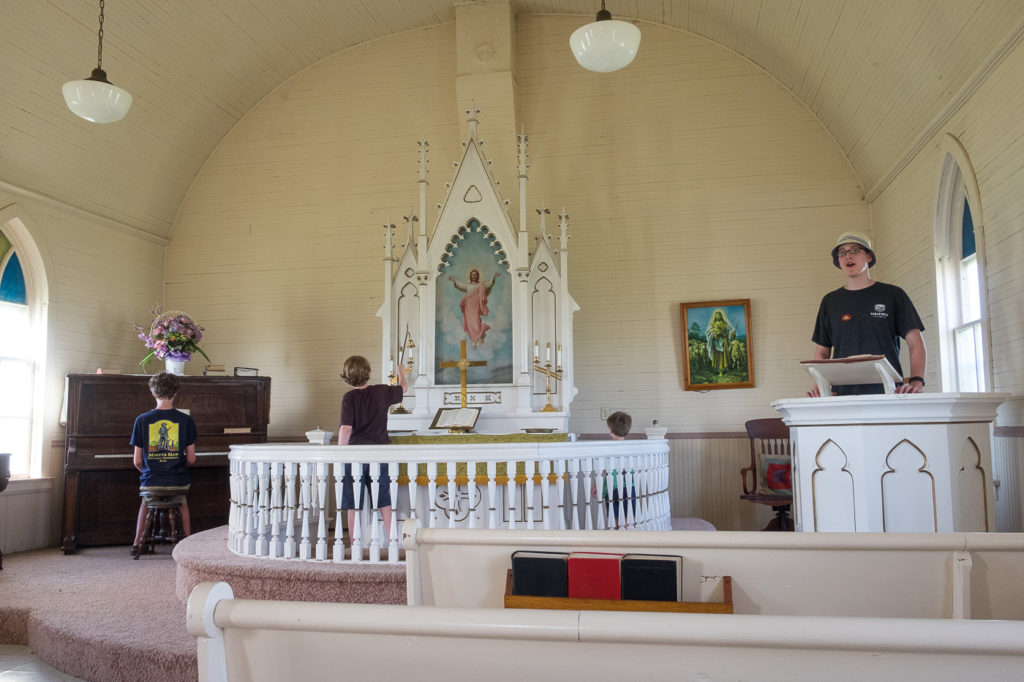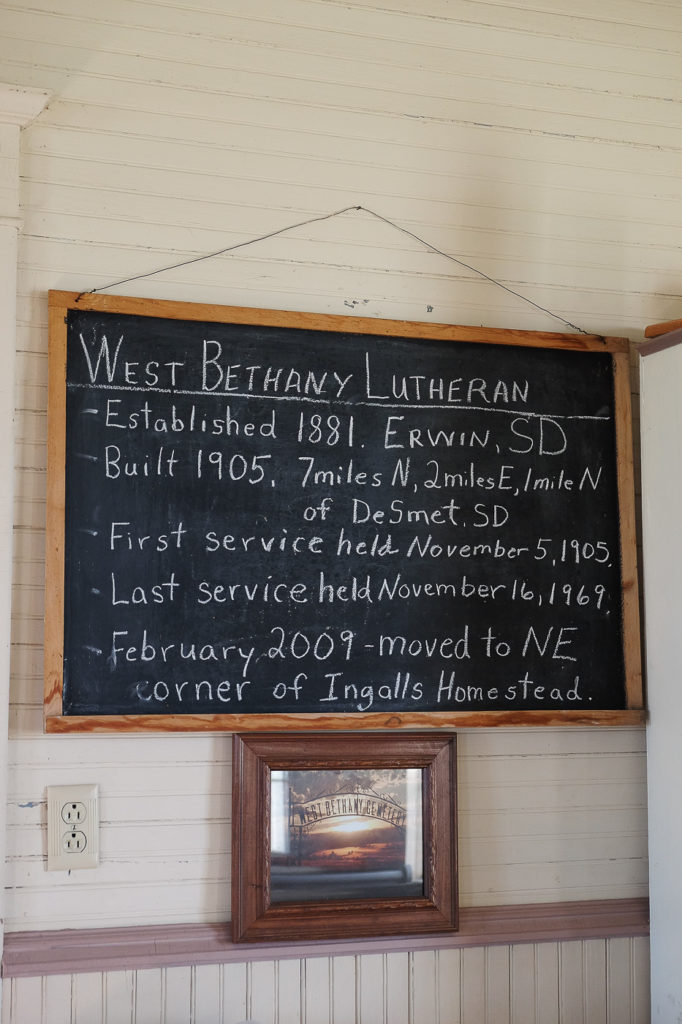 The light was nice in here, so I took everyone's picture: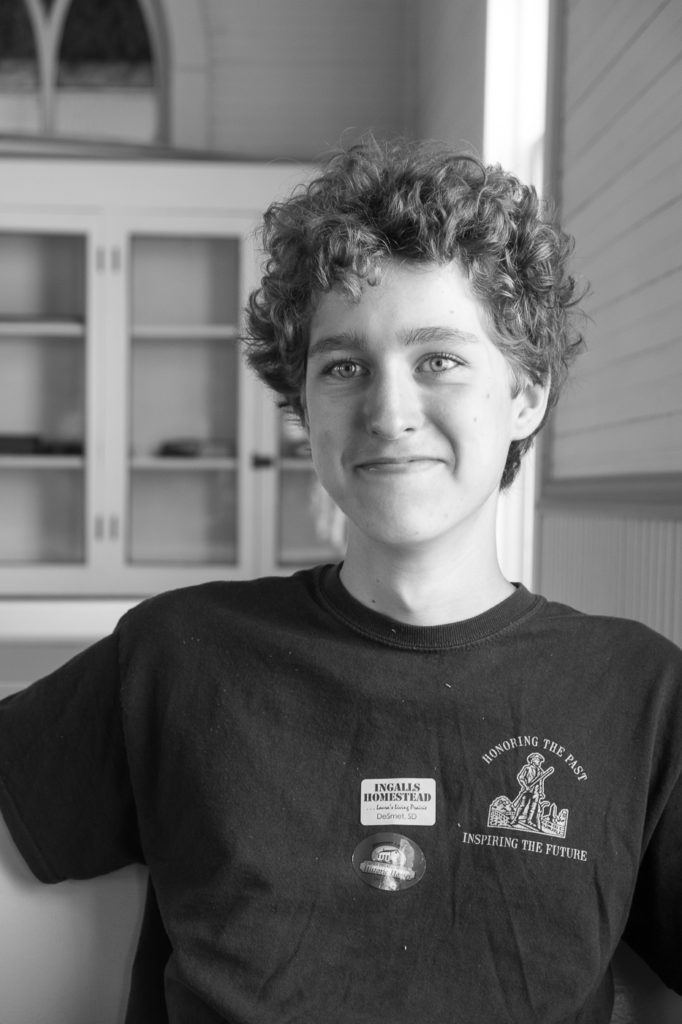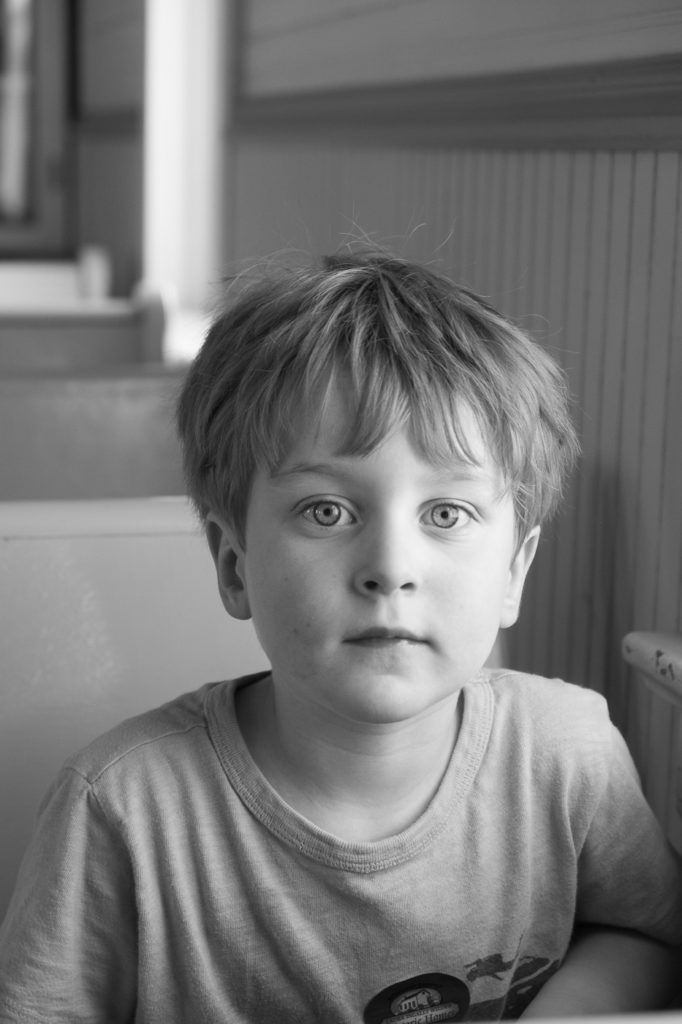 The store sells a nice selection of souvenirs and books and shows an orientation film: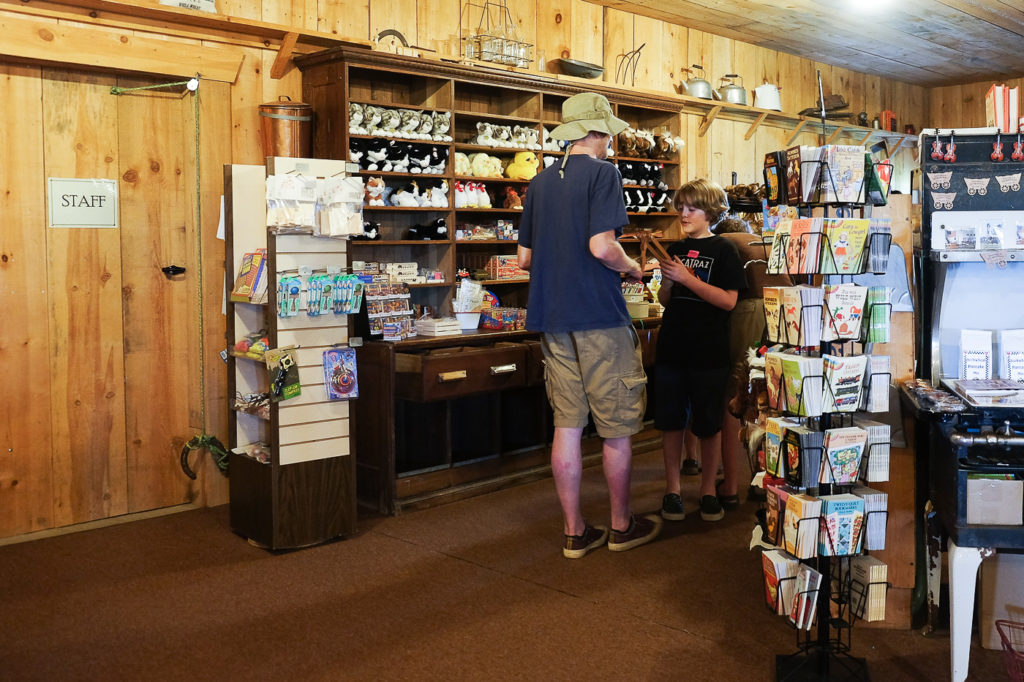 But as far as my kids were concerned, we were mostly there for the baby animals. There were chicks, a week old calf named Bright, a tiny foal (who predated the one born the night before we left), and two litters of kittens–one in each barn.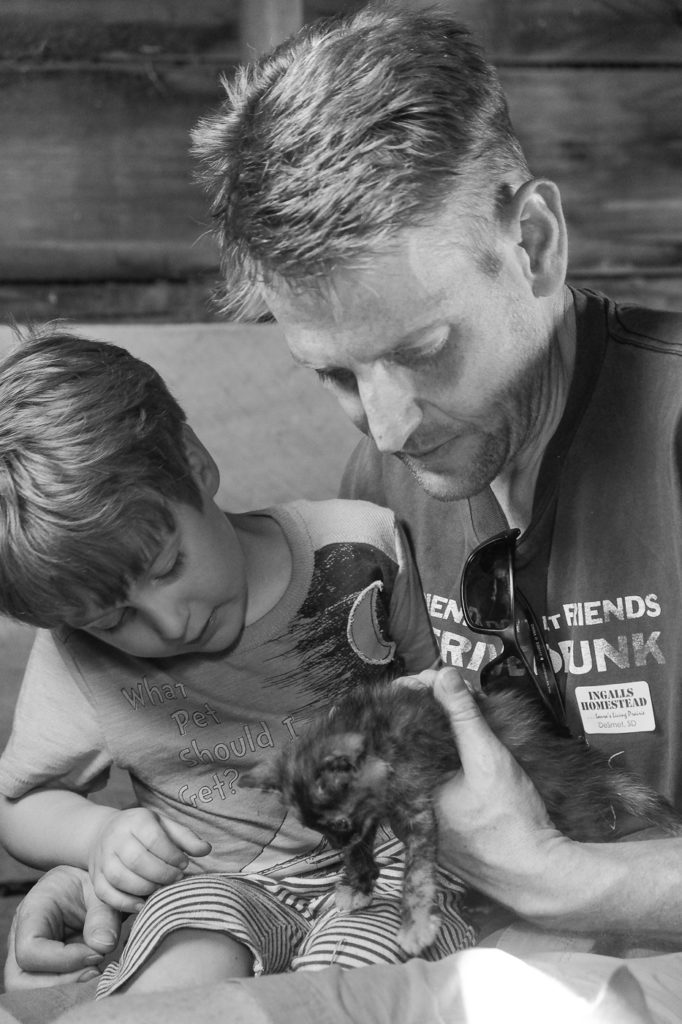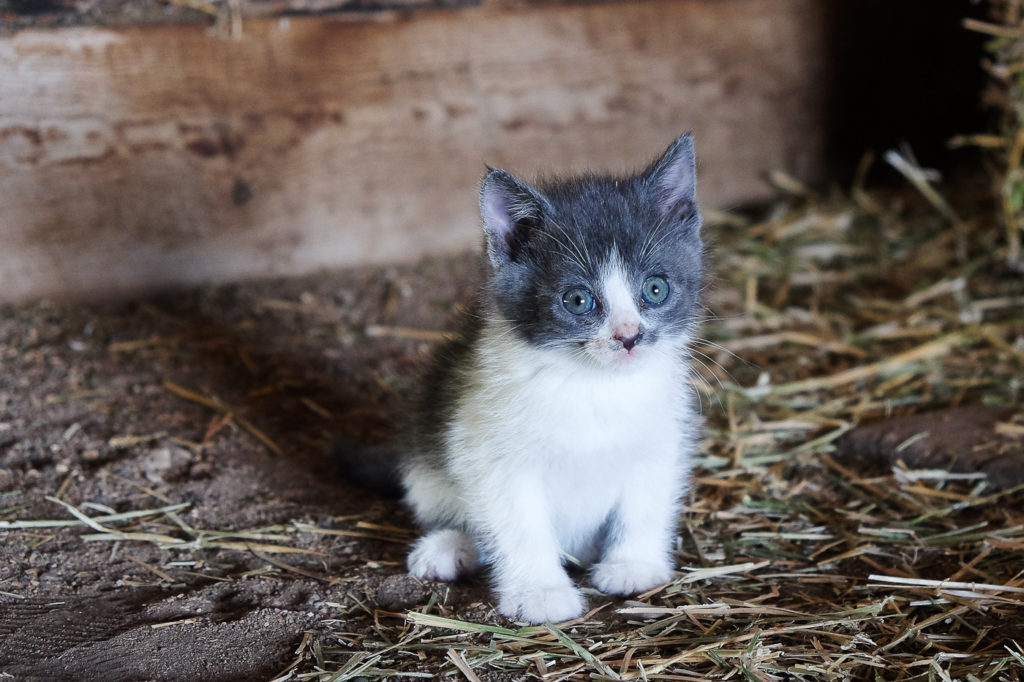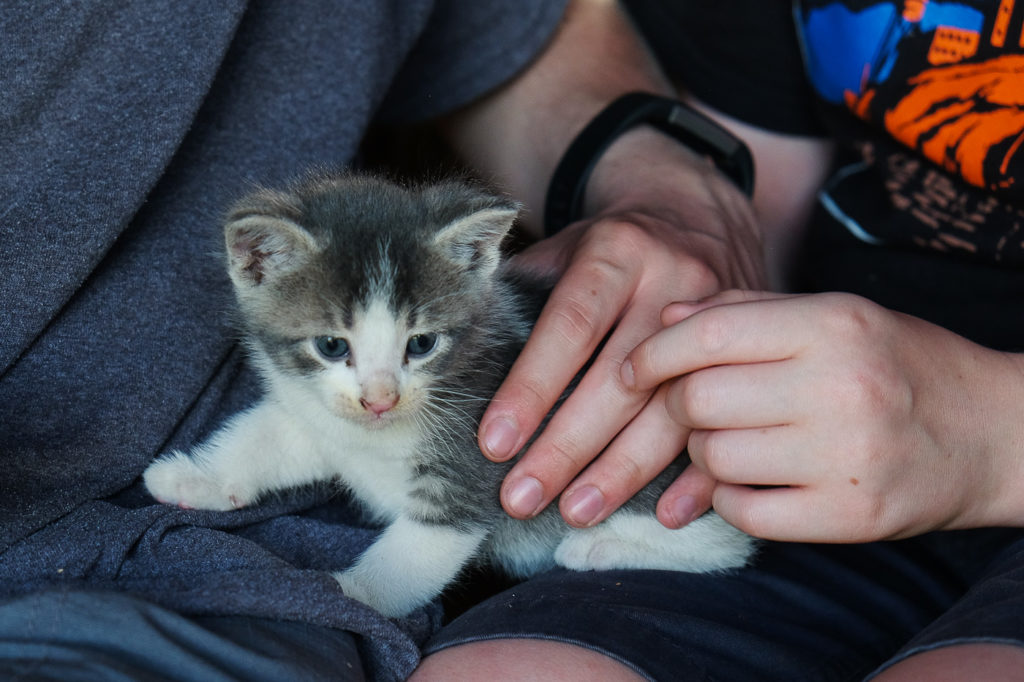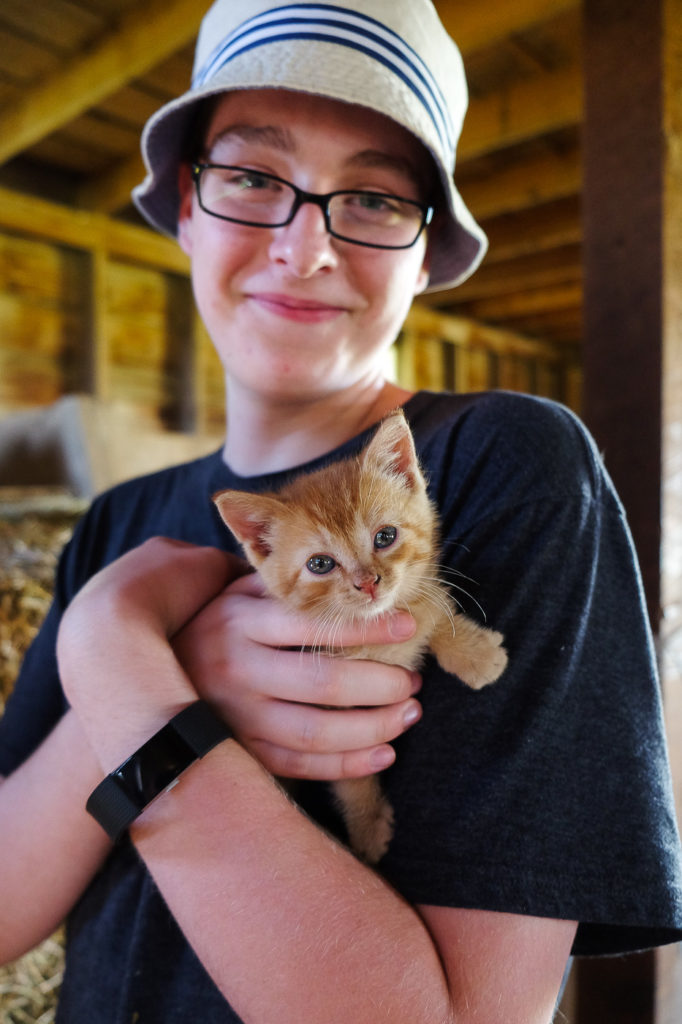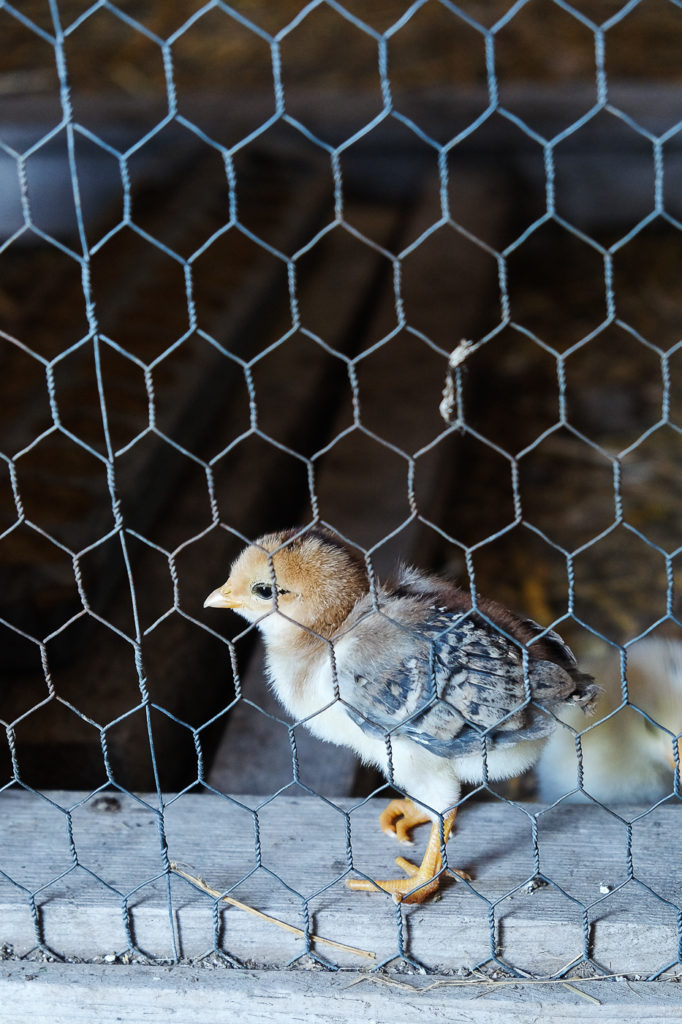 Mia the mother cat was super friendly and happy to let us pet both her and her babies: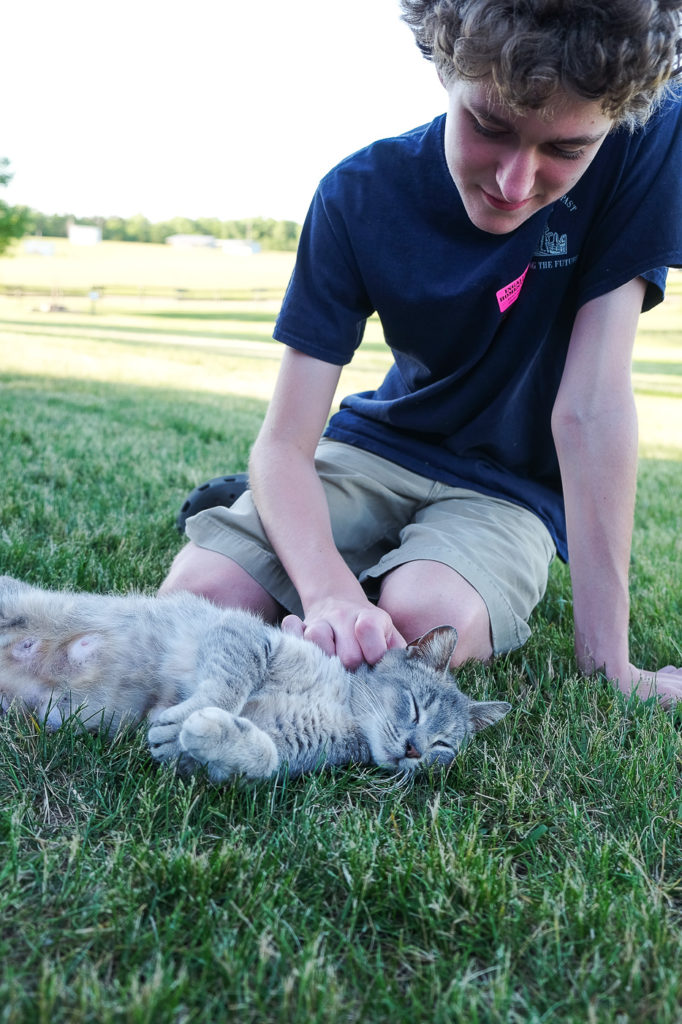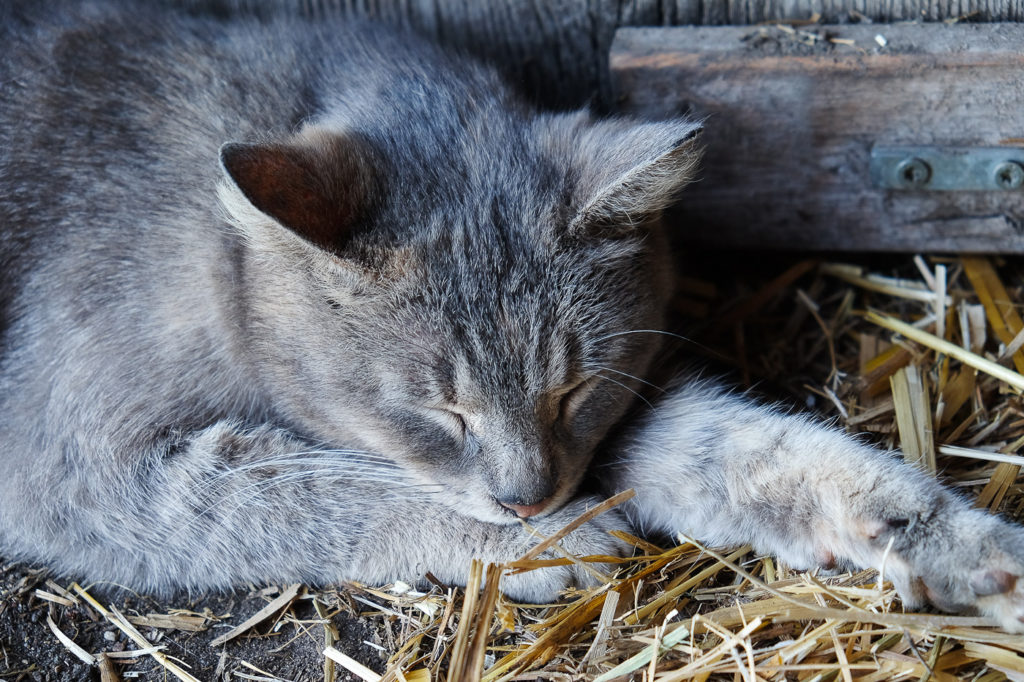 The mother miniature horse didn't mind sharing her baby, either.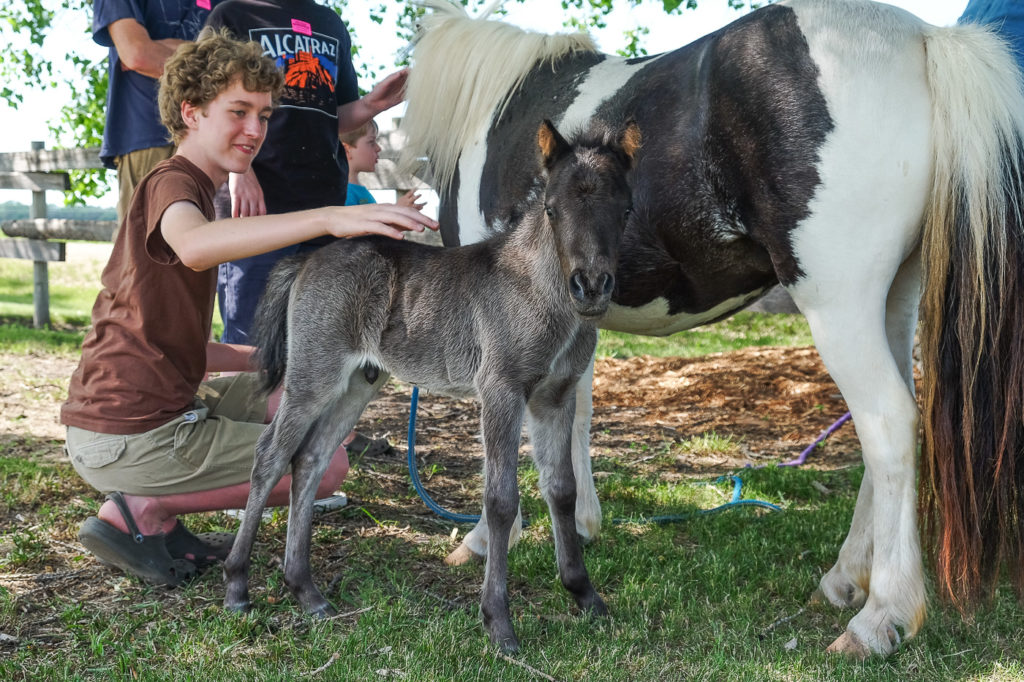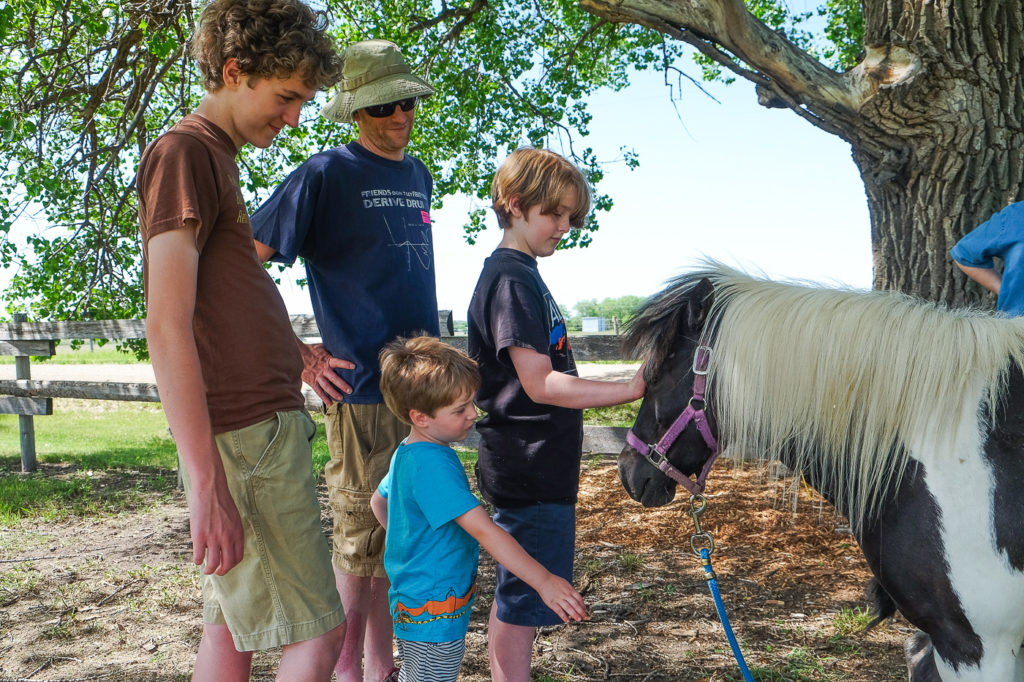 And the best part about staying on the property is that you're free to explore and have the place nearly to yourselves after closing time. The kids spent a couple of blissful evenings riding their bikes all over the property, and running from barn to barn over and over again to hang out with the kittens.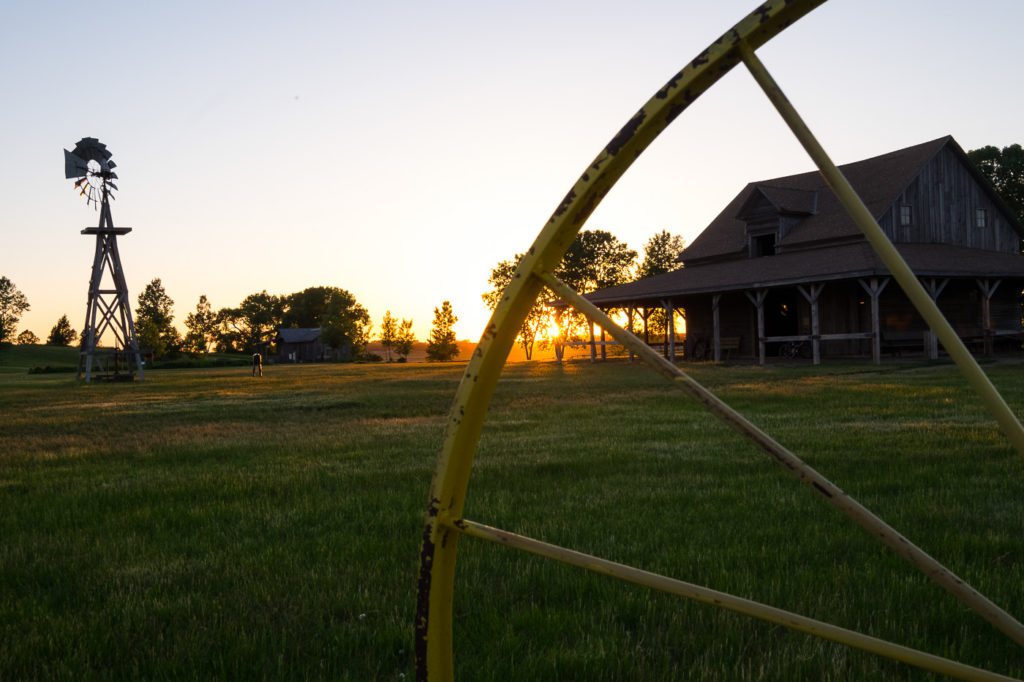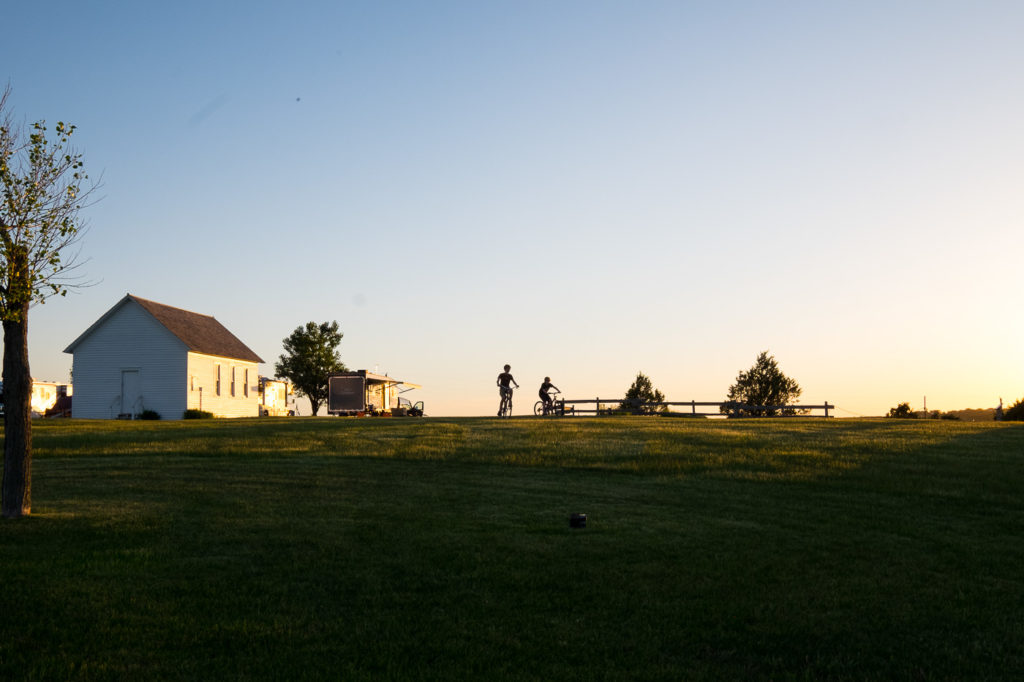 On our full day in De Smet, we ventured away from the homestead and checked out the other big Little House themed thing in town: the sites maintained by the Laura Ingalls Wilder Memorial Society. Admission there is $12 for adults (13 and up), $6 for ages 6-12, and free for kids under 5. For that you get a guided tour of the Surveyor's House that the Ingalls lived in when they first came to De Smet, a one room schoolhouse similar to the one Laura taught in, the house in downtown De Smet that Pa built, and a small museum.
The tour was really interesting (probably much more so for people familiar with the books than people who aren't….which I wouldn't necessarily say for the Ingalls Homestead). And we moved around enough and there was enough hands-on stuff to keep Abe fairly well occupied. At the house Pa built, the tour guide went through the stories of all the Ingalls after the books leave off, and I learned some new things. It only takes a couple of hours to see everything, but it's well worth the time and money. No photos allowed inside the buildings, but here are a few from outside: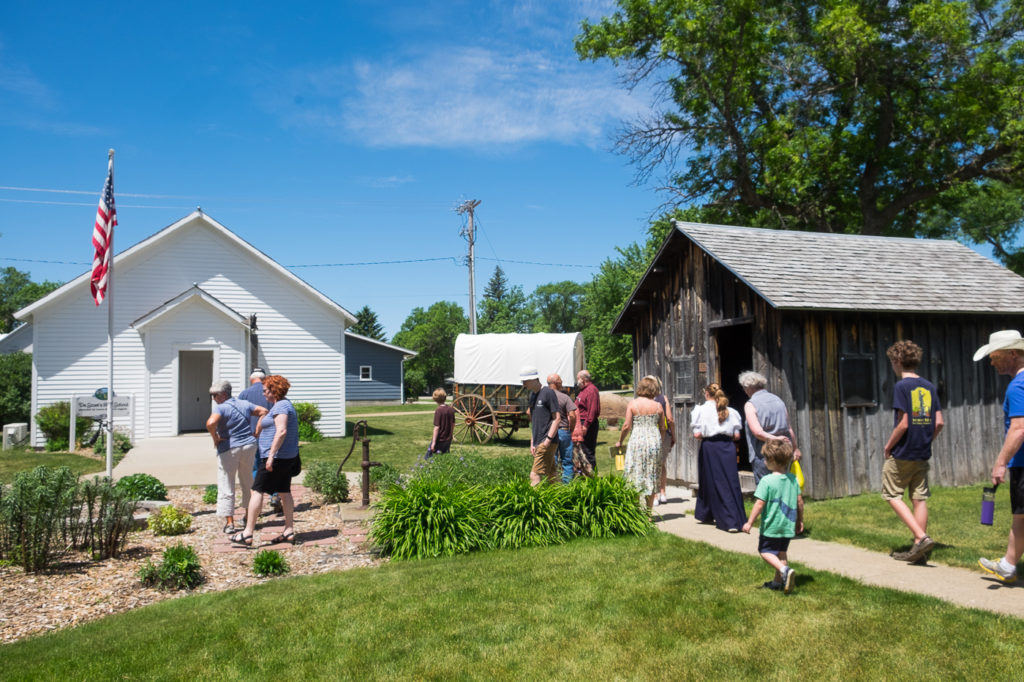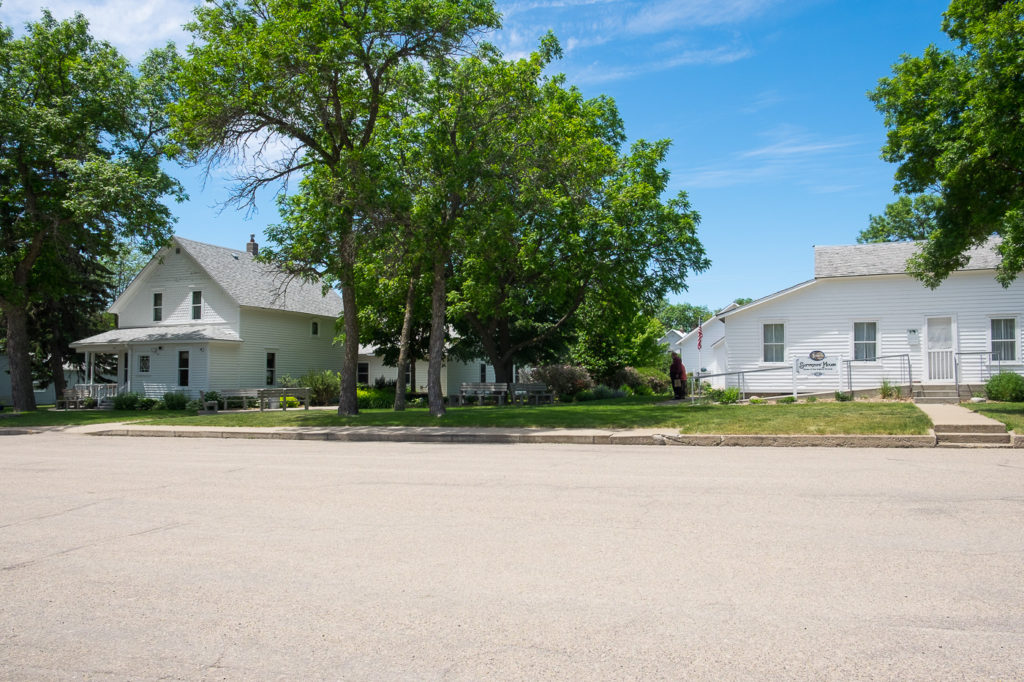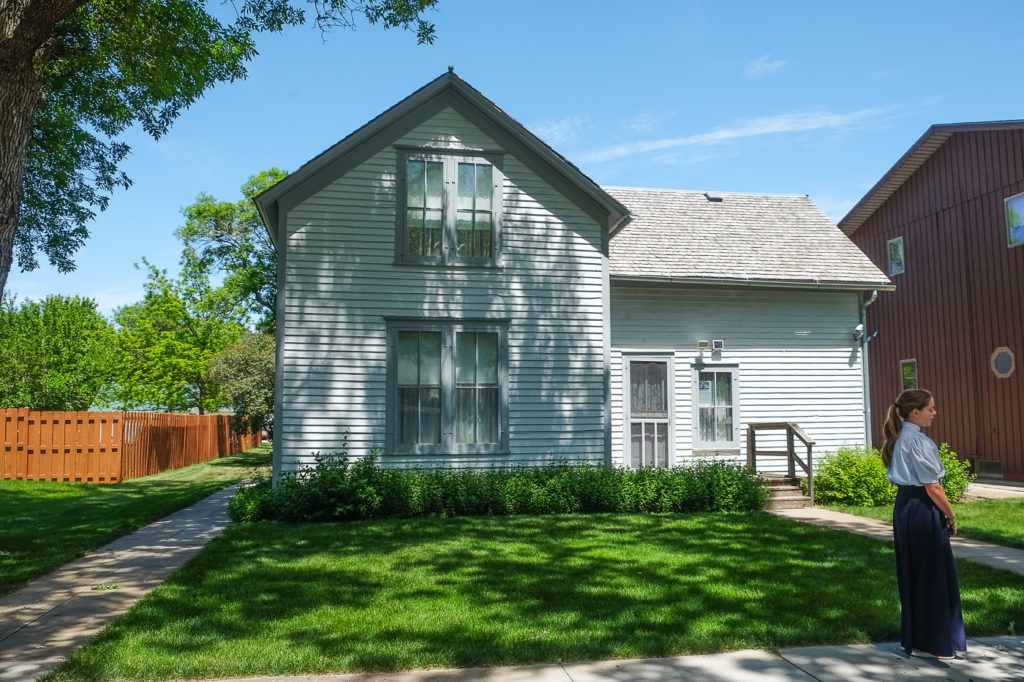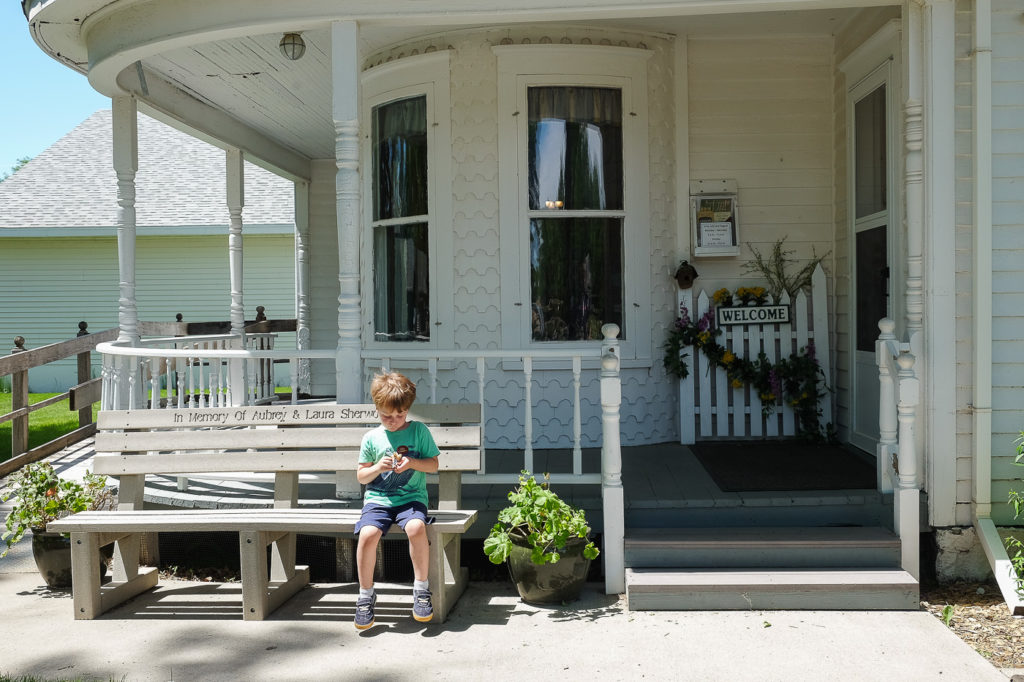 We felt like our time in De Smet marked the real beginning of our trip in some ways….our first more than overnight stop in a spot we'd never visited before. We had an amazing time here; the only problem with it was that the kids keep talking about wanting to go back, and I'm not sure how to make that happen.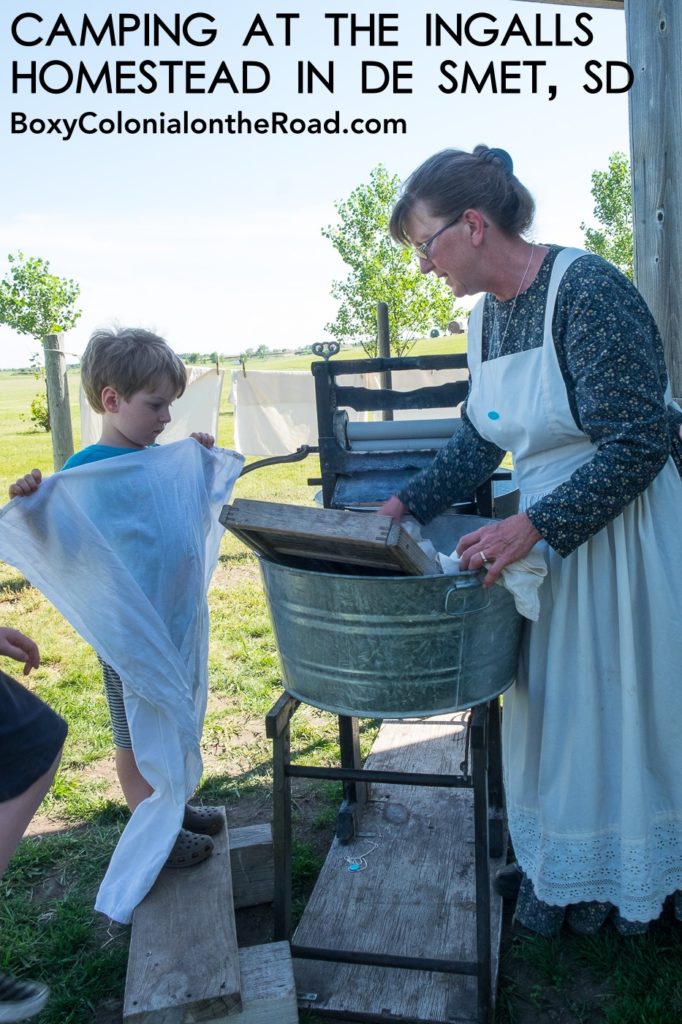 Sharing at Monday Escapes
SaveSaveSaveSaveSaveSave
SaveSave
SaveSave
SaveSave