Travel dates: April 1-8, 2017
Check out my post about Drayton Hall in Charleston over on the other blog.
For some destinations, one campground rises to the top through all the buzz and reviews, and makes the where to stay decision really easy. Charleston is one of those places, so we didn't hesitate to book James Island County Park once we'd settled on a Charleston spring break. It's more or less our ideal campground: spacious private sites, great location (just 20 minutes outside of downtown Charleston), reasonable prices, full hookups, and located in a park that's a destination by itself.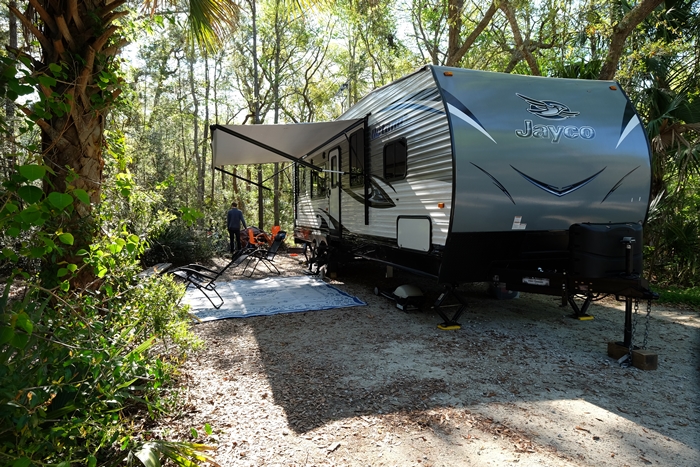 Booking and Arrival: Since we were going to be here during spring break time, we made sure to book way in advance–I think we booked mid summer the year before, in fact. Even booking that early, I think I remember that we had a couple of particular sites in mind to request, and we weren't able to get those. But whoever we talked to on the phone helped us pick a site (you have to call to make a reservation), and we were super happy with it. More on the particular site later. We were there for a whole week, and there were a lot of people coming and going. I would say the campground was very close to full during the weekends. During the week, it was still bustling, but there were a number of empty sites at any given time. Rates range from $44 for a water/electric site to $55 for a full hook up pull thru. And you get six people before they add extra person fees (and often why we pick public campgrounds over private ones).
Once you're in the park, it's very easy to navigate, to find the campground, and to park to check in at the office/store. We did have a very stressful few minutes just before we got there, though. Our directions took us down a small residential street and then told us to turn left at the end, which was very tricky (I don't think we ever found a better way to go, and we took that left turn without the trailer many more times, and it was always tricky, regardless of the time of day). Then, as soon as we'd turned and were driving down a fairly narrow street with some unnervingly low hanging tree limbs, my phone cheerfully announced that we'd need to find somewhere to park and then walk to our final destination. Panic ensued. Dave looked around wildly for somewhere we could pull over while I tried to figure out what was going on and whether we were about to dead end into a swamp. Then we saw a sign telling us that the park and campground were right up ahead. My phone had totally lied to us as a mean joke. This was, however, a good reminder that we should always double check the directions (in particular, I try to remember to always check the campground's website to see if they have any specific directions or warnings to offer).
Campsites: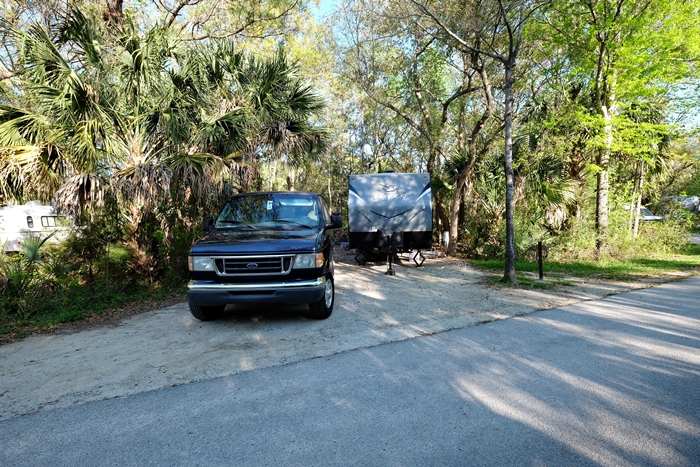 There are two loops in the campground on either side of the camp store. We were in the loop off to the left as you come in, in site #25. We loved our site. As you can see, it's very private with trees and foliage on three sides. It also backs up to a small pond (there's a path around the pond that was our shortest route to the bathhouse and activity center on the other side):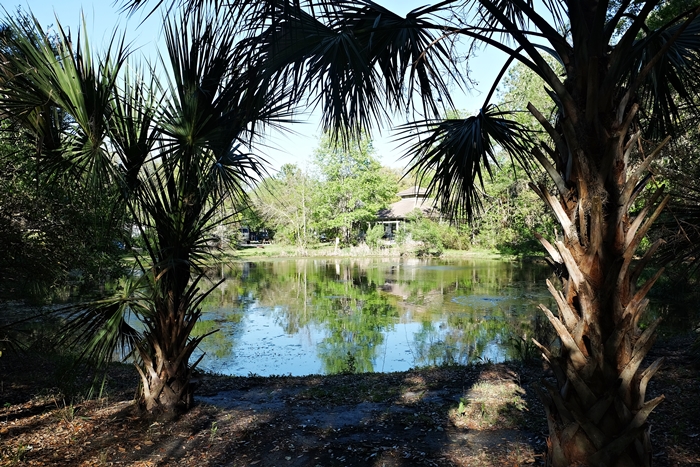 Most of the sites are back in (and we found ours very easy to back into). It would have been long enough to park the van in front of the trailer, but we ended up parking it next to it or perpendicular so that we could leave our garage door open with the screen down: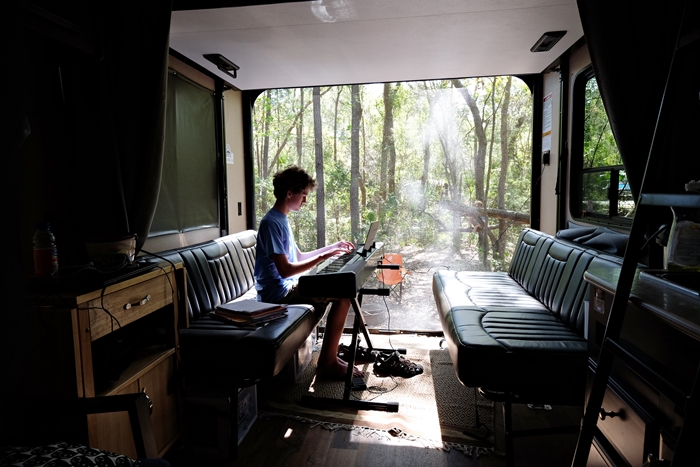 This was the first site with the new trailer where we've had the space to do this, and it was awesome! Especially since the site backed up to woods and pond and this sideways growing tree that Gus and Milo spent a lot of time climbing on: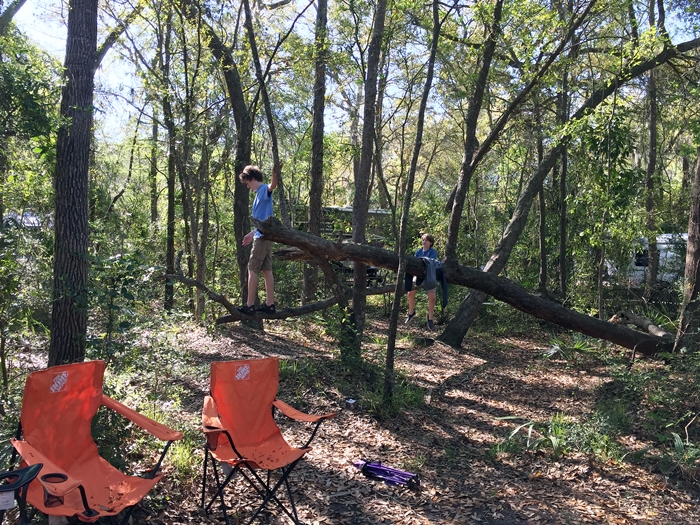 All the sites have gravel pads, picnic tables, and fire rings.
Most of the sites in the campground looked great. If you want a pull-through, there were some nice, spacious ones in our loop, kind of across from the activity center and bathhouse. Most of the sides have lots of trees and shade, but a few were more open: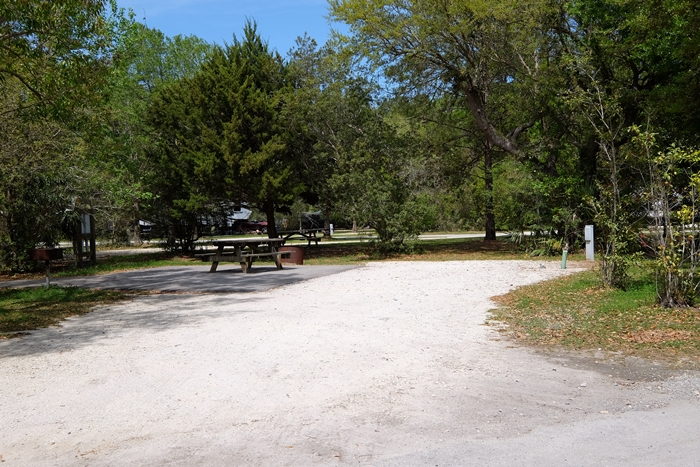 There are a number of sites that are paired together with no separation between them; I'd avoid those unless you're traveling with someone else and want to be right next to each other.
Campground Overall/Amenities: Within the campground itself, there's a well stocked camp store, an area with several outside games, and a nice activity center. Well, it's nice from the outside. I never went in it. Dave did with Abe one morning and reported back, "It has a TV in it. And a broken ping pong table." "Sounds like prison," I said. But I'm sure it's a much nicer broken ping pong table than the kind they have in prison. Anyway, it'd be a nice spot to get away from your family or to send your family on a rainy day.
We didn't use the laundry room and didn't use the bathhouse much, since we had full hookups, but they looked to be very nice and clean: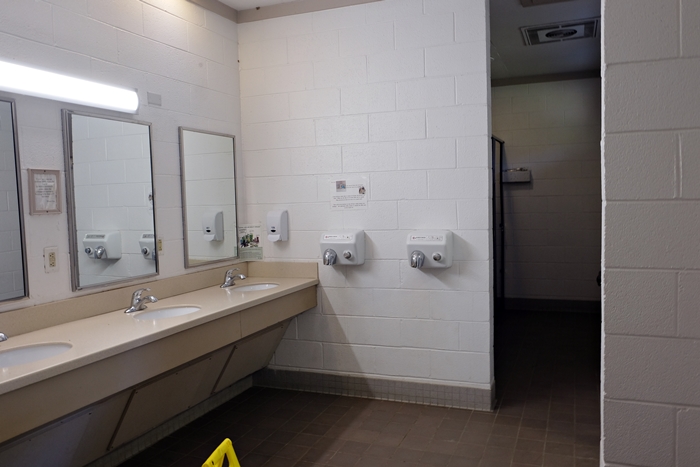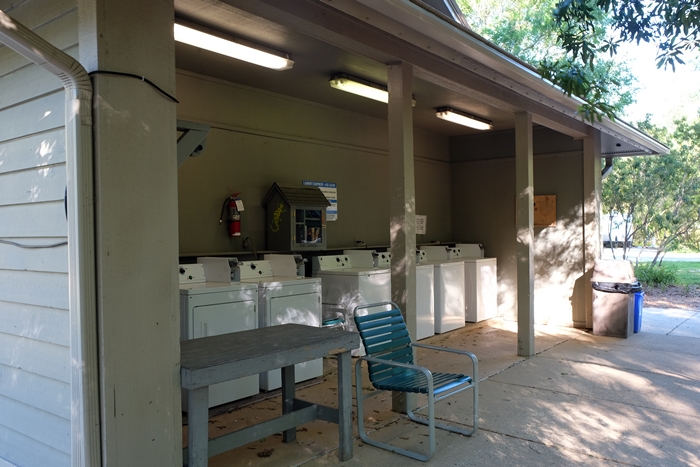 Also there's this owl that lights up at night: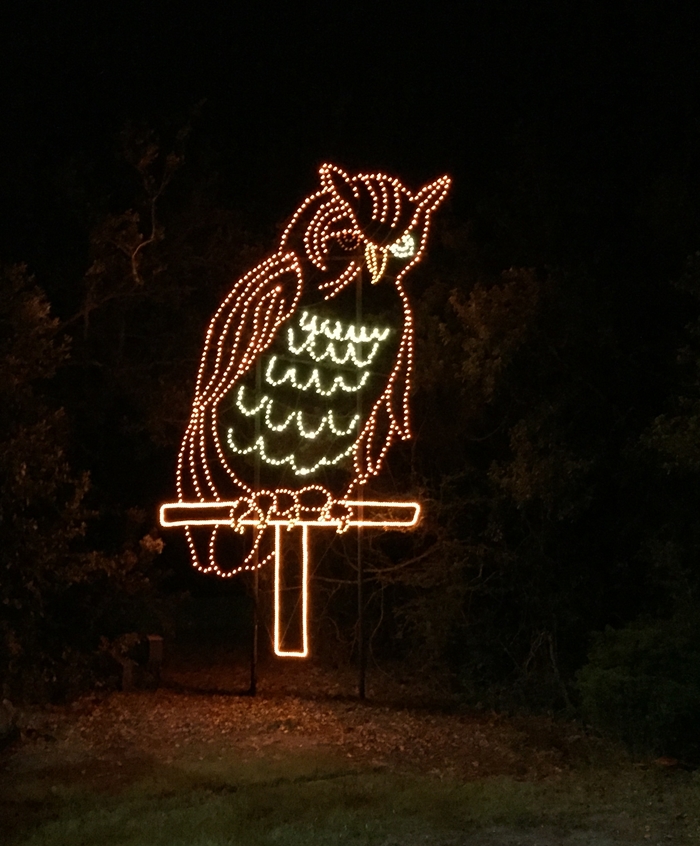 James Island County Park: But most of the amenities aren't in the campground itself, but in the larger park. We loved that there are bike paths to take you all over the park. We rode everywhere we wanted to go and also just went for rides in the evenings with no particular destination in mind.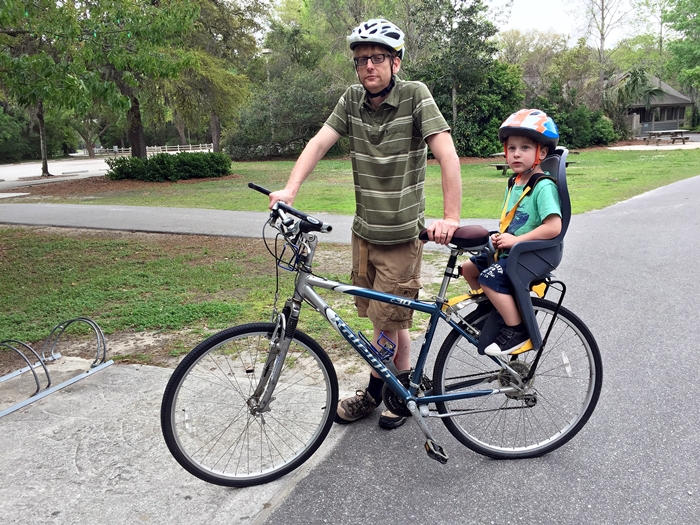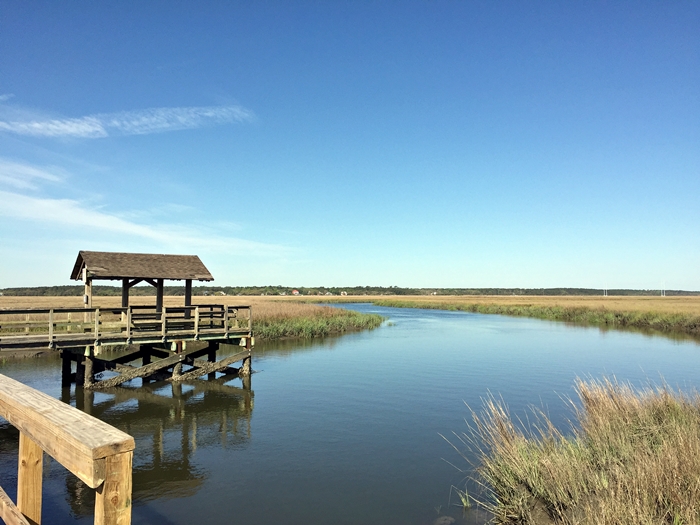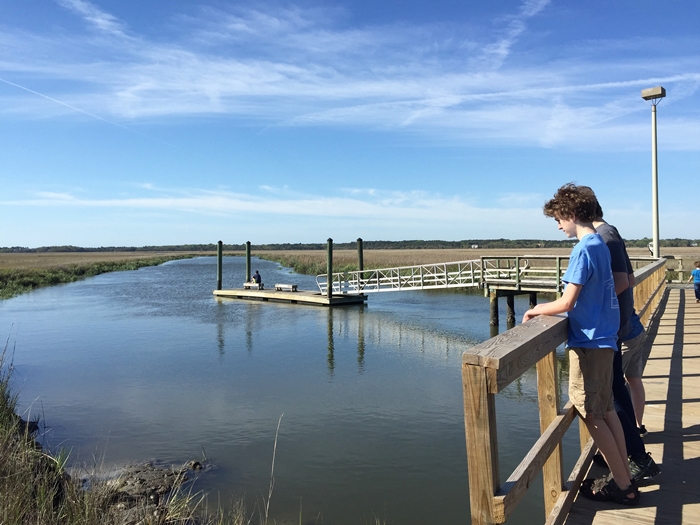 There's an awesome dog park, with lake access and separate areas for big and small dogs. We didn't ever make it over there because we have Fiesta the beagle, who would rather be sleeping, and Rory and Fergus the terriers, who are often jerks to dogs they don't know well. But the campground itself and the adjacent bike path were great for dog walks, too.
We found out a few days before we got there that there was going to be a Cajun festival going on in the park on our first full day there. I got ridiculously excited about this….but then when we actually made it to the festival, I remembered that we don't usually care for festivals. The kids went on a few overpriced carnival rides: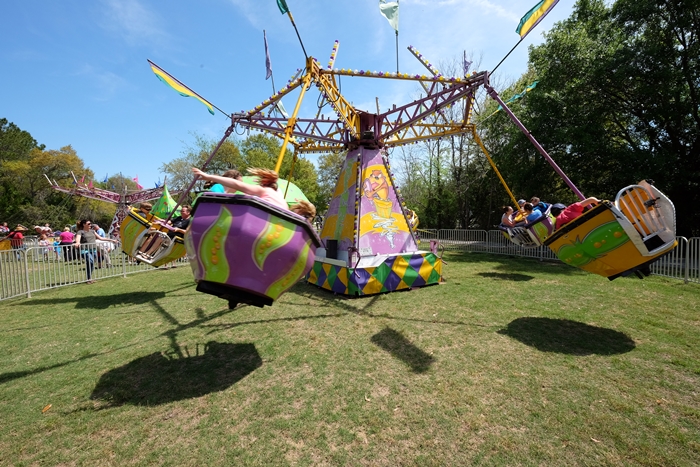 Dave went on that one with Abe, and then felt so terrible for a few hours afterwards that he didn't even want to try any of the Cajun food offerings. We walked around for a little while and listened to some music and thought, "wow. it's crowded here" and then we headed back to our campsite.
Fortunately, admission was free since we were staying at the campground (I think it was something like $15 for adults otherwise. And then of course the rides and all the food are extra). If festivals are your thing, though, they have different ones throughout the year at the park. The biggest deal is the light display for the holidays (and I wouldn't mind being there for that one). But keep in mind the festivals affect the traffic in and out of the park and plan your schedule accordingly.
There's a big, nice playground close to the campground–maybe a 5 minute walk or an even shorter bike ride. We hung out there for awhile and I neglected to take any pictures of the actual playground, but I did get one of the kids posing for one of their "album covers" in this big tree right next to the playground: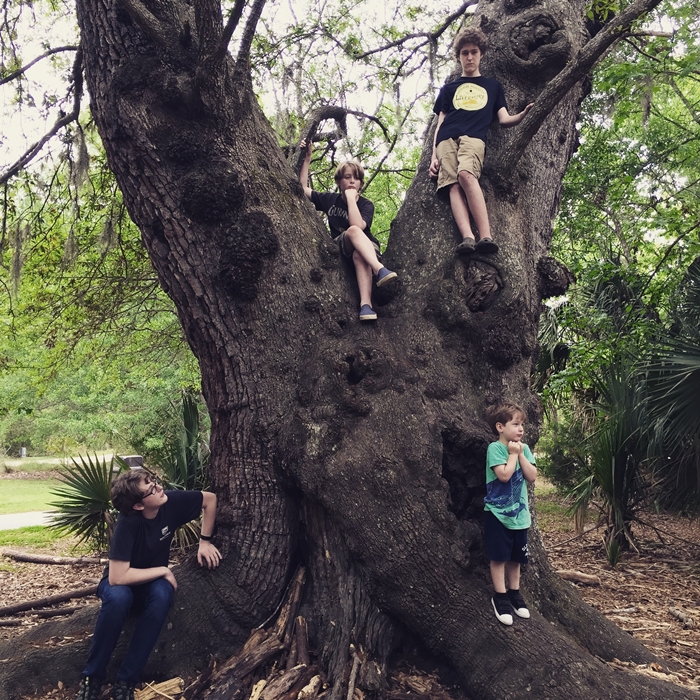 Then I used an official indie rock filter on it, and now they're all set for whenever they actually record some music. I think they have three keyboardists and one really enthusiastic young singer, so it will be…interesting.
There's a splash pad in the park (which was open when we were there, at least sporadically, but we didn't make it there) and a pool/waterpark complete with slides and a lazy river and all that (which was NOT open when we were there. And which charges a separate admission fee on top of park admission).
And, finally, there's a super fun climbing wall area in the park, not far from the campground. We tried to go there our first morning, but it was closed (because of the festival, I assume. They moved the portable rock climbing wall over there), so we found an afternoon to go back later in the week. Milo, Gus, and Dave climbed, while Abe and I watched and Ari stayed at the trailer and appreciated some rare solitude. A day pass is $14/person plus $3 for a harness rental. You can come and go all day with the pass, but, unfortunately, we only had time for one session. Climbing is, it turns out, quite tiring. It would have been nice if we'd planned it so that we could have gone early, taken a break and done something different, then come back. Dave and the kids had little to no experience with climbing, but they help get you all set up and give you a quick lesson to get you started, and it went well. There's a smaller, portable wall and then a 50 foot tall wall. Which is quite tall.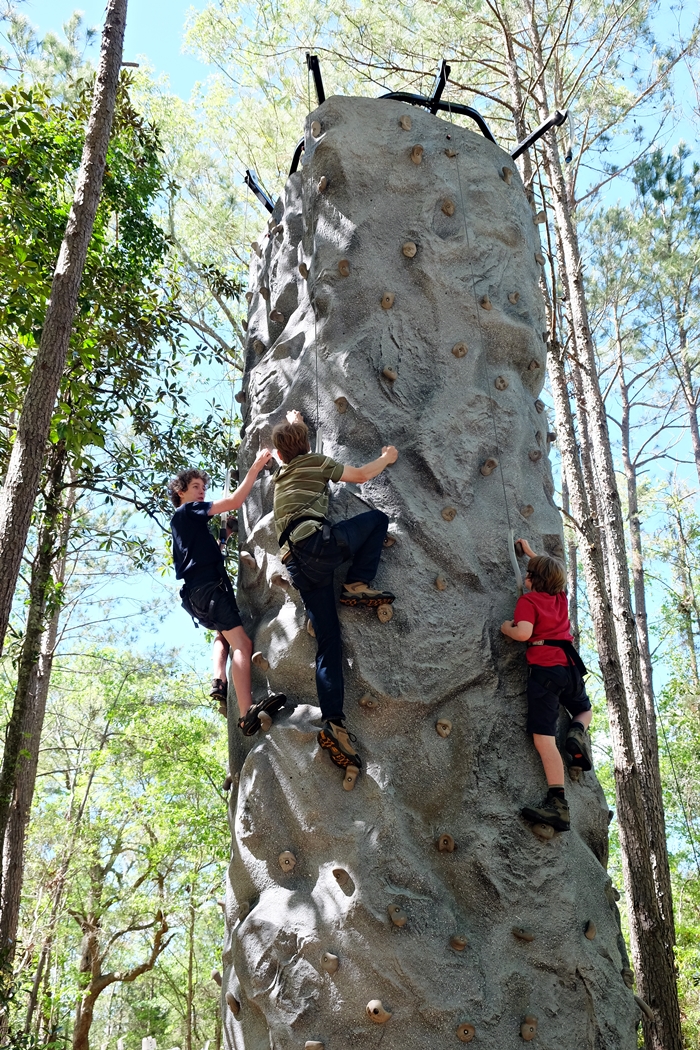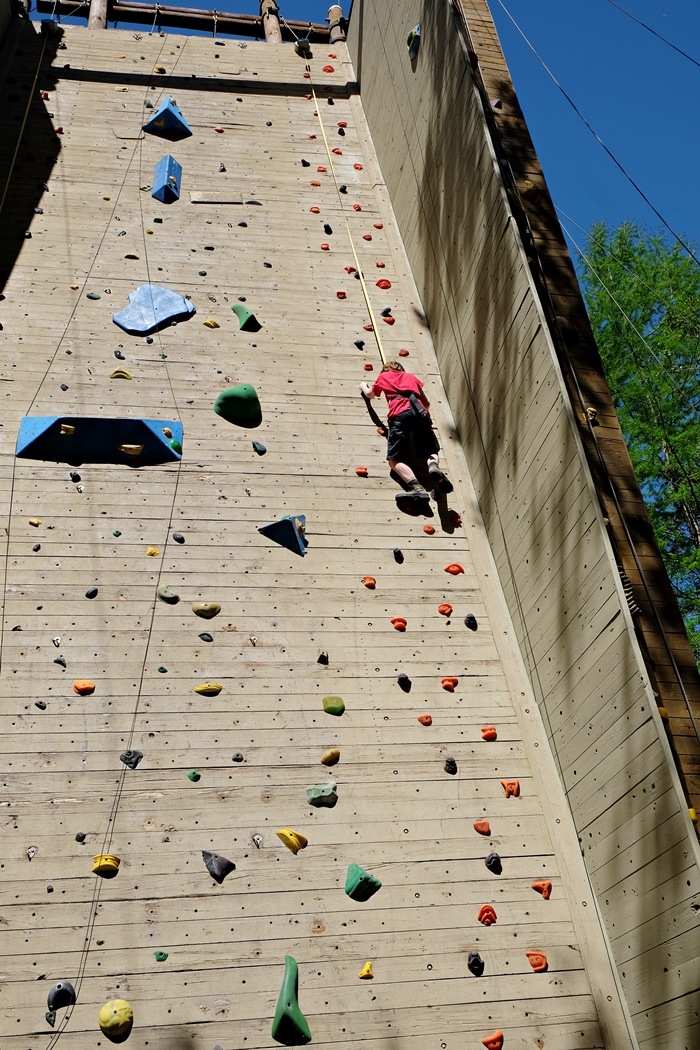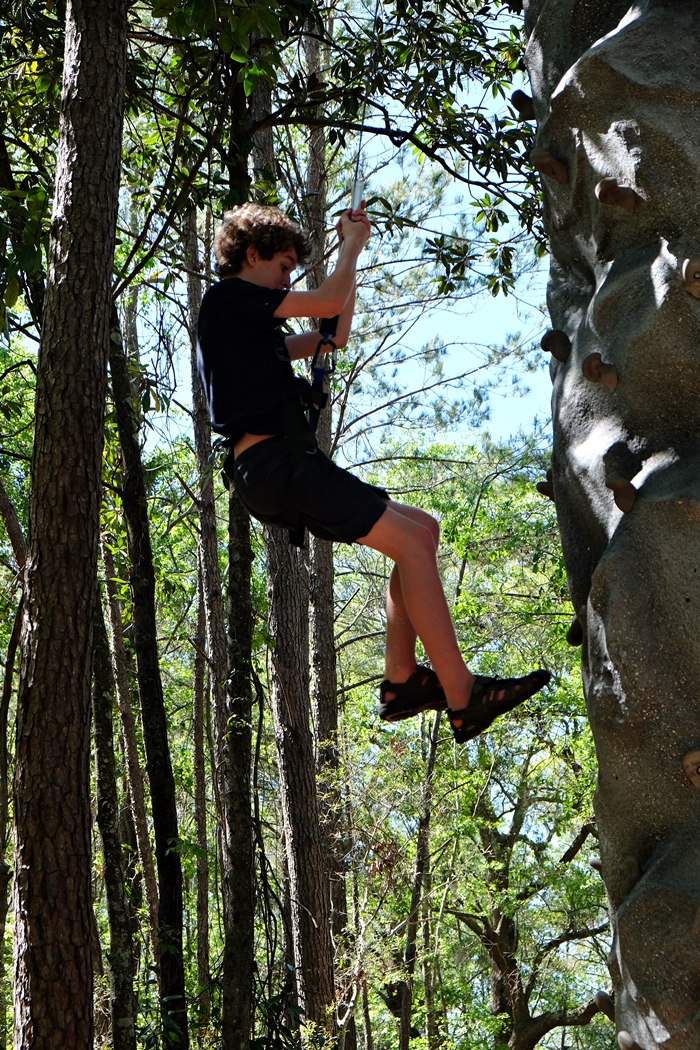 And that's it for my campground/park review! We had a great time at the park AND an awesome visit to Charleston….much more on that to come!
More about our Charleston trip:
Charlestowne Landing and Carriage tour
Hunley Submarine and USS Yorktown

Save