travel dates: June 11, 2017
Wind Cave National Park
Our family had just declared Ranger Reed from Mount Rushmore our favorite Ranger ever, but just a few days later we found ourselves handing off the title to Ranger Earl at Wind Cave National Park. Sorry Ranger Reed. There's a lot of competition out there in the Black Hills.
Ranger Earl was funny and engaging, a great storyteller, and all about helping our group think and make connections about what we were seeing and hearing. I love making connections! Also, he picked Abe to be the kid who held the flashlight and led the tour group down into the cave, thus keeping Abe content and entertained. This definitely did not hurt his chances of catapulting to the top of our list.
Here's Ranger Earl showing us the original cave entrance; you can feel wind blowing out here–hence the name.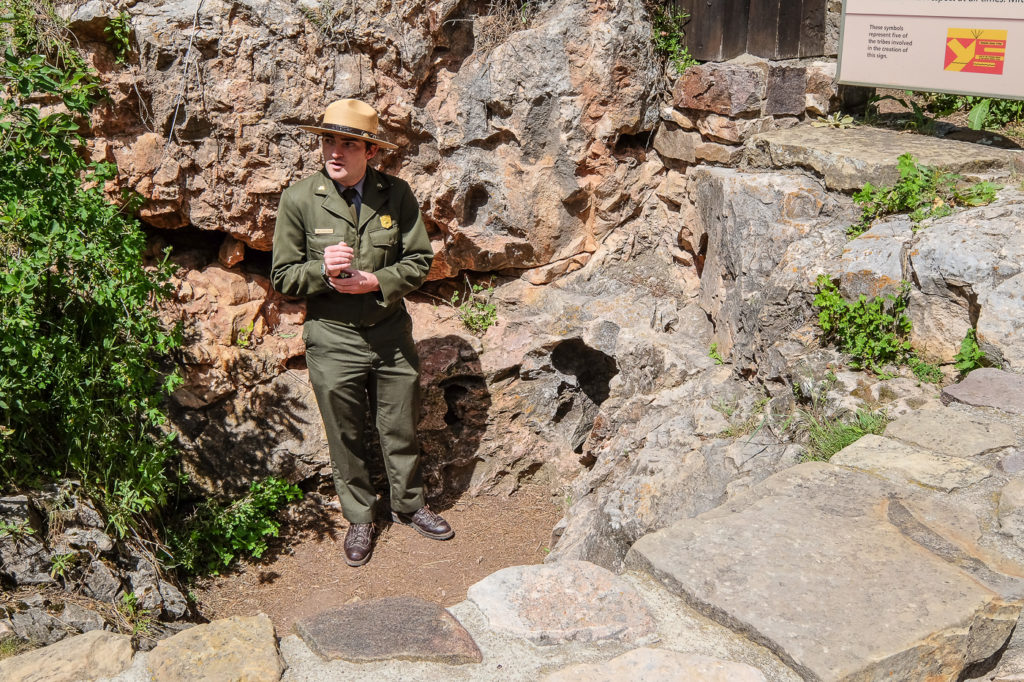 If you only have time for one cave while you're in the Black Hills, you have two National Parks Service sites to choose from: Wind Cave National Park or Jewel Cave National Monument. My understanding is that Jewel Cave is the more conventionally pretty cave, with all kinds of cool formations and color. Wind Cave, on the other hand, is known for the rare boxwork formation; there's more of it here than anywhere else in the world.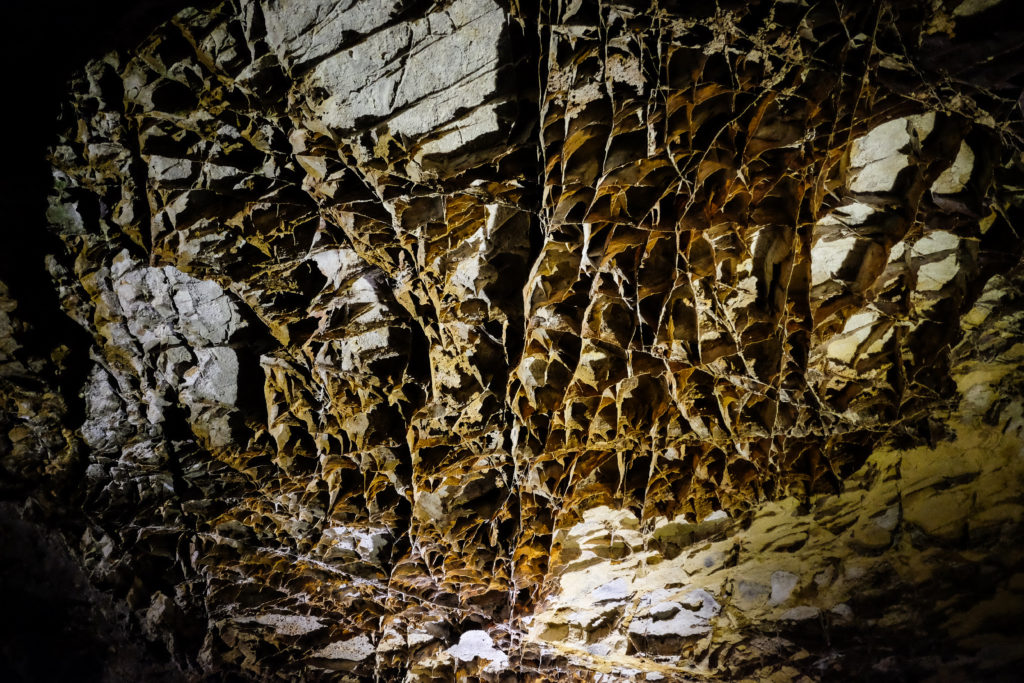 Since this was only one of a few different caves we were planning to see on this trip, we opted for Wind Cave so that we could see something unique to this location. Honestly, the idea of getting to check off one of the 59 parks instead of "just" a National Monument probably factored in, too, even though I realize the distinction is often a political one rather than one based on any kind of merit. That said, Wind Cave is the much larger of the two properties and offers more to do on the surface. This didn't really play into our decision since we were just there for a half day (and since we were staying at Custer State Park, where we were already getting our fill of hiking trails and scenic drives and wildlife).
You can't make advance reservations for any tours other than the Wild Cave tour (the one where you crawl on your hands and knees and squeeze through tight spaces–no thank you) and the Candlelight tour. Your best bet for getting on one of the other tours without a long wait is to get there as early as possible. We did get there as early as possible for us–I can't remember what time that meant, but I'm guessing not before around 10, since we had a pretty decent drive there from Custer–and that was good enough; we got the tour we wanted and only had to wait maybe half an hour for it to start. Incidentally, if you're staying in Custer State Park, the drive to Wind Cave is a great opportunity to check out the Wildlife Loop Road, because it dumps you off right near the national park. Stopping to feed the burros is one of the reasons we didn't get there super early, in fact.
We got a  chance to spot more wildlife on the drive into the park and to the visitor center: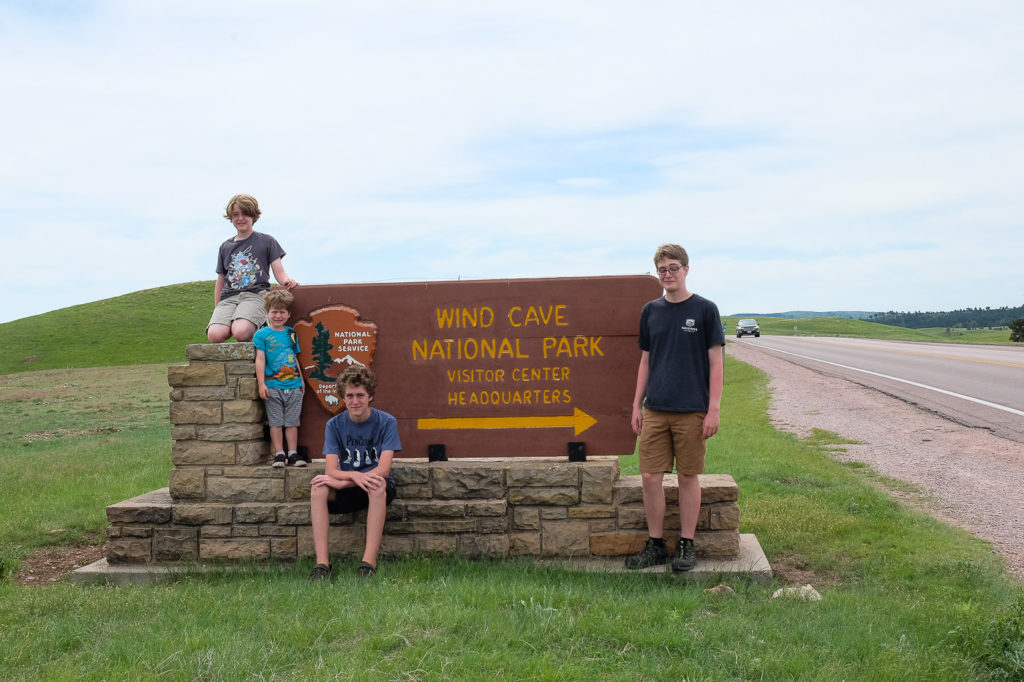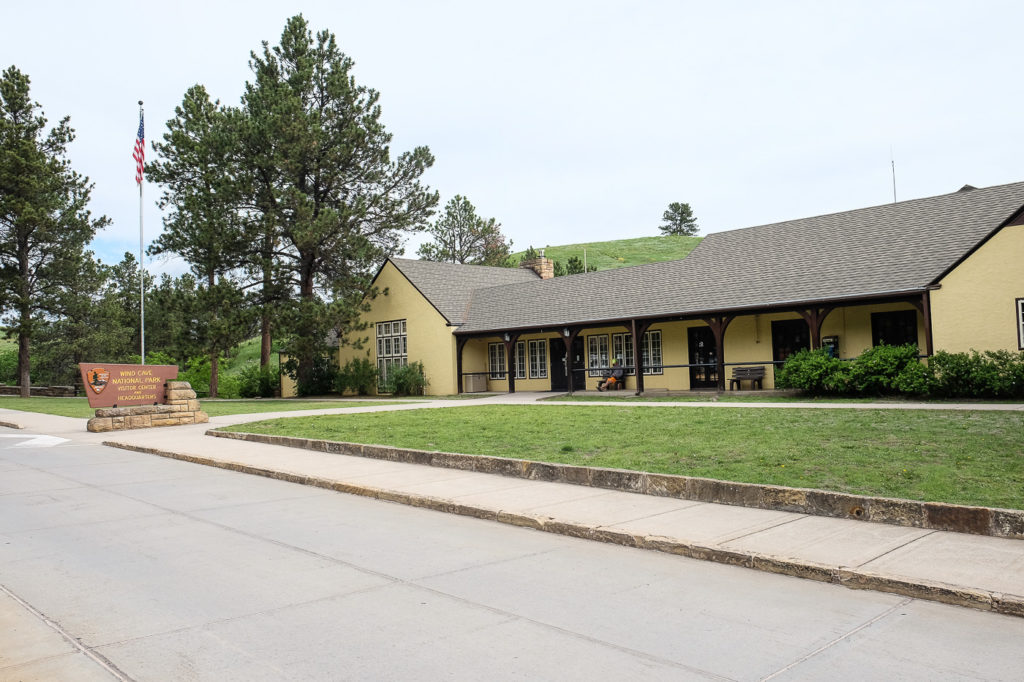 Then we grabbed a Junior Ranger book for Abe and got in line for tickets. There are three different regular walking tours at Wind Cave. The Garden of Eden tour is the shorter and easiest. The Fairgrounds Tour is the most strenuous, with the most steps and also the widest variety of cave features. We opted for the Natural Entrance tour, the one right in the middle as far as length and difficulty and the most popular tour.
The tour started, as mentioned, with a peek at the original natural entrance of the cave: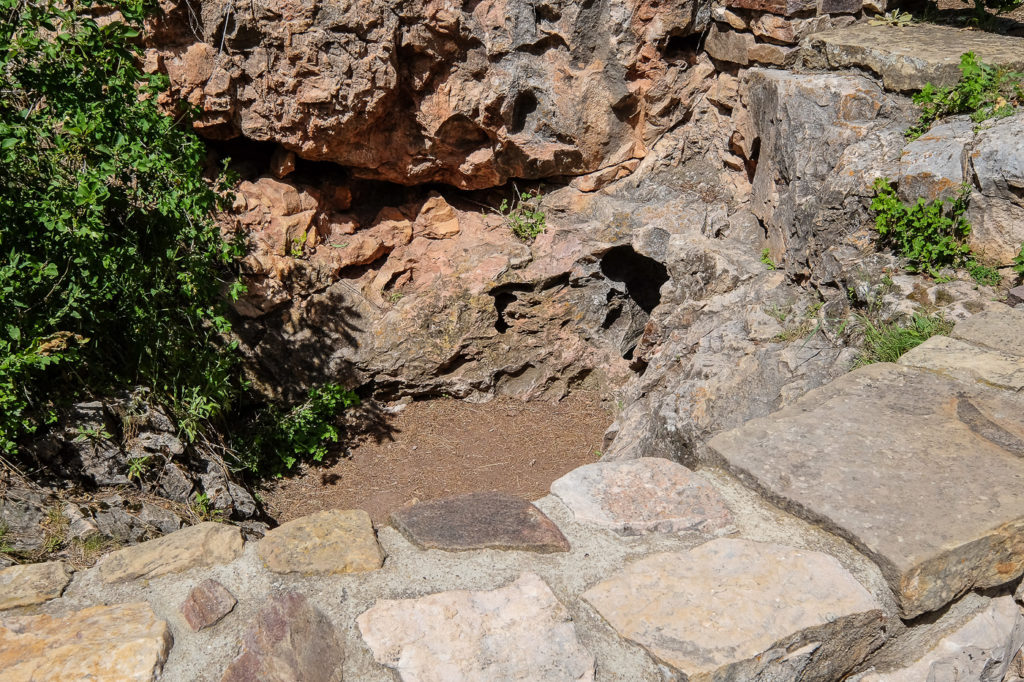 But, luckily, another, considerably bigger, entrance has since been added, and that's how we got in. Then Abe led the group down a whole bunch of stairs and we stopped periodically to hear more about the cave and its history. Abe's favorite part was Ranger Earl turned off the lights for a few seconds.
Most of the cave that we saw on the tour is fairy cramped, and tall people will have to duck in a few spots, so keep that in mind if you tend toward claustrophobia (I have pretty much all the travel-related phobias to some extent, and it didn't particularly bother me).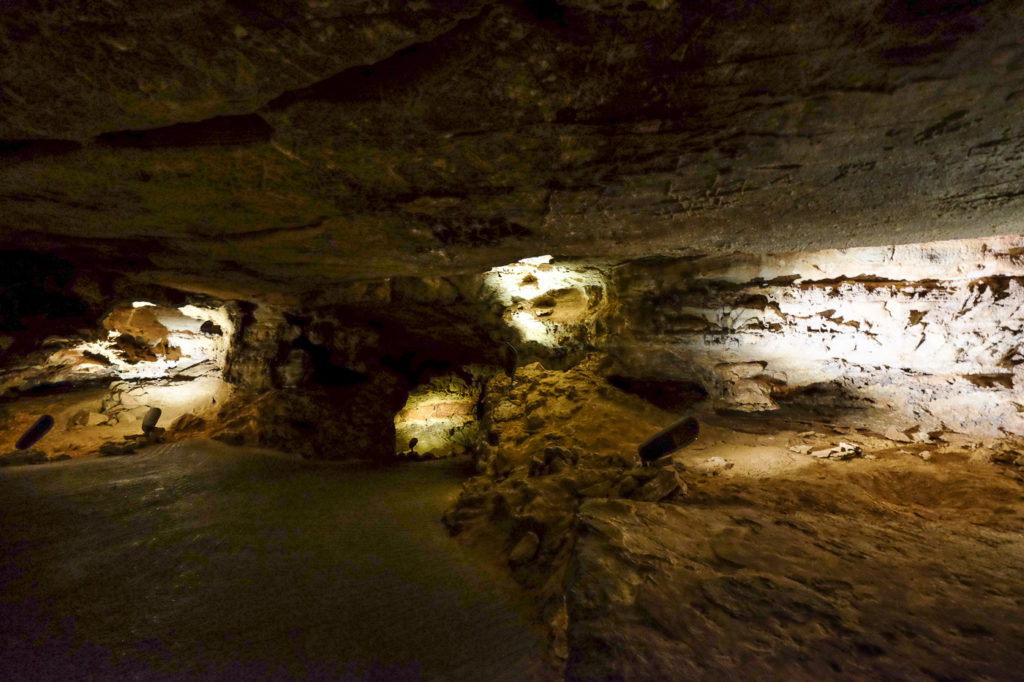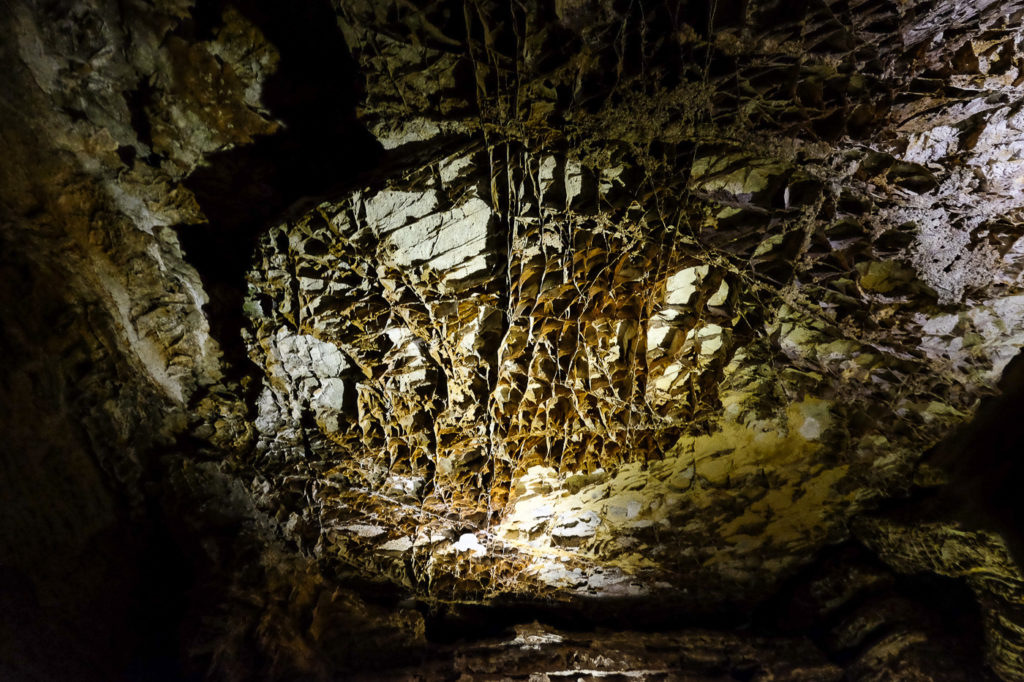 When we made it back to the surface, we turned in Abe's Junior Ranger book and spent a little while checking out the museum exhibits.
We very much enjoyed our visit here, but I will say that, had our tour guide not been so fabulous, Wind Cave wouldn't have ranked quite so high. It's not the prettiest or most spectacular cave around, but there are fascinating stories to be told about it. And cool boxwork.
The Mammoth Site
The Mammoth Site, in Hot Springs, is only about 15 minutes from Wind Cave National Park, and it's easy to see both in one day.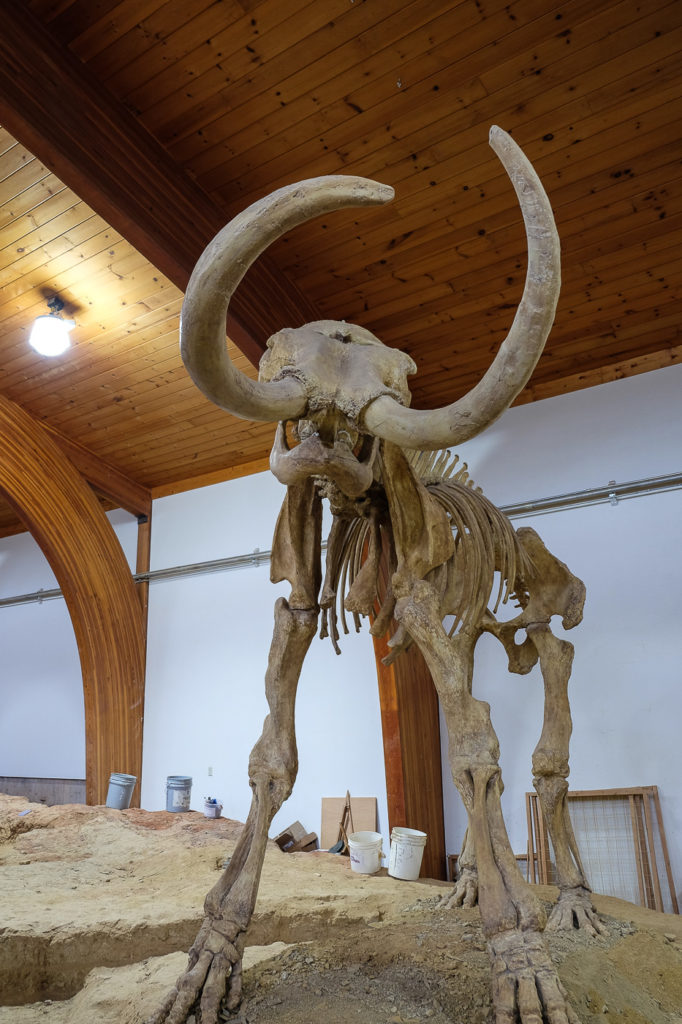 More than 26,000 years ago, dozens of mammoths and other animals were trapped and died in a pond near what is now Hot Springs, SD. The site was discovered during excavation for a housing development in the 1970's, and is now preserved as an active dig site and public museum.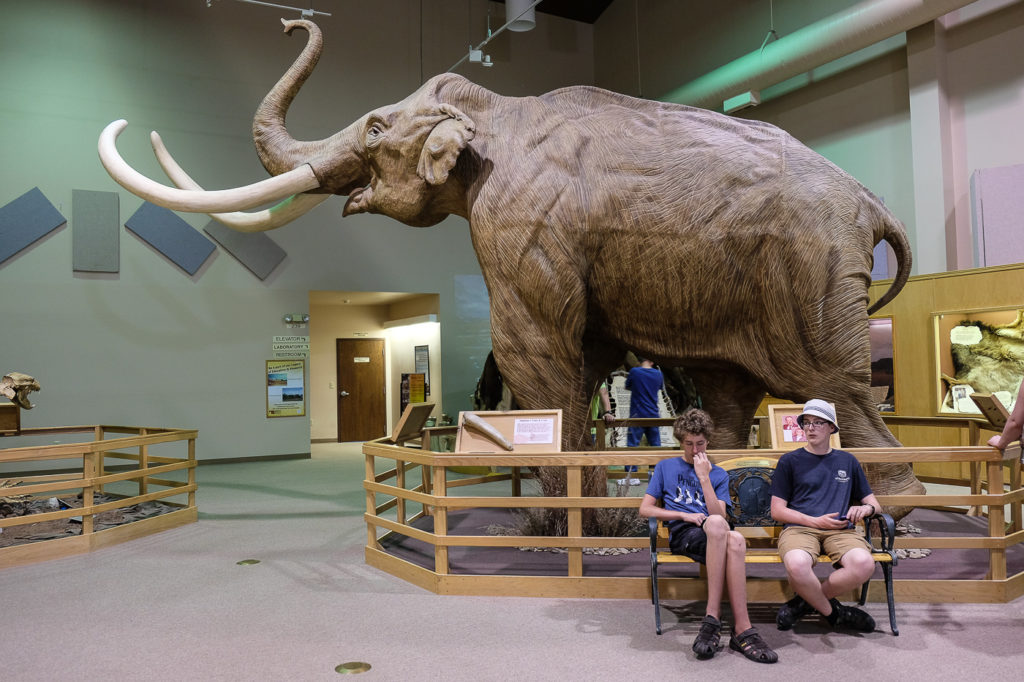 An admission fee of around $7.50 for kids and $10 for adults (or a family pass for two parents or grandparents and all kids under 18 for $41) gets you in to watch a 10 minute introductory video,take a 30 minute guided tour of the enclosed, climate controlled dig site, and explore the small exhibit area. We split up for the tour; Abe and Dave skipped the movie and did a self-guided tour instead, since two guided tours in one day would have been pushing it with Abe.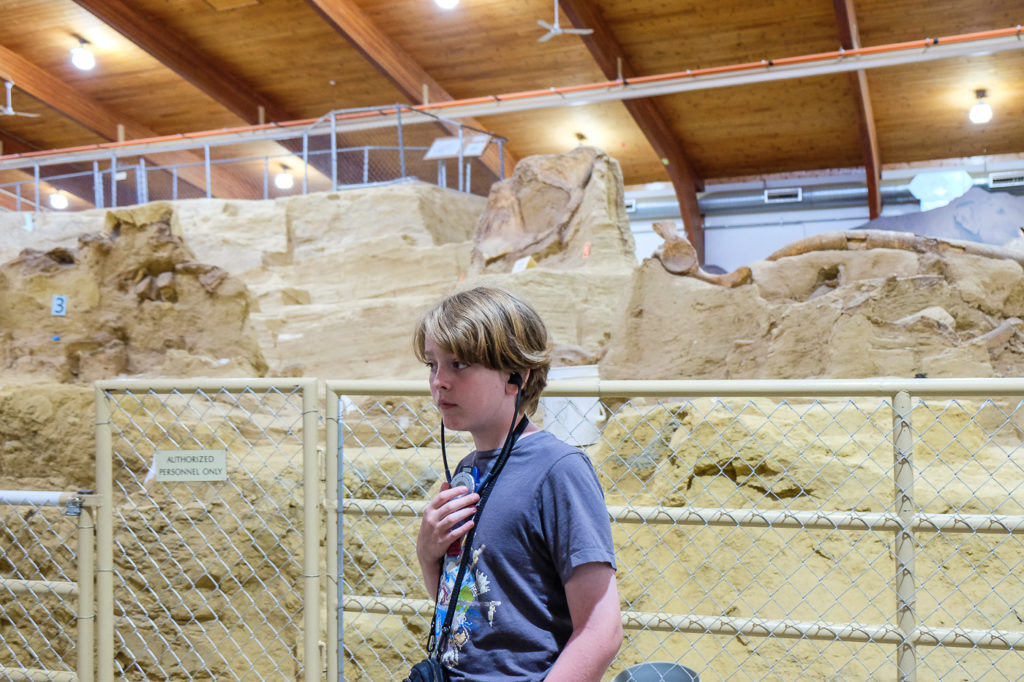 Honestly, if we had it to do over again, we might all do the self-guided tour. They give you all the same information as on the guided tour, and you can do it at your own pace and without a big crowd. Our tour guide was fine, but he didn't seem to know a whole lot that wasn't on his script (and it was such a big group that asking questions would have been tricky anyway), so I suspect we'd have learned just as much on the self-guided tour. But the site is fascinating and definitely worth seeing. All the bones are left where they're uncovered: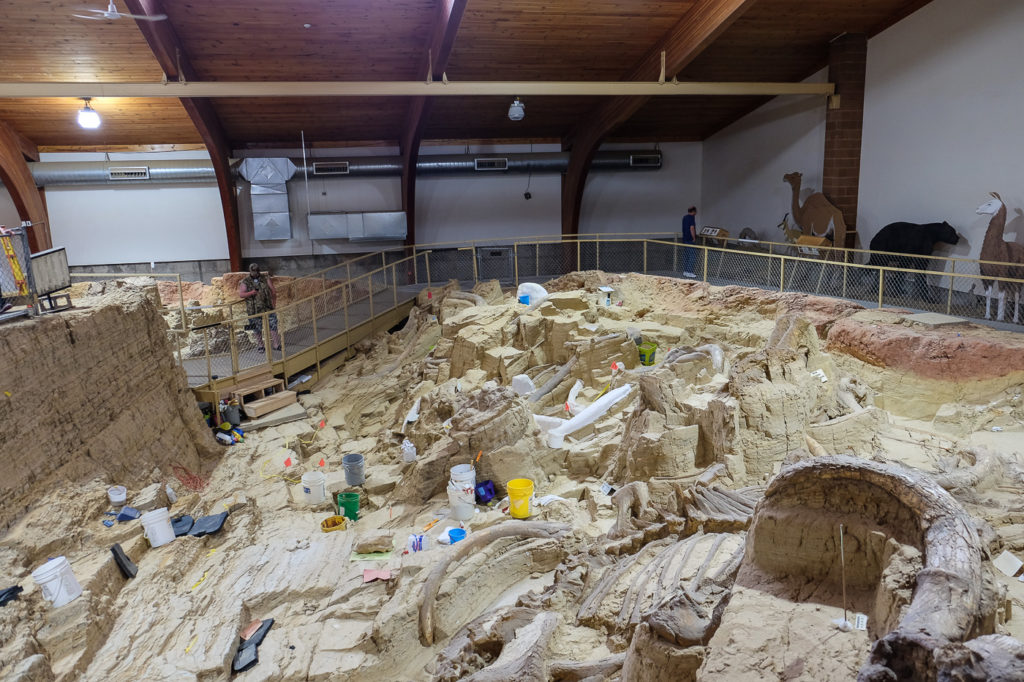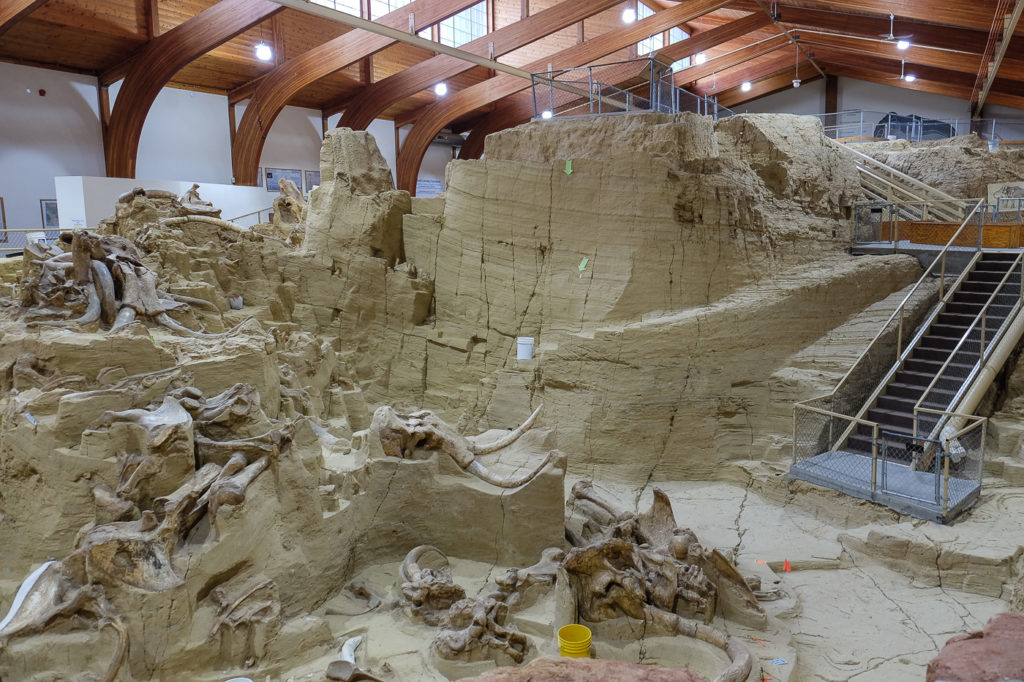 We learned a few days before our visit that The Mammoth Site offers paleontology classes for kids at very reasonable prices and decided to sign all the kids up (Ari against his will, but I figured he'd have more fun digging than sitting around for a couple of hours while his brothers did it). There's one class for kids 4-12 ($11 for a one hour class) and another for kids 10 and up ($18 for a two hour class). Gus is 11, so he could have done either class, but we signed him up for the older kids class.
They have a separate building set up as a big dig site for classes and groups. The kids get to dig up fossils and then, at least in the older kids' class, map where they found them and try to identify them. It's very cool.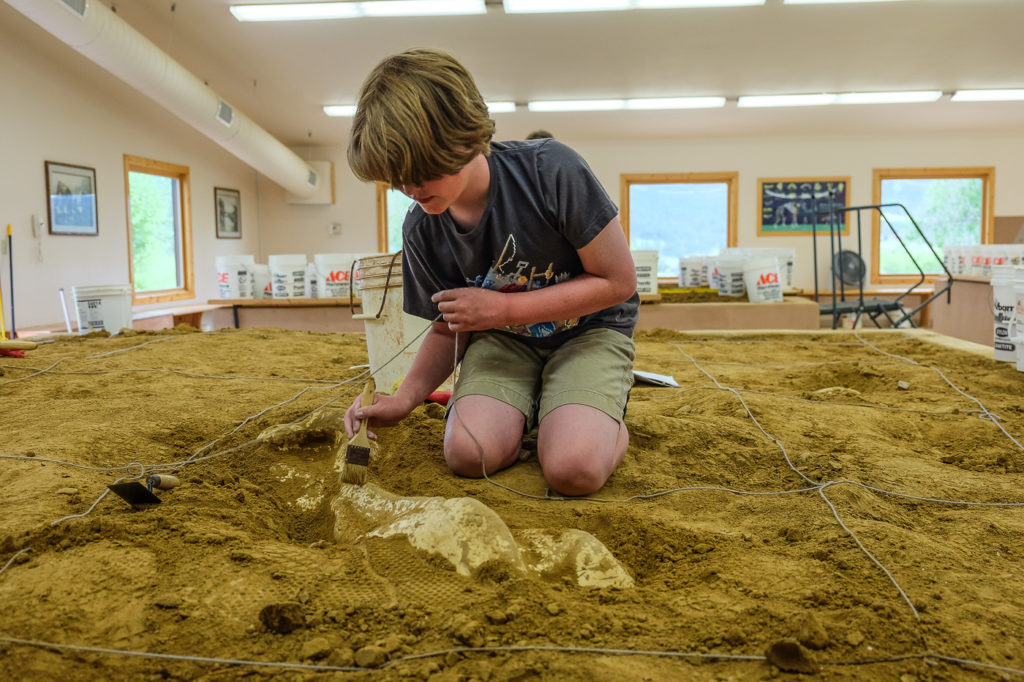 Abe LOVED his class. He was totally fascinated by the whole thing and asked a million questions.
The older kids….eh. They were only kids in the class (there was only one other kid in Abe's….I think the combination of early in the season and late in the day made for very sparsely attended classes), and I felt bad for their teacher trying to get answers out of my three not at all chatty with strangers kids. She was great– a college student working there for the summer–and she tried her very best to engage the kids (and let Abe dig some more with the big kids when his class was over). They did enjoy themselves, but they don't have any particular interest in paleontology, so it probably wasn't, in retrospect, the best fit. And two hours was way more than we needed (I'm sure it wouldn't have been had there been a big group).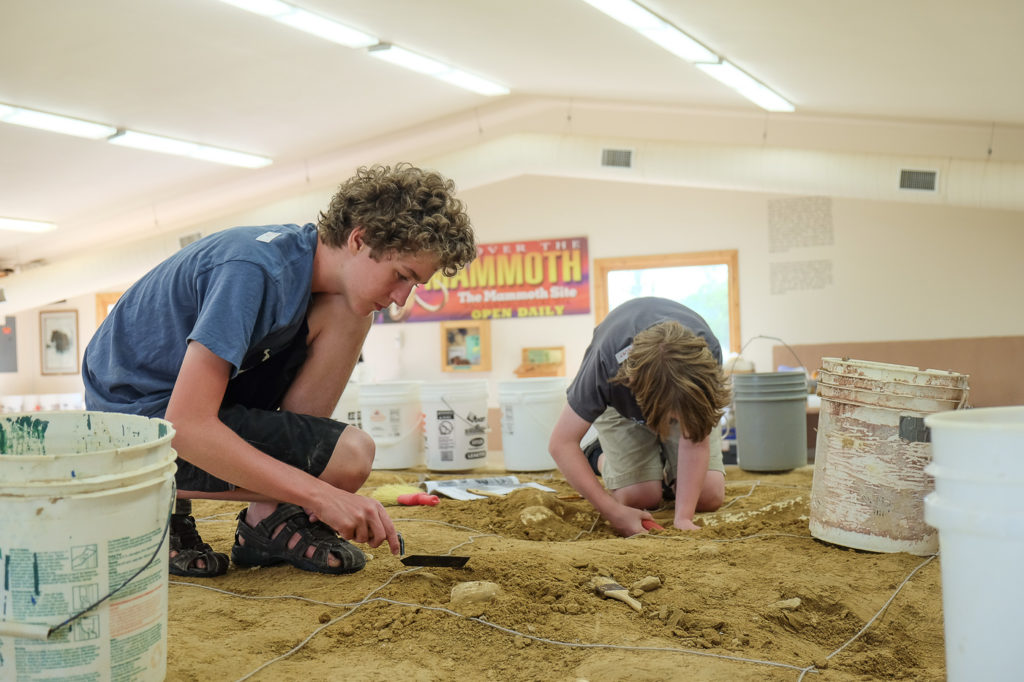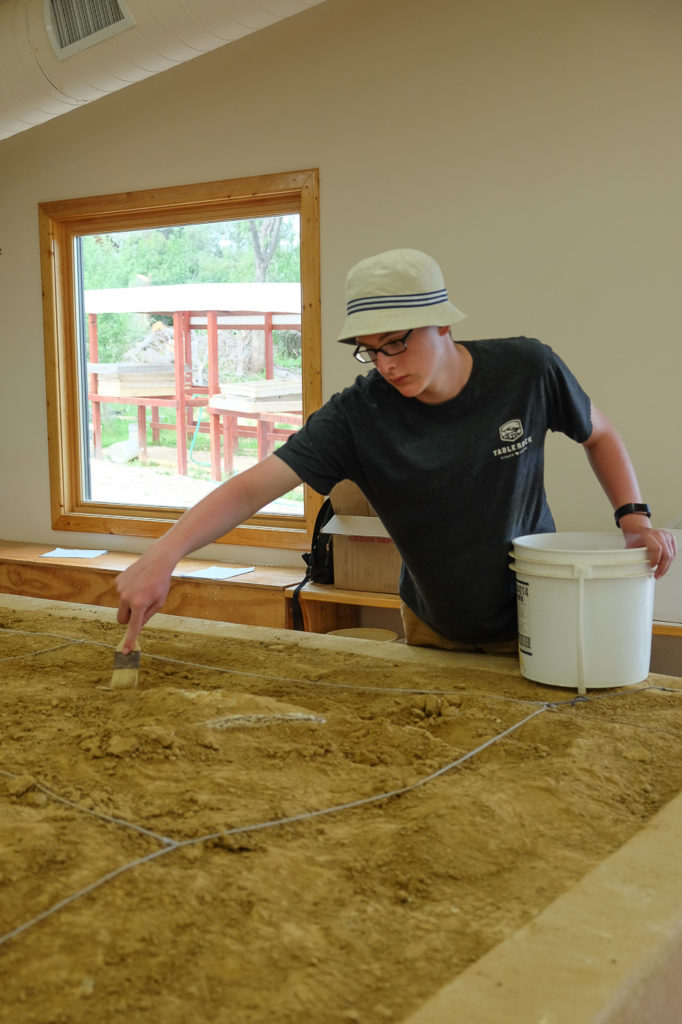 So, to sum, up–the classes are well done and very reasonably priced. I definitely recommend them for older kids who are particularly interested in paleontology and for younger kids who are interested in digging in dirt and curious about the world in general.
Also, there's a very sad painting on the wall of a mammoth trapped in the pond.
I'm sure he's going to be just fine.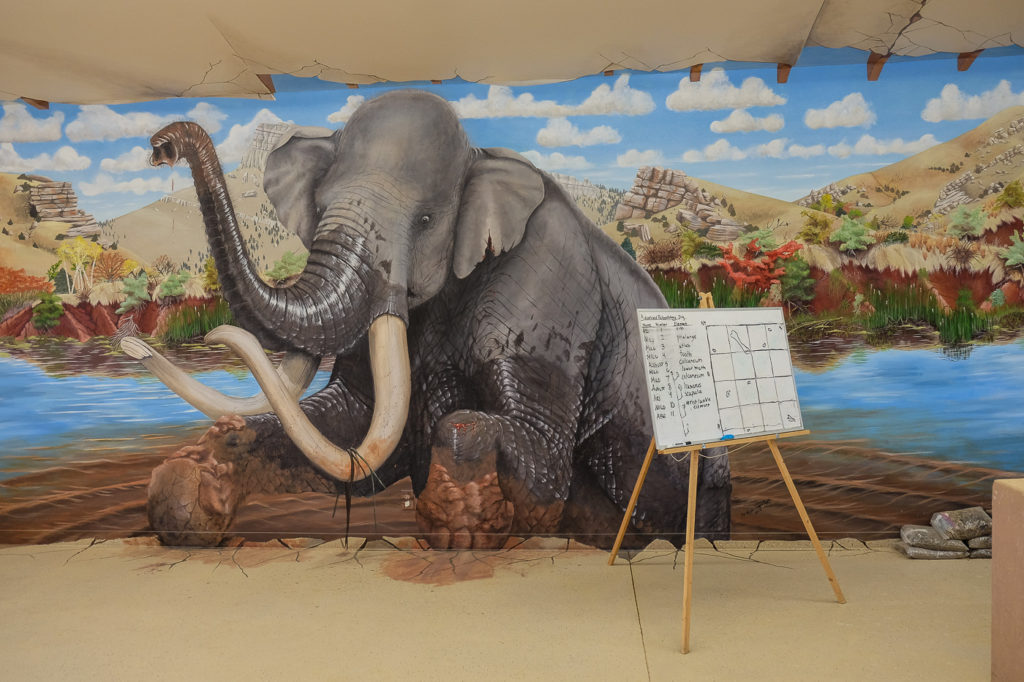 And with that, I am all finished with the Black Hills! Up next: more west!
You can read the other Black Hills posts here:
maybe you would like to pin this?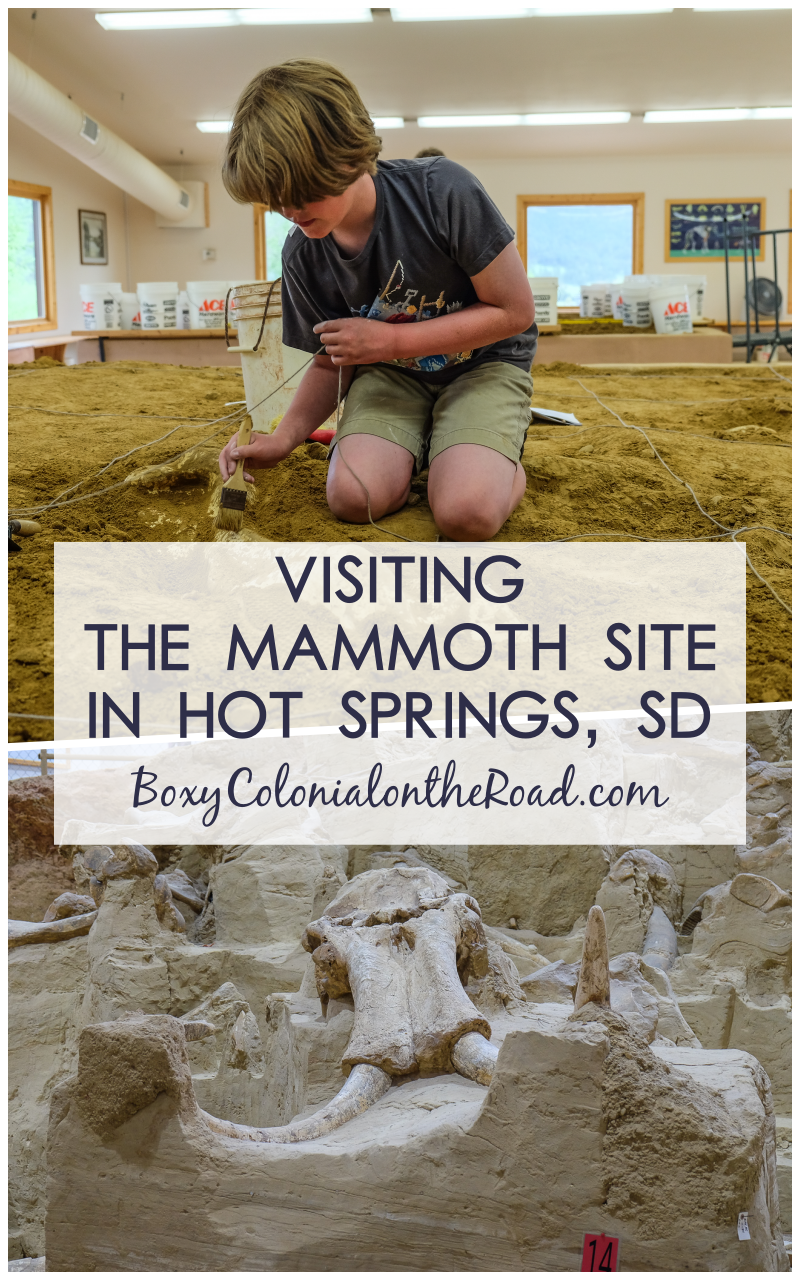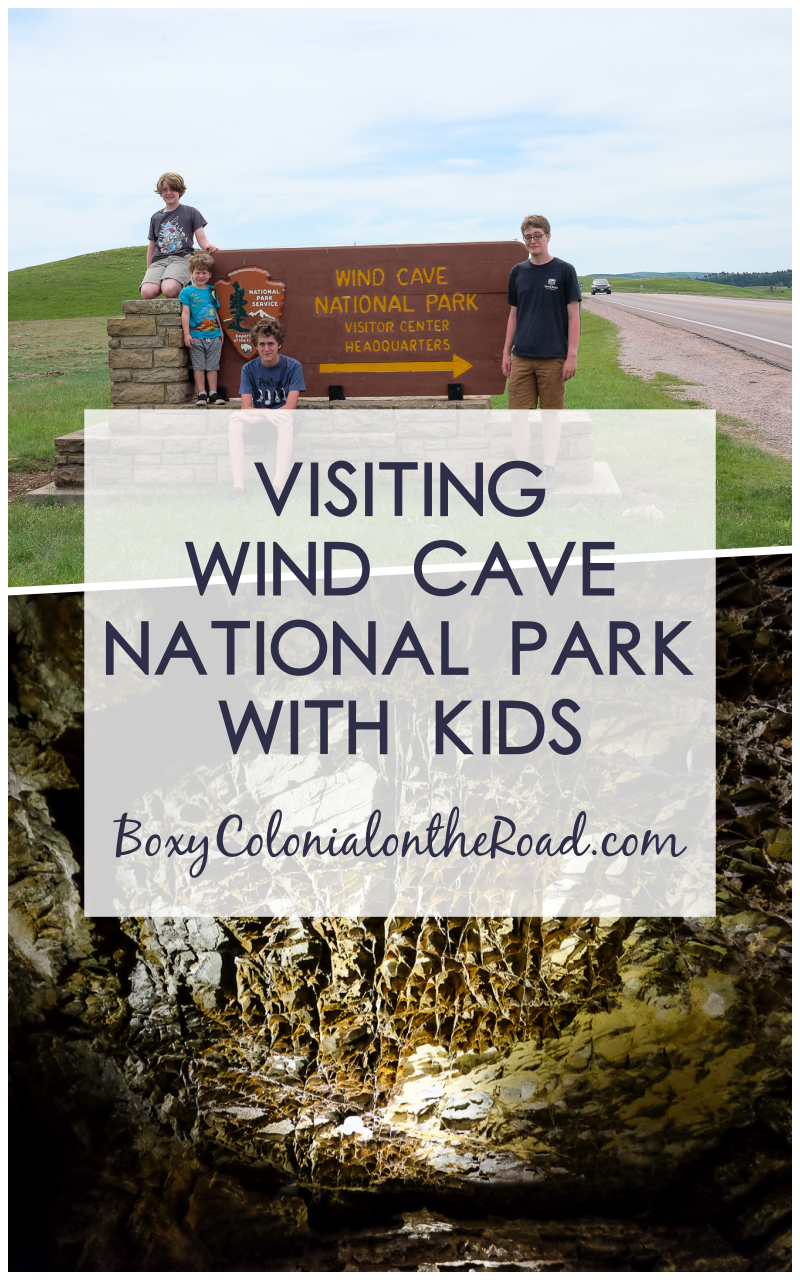 SaveSaveSaveSave
SaveSave
SaveSaveSaveSave
SaveSave