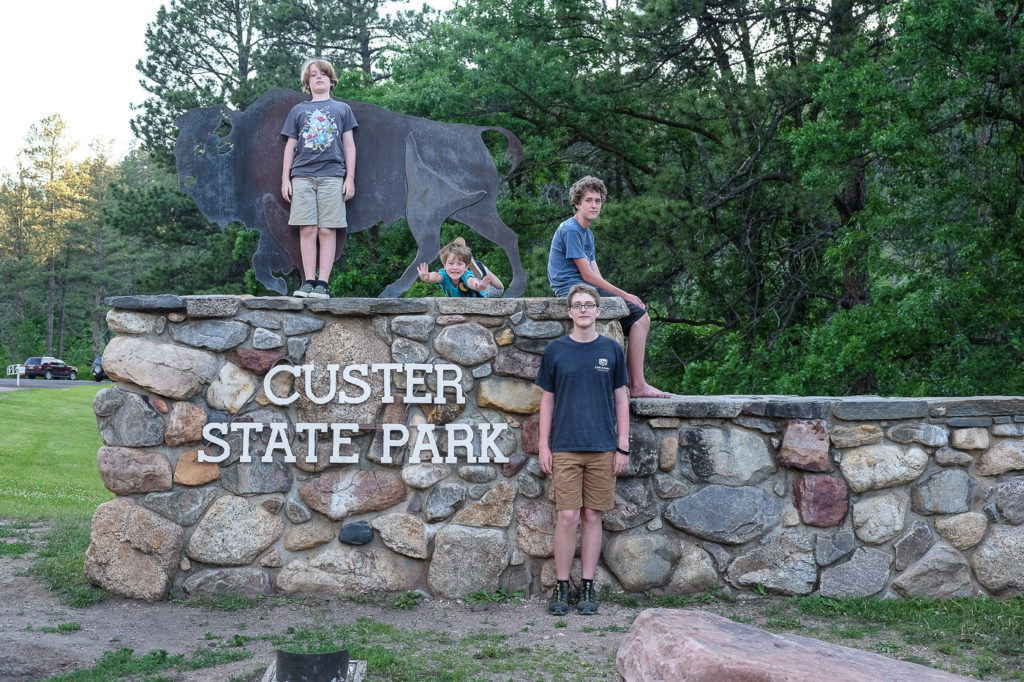 People like to pay Custer State Park in South Dakota the compliment of saying that it's so good it could be a National Park. After visiting a million or so National Parks and a fair number of state parks this summer, I'm prepared to concur: Custer State Park can hold its own with many of the 59 National Parks when it comes to facilities, beauty, organized programs, wildlife, and sheer variety of stuff to do. We chose Game Lodge Campground inside the park as our Black Hills base camp in part because we knew we wanted to spend a lot of time exploring here. Here's a rundown of what we did:
Needles Highway
There are a number of scenic drives in the park, and we managed to get to all of the big ones, I think. Handily, the drives often double as a good way to get to an area attraction, and I'm all about efficiency! We took Needles Highway to get to the Sylvan Lake area, where we planned to hike up Black Elk Peak.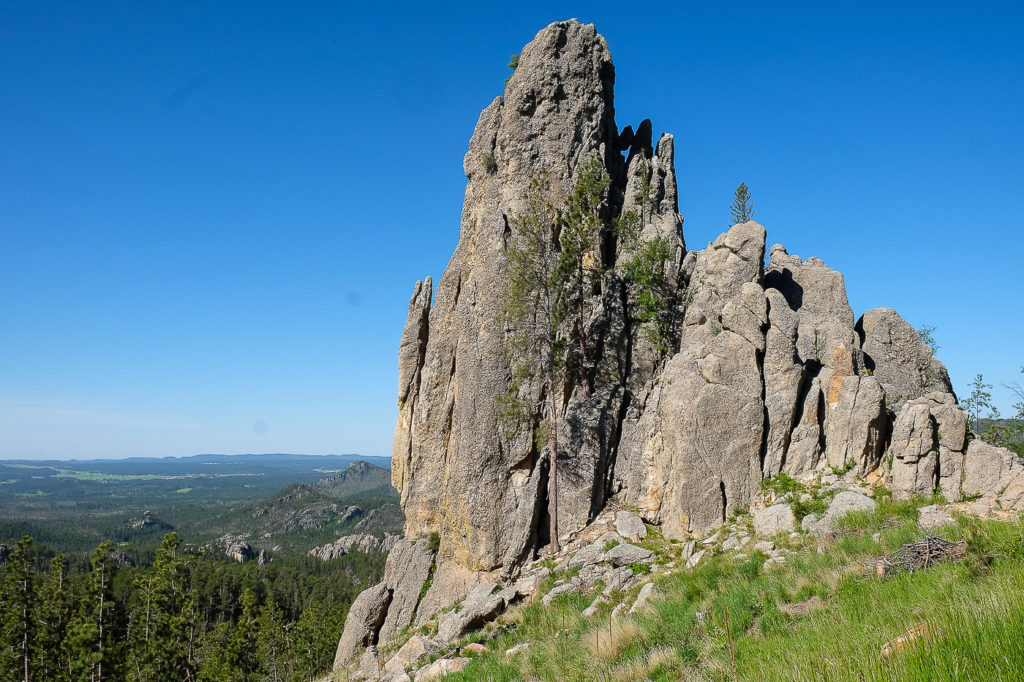 Needles highway is named for the tall, skinny rock formations that you'll see along the way. If you've done any reading about Custer State Park, you've probably come across photos of cars squeezing through the very narrow tunnels on the route. This is not a road for your RV, but our big old van made it through safely: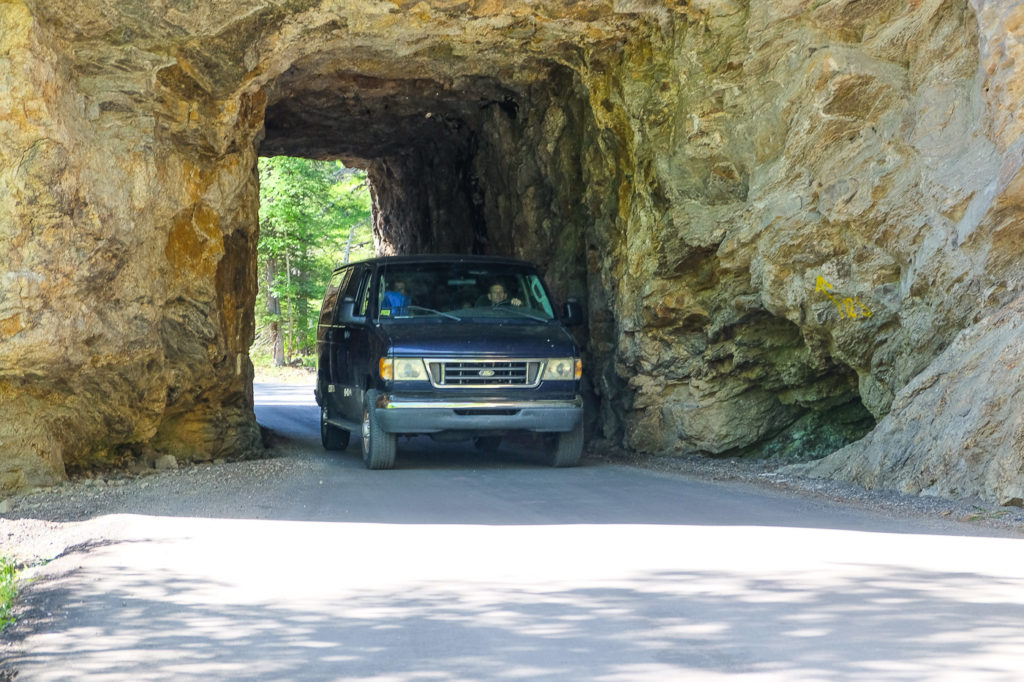 The road is steep and winding, but relatively short on steep drop offs right next to the road, so that a scaredy cat like me can handle it fairly well. I didn't get photos, sadly, but we saw a group of mountain goats right next to the road at one point–probably our favorite wildlife sighting in Custer.
Hiking Black Elk Peak
Black Elk Peak (formerly Harney Peak) is the tallest peak in the Black Hills, at 7242 feet and, in fact, the tallest peak east of the Rocky Mountains. And the hike, at just under 4 miles each way, was by far our most ambitious on this trip (or ever). The most common trail up to the top (and the one we took) is trail 9, and it starts from Sylvan Lake. There's a large parking area here, and there's also a store where you can stock up on snacks to bribe your four year old with.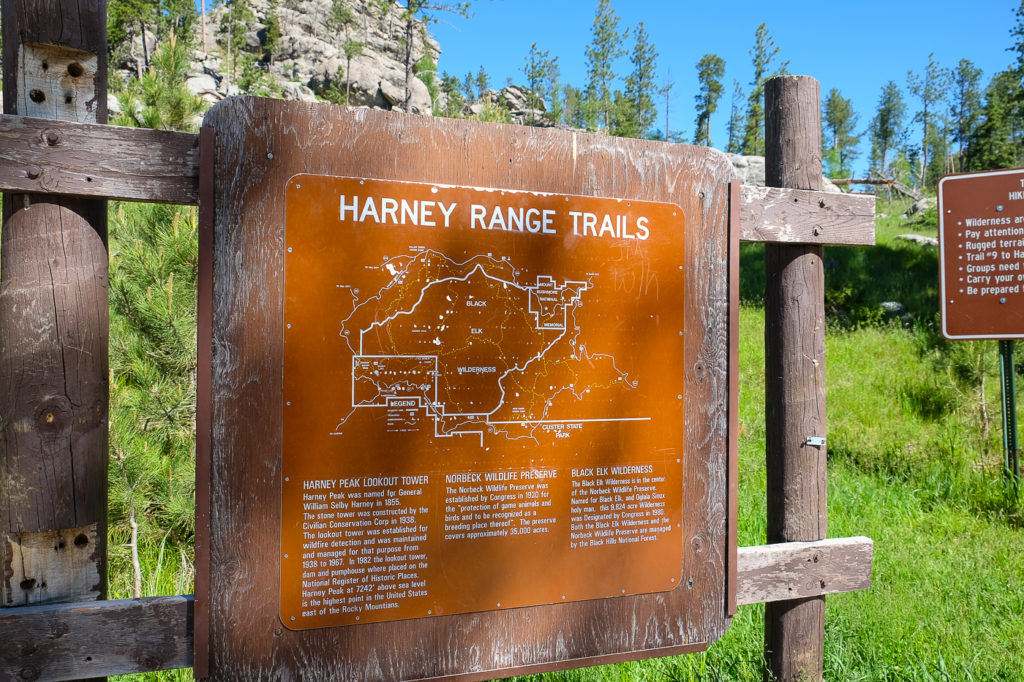 The hike is pretty difficult–it gains about 1100 feet in elevation over the 3.8 or so miles–but it's a heavily trafficked trail, and we saw a lot of people attempting it who didn't seem very prepared (like the couple who appeared to have brought nothing with them but one small plastic bottle of water to share). We each had a backpack with snacks and a water bladder, and everyone's water was empty by the time we finished.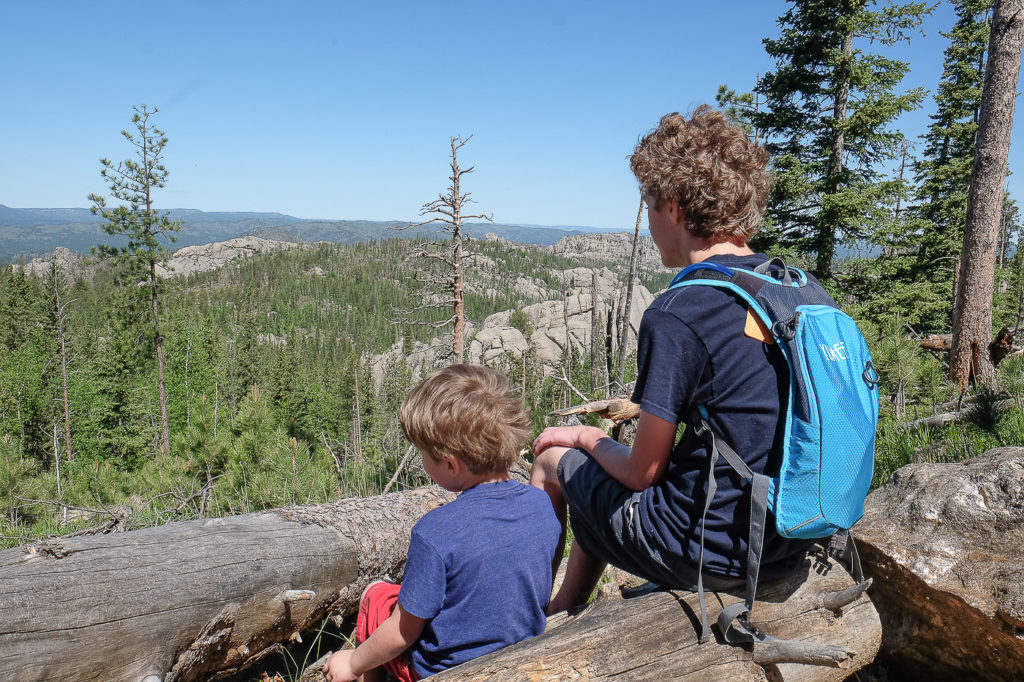 Most of the trail moves pretty steadily upwards, but there are a few places where it levels off and one lengthy portion where it goes back downhill for awhile (which is nice on the way up, but really discouraging on the way back down, six miles or so into your hike). You pass out of the park and into the Black Hills National Forest: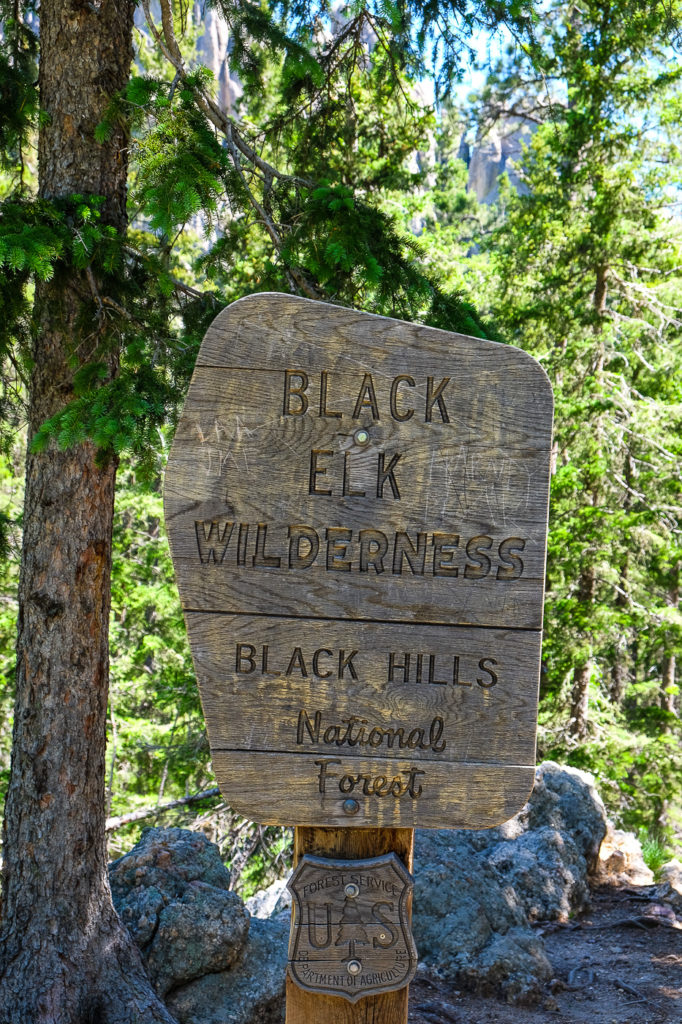 Most of the hike up is through a wooded area, but there are  some places where the trees clear and you get nice views: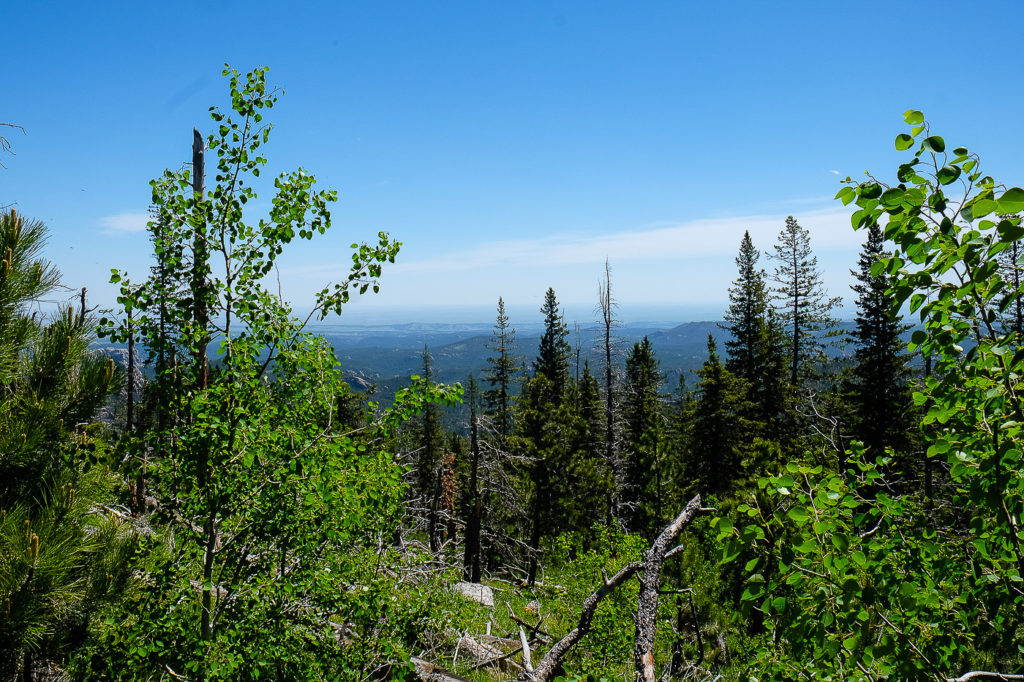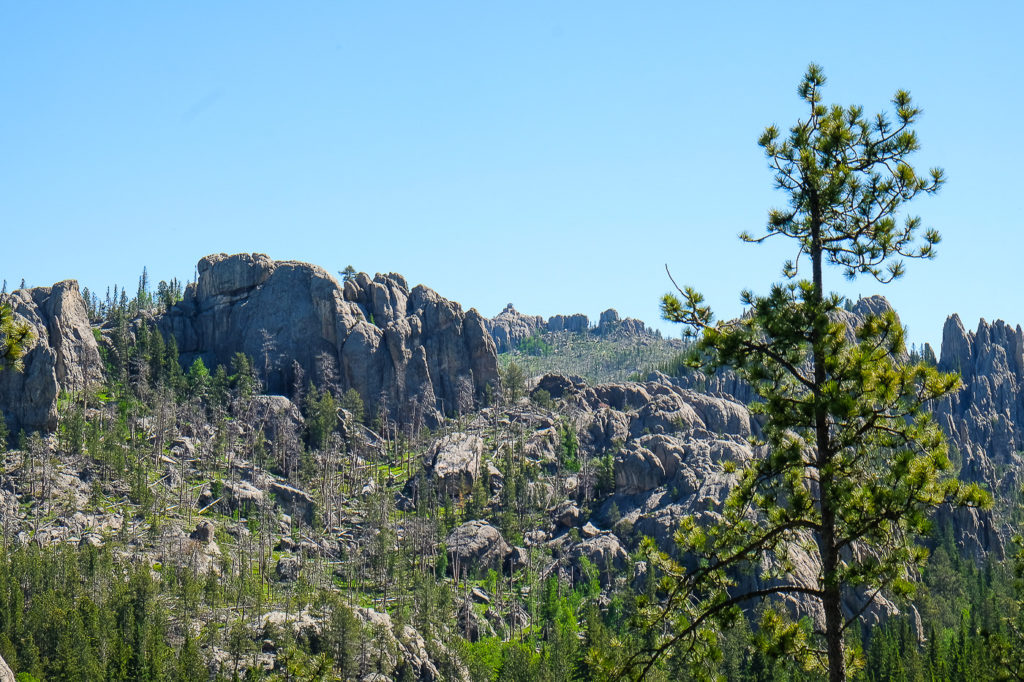 As you approach the peak, the trail gets very steep: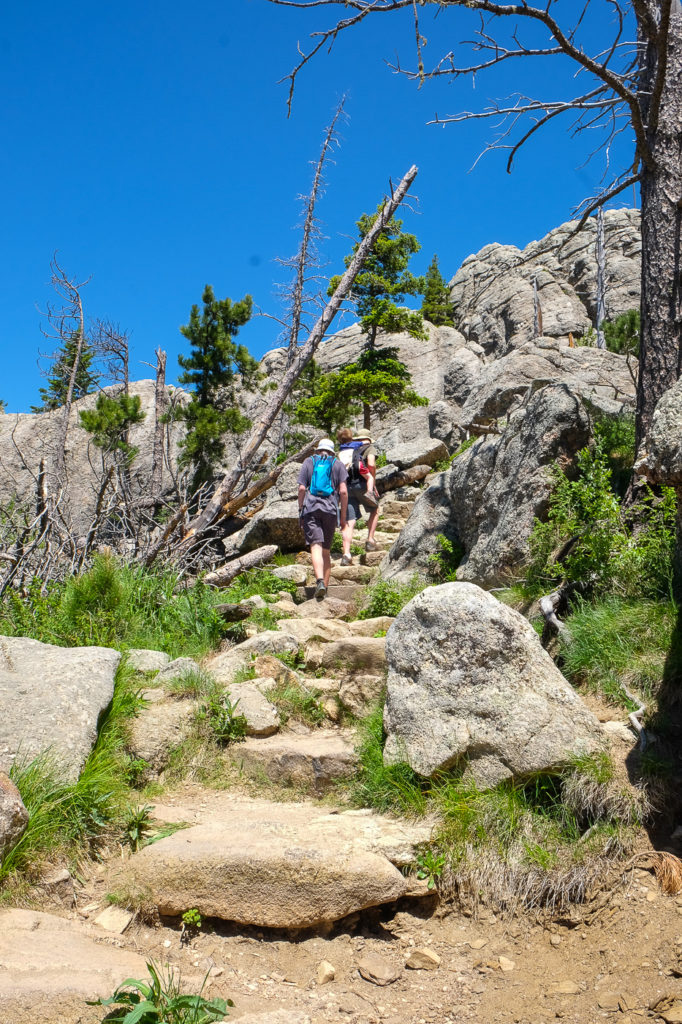 With some slightly scary (to me) drop offs….but then you've made it! Woo hoo!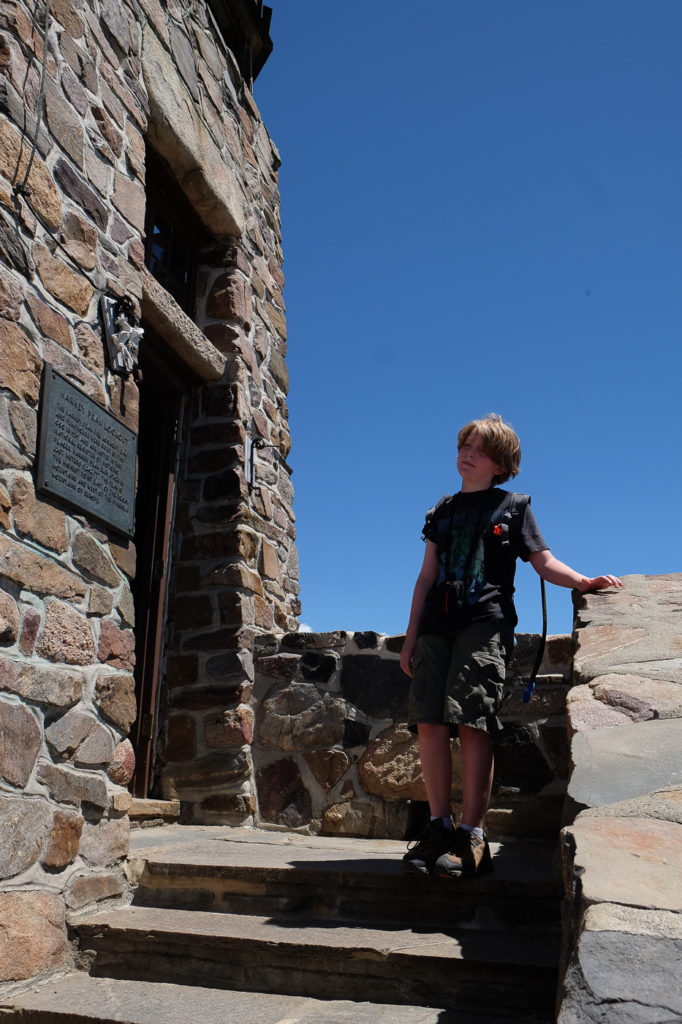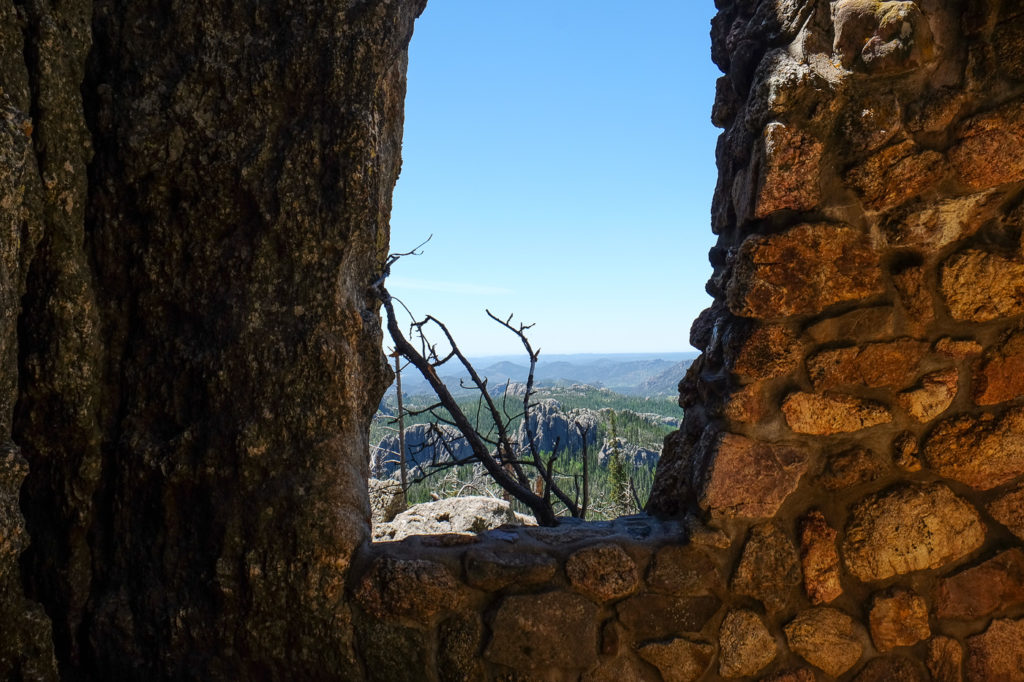 There's an old CCC lookout tower at the top, with a couple different levels to explore. For some reason, I decided not to make the final push and climb the ladder to the top here, even though I had just done the Notch Trail in the Badlands a few days before and even though I'd just climbed this whole mountain and all. I don't care for ladders. But everyone else did.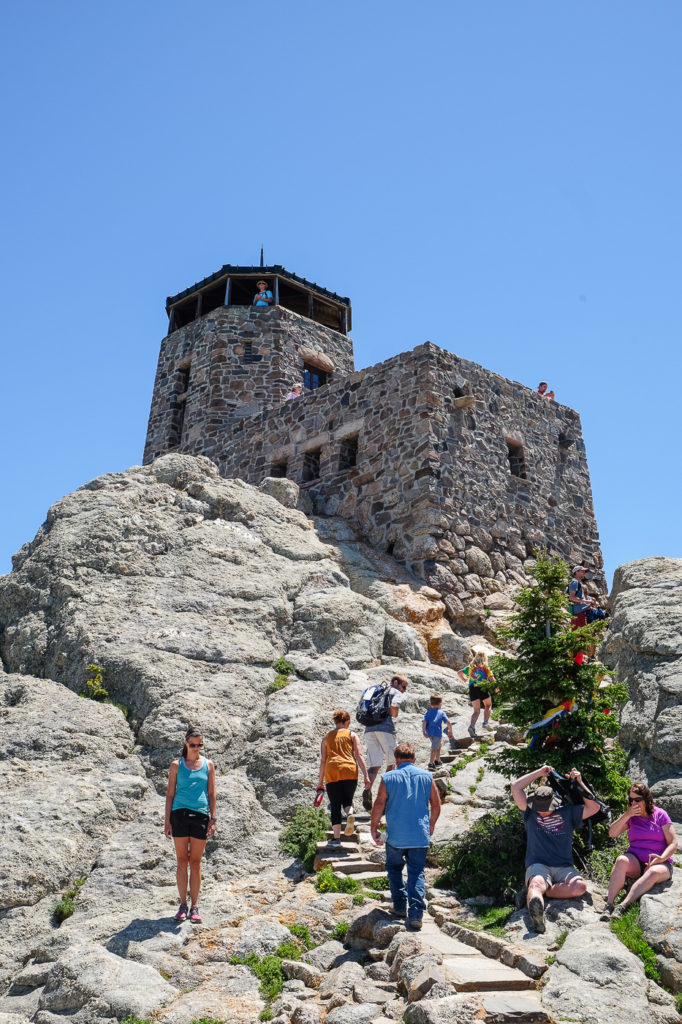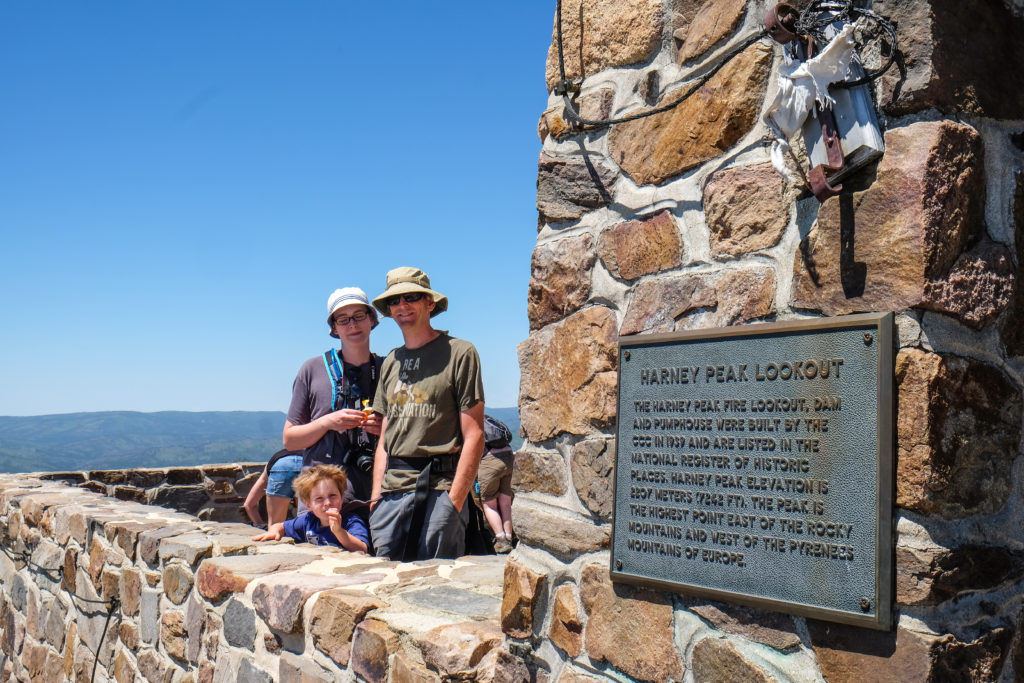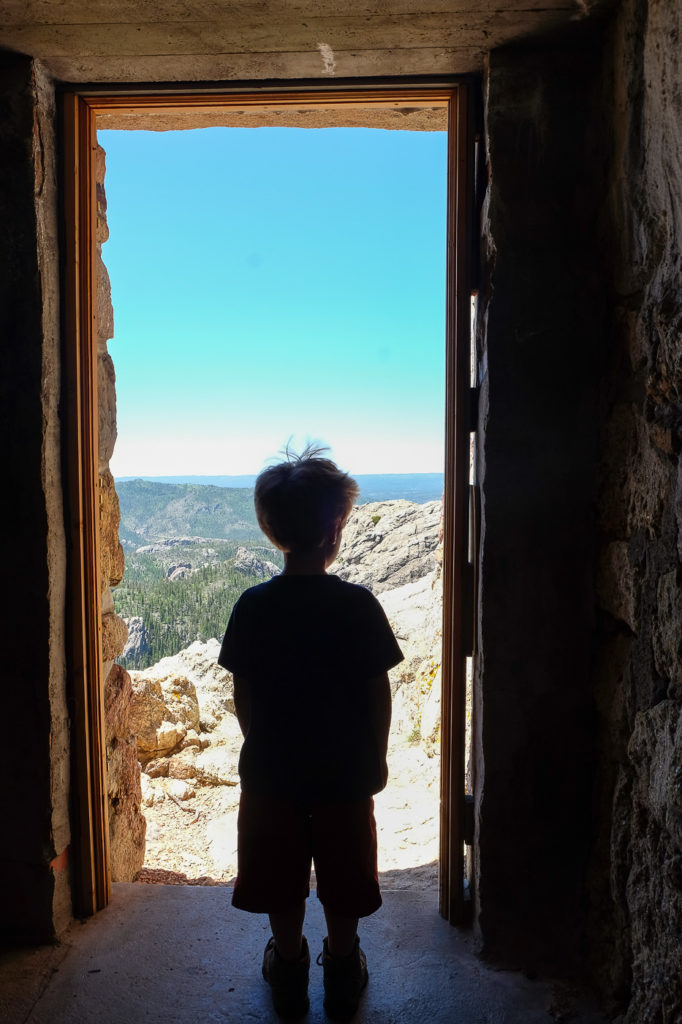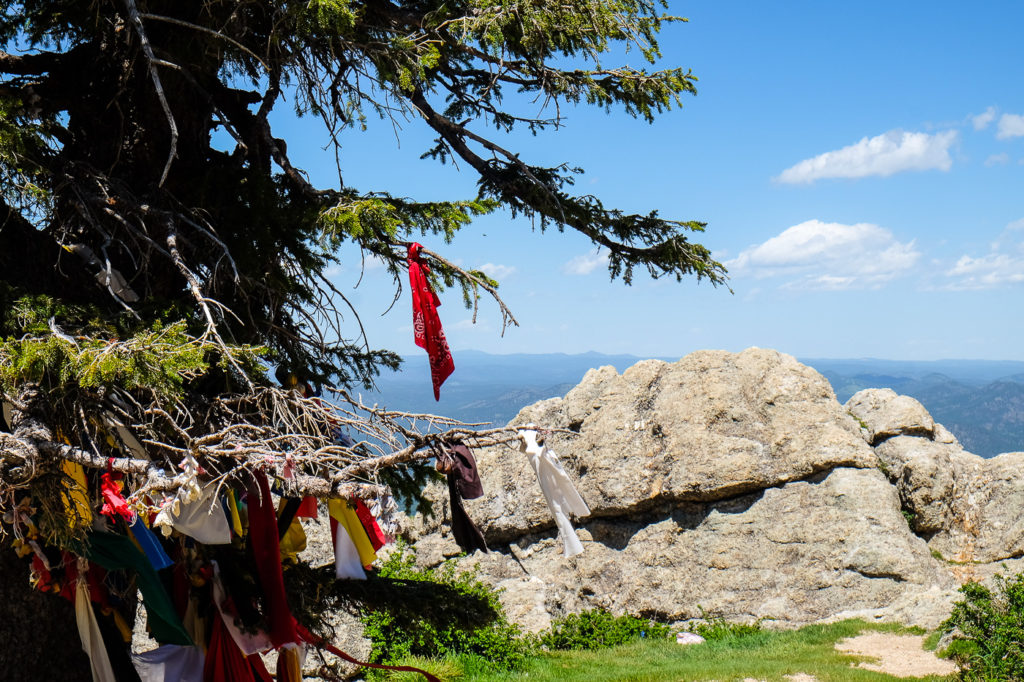 We spent awhile hanging out at the top and forcing the kids to pose for photos: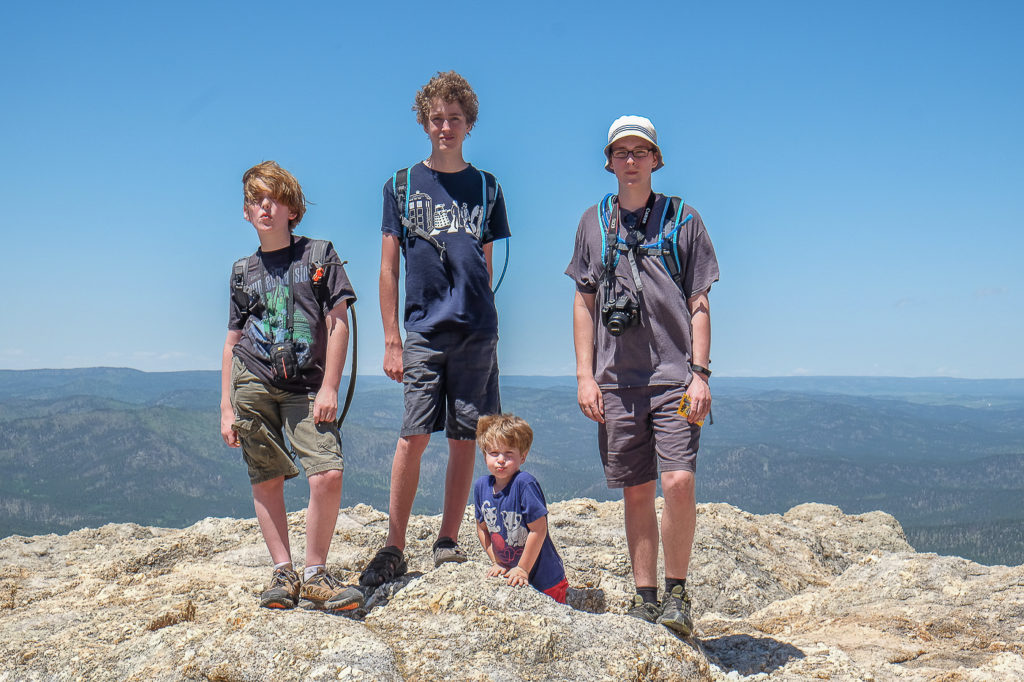 And then headed back down….but not before spotting more mountain goats!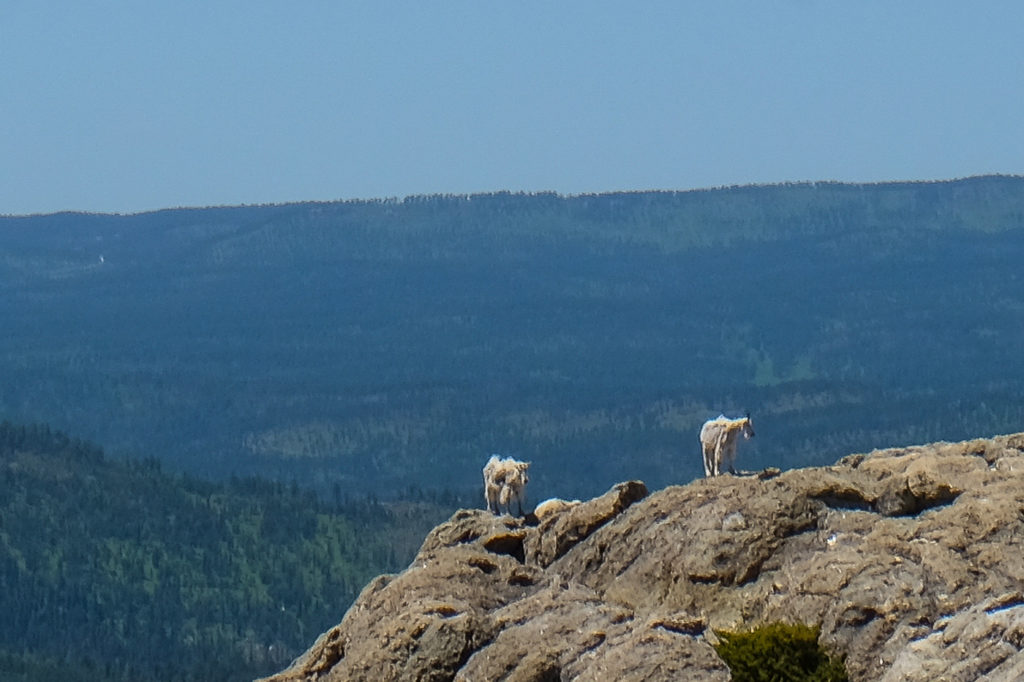 The older kids mostly did fine with this hike (although one of them, who shall remain nameless, complained a lot. To be fair, I think he and I are the ones who were the most affected by the elevation, which we are very much not used to. I had full on altitude sickness a day or two before this hike). Abe rode in the Ergo a good bit of the way, including pretty much the whole way down (the actual hard parts involved interesting stuff like scrambling up stone stairs, so he was happy to do that part himself). I'm very glad we did it, although it wouldn't have hurt to prepare a little more before the trip with some longer hikes. We hike pretty regularly at home, but generally more in the 2-4 mile range.
Wildlife Loop Road
We actually ended up driving (parts of) the Wildlife Loop Road twice, once in the evening and once in the morning, which are supposed to be the two best times of day for spotting wildlife. The first time the road doubled as our route back from dinner at the Bluebell Lodge; the second time we took part of the road on our way to Wind Cave National Park to the south of the park.
It's a pleasant drive, but it doesn't have the spectacular views that some of the other scenic roads in the park have, and we didn't find it a whole lot better for wildlife spotting than most of the other roads in the park. You will almost definitely see lots of bison, but you'll see them elsewhere, too. Here are some (incidentally, early summer is an awesome time for baby animal spotting):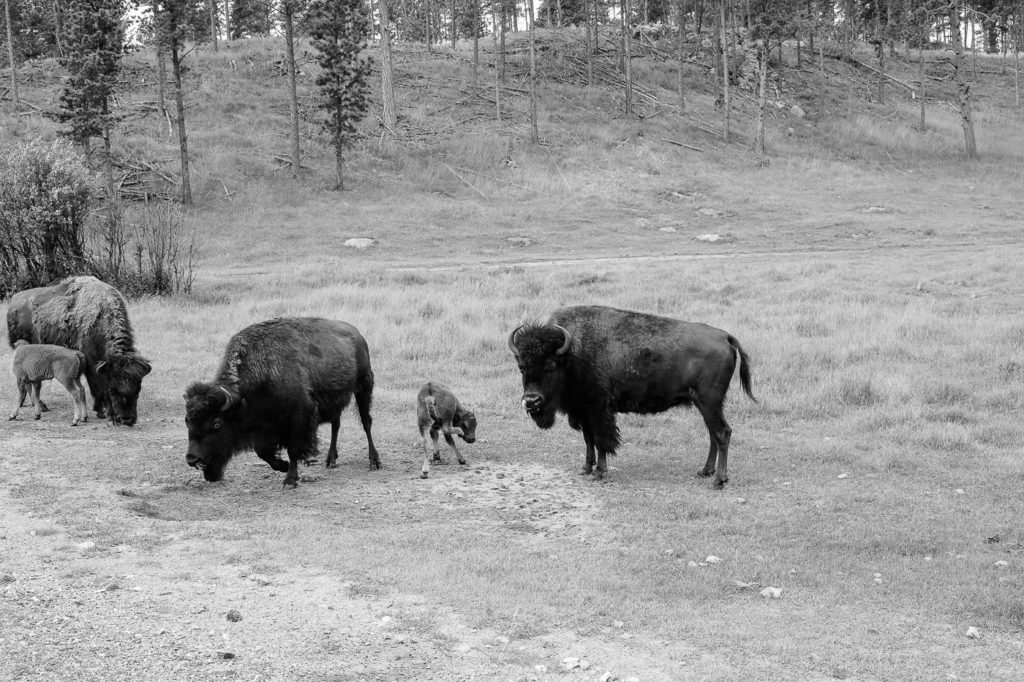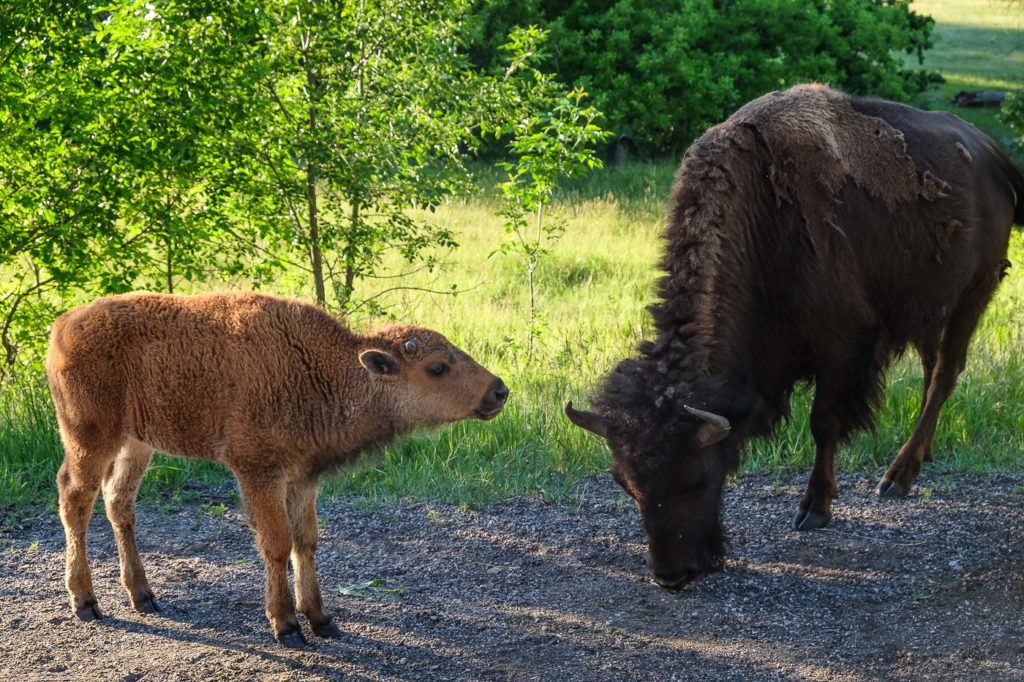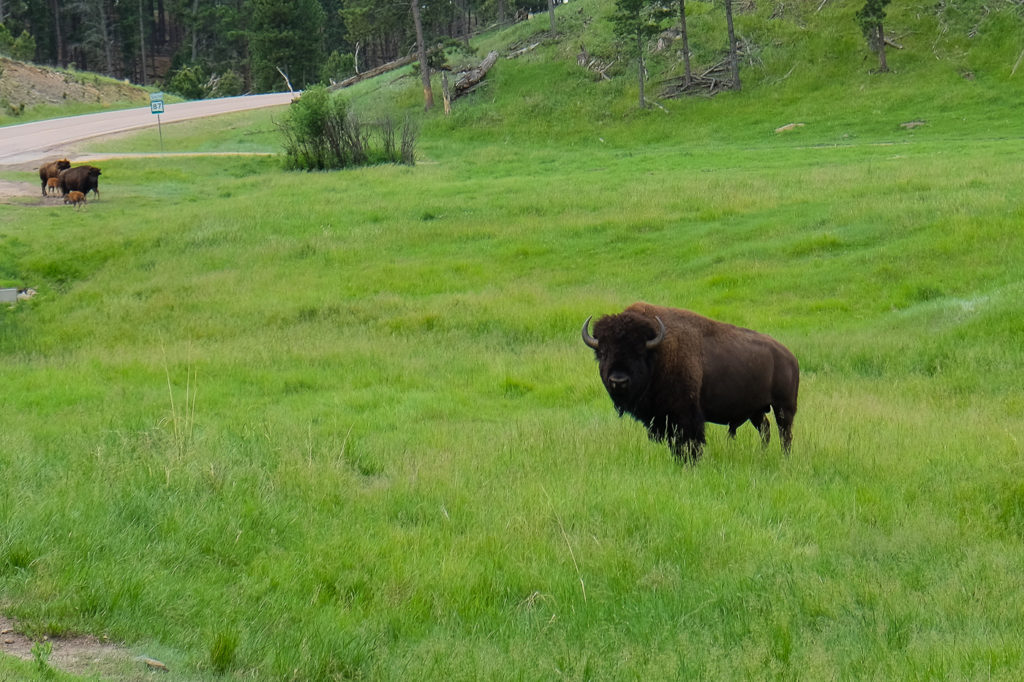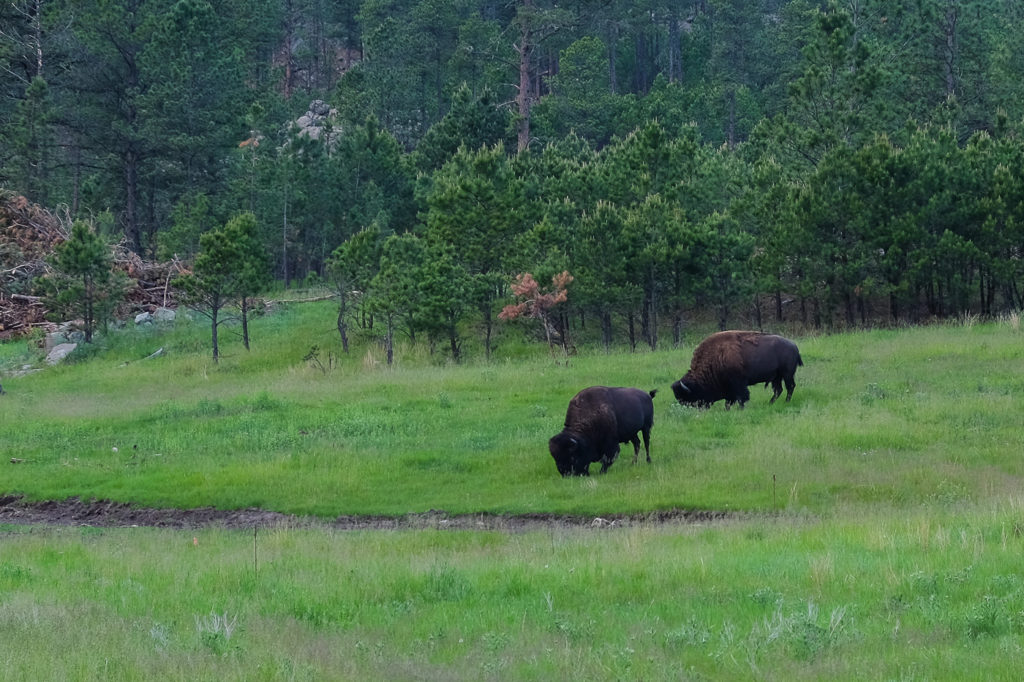 But one thing that you'll only see on the Wildlife Loop that definitely makes the whole drive worthwhile is the burros!
The sorta wild burros who hang out here are descendants of the burros that used to take tourists to the top of Black Elk Peak. Nowadays the burros live a life of leisure, and if you want to see the top of Black Elk Peak you have to walk up there on your own two feet.
The park literature is cagey about the burros. Approaching or otherwise bothering the true wild animals in the park is definitely off limits, but there's a bit of a don't ask, don't tell approach to burro interaction. What this means in practice is that these burros get an awful lot of apples and carrots from tourists. Including us. I'M not passing up a semi-condoned by the park chance to feed semi-wild burros!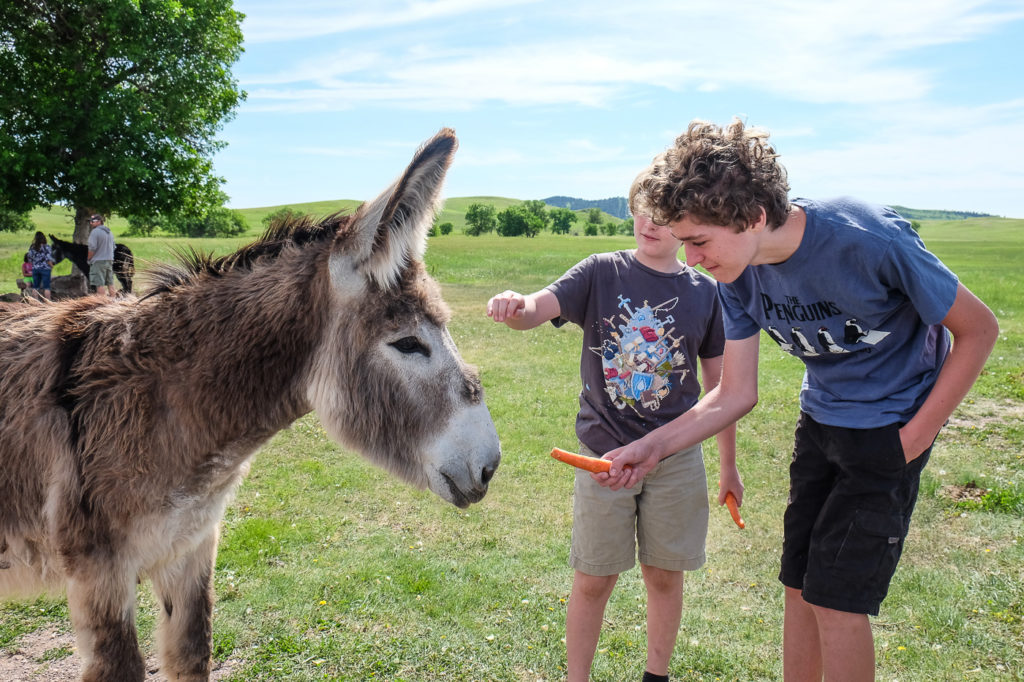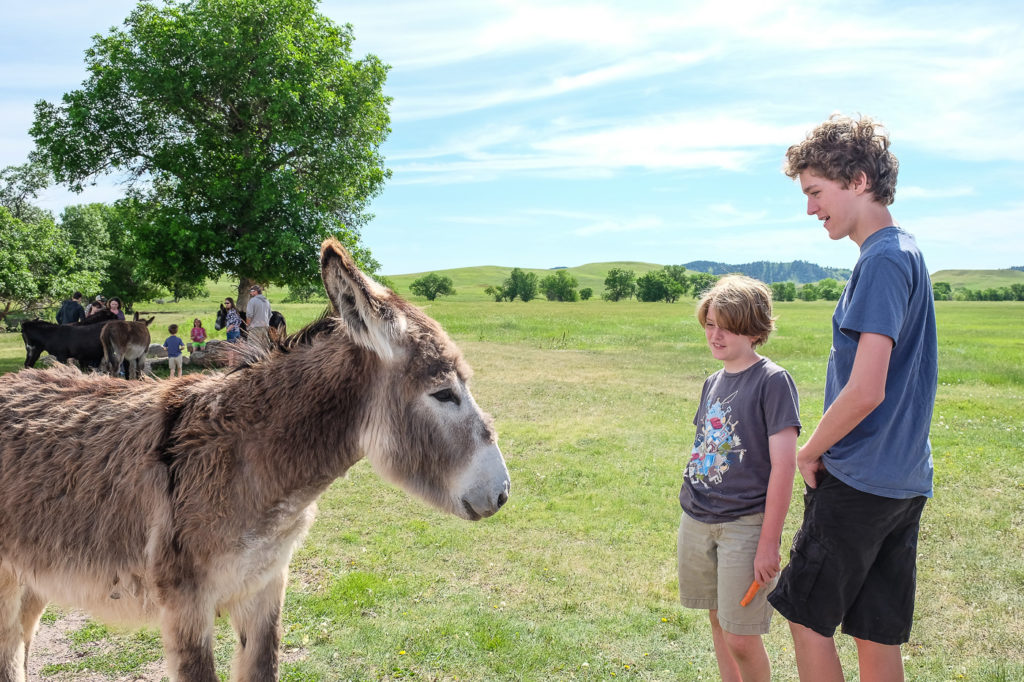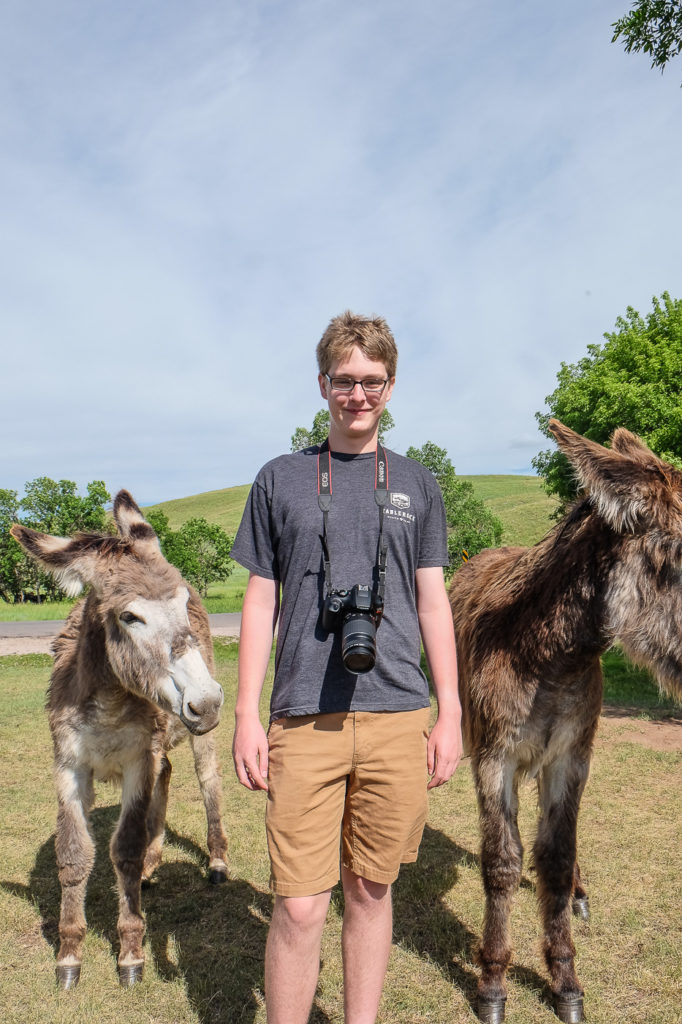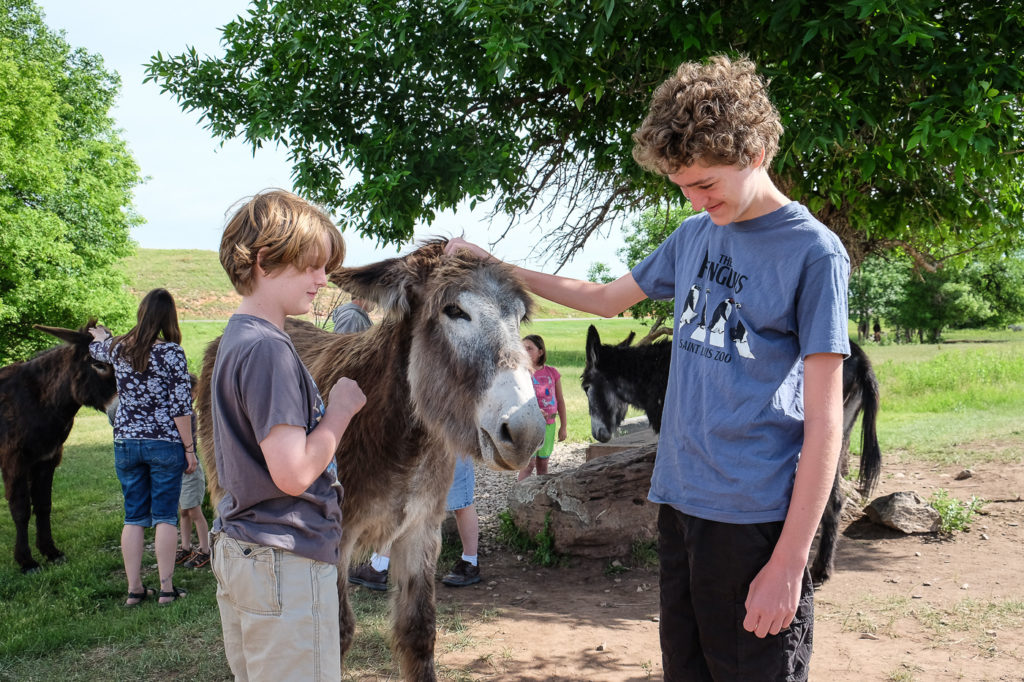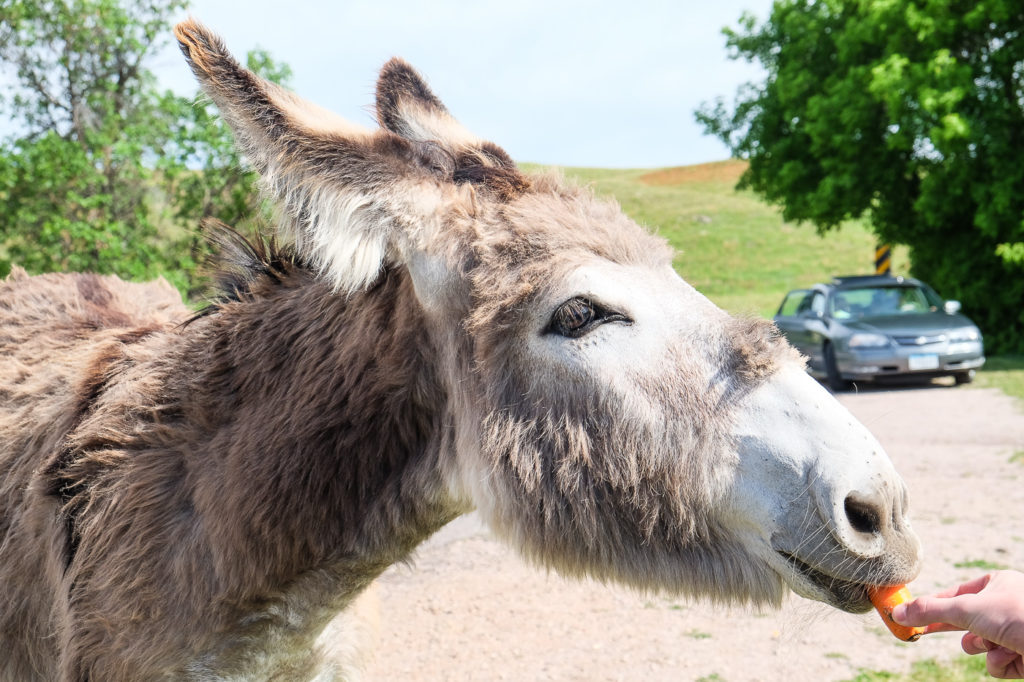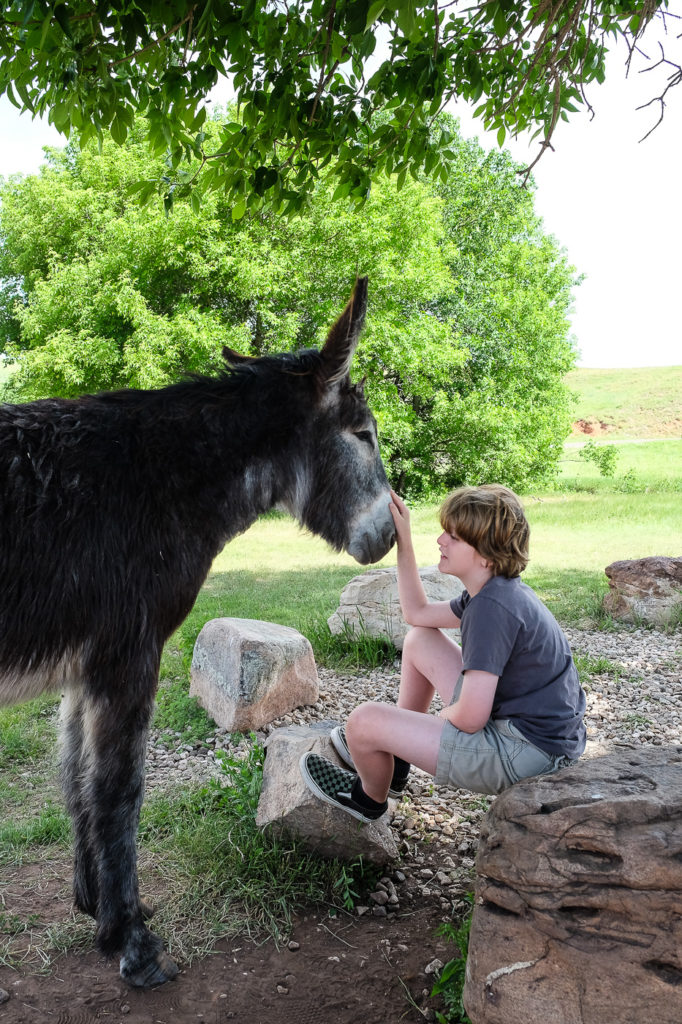 Iron Mountain Road
Another scenic drive, famous for its "pigtail" bridges and views of Mount Rushmore. Also a good way to drive to Mount Rushmore from the park. More tiny tunnels: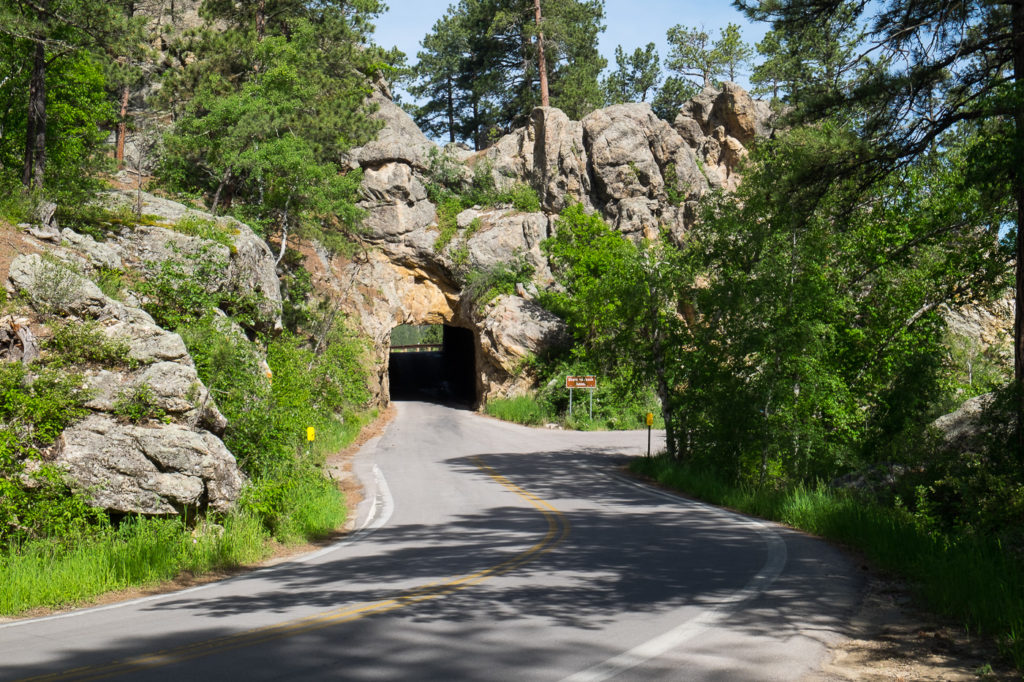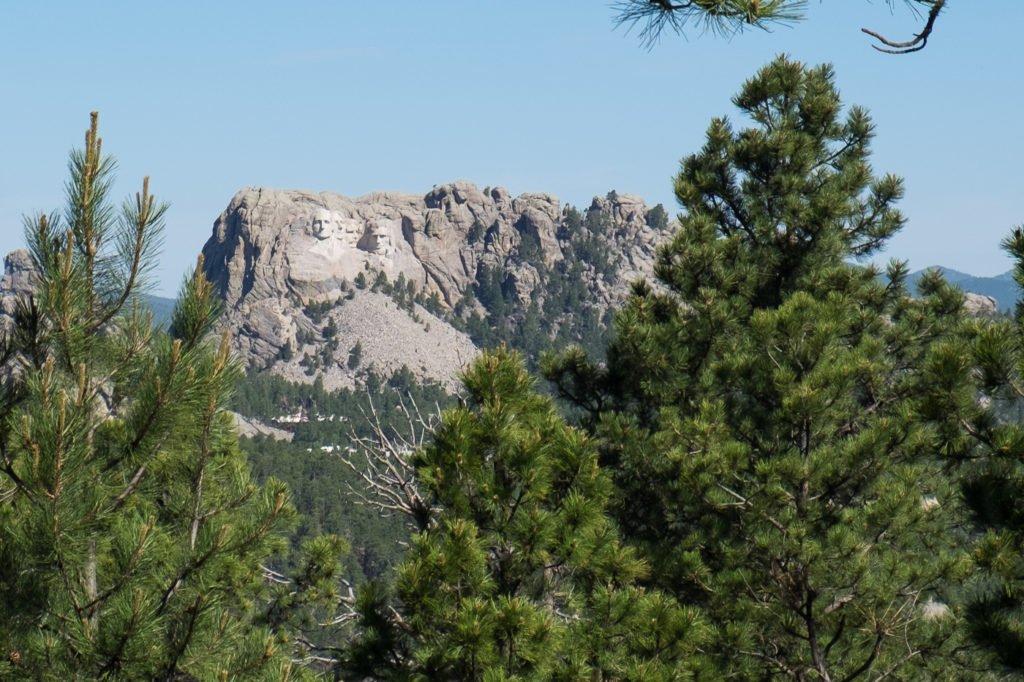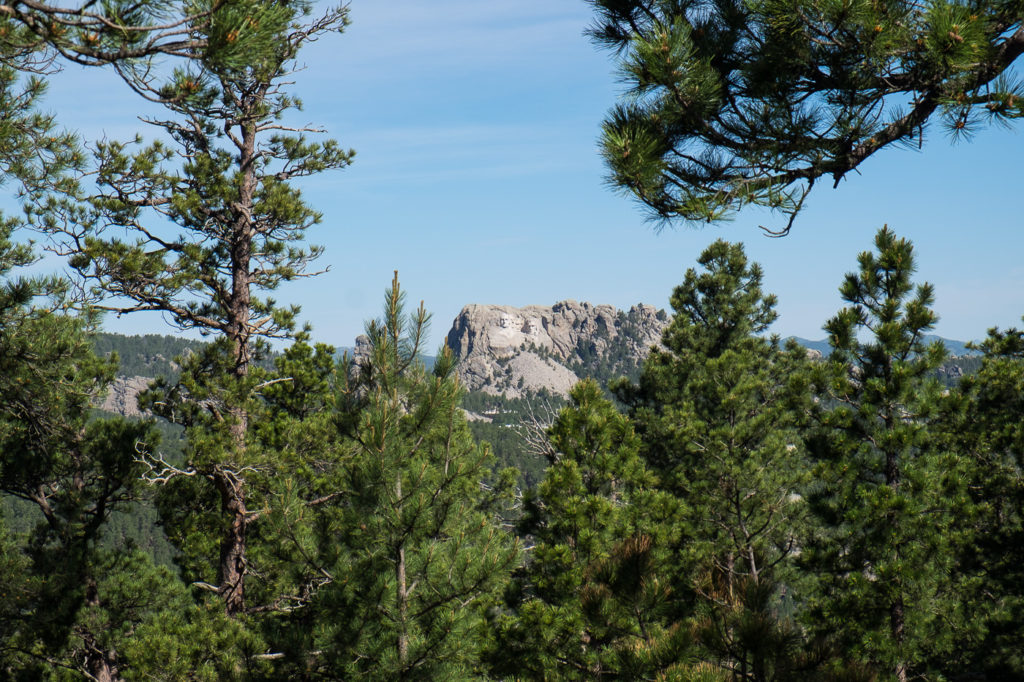 Visitors' Center
The small but nicely done visitors' center is within walking distance of the Game Lodge Campground.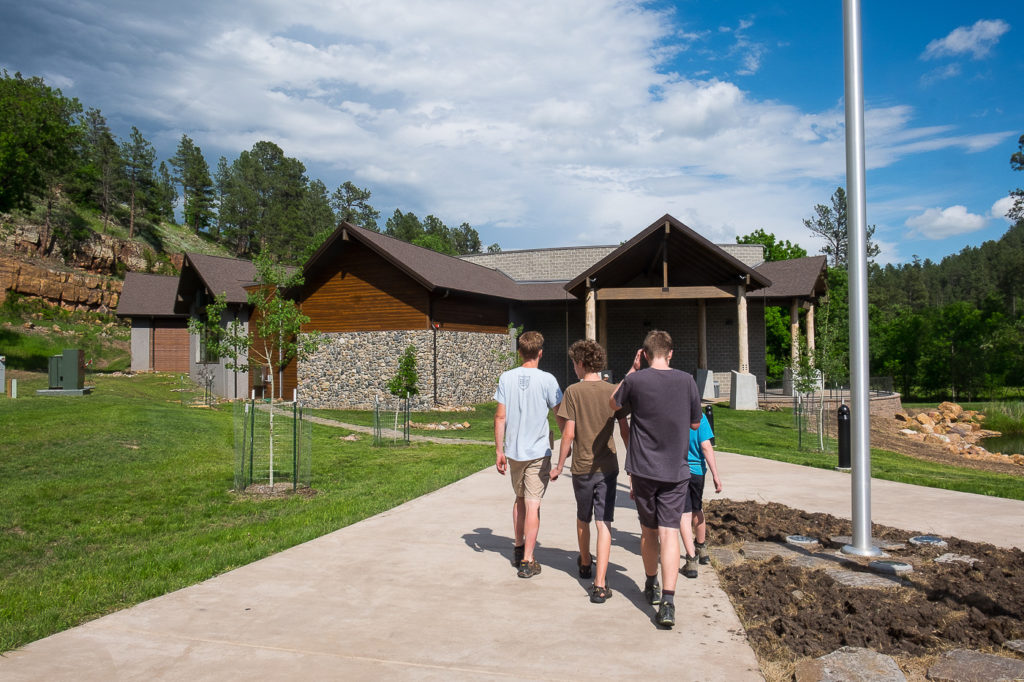 I hear that the movie here is very good, and we kept meaning to get back to watch it, but, sadly, we failed. But we did spend some time checking out the displays about how not to get gored by bison. Gus appreciated this sign that made it clear that "bison" is right and "buffalo" is wrong, scientifically speaking. People calling bison buffalo drives Gus into a rage.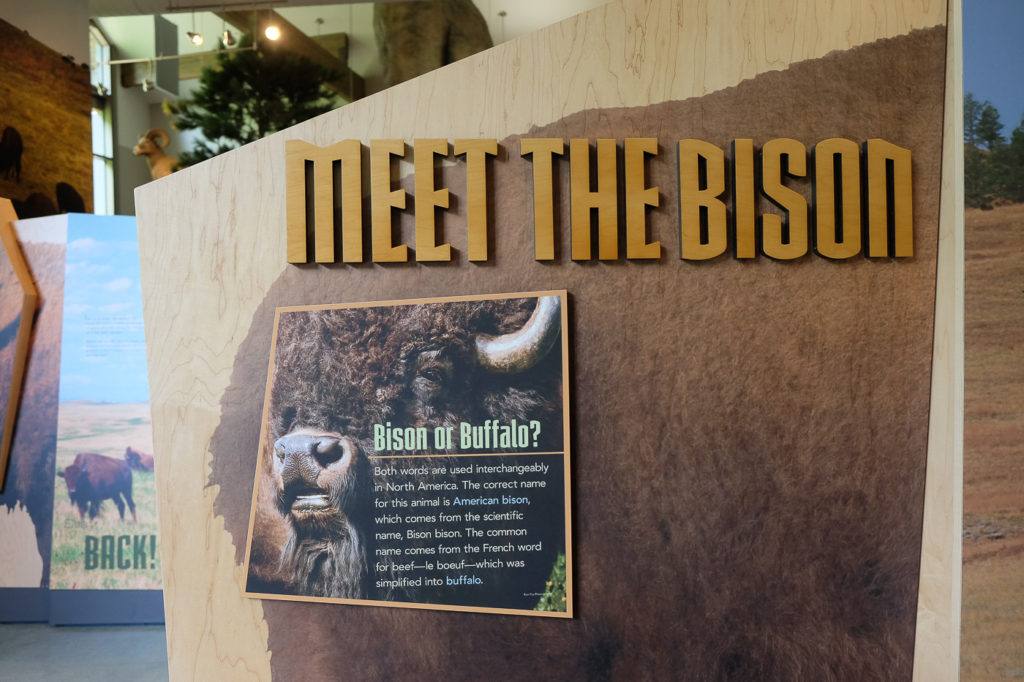 Dinner at Blue Bell Lodge
This is the only restaurant we ate at in the park, and it was a winner. The drive to get there from our campground was lovely, and the dinner itself was great. There are a number of bison-based dishes. Dave and Ari both highly recommend the Buffalo Stew. They also have a decent selection of local and craft beer. And the prices are not unreasonable for a restaurant inside a state park.
maybe you would like to pin this?