My first summing everything up kind of post about our cross country trip was all philosophical and meta and whatnot. This one, on the other hand, makes no pretense of grand observations about the meaning of life…it's about the mundane, practical details involved in spending two months seeing the country in a travel trailer. We're planning to make similarly long trips for at least the next two summers (after that, my oldest goes off to college, so we'll have to see how things go before making big summer plans for then). So we want to spend a little time here thinking about our planning process, what worked well for us, and what we'll do differently next time.
Some numbers:
miles towed: 6369
states visited: 13
campgrounds stayed at: 28
average miles per gallon towing: 7.5 (yikes, I know. Big family = big trailer and big van)
Trip length:
Sixty days is a long time to be away from home. And yet it's not nearly enough time to see the whole big country. Two months never seemed so short as it did when I was itinerary planning, trying to fit everything we wanted to see into our available time. And it never seemed so long as it did in the few days before we left, a whole summer full of togetherness and opportunities for disaster stretching out before us.
When people ask me about the trip now, I often make jokes about how long it was, like, "well, we're all still talking to each other at least!" But, truth is, I think we all were fine with our very long trip. As we got toward the end, tempers started to flare a little more, but I think that was more a function of knowing we were near the end of the trip than of how long we'd been gone, if that makes sense. Ari never admits he wants to be on trips at all, and that did not change, but he was mostly helpful and agreeable and in good spirits. Milo and Gus and Abe talked a lot about missing the dogs and cats (more on that later), but other than that were not especially homesick. They missed friends at home, but spent much of the trip with cousins and friends who've moved away, so that was a fair substitute.
I guess the clearest indication that we were good with how long the trip was is that we've got an outline for next summer's trip mapped out, and it's tentatively one day longer than this summer's was.
Here are the kids in De Smet, SD, just a few days into the trip, planning out future itineraries: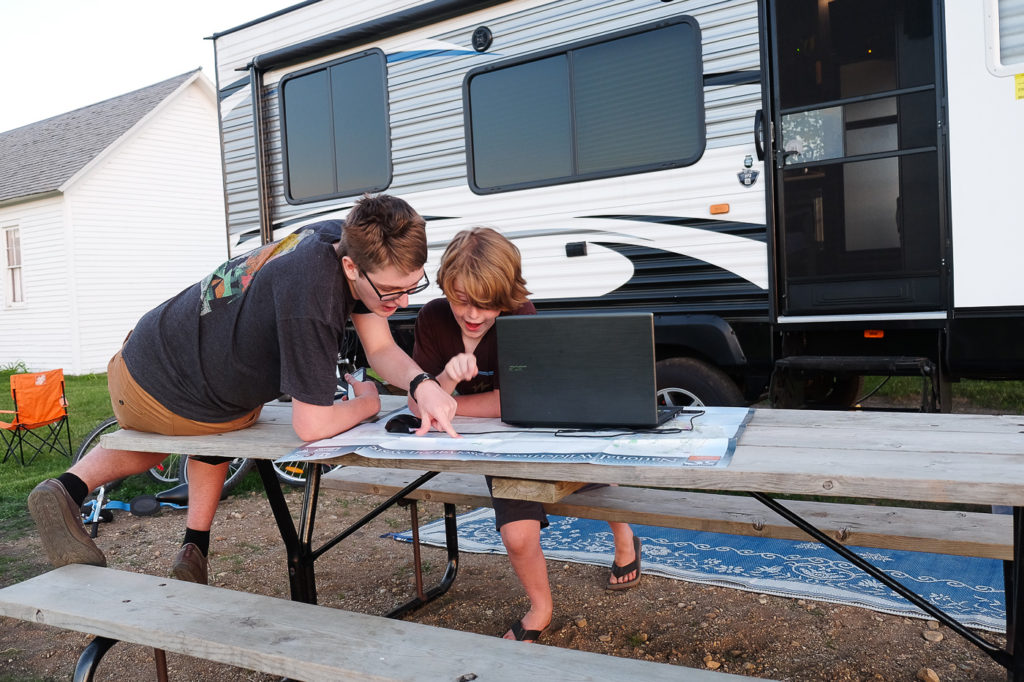 Aside from the actual length of the trip, I worried a lot during the planning process about how long to stay in various places, how long our driving days could reasonably be, and just overall pacing: trying to break up long stays and short stays, long drives and short drives, etc. So how'd that all go?
How long to stay in one place?
One thing we definitely all agree on is that overnight stays are tiring and not nearly as much fun as longer stays. Even a two night stay gives you so much more time to settle in and to see things. An early draft of our itinerary had a lot of one night stays on it; in the end we consolidated some of the shorter drives into longer ones to give us more time to stay put. Overall, we're pretty happy with how things went. I just polled the family, and there was nowhere anyone could really point to where they'd take time away from one place and give it to another. At least no consensus. Abe said, "ten days in each place!" Which sounds lovely, but would not be practical on a two month trip. And that's really the whole thing….if you want to cover a lot of distance in a relatively short amount of time, you have to make some compromises. We had longer than two night stays in St. Louis, Custer State Park, Yellowstone, Livermore, CA, and Austin, TX. Dave and I both agree that it would have been nice to have more time at most or all of our one night stays. There aren't many places in the country where there's not enough cool stuff to see to fill up one full day. The KOA in Grants, NM gave us a flyer with a full four day itinerary they had planned out for the area, and it all sounded great….but alas we had to push on Carlsbad Caverns the next day, so we had to settle for a lovely evening playing tetherball in front of 3000 year old lava: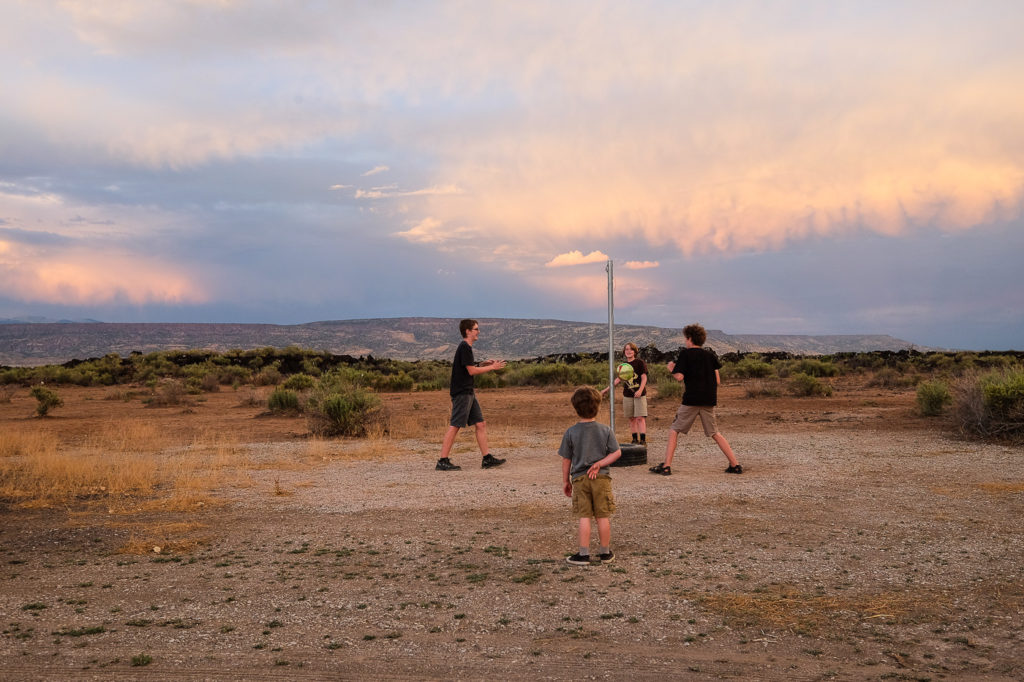 So I don't know that we'd do anything differently as far as how long to stay in one place on this trip….but we are planning a trip next summer with a shorter overall distance, which should lend itself to being able to travel at a somewhat slower pace.
How long to drive in one day?
In a perfect world, we'd never drive more than 300 miles or so in one day. But we did more than that pretty frequently on this trip–often so that we could spend an extra night somewhere with lots we wanted to see rather than spending a night somewhere we'd just be passing through–and we did okay. Our longest drive was around 450 miles, and we had several that were just on one side or the other of 400. I think a year ago, when Abe was 3 instead of 4, it would have been much harder to do those long days, but this year he was great about them. With the help of the kindle and his newfound love of Daniel Tiger's Neighborhood and Sid the Science Kid. We tried very hard to leave early on long days, and I don't think we ever found ourselves getting somewhere after dark. So, again, no regrets on this trip….but I'm looking forward to not needing to do so many long days next summer.
Public vs. private campgrounds:
When I did a post a few months ago, looking back at our first full year of RV travel, I noted that I was surprised by how many more private than public campgrounds we stayed at. For this trip things were more evenly split, with 24 nights at public campgrounds, 27 at private (and the rest staying with Dave's parents in their condo in Livermore). This trip we made a big effort to scope out good public campgrounds and stay at them when it made sense. I think that generally speaking we prefer public to private campgrounds because 1. the sites tend to be bigger and 2. they're usually way cheaper. That said, when I look back at our favorite campgrounds on this trip, there are definitely some private ones that make the list. I guess our general rule is that we want to stay in the most well reputed campground in a given area, whether it's public or private. But there were a number of locations on this trip where there was no clear winner….so all things being equal we went with the less expensive public campgrounds. And doing that saved us hundreds of dollars on this trip; it really adds up on a trip as long as ours.
Contender for best campsite ever: Brantley Lake State Park near Carlsbad, NM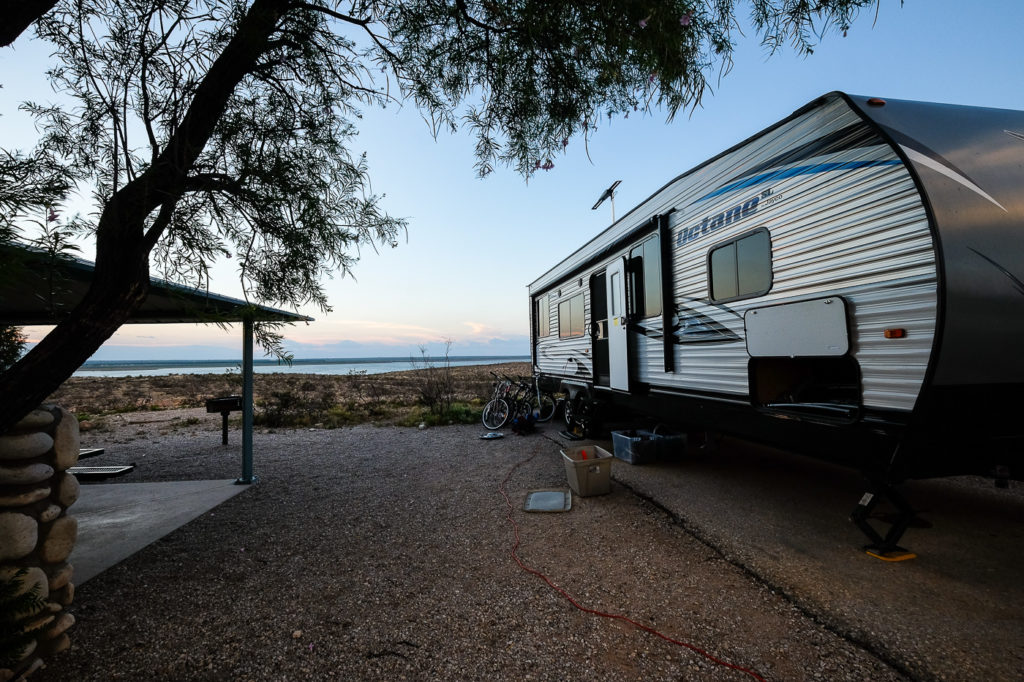 Towing a big trailer with a van/mountain driving:
I've run all the numbers approximately 400 times, and on paper our trailer and our van are a good match, but on paper and in real life don't always match up, so I went in to our first experience towing with lots of mountains at high elevation with some anxiety. The trailer is a Jayco Octane SL 272 toy hauler; it's just under 34 feet, and it weighs 7000 pounds dry (up to 10,000 loaded, but the "toys" we haul are just bikes, so we don't come close to that). The van is a 2003 Ford e350 V10.
And….
The van did great!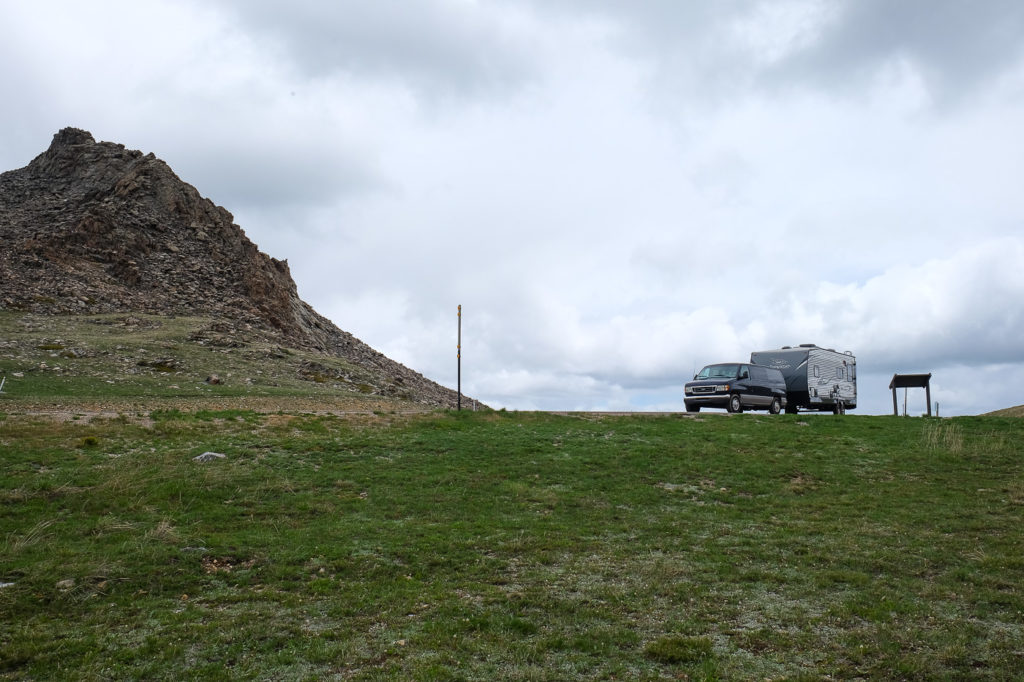 I'll say that I was a little surprised by how much the engine was affected by altitude. I knew that was a thing, but we'd never experienced it before, so I was taken aback by just how much….louder the engine was  at 7000 or 8000 feet than at the same grades at 2000 feet. And slower. There were a couple of times–mostly going over the Bighorn Mountains–when the van couldn't get any faster than 35 going uphill. But going back down the same pass, we kept it in second gear and rarely touched the brakes. We never felt unsafe, and the engine stayed nice and cool no matter what we asked it do to (i.e. long, fairly steep climbs and even climbing grades when it was 113 outside. I will say that I wouldn't mind a diesel engine for the mountains, but I really can't complain one bit about our big, gas-guzzling van.
Leaving the dogs behind:
We went back and forth about this for a very long time when we were planning the trip. Ultimately, we decided to leave the dogs (and cats) behind with a house sitter for a few reasons. We were going to a LOT of not very dog friendly National Parks on this trip. And we knew we'd be doing a lot of driving during many of our National Park days to get to everything, and that it would be tricky to get back to the dogs in a reasonable amount of time. The dogs do very well alone in the trailer, but, you know…they have to pee and eat sometimes. It didn't sound like the funnest trip for them–lots of long days alone with just walks at campgrounds in the evenings. We were also going to a lot of hot places, particularly during the second half of the trip, and we were worried about electricity going out and leaving the dogs with no AC. As it turned out, while we never lost electricity for any significant amount of time, we did have a few days where it was so hot that the AC couldn't really keep up and it got uncomfortably hot in the trailer. We coped with this by going elsewhere during the day, but you can't really take your dogs to a museum with you. It never got dangerously hot in the trailer, but, still–not necessarily pleasant for the dogs. Also, frankly, it's way easier not to have three extra living creatures to take care of when you're traveling.
The dogs were very well taken care of at home, and don't seem emotionally damaged by our long absence :)….but the kids, especially Milo and Gus, really, really missed them. So we'll see, but I think it's fairly likely we'll be bringing the dogs with us on next summer's trip.
What we'll change next year:
Overall, I loved this trip. I miss being on the road, even though I also enjoy our house and being home. But there are definitely things we'll change or tweak for the next big trip.
I think we had a pretty good balance between eating out/cooking in the trailer or packing lunches (I'd say we averaged 2-3 meals out a week, which is more than we'd do at home, but not that much more)…but we definitely need to expand our meals on the road repertoire. We ate a lot of burgers and chicken and pasta. And for lunches out we did sandwiches sometimes but also often did "snacky lunch" with cheese and crackers, nuts, granola bars, fruit, anything else we could think to throw in the bag. This was fine, but, again…repetitive. So we'll be collecting ideas and trying to get more exciting next year.
I'd love to have more time to hang out and relax at the campsite on next summer's trip. Dave and I have somewhat different perspectives on this. I feel like we tried to do too much on a lot of this trip; he thinks that, while we stayed very busy, he has no regrets because there was just so much to see and we still missed things. But we'll always miss things. And it's pretty clear that the kids appreciate quiet evenings doing campfires and playing games in the trailer. I'm hoping that next summer's trip will lend itself naturally to a slower pace–at least some parts of it.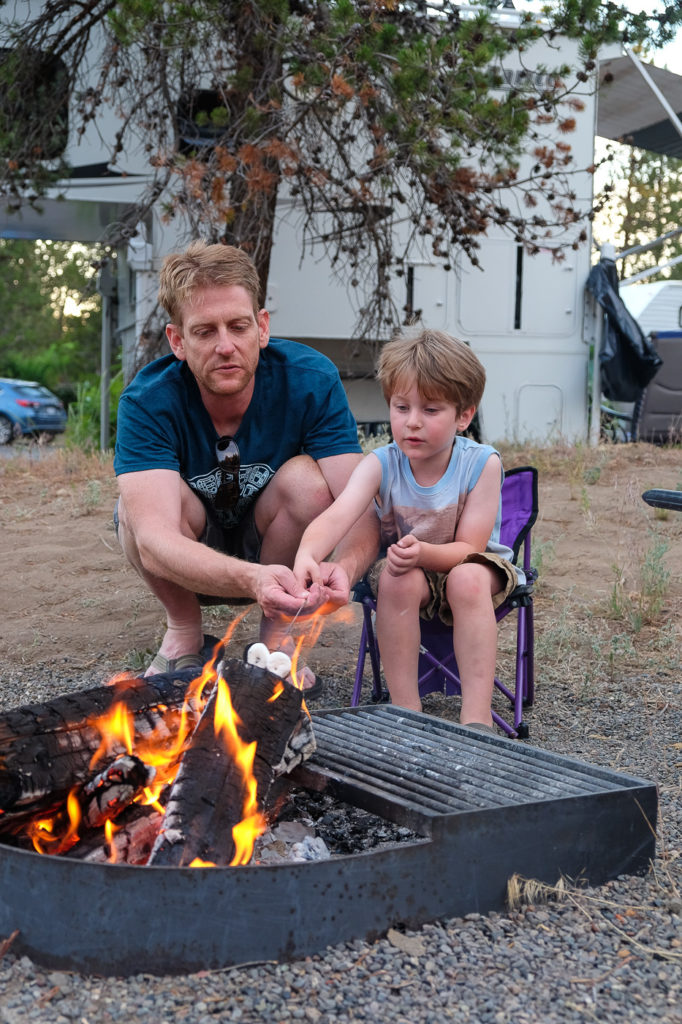 More mundanely, I would like more comfortable, fancier camping chairs. And a smaller rug. We have this giant outdoor rug, and we hardly ever pulled it out. I bought it because I'd seen lots of photos of lovely campsites with giant rugs, and I thought it was The Thing to Do. And I guess it is…for some people. But we find the giant rug a big PITA, and I just want a smallish one to go right by the steps.
….and that's what I've got! Or at least the big stuff.  At some point I'll think/talk more about stuff like trailer organization and what equipment we have/don't have/wish we had….but we're well over 2000 words here, so I'll save that for later.
All the updates I wrote as we went along are linked to below. I'm slowly working on more detailed posts about all our stops and campground reviews for everywhere!
Road Trip Post 1: starting off, St. Louis, etc.
Road Trip Post 2: South Dakota
Road Trip Post 3: Wyoming
Road Trip Post 4: Idaho, Oregon, N. California
Road Trip Post 5: San Francisco and the Grand Canyon
maybe you would like to pin this?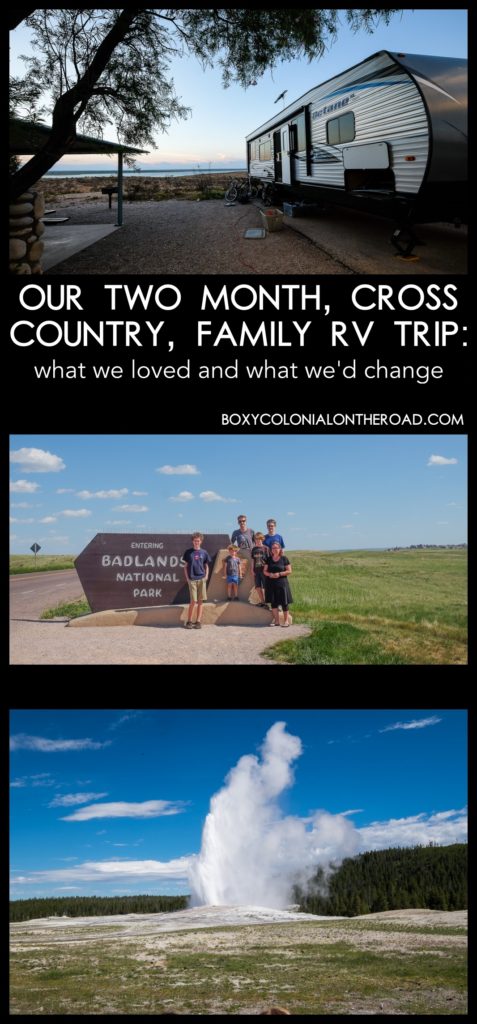 SaveSave