Travel dates: Friday, June 23-Sunday, July 2, 2017
We've passed the halfway mark of our big summer trip and  are spending the week with Dave's family in California, staying in his parents' condo while our trailer is parked and empty and all lonely down the street. But now to look back at our week or so traveling through Idaho and Oregon and Northern California.
First up, this week's RVing disaster! When we left Lava Beds National Monument and headed to Lassen Volcanic National Park, we opted to take the longer route to avoid some roads that we were worried might have steep grades (we called the KOA and got a scary story about burning brakes on 229….although Dave's sister took the reportedly terrifying route and said it would probably have been fine for us. At any rate. Better safe than sorry is our approach when it comes to burning up our brakes and driving off the side of a mountain). So our plan was to drive around Mt. Shasta and get on I5 in Weed, CA (heh) after first grabbing some lunch at the Mount Shasta Brewing Company.
Of course, grabbing some lunch on the way is never as simple as sounds when you're towing a 34 foot trailer behind your big ol' van, so we'd called the restaurant the night before to ask about the parking situation and been assured, "our parking lot is huge!" We were skeptical, based on google earth views, but we drove over to take a look. The parking lot looked…probably big enough for us to park in, but not necessarily big enough for us to turn around in and get back out of, so we pulled over to the side of the road  to figure out our next move. As soon as we pulled over, a police officer pulled up next to us. "You're not trying to make a U-turn, are you?" he asked.
We assured him we were not and explained the situation. "Do you know of anywhere we can park around here?" Dave asked him.
"With that thing?" he responded.
Umm. Yes.
He went on to gesture vaguely up the street and mumble some things about where we could turn and how we could probably find space near the park up ahead. Then he drove off and turned left right in front of us. Dave thought he was helpfully showing us where he meant we should turn and followed him right in just as I was saying, "I'm not sure this is the right place…."
It wasn't. We'd turned into the driveway to the community pool and its very small parking lot. Not ideal. The police officer turned around and came back by to talk to us. "I meant up the road," he said, "this is going to be a mess." Yeah, thanks. Then he told us he guessed we'd have to back out and people on the street would just have to stop for us and then sped off, no doubt eager to get away from our mess and have nothing more to do with us.
We know that the rule about driving with a trailer is that you never turn in somewhere if you don't see how you're going to get back out, and we're generally very good about following this rule, so we'd never found ourselves in this situation before. Dave started slowly (very slowly) backing down the driveway toward the road, stopping occasionally to wave by a car trying to get past and go for a swim. After a couple of minutes of this, a guy came running up to Dave's window, said, "I'll spot you!" and ran back to direct, with much confidence and authority (I could also have spotted, but I'm a much more timid spotter). This was much appreciated and made things go a lot faster. Then we found parking very easily right on the road, about 50 yards from where we'd made our ill-advised turn, and had a lovely lunch.
Then there was also the time near Lassen Volcanic when an adorable bear cub ran right in front of our van (as in, we had to slam on the brakes to avoid hitting it. Hitting it would have been extra tragic, because we would have been scared to even get out of the car to try to help it, for fear that its mother would have come running from the woods to eat us). But that's not much of a story. That's the whole thing right there.
Okay! So, catastrophes aside, when we last left off we were headed into Idaho, ready to put a brand new state sticker on our map!
Ever since we started planning this trip 800 years ago (or three), my kids have been ridiculously excited about visiting the Museum of Clean in Pocatello, ID. At certain points, stopping there was really making itinerary planning complicated, and we'd suggested cutting it out–a suggestion always met with howling protests. So it stayed in, and we finally made it there after sitting in a horrific traffic jam that only left us with a single hour to tour.
I'm happy to report that the Museum of Clean did not let us down. It was a really fun stop, with an informative and entertaining personalized tour from museum director, Brad: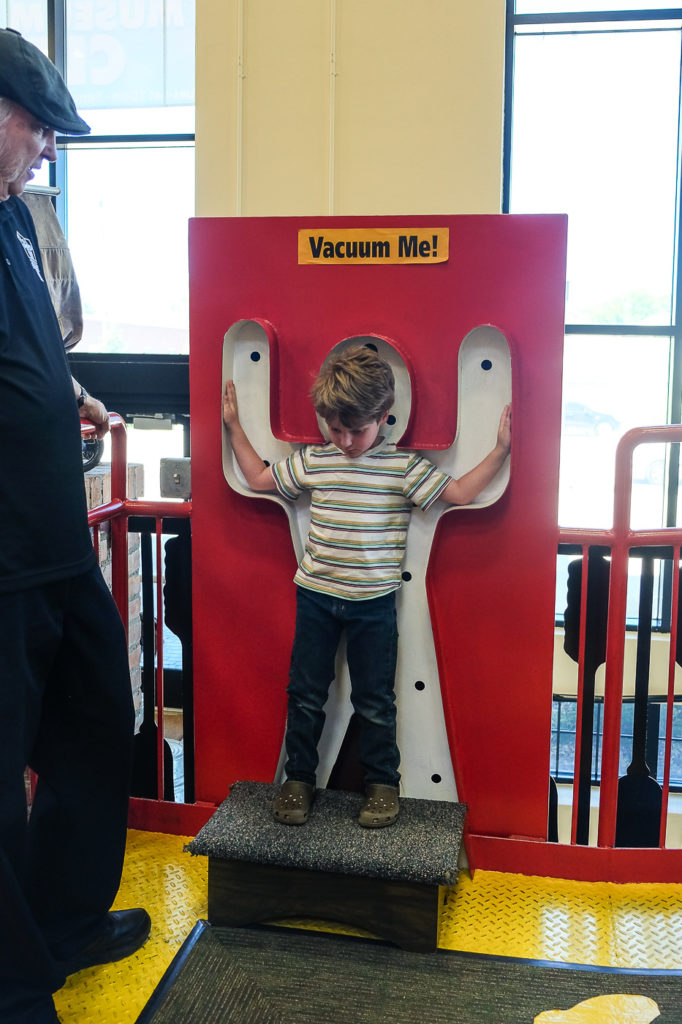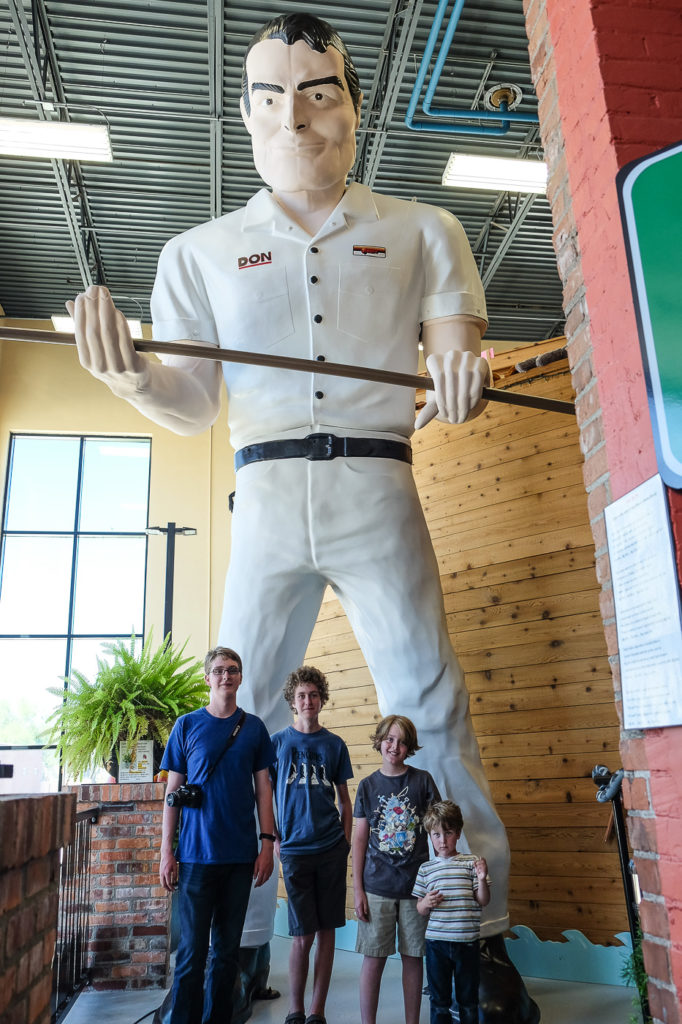 The next day we made another in route stop at Craters of the Moon National Monument to kick off a very volcano intensive segment of our trip. Abe got a "Lunar Ranger" badge, and we did the short but steep hike up Inferno Cone for some great views of the surrounding area: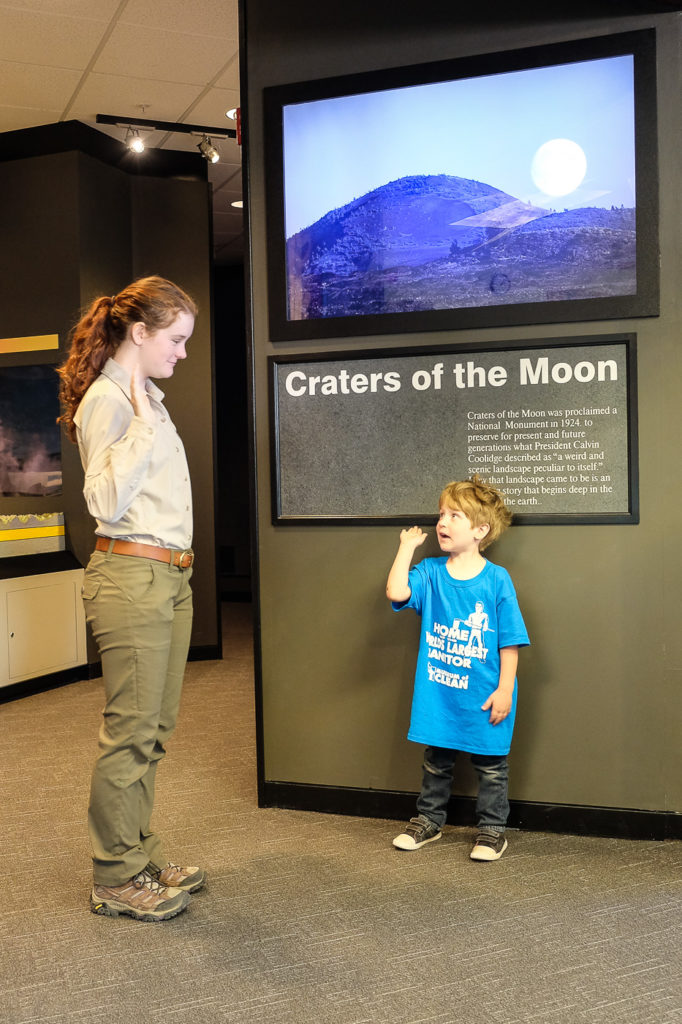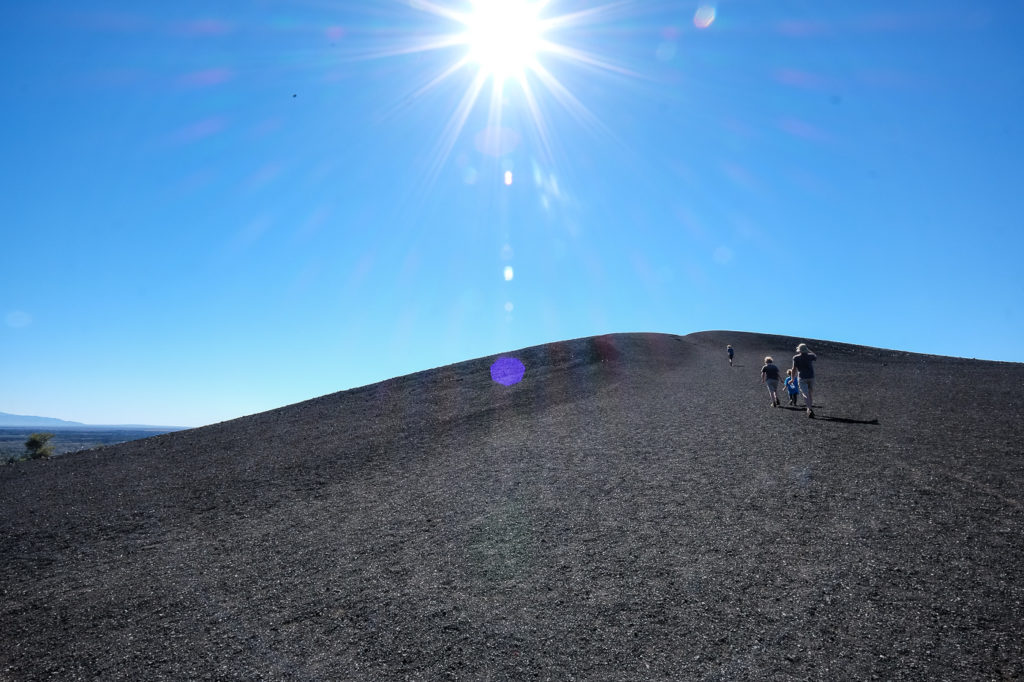 And then we headed into Oregon, where we met up with Dave's sister, Amy, and her family to caravan together for awhile. First stop was Bend. We drank beer, played in the Deschutes River, and checked out the High Desert Museum: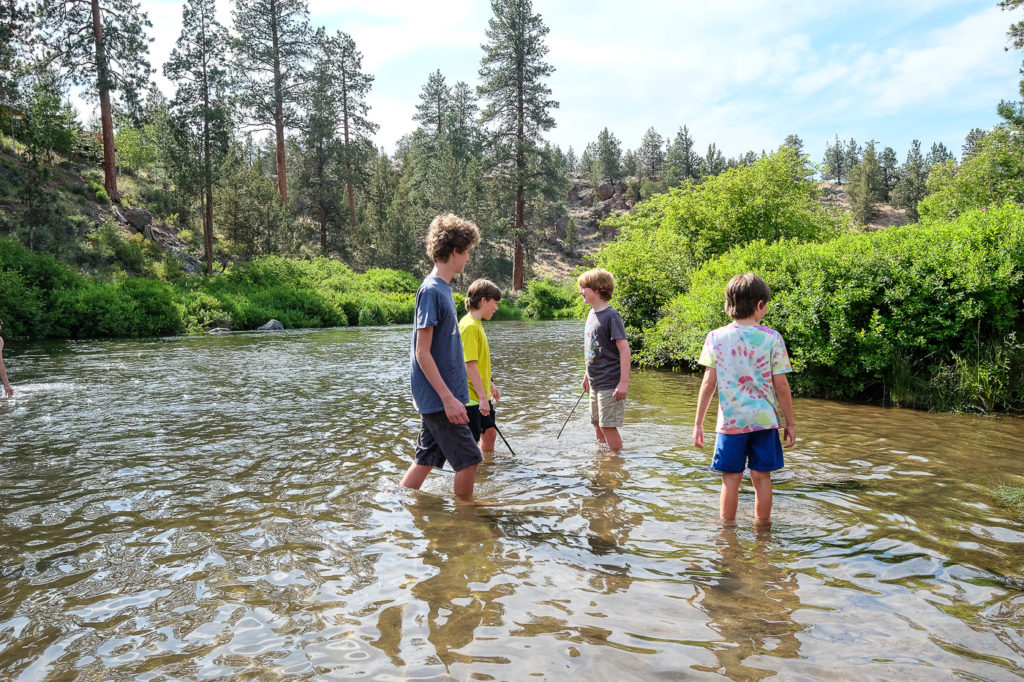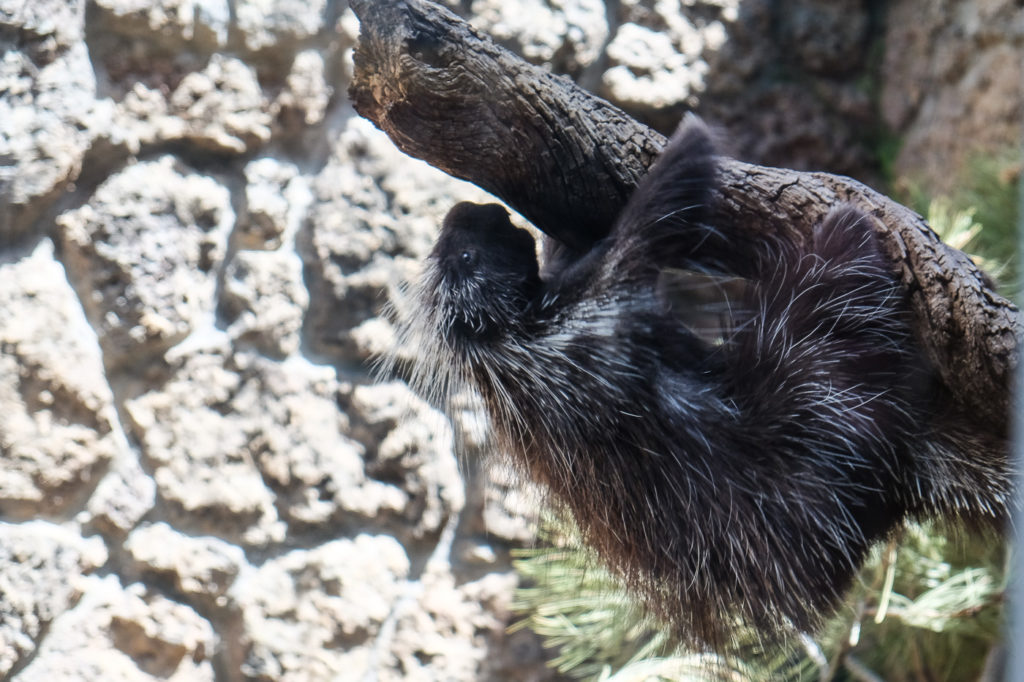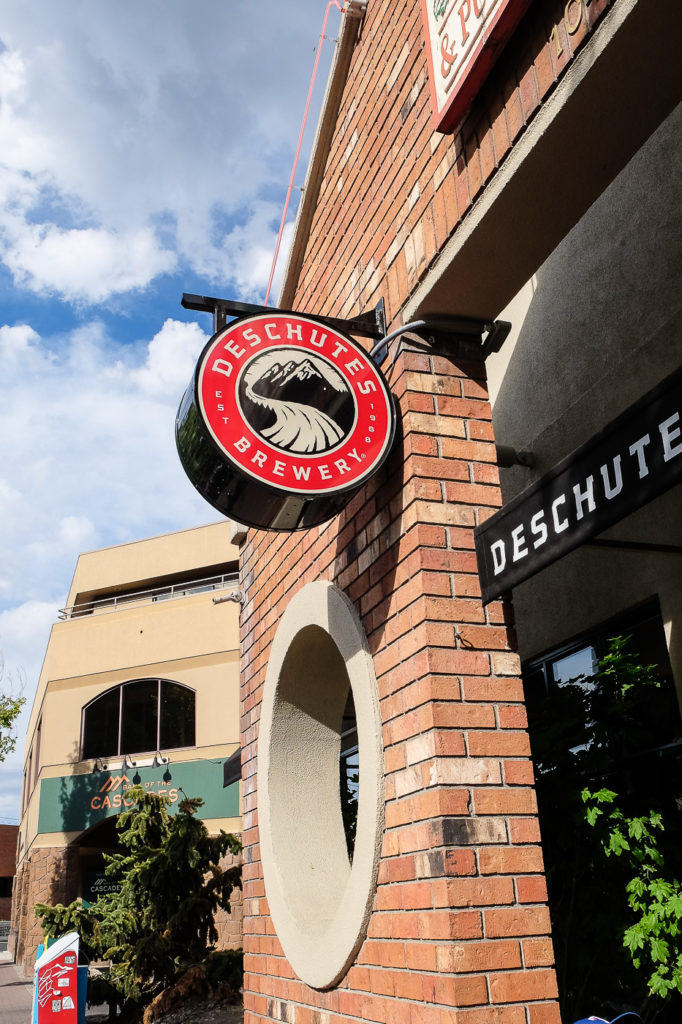 Then on to the beautiful Crater Lake. The kids were impressed with the unbelievably blue lake itself, but probably even more excited about playing in all the snow (heavy snowfall over the winter meant some roads were closed later in the summer than usual, though, and we didn't get to do some things we'd planned, like a boat tour of the lake):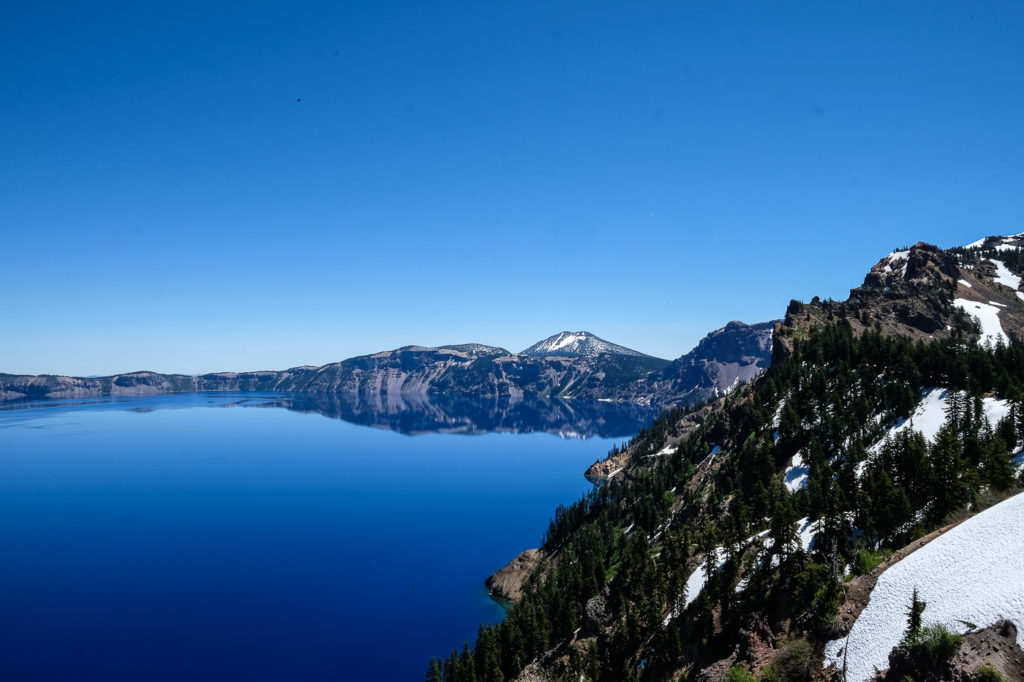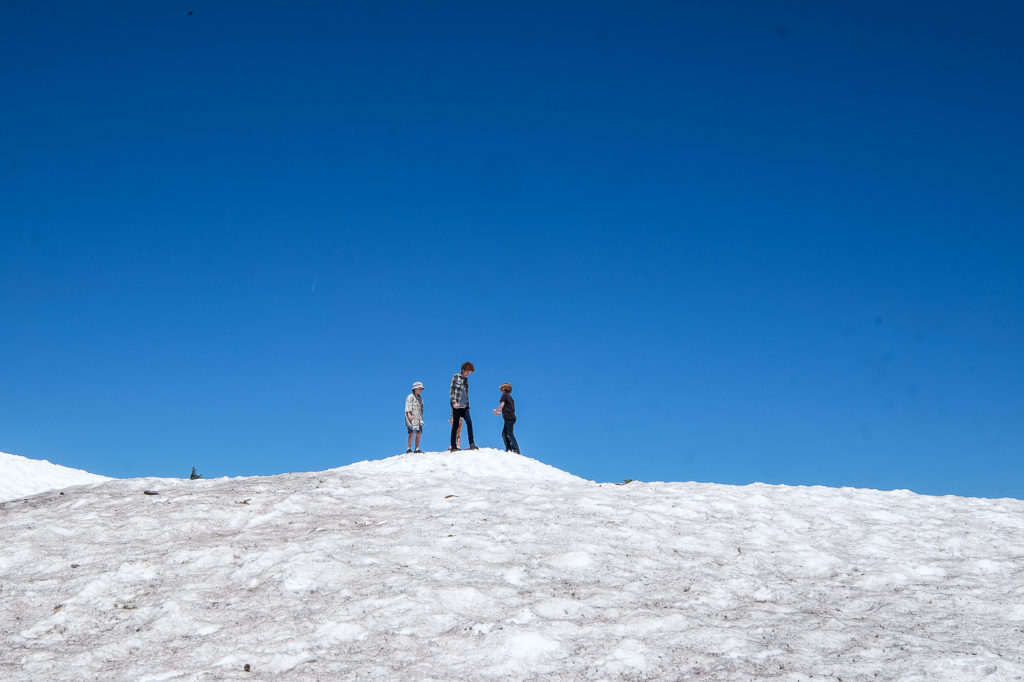 Our plan for this part of the trip was to roughly follow the Volcanic Legacy Scenic Byway, but I think it ended up being very, very roughly; we saw a lot of the big draws along that route, but often wound up taking alternate routes to get from one to the other. At any rate, our next stop was the rarely visited but very worth the extra drive Lava Beds National Monument. Here there are tons and tons of caves formed by flowing lava; at the visitor center they give you a map and a flashlight and turn you loose to explore on your own, which makes for an awesome adventure for kids (and everyone, for that matter).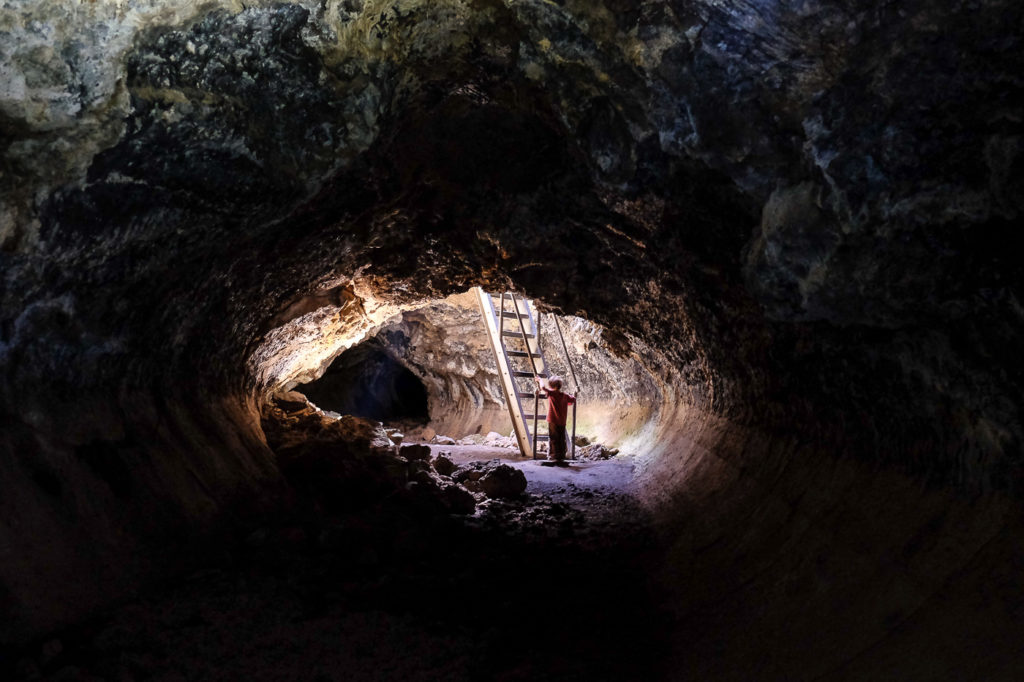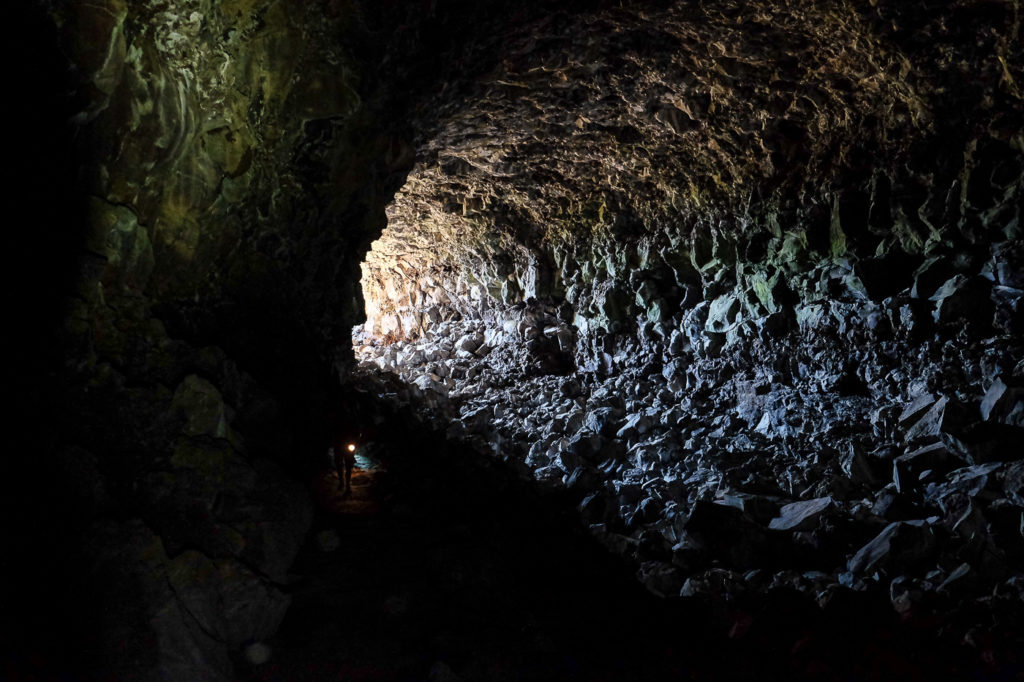 Finally, our last volcano-centric stop took us to Lassen Volcanic National Park.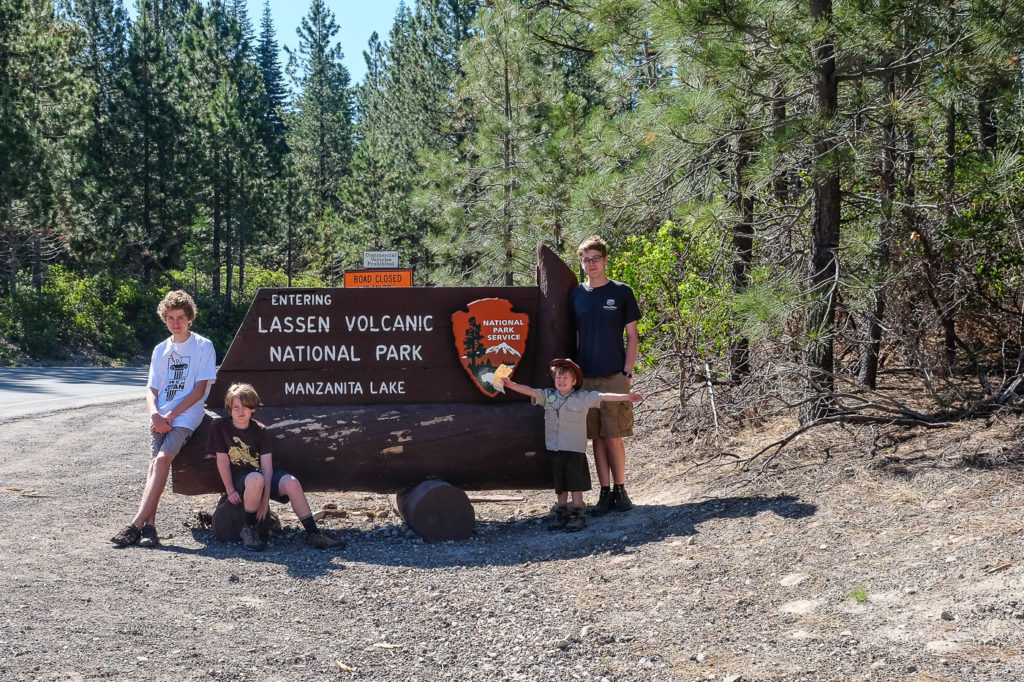 Like Crater Lake, much of the park was still impossible to reach (at least without snowshoes or the like), so we didn't see as much as we wanted to. But we did get some great views of Lassen Peak hiking around Manzanita Lake: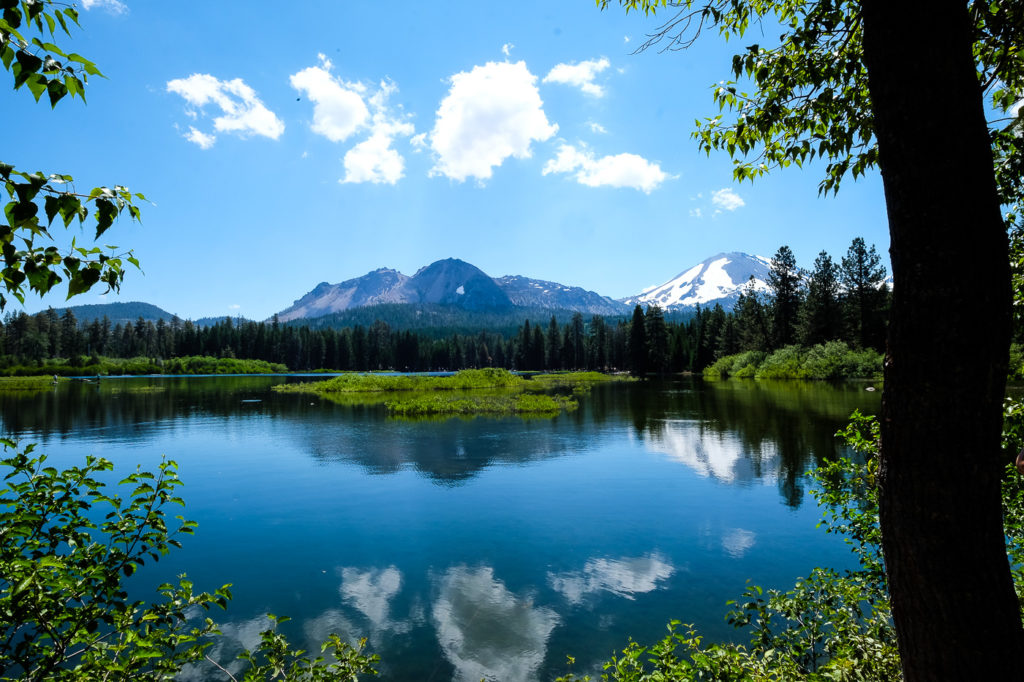 We'll have to go back sometime when it's July, I guess. But less time at the park meant more time for the kids to hang out with their cousins (and grandparents; Dave's parents joined us for this stop as well) at the awesome Mt. Lassen/Shingletown KOA. Full campground review coming later!
All the updates:
Road Trip Post 1: starting off, St. Louis, etc.
Road Trip Post 2: South Dakota
Road Trip Post 3: Wyoming
Road Trip Post 4: Idaho, Oregon, N. California
Road Trip Post 5: San Francisco and the Grand Canyon
Road Trip Post 6: New Mexico, Texas, and home
SaveSave