Travel dates: April 1-8, 2017
We visited Charleston for the first time a few years ago. It was a quick visit, and we went mostly to see Dave's sister, Amy, and her husband and kids, who were in the area visiting family for the holidays. But one of the few things we got to see on that trip was the USS Yorktown and we were impressed enough that I knew we wanted to put it on the itinerary for our return trip.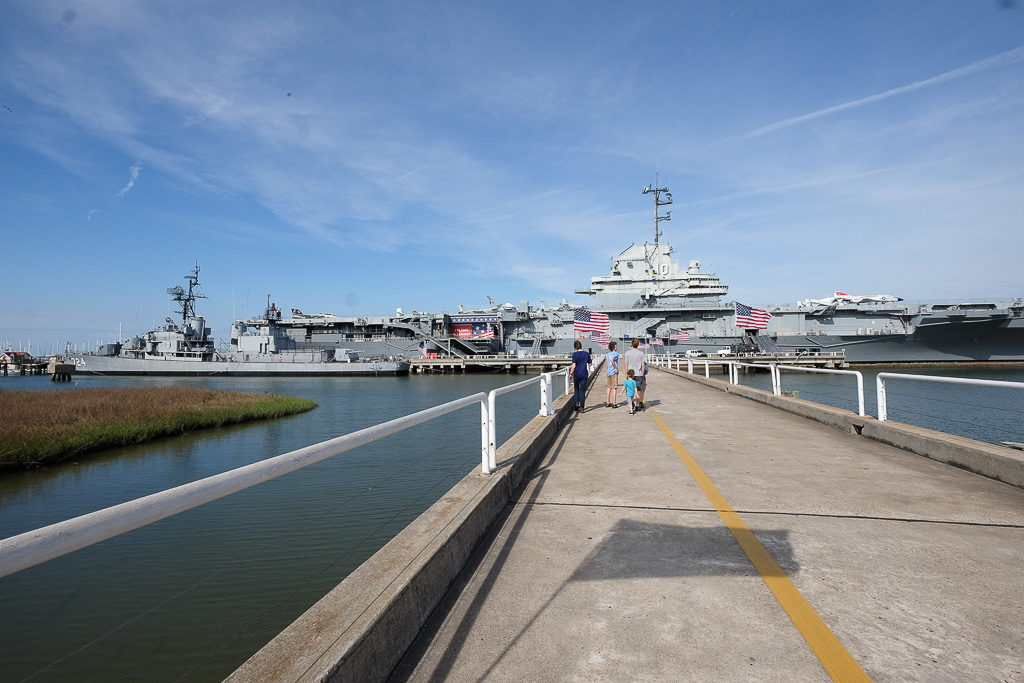 The USS Yorktown is a World War II era aircraft carrier now permanently docked at Patriots Point. The is also home to (and your ticket price includes) the USS Clagamore submarine, Cold War era ship the USS Laffey, the Vietnam Experience, and the Medal of Honor Museum. In our two trips, we haven't come close to seeing everything. On this trip, we had planned on half a day but ended up shuffling things around so we could come back after lunch and see more here instead. So I'd definitely devote a full day to Patriots Point if you can and you want to see as much as possible. Even just seeing the entire Yorktown would take you most of the day; there are five separate self-guided tours of different parts of it.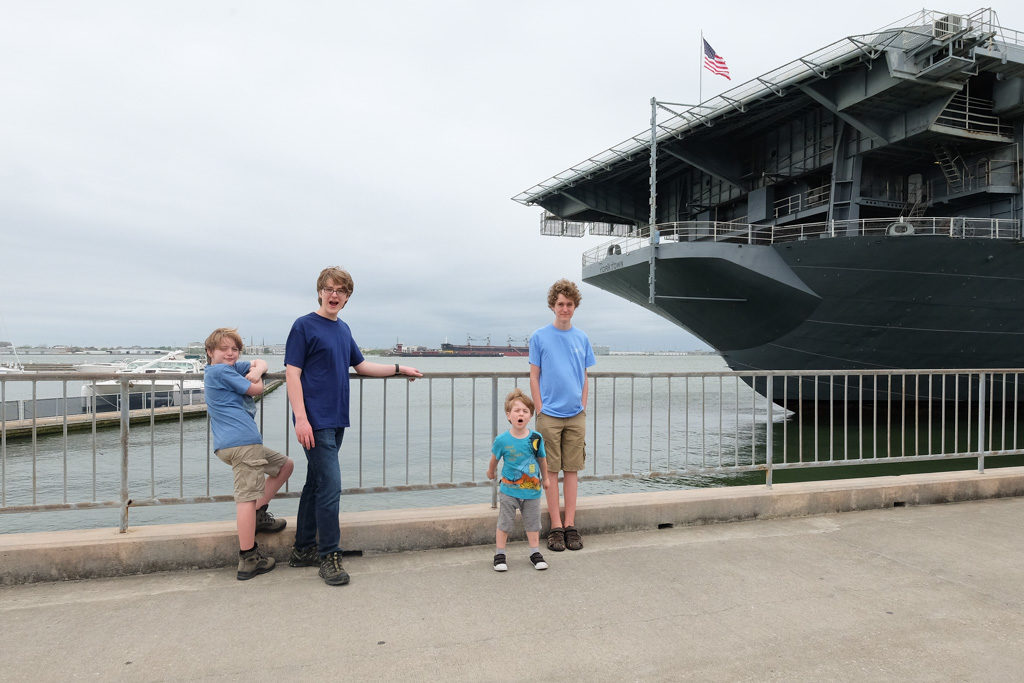 Admission is $22 for adults, $17 for seniors, and $14 for kids 6-11 (those are "web prices." I don't know if the prices on site are higher).
We first went to the Yorktown and did the first of the self guided tours. After a quick spin (by our three youngest) on this simulator ride (extra fee):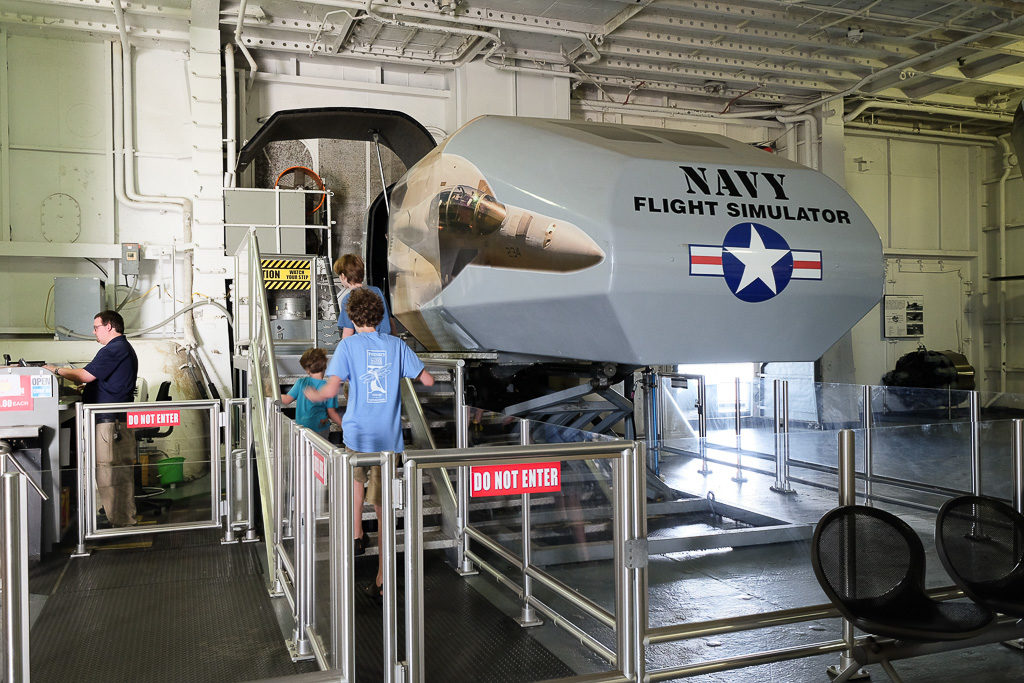 The first tour takes you through a lot of living quarter type places, which is my favorite part. I mean, especially the room where they made massive amounts of chocolate chip cookies and show you all the ingredients for them: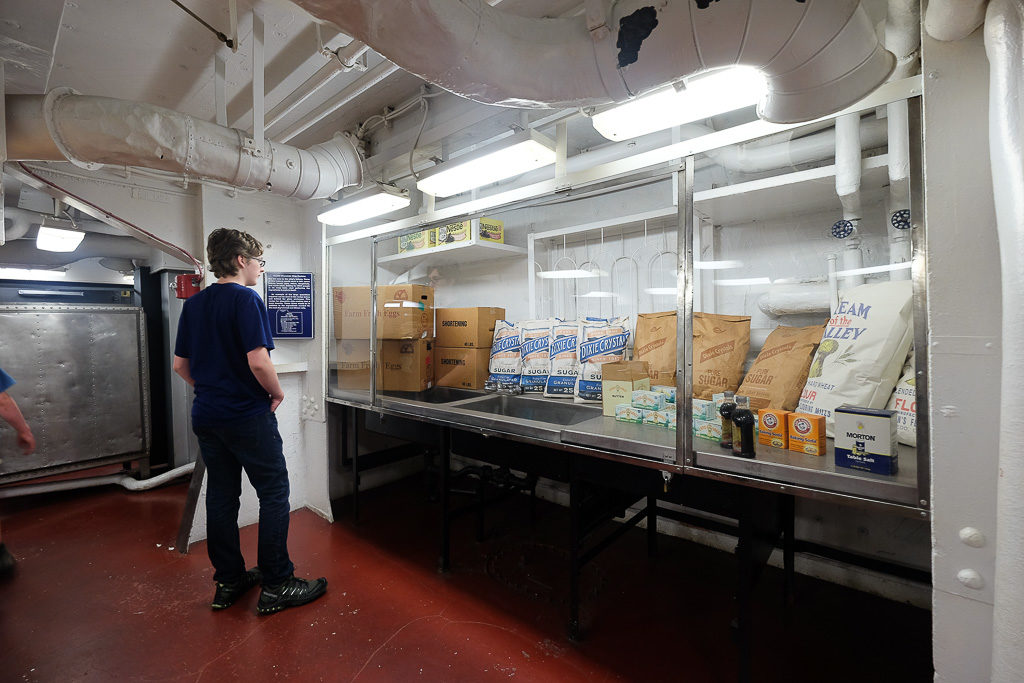 But you can also pretend you're going to an aircraft carrier dentist or taking an aircraft carrier eye exam: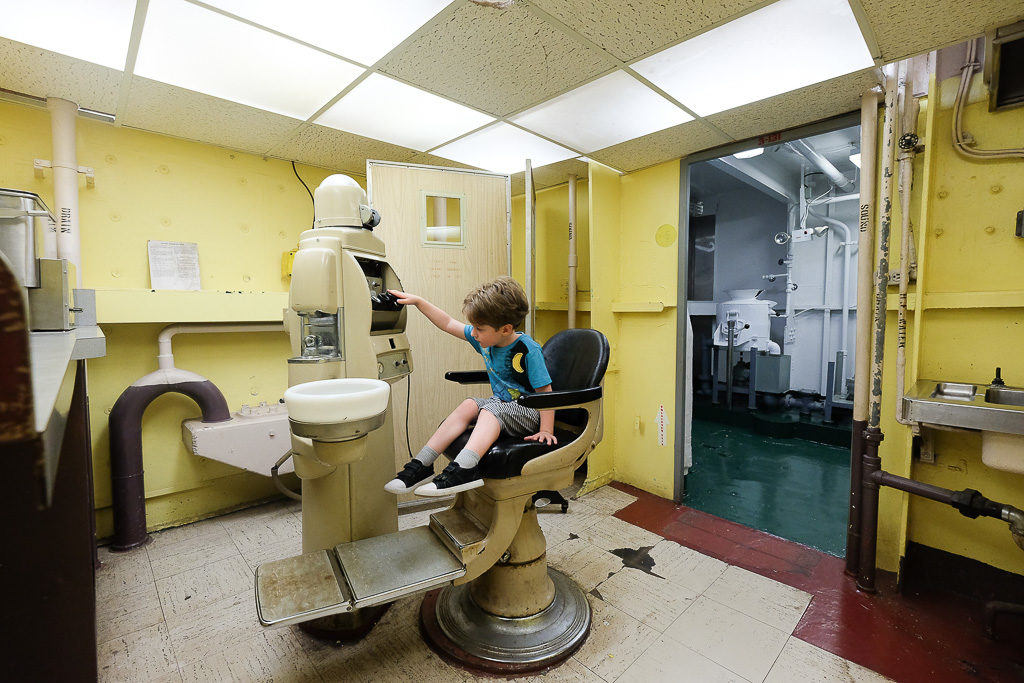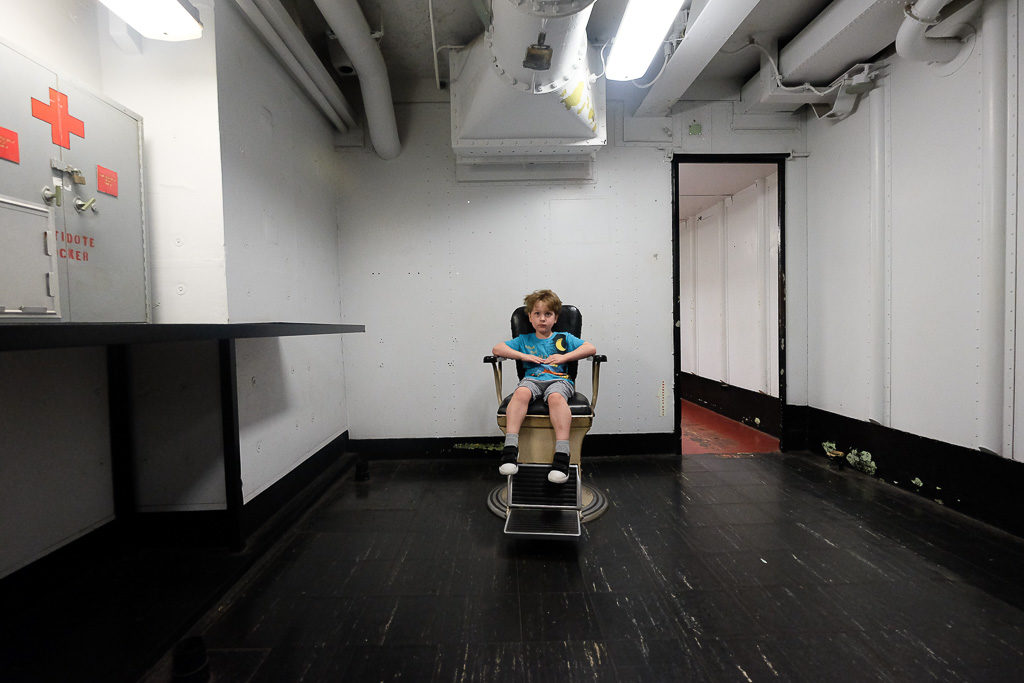 You check out dining rooms and sleeping quarters and sick bays and mailrooms and chapels and all those other places they needed to have on a ship that was, essentially, a small city: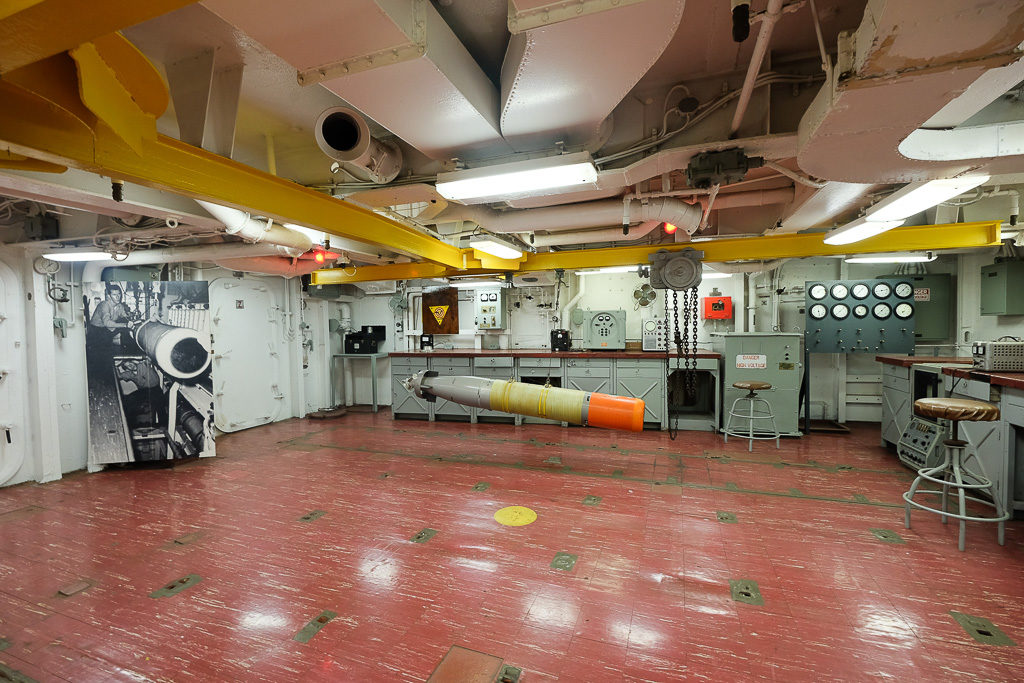 Next we checked out the flight deck, which is to say the place with all the airplanes on it. And great views of the harbor and the Arthur Ravenel, Jr. Bridge: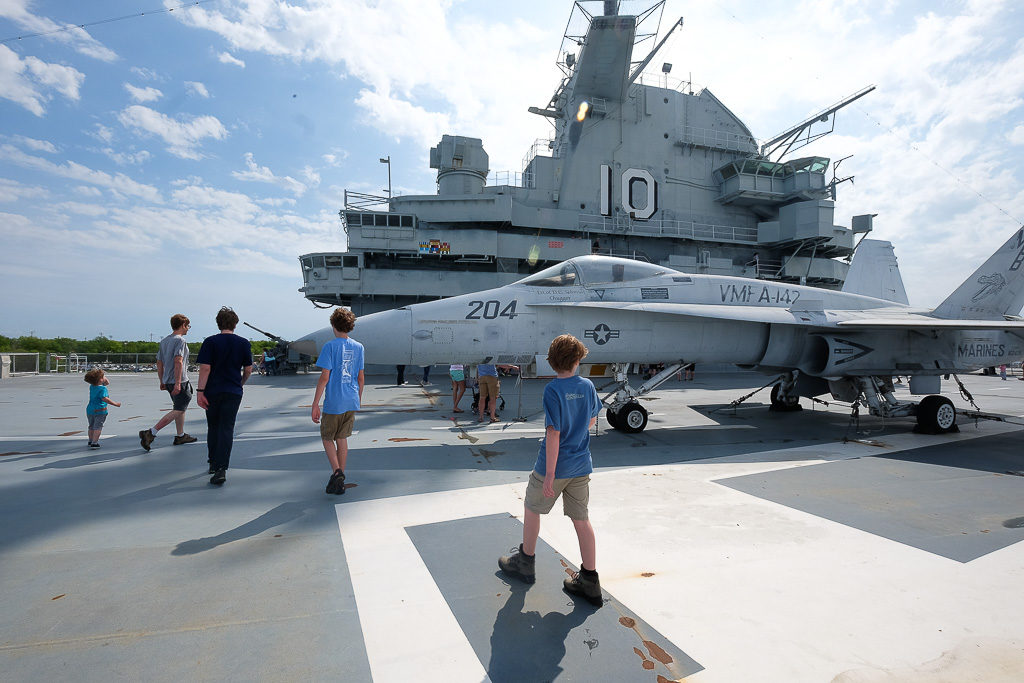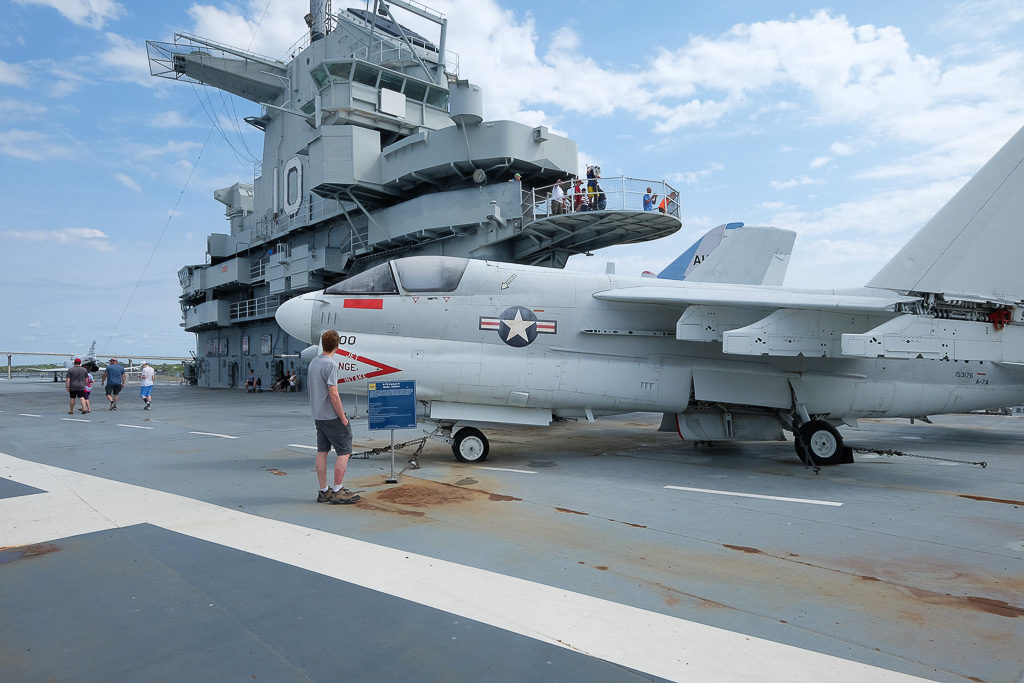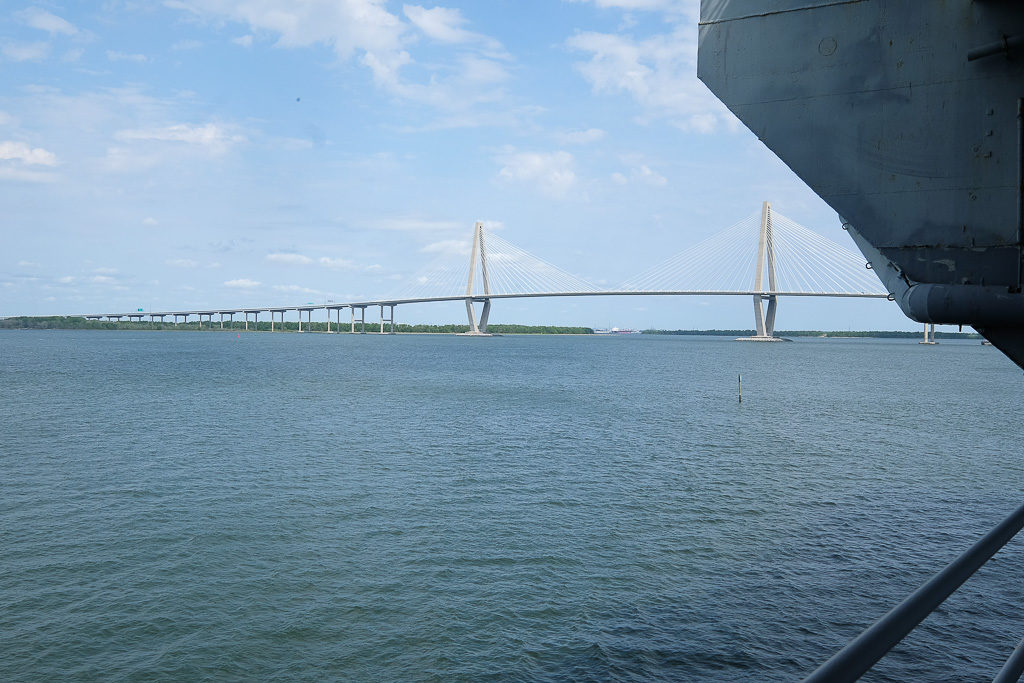 After the Yorktown we saw the Vietnam Experience. The focus here is on honoring the soldiers who fought in Vietnam (the tagline on the exhibit is "A Hero's Welcome Home")….so just go into it knowing that there's this very specific point of view and don't look for a lot of nuanced discussion of the more controversial parts of the Vietnam War.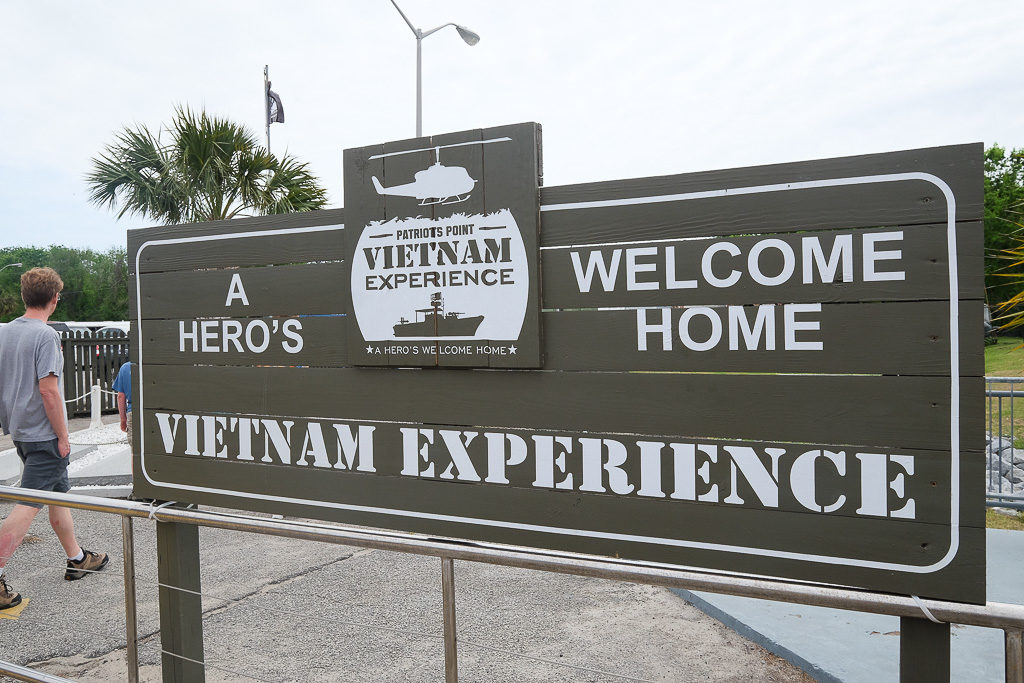 Most of the exhibit is a recreation of an army base, I guess you would say? in Vietnam, so there's more "daily life of a soldier" type stuff, which I'm always a fan of.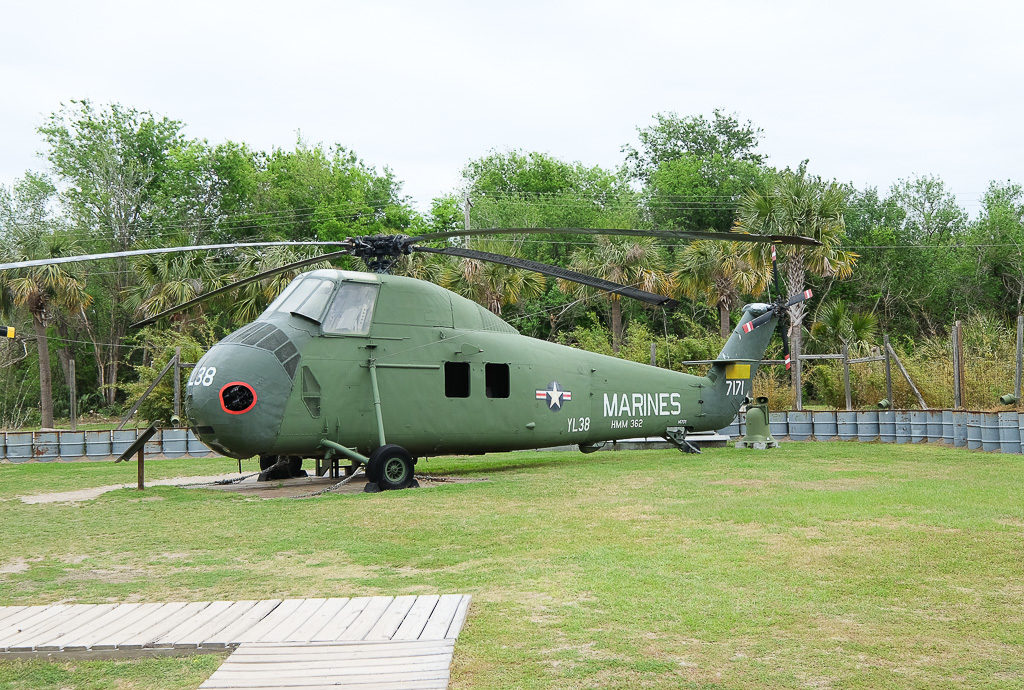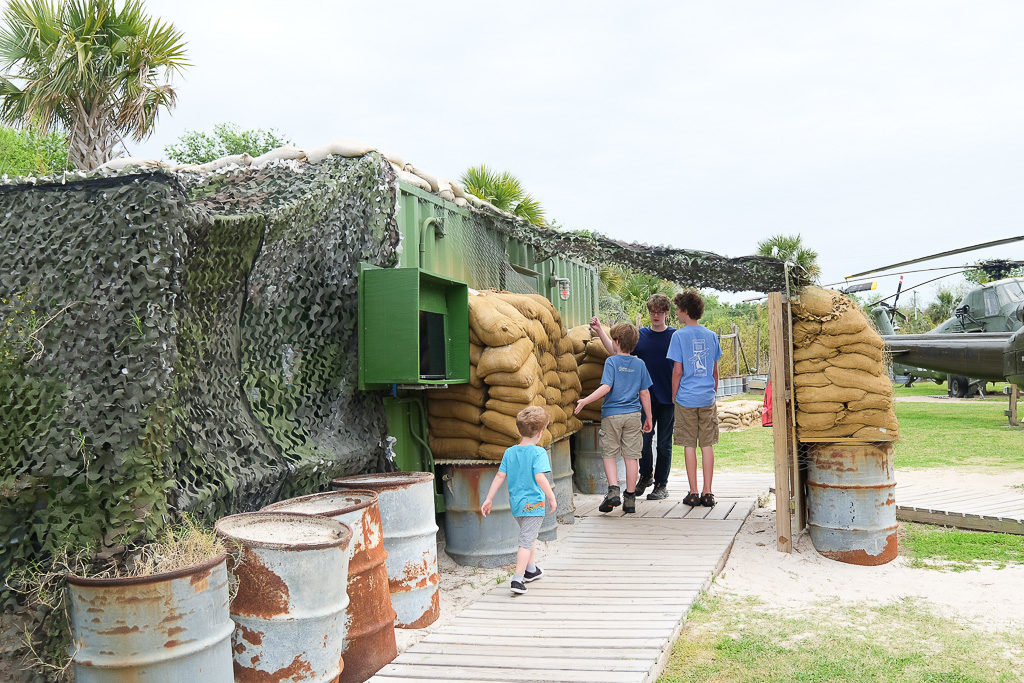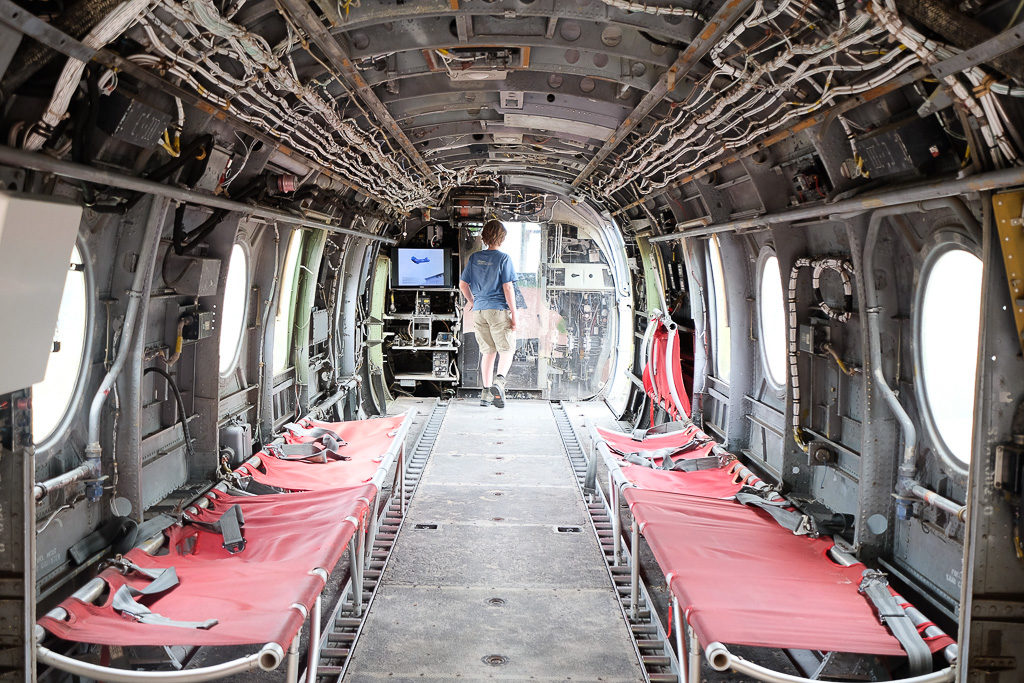 But wait, there's MORE!
After the Vietnam Experience, we toured the USS Clagmore submarine. I would not be good at living on a submarine, because they're really small and I'm a little claustrophobic. That's the Clagmore there, in front of all those pretty boats.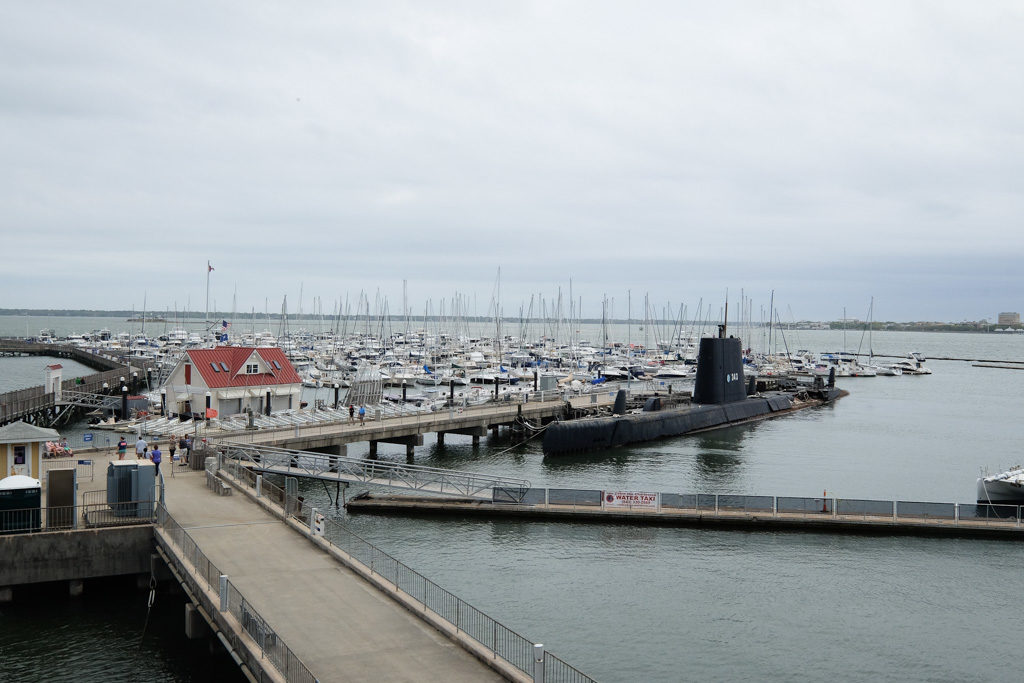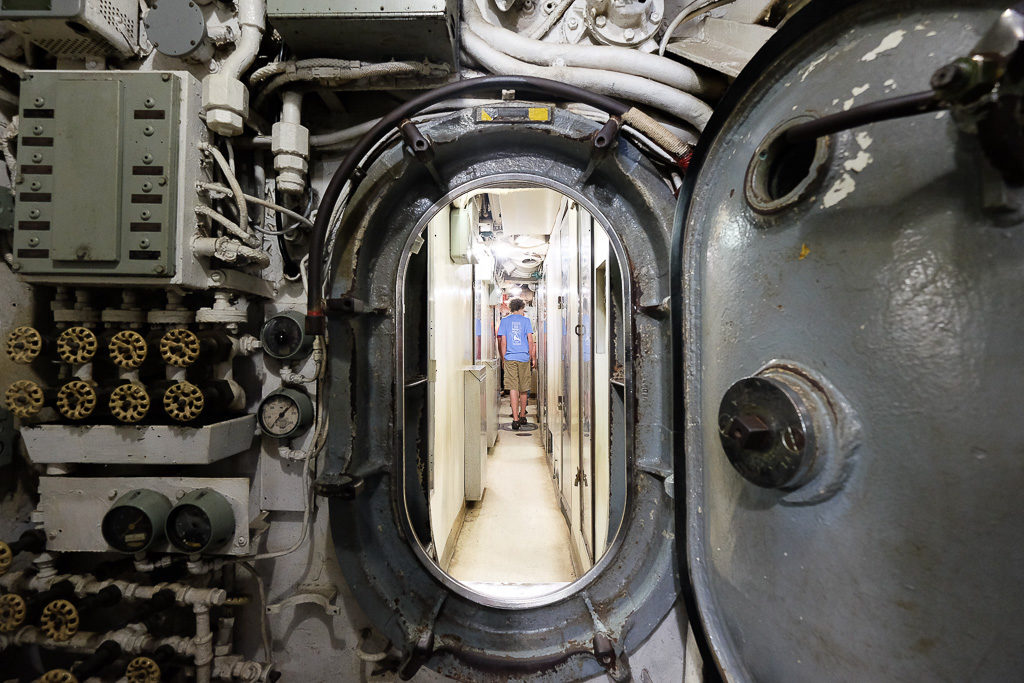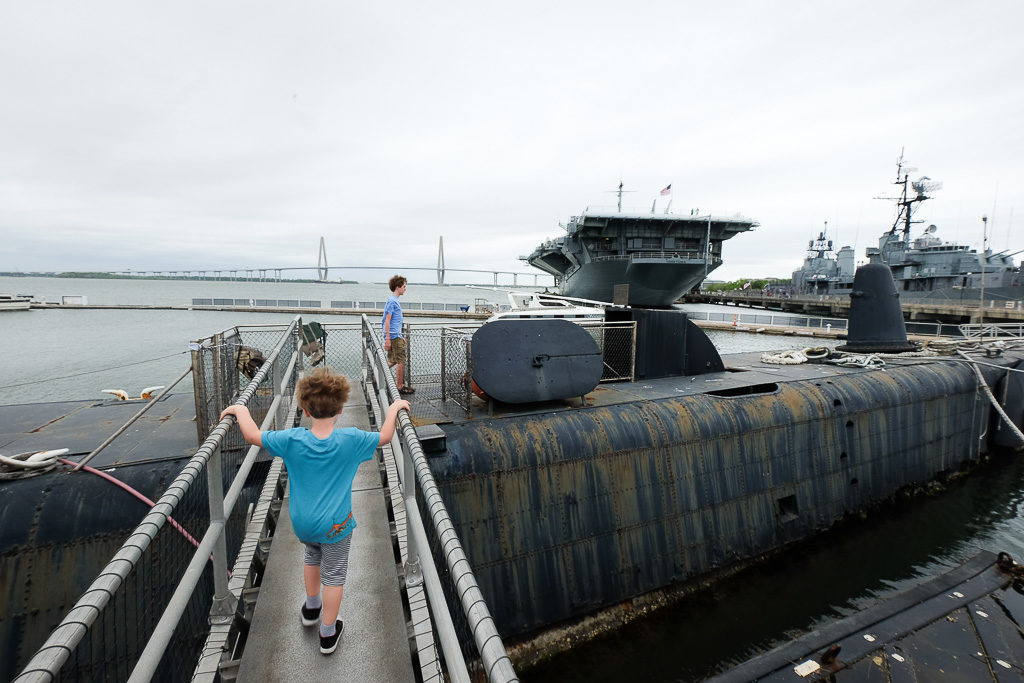 And, finally, we checked out the USS Laffey. I'm pretty sure this is a new addition since our last visit to Patriots Point; it's a Cold War era ship that you can explore, and they have an exhibit that's kind of an interactive film to give you an idea of what a Cold War confrontation with Russia was like.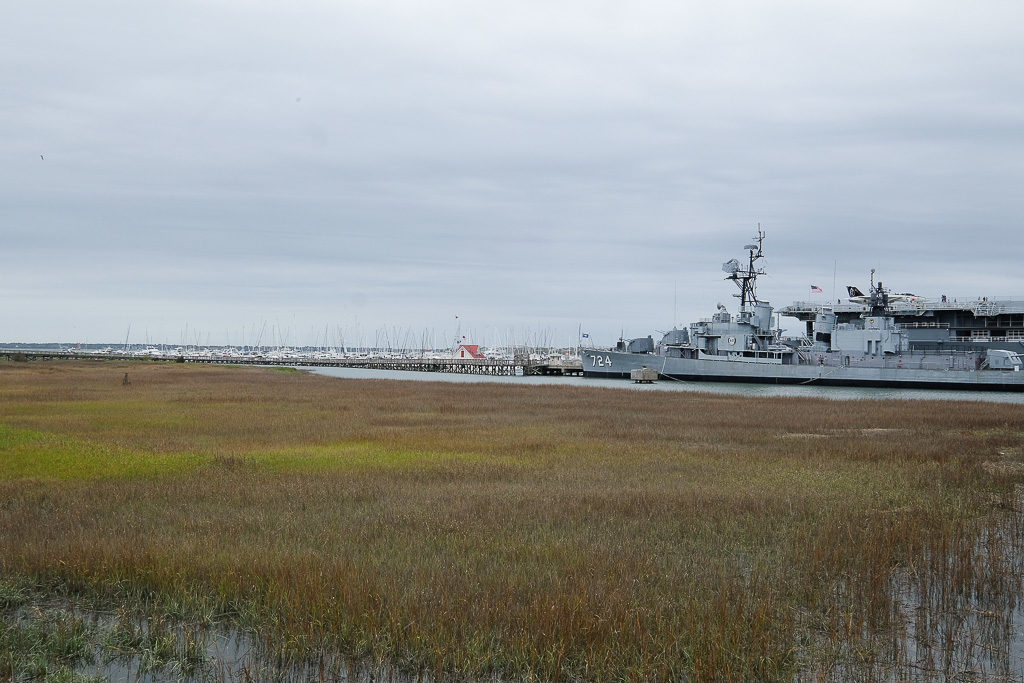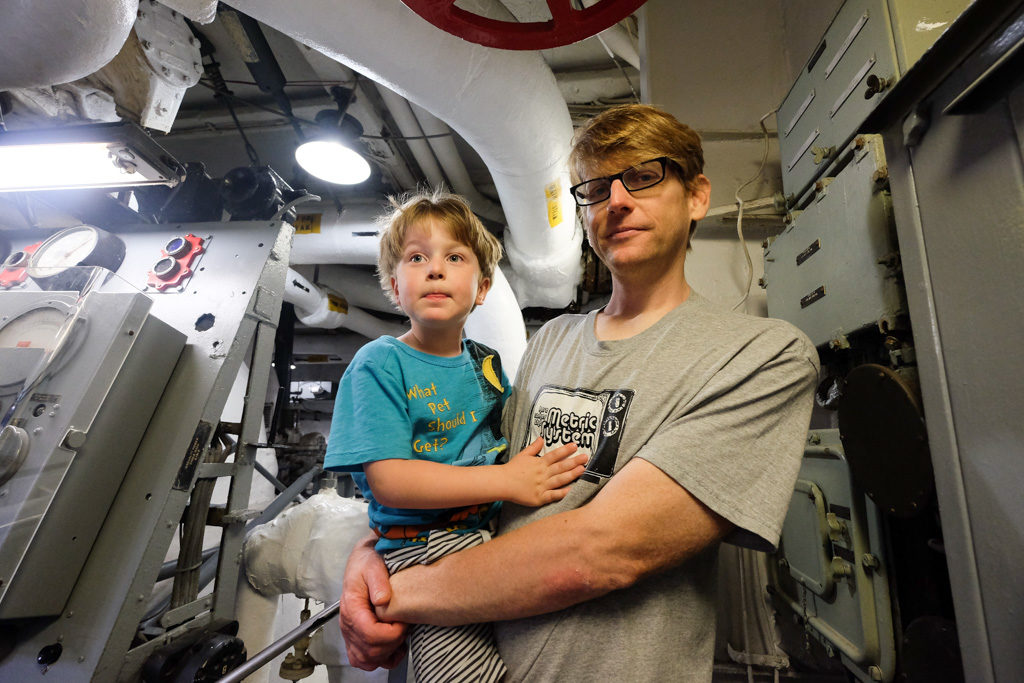 The Hunley was our other old seagoing vessel experience on on Charleston trip. The Hunley is a Civil War submarine billed as "the world's first successful combat submarine." You don't get to go inside the actual submarine, which is currently in the middle of a long term preservation project, but you do get to see it, resting safely inside its tank and in the museum area you can go inside a reproduction of it.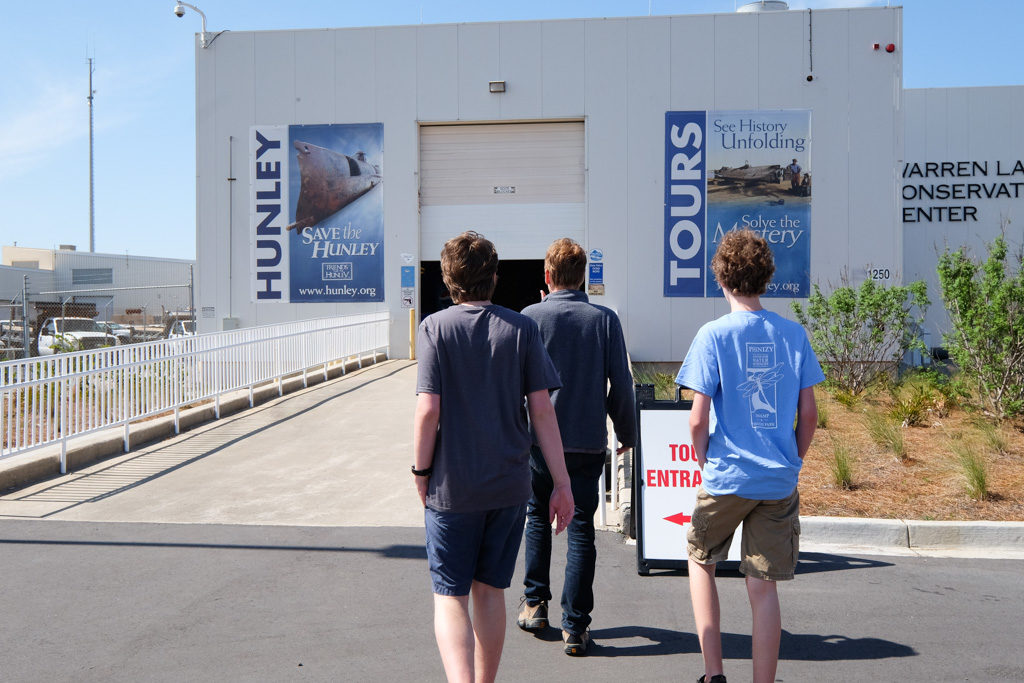 We didn't think we were going to make it to the Hunley because it's only open for tours on weekends, but when we ended up spending less time than anticipated at the Cajun festival on Sunday, we realized we had time to make the drive and see it. Tickets are $16 for adults and $8 for kids 6-17 (under 6 free). Admission includes a guided tour to see and hear about the Hunley, with the complete story of its history and some theories about why it disappeared as well as a small but nicely done area with several exhibits about the Hunley and the recovery and preservation process.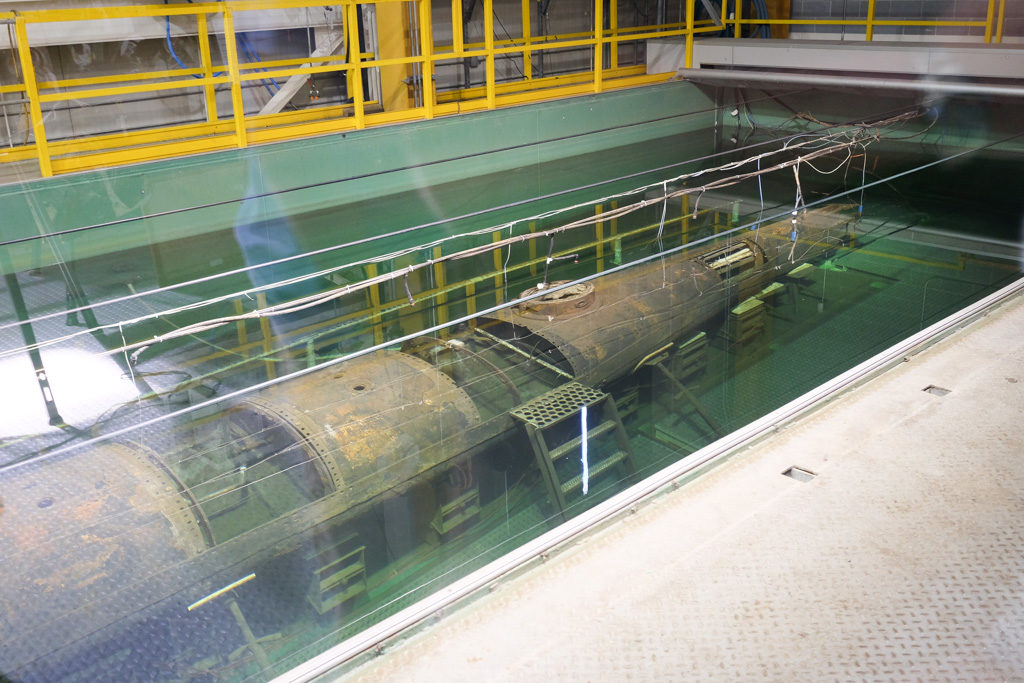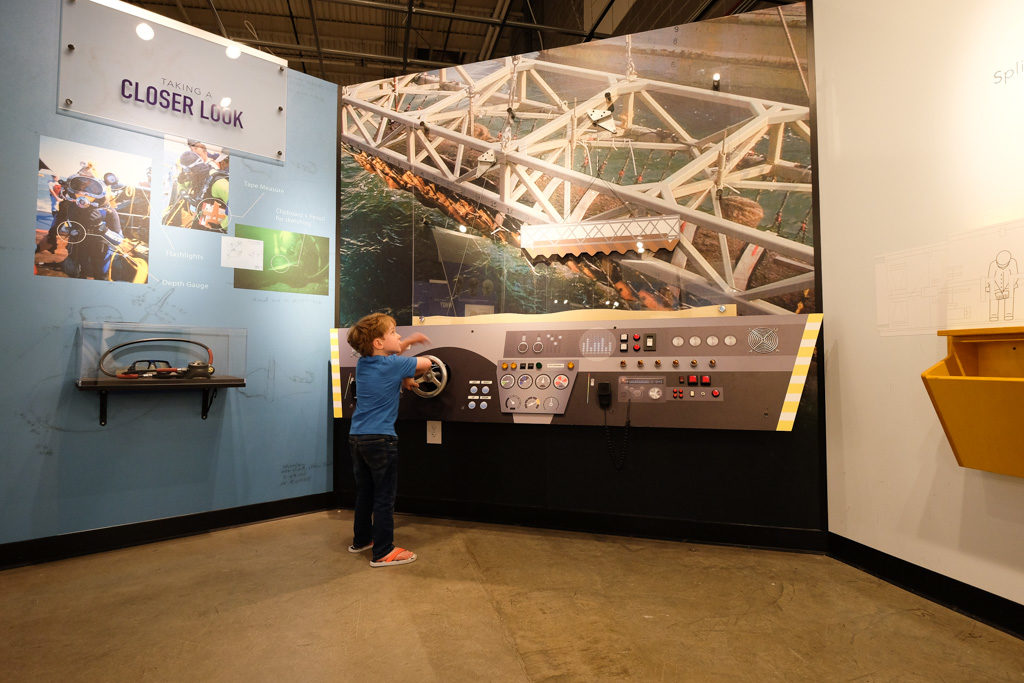 As with many such things, the older kids enjoyed the tour, but it was too long and too detailed to hold Abe's attention. Honestly, I could have stood for the tour to be a bit shorter as well, although that might be largely because I was switching off with Dave trying to keep Abe happy the whole time. I believe it lasted about an hour, and it was pretty much talking the whole time–you're just in a big room in the back; it's not a walking and looking at lots of different things sort of tour.
They used forensics to make these models of every person who died when the Hunley was lost.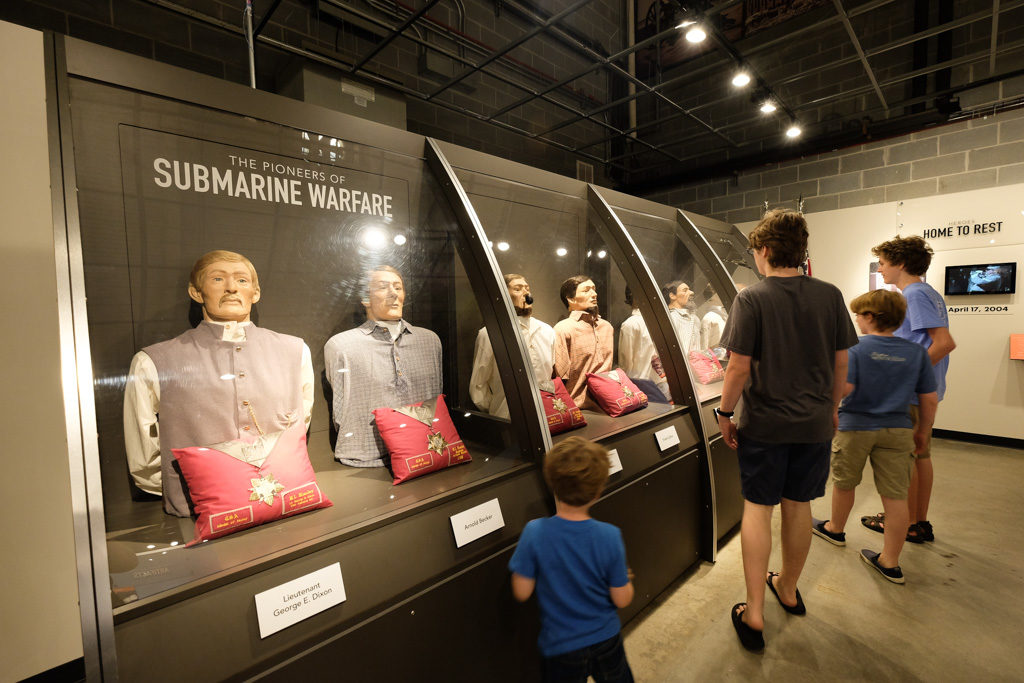 We learned that this reproduction is actually bigger than the actual Hunley. I would not enjoy spending hours underwater in this thing.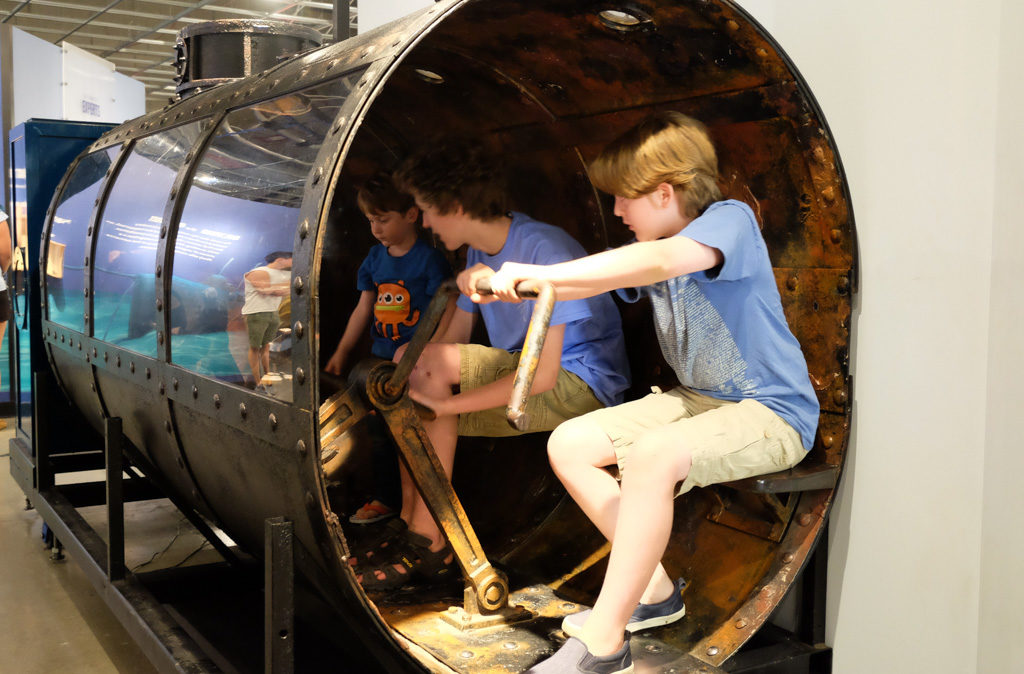 Thanks to the Charleston CVB for working with us on this trip and providing passes for some attractions. I was not otherwise compensated, and all opinions are my own.