Travel dates: April 1-8, 2017
When British warships attacked the partially finished Fort Moultrie in 1776, the story goes, the colonists were able to stave off the attack thanks to the palmetto logs that made up the fort's walls. The soft walls absorbed the shot, and some cannonballs even bounced off of them. I've always found this story of the plucky young fort charming, so Fort Moultrie was high on our list of places to see in Charleston, along with its more famous companion, Fort Sumter.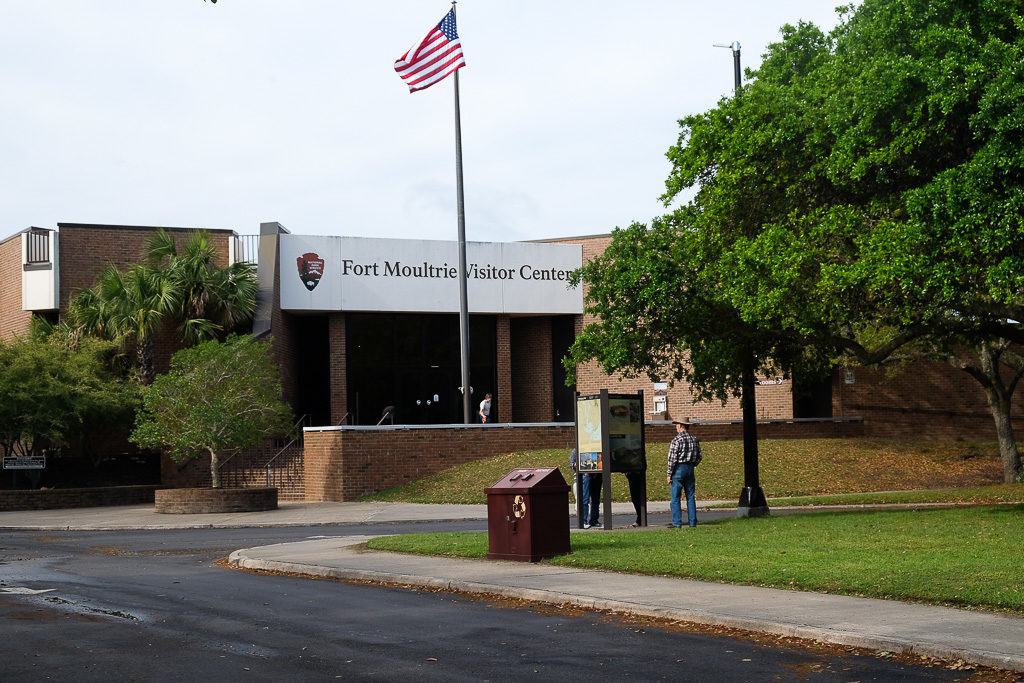 Fort Moultrie is just outside of Charleston on Sullivan's Island. There's a nominal admission fee of $3 per adult (or $5 per family) that gets you access to the visitors' center, the fort itself, and some walking trails. First we spent some time checking out the exhibits in the visitors' center and watching what can only be described as the amusingly dated film. Amusingly dated though it was, the film gives a good overview of Fort Moultrie's surprisingly long history as an active fort, spanning from the Revolution through World War II.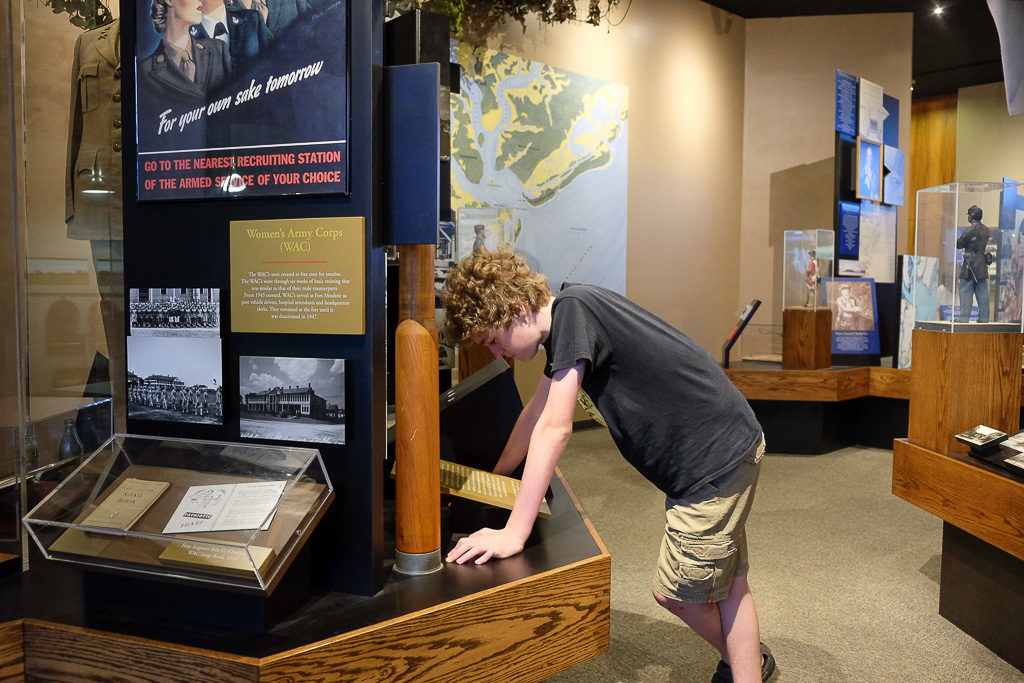 This long history makes for a surprisingly motley fort touring experience compared to somewhere like Fort Sumter or Fort Pulaski near Savannah–both of which are known for a specific Civil War battle and, as such, seem to exist today mostly in that one moment of time. But a tour of Moultrie takes you through its whole long history and feels a good bit more disjointed.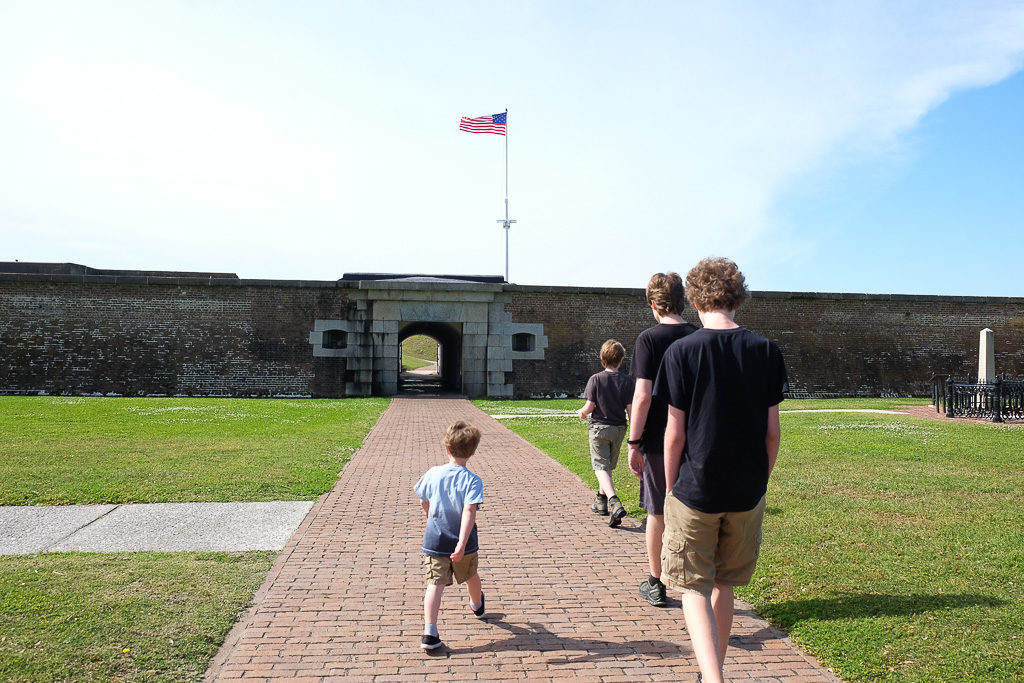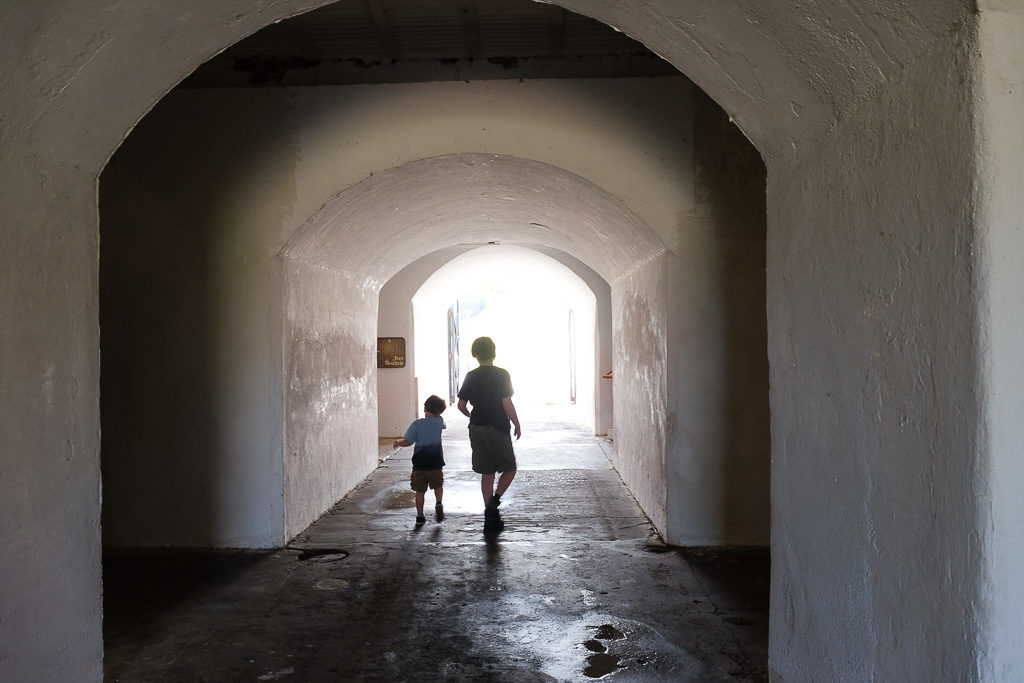 I don't mean this as a slam on poor Fort Moultrie, which has already been through enough in its time, but it's not nearly as pretty as Fort Pulaski. There's not really much of the original fort left (if any); it was an operational fort through World War II, so there was no interest in preserving lovely architectural features but in modifying it to serve the needs of the times.
But the self guided tour is fascinating and there's plenty of variety (and tunnels!) to hold the attention of both kids and adults.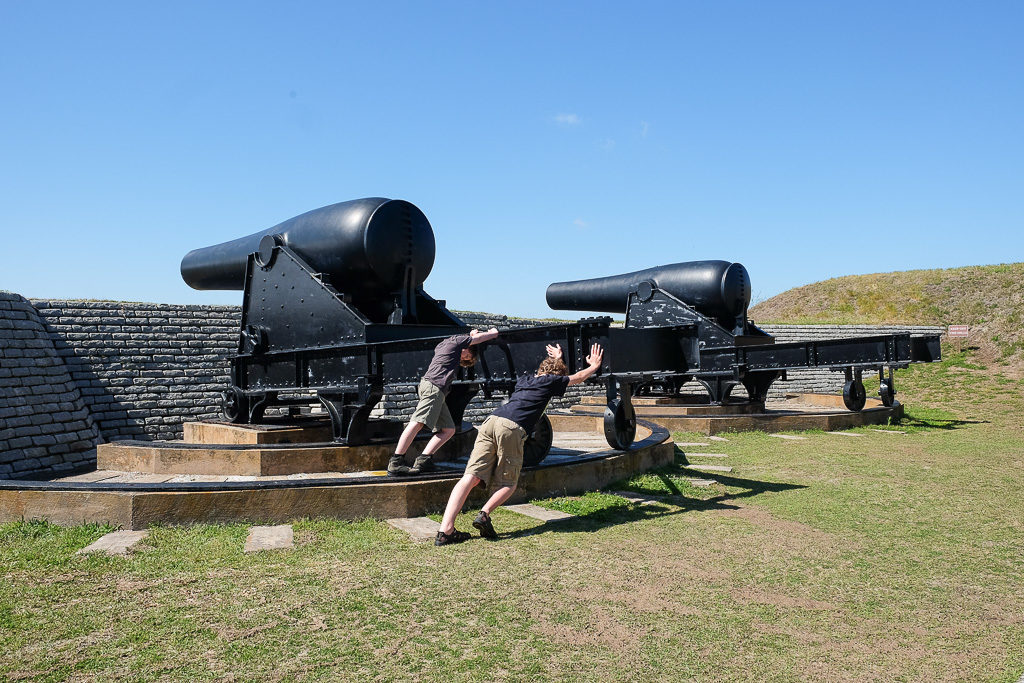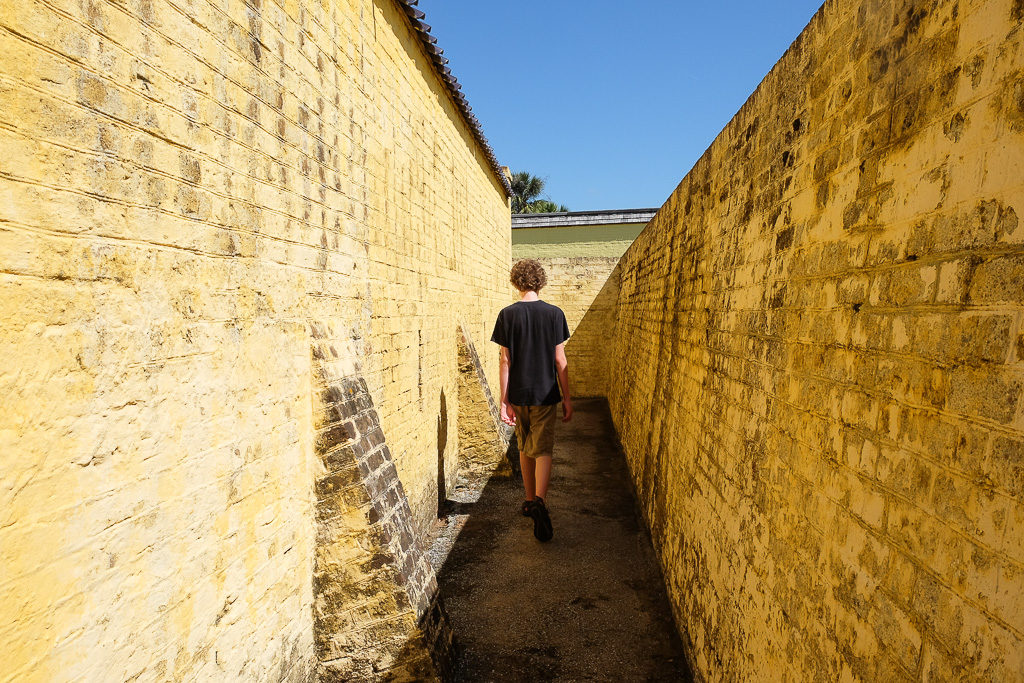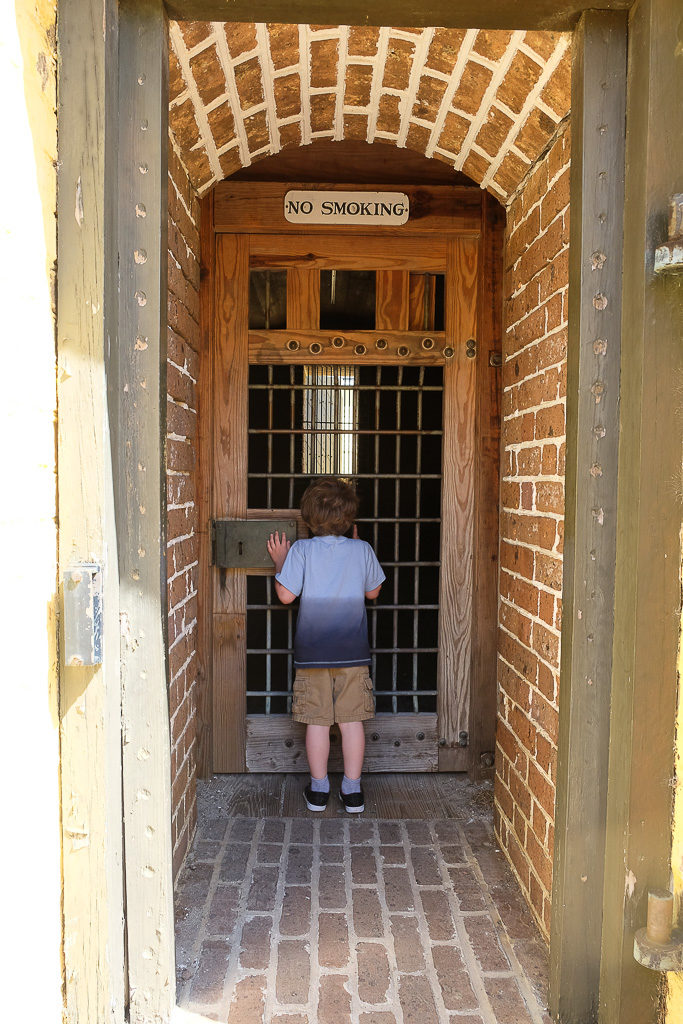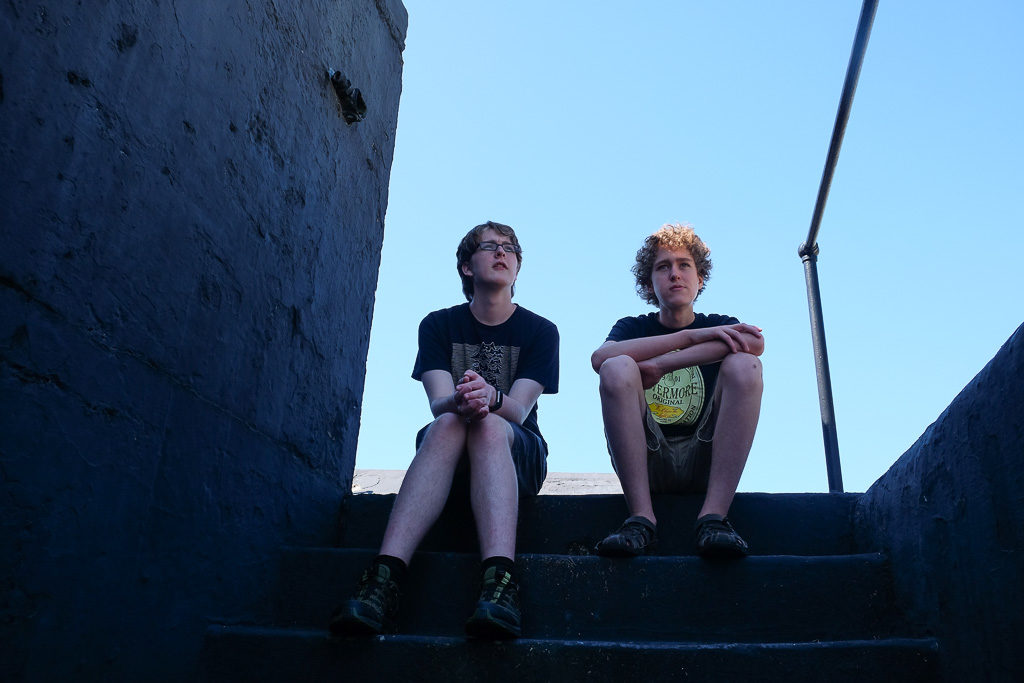 The underground area where you can check out WWII stuff was particularly interesting and a bit of a surprise for those of us mostly familiar with Moultrie's Revolutionary history: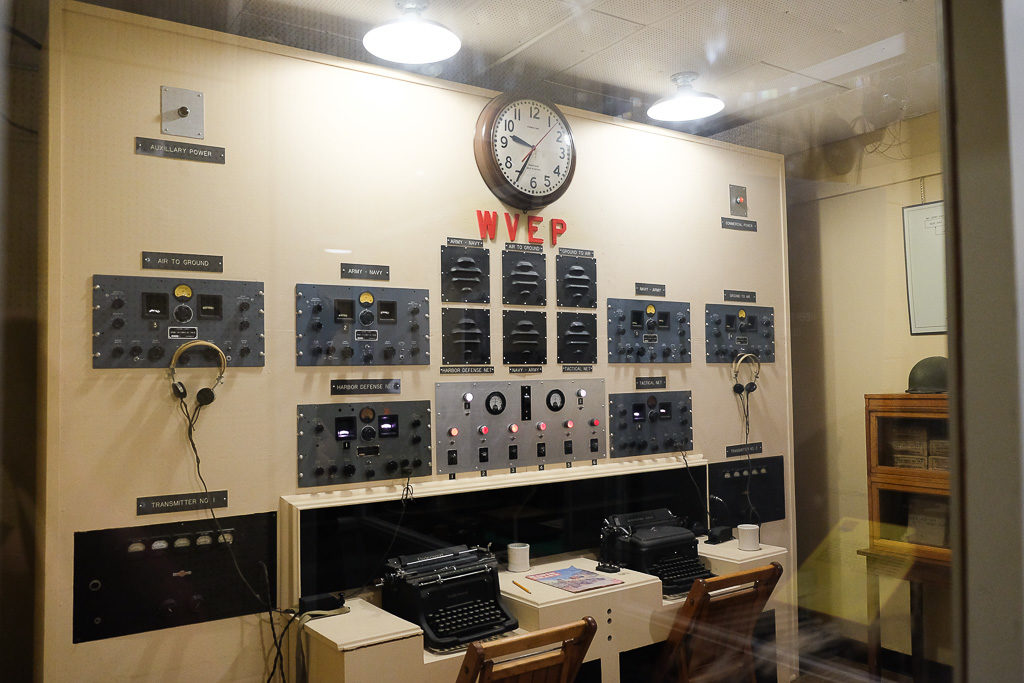 Abe and Gus worked on Junior Ranger badges. Gus claims he's all done with Junior Ranger badges now and is going to turn his attention to helping Abe out with his books from now on. Which makes me a little sad, but not as sad as it would make me if I didn't still have years of Junior Ranger badges to look forward to with Abe. Anyway, here he is working on what might be one of his very last badges. Now that I notice he's wearing his Guinness shirt, maybe he is too grown up for Junior Ranger badges: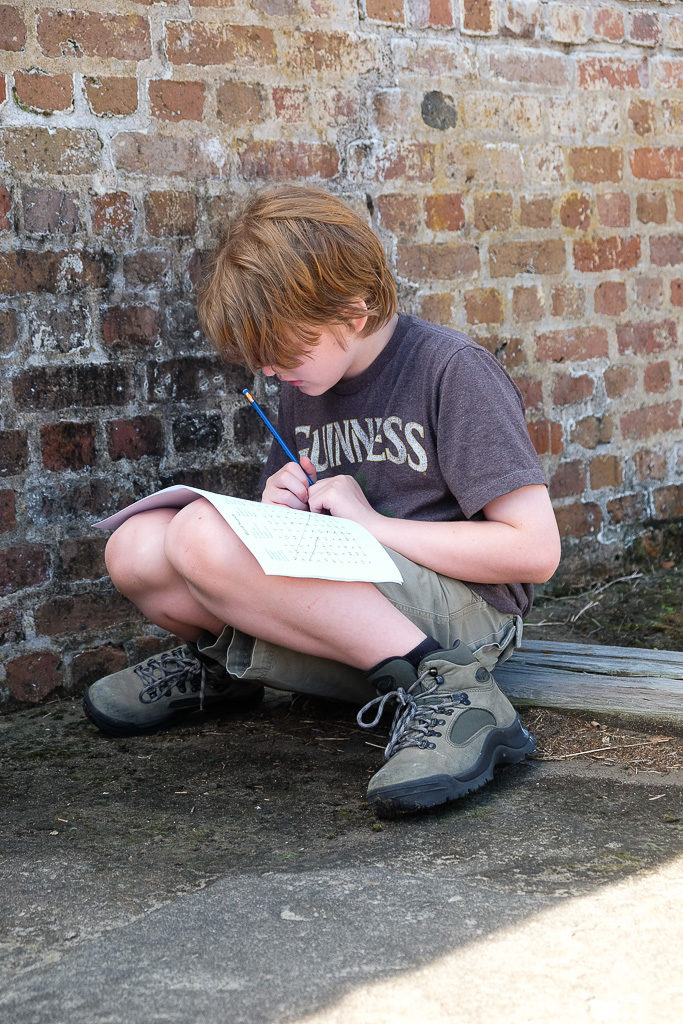 Fort Sumter is, of course, mostly known as the place where the first shots were fired in the Civil War.
A Fort Sumter trip requires a little more planning, money, and time than a Fort Moultrie trip. The fort is on an island that's only accessible by boat, and the boat is operated by a concessionaire rather than the NPS itself (which means your NPS pass is useless here). Prices are $21 for adults, $13 for kids 4-11.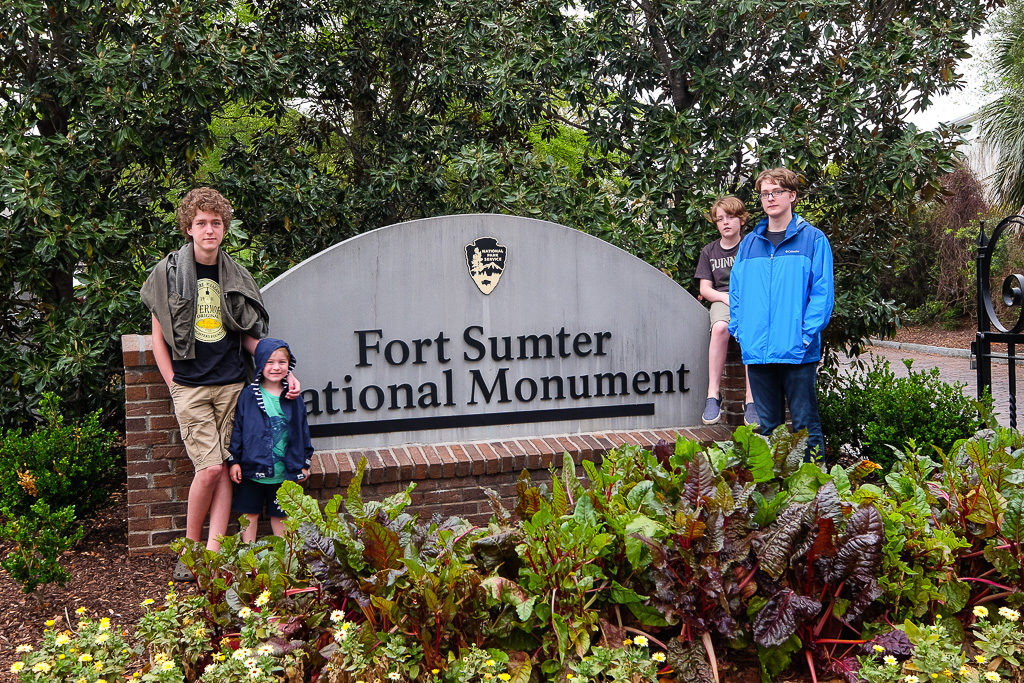 You can take a boat either from Patriot's Point in Mt. Pleasant or Liberty Square in downtown Charleston. We opted for the downtown location mostly because the schedule worked better for us; we opted for the first tour of the day to try to beat the crowds. I think, although I'm not sure, that the downtown location is also the only one that has museum exhibits about the fort. At any rate, this is what the website seems to indicate. We were a little worried about the parking situation with our big old van, since all of the suggested parking on the website was in parking garages, which we're often too tall for. And, indeed, we pulled in to one of the garages, driving safely under the 7+ foot clearance sign at the entrance, only to encounter a 6′ something sign to actually go up the ramp to the parking, so we had to turn around. But since it was early in the day, we found on street parking nearby easily.
We got there early enough to have some time to check out the exhibits and start working on Junior Ranger books (this is a surprisingly tough one that requires pretty intense scrutiny of the exhibits) before getting on the boat: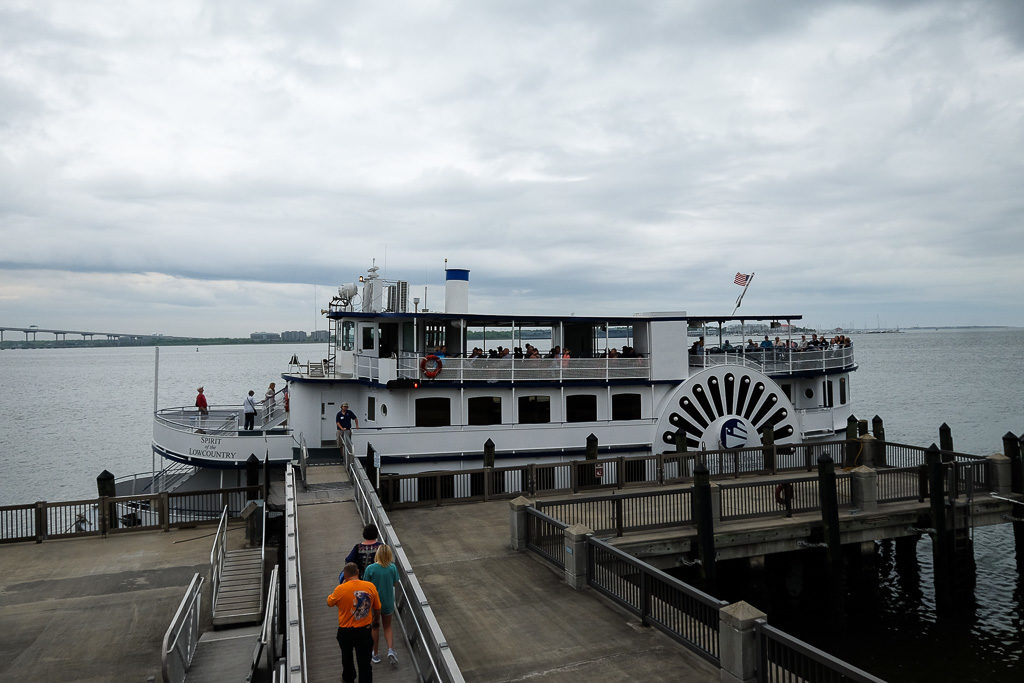 It was, as you can see from the picture, a really cloudy, sometimes stormy and rainy, and windy day. I was pretty nervous about the boat ride given these conditions, but it was a very smooth ride. They play a recording telling you about the fort and what you're seeing on the way out, but the kids were mostly interested in wandering the boat and looking out at the ocean: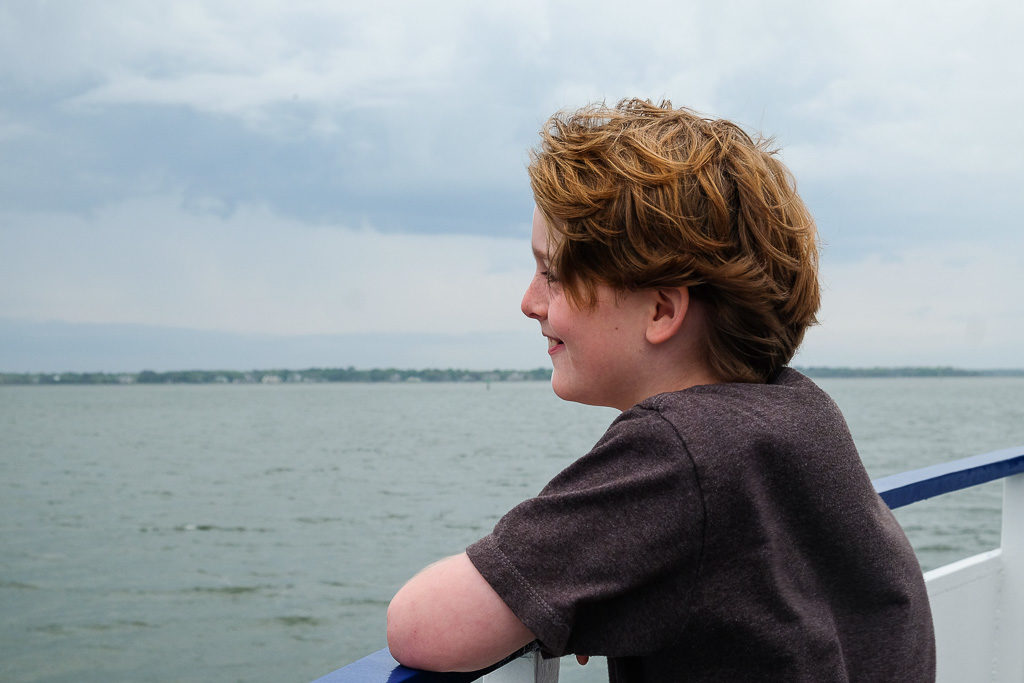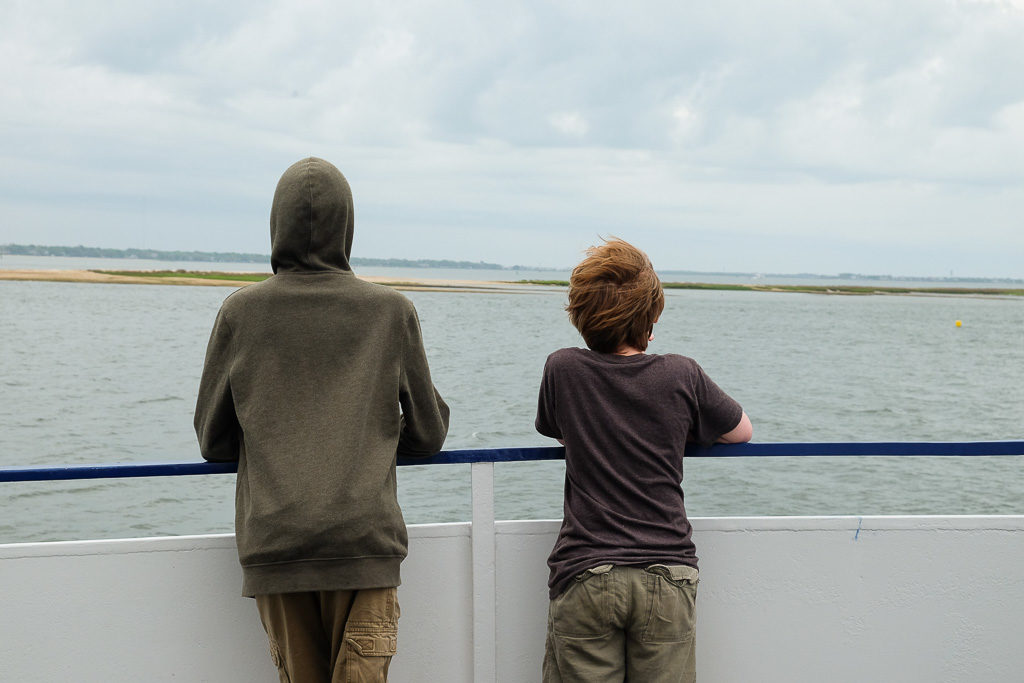 We saw SO MANY dolphins; sadly, I only have cruddy iPhone pictures of them: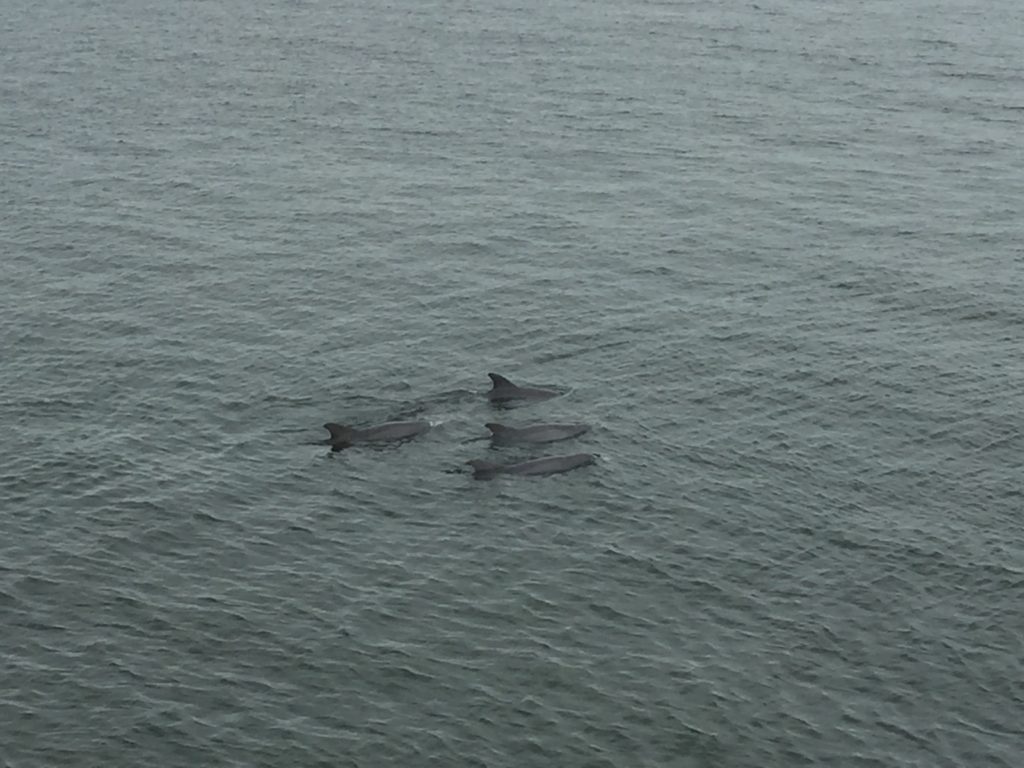 Once you get to Fort Sumter, you have about an hour, if I remember right, to explore before getting back on the boat for the return trip. This sounded like not much time, but it turned out to be pretty much perfect. There's a short ranger talk available as soon as you get off the boat if you're interested, but we're relatively well versed in Civil War history, so we opted to skip it and start looking around right away. You can walk all around the outside parts of the fort and then check out the museum and bookstore on the second level. We took advantage of a rain shower to duck in there for awhile.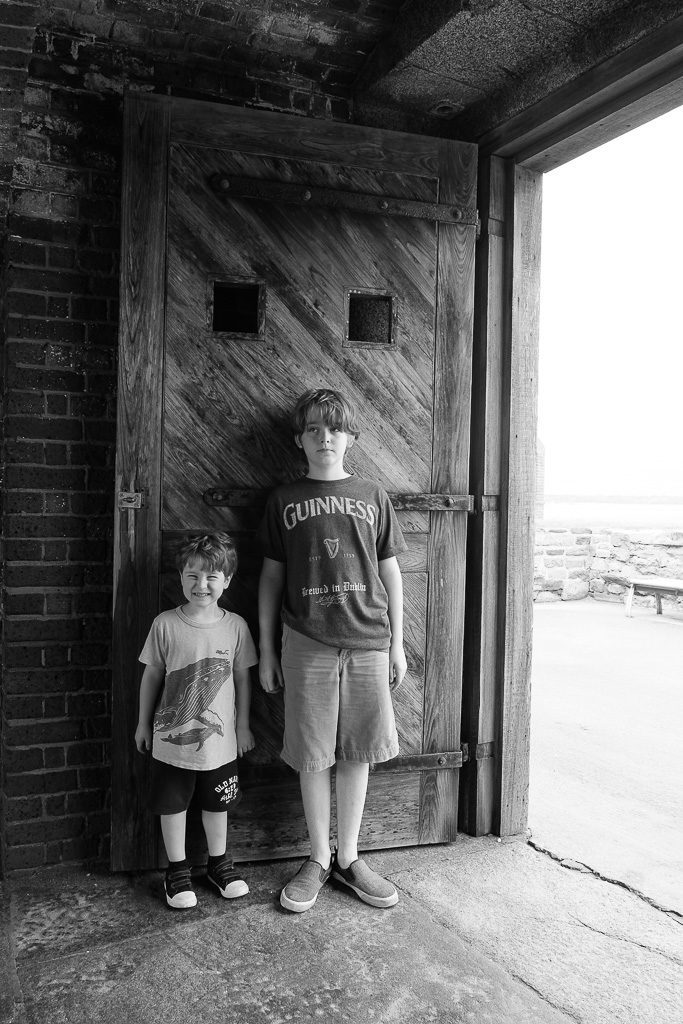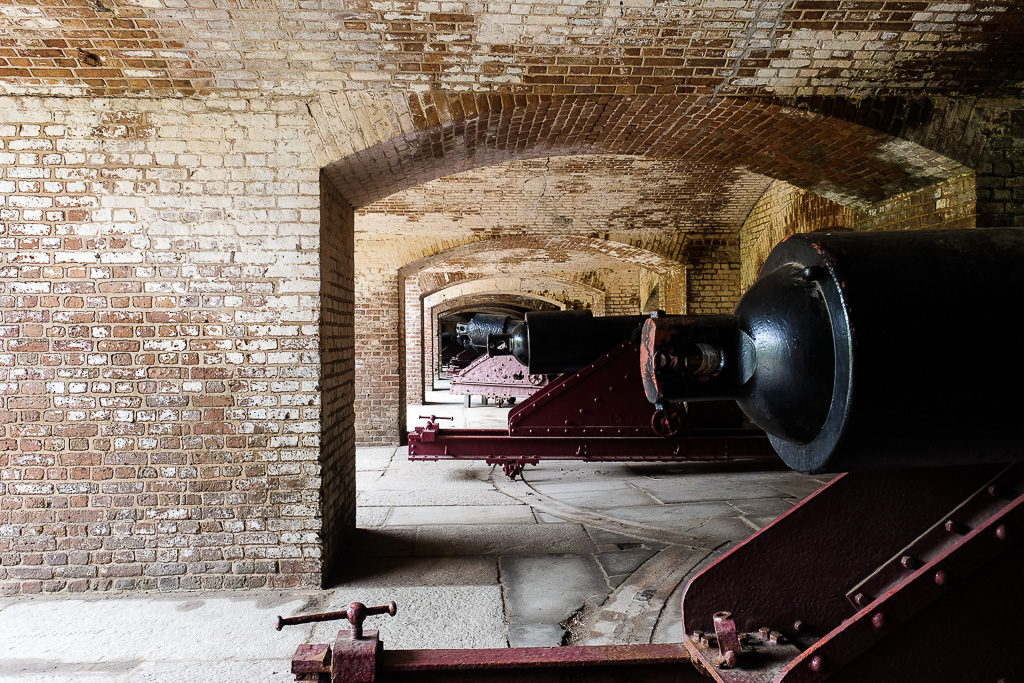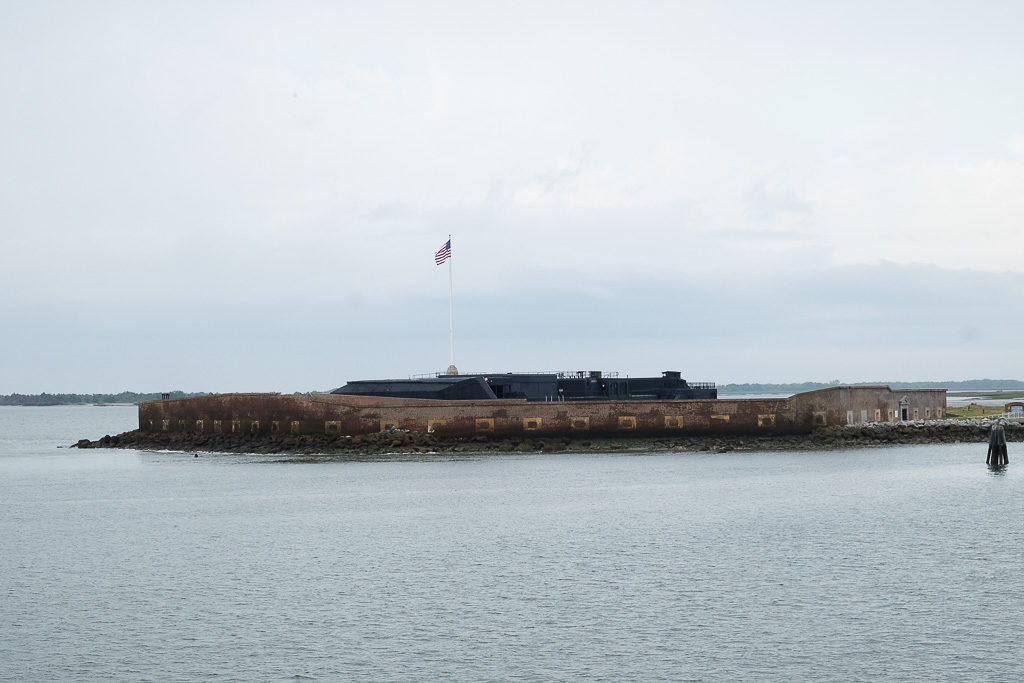 Normally you can walk around outside the fort by the water, too, but we were warned that this isn't a good idea right now because of leftover drainage/sewage (yuck) issues from Hurricane Matthew (this is also why there are no bathrooms on the island right now, but they're available on the boat). So we just looked at this sign about something or other and then headed back to the boat: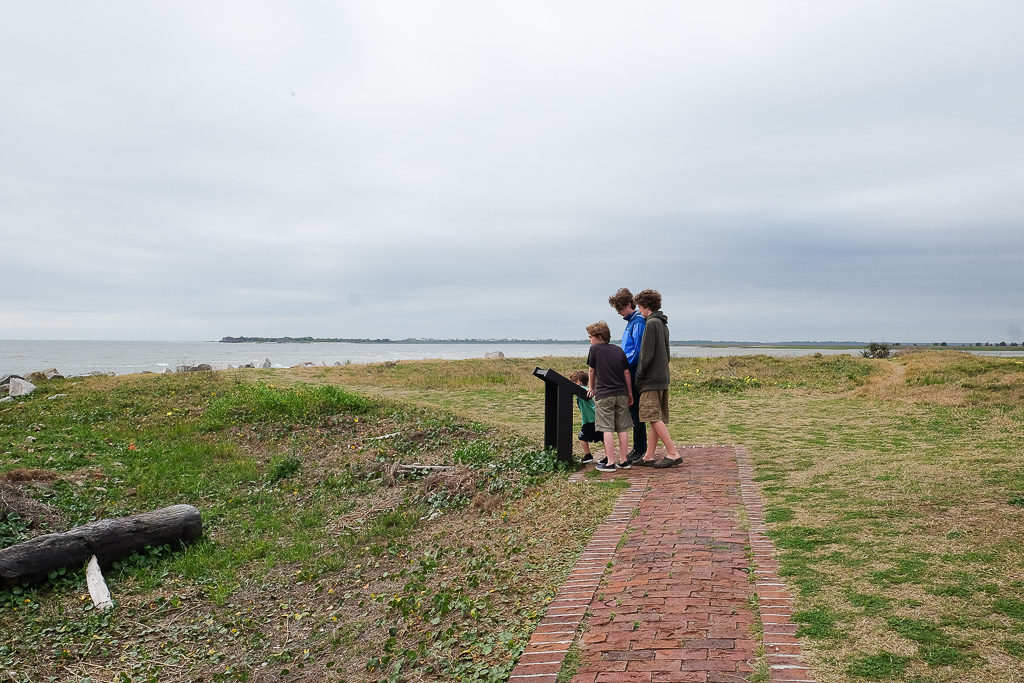 Just a couple more Charleston posts yet to come, and none too soon, because we leave on our 8 week cross country trip in three days. eek! and yay!
Maybe you would like to pin this?