Travel dates: June 15-17, 2017
My post about all the stuff we did in Yellowstone while we were staying at Fishing Bridge
Two days before we were due to arrive at Fishing Bridge RV Park in Yellowstone, I had something approaching a panic attack about it and spent an evening reading terrifying reviews online, becoming more and more convinced we were going to be completely miserable there, and making Dave call every other campground we could think of to see if we could get a last minute reservation.
We could not.
So we bravely made our way to Fishing Bridge with bated breath and….it was fine. Really completely okay.
There is nothing fancy about Fishing Bridge; it's a basic RV park with tightly spaced sites and few amenities. There'd be no particular reason to stay there if it didn't happen to be the only campground with hookups inside Yellowstone National Park. But it is, and in a great central location in the park, too, so it's definitely worth considering if you need hook-ups (post for another time: I want a generator so we can stay wherever we want).
I found all of one photo on my phone of Fishing Bridge (well, actually four, but they were all pretty much the same), so I'll save that one for when I talk about the campsites. For now, here's a bison: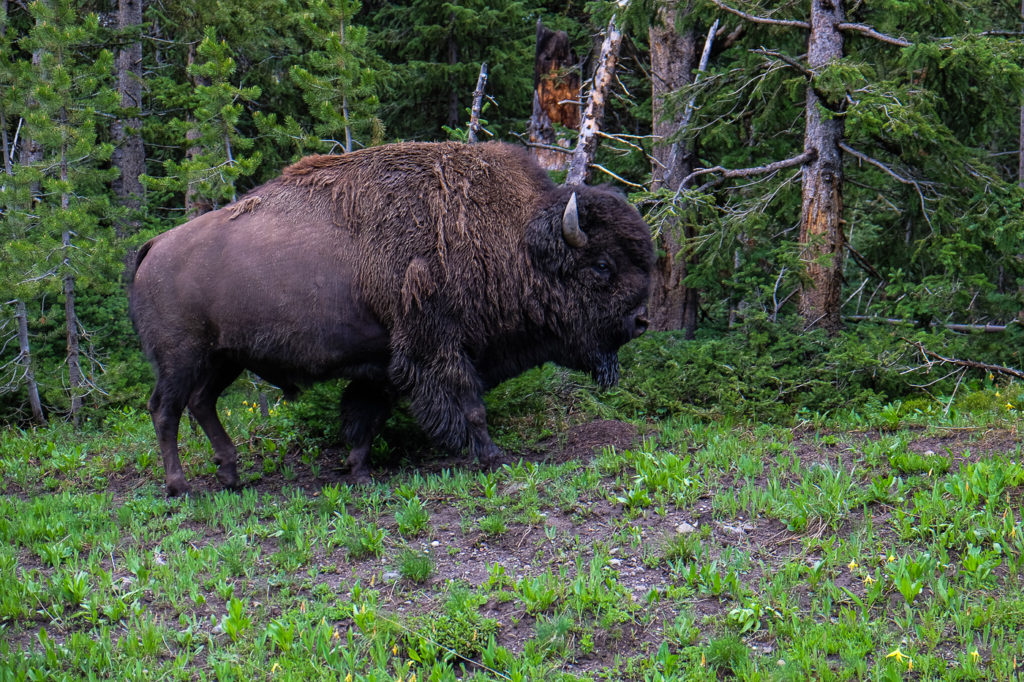 Let's take a look at some of the most common criticisms of Fishing Bridge, as found in all those reviews that scared me so much.
The roads are full of potholes and will destroy your RV: it's true; the roads are not in terrific repair, but they're not really that bad. One review I read said the TV in their RV came out of the wall because of the roughness of the roads. That did not happen to us. We drove slowly and watched where we were going, and it was fine. Some of the loops are paved instead of dirt, so if you're concerned you can always ask to be put in one of those loops.
The sites are hard to get into: this was probably the thing I was the most worried about, as we'd already dealt with a couple of tricky to get into sites on this trip and we weren't feeling up for more. But we didn't have any trouble at all with ours (and we don't have a tiny trailer by any means; we have a 34 foot toy hauler). The sites are laid out very regularly and are mostly pretty level.  Of course, just because our site was easy doesn't mean they all are; the roads are relatively narrow so if you have an inconveniently placed tree or post across from you things could get tricky. But we found ours to be one of the easier back in sites on our trip.
The sites are tiny and cramped: sure, they pack you in here, but no tighter than some private campgrounds we've been to. The sites are a little odd, in that they back up to another site and in that they're set up so that you park your tow vehicle or toadie next to your trailer or RV, but we found the space adequate (with the disclaimer that we don't have any slides). Here's my one photo, so you can see what I mean (you can also spot some of the infamous potholes):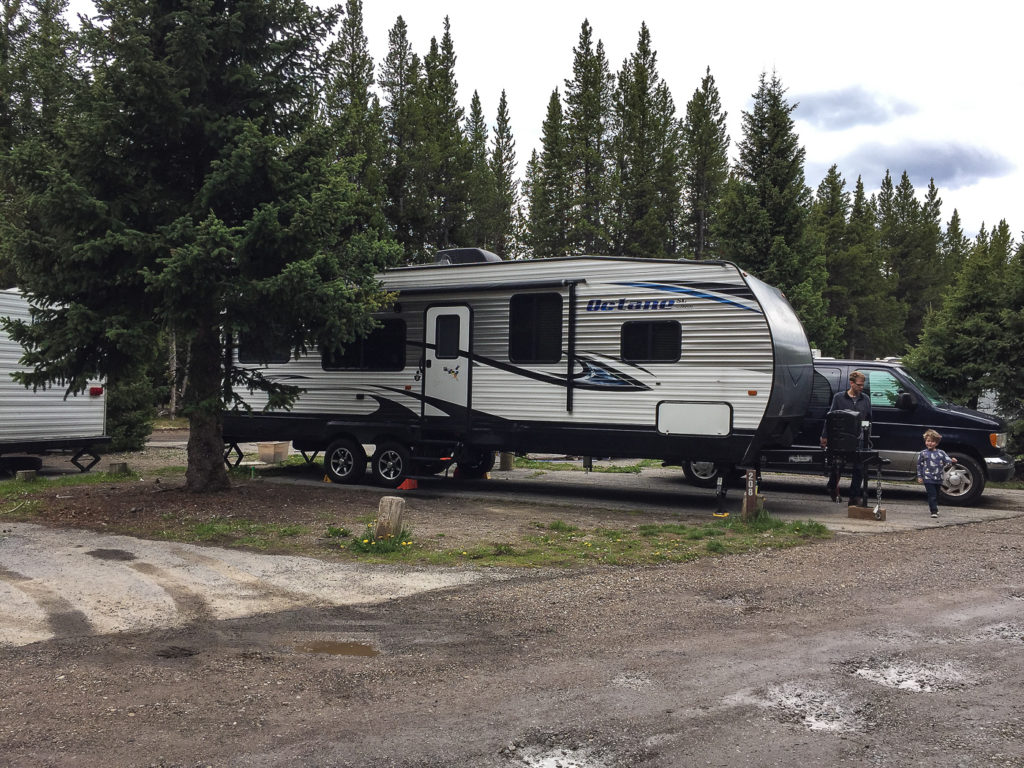 There are no picnic tables and fires are not allowed, but, as you can see, you'd have room to set up a couple of chairs if you wanted to. But it's absolutely true that this is not the campground you want to pick if you want to spend lots of time hanging out outside in the evenings.
It's too expensive for what you get: here's where I start to suspect that much of the criticism of Fishing Bridge comes from western RVers who are used to a different experience than we east coasters are. We paid $54/night for Fishing Bridge, which is maybe $10/night more than we'd pay for full hook ups at a state park campground in Georgia. But it's in Yellowstone. When we moved to the fancier full hook up campground outside the park in West Yellowstone a couple of days later, we paid $20 more a night, so Fishing Bridge's rates seem pretty well in line for the area. At any rate, they fill it up at those rates, so it's tough make a capitalist argument that it's overpriced. Complaints about the price often mention that there's no wifi (true, and there's also not much in the way of a cell signal. We could very occasionally manage to check e-mail with our Verizon connection) and that it only includes 2 free showers a night at a distant bathhouse. Also true, but since we had full hookups we could shower in the trailer and never set foot in the bathhouse.
There are mosquitos everywhere: I don't actually remember seeing this complaint much, but it was our biggest one. It was a buggy time of year in a buggy part of the country, but the mosquitos were worse in Fishing Bridge than anywhere else we went. On the upside, that meant we weren't at all sad about there being no picnic table for us to hang out at outside.
Okay, so there's the bad stuff (and why, in most cases I don't think it's really all that bad). What does Fishing Bridge have going for it?
Great location: This is really the main thing. There's no such thing as being truly centrally located in Yellowstone, but Fishing Bridge is relatively close to a lot of stuff. It's right near Yellowstone Lake and Bridge Bay. West Thumb and Canyon Village are 45 minutes away in either direction. You can reach pretty much anything in the park except for Mammoth Hot Springs in under two hours, in fact, so if you want to pick a single base camp for your trip, you can do a lot worse than Fishing Bridge. And you're inside the park.
Setting: There aren't any amazing views from the campground, but it is surrounded by pine forest. The loops are nicely separated by woods, so that even though it's a huge campground it doesn't feel like you're in the middle of a parking lot.
Amenities/activities: as I've mentioned, there aren't a lot of amenities here, but there are a few things you can take advantage of. There are evening ranger programs every night in season (we didn't make it to any), and a store and visitor center within walking distance.
Management: this is a very big, very busy campground, and we were impressed with how efficiently it's run, given this. When we arrived, there were tons of people checking in, but the area outside was well set up for this and they had enough staff to keep things moving. We didn't have a lot of contact with the staff, but everyone we did encounter was friendly and helpful.
Okay, so should you stay here? It depends. Here's the thing about reviews of Fishing Bridge: the one star ones and the four or five star ones say all the same things. Everyone notes that the sites are close together and the roads are bad and the location is pretty awesome. So it's all about perspective and managing expectations. I think that when you review a campground it's important to review the campground that's there and not the campground you wish were there. Fishing Bridge does a pretty good job with what it does (although, yes, they really should spend a little money fixing those potholes). In a way it kind of combines the worst parts of a typical private campground (small sites, higher price) with the worst parts of a public campground (few amenities, maintenance backlog)….but it still has a role to play in Yellowstone accommodations game. If we had it to do over again, I'd stay there for a few days again to see that side of the park. I wish that we were set up for dry camping and could have stayed at a different campground, and I wish that Yellowstone had some options with maybe just electric or just water and electric for people who don't need full hook-ups but do need something, but….since given the available options, I have no regrets.
Stay at Fishing Bridge if you….
*want a great location inside the park
*want to do a split stay at two (or more) different campgrounds
*are mostly interested in touring the park and just need a place to sleep at night
*need full hook-ups
Maybe don't stay if you…
*don't mind driving more from a nicer campground farther away
*want to settle down in one location for your whole stay (we liked Fishing Bridge fine for two nights, but wouldn't have wanted to be there a week)
*want somewhere you can come back to and unwind with a campfire and time outside in the evenings
*want a pool, playground, or other campground amenities
*can live without hookups for a few nights
maybe you would like to pin this?