Travel dates: June 15-17, 2017
We left Cody and drove into Yellowstone National Park from the east, and our first impressions were of wildness and vastness. It had been an exceptionally wet winter, and there was snow everywhere, even in the middle of June (the snowman was waiting for us when we arrived; we didn't build it).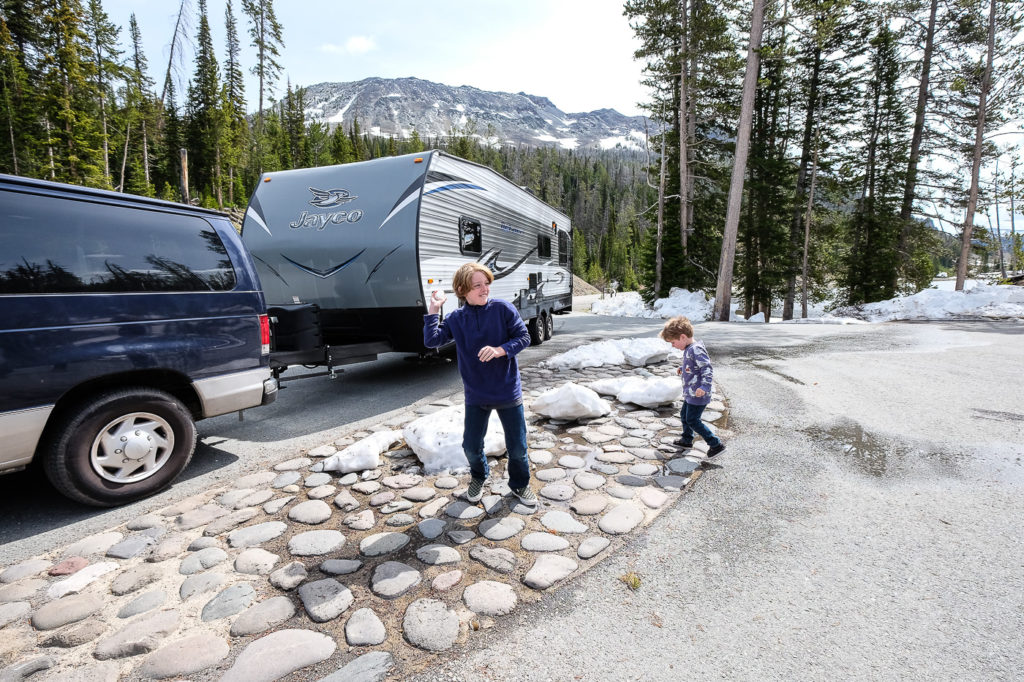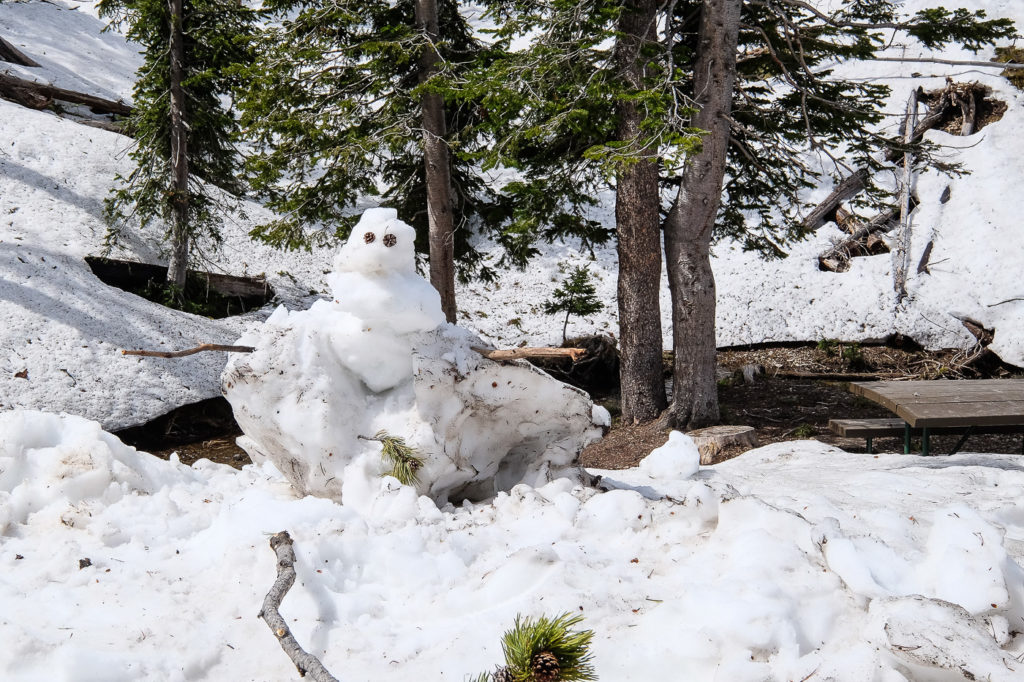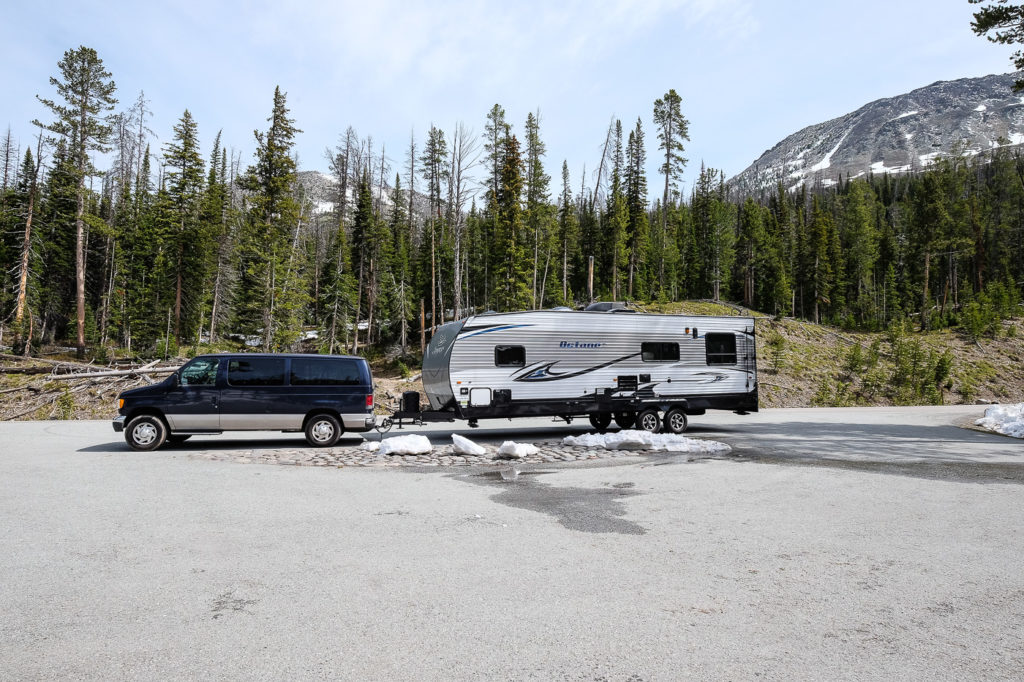 When we pulled over to get a better look, we found this empty, eerie landscape scarred by fire: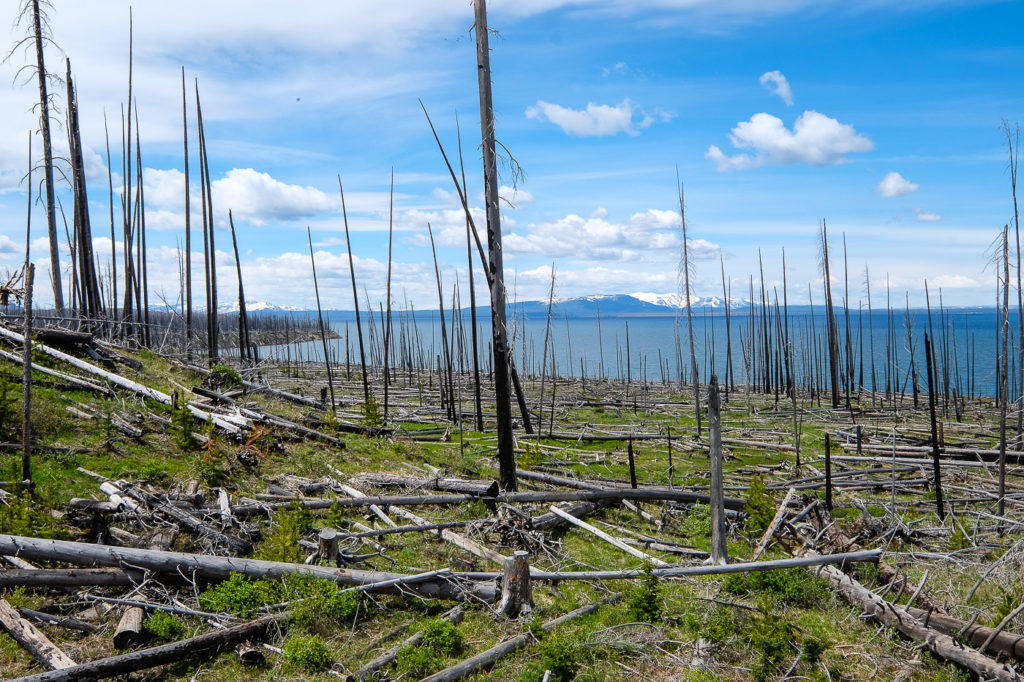 But eventually we hit the eastern side of the loop road that connects the more populated parts of Yellowstone and some signs of civilization returned.
We spent our first two nights in Yellowstone at Fishing Bridge RV Park, and we let that location (and our next, in West Yellowstone) guide our itinerary planning. We spent the first couple of days touring the eastern side of the Grand Loop Road and all the sites there that were fairly easy to reach from our Fishing Bridge base camp.
Canyon Village Area
The drive from Cody wasn't long, so we had much of our arrival day left for sightseeing. After we got the trailer all set up, we headed to the Canyon Village area. Our general method of touring a given area of the park was to first check out the visitors center and look at the exhibits, often chatting with a ranger to get an idea of what hikes or other activities would work best for us. The visitors' center at Canyon Village focuses on the geology of the park, our first reminder that nearly everything you see at Yellowstone was shaped by the super volcano under the surface. We checked out the exhibits and watched a movie about park safety, with lots of footage of angry elk ramming people's cars.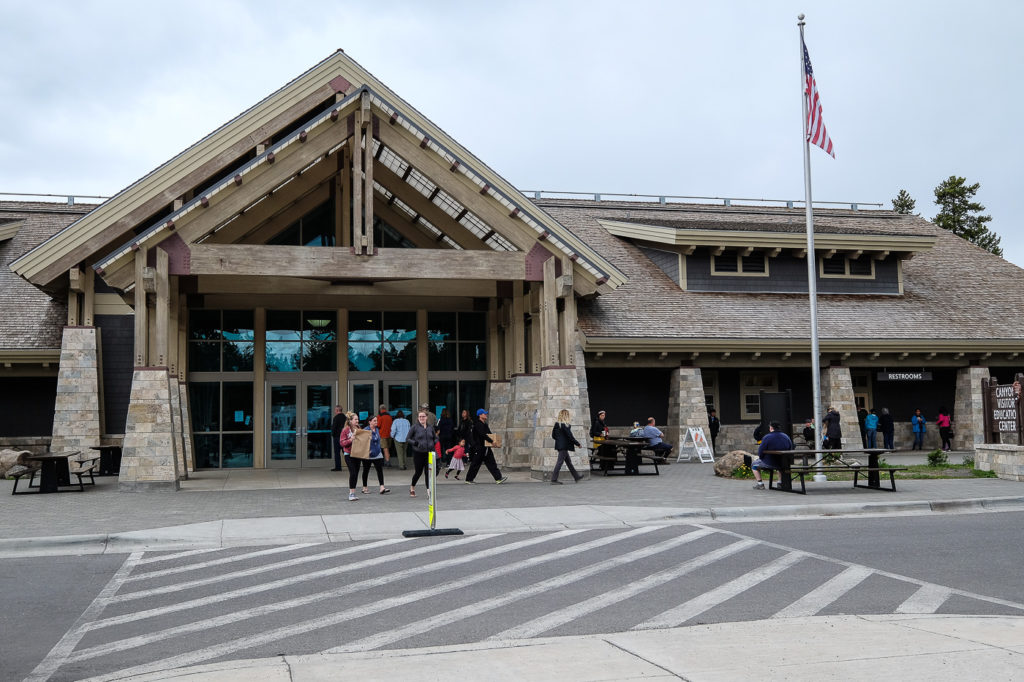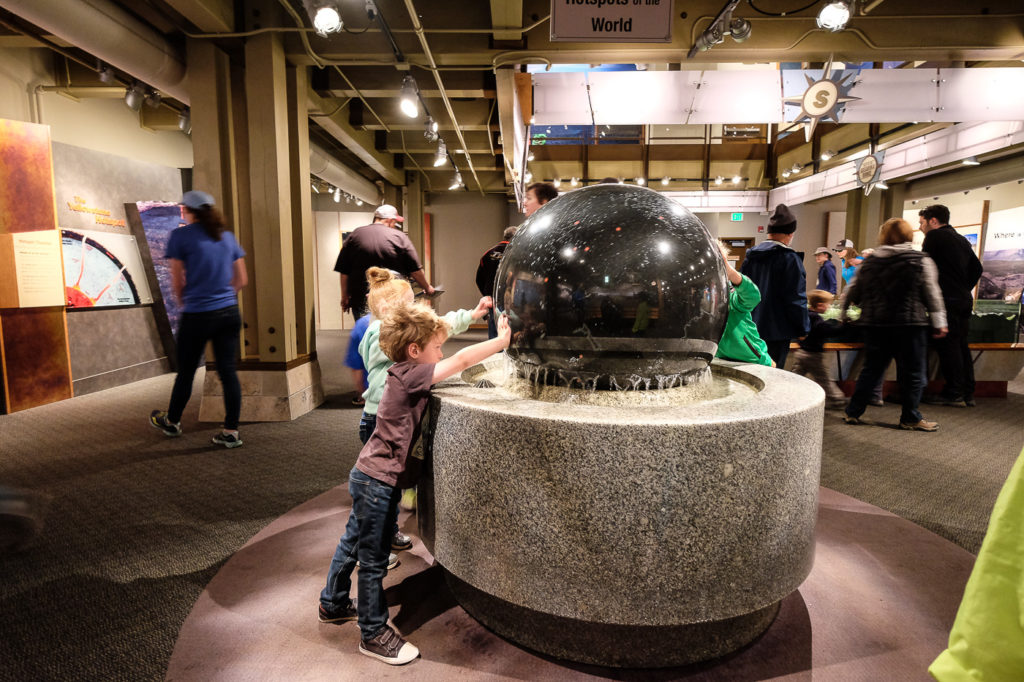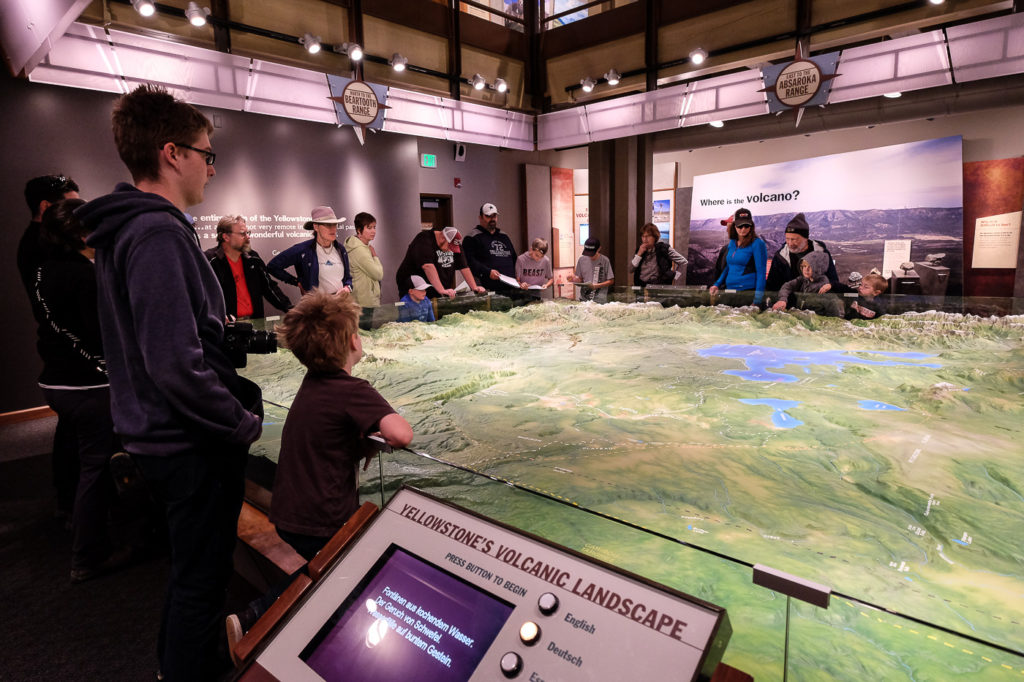 Then we drove over to Artist Point to see one of Yellowstone's most famous views (along with a whole bunch of other people), the Grand Canyon of the Yellowstone: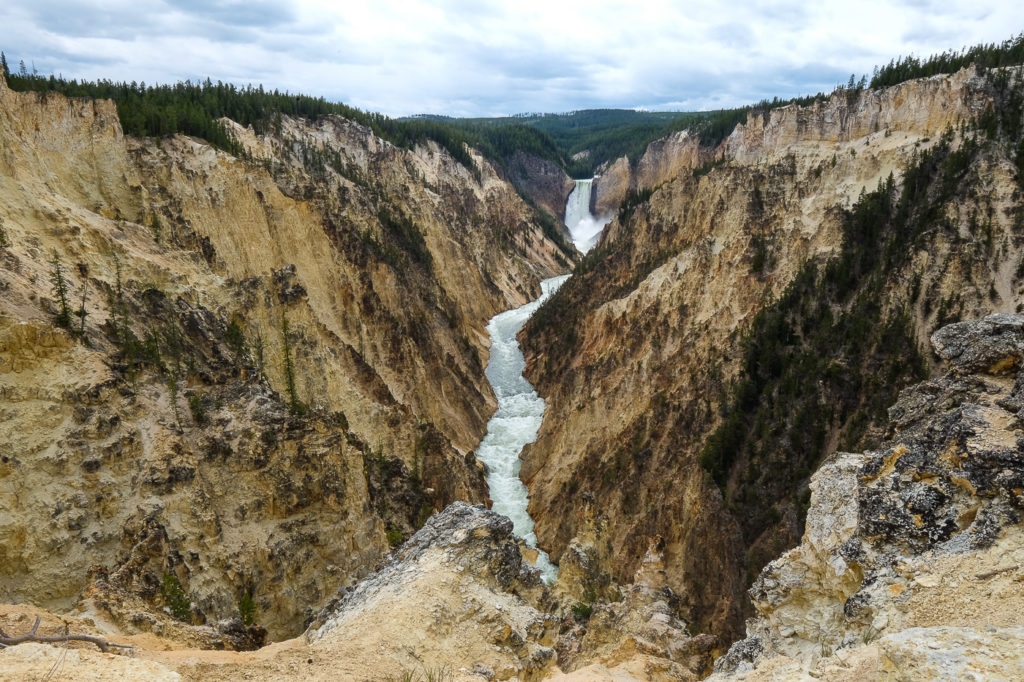 Fun fact: it's impossible to take bad pictures at Yellowstone; you just point the camera and everything looks like that.
Abe shared the moment with the Buddy Bison he had just acquired in the gift shop: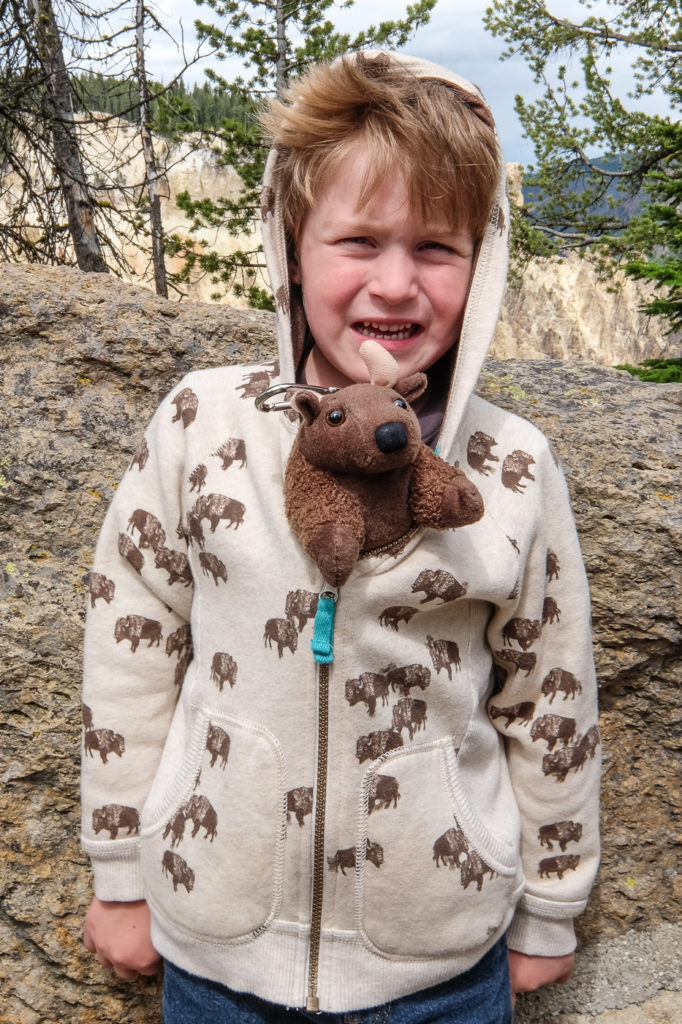 And then we drove to–I think–the brink of the lower falls for another fantastic view. It also might have been the brink of the upper falls. Next time I'm going to take better notes about such things (than none at all). Anyway, it was a short walk along a paved path to see the waterfall.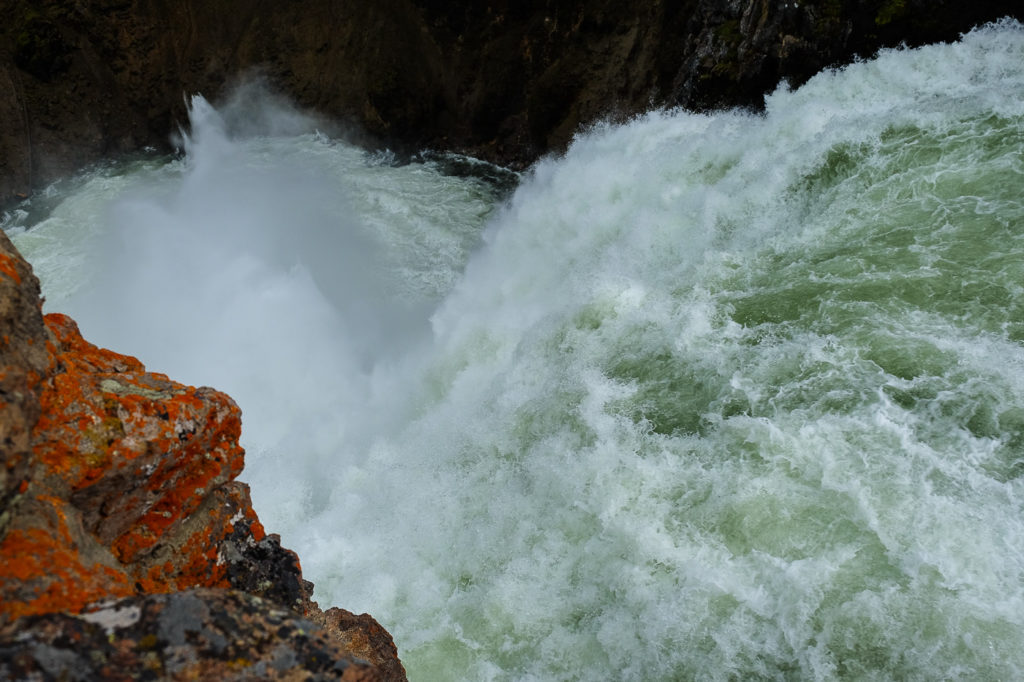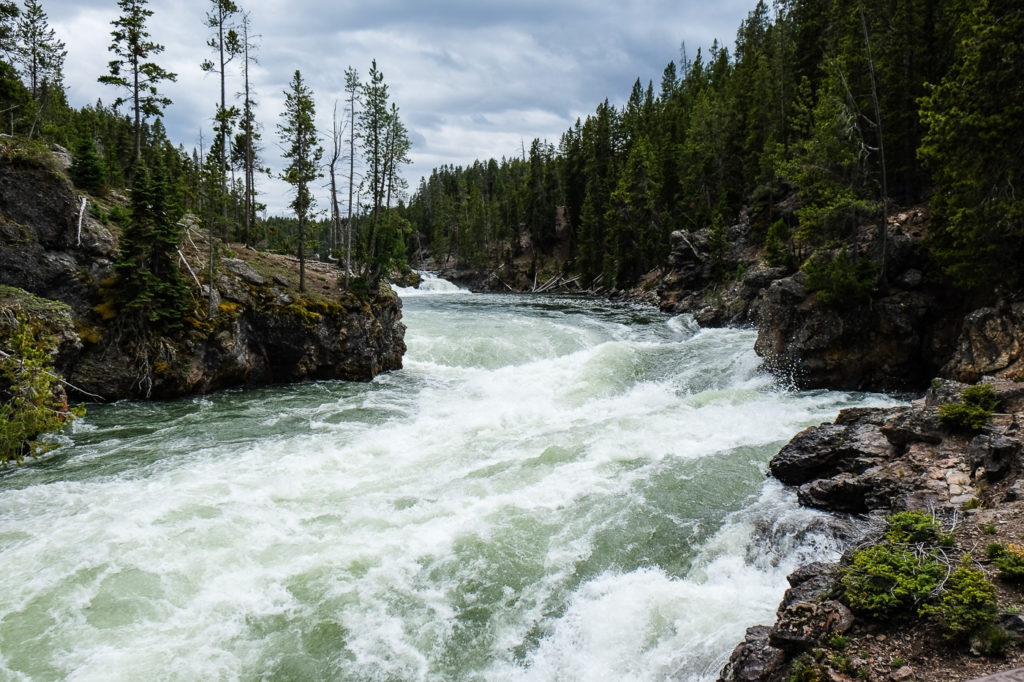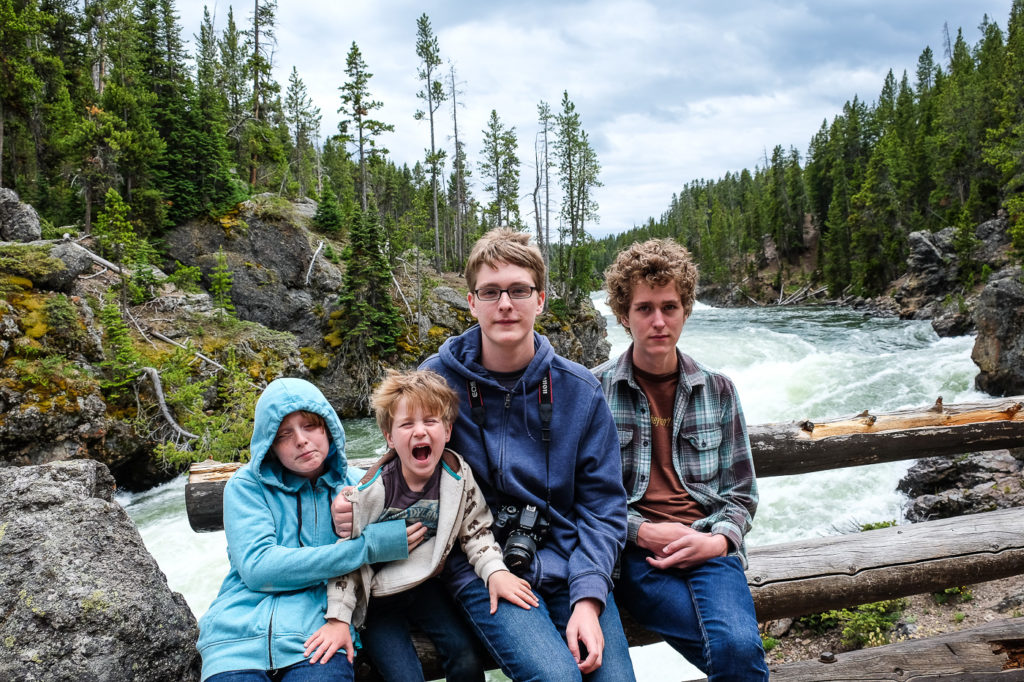 We'd planned to just leave it there, but it still fairly early, so we headed north on the loop road toward:
Lamar Valley
Lamar Valley is kind of off on its own in the northeast corner of the park, so a lot of people don't make it over there. It was long past Abe's bedtime when we were there, so we didn't see much of it, but we did make the drive to get a glimpse at least. The part of the loop road that leads to Lamar Valley is the curviest and scariest in the park. It was fine, but I was very glad we weren't towing the trailer. We passed Mount Washburn on the way; we'd hoped to hike up it one day, but we never made it back to this part of the park.
We were glad we went out of our way for Lamar Valley, though, even though we had such a short time there, because it's gorgeous: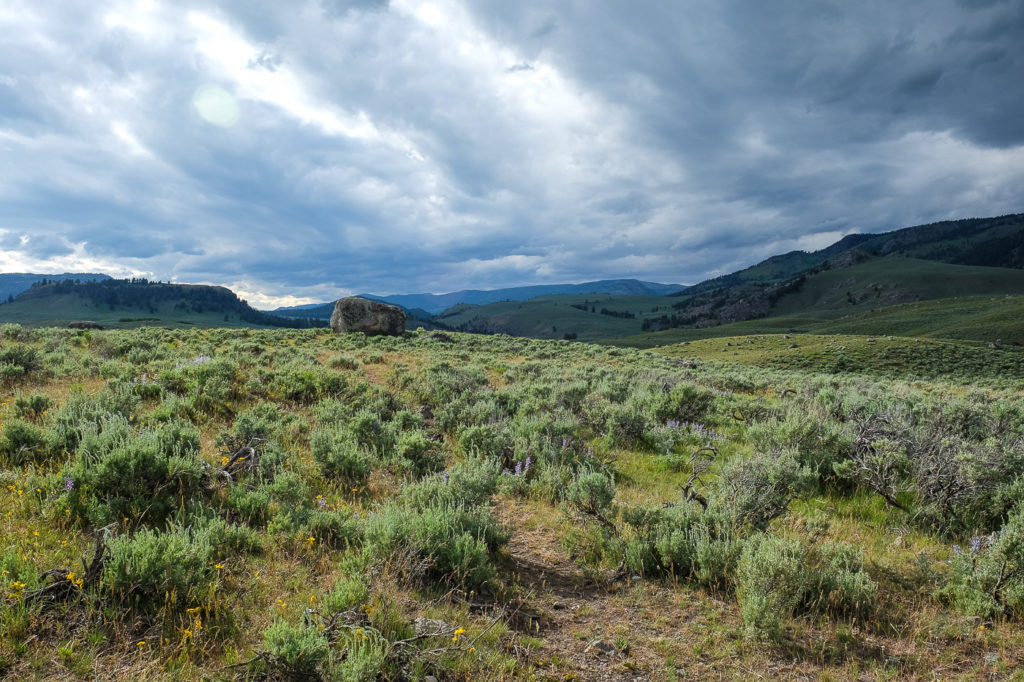 Lamar Valley is supposed to be the place to go to spot wolves. We didn't see wolves, but we did see bison and….a bear! Our first bear jam; the bear was walking right down the road. I did not get a very good picture: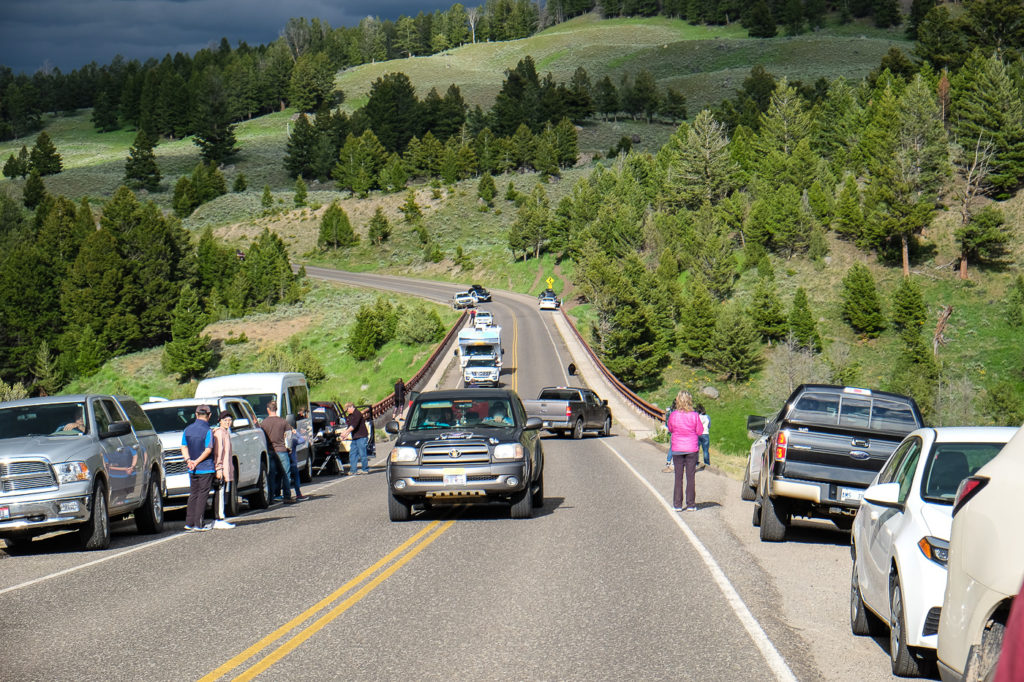 Bridge Bay/Yellowstone Lake
Our first full day in the park was also our worst weather day–very chilly and rainy. We spent this day exploring the areas around Yellowstone Lake. Dave really wanted to get out on the water, so we booked a ranger narrated boat tour that left from Bridge Bay Marina. This was the only ranger program we ended up doing in Yellowstone, and, at $18 for adults and $11.50 for kids 3-11, it was a pricey one.
The lake is vast, and once we were out on it, we recaptured some of that wild emptiness that we felt when we first drove into the eastern side of the park. But even though it was very cool to be out there and get that perspective, I'm not sure we'd choose this particular activity again. The boats are all enclosed, so you're trying to look at everything through the windows–which is good, because it would have been very COLD otherwise–but the view wasn't great. And the ranger's information and stories about the lake were interesting, but definitely not aimed at the 4 year old set. If we had it to do over again, I think we'd admire the lake from the shore and do a ranger led hike or something instead.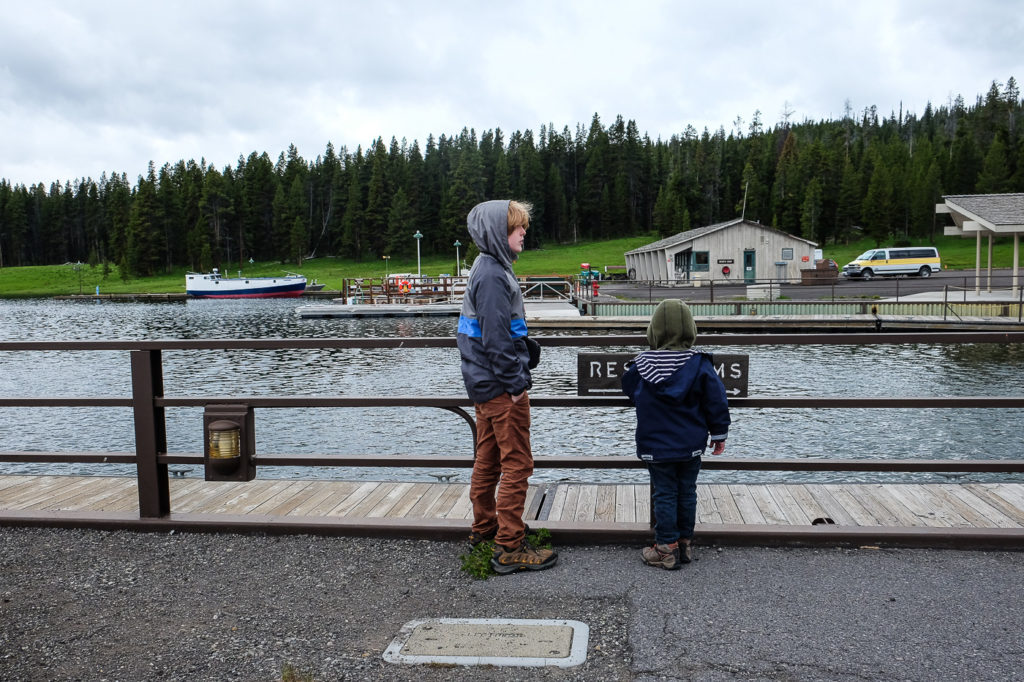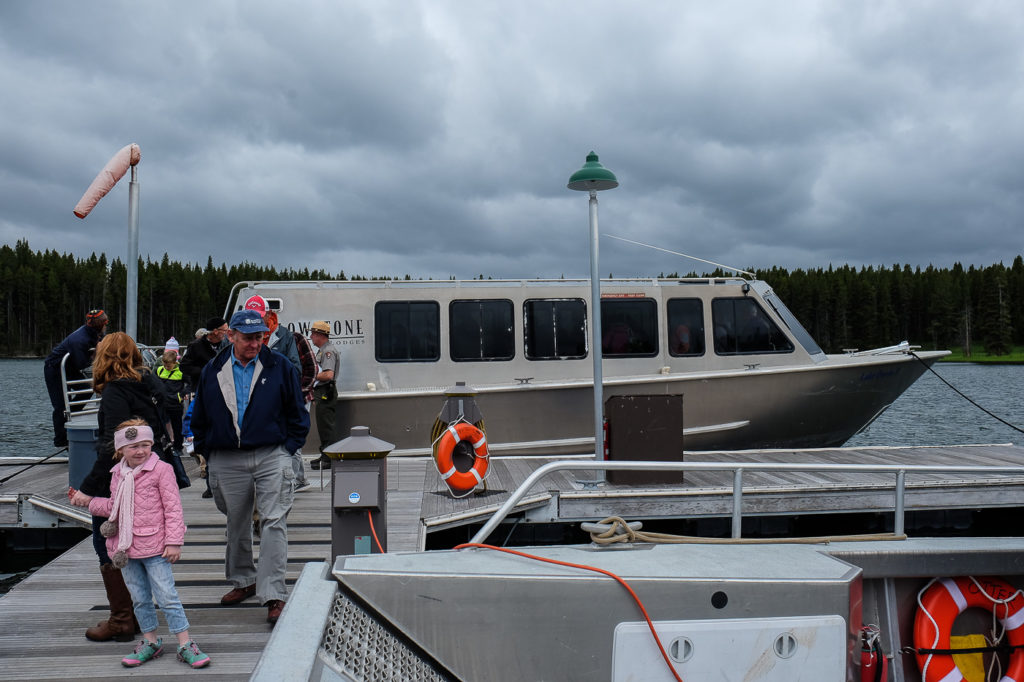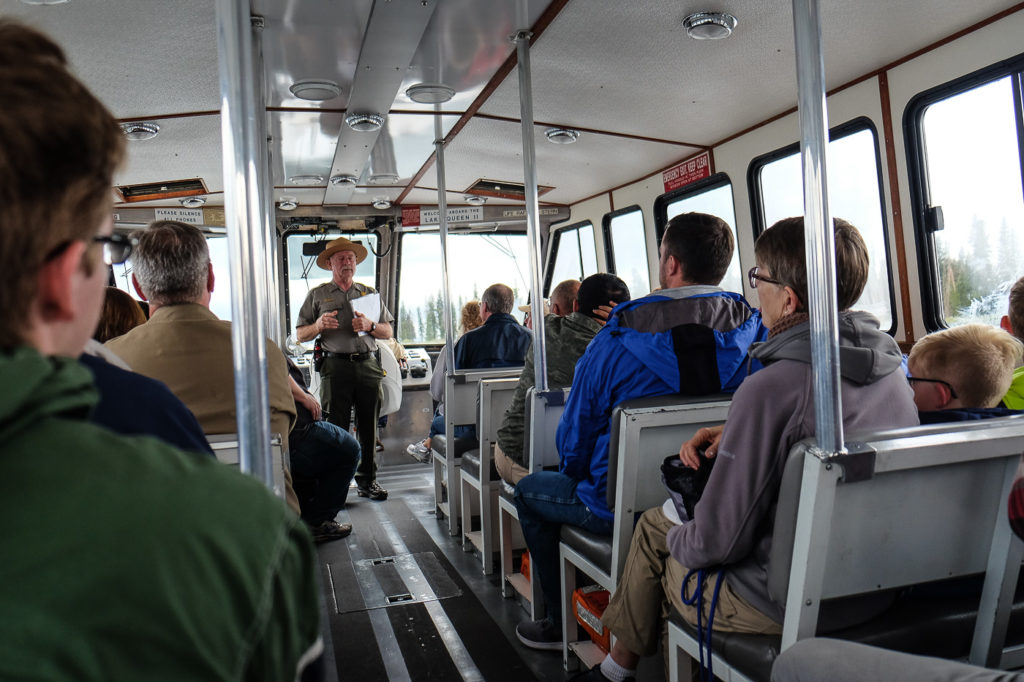 The boat left really late, and it was a long, cold wait: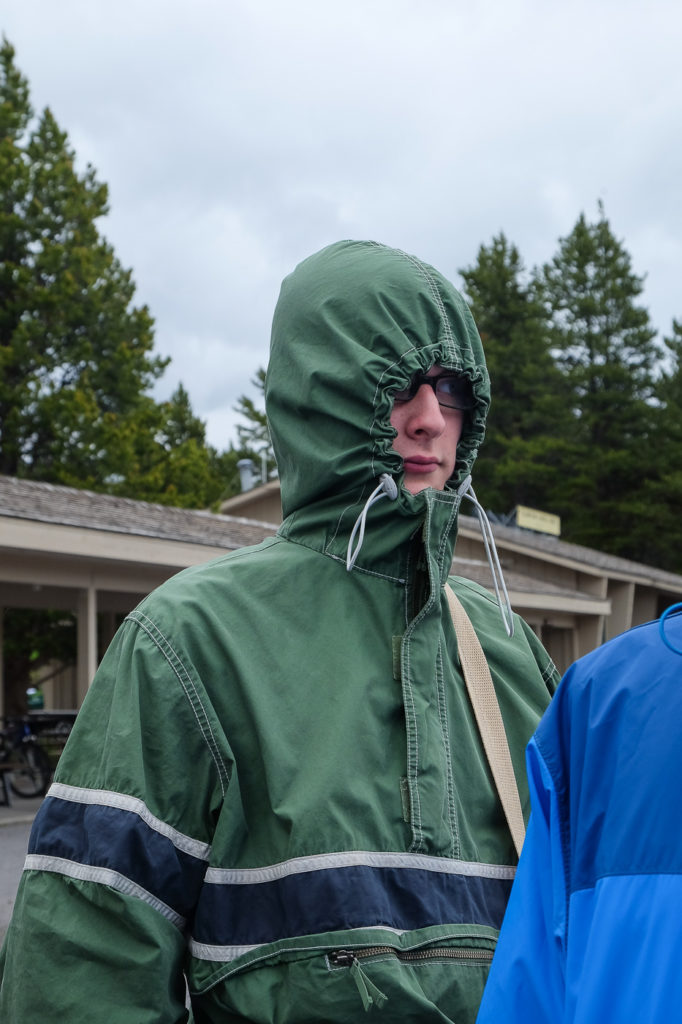 While we were waiting for our boat tour to leave, we got in a short hike on a trail that starts from Bay Bridge and leads to a natural bridge. The appropriately named Natural Bridge trail is a 2.5 mile easy hike. The natural bridge is pretty cool, although not one of the most amazing sites at Yellowstone or anything. In fact, there's actually a sign when you get there pointing out that the natural bridges at somewhere like Arches National Park are way better than this one. Sorry, Yellowstone natural bridge.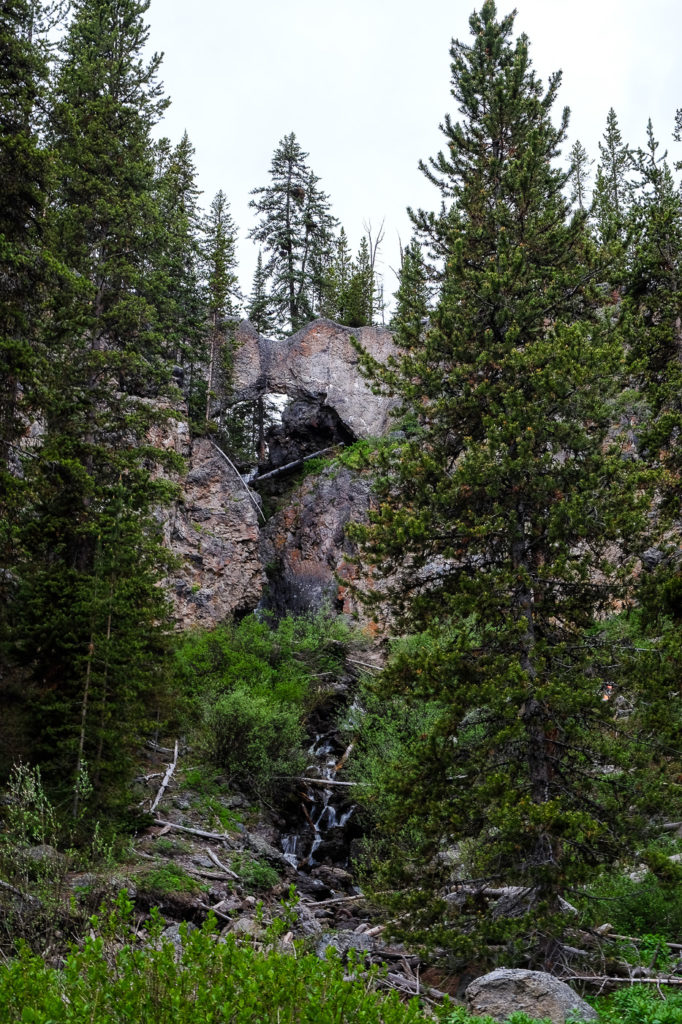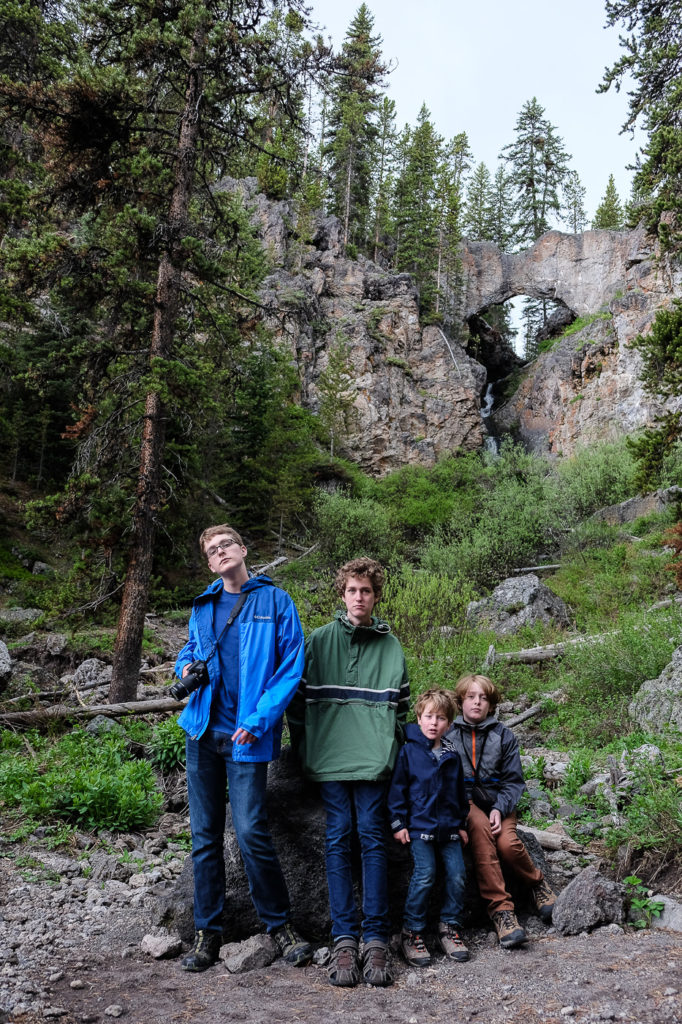 Abe looks sleepy: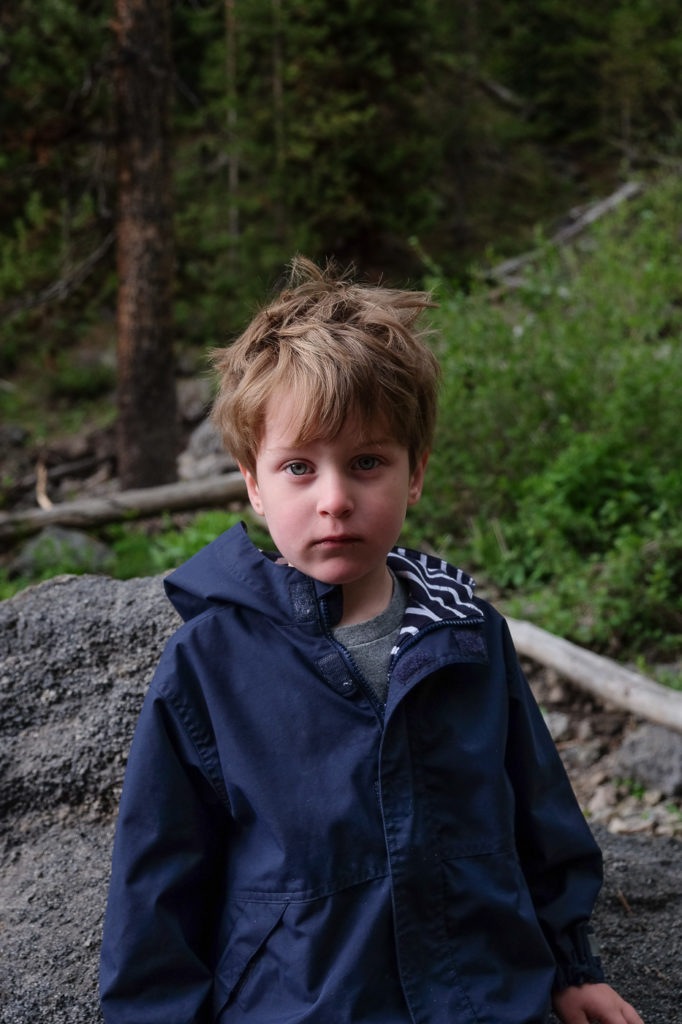 West Thumb/Grant Village
After the boat tour, we drove down to Grant Village to check out the visitors center there (with exhibits about wildfires in Yellowstone), warm up for a bit, and take in some more lake views: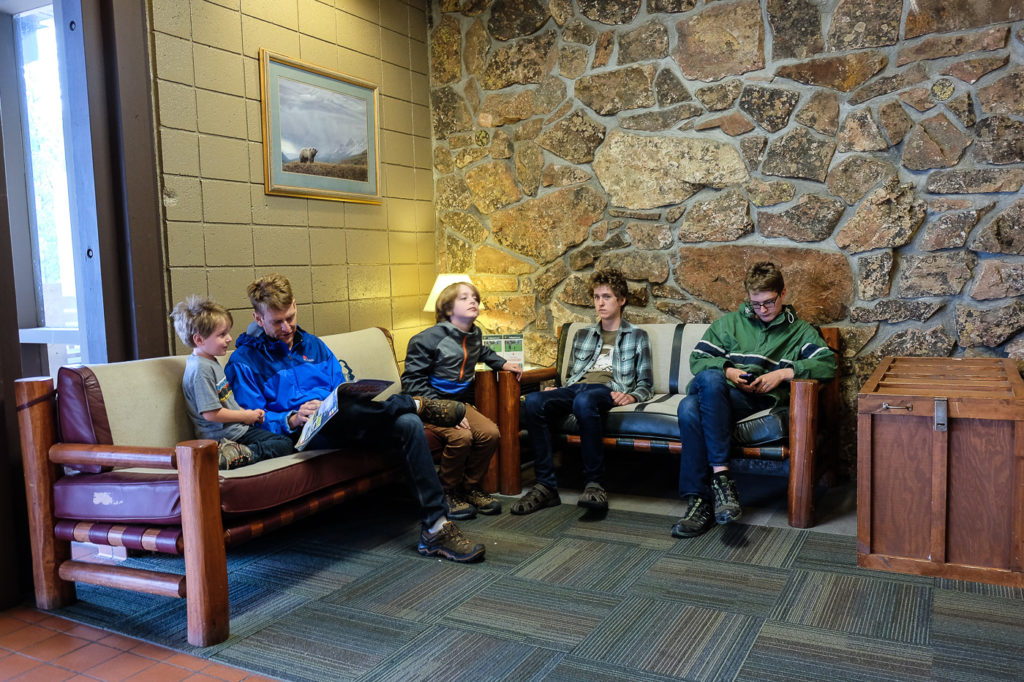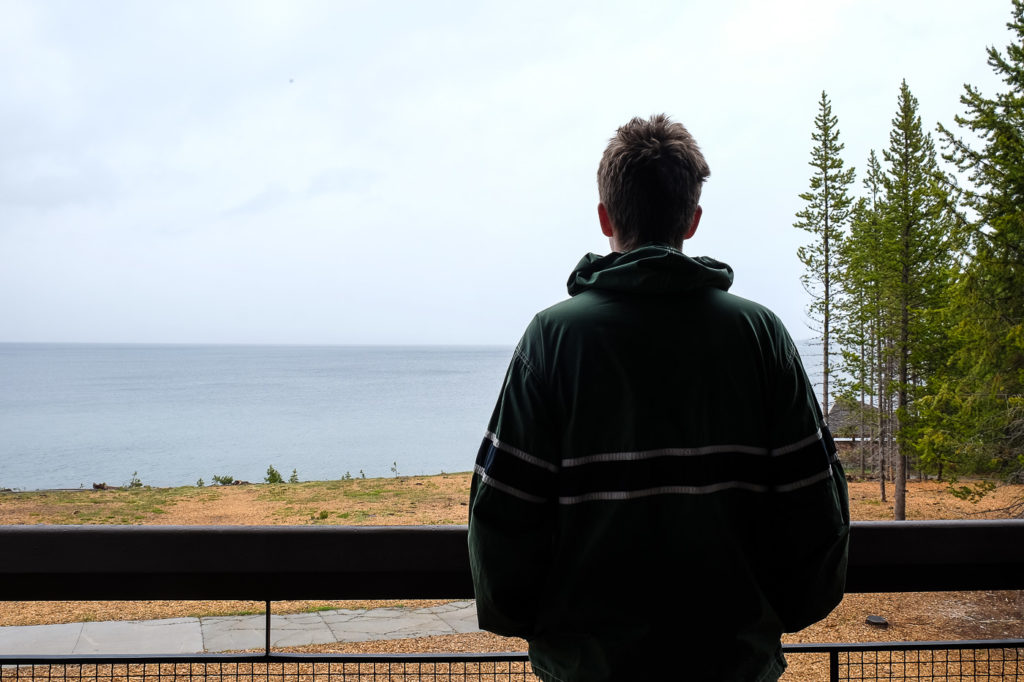 And then we went to see the West Thumb geyser basin. It was still cold and rainy, but we all had rain jackets, and the weather meant we had the place almost to ourselves.
West Thumb is lovely and impressive–our first up close and personal look at some of Yellowstone's famous thermal features, complete with stunning views of the lake in the background. We walked the boardwalk trail around the geysers, and I took a zillion pictures: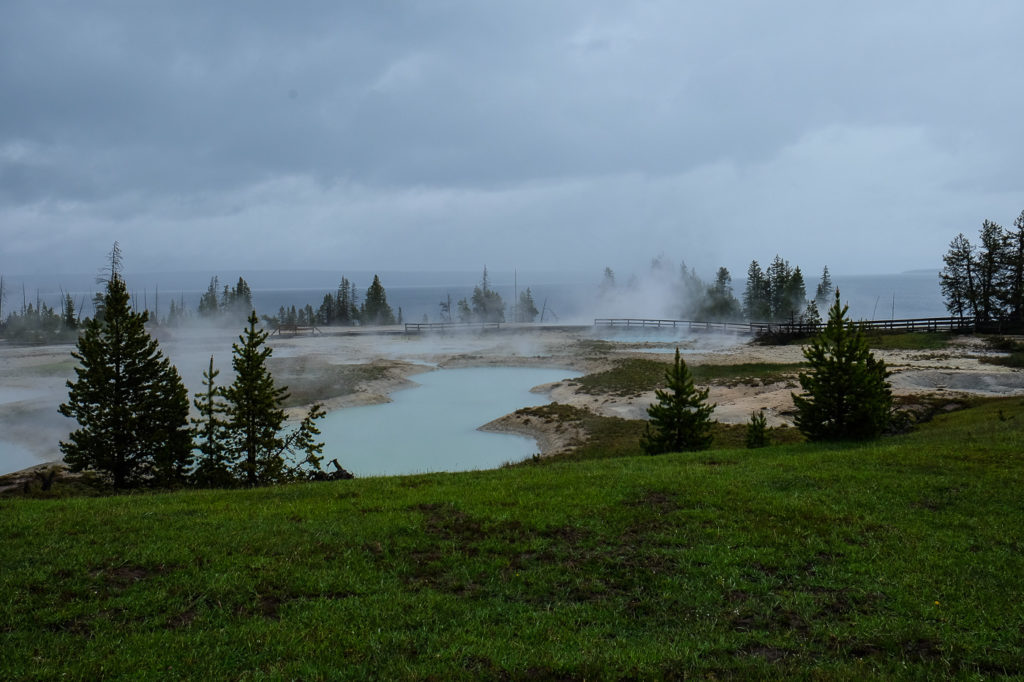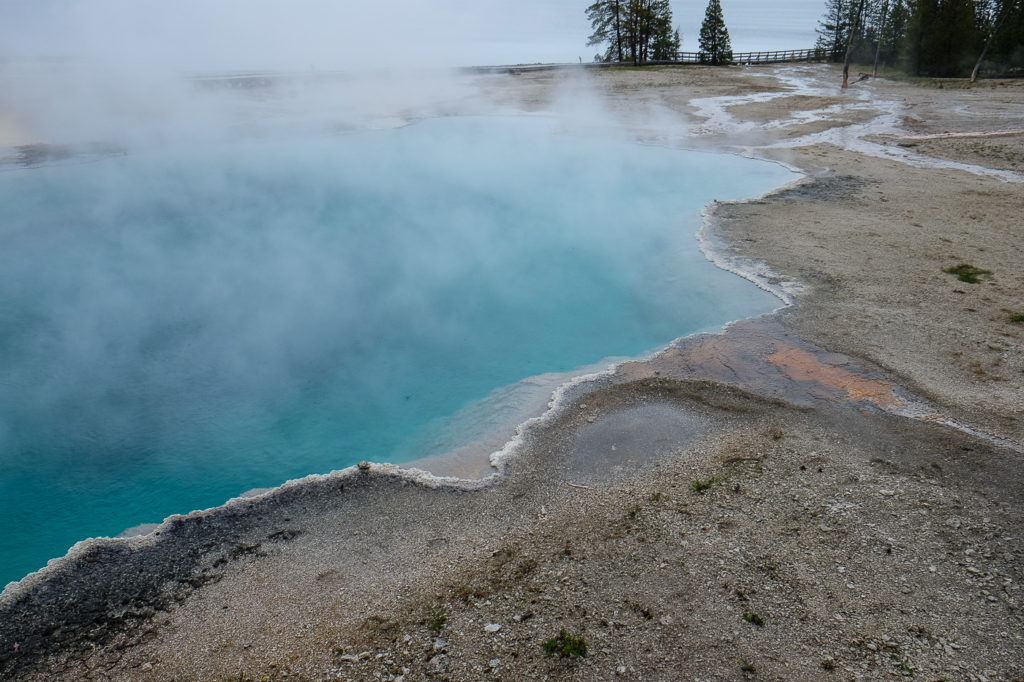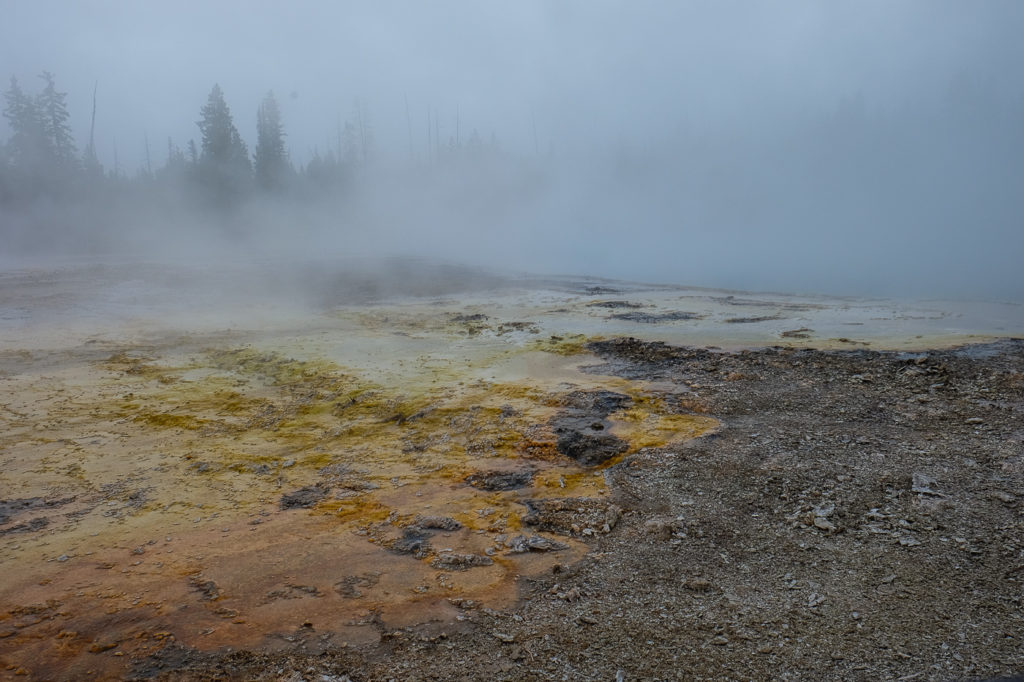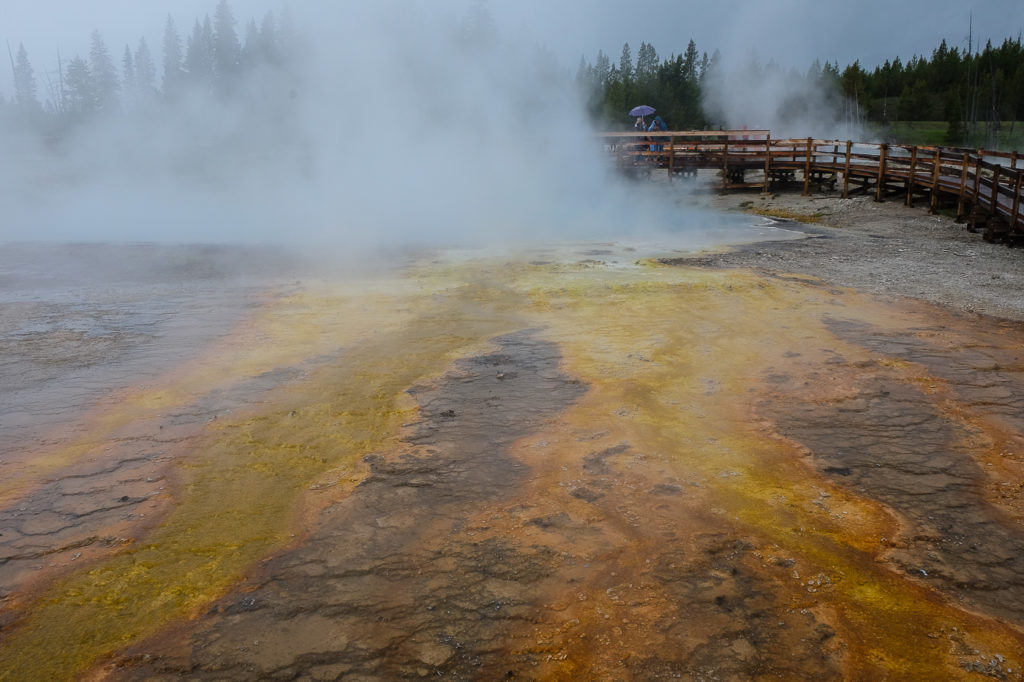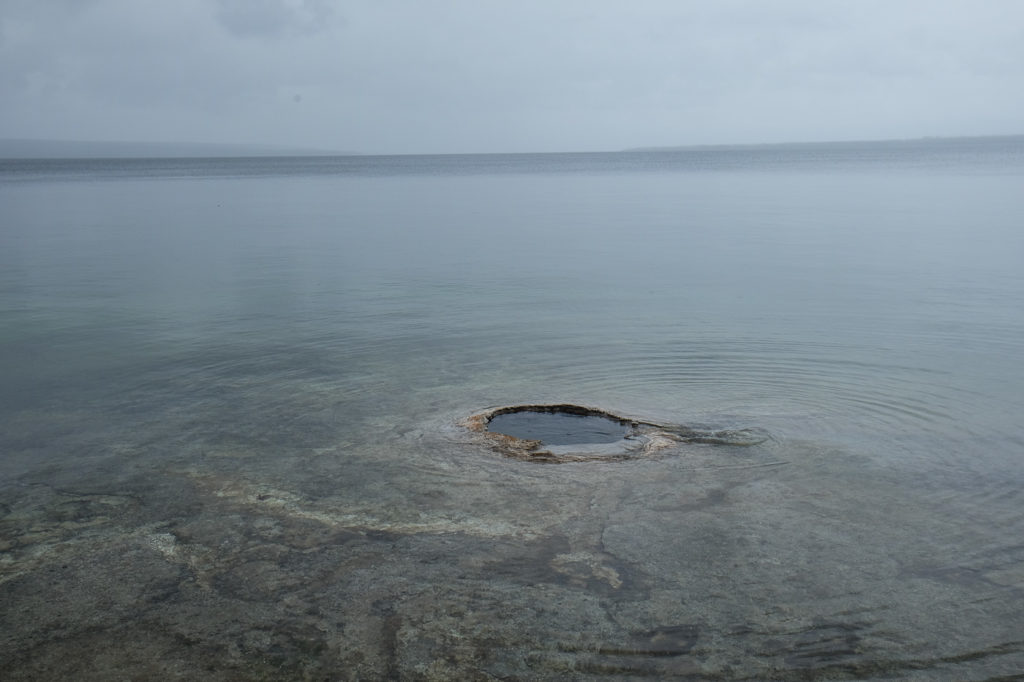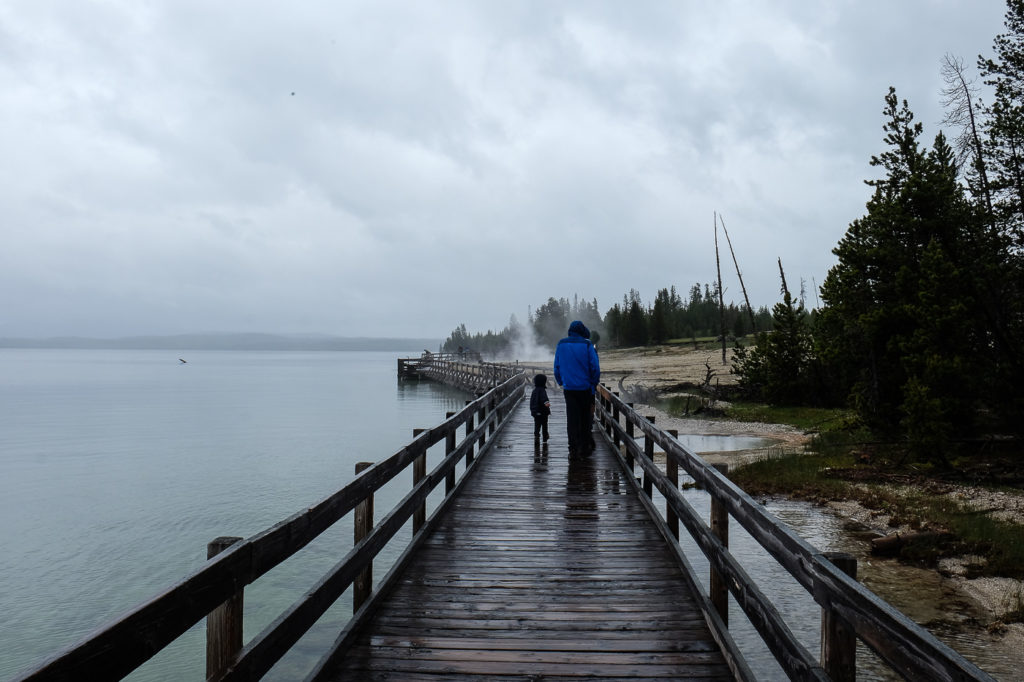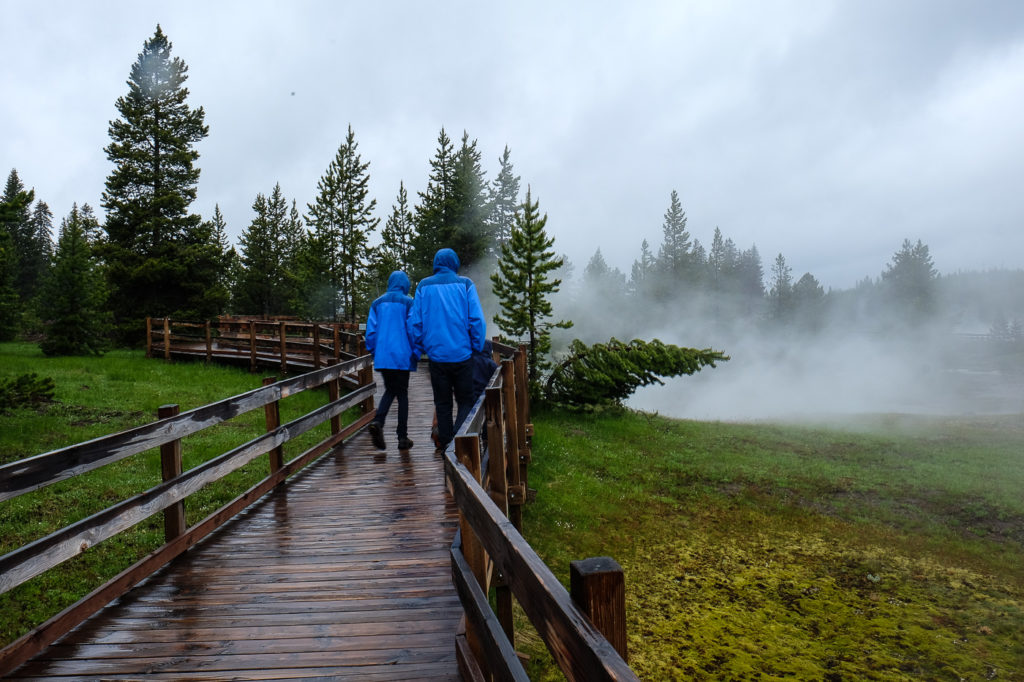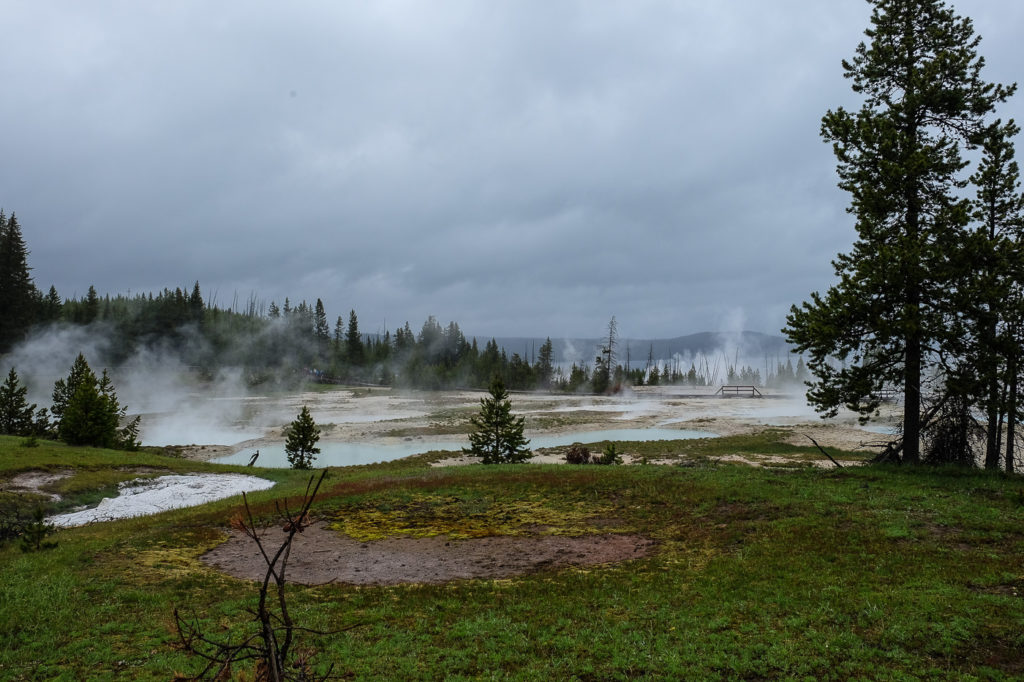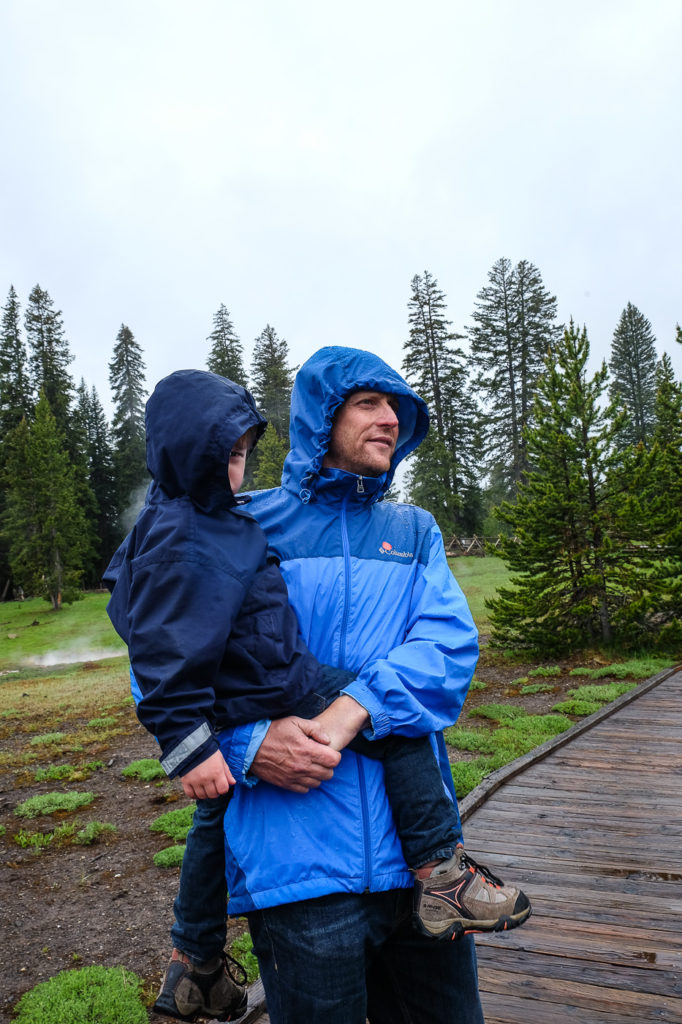 Fishing Bridge
We didn't make it to the visitor center at Fishing Bridge until our last morning there. It's a small, rustic building in the "parkitecture" style, and it dates to 1931. Inside the exhibits are mostly all vintage taxidermied animals. It doesn't take long to see, but this is also where Abe was sworn in as a junior ranger: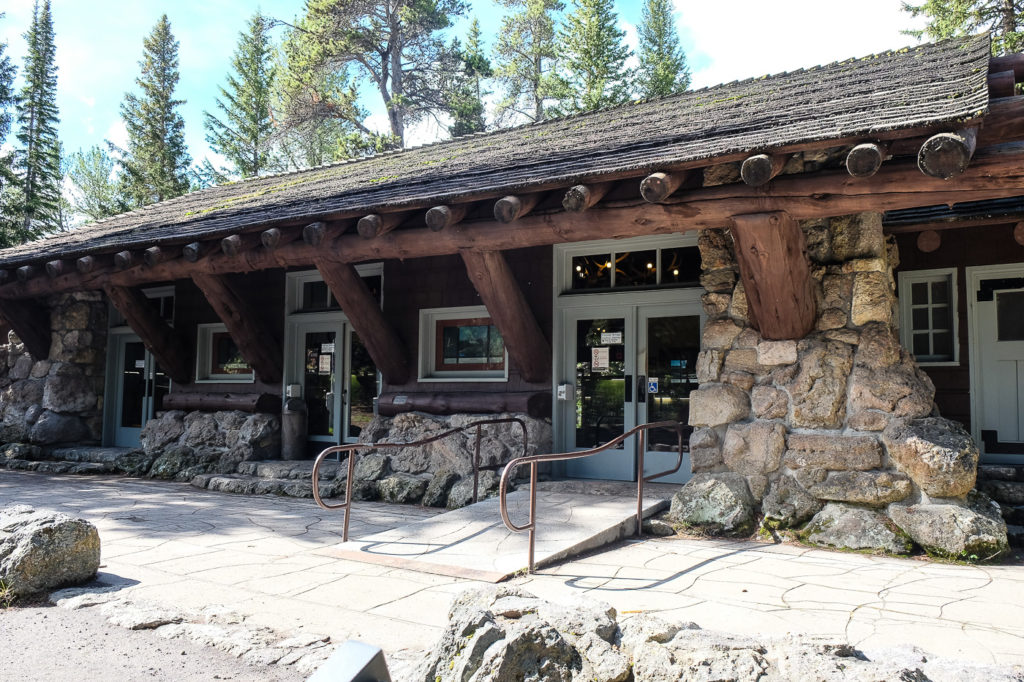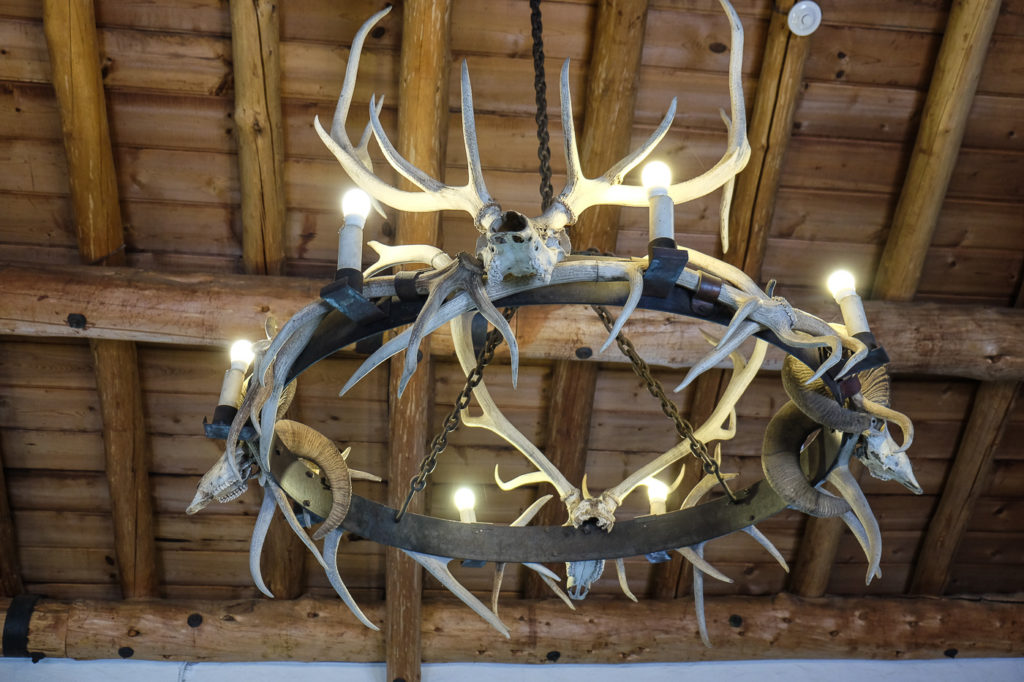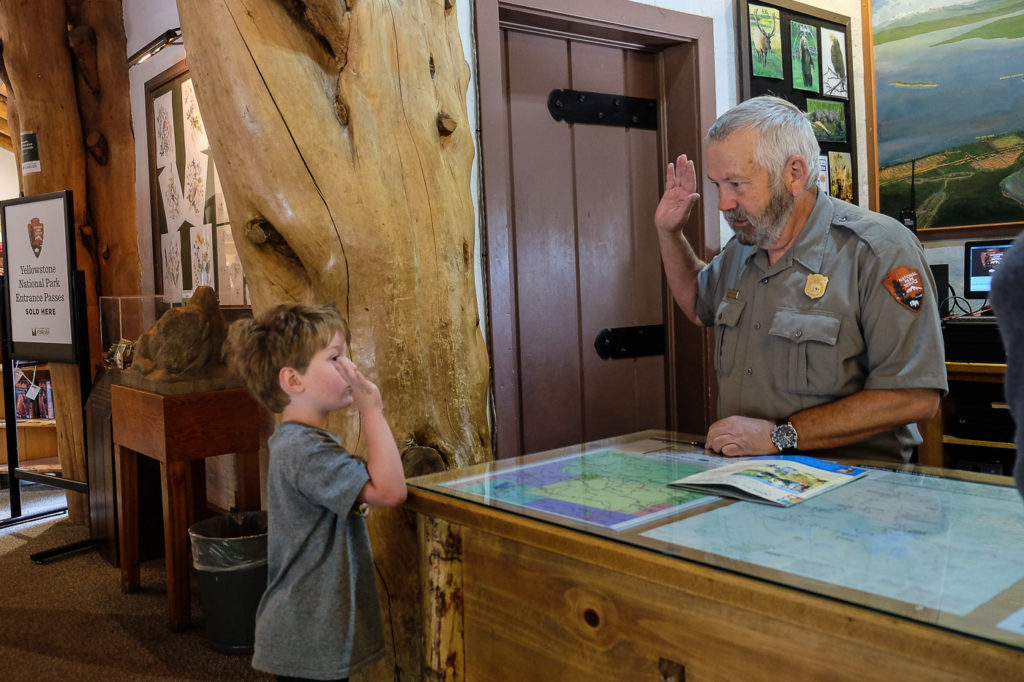 We took a last look at Yellowstone Lake before hitching up the trailer and heading west: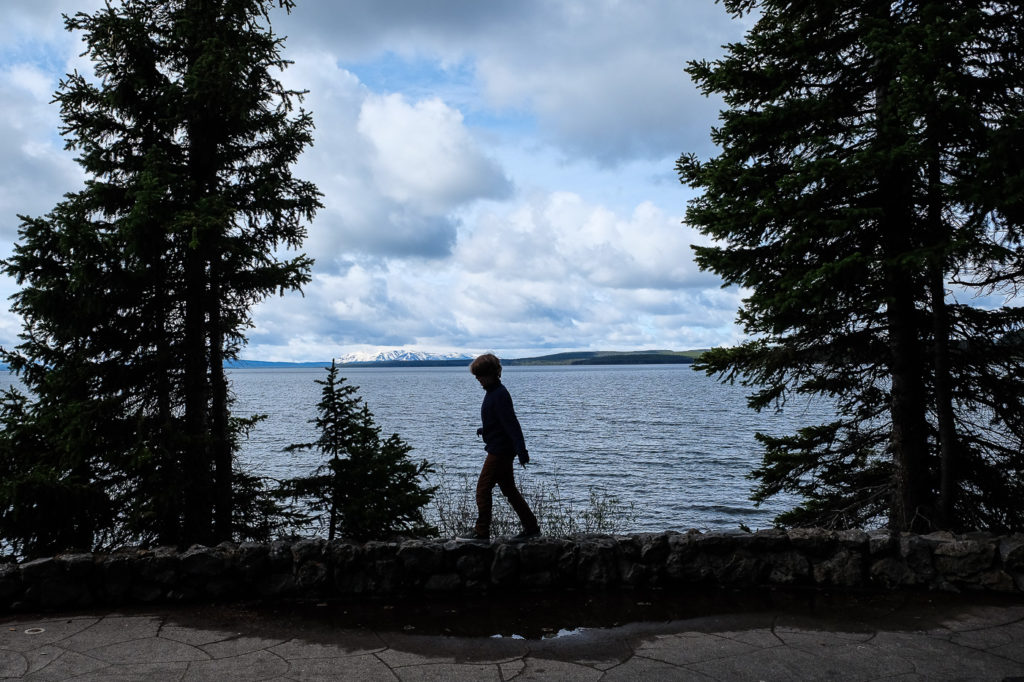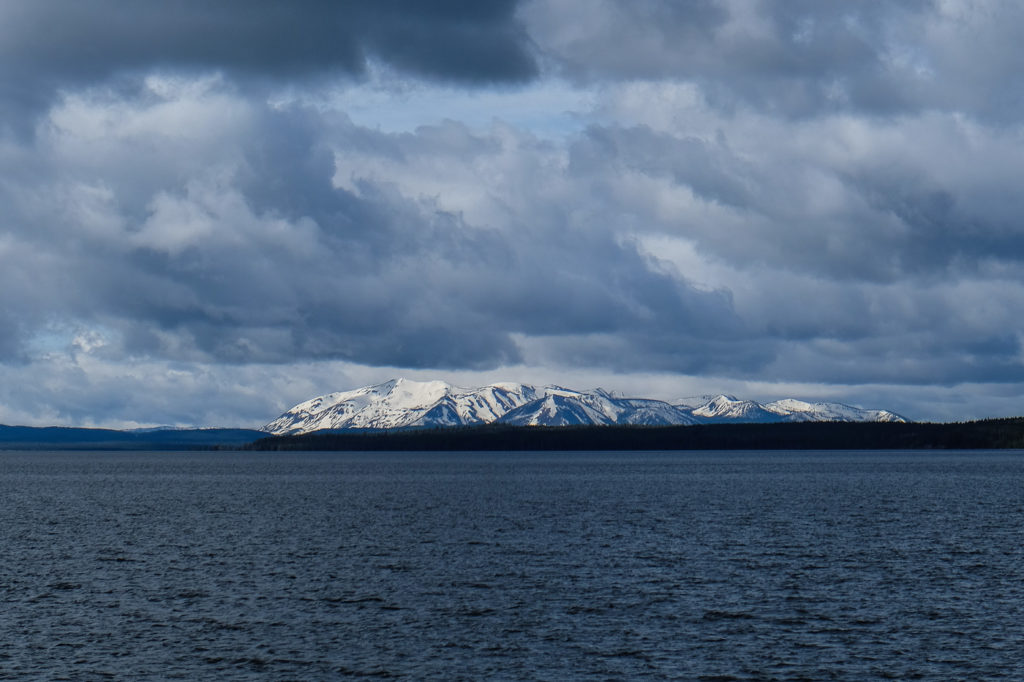 maybe you would like to pin this?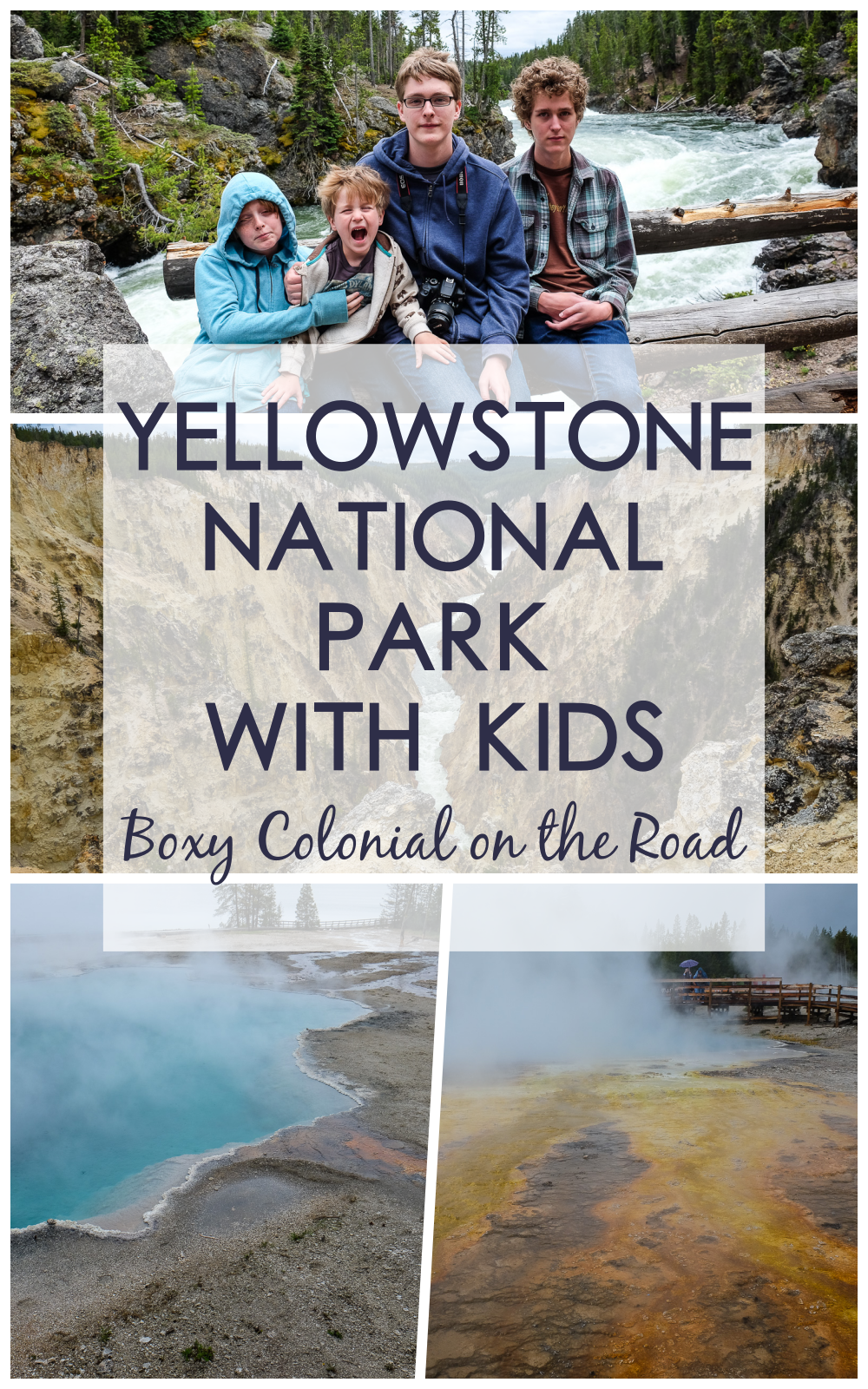 SaveSaveSaveSave
SaveSaveSaveSaveSaveSaveSaveSave
SaveSave