Travel dates: May 29-June 1, 2017
Read more about our stay in St. Louis here
Let's just get this out of the way right up front. Here's the best thing about staying at Casino Queen RV Park in St. Louis: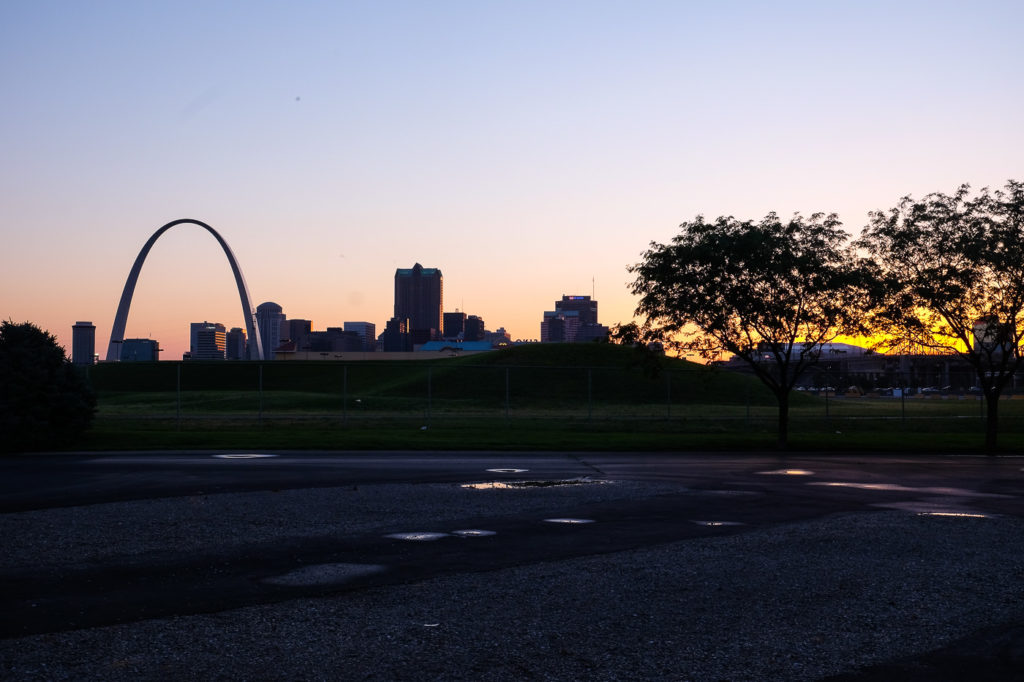 This was the view from right outside our trailer. Last time we were in St. Louis, we stayed farther out of town, at the St. Louis West/Route 66 KOA. It was a nice campground, but this time we were hoping to avoid all the driving into the city and back out, so we gave Casino Queen a try.
Booking and Arrival: You have to call to book a site, and the people answering the phone work for the casino, not the RV park in particular, so they aren't super knowledgeable about it, in our experience. We originally called the fall before our trip, when we were booking a lot of other sites. They weren't booking yet  for summer and didn't know when they would be, so we had to try back a couple of times in the spring before we could book a site.
Sites here are not cheap, but that's probably to be expected since you're so close to the city. We paid $70/night, including a fee for the kids (the website says that sites start at $59/night). When we heard that, we thought about staying at the much cheaper KOA again after all….but some quick math suggested that we'd more or less spend the difference in gas, anyway, with our big old van.
We had no trouble finding the park, but do make sure to go over the directions beforehand. Another time when we were coming back for the night, our GPS took us a weird back way that we wouldn't have wanted to do with the trailer.
You check in at the small store, and that all went smoothly. There was Wild Turkey on sale, and Dave bought some, which I was not thrilled about.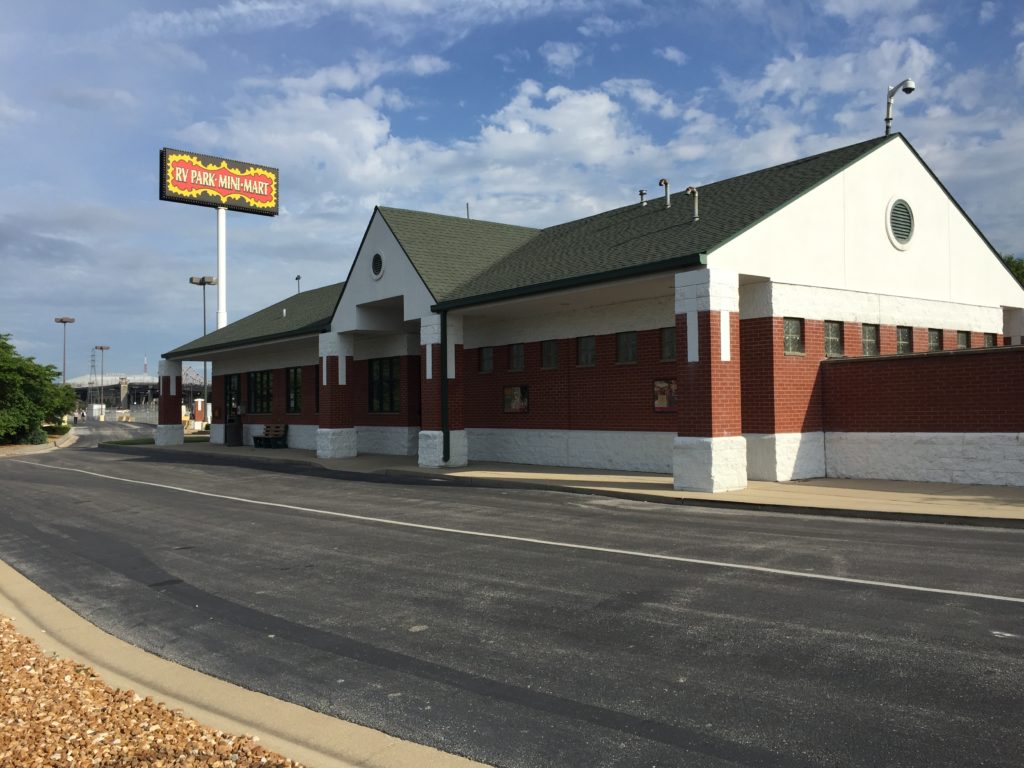 Campsites: There are two distinct sides to the campground; I gather that one side has all the 70 foot sites, and the other has the 50 foot sites. There's more shade and maybe a little more space between sites on the side with the shorter sites. We were on the other side, and it's all long paved pull-throughs with a strip of gravel in between–no fire pits or picnic tables. In other words, yeah–it's pretty much a parking lot.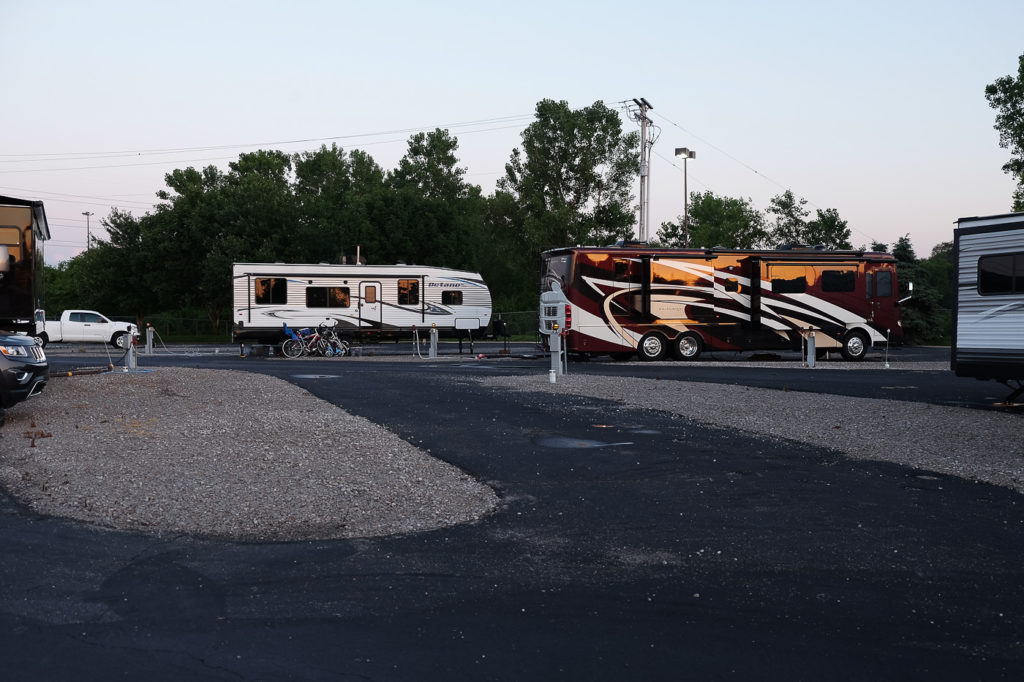 But let me remind you: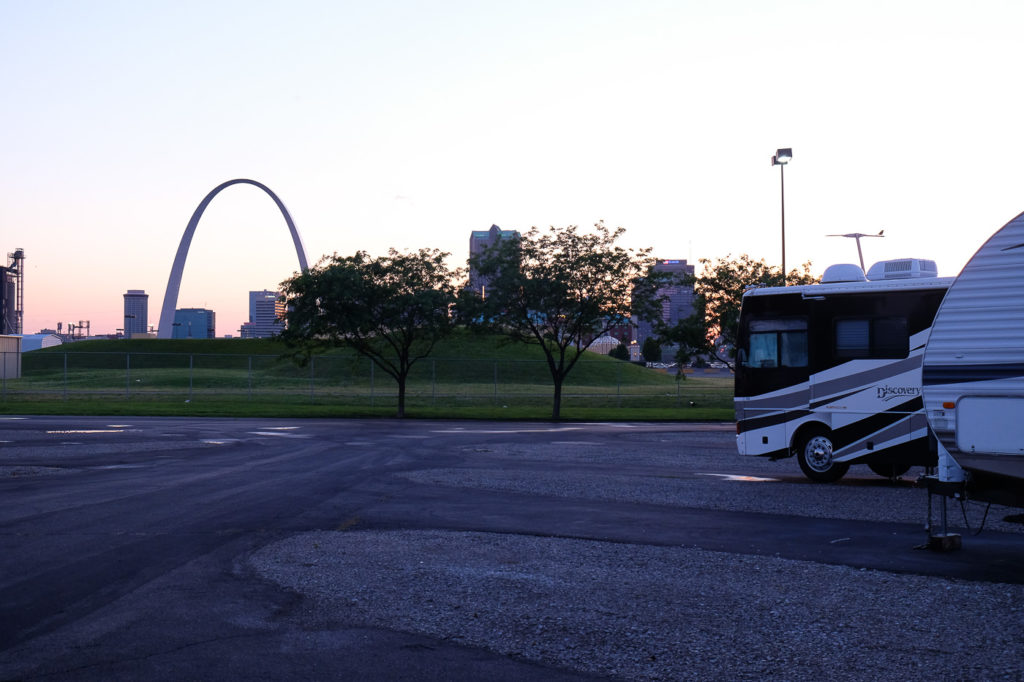 Location, location, location, amiright?!
Dave's big problem with Casino Queen was the placement of the connections. The sewer connection was super far back in the site, which caused a small disaster when we were getting ready to leave.
Sites are paved pads, so they're mostly level, but ours actually had a sort of weird dip in it that made things tricker than they should have been.
Amenities/Campground Overall: Not a whole lot in the way of amenities at the campground itself, but the casino is right across the parking lot with restaurants and….you know, gambling and stuff. We didn't go over there ourselves, but we've heard from some people that they'll let you use the casino hotel swimming pool if you ask.
There's a good bit of grass around the perimeter of the park, so there is a reasonable place to walk dogs. And there are communal picnic tables and a nice, but small playground centrally located in the park.
The park was not at all crowded while we were here; our side was probably half full at most, and the other side was even emptier. A completely full park might well feel kind of cramped given the parking lot vibe here.
The restroom is accessed with a key card that they give you at check in. I was just in there briefly, but it looked to be clean and in good condition.
Location/Local Area: Casino Queen is in East St. Louis, right across the river from downtown and the arch. It's not in the nicest part of town, but it's kind of off by itself away from any other residences or businesses, and there are very frequent security patrols. We never felt unsafe.
You can see the train into downtown from the RV park, and word is there's a shuttle that will take you over there so you can ride it. We didn't take advantage of this, though, so I can't comment on it. Speaking of trains, there are tracks very close to the park and there is train noise at night. I kind of like trains at night, but I'm a bit weird that way.
Again, the reason to stay here is that it's super convenient to downtown; we didn't go to the arch on this trip, and that felt like kind of a waste, but it was very convenient to other in town attractions and museums, too.
Oh, also, not sure if I've mentioned it, but the view is really nice.
I'm happy with our choice for the relatively quick stop we were making; I'm not sure I'd want to spend a week here. There's not much to do at the campground and not much room to spread out and relax, but if you're spending long days seeing the city and just want a place to sleep, Casino Queen works very well.
Here's Dave's video about our stay (subscribe to our channel to get notifications whenever we post something new!)
Maybe you would like to pin this?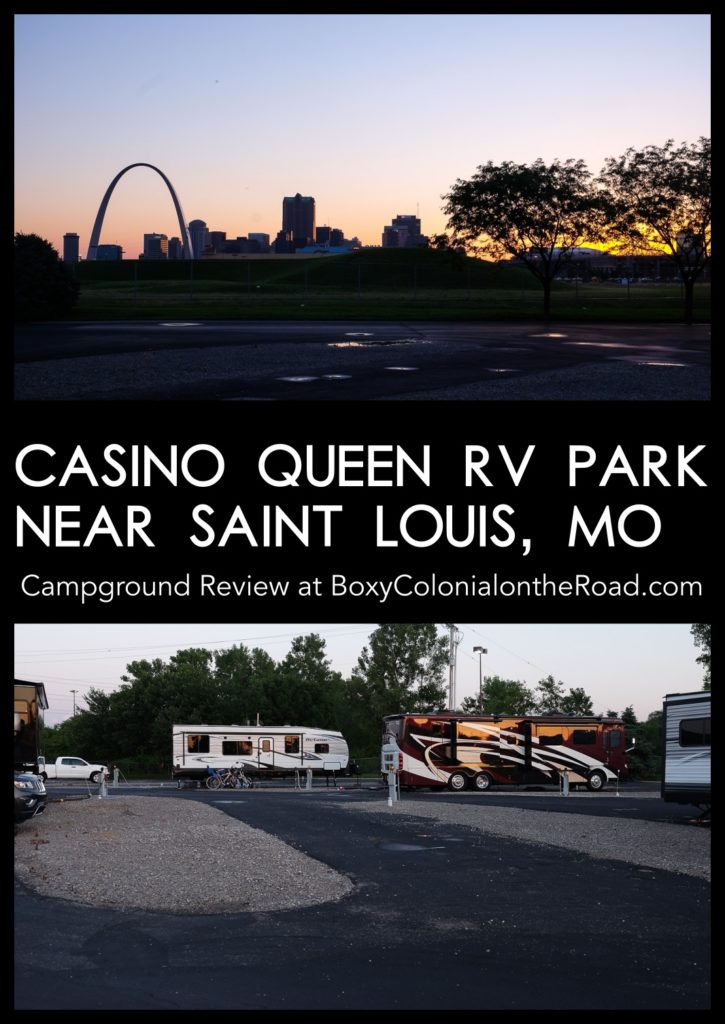 SaveSave