Our family's relationship with St. Louis goes all the way back to spring of 2015, when we went there and to Mammoth Cave for spring break. And we had a fabulous time (and didn't get to see nearly everything), so we decided on St. Louis for our first multi-day stop of our summer trip. We don't mind doing some long driving days to get to far away places, but it's nice to stay in one place for a little while after we do a couple of those in a row. So we spent three nights/two full days in St. Louis, visiting family and seeing some things we missed last time around.
Here's Dave's video about our time in St. Louis:
Abe and his cousin, Jude, having a bike race: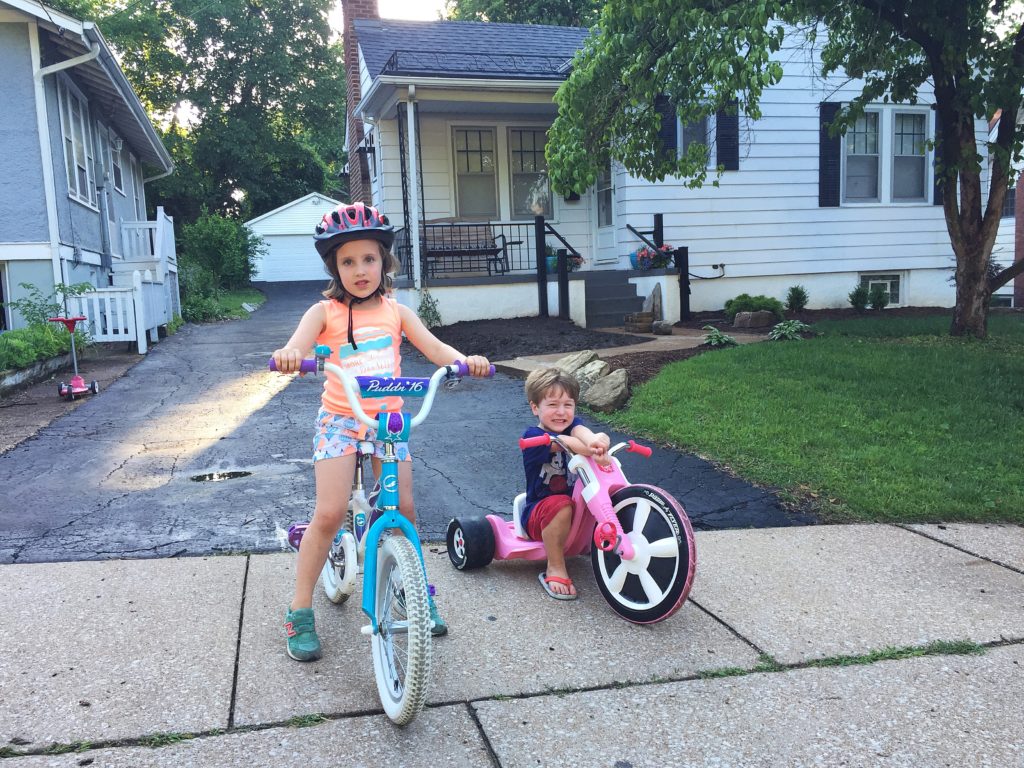 St. Louis is chock full of free things to do, but on our last trip we focused more on not so free but still great stuff like the City Museum and the Arch. We considered a return trip to the City Museum this year, because it's pretty awesome, and because the roof hadn't been open the last time we went. But it turned out the roof wasn't open AGAIN (doesn't open until June 1; we were there at the very end of May). And we'd love to go back to the arch sometime, too, but we plan to wait until the current renovation project is all finished.
So we put together a two day itinerary that was 100% free and made heavy use of the bikes we brought along on the trip.
Grant's Farm: Grant's Farm is an interesting place: it's sort of a zoo/theme park/giant advertisement for Anheuser-Busch. Also, it's free!
Parking is $12, but we got around that (in a completely legal and ethical way) by parking a few miles away and riding our bikes on Grant's Trail to get there. This was a very pleasant, mostly flat ride (it seemed more uphill on the way back than on the way there. But maybe we were just tired. And bad at biking):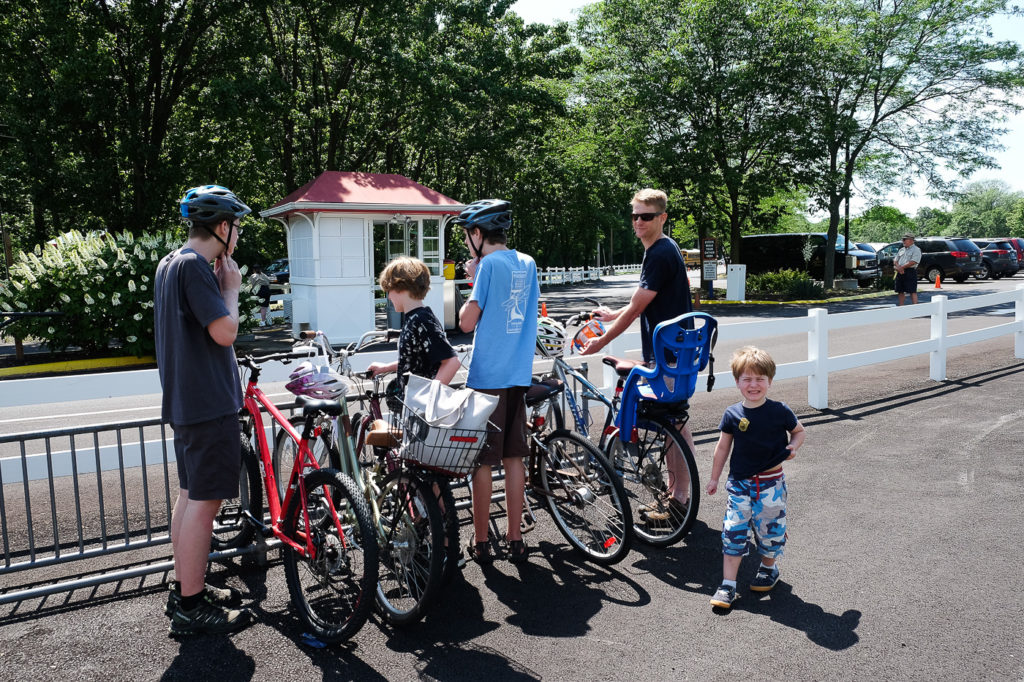 My big tip for visiting Grant's Farm is to get there early! We were there the day after Memorial Day, so a weekday in very early summer (I don't know if any schools in the area were out yet or not), and it was VERY crowded by the time we got there in the early afternoon. We probably waited 45 minutes to get on the tram that takes you over to all the animals (there's not really any way to avoid the tram ride and get over there otherwise, at least not that we could find).
Waiting for the tram: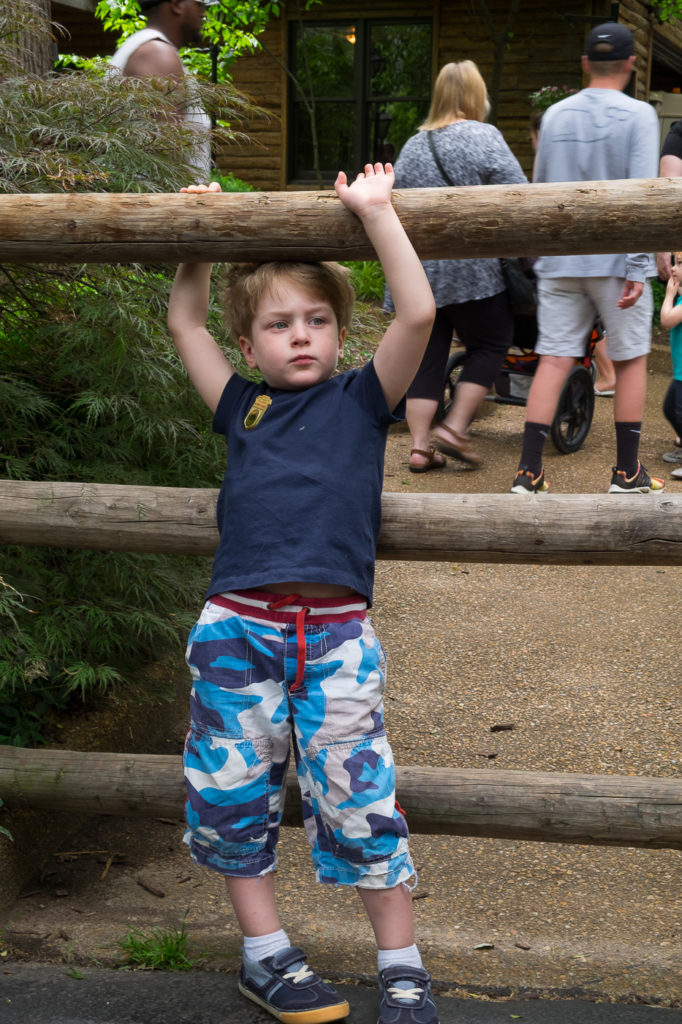 First we ate a picnic lunch over by the Clydesdales (and said hi to the Clydesdales of course):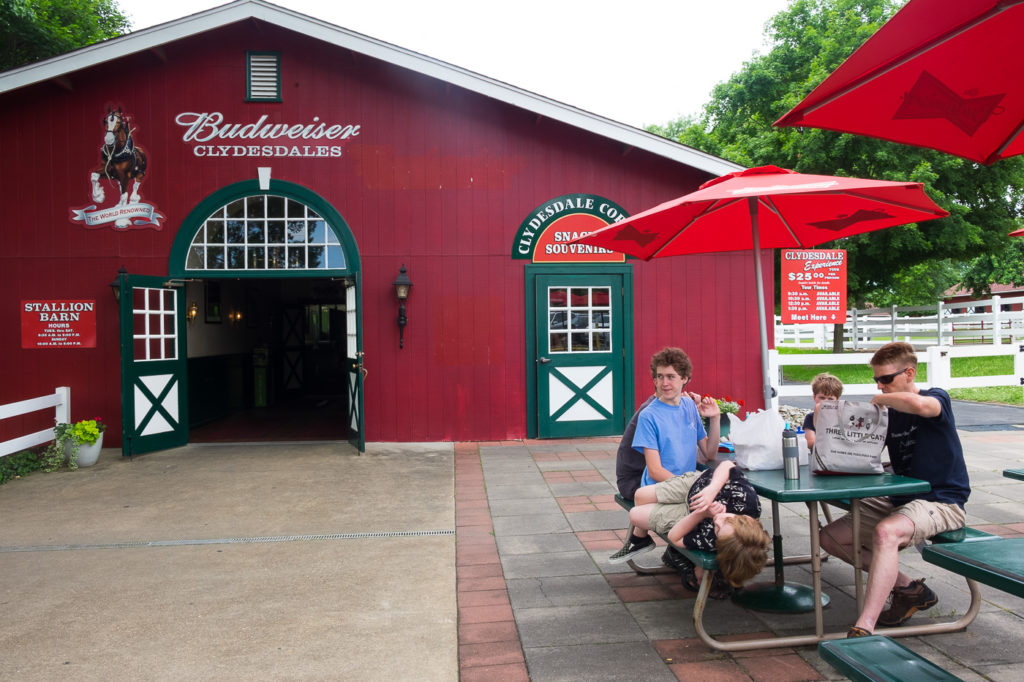 And then, after the very long line, we took the lovely tram ride and saw lots of animals: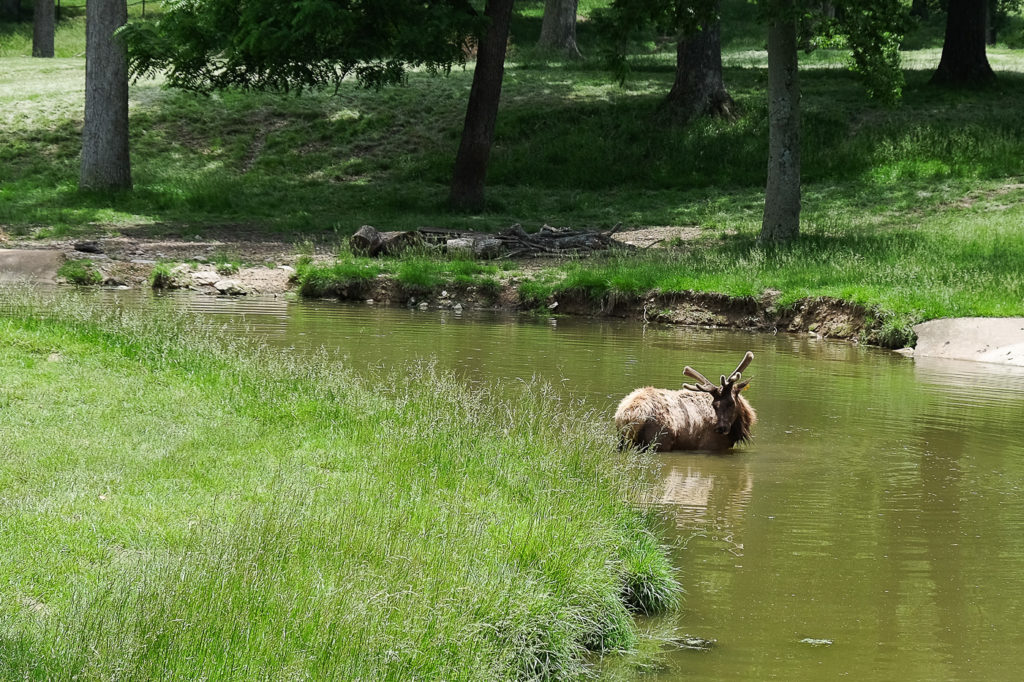 There are not an extraordinary number of things to do at Grant's Farm, which was kind of nice, actually. We spent a couple of hours here and felt like we got a good feel for the place without feeling overwhelmed and exhausted.
We saw a (surprisingly short) animal show, complete with a giant porcupine and a branded photo opportunity: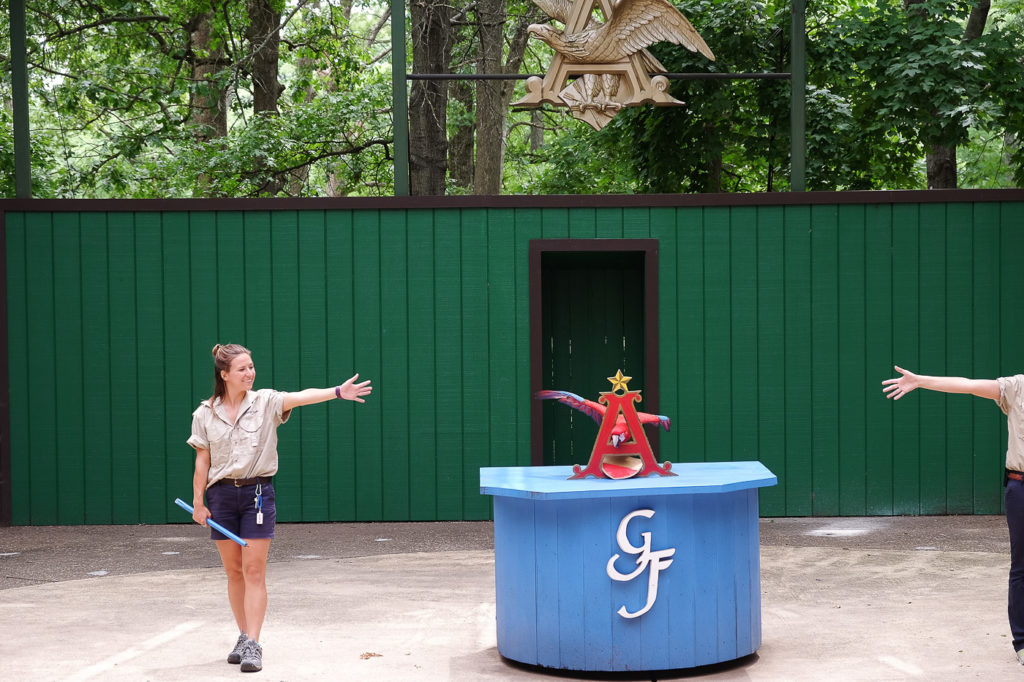 We gave milk to baby goats: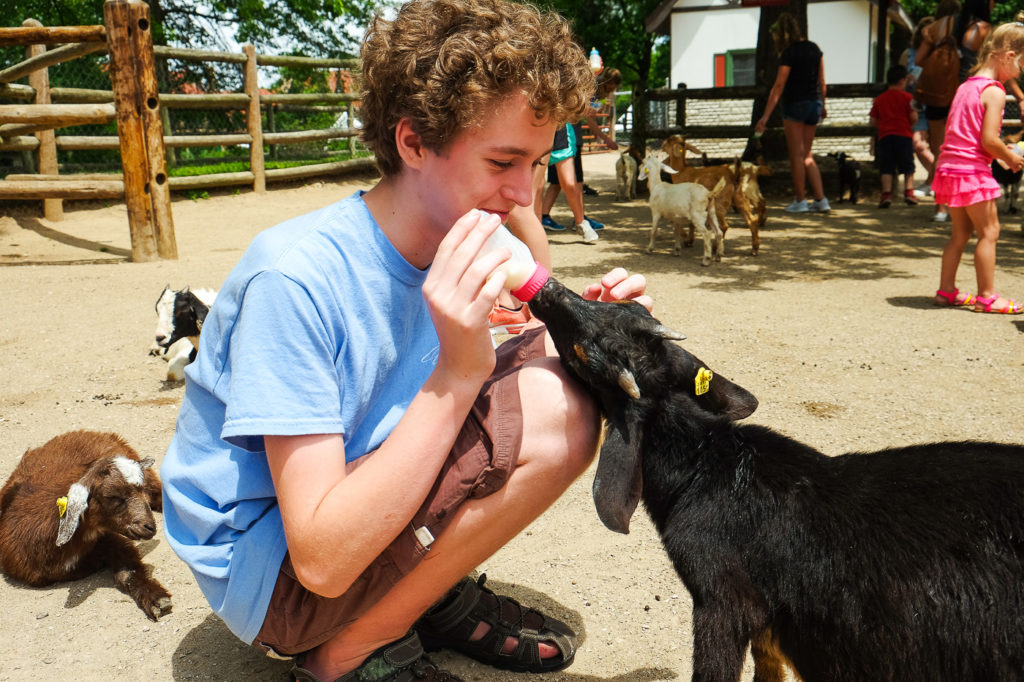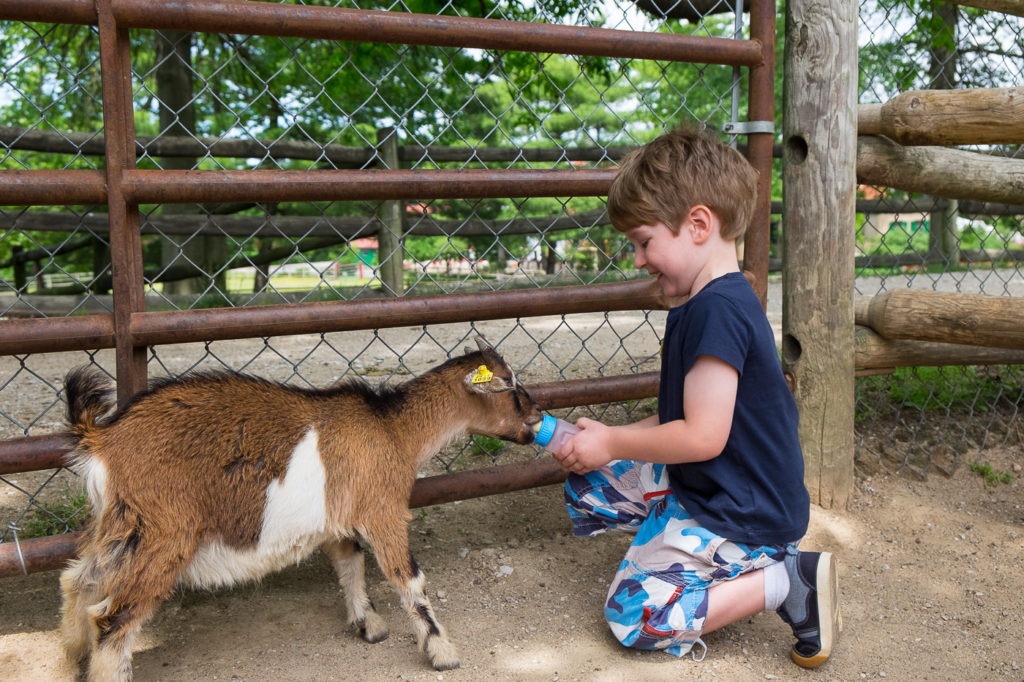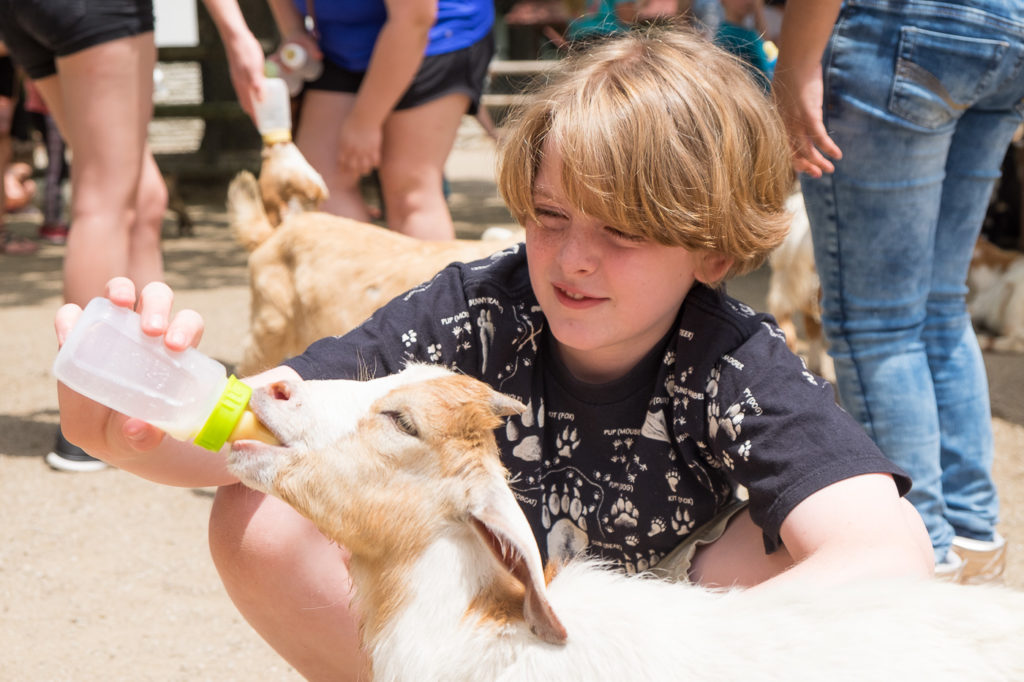 There were a few things, such as goat feeding, that have an extra charge…but given the free admission, I thought there were remarkably few such things and that the prices were reasonable. We paid a dollar a bottle for milk, for example. There are also carousel rides for $2/person and camel rides for $6/person.
But by the time we finished feeding goats, we were all kind of hot and tired, so we headed over for the…..FREE BEER! That's right–they let you in free and then they give you beer! I mean, it is Budweiser (and the like. There were a few different choices), but it's FREE. Limit two samples per person. Which was enough for us. They also sell nonalcoholic drinks and snacks and light meals, so the kids had something, too.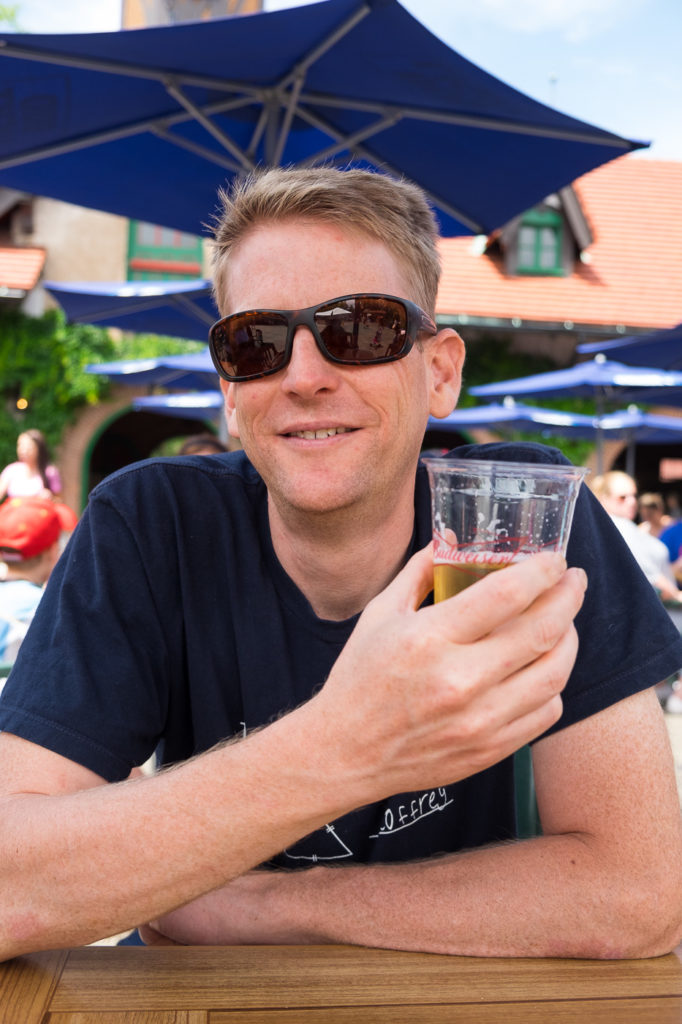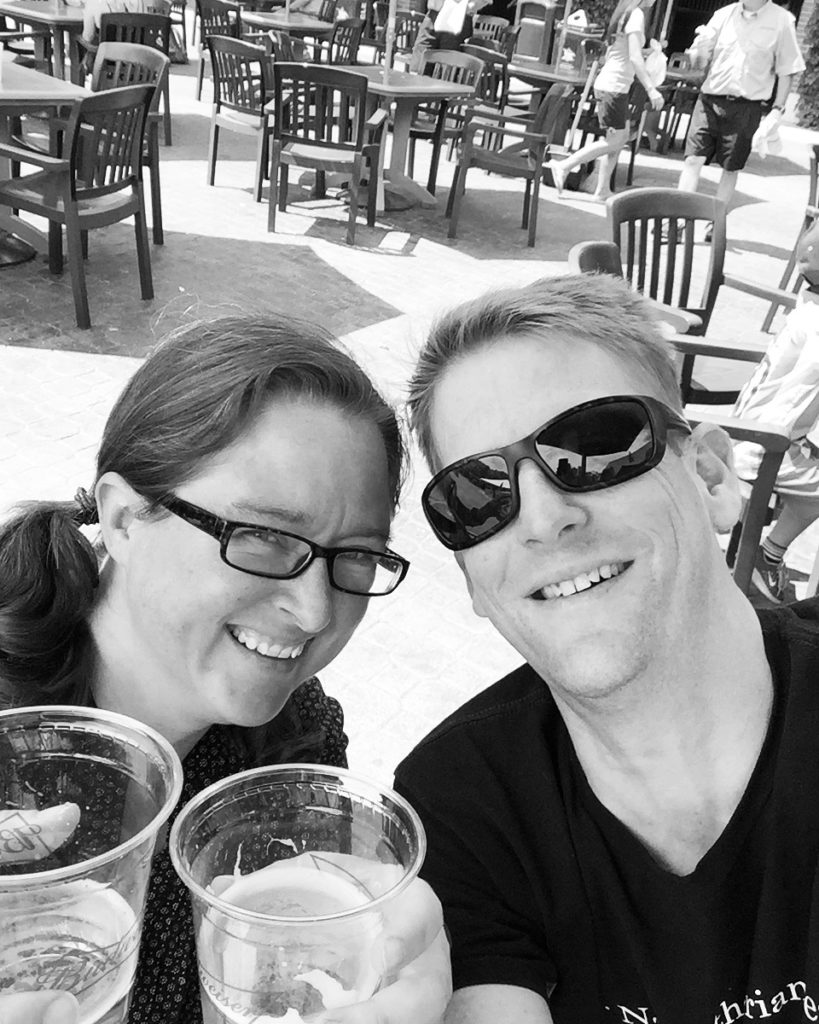 After this, we saw some more horses and checked out Anheuser Busch's impressive antique carriage collection: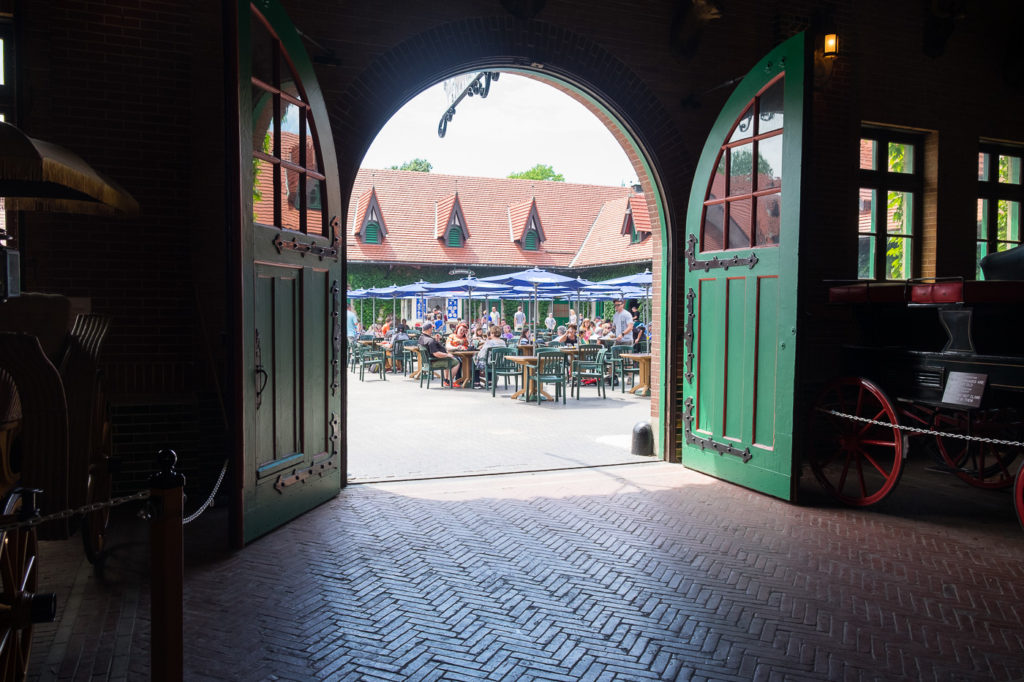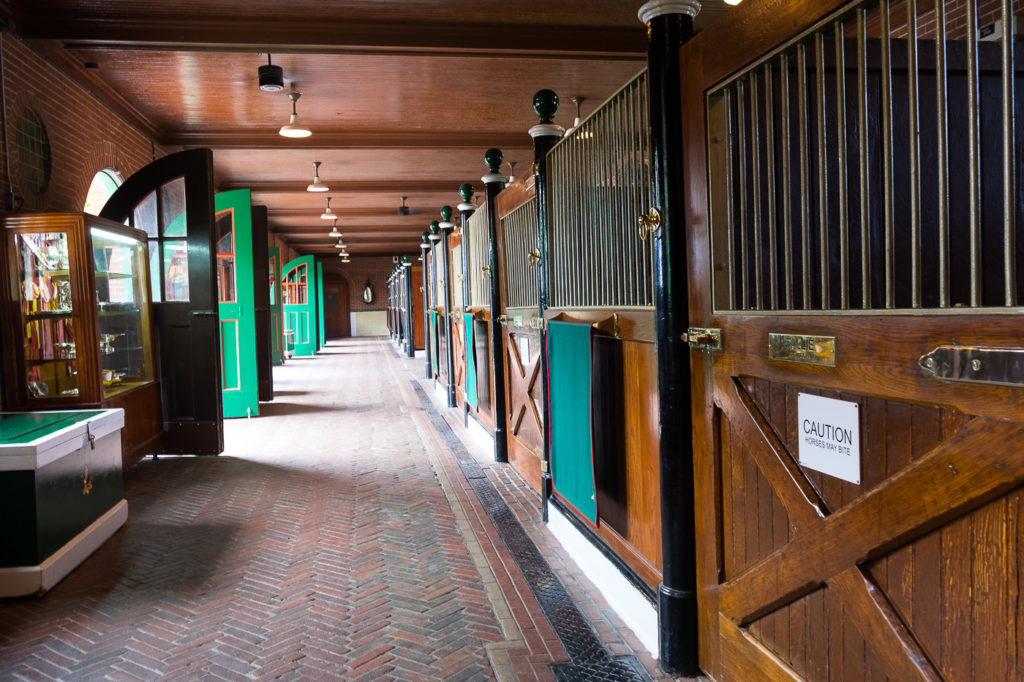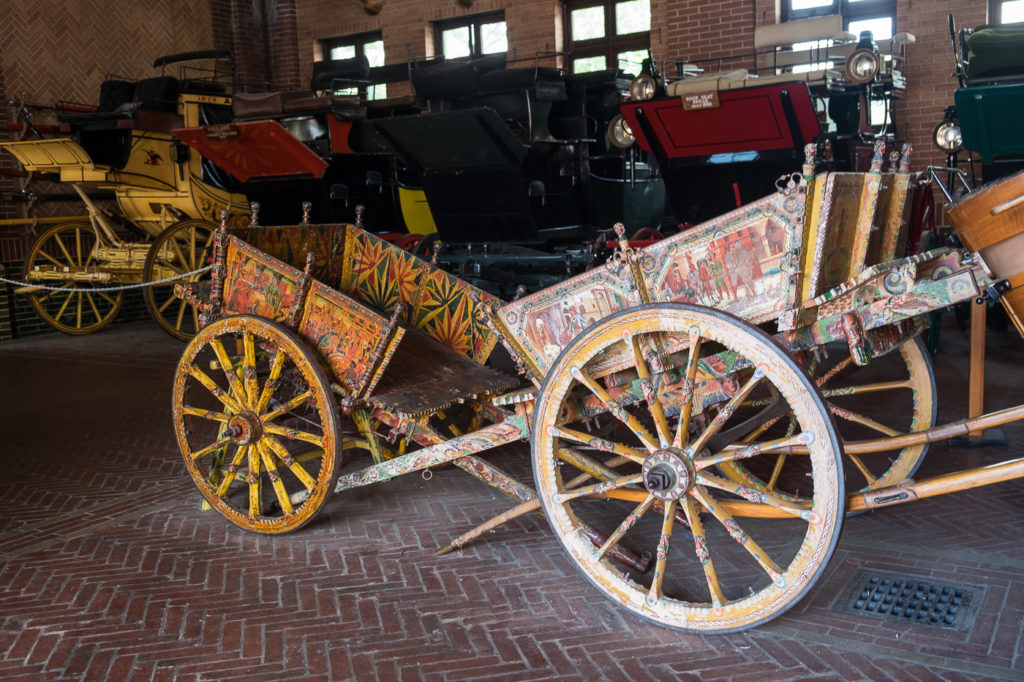 And then we waited in a (much shorter this time!) line to take the tram back to the parking lot.
Ulysses S. Grant National Historic Site: We love a president's house, especially one that's very, very green: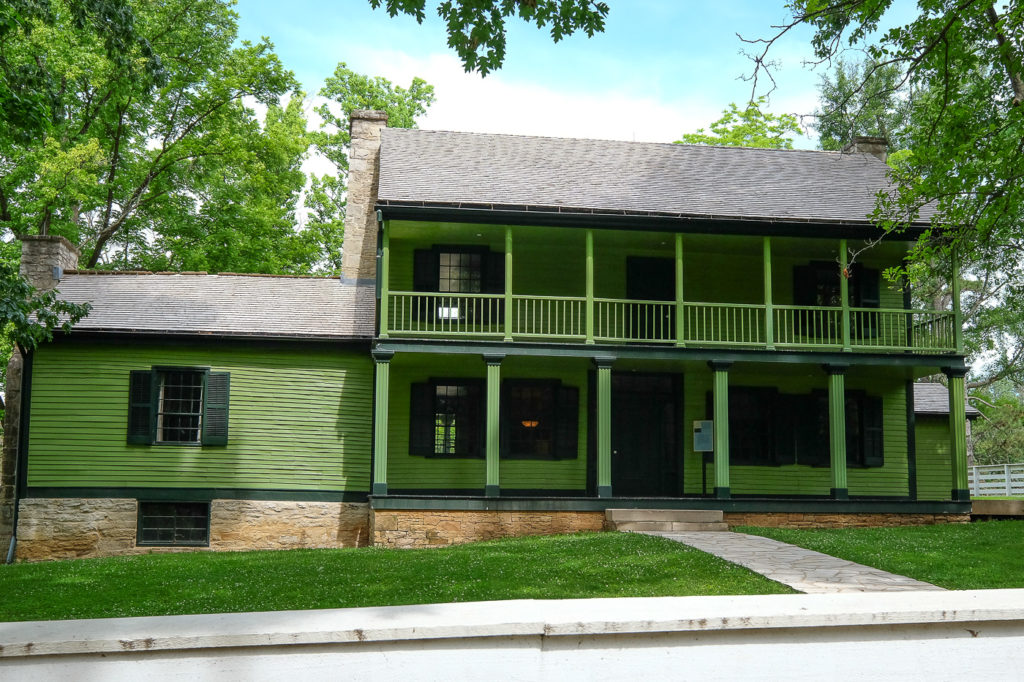 This is really what color it was! US Grant's home is right across the street from Grant's Farm (which is named that because it used to be part of the property the Grants managed), and also right on the bike path, so it made sense to see it on the same day. We were thinking of Grant's Farm as sort of a reward for Abe for making it through the house tour at the historic site, but if we had it to do over again we would have done Grant's Farm first because it gets so much more crowded. Animal shows and free beer are a bigger draw than old houses and stories about Civil War generals who became president. Go figure. I blogged all about our visit here on my house blog, so you can read more about it there if you're interested in all the details. The quick take is that there's no admission fee, and it offers a guided tour of the house and grounds, a small museum, and a film. And, of course, Junior Ranger badges. Abe got his first of the trip here: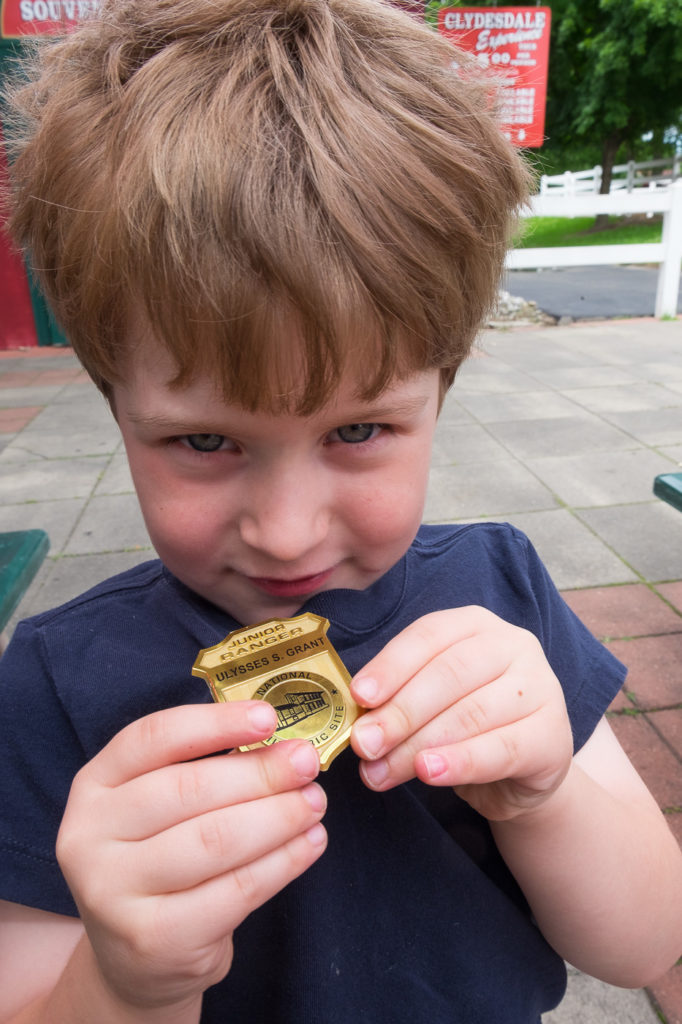 Forest Park/Saint Louis Zoo: 
For our second day of bike-intensive adventures, we decided to explore Forest Park. Forest Park is a big urban park (way bigger than Central Park) with all sorts of things to see like playgrounds and gardens and art and history museums and a ZOO. I couldn't find a whole lot of information about biking in Forest Park and what it was like, but I could see on the map that there was a paved multi-use path that went all the way around the park. So we found a parking spot somewhat close to the zoo and set off on our bikes for a grand tour. The bike path here is nice, but it's not nearly as flat as Grant's Trail was the day before, so it was a bit of a challenge in places. Okay, I walked my bike some. I can hike uphill all day long (well, maybe not ALL day), but the muscles one needs for uphill biking are not my best ones, apparently.
The zoo was our only repeat from our last St. Louis trip, because last time we'd gotten there fairly close to closing time with a thunderstorm threatening and hadn't gotten to see as much as we wanted. This time we saw some new stuff, but we also spent a good bit of our time revisiting the penguins, because…well because they're penguins, so they're great. Also it was really hot out, and the penguin house was really cold.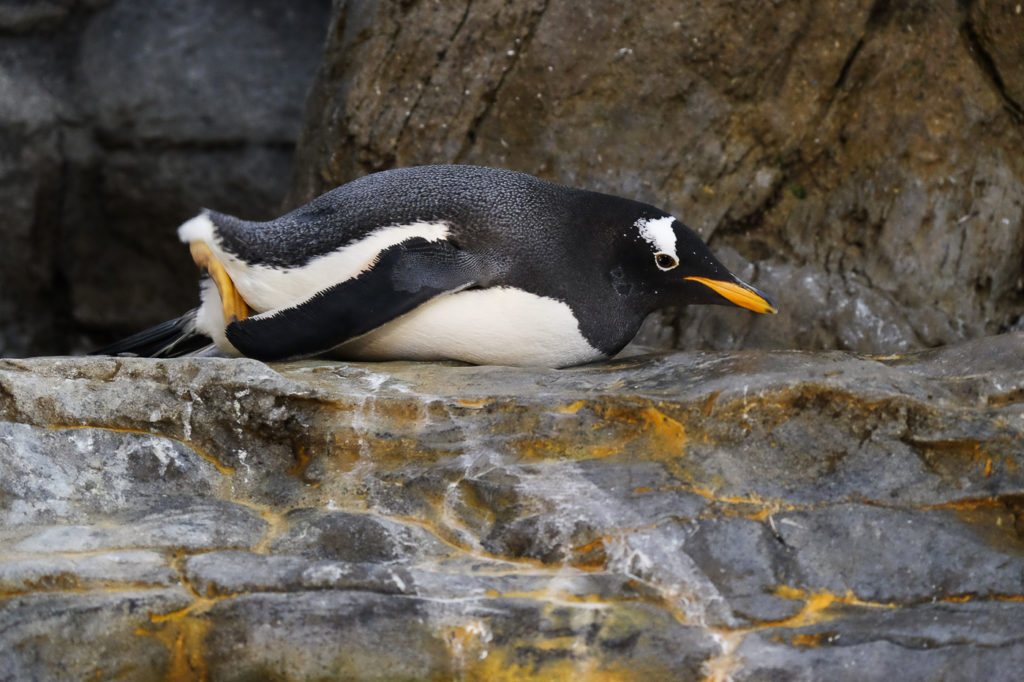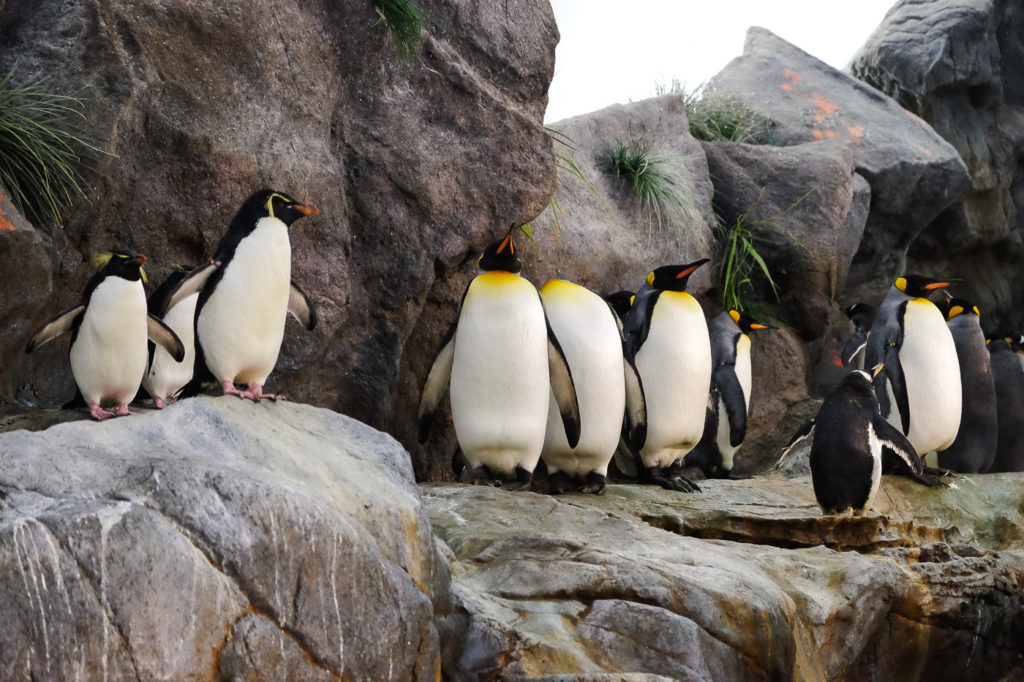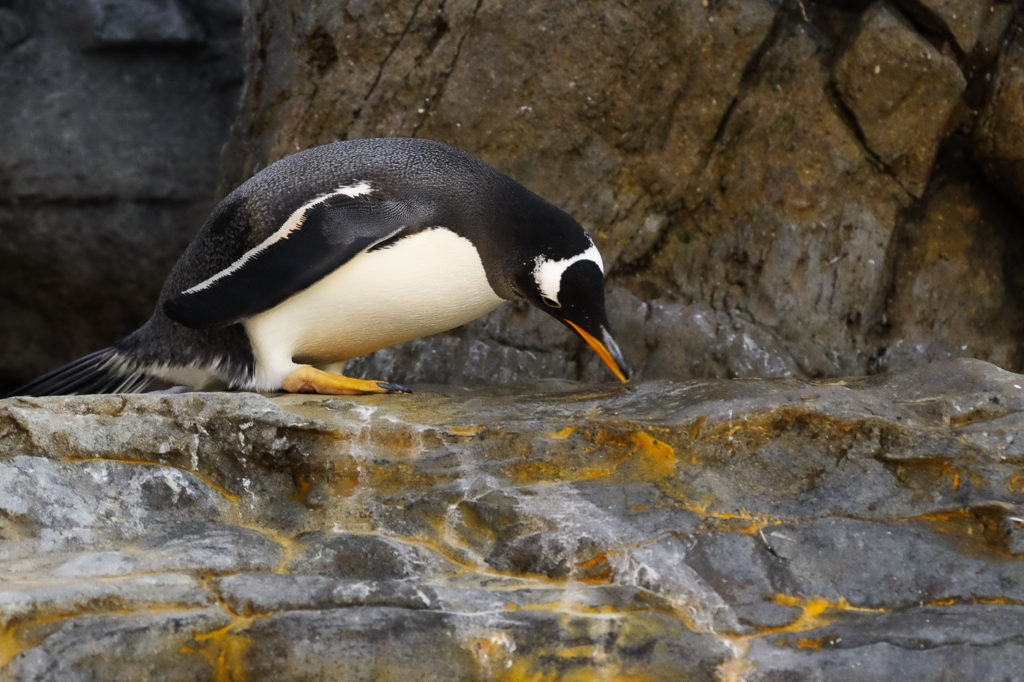 The Saint Louis Zoo is an awesome zoo and also totally free. You just walk right in there and they let you look at all the animals. But they don't give you any beer, so it's a little different from Grant's Farm in that respect. The day we were there (the Wednesday after Memorial Day), it was super crowded. I imagine it's super crowded anytime school is out, what with the freeness and all.
Still, we managed to see quite a bit. It was Milo's 14th birthday, so I made him pose in front of this sign about cheetahs while I took a birthday picture of him. Later we stopped by an awesome Italian bakery and bought him a birthday canoli: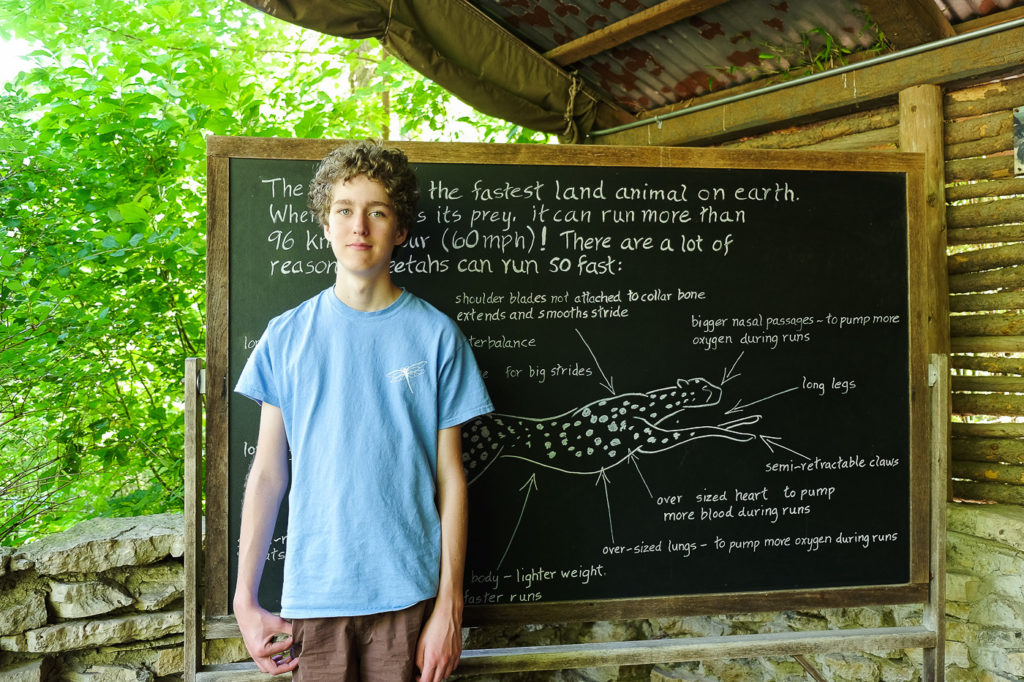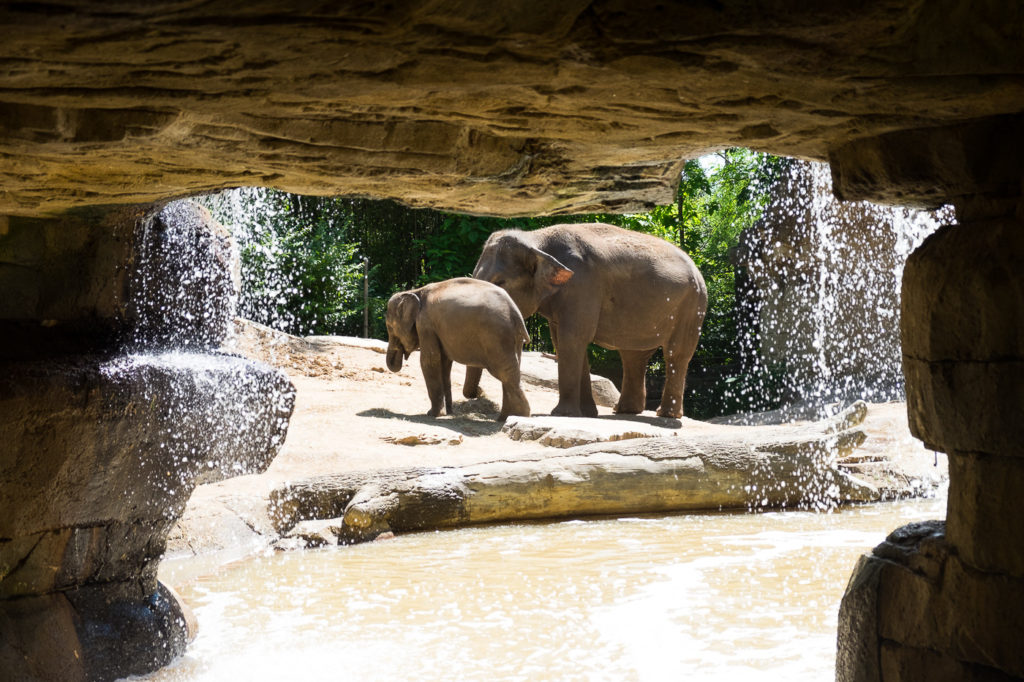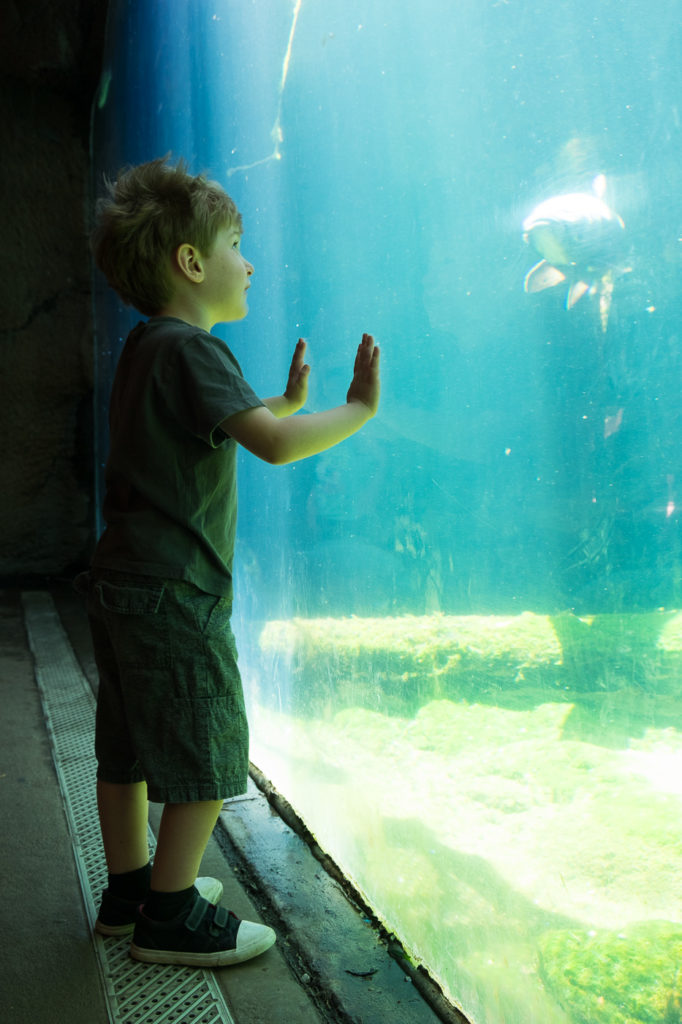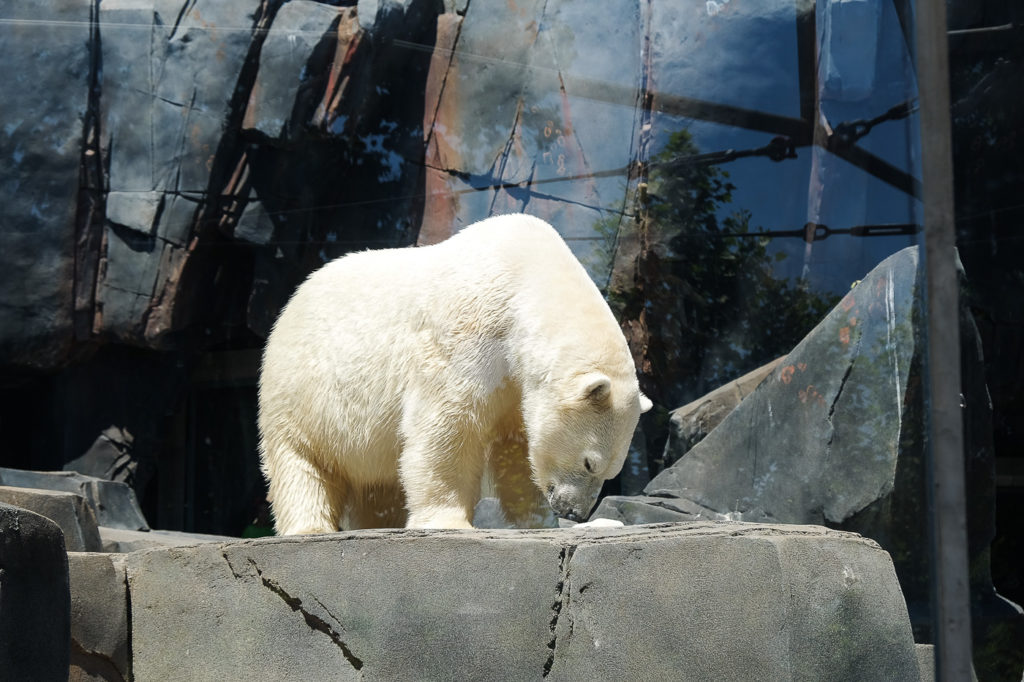 There are a number of things one can do at the zoo that have a separate fee, like the carousel, train, sea lion show, and children's zoo. You can buy an Adventure Pass for $11.95 that includes admission to all the extra stuff, or you can pay a la carte. Abe wanted to ride the train, which is $7.95 a person for all day on and off privileges. Now, both the price of the Adventure Pass and the all day train pass sound very reasonable to me, particularly given that the zoo itself is free…if you have one or two kids and are planning to spend all day at the zoo using them. But I have four kids and we were only there for a couple of hours. So we sent the big kids who don't care about zoo trains off to look at animals by themselves, and we took Abe on a train ride. The line for the train was quite long: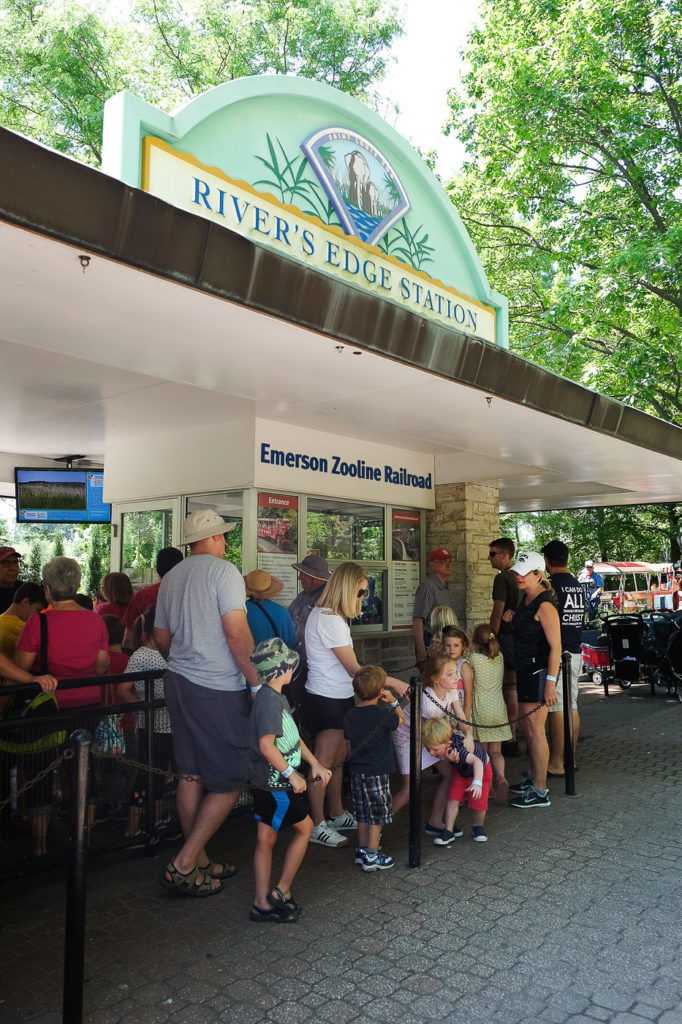 I should note that the train goes all over the zoo and has several stations; i.e. it's actually a form of transportation and not just a fun ride for kids like at a lot of zoos.
St. Louis Science Center: After the zoo, we rode our bikes to a picnic area and stopped to eat the lunch we'd brought along, then rode on to the St. Louis Science Center. We parked our bikes at the planetarium, and from there took the bridge across the interstate to the science center.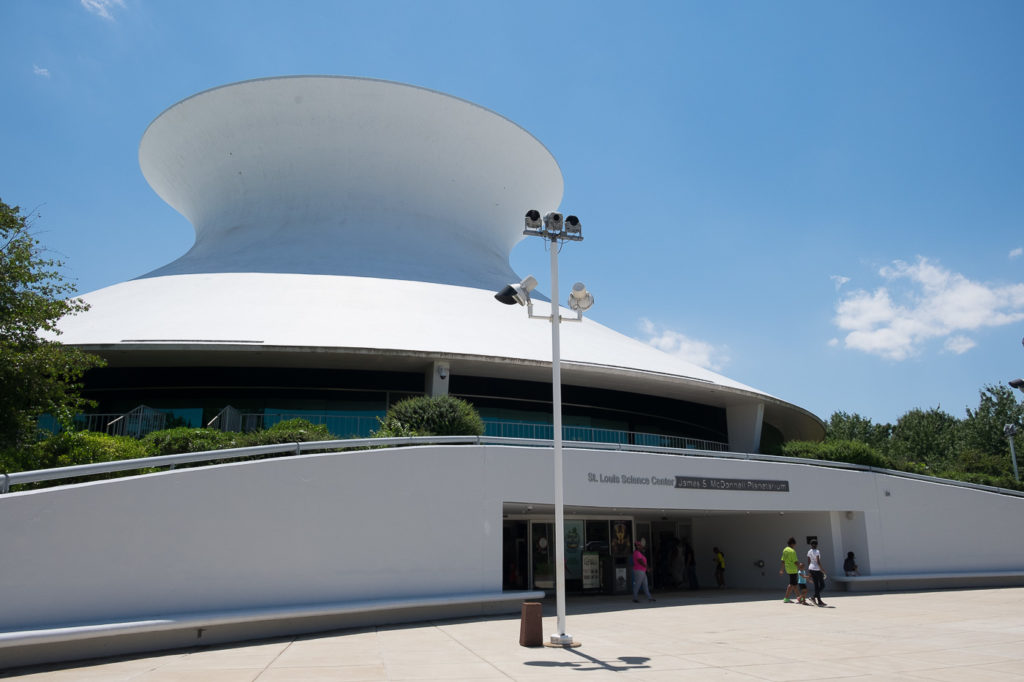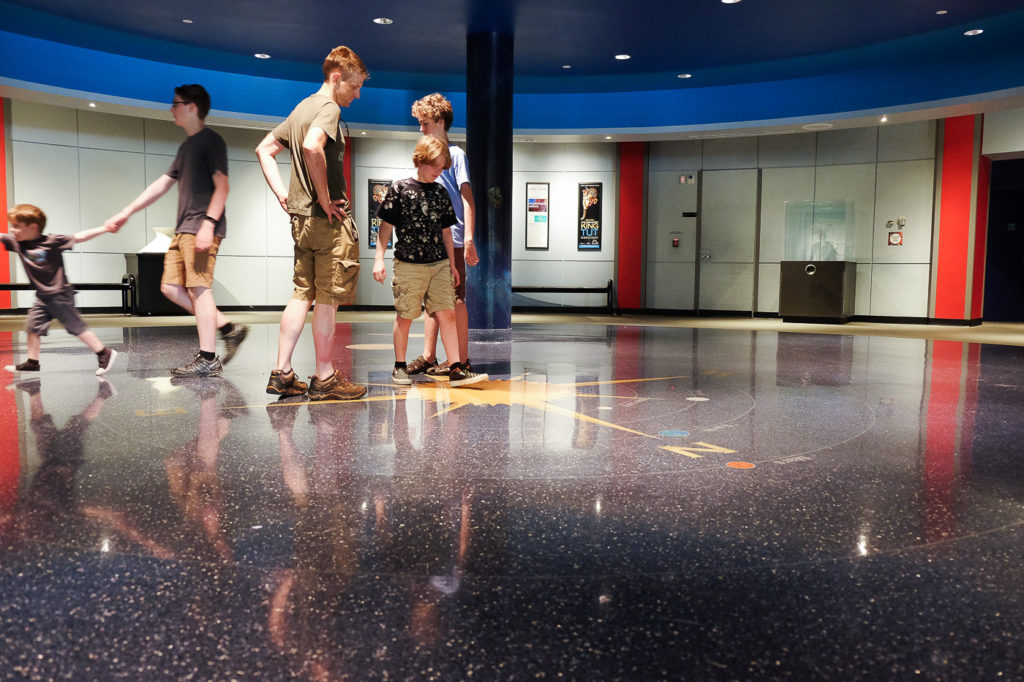 On the bridge across the interstate, you can see how fast the cars are going and watch them through window in the floor: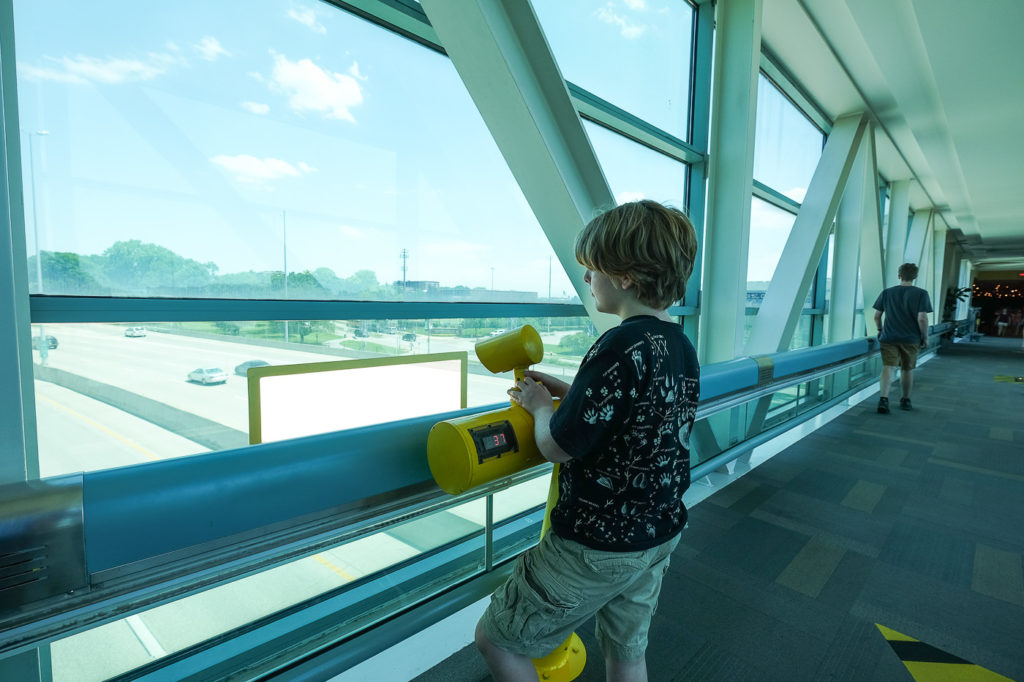 Abe wanted everyone to pretend to be on this space ship for a really long time: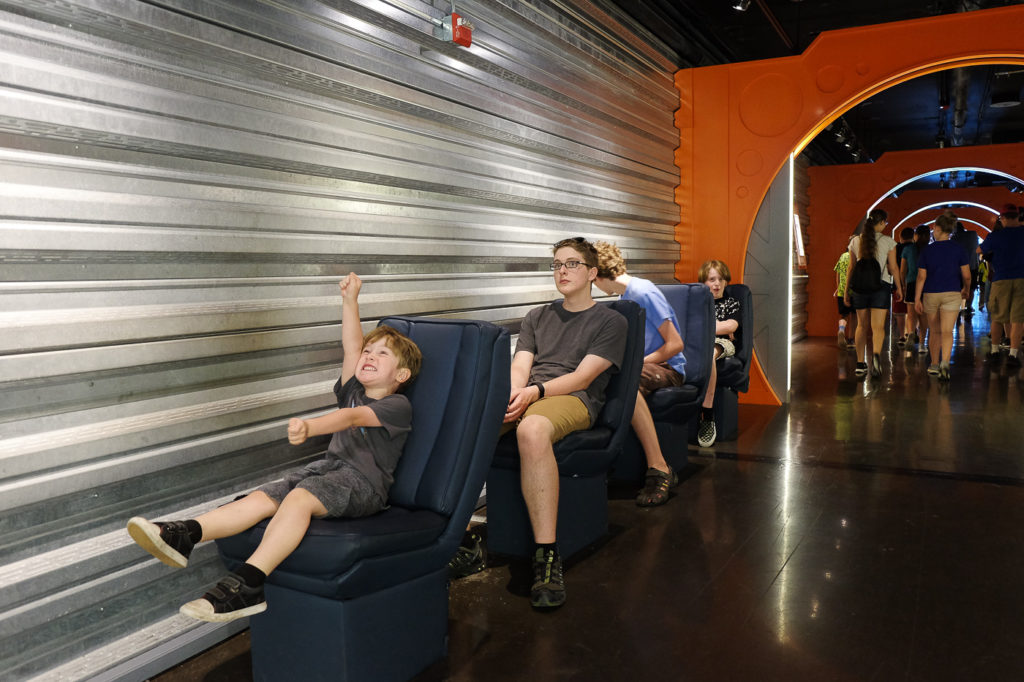 He also wanted to play with this for a really long time. At that point, we let his brothers go off and see some other stuff by themselves.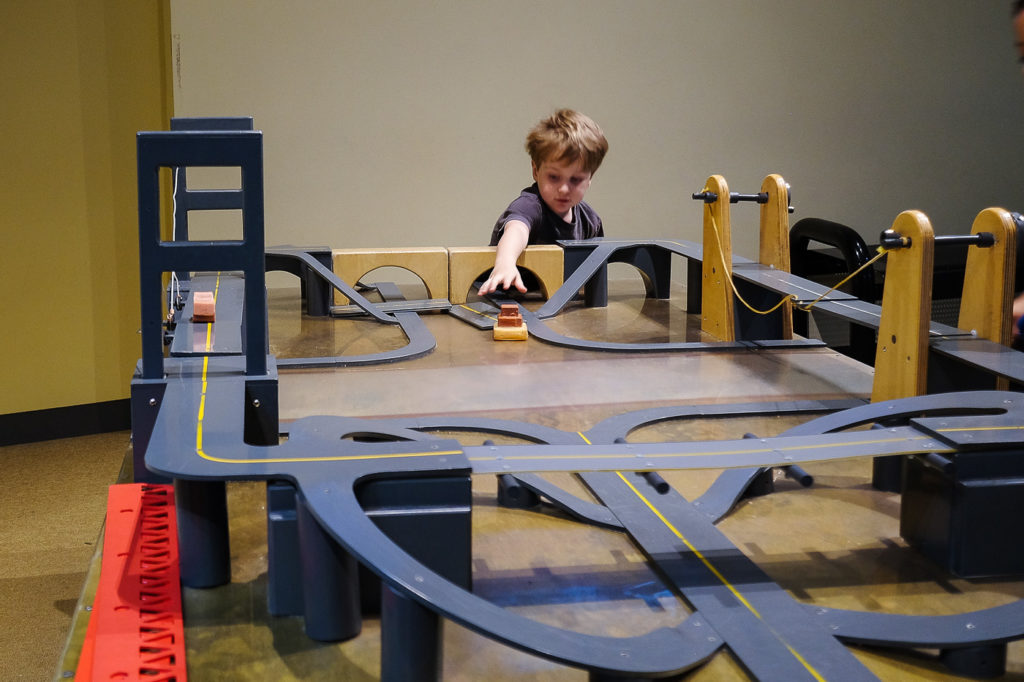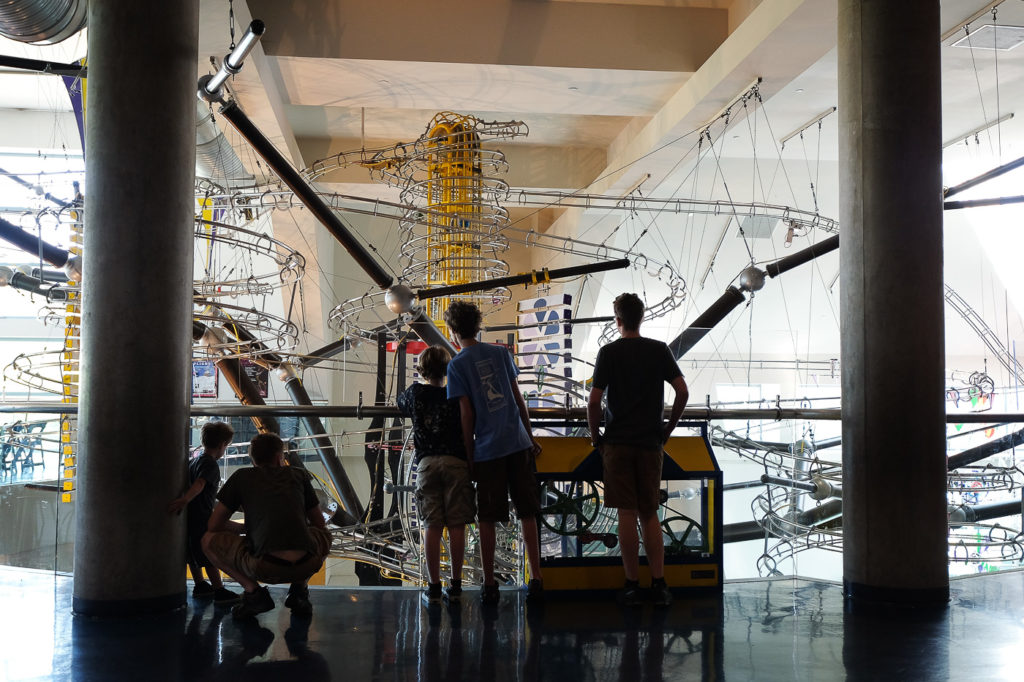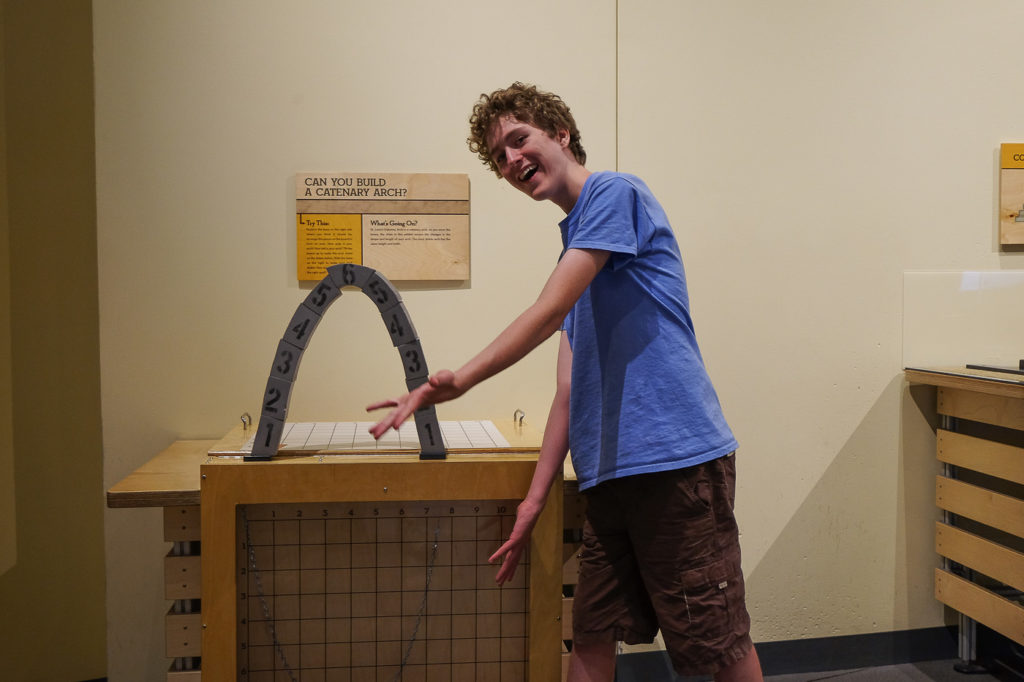 There's a really cool maker space area where the kids spent a long time doing things like building sailboats to race and flying things: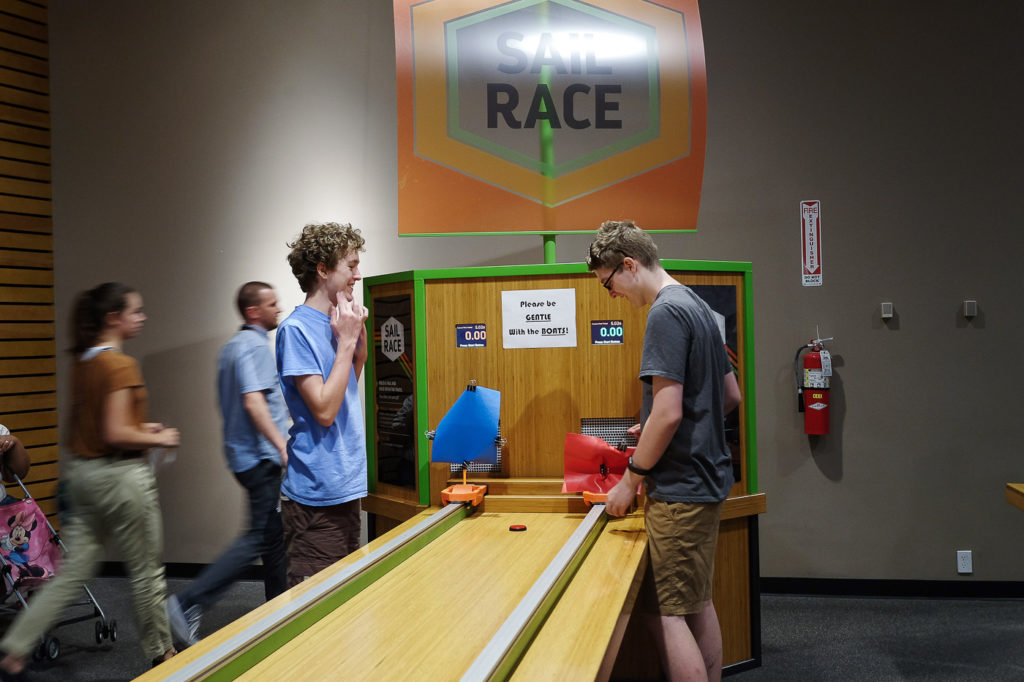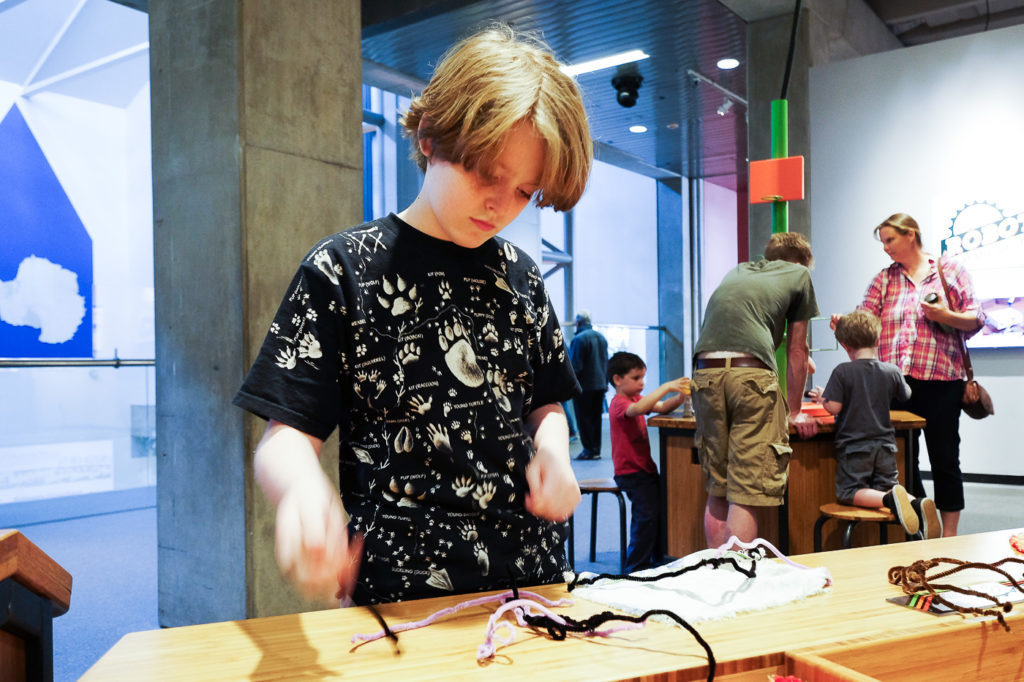 I never feel like I have a ton to say about science museums, because there the sort of thing nearly every big city has and there's a lot of overlap between different ones….but I'd rank the St. Louis one up there among our favorites….and did I mention it was FREE?
We finished off our St. Louis stay with some Milo's birthday barbecue downtown, and, with that, our two days of admission-free fun and our first real stop on our summer trip came to an end: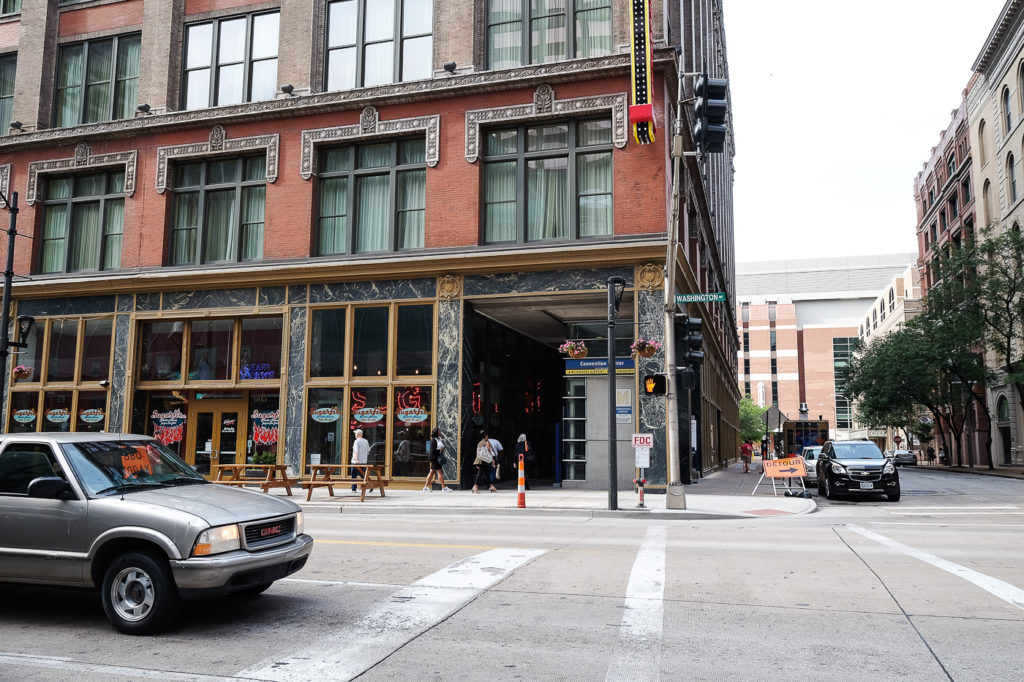 Next up: a review of our St. Louis campground!
Maybe you would like to pin this?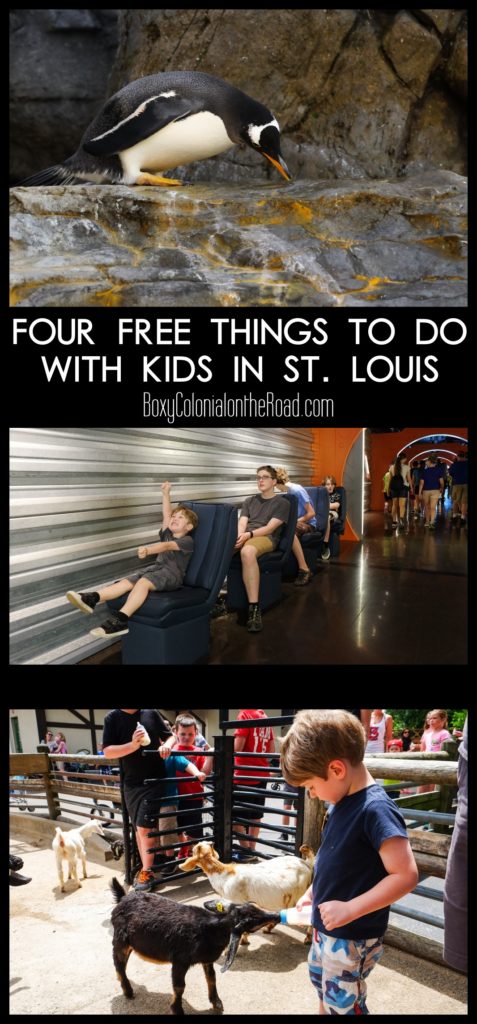 SaveSave
SaveSaveSaveSaveSaveSave
SaveSave
SaveSave
SaveSave
SaveSave
SaveSave