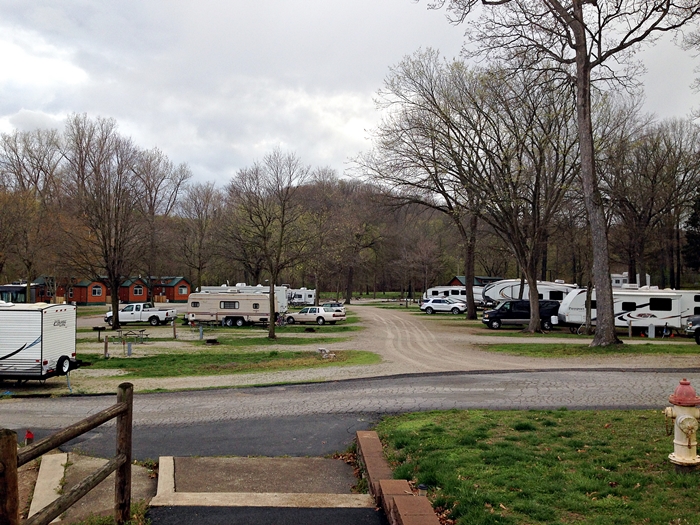 We chose the St. Louis West KOA as our home base for our St. Louis trip because it had great reviews and, in particular, came highly recommended by Kerri of Travels with Birdy, both on her blog and on the Campground of the Week podcast. I reread her review right before I sat down to write this post, and I was amused to discover that the "hustling, bustling" campground she describes doesn't match our own experience there at all. I'm sure this is entirely due to timing: Kerri visited over Labor Day weekend, whereas we were there during the week in early April, when the Six Flags down the street was closed and the St. Louis area's spring break had already come and gone. So we encountered a super quiet, laid back campground with very few other kids around and no scheduled activities to speak of.  But, like Kerri, we had a great experience there and would definitely recommend it.
We arrived at about 7:30 on a Monday evening. The office had closed at 7, but a folder with a map and directions to our site was pinned to a bulletin board outside. I noticed over the next few days that someone from the office escorts you to your site if you get there before closing. It was getting dark, and it was already past Abe's bedtime, so we hurried to get everything hooked up as quickly as possible.
Then we realized, after everything else was all set up, that our sewer hose was just a few inches too short to reach the connection. Sigh. We ended up needing to hitch back up in the morning and move the trailer a tiny bit. This was very sad, but we persevered, as we always do. We are a stoic people.
Sites: Our site was a pull-through very close to the office, (not yet open for the season) pool, and playground. There were quite a few pull throughs in this area, and it's where I'd want to be again if were staying there another time. There are some smaller areas scattered around with more RV sites, a large tent area in the back of the campground near a creek (empty while we were there), and several cabins. There's an area in the back that seems to be reserved for big Class As; the spaces there seemed really cramped to us (and it seems to me like pretty much any RV could fit in the space we had (we're just over 50 feet when we're hitched up), but there may well be something I'm missing, like turns that are too tight or whatever).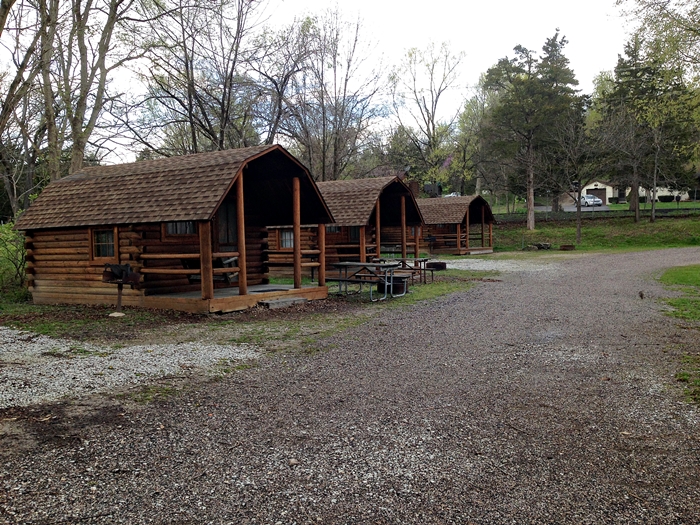 There wasn't a ton of separation between the sites, but there was a small strip of grass next to ours, with room for a fire ring and picnic table. We also benefited, space wise, from the fact that no one was in the site on one side of us the whole time we were there (I'm wondering if there was a problem with that site, in fact, because the site on the other side of us and the one next door to the empty one both had a series of different overnight occupants during the four nights we stayed). Site was nice and level.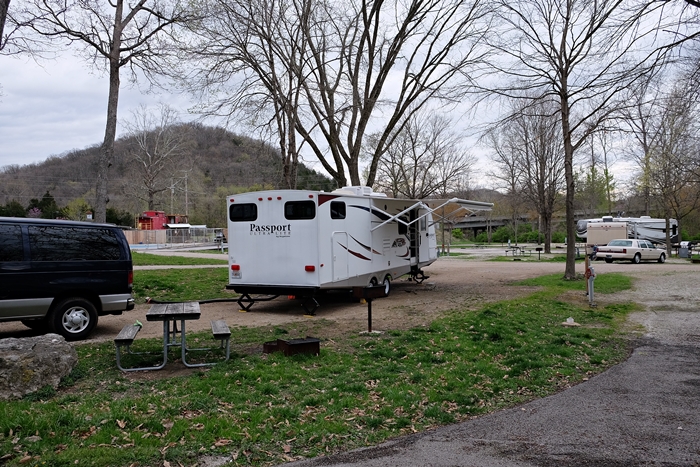 Campground and Amenities: There wasn't a whole lot going on as far as planned activities since we were there mid-week in the off season, but I hear that's not the case at all when things are busy. As I mentioned, the pool wasn't open yet, and this was a jumping pillow-less KOA. They do rent bike-like things, and we saw a couple of kids riding those around.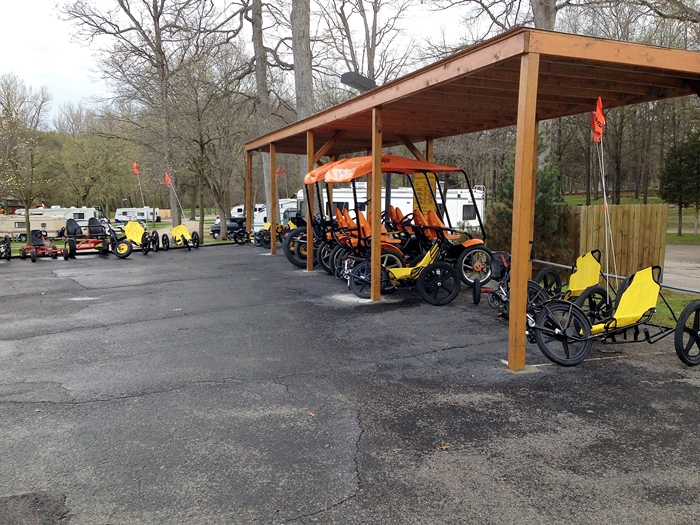 And they have a pretty standard small playground that we went to once, but then not again because it was just too cold and windy and wet most of the time. In fact, honestly, it was so cold that we spent most evenings huddled in the camper playing cards.
We spent a lot of time walking the dogs around the campground; there aren't any separate nature or hiking trails, but the campground is big enough that you can get a decent walk for the dogs in by just making a full loop or two. There's a dog walk area marked on the campground map, but we were surprised to find that this wasn't a fenced area at all….just a sort of open space with dirt and gravel off to one side of the tent area. If I had one suggestion for improvement, it would probably be to fence that area in and get some grass going there; they have the space, and it could be a nice little dog park.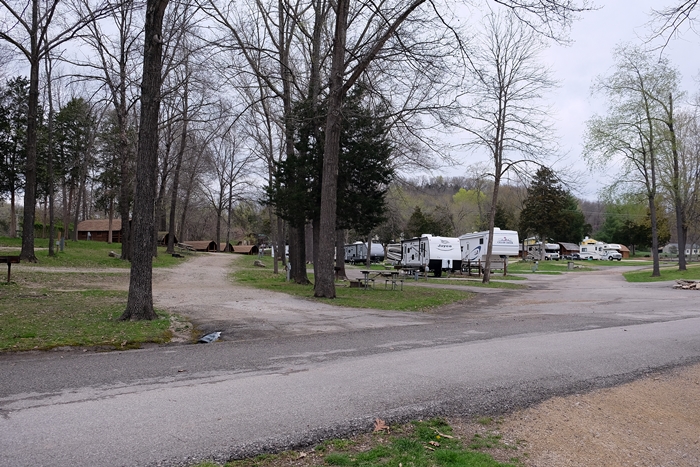 The camp store is nice, with a good selection both of basic groceries and camping gear and fun stuff like Route 66 themed souvenirs. When we went to hitch up at the end of our stay, we realized we had somehow managed to lose the metal pin thing that keeps everything together in the hitch and we were very relieved to learn that the store had one we could buy. The staff was all super friendly and helpful.
It's worth noting that the wi-fi here is super, super fast for campground wi-fi. I didn't notice any difference in speed or reliability compared to our wi-fi at home, which is really unusual at campgrounds. I don't know if this would have been different if it had been more crowded or if we'd been farther from the office, but I did go check some reviews, and the stellar wi-fi is noted frequently.
Location: The campground is in Eureka, MO, about half an hour west of St. Louis, just off I-44 (very close to Six Flags).  It was an easy drive into St. Louis, but it did mean an hour of driving every day getting in out of the city, which is something that I'll consider carefully when we decide whether to stay here again next time we visit the area. One complication was that we had the dogs with us, but we were doing dog-unfriendly things in St. Louis (no dogs allowed in the Gateway Arch for some reason ;)), so we had to leave them behind in the trailer, and that limited how long we could stay gone at a stretch. Our dogs are really good in the trailer; we've never had any trouble with them barking or acting anxious while we're gone…but they still have to go to the bathroom eventually. We'd originally been thinking we'd do some days where we went into the city, came back for lunch, then went back….but facing the round trip drive twice a day was just too much (not to mention that the gas adds up when you're driving a van that gets 12 or 13 miles per gallon even when it's not towing anything (it's actually not much worse when it IS towing. Big Blue likes to tow, apparently)….so we ended up just doing one trip in a day, which meant we sometimes felt rushed.
I guess this is just always going to be the conflict when you want to visit cities with a camper, though: finding that balance between convenience and the assorted advantages of campgrounds further out (cheaper, more space, quieter, etc).
The campground is very easy to get to from the interstate and it's in a nice, semi-rural setting (there's some kind of farm on one side of it. You can see cows. Or horses. I can't remember which. I think horses. Neigh. Also a cemetery, like, RIGHT THERE, so be aware if such things creep you out). Also important to note is that the campground is right by both the highway and train tracks. We didn't notice much highway noise, but the train definitely made its presence known. I happen to like train noise, and it wasn't wake-you-from-a-sound-sleep kind of noise, but something to be aware of if you're especially sensitive to such things.
Overall, we really enjoyed our time here and found it a lovely, quiet place to come back to every evening. We'll have to check it out again sometime when it's busier and see if we like the bustling, activity-filled vibe better or not.
What do you think of the campground, Abe? "Hmm…..chimpanzee," says Abe.