Hey–we're home! We've been back for a few days now, and we're slowly settling back in. As of this afternoon, I have completely finished editing photos from the trip, and they're all (somewhat) neatly organized into folders on an external hard drive. I sort of feel like a superhero.
So there will be many more posts to come with tons of details about different places and campground reviews, and lots and lots of video courtesy of our new videographer, Dave (you can see what he has posted so far and subscribe so you see when new ones go up here)….and probably a grand post about the trip as a whole and a less grand post about practical details on two months in the trailer: what worked, what didn't so much, what we'll change for the next big trip.
But for now, here's a quick recap of our last couple of weeks.
First up, our last RVing catastrophe of the trip. It's not quite as dramatic as last post's flat tire, and with luck it will be just as easy to get fixed….on the very last night of our trip, one of our couches–one of the two that fold out and come together to make Milo's bed–fell out of the wall it was screwed to. Now, I know I have four boys, but I promise we don't let them jump on down on these couches or otherwise abuse them. The day after we got home, Dave took the trailer to the service place, where they agreed it should be very straightforward to get it covered by our warranty. Along with the antenna crank that also fell off a couple of days before the end of the trip and the DVD player that stopped working and ate our Office DVD. It's sort of remarkable both how much stuff suddenly broke all in the space of three days or so AND that it all waited until the very end of the trip. Anyway–that's why we have the warranty, so all should be well. The trailer will also be getting a nice bath while it's off at the service place and have the wheel bearings repacked. The nice thing about needing to rush it off to get fixed right away is that we were forced to completely unpack and clean the whole thing as soon as we got home.
We left off with our flat tire just as we got to the campground at Brantley Lake State Park outside of Carlsbad, NM. The good news is that, once we finally made it to our site with our spare tire on, we were rewarded with an awesome site and a beautiful view: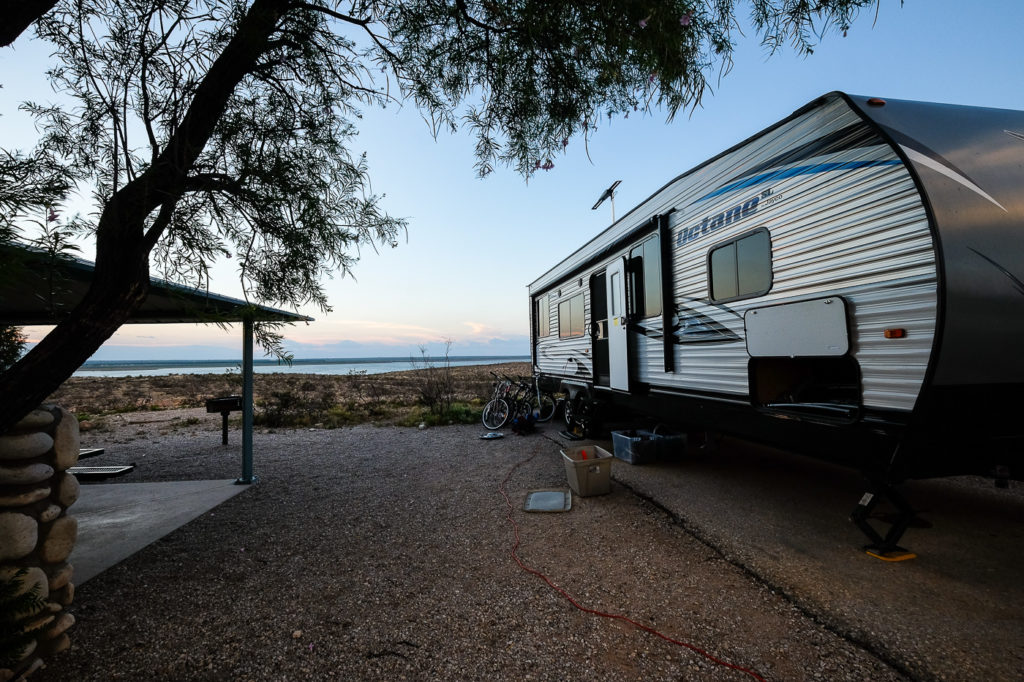 The next day, our tire repair in Carlsbad was quick and easy, so we had plenty of time for our Carlsbad Caverns visit. We did the Natural Entrance Trail and the Big Room and then came back after a quick dinner in Carlsbad to see the bats leave the cave in the evening: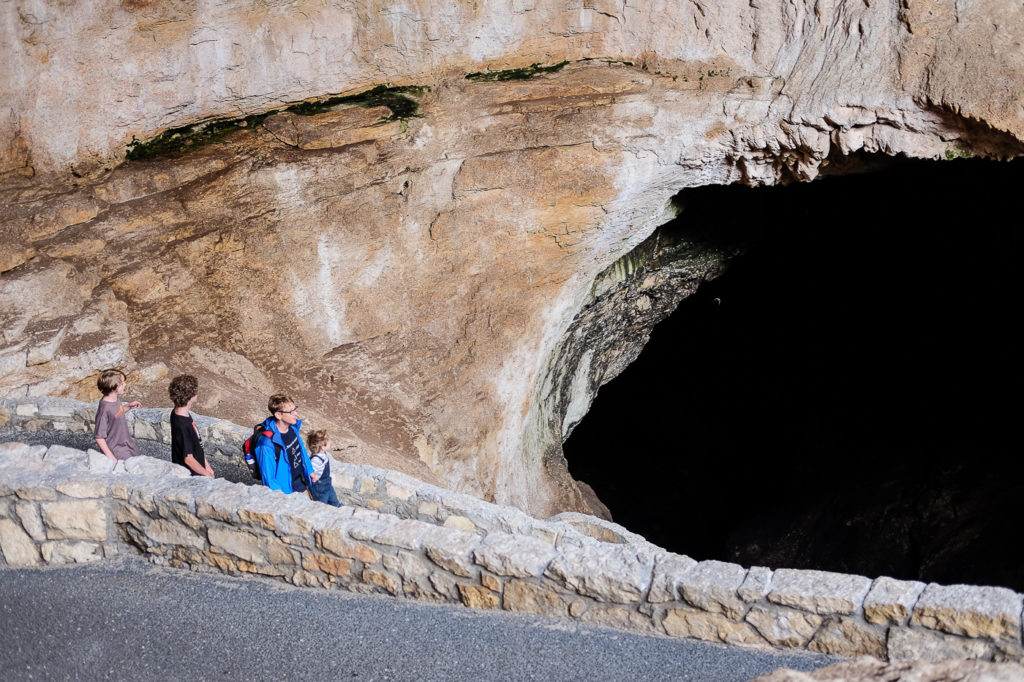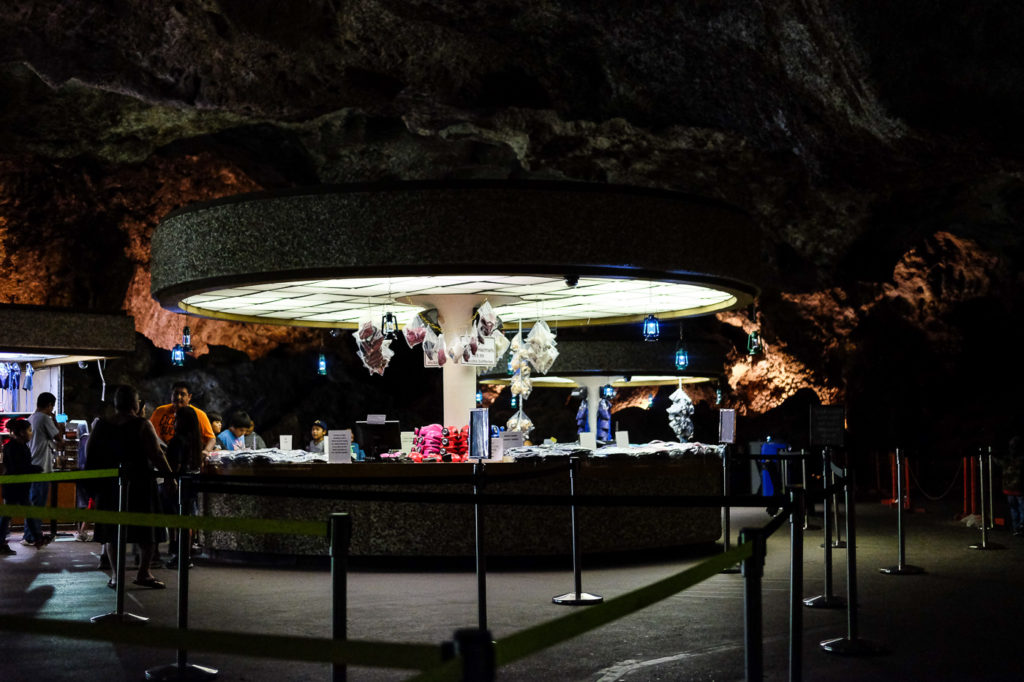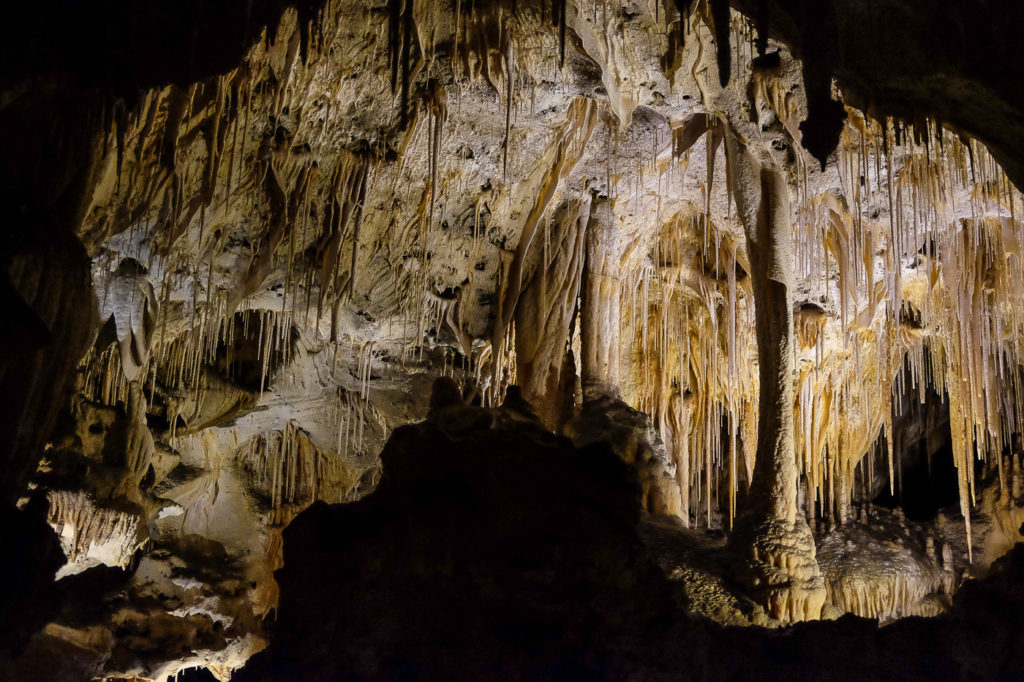 After Carlsbad, we went drove to Fort Davis, Texas. This was a stop that we planned fairly late in the process, specifically because we wanted to go to a Star Party at the McDonald Observatory when it turned up in our See America calendar a few months ago. So we had tickets to the Star Party and we were all ready to go there….but then….it was cloudy all day (they have alternate indoor activities on cloudy nights, but no looking through telescopes). And also Abe had been up late the night before seeing bats at Carlsbad. So. We decided on an early night at the campground and skipping the Star Party. 🙁
We did do a hike at Davis Mountains State Park to make ourselves feel better about missing the Star Party: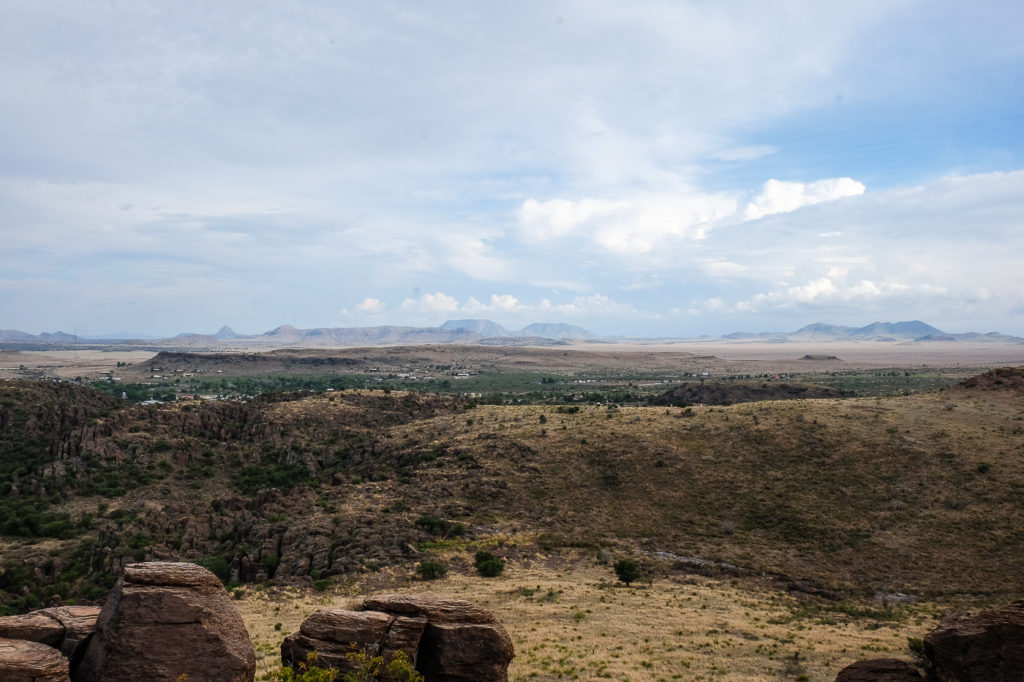 And the next day we checked out Fort Davis National Historic Site, which is an old, well….fort.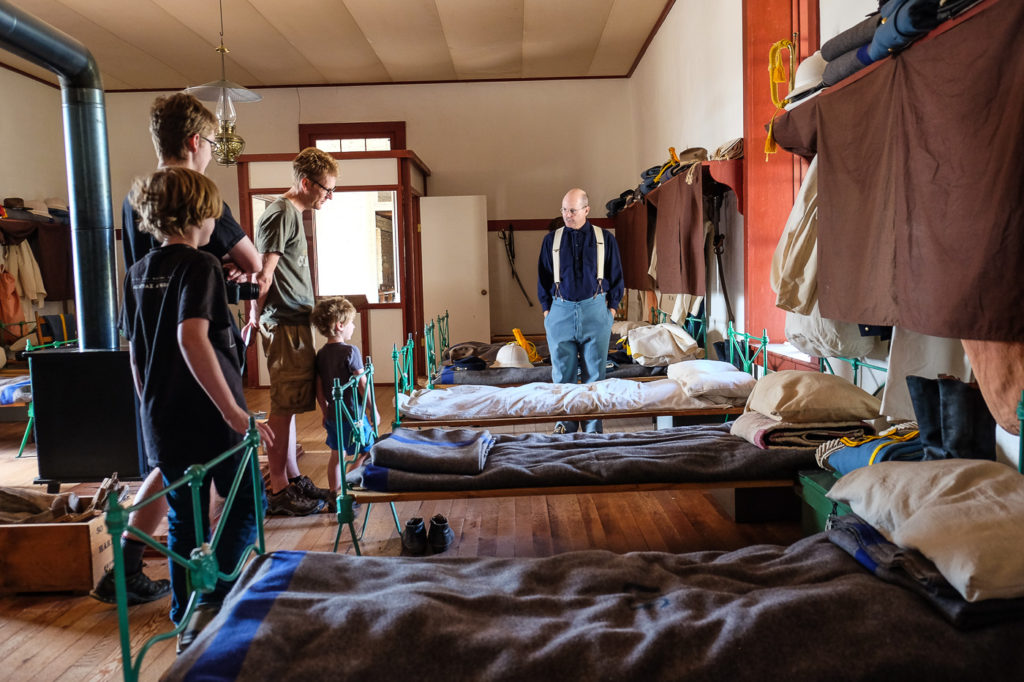 From Fort Davis we made the long drive to Austin for the main reason we decided to drive home through Texas in the middle of July: to visit our good friends who moved to Austin last summer. We spent a lot of time hanging out at their house and in their pool, but we also went into Austin and saw this cool graffiti park: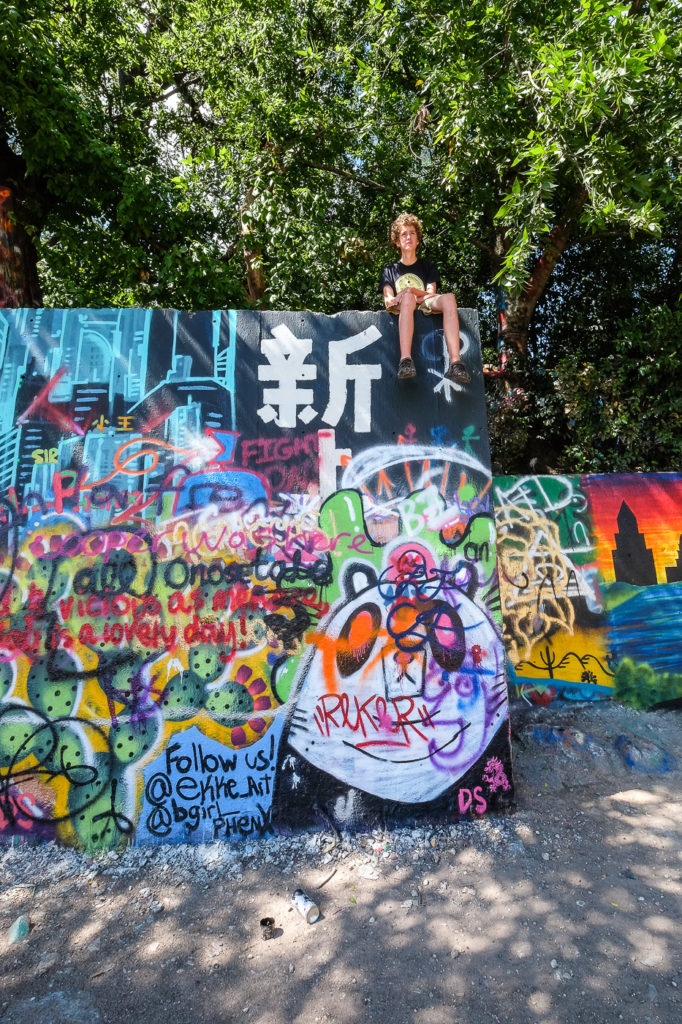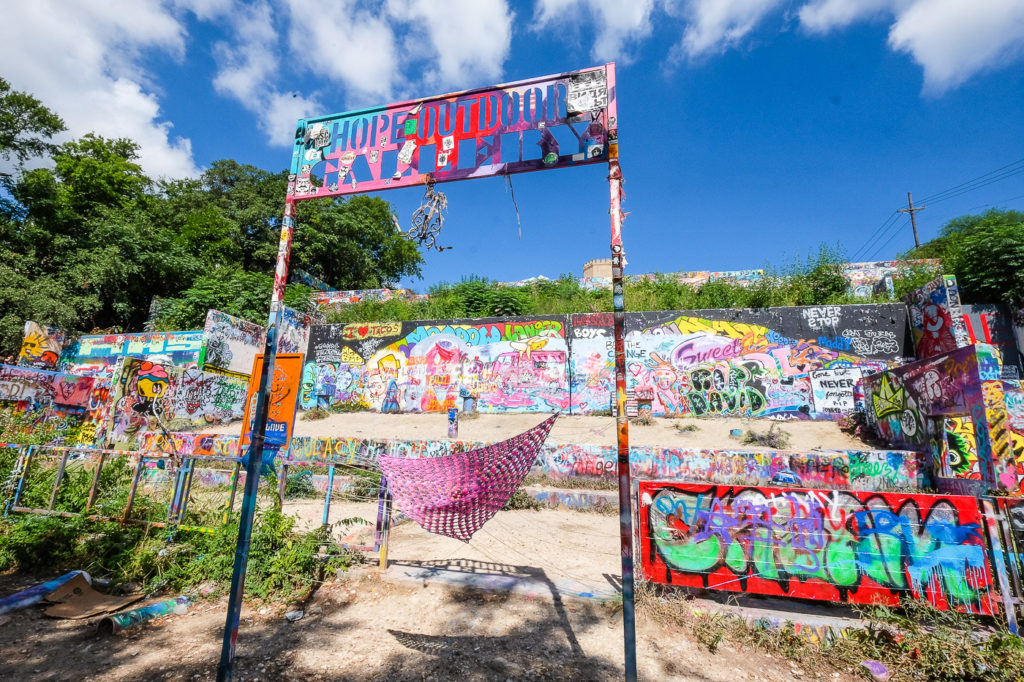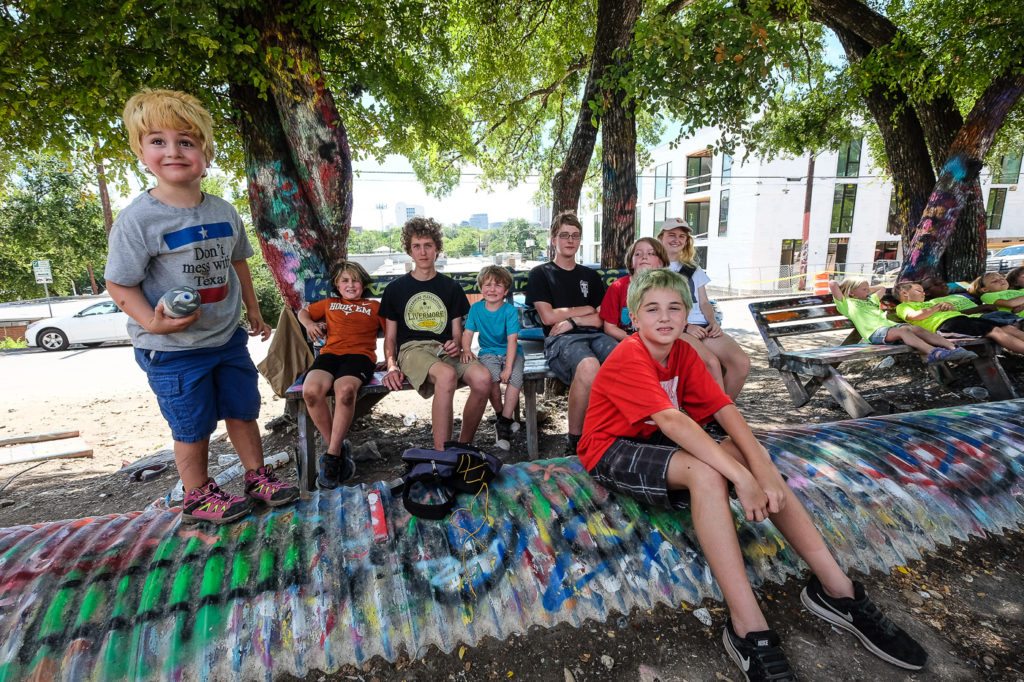 (As usual I seem to have lots of pictures of kids and almost none of adults; sorry, Kristi and Ony, we were excited to see you AND your kids!)
And the LBJ library: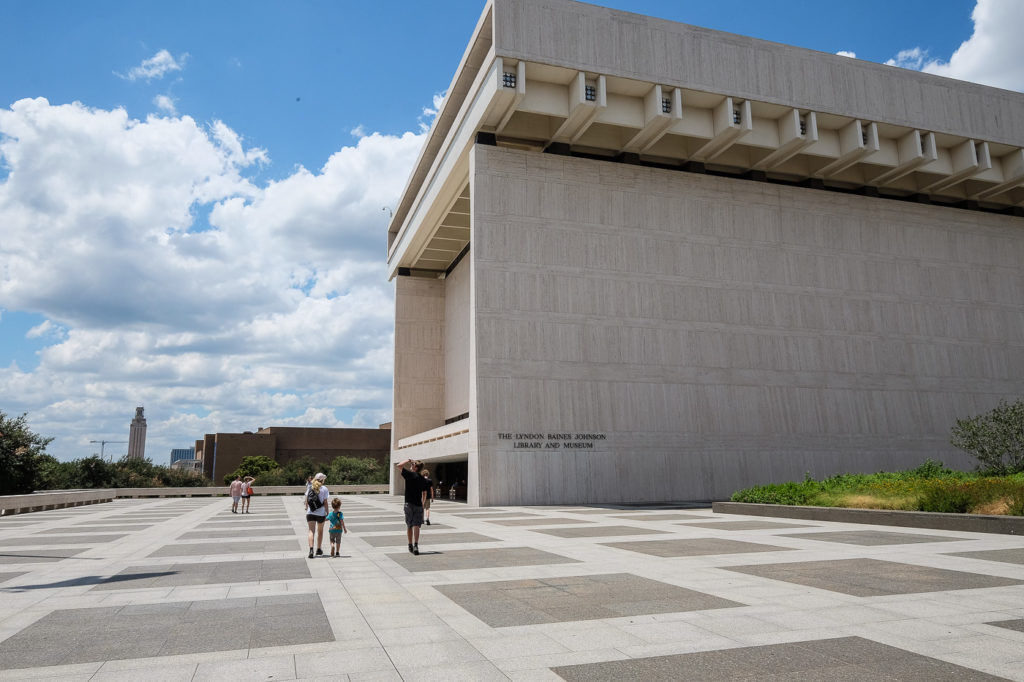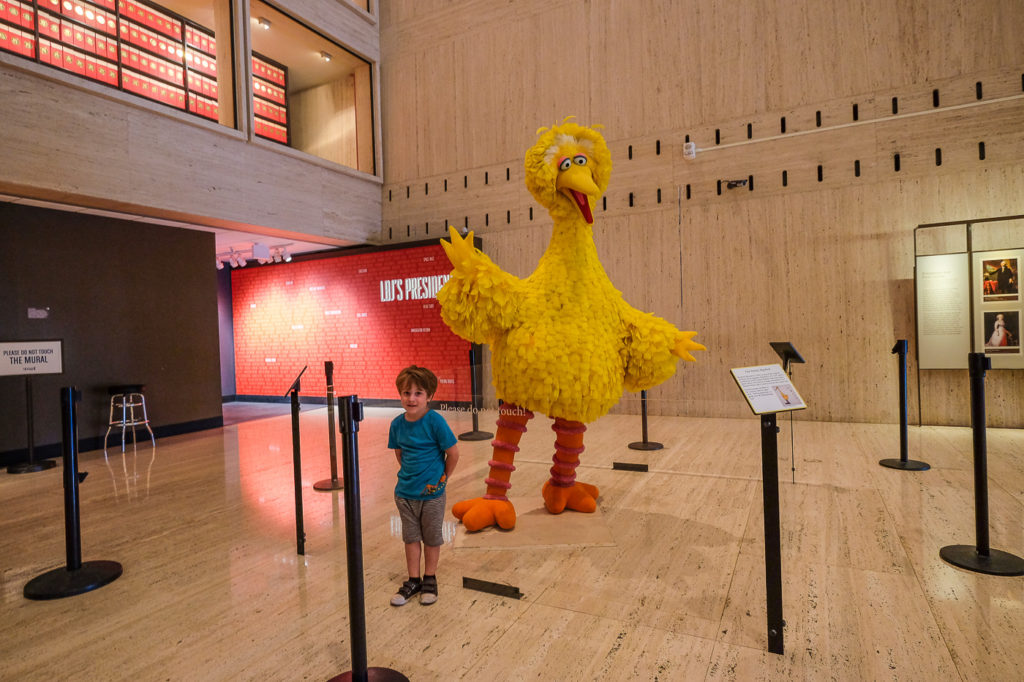 And we also went out to Johnson City one day for even more LBJ stuff at the LBJ ranch: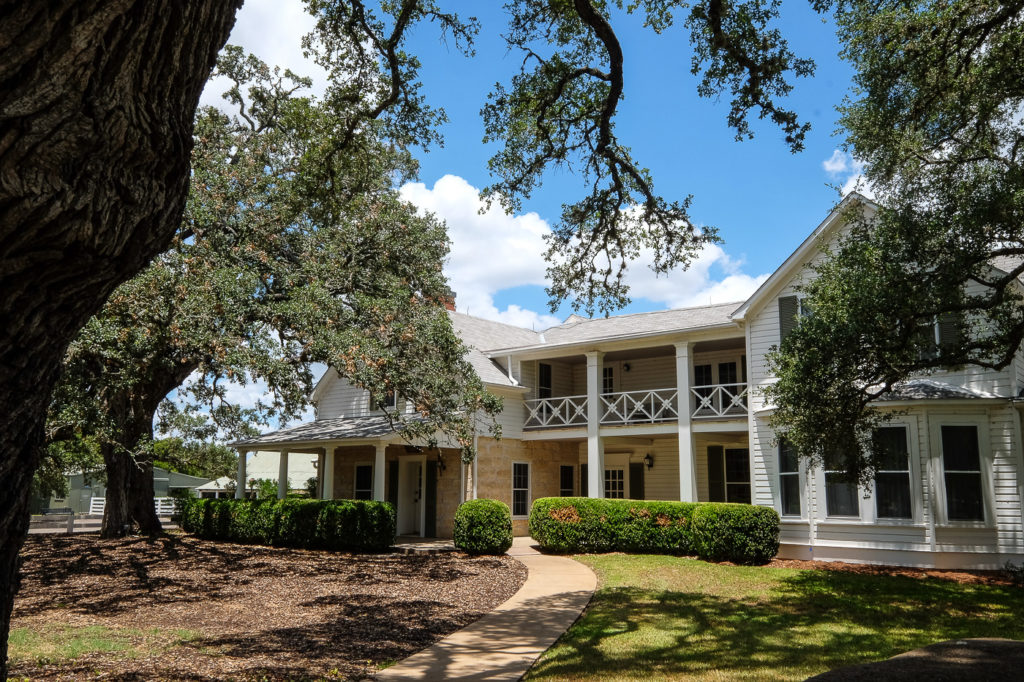 And the nice little science museum called the Science Mill: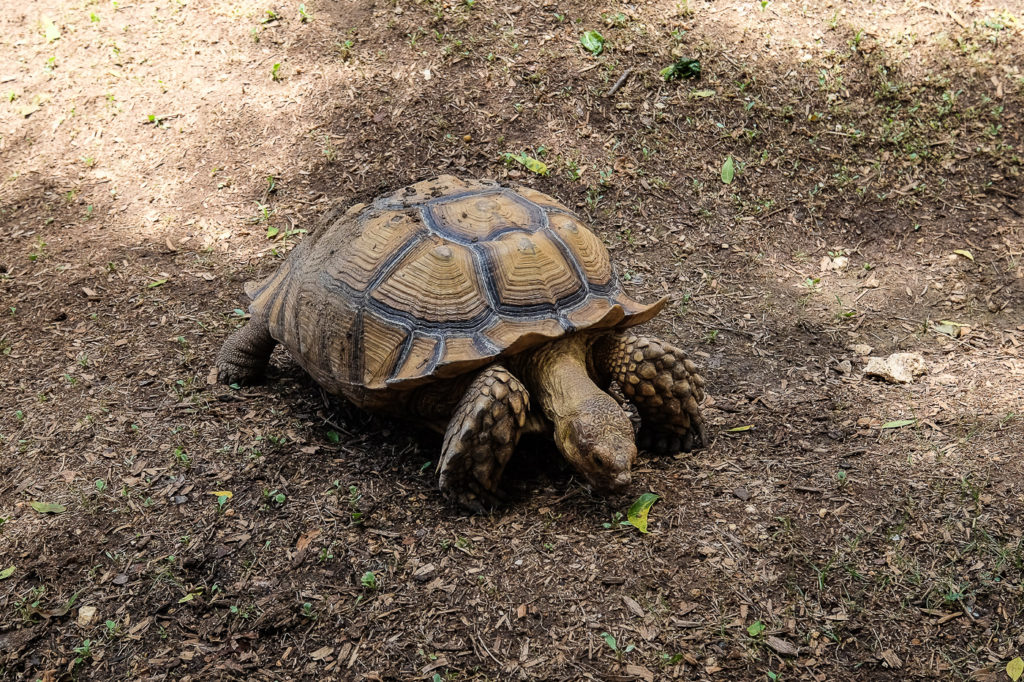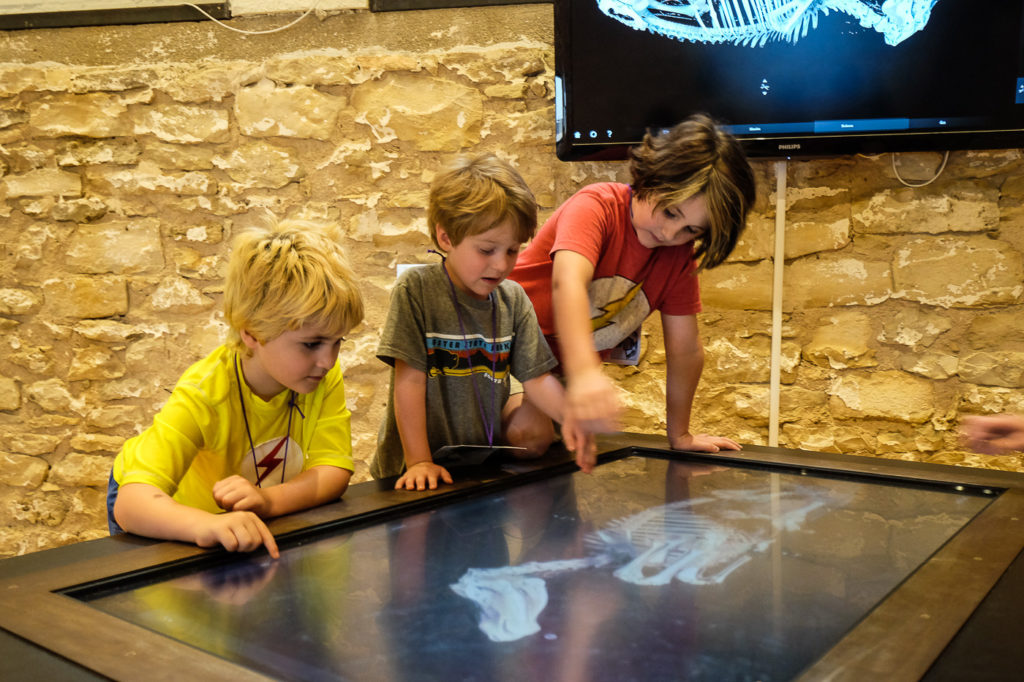 And then it was time to say goodbye to everyone until next time and head home–three overnight stops and four days of driving. We did find a few more fun things to do on the way, though, like the Perot Museum in Dallas: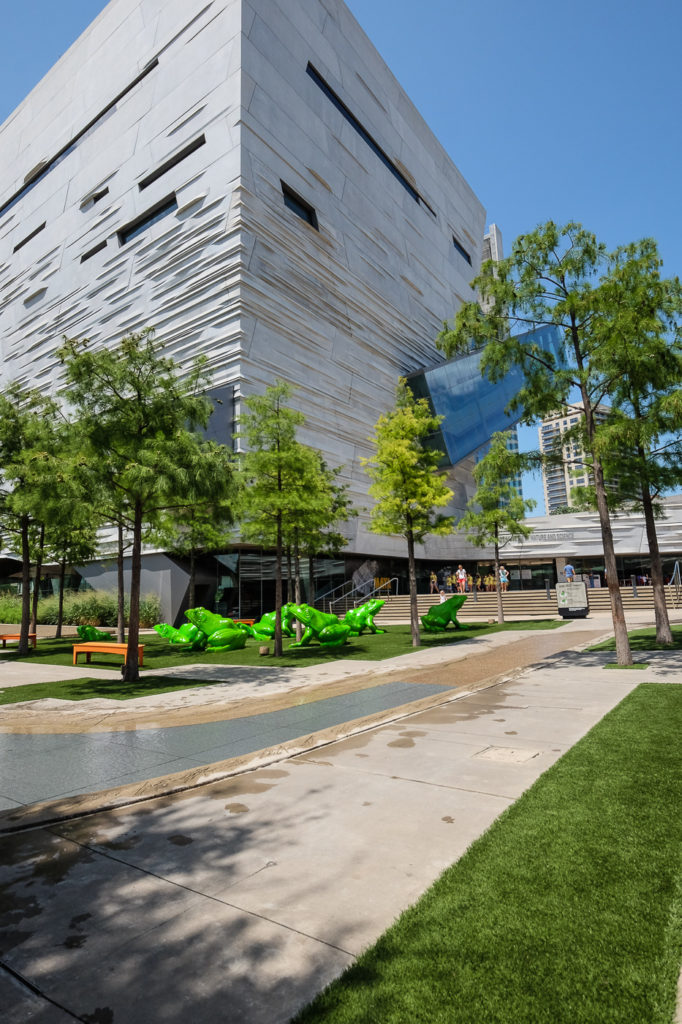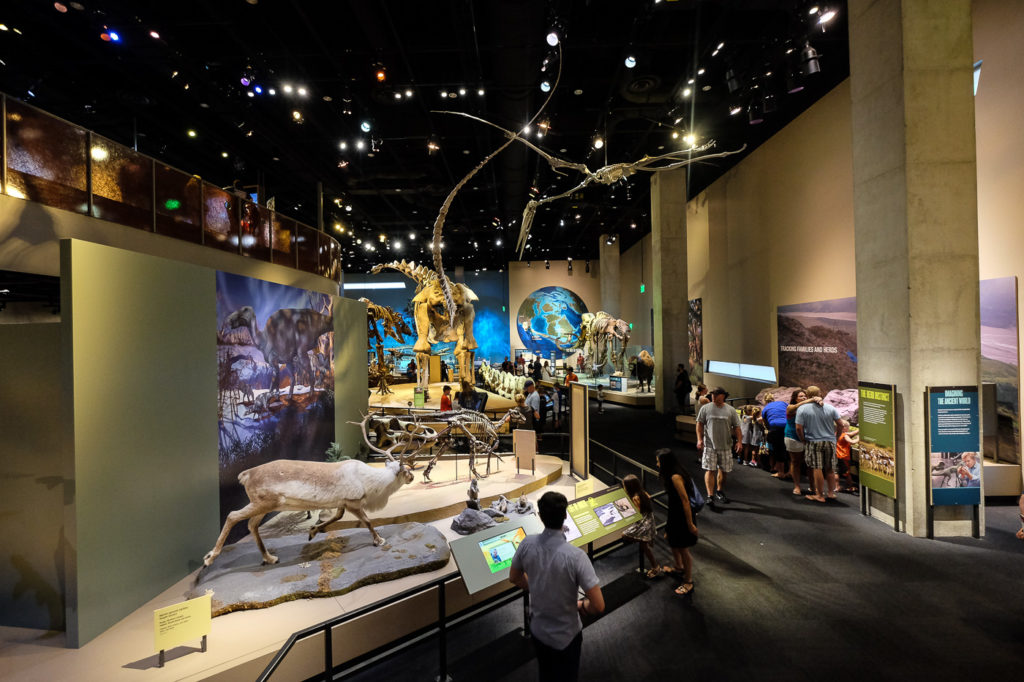 Sadly, the barbecue place we planned to stop at in Jackson, MS was closed the day we were driving through, so we didn't get to put the Mississippi sticker on our map (our rule is we have to either stay overnight or do something substantial and local (i.e. not just a gas stop or a chain restaurant) for a state to "count." Sorry, Mississippi–we'll get you next time.
Our last campground was at Tannehill Ironworks State Historic Park near Birmingham, AL. We only had one night here, but we took a nice walk to explore the ironworks ruins and I'm thinking a return trip is in order sometime to see more (and as a base camp for Birmingham). After seeing Yellowstone, San Francisco, Mt. Rushmore, Crater Lake, and the Grand Canyon, Abe says that seeing this armadillo next to the trail at Tannehill on our last morning was his favorite part of the trip (apologies for my fogged up lens picture; it was quite muggy out):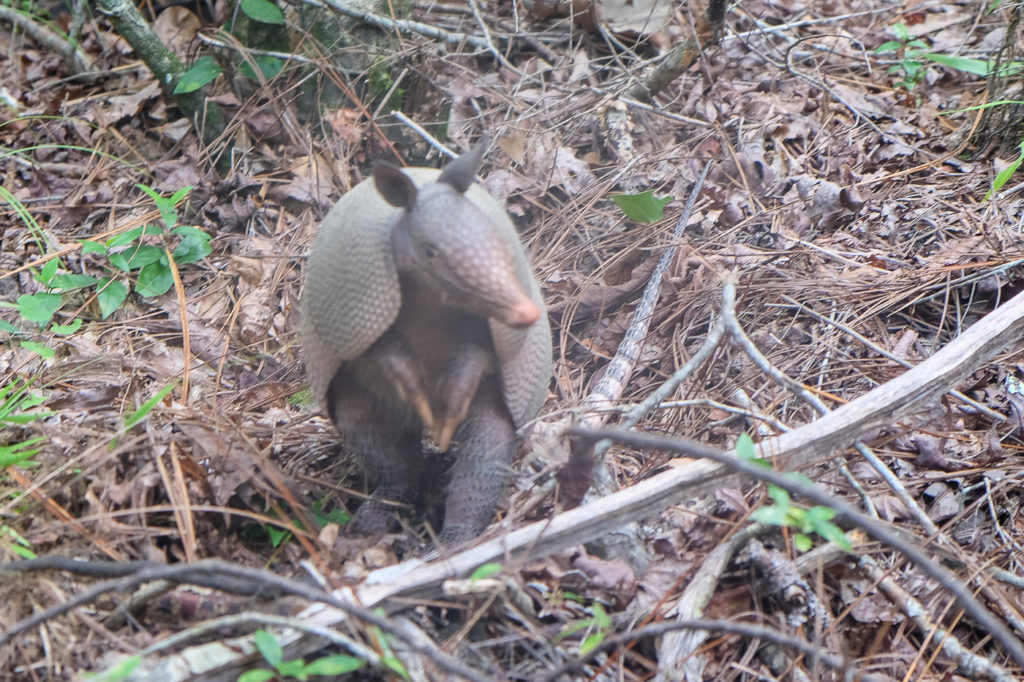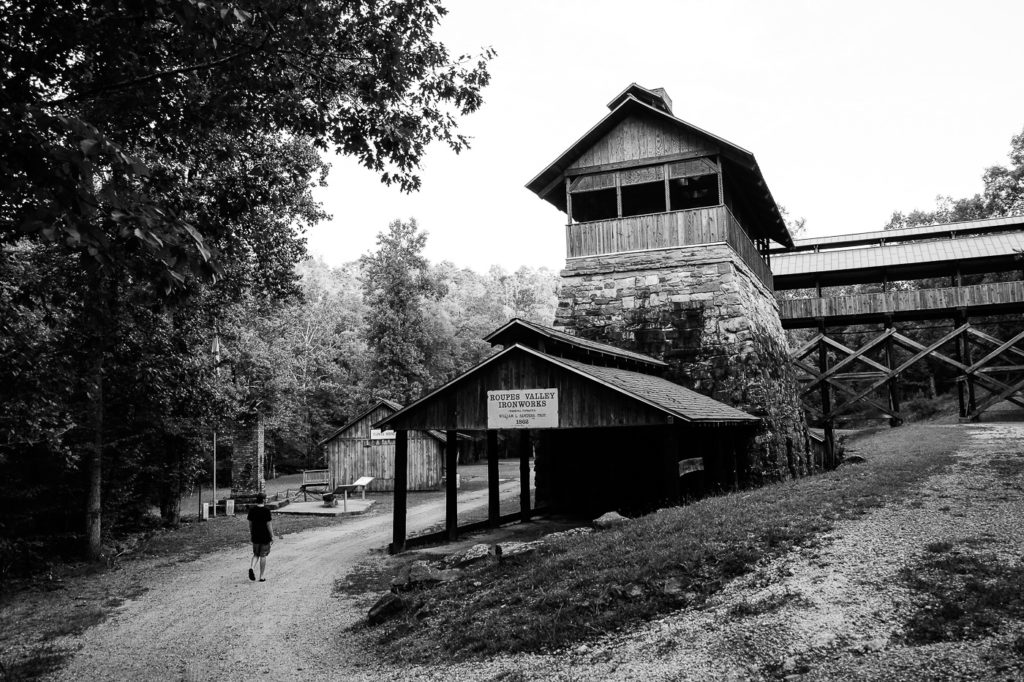 And that's it! Then we drove home! We're slowly settling back in….I'm both glad to be home and sort of restless already. But we have lots of shorter trips coming up and, of course, NEXT summer's trip to plan.
In case you missed any of the updates, here they all are:
Road Trip Post 1: starting off, St. Louis, etc.
Road Trip Post 2: South Dakota
Road Trip Post 3: Wyoming
Road Trip Post 4: Idaho, Oregon, N. California
Road Trip Post 5: San Francisco and the Grand Canyon