We drove by a lot of no hook-ups National Park campgrounds last summer, and I spent a lot of time gazing at them wistfully, feeling sad because we're just not set up for dry camping. And then driving for half an hour outside the park to wherever our private campground was.
But at Colter Bay RV Park, even the dry camping impaired can stay right inside the park! And in a campground less full of compromises than Fishing Bridge in Yellowstone. Colter Bay offers full hook-ups, spacious sites, and a fabulous location within easy walking distance of Jackson Lake.
Booking and Arrival
Colter Bay stays full all summer, so book as early as you can. They recommend booking "before January 1" on the website. 2018 rates are $71/night for pull throughs and $61 for back-ins (maximum total length 30 feet). Note that there is also, somewhat confusingly, a Colter Bay Campground in Grand Teton. That one doesn't have hookups and doesn't take reservations.
Our arrival was complicated only by an incredibly long bison jam when we were trying to leave Yellowstone. Once we made it to Grand Teton, things went very smoothly. There's plenty of room to park and a small building to go into to check in, where they lead you through everything and make sure you understand that you're very likely to be eaten by a bear during your stay.
Campsites
As is, apparently, my new pattern, I found all of two pictures on my phone of Colter Bay. Here's our site: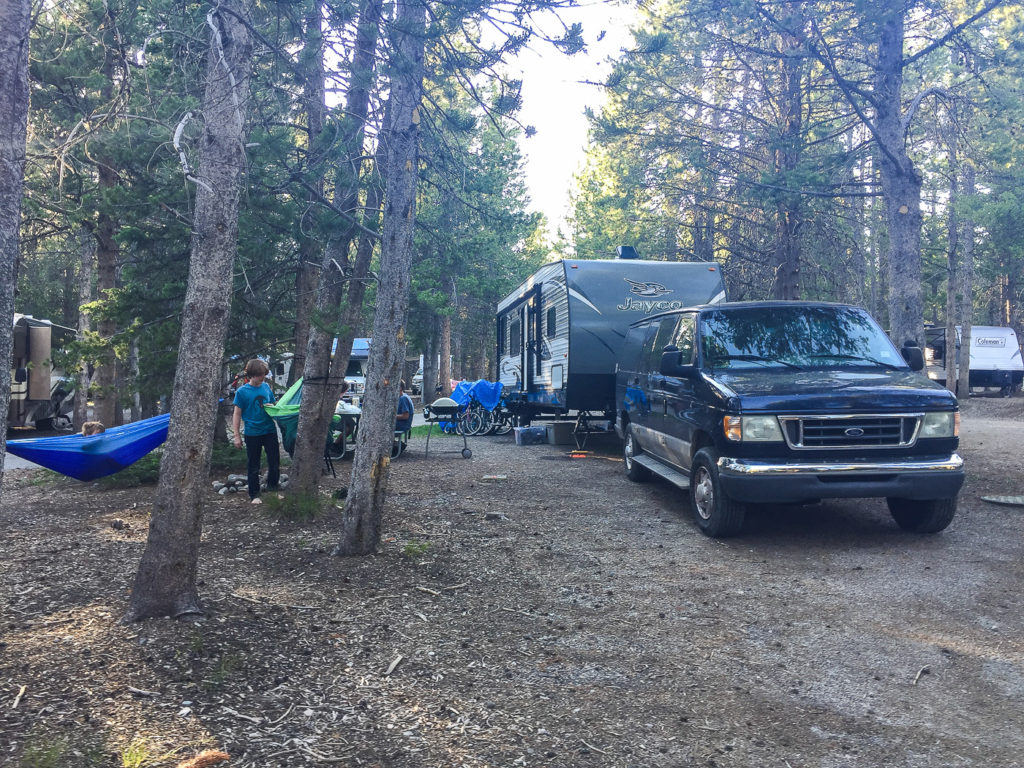 There are 103 sites at Colter Bay, mostly pull-throughs, and, as far as we could tell, they all look a lot like this: lots of trees and pretty spacious. Remarkably (or maybe not, since we did spend a lot of time in the desert later in our trip), I think this is the only stop on our whole trip where we found room to hang up our hammocks: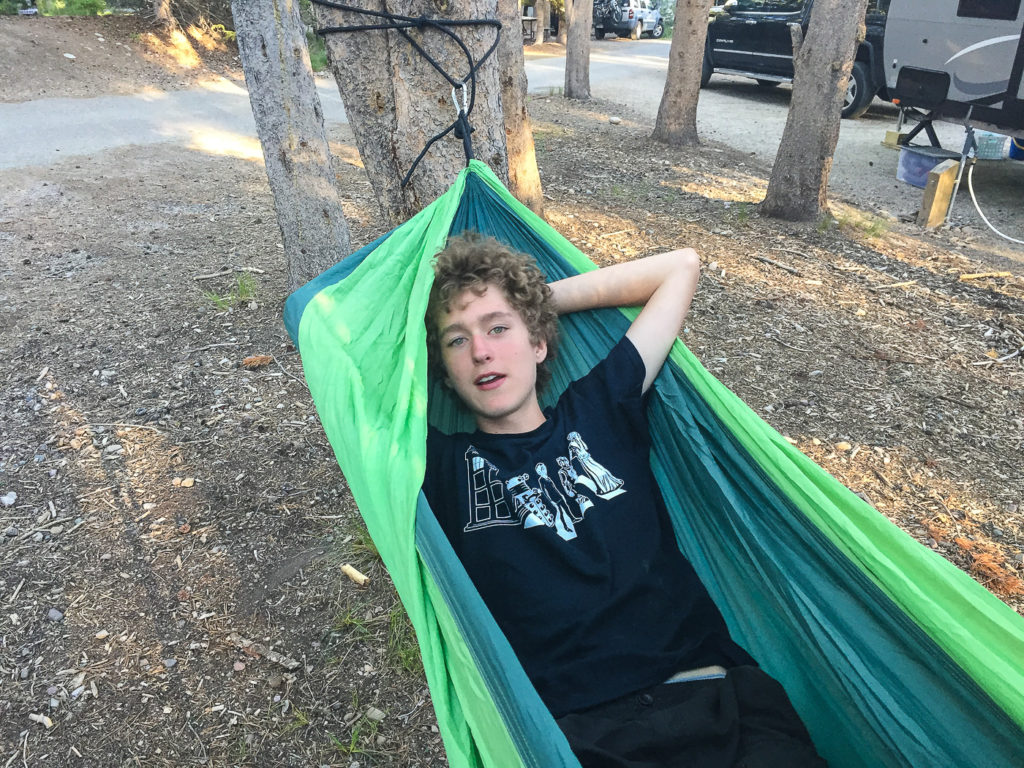 Sites are dirt; each site has a picnic table, but no campfires are allowed (the website says there are fire pits available near Jackson Lake nearby).
We noticed a Georgia tag in the site next to ours and struck up a conversation; it turned out our neighbors at the campground had also been our neighbors at home….they lived in the same town as us, but had just sold their house to RV full time with their two kids.
Amenities and Activities
The campground is in a great location within easy (5-10 minutes) walking distance from Jackson Lake and the Colter Bay Visitor Center and Marina.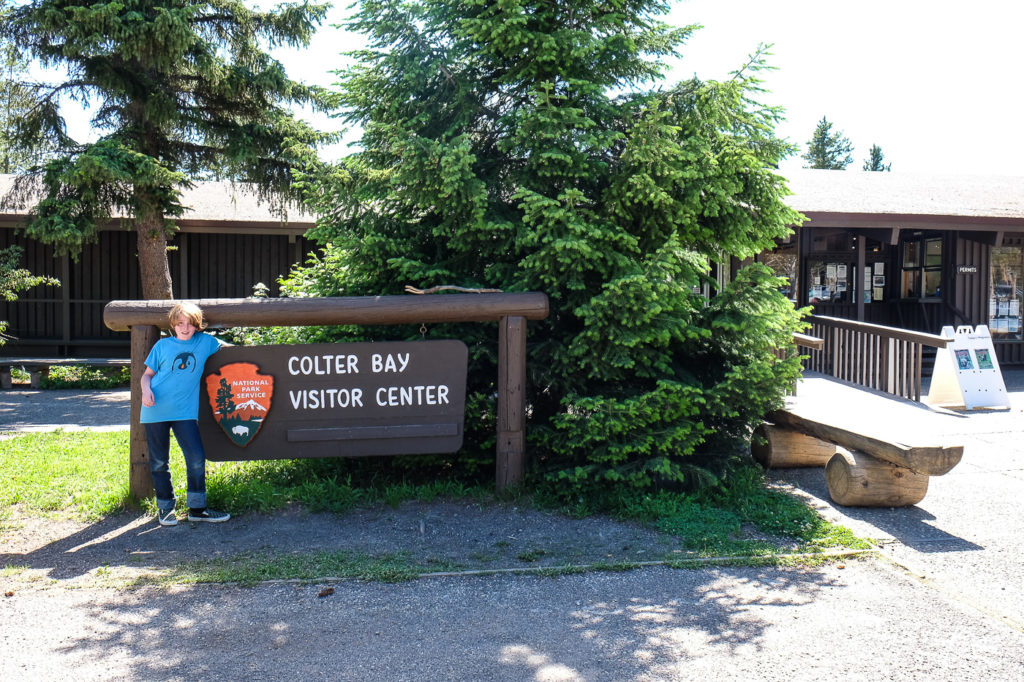 There are all kinds of activities over there: ranger programs (including nighttime programs), hiking, boat rentals, etc.
In the campground area, there's a building with laundry/showers (extra charge for both). We were told when we checked in that this is where you go for wifi, but when we went over there we couldn't get it to work well (cell service is also lacking here. Be ready to unplug!) We did spot a mother fox with her kits (pups? cubs? apparently you can call a baby fox just about anything) in the woods by the laundry building, and it was pretty much the most adorable thing EVER. They had the area roped off so that people wouldn't bother her too much, but there was a sizable crowd gathered right around the barrier gawking at her.
There's a surprisingly big grocery/souvenir shop in the campground; it's basically a full (albeit small) grocery store. The prices are (not so surprisingly) really high, though….so good for picking up something here or there that you've forgotten, but plan to do your full scale grocery shopping before you get here if you can. There are a couple of restaurant options in Colter Bay Village as well, but we didn't check them out so I can't tell you more than that they exist.
You can read all about the stuff we did while we were staying here in my Grand Teton post.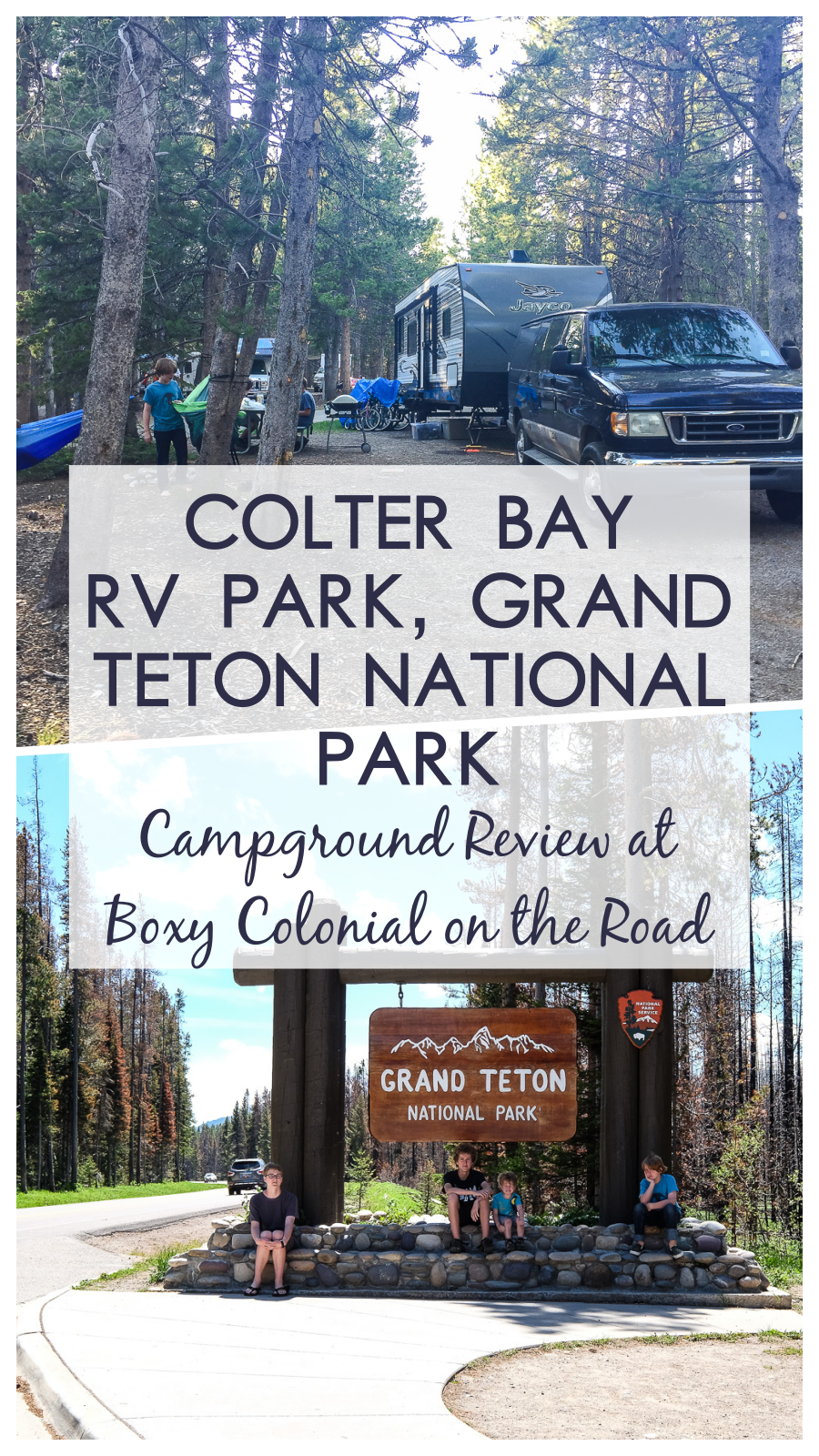 SaveSave