travel dates: June 15-21, 2017
What I remember most about the planning process for the Yellowstone part of our trip is that I found it completely overwhelming. I'm not sure if you've heard the rumors, but it's true: Yellowstone is BIG. And we had six nights planned there, making it one of the longest stops on our trip. So much to plan!
But today I'm here with a reassuring message for those of you planning your own Yellowstone trips: don't panic! It will all be okay!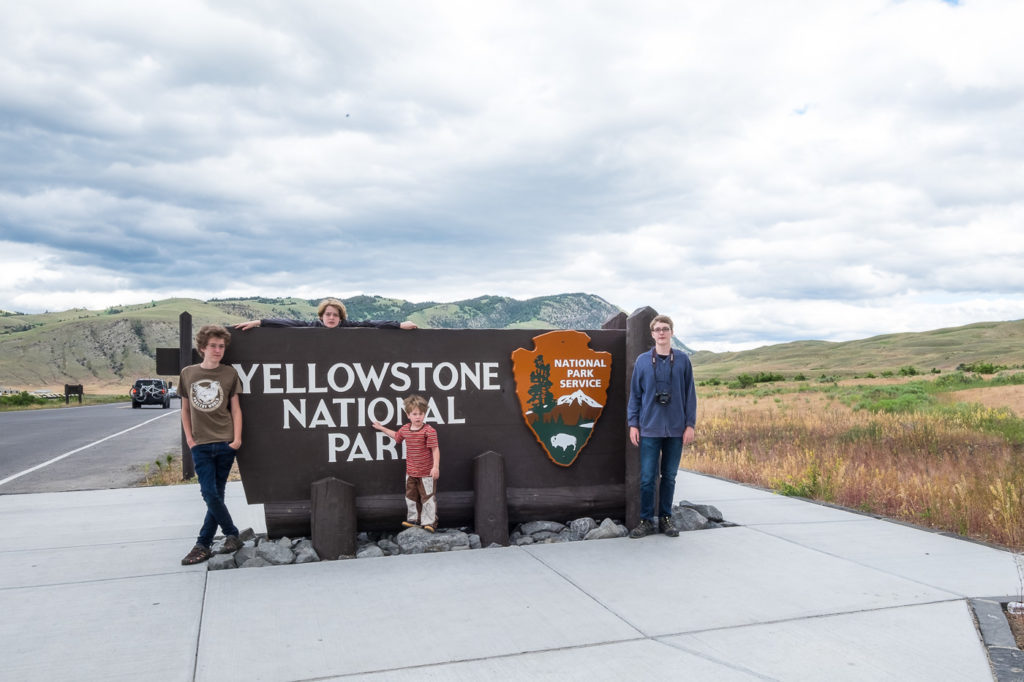 Because another thing that's true about Yellowstone is that your trip there kind of already got planned for you over a hundred years ago by the people who laid out the roads and built the hotels; the major tourist areas, with their grand, historic lodges, are all designed to be a day's travel by wagon away from each other, with smaller stops for a lunch break in between. At least your first, overview-ish kind of trip. You could, of course, spend your whole life revisiting Yellowstone and keep finding new things to see. But if you're going for a few days and you've never been before, you're probably going to want to mostly see the big things that everyone sees (with maybe a few off the beaten path things thrown in) and this is perfectly okay; there's a reason everyone sees those things–they're pretty cool. In a lot of ways, a Yellowstone itinerary is actually easier to plan than some other, smaller national parks–both because it's laid out so logically and because so many people have already done the planning work for you.
And now, after telling you about the overwhelming amount of Yellowstone planning information that's already floating around out there, I'm going to add just a bit more to the mix. Because if there's one thing Yellowstone taught me it's that more is more.
Planning resources:
…you know, aside from this blog post. We kept the Moon Guide to Montana and Wyoming (affiliate link; if you buy something after following my link, I get a small commission, but you don't pay any more) handy and found it very helpful. I really enjoyed Kerri from Travels with Birdy's whole series of posts about Yellowstone, including this one about planning your trip. And, finally, I spent a lot of time perusing this exhaustive run down of driving your RV to and around Yellowstone. And we didn't crash once, so I guess it was worth it!
How long to stay:
As long as you can. We had five full days, and that felt like a good length of time for hitting highlights without running ourselves ragged. We could have used more time, but, on the other hand, a Yellowstone trip involves a LOT of driving and, usually, a lot of big crowds, both of which can get tiring when you're doing them day after day. After five days, we didn't mind a change of pace. That said, if you only have a couple of days (or even one full day) to devote to Yellowstone as part of a longer trip, it's definitely still worth it. You won't see everything, of course, but you can pick the area you're most interested in and have a very impressive day or two getting a taste of the park.
Where to stay:
This is an important and daunting question and how you answer it has a lot of power to shape your trip. The basic decision to make, if you're staying more than a couple of nights, is whether to pick one base camp and stay put or to divide your time between different areas. (I'll be talking about RV camping specifically, since that's what we were doing, but the same basic issues apply if you're staying in hotels). You'll also need to decide whether to stay inside or outside of the park. There are advantages and disadvantages all around, but we decided to split our time between Fishing Bridge inside the park and Yellowstone Grizzly RV Park just outside the park, in West Yellowstone, and this worked out really nicely for us.
Fishing Bridge is close to the middle of the park going north to south and on the eastern part of the loop road. West Yellowstone is immediately outside of the western entrance to the park. Dividing our time between these two spots naturally lent itself to spending a couple of days exploring the eastern half of the park and the rest of the time on the western half. Similarly, you could choose one base camp in the northern half of the park and another in the south. The advantage of picking two (or more) different places to stay is, of course, that you can do less driving to get to different points in the park. It's just a matter of deciding whether this outweighs the disadvantage of having to pack up and move partway through your trip.
Inside vs. outside the park? Well, if you're in an RV and you want hookups, your only inside the park option is the no-frills Fishing Bridge. If you don't need hookups, you have more options, depending on how long your rig is and how early you make reservations or how early you can get up for a first come first served site. Outside the park, both Gardiner and West Yellowstone are towns immediately outside the gates with some good options. We liked West Yellowstone both for its proximity and for itself…it's a nice little town with restaurants to eat at and things to do if you want a break from the park.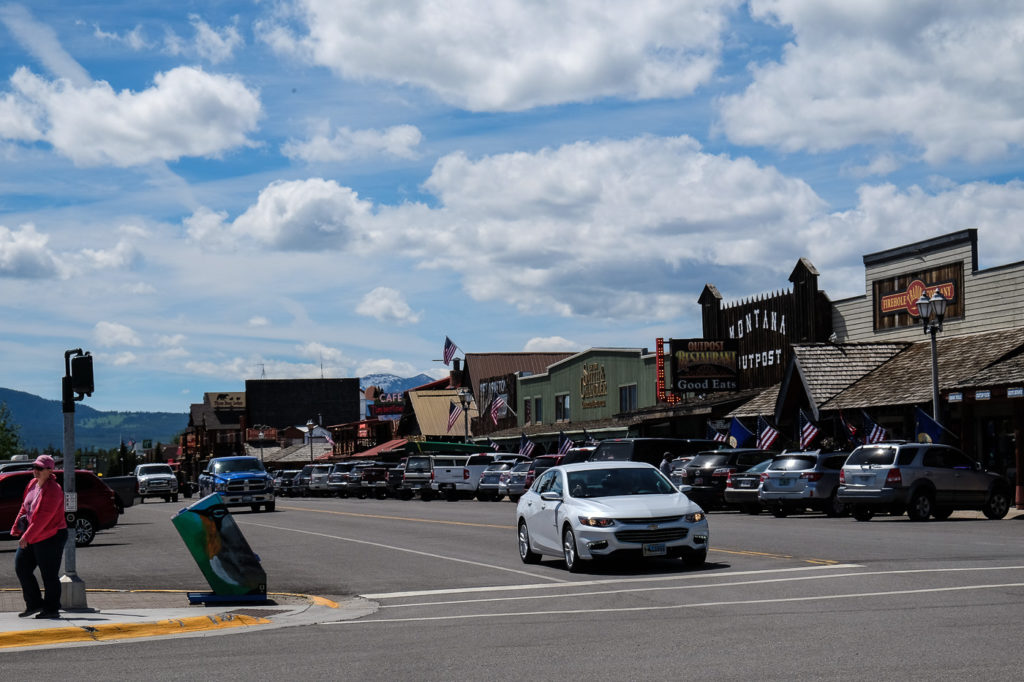 Planning your time:
If you look at a map of Yellowstone, you'll see that the main way to get around in the park is a figure 8 shaped route, with a number of main stops along it, called the Loop Road. Planning an itinerary (again, especially for a first trip where you want a good overview of the main attractions) basically involves dividing that loop up into manageable sections and deciding what and how much to cover in a day.
For us, since we were staying on the eastern half of the road for our first few days and near the western half for our last few, we divided things into east and west. Our first day in Fishing Bridge, we went north and saw the northeast section of the loop road; the next day we went south and saw the southeast. Then from West Yellowstone, we spent a day seeing the northwest part of the park and a day in the southwest. We thought we'd have one more day, but a sick kid meant there was one day we didn't get into the park at all.
If you have less time, you might want to try to cover the entire north loop in one day and the south loop another–or you might decide to focus on a few stops and not make it to everything on this trip. Yellowstone's website is fairly easy to navigate and will give you a good run down of what there is to do in each area so that you can prioritize what you're most interested in seeing.
Be prepared for:
*driving: lots of it. There's just no way around it unless you pick one small area to explore. It's a huge park, and it takes a long time to get around. Aside from the massive distances, there's also traffic (caused by both humans and animals) and sometimes construction to contend with.
*crowds: I'd heard all about the crowds at Yellowstone, but I thought maybe all these reports were just from people who'd never been to Disney World. How could it possibly be all that crowded? It's in the middle of nowhere! But there's no hyperbole going on; it really is that crowded. We thought we'd miss the worst of it by being in Yellowstone mid-June, still the shoulder season, and I guess we did–which just means that I'd hate to see it in July or August. The principles are similar to Disney touring: get places early in the day and go in the off season if you can (harder at Yellowstone than at Disney, since Disney isn't covered with many feet of snow much of the year).
*weather: unpredictable. We had all kinds of weather in our 5 days in mid June–from rainy and very chilly to sunny and almost uncomfortably warm. Pack for all kinds and be ready to explore even when it's nasty out–our rainy day was also our lowest crowd day by far.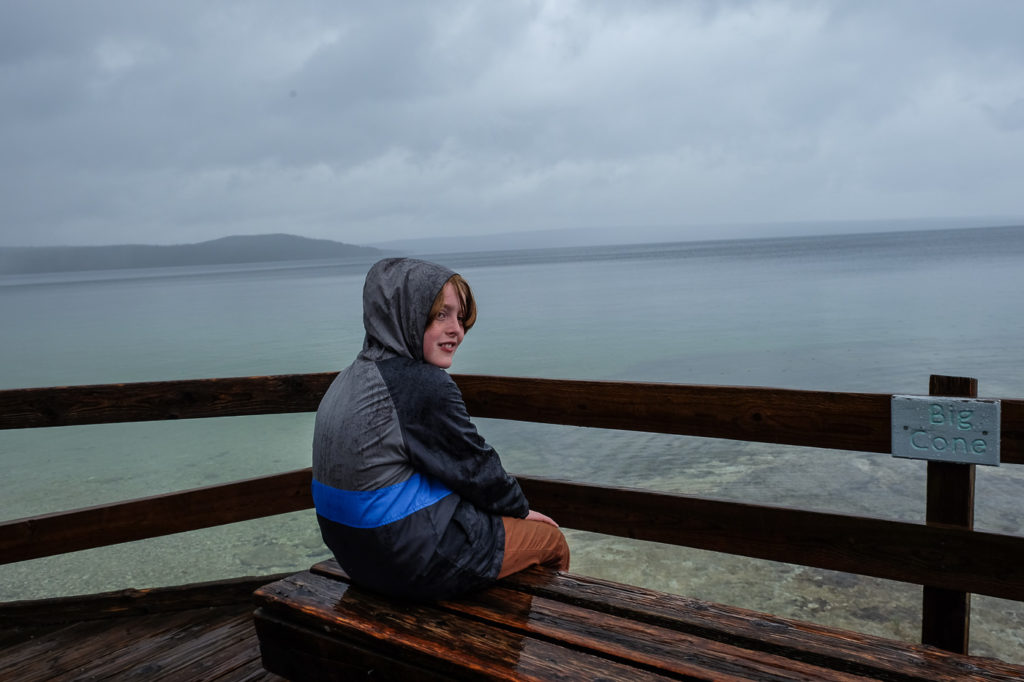 so there's my quick, my no means exhaustive, guide to Yellowstone planning. I have at least four more Yellowstone posts coming up (one on the eastern half of the park, one on the western, a review of Fishing Bridge, and one about West Yellowstone and Grizzly RV park), so there's lots more information to come!
maybe you would like to pin this?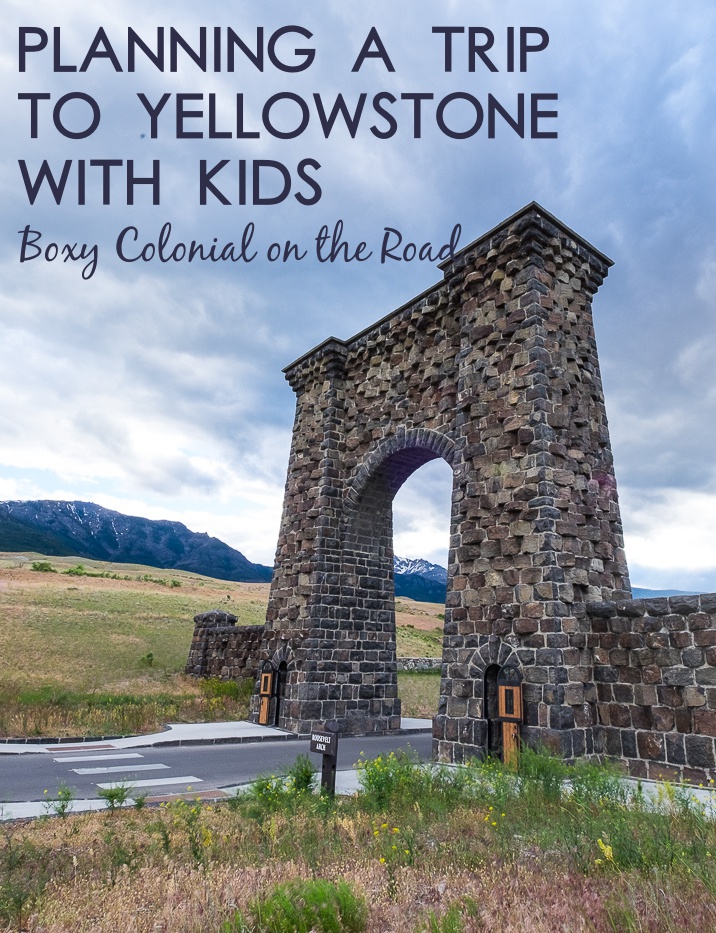 SaveSave
SaveSaveSaveSave
SaveSaveSaveSave
SaveSave
SaveSave
SaveSave