I'm just going to come right out and say it: Crazy Horse Memorial is kind of a weird place. I didn't know quite what to make of it, and I'm not sure it knows quite what to make of itself. More than anything else–more than a tribute to its namesake or to Native Americans in general, more than a work of art–the site seems to be a giant, living mediation on the whole idea of legacy (planting seeds in a garden you never get to see and all that).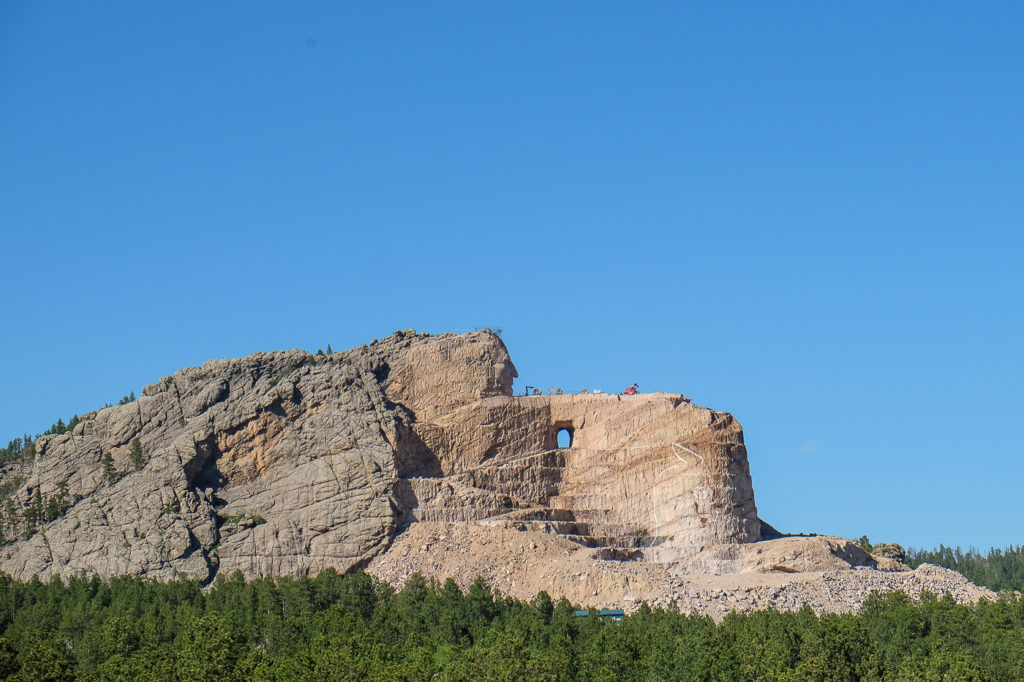 I remember reading about Crazy Horse as a kid–seeing photos of the unfinished sculpture, looking then remarkably like it still looks today, and reading about how it would be the biggest sculpture in the world when finished.
Or if finished.
Work on the sculpture started in 1948, after Chief Henry Standing Bear, then leader of the Lakota tribe, commissioned Korczak Ziolkowski to create it in response to the nearby Mount Rushmore. "My fellow chiefs and I would like the white man to know the red man has great heroes also," he wrote.
Fair enough, but not everyone within the Native American community agrees that carving up more of the sacred Black Hills was the best way to inform the white man about this.
And then there's also the somewhat unsettling feeling that Crazy Horse Memorial seems at least as interested in memorializing sculptor Korczak Ziolkowski as Crazy Horse. Many of the exhibits focus on the eccentric sculptor, his other works, and his life working and raising his big family in the Black Hills; this was fascinating, but I definitely left with a much better feel for Ziolkowski than for Crazy Horse himself. It might be an inevitable conflict; no matter what the subject matter, it takes a pretty big ego to want to be the guy who carves the biggest sculpture in the world into the side of a mountain.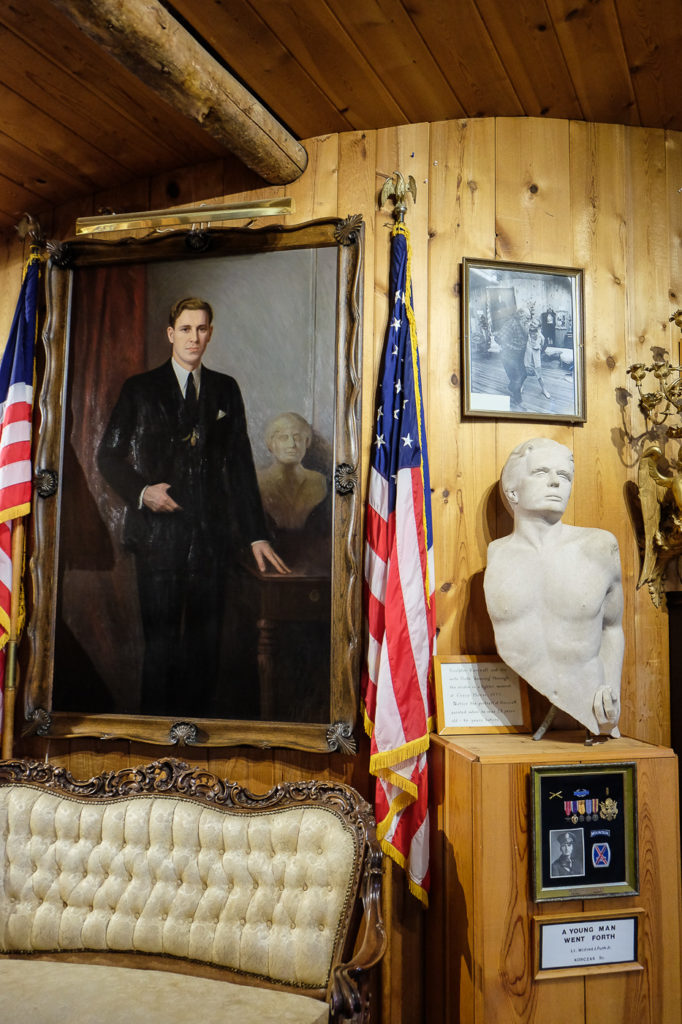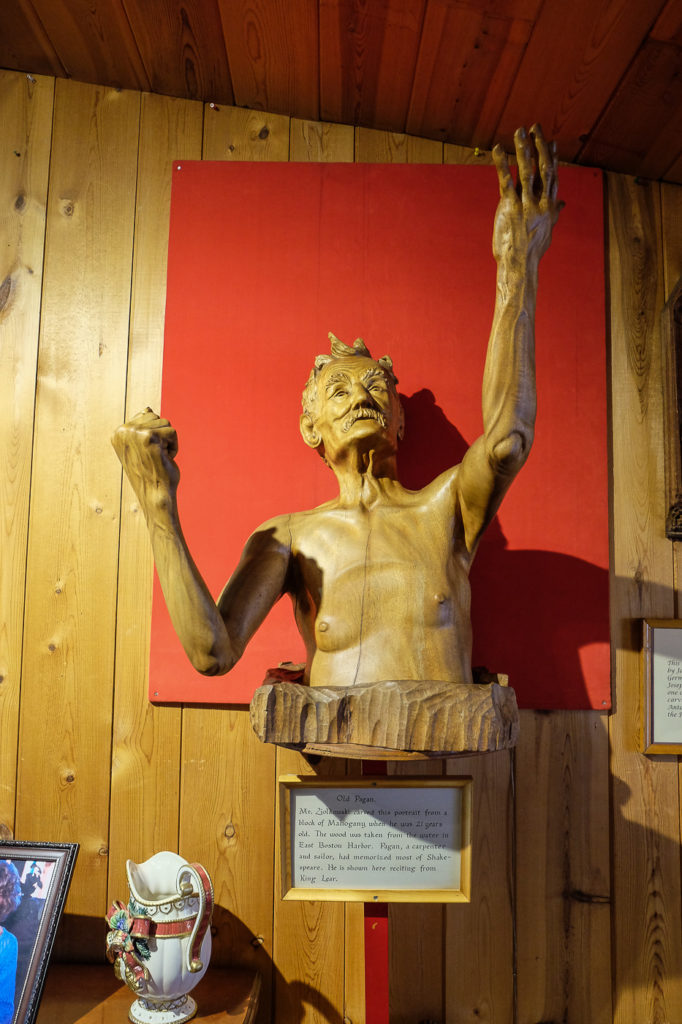 Ziolkowski worked on the sculpture until his death in 1982; since then his wife and many of his ten children have continued the work, relying solely on donations and admission fees to fund the project. There is no deadline for finishing the sculpture and no pretense that it's going to be any time soon.
The closest you can get to a finished sculpture is this model (with the actual work in the background):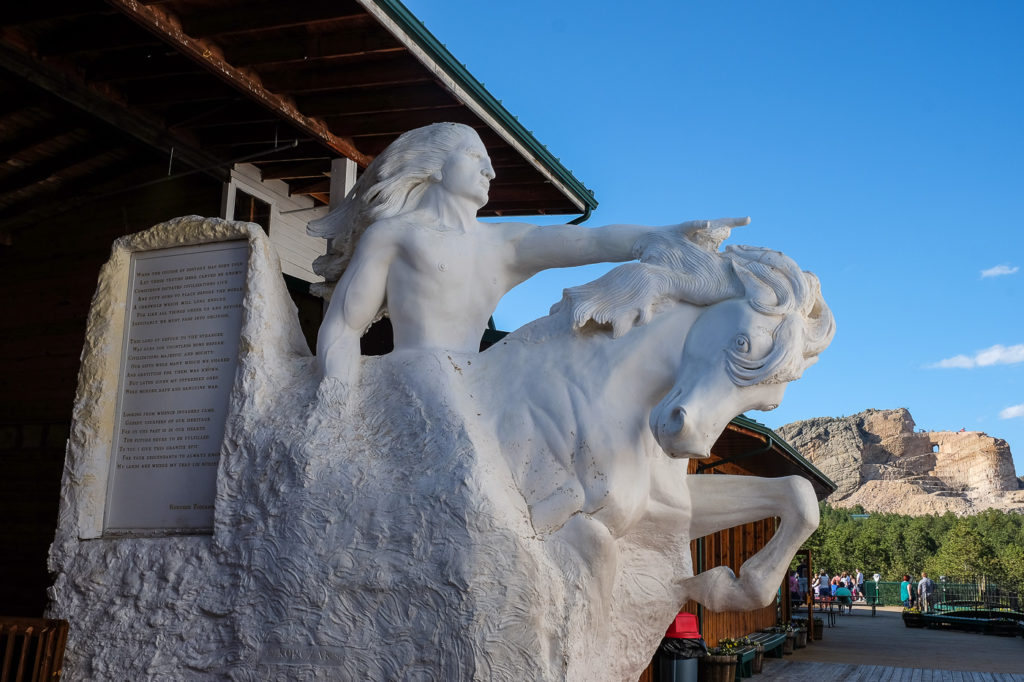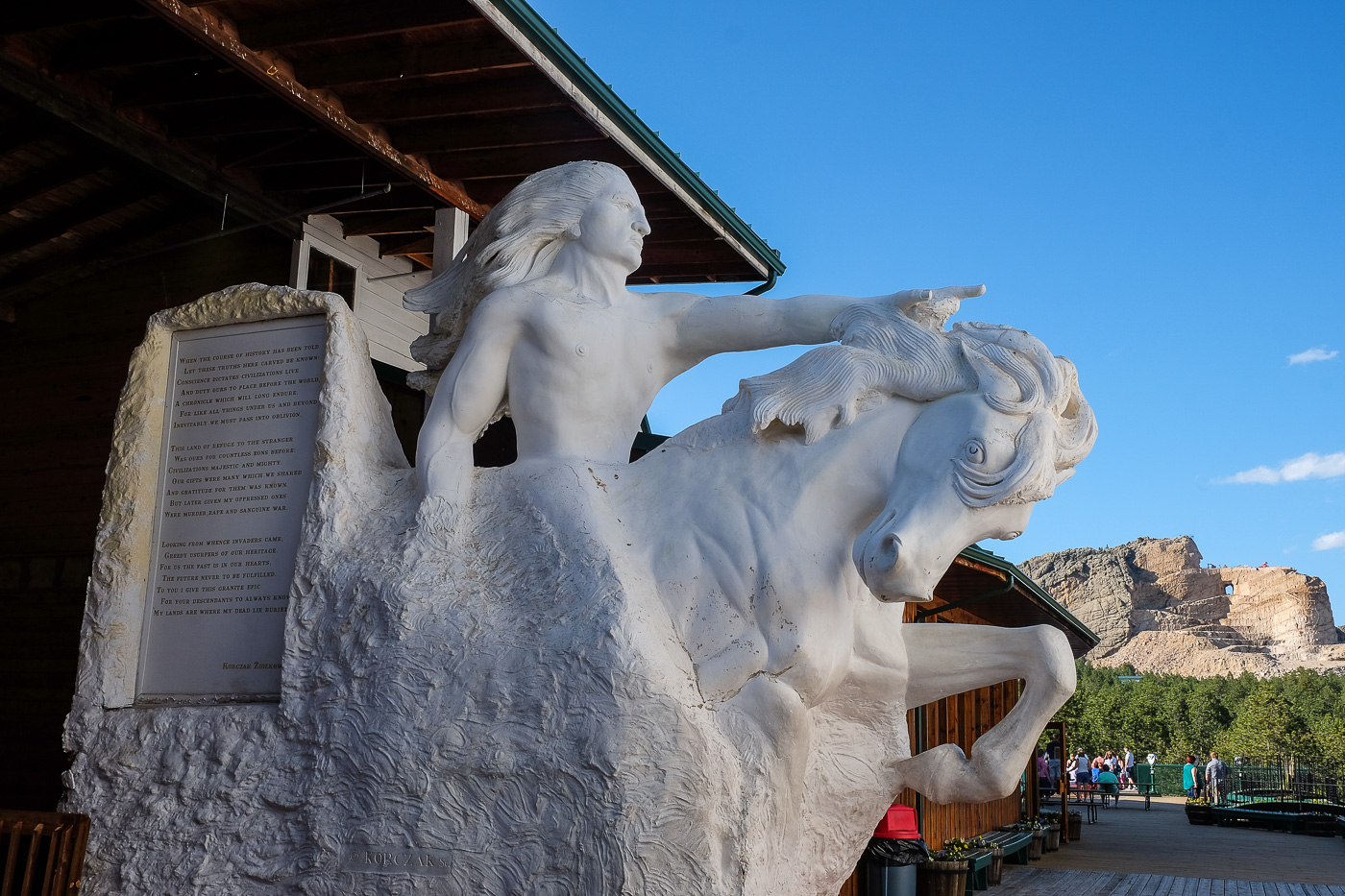 It's very different from Mount Rushmore, where you're very close to the base of the sculpture and able to see it from many different angles. At Crazy Horse, the sculpture feels quite remote unless you pay  an extra $4/person for a bus ride to the base of the memorial.
We were here at the tail end of our Black Elk Peak hike day, so we weren't up for more than the ordinary admission package, which is $30 per carload and includes the long distance monument viewing, a film on the history of the memorial, and several exhibit halls. When we were there, there was a group performing traditional Lakota dances on the pavilion in front of the sculpture: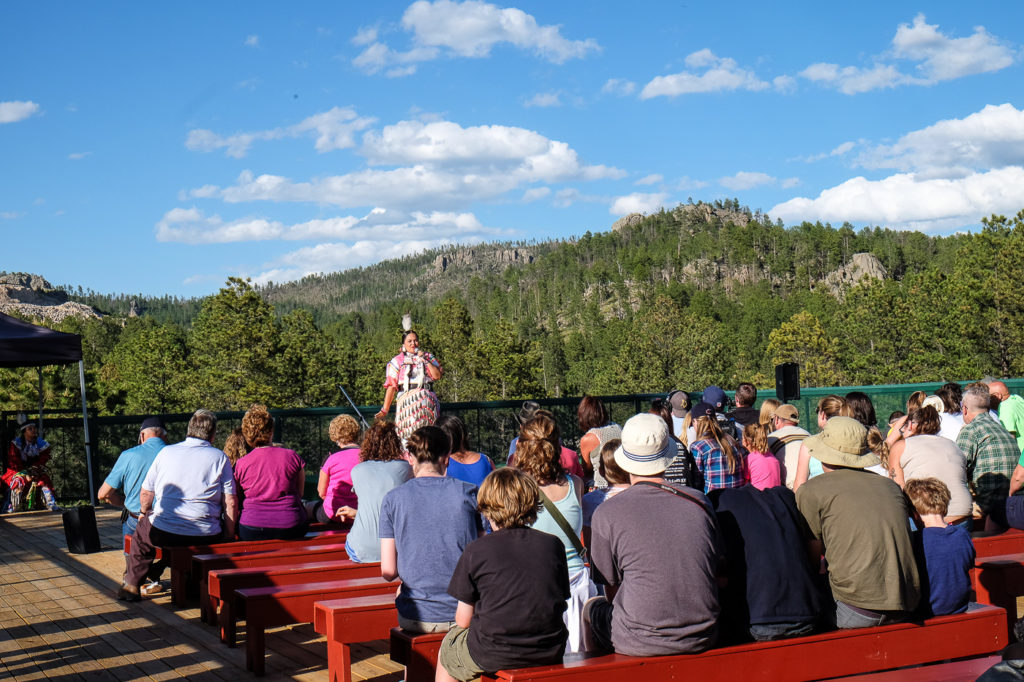 People tend to go to Crazy Horse because it's the other giant sculpture to see when they visit Mount Rushmore. But is it worth it on its own? I don't know. Honestly, the admission cost is a little steep for what it is (especially if you're not getting a quantity discount by having 4 kids in your car like we were). And the sculpture itself is underwhelming in person, at least when viewing it from a distance like we were. But it's a fascinating site. I'm not sure what to think about it: a noble mission with a flawed and controversial execution. A work of art in progress that seems to exist to be a work in progress; it's impossible to think the sculpture will be completed in any of our lifetimes.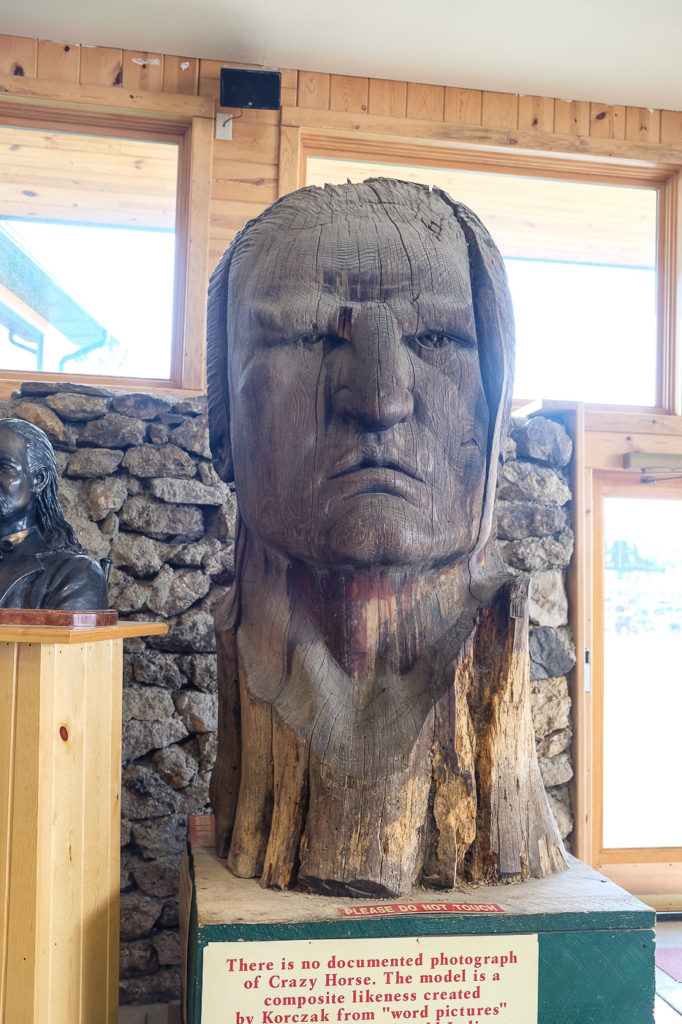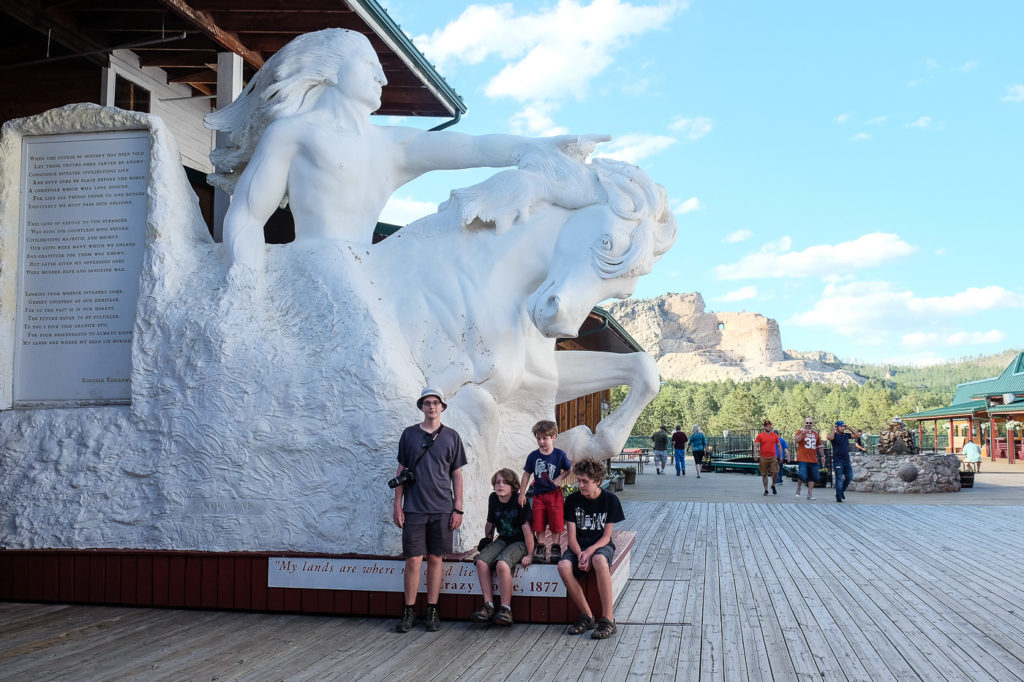 The folks running the site today seem cognizant of how problematic it is, and there's definitely an attempt to focus on Native American culture and art in the museum spaces.
But it's still hard to visit without wondering what–and whom–it's all for. Crazy Horse seems to have a vision grander than itself, with a timeline to completion that leaves the pyramids in the dust and is on pace to do the same to the Great Wall of China. And the hopes for its eventual legacy seem to aim just as high: Seth Big Crow, great grandson of Crazy Horse's aunt, muses, "Maybe 300 or 400 years from now, everything will be gone, we'll all be gone, and they'll be the four faces in the Black Hills and the statue there symbolizing the Native Americans who were here at one time." (source)
Maybe.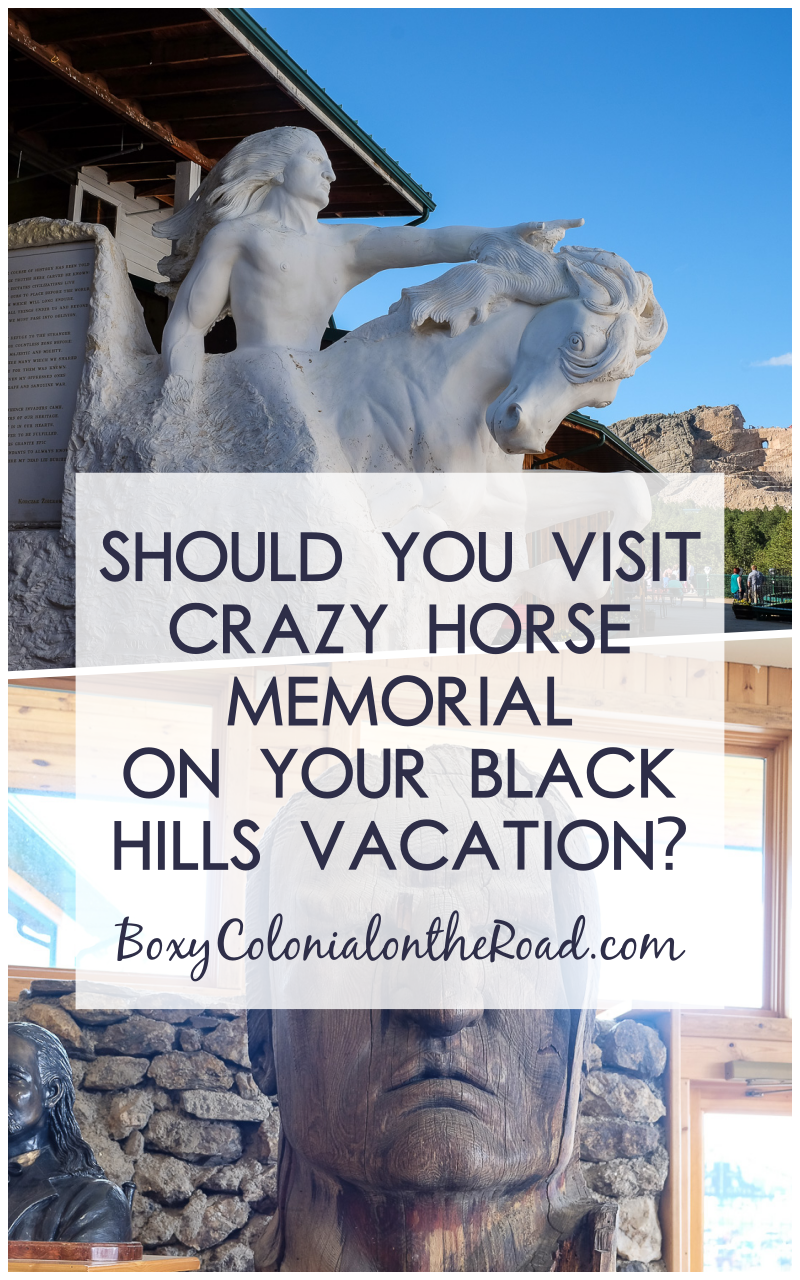 SaveSave
SaveSave