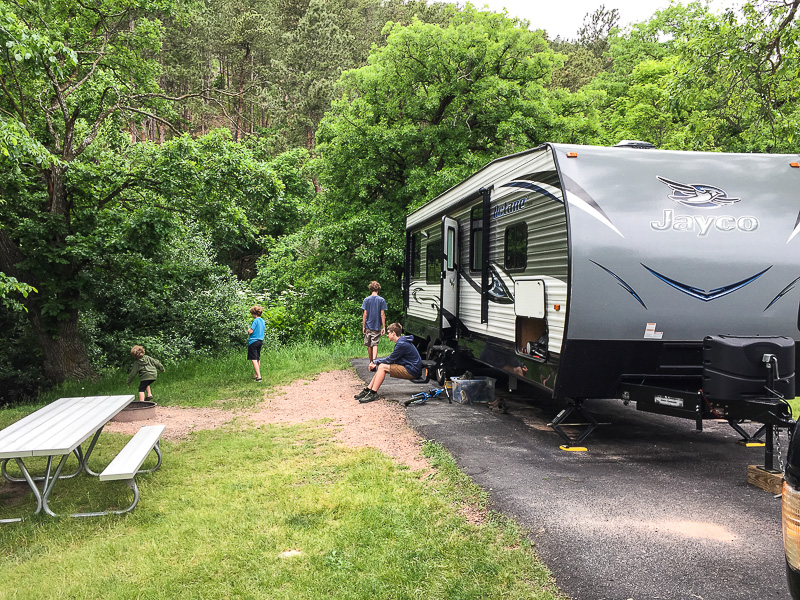 Travel dates: June 7-12, 2017
The Black Hills is one of those happy locations where the problem isn't finding a good campground, but narrowing the many great choices down to one. Or two or three if you want to move around the area. We were coming off of a string of one and two night stays, though, so we were ready to settle in for awhile.
We came very close to booking Rafter J, largely on the strength of Kerri from Travels with Birdy's recommendation; it looked great and had the central location we were looking for. But Game Lodge Campground in Custer State Park had really glowing reviews as well, and it ultimately won out because choosing it over Rafter J saved us something like $200 over the five nights we were there….and when you're staying at million or so campgrounds over the course of a two month trip, a couple hundred dollars here and there really adds up.
There are several campgrounds in Custer State Park; at first I had Bluebell Campground booked, but then I did a bit more research and realized that Game Lodge is the only campground in park with a dump station nearby (in fact, there's one actually in the campground AND one just next door off the main park road). This was important because the main thing you're sacrificing by staying at Custer State Park instead of one of the private campgrounds nearby is full hook-ups. Electric only at Game Lodge. But we have a new trailer with big tanks, and we also had a new blue waste water tank, and were fresh off a successful two night electric only stay in the Badlands, so we were ready to give a longer stay a try. Incidentally, we made the drive to the Bluebell area to eat at the restaurant there, and I was really glad we weren't pulling the trailer; that area is considerably more remote and the roads there considerably more….scenic than to Game Lodge.
Booking and Arrival
We booked back in October for our June stay. You can book up to a year in advance, so we weren't hitting it on the first day of the reservation window or anything, and we had no trouble finding a spot. That said, we were there in early June. I just put in some dates for a random weekend in July next year, and there are only four sites available that would fit our trailer (as I write this in early October)….so book as early as you can, particularly if you're looking to be there in the heart of summer.
When you arrive in the park, you pay the $20 entrance fee good for up to 7 days (if you're staying long than a week, an annual pass is $30), and the people there will direct you to your campground (if you're only staying a night or two, in particular, the $20 fee is going to have a significant impact on how much you pay for your stay….unless of course you would have visited Custer State Park either way, which you should, for reasons I'll talk about in my next post). Campsites with electric are $25/night.
Game Lodge Campground is close to the eastern entrance to the park. Before we went in and found our campsite, we filled up our freshwater tank at the dump station just outside the campground. At the campground, there's nowhere to check in (there is a camp host, who was usually around and very helpful when we were there), so you just drive around and find your site and set up.
Campsites
We had Site 47E, and we were really pleased with it. It's a nice, spacious site that backs up to a creek and has a good bit of shade (a lot of the campsites are pretty much in an open field with little to no shade). They have photos of all the sites online when you book, so you can get a good idea of what you're getting. Despite the elevation and how far north the Black Hills are, it was very hot while we were there, and we were glad to have some shade.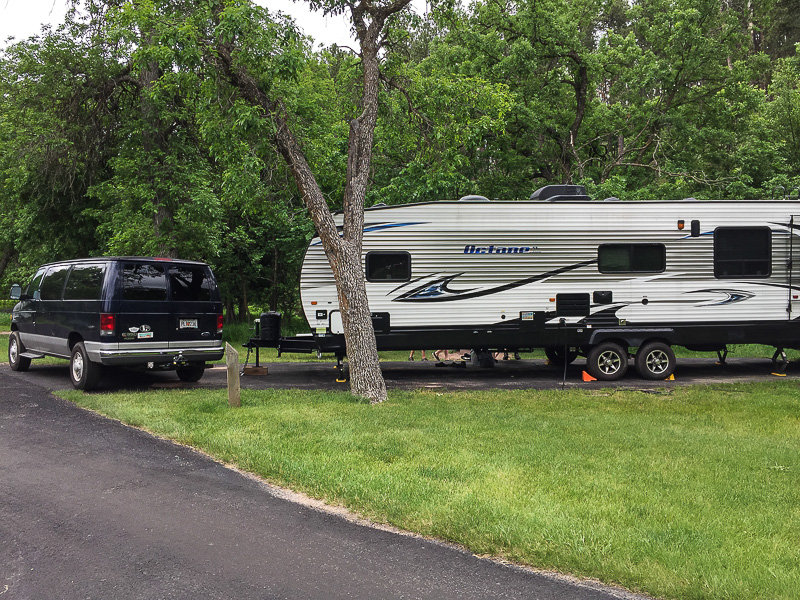 All of the sites are well spaced with asphalt pads and picnic tables and fire rings. Some are tent only, and there are also several camping cabins scattered around the campground.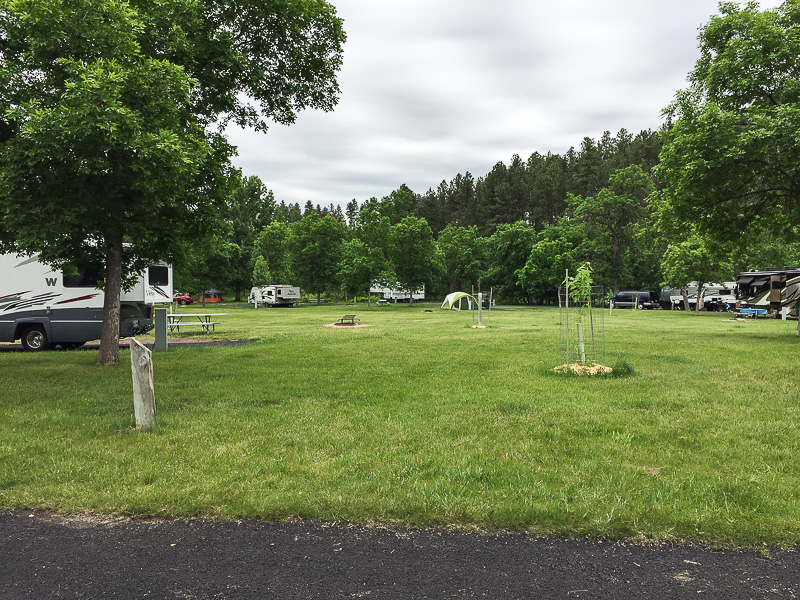 Amenities and Activities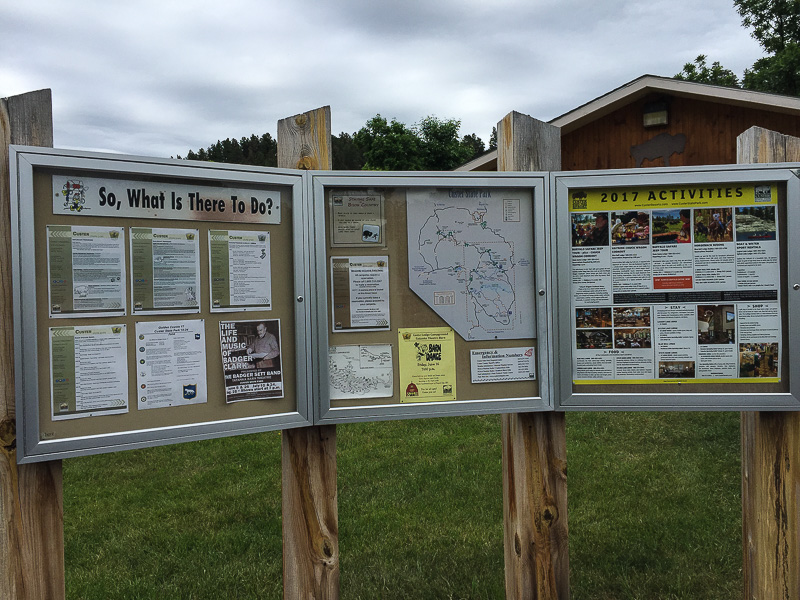 I'm going to talk more about Custer State Park as a whole later on and focus just on the campground itself for this post. There are two bathhouses here; they're very clean and nice, with free showers, but one quirk is that the showers are set up so that you push a button to start them, and then you can't adjust the temperature and they cut off automatically after a few (3? 5?) minutes. You can push the button again at that point and get more water, but all of us found that one push didn't give us quite enough time but two pushes gave us way too much. So we ended up using more water than we would have left to our own devices, since there's no way to stop the water when you're finished (as far as we could tell). A minor, but annoying little inconvenience.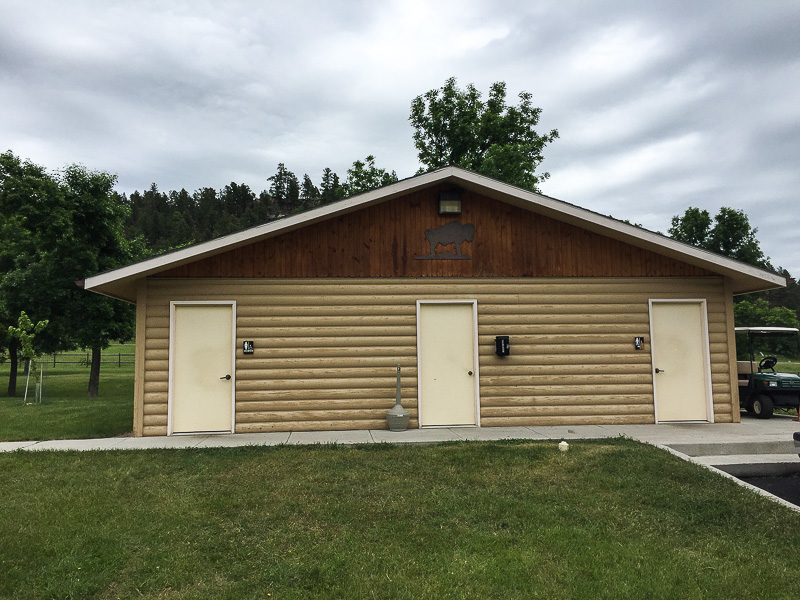 There's a laundry room located near the center of the campground, which we used and had no problems with. There's no store inside the campground, but there is one within walking distance (along a nice walking path) near the State Game Lodge Inn. You can also walk to the restaurant at the inn (it sounded a little upscale for our crowd, so we didn't make it there) and the very nice visitors' center.
At one edge of the campground, the Tatanka Theater offers nightly activities in summer. We saw a movie there (about the park's annual bison roundup) one evening, and we noted that there are also concerts and ranger programs. At least one night, a ranger went around the campground to make sure everyone knew the program was about to start.
Local Area
I'll talk much more about everything we did in the Black Hills in later posts, but we picked Game Lodge Campground because it has such a central location for all the things we wanted to do. There's the excellent Custer State Park itself, of course, but it's also within easy striking distance of Mt. Rushmore and Crazy Horse, Rapid City, and attractions to the south like Wind Cave National Park and the Mammoth Site. You'll do a good bit of driving if you want to see all of these things, but nothing is too far away, and very often the drive to get there is an attraction all by itself.
Overall, we had a great stay here. I mentioned that it was very hot while we were here; some days it was close to 100 in Rapid City, but the elevation in the park cooled things off just enough for it to be bearable at the campground. Everyone was helpful and friendly. We had a long, lovely chat with the campground host one day. Another day, a park ranger drove by and stopped when he saw Abe to talk with him and give him a ranger badge.
And we got along just fine without hookups! Yay big tanks! We did use our blue tote thing to empty the gray water once, but if we hadn't had that along we would have managed fine (as it was, we even took a couple of Navy showers in the trailer and still didn't need to empty the gray tank until the day before we left).
I'd still love to check out Rafter J and maybe some other options in the area someday, but if you're looking for a bargain and can manage without full hookups, Game Lodge Campground is a wonderful option.
Maybe you would like to pin this?