Travel dates: June 5-7, 2017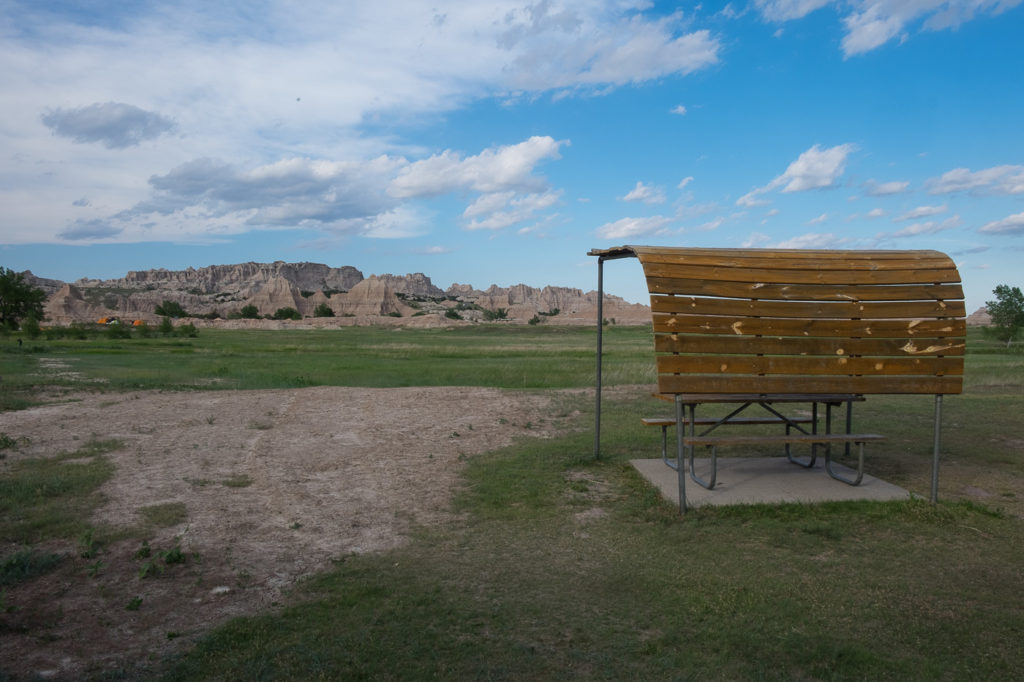 We passed by a lot of National Park campgrounds this summer because most of them don't have hookups, and we're not set up for not having hookups. So when we got a chance to stay at Cedar Pass Campground, inside the actual park in the Badlands, complete with electric hookups, we jumped on it. And we were rewarded with that gorgeous view up there from our site and a super convenient location for exploring the National Park.
Booking and Arrival: 
I'm trying to remember how far in advance we booked Cedar Pass, and I can't, but I know it was a long time before our trip. Like late last summer or early fall. The woman on the phone assured us she was giving us a great site, and you can see our view up there, so she wasn't lying (we had site #24). Electric sites are $37/night; sites without hookups are $22. My notes tell me that we got $10 off per night with our National Parks pass as well.
The Badlands are very easy to get to from the interstate and Cedar Pass is a few miles in along the main road in the park. There's a drive through booth where you check in, which makes things pretty quick and easy.
This was our first experience with not having a water hookup at our site, but our toy hauler can hold 90 gallons of fresh water, so we figured it would all be fine. We went to the dump station when we got there where they have water to fill your tanks and started filling up. It took FOREVER. I kept checking to see if there was a leak somewhere, because the sensor wasn't budging and we didn't seem to making any progress. We would not be sure until our next campground without a water connection that the agonizing slowness was the fault of the Cedar Pass hose and not just the way things are. Anyway, we finally got the water tanks fullish (at least enough for the two nights we'd be staying) and made our way to our campsite.
(Incidentally, this would not be our only issue here with not having a water hookup and needing to use our water pump. Once we got set up, we discovered our water pressure was an ineffective trickle and, after much troubleshooting, discovered that the problem was a hose with a kink in it under the trailer. A trip to the hardware store in not particularly nearby Wall and many uncomfortable minutes under the trailer and Dave managed a fix for it).
Campsites: Most or all of the sites here are pull off sites along the loop road, so you want to pay attention to which side of the loop you stay on. If you play your cards right, your door opens up onto an unobstructed view of the Badlands.
We had Site #24, and it was a great one for the view, but we did have a little trouble getting into it, mostly thanks to the posts all along the edge of the site. These are there so that you stay on the asphalt, but they made it surprisingly tricky to maneuver into the site and get close enough to the edge without getting stuck on a post. We spent a long time going back and forth trying to get it perfect before deciding that we were out of the road and could reach the electric hookup, so it was just going to have to be good enough: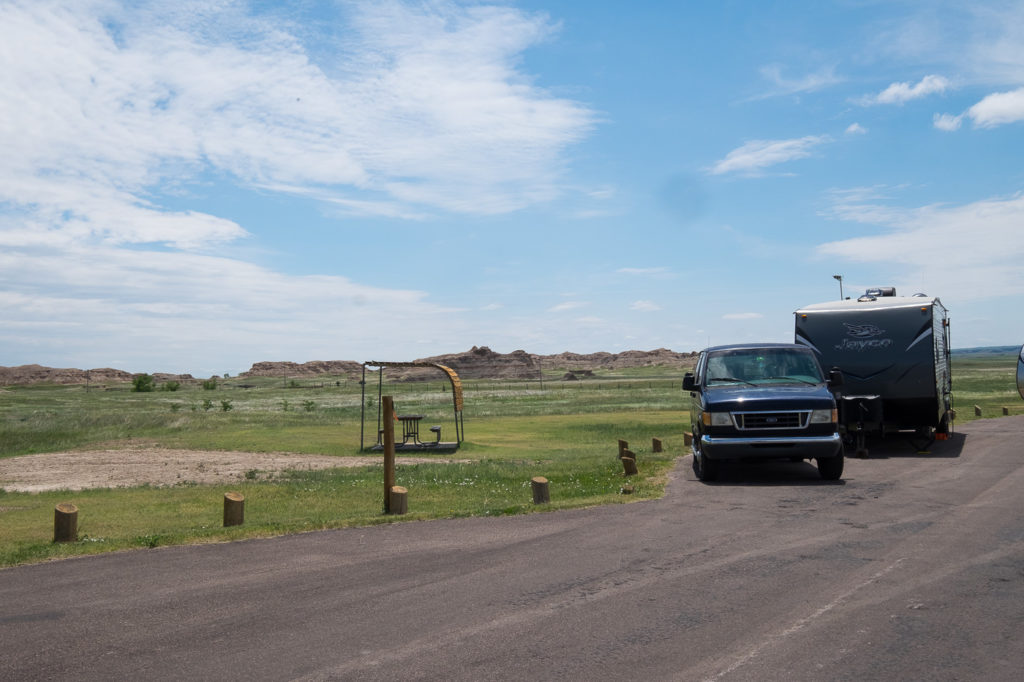 Our trailer is 34 feet long; a shorter trailer would not have nearly so much trouble.
There's no shade at any of the sites, but there is a covered picnic table at each one. No fire rings, because no fires are allowed.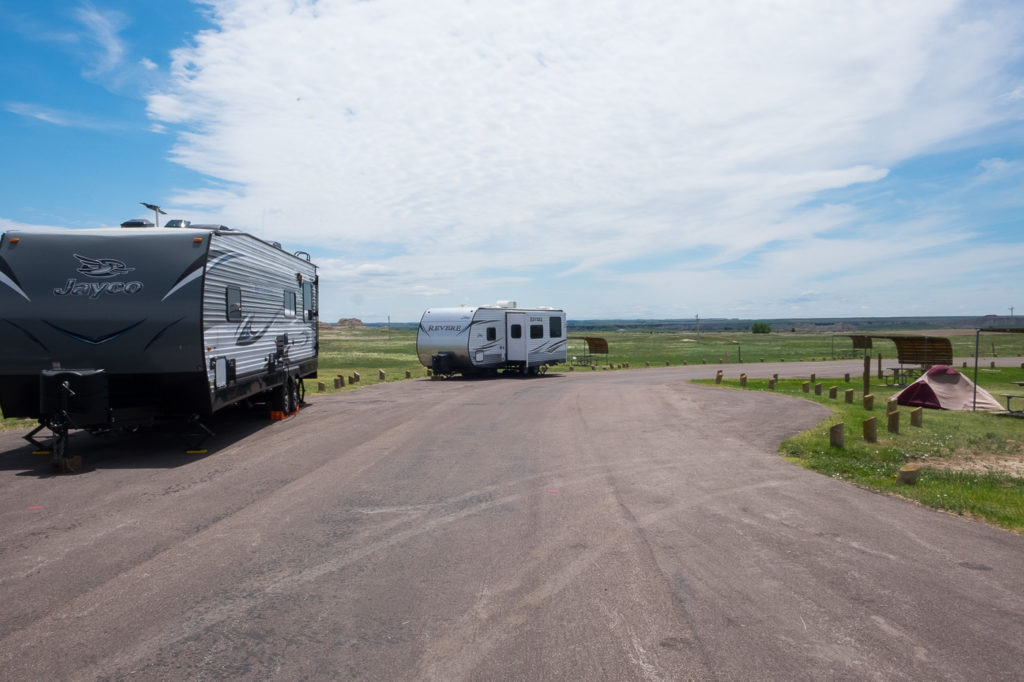 Amenities: This is a National Park campground, so you're not going to get a lot of bells and whistles. But you do have….a National Park as your backyard, and the Badlands is a great one. More on that in another post.
The bathhouses here are….okay. Clean and adequate, but definitely nothing fancy. Pay showers, which we didn't use.
There's an amphitheater at the campground where they have nighttime ranger programs. There's a presentation/slideshow about the park followed by night sky viewing. There were clouds and storms both nights we were there, so not the best for night sky viewing, but we enjoyed what we did get to see. (And the lightning in the distance was pretty incredible to watch).
And Cedar Pass is within walking distance of the Cedar Pass Lodge, with its restaurant and extensive gift shop, and the Ben Reiffel visitor center.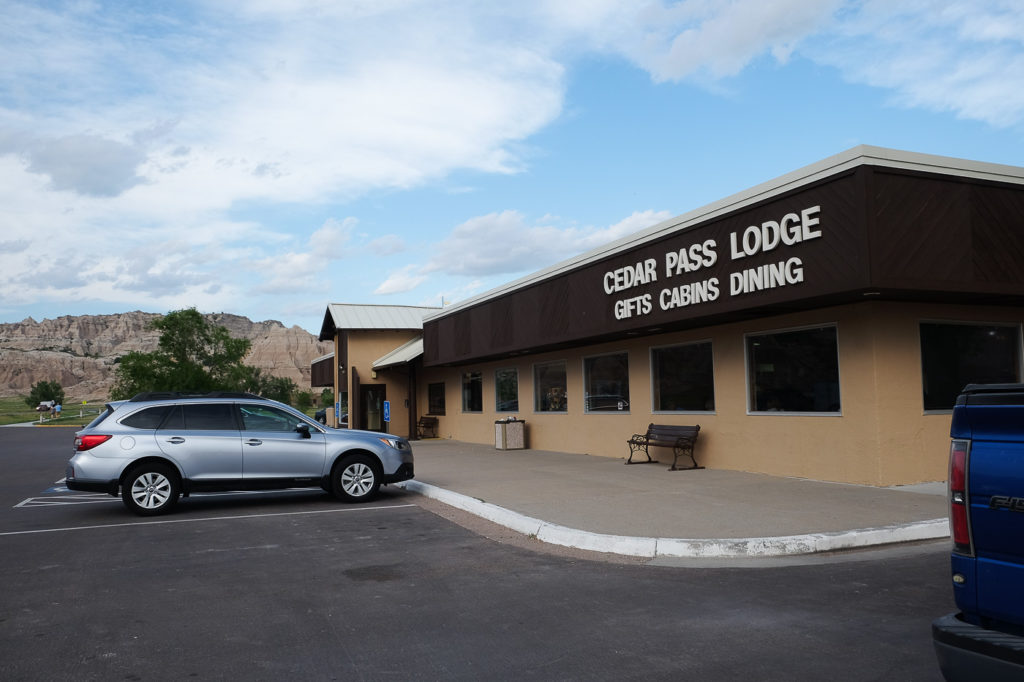 We ate here after a long day of driving and then the ordeal of filling up the water tank and spending longer than we'd hoped trying to get into our site, and it was a great way to finally get to sit down and relax. I don't even remember what I ate, but I remember it as maybe my favorite meal of the trip. Abe and Dave both tried the Indian Tacos that the restaurant is most well known for and enjoyed them very much. They also have a nice selection of local beer and wine.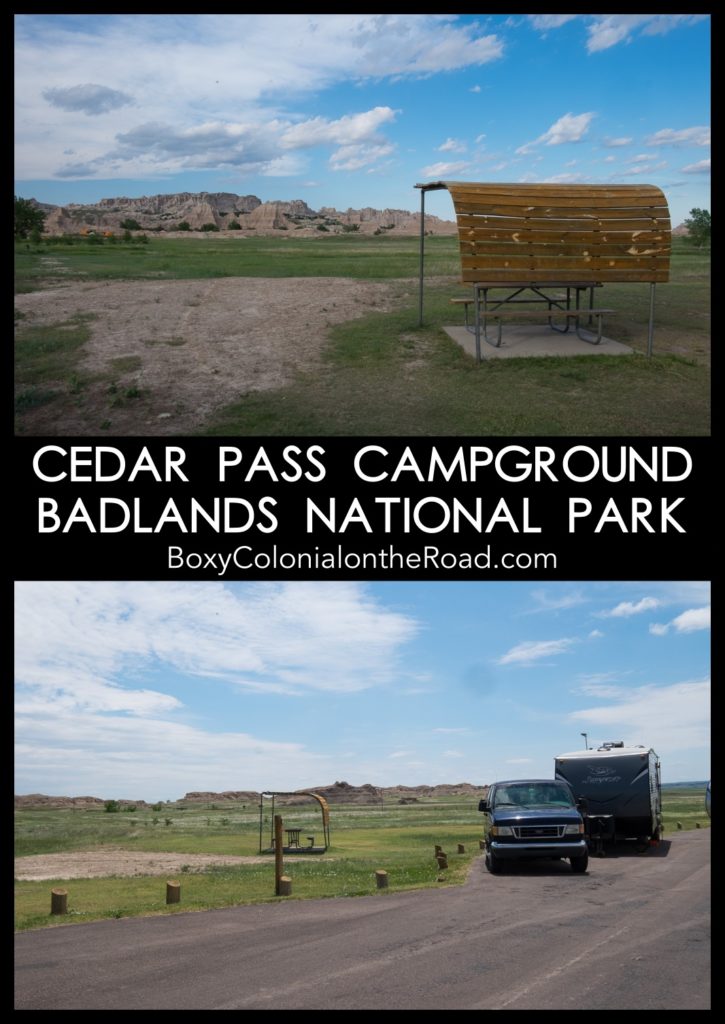 SaveSave
SaveSaveSaveSave
SaveSave
SaveSaveSaveSave
SaveSave