Thursday was our last full day in St. Louis and, thus, our last chance to finally make it up into the Gateway Arch. Our first attempt, you might recall, ended with a mechanical problem and severe disappointment (particularly for poor Milo). And then we briefly considered trying again after leaving the City Museum on Wednesday, but decided it was too ambitious of a plan and that we needed to get back to the dogs, which sent Milo right back into a spiral of disappointment and anger that couldn't even be completely fixed with ice cream.
But Thursday was our day! Spoiler: we made it! Milo was happy again!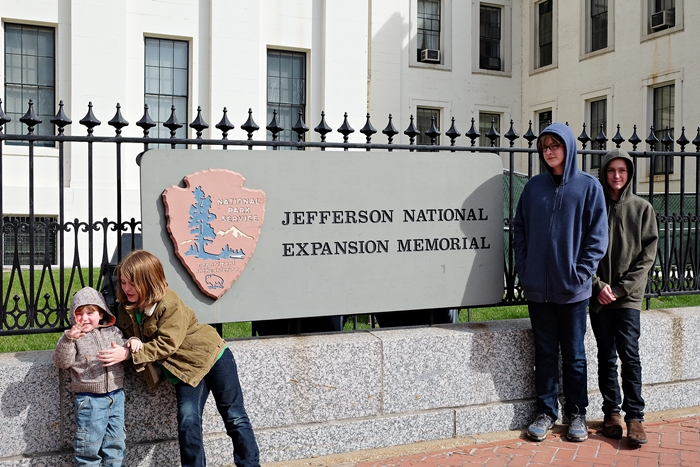 The Gateway Arch is part of the Jefferson National Expansion Memorial, honoring Thomas Jefferson's role in opening the west and St. Louis's part in westward expansion. The site also includes the Old Courthouse, where Dred and Harriet Scott first sued for their freedom, in the case that would eventually wind up in the Supreme Court. As I mentioned before, they're completely redoing the area around the arch right now, so the usual visitor center and museum under the arch are closed, and the ticketing and some of the exhibits have been temporarily relocated to the Old Courthouse.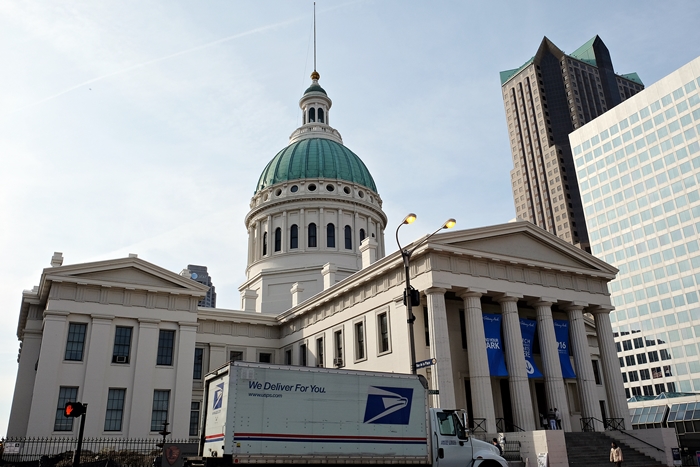 So you'll start your visit at the Old Courthouse and buy your tickets there, unless you've already bought them online. On our first arch attempt, we had bought tickets online, but this time we waited until we got there (which, in retrospect, was a little risky, given how utterly devastated Milo would have been had the tickets been sold out). Buying them in advance is a good idea if it's at all busy; we were there midweek on a cold, windy day post-St. Louis spring break week, and the first tickets we could get were for a slot a couple of hours away. Tickets for the ride up are $10/person, and there's supposed to be an additional $3 fee for adults (my understanding is that that's the NPS fee, and the $10 goes to the private company that operates the arch trams), but they weren't charging the $3 when we were there. There's no dedicated parking for the site right now, because of the construction going on, but we didn't have any trouble finding metered street parking within a couple of blocks of the Old Courthouse. There are also lots of parking garages (which our van is too tall for) and some surface lots close by.
We spent the time looking at the exhibits and turning in the kids' Junior Ranger….sheets. I will not call them books, because they're not. Not right now. I imagine they're waiting to update until the whole site is finished and everything's open again, but right now all there is a couple of photocopied sheets of paper with a few activities (for the younger kids, there's a sheet with just a scavenger hunt). Still, it was a good way to get the kids interested in the exhibits and the building (all the activities can be completed in the Old Courthouse; there's nothing that requires a trip over to the arch), and they got their badges: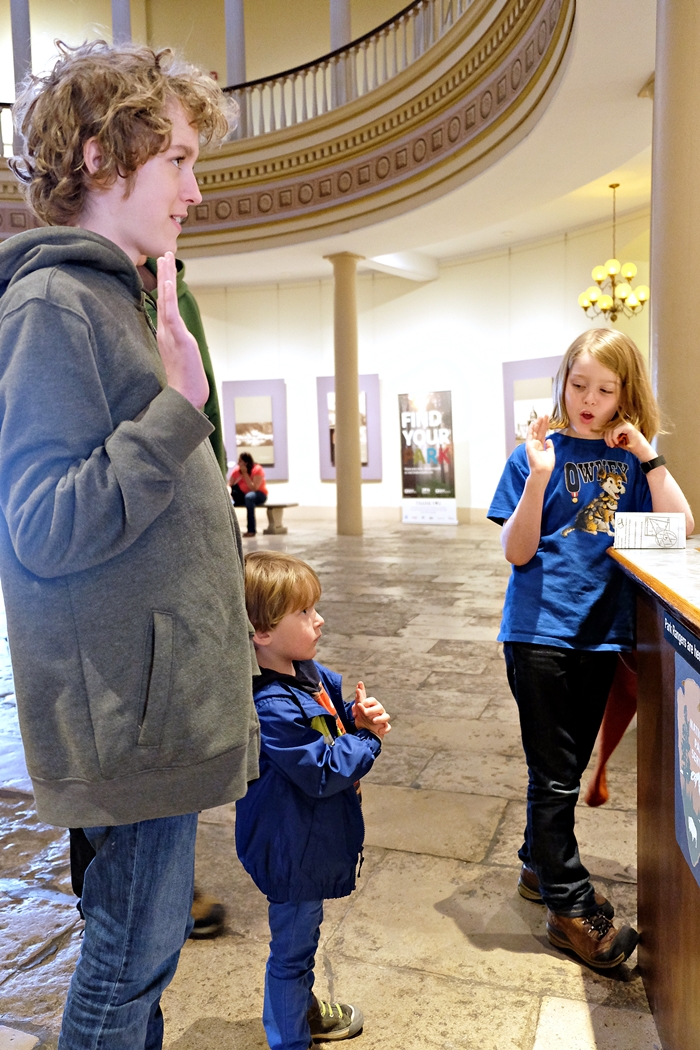 There are exhibits about Lewis and Clark and about what the experience of traveling west for later settlers was like: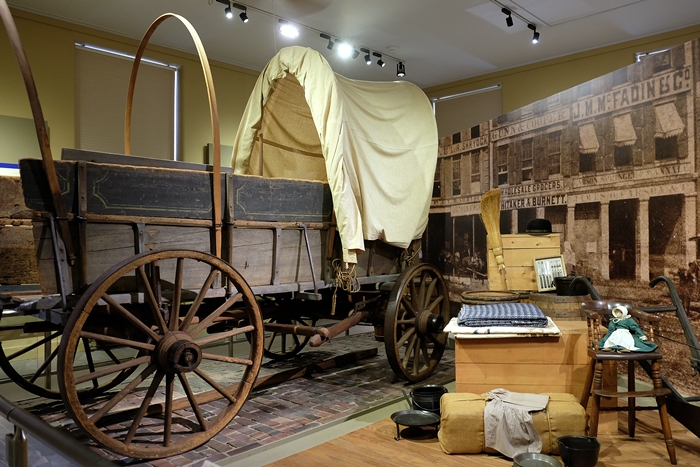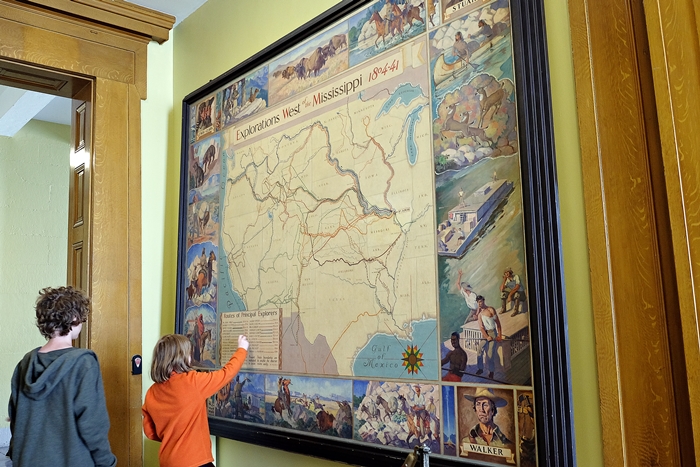 There's an exhibit about Dred and Harriet Scott and their court cases, which I really enjoyed and learned a lot from; I'd only known Cliff Notes version of the story before. Outside there's a statue of them: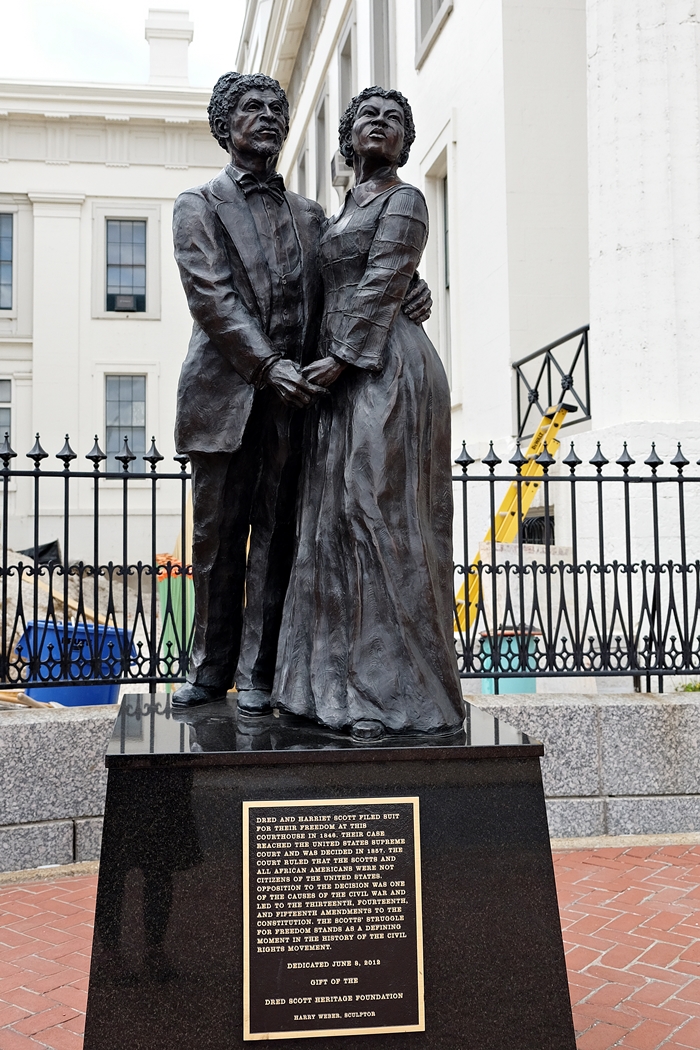 And the Old Courthouse itself is a lovely old building, with plenty of art and interesting architectural features to recommend it: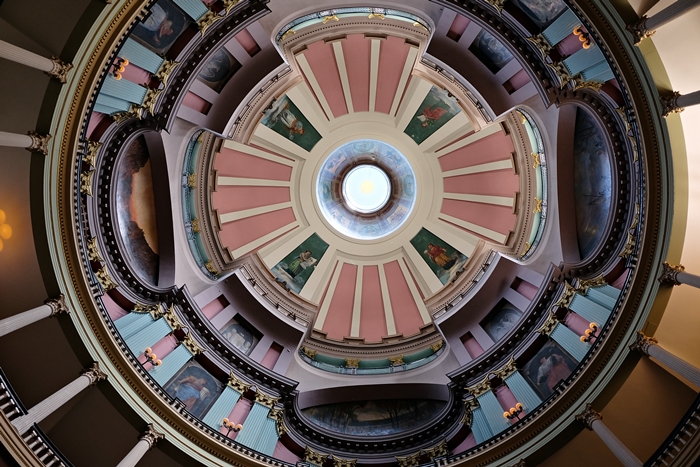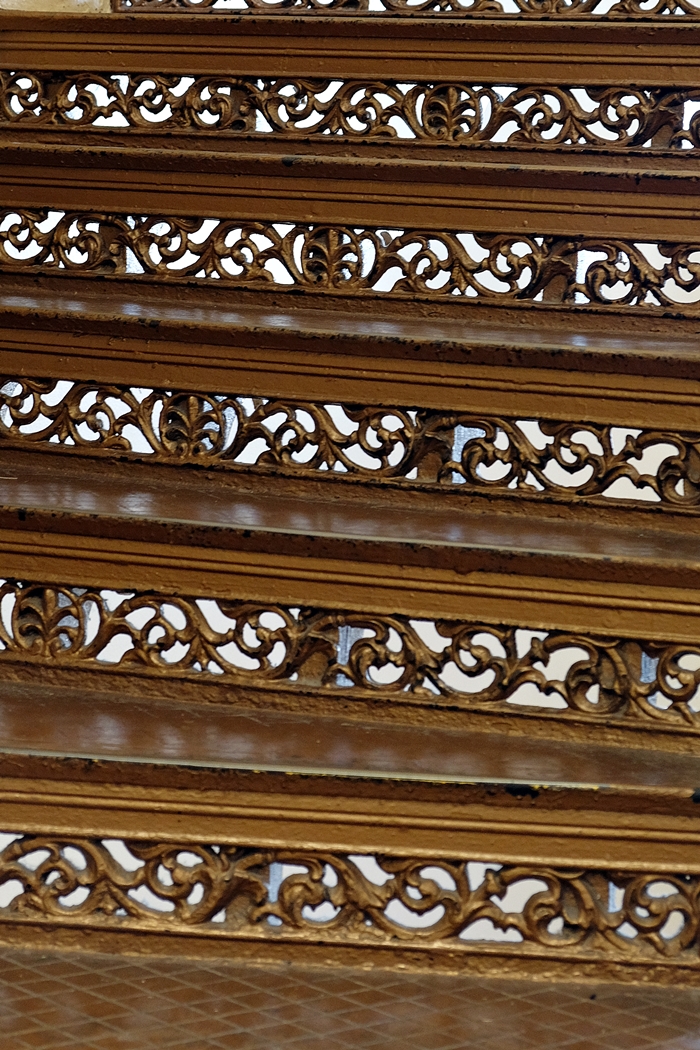 We had planned to get lunch after the arch, but since we had to wait so long for our ticket time, we decided to leave and grab something at the nearby Chili Mac's Diner and then come back. I won't pretend the food was totally amazing here, but it was good, the service was fast and very friendly, and it was super affordable. It's a small place, but we just beat the lunch rush, I think, and got a table right away.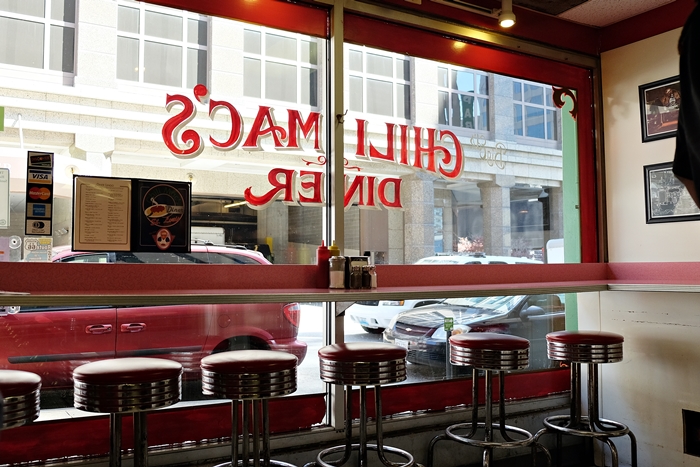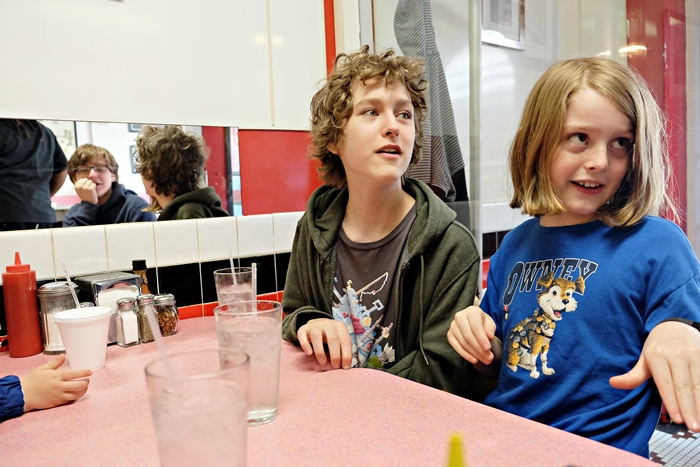 Then we headed back over for the trip up the arch. Now. This is the time to admit that I did not, in fact, go up in the arch at all. I was GOING TO! But then mechanical problems and all that. Also, it's too tall. So I waited it out on solid ground and got thoroughly familiar with every inch of the Old Courthouse. I also got to watch the documentary about how the arch was built, which was really cool and which would not have been possible with Abe around.
And Dave and the kids had a great time without me. Getting to the top of the arch involves a trip in not exactly an elevator, but a little pod that seats five people very cozily (i.e. not the best for people with claustrophobia) and moves up kind of like a ferris wheel. At the top there's a small hallway with windows you can look out of, and not much else. Or so I've been told. I didn't go.
I did take a bunch of pictures of the arch, though. The thing about iconic landmarks like this is that they've been photographed so many gazillions of times that there's really not any original way left to take a photo of them. But I took a bunch anyway: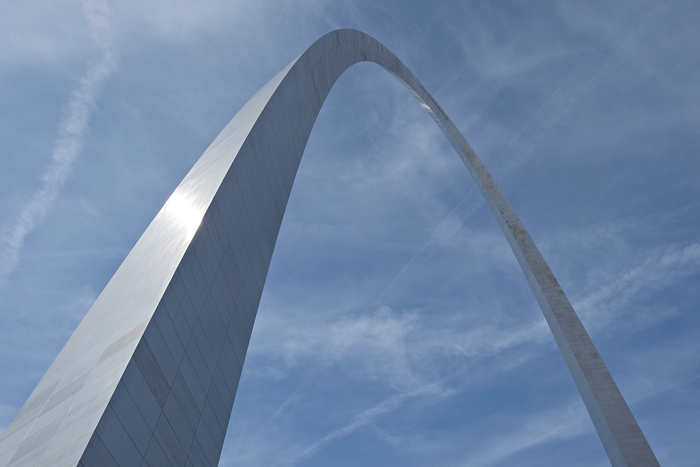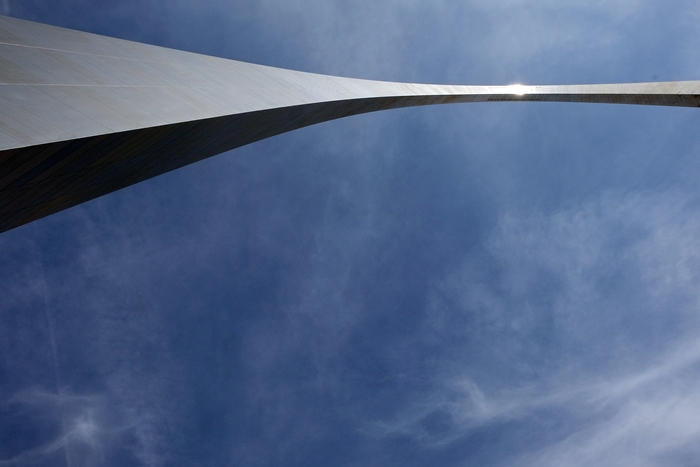 When all the construction is finished, there'll be uninterrupted pedestrian access between the Old Courthouse and arch. We can look forward to a future when pictures like this are prettier than they are now: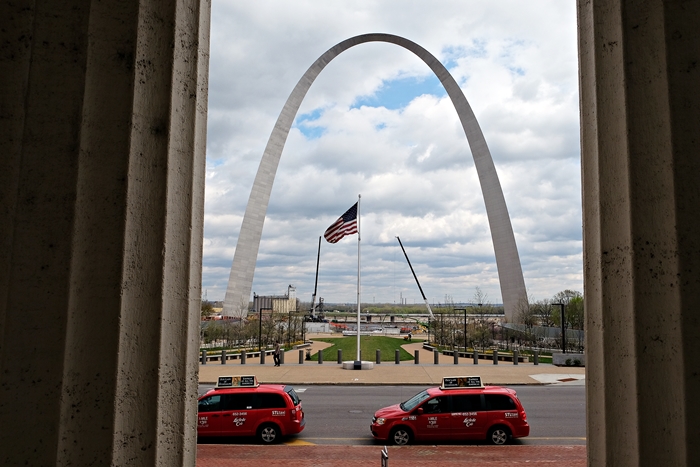 And here's one of those classic shots of kids in front of the arch: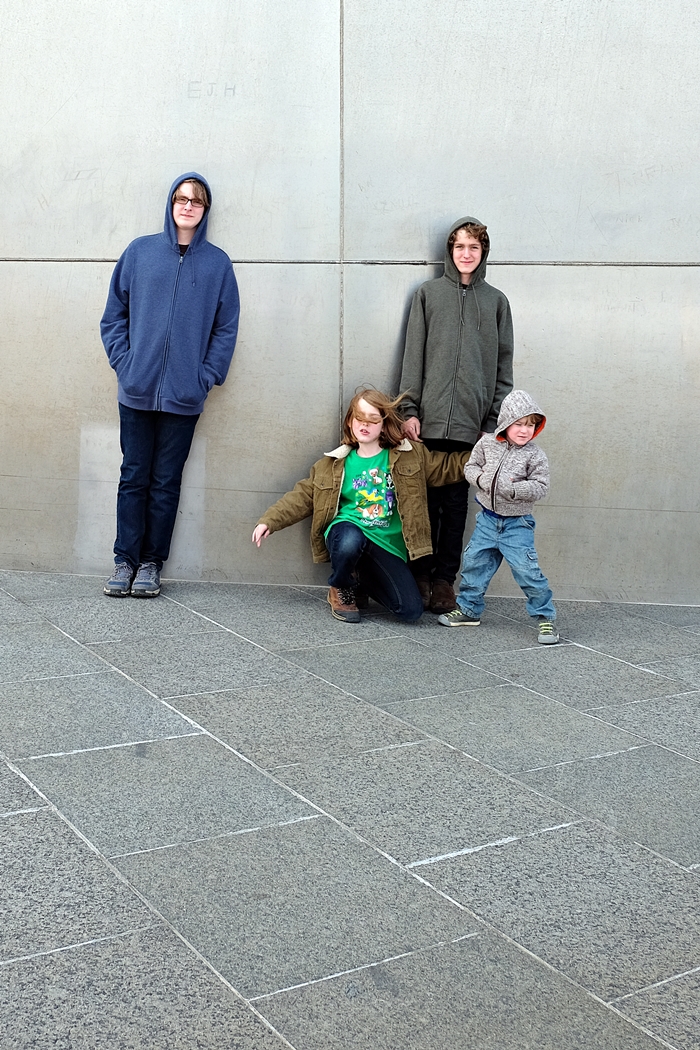 Oh wait….more like this is actually probably a little more classic: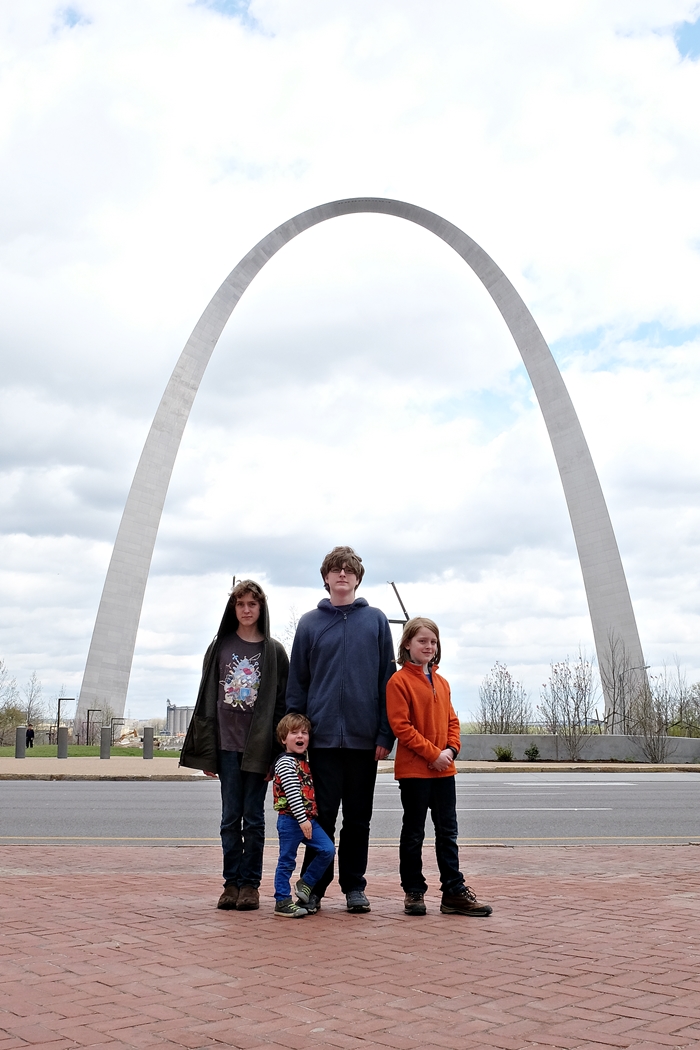 And Ari took this shot from the top of the arch, of me in front of the Old Courthouse, waving to everyone (okay, I'm not really sure if I'm in this particular picture. But Dave did call me from the top, and I did come out and wave to them):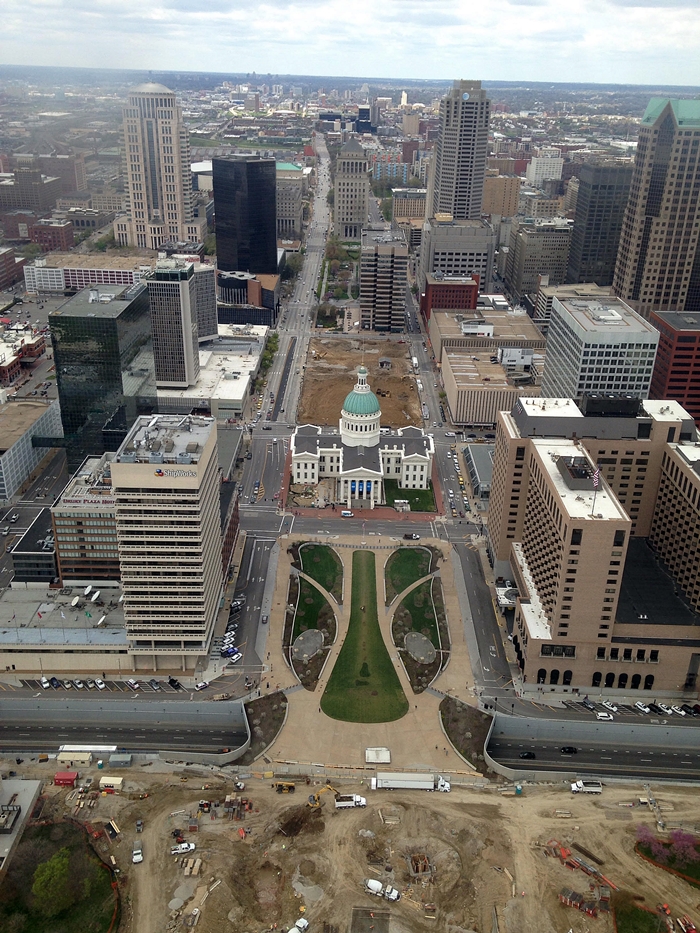 By the time we left the arch, it was late afternoon, and we didn't have as much time left for touring as we had hoped. We'd planned to finish up before lunch there and then spend the afternoon at Forest Park….maybe walk around and explore for awhile and then spend a couple of hours at the science museum there. Instead, we found ourselves with about an hour and a half before things started closing and before we needed to get out of town and back to the dogs. Forest Park is a huge park right in St. Louis; at 1371 acres, it had New York's Central Park beat by more than 500 acres. There are golf courses, lakes, trails, playgrounds, a zoo, and science, art and history museums (all free).
Obviously, we weren't going to see even a tiny fraction of it, so we decided to stop by the visitor center and see what they recommended we spend our 90 minutes on. Somehow Abe managed to fall and hurt himself during the five minutes we were there, but over the sounds of his wailing, the very nice man working at the visitor center suggested that we check out the zoo.
The zoo itself is free, but if you want to park in the adjacent parking lot, it costs $15 per car. We found some on street parking nearby, but I imagine that would be a lot trickier during a busier time.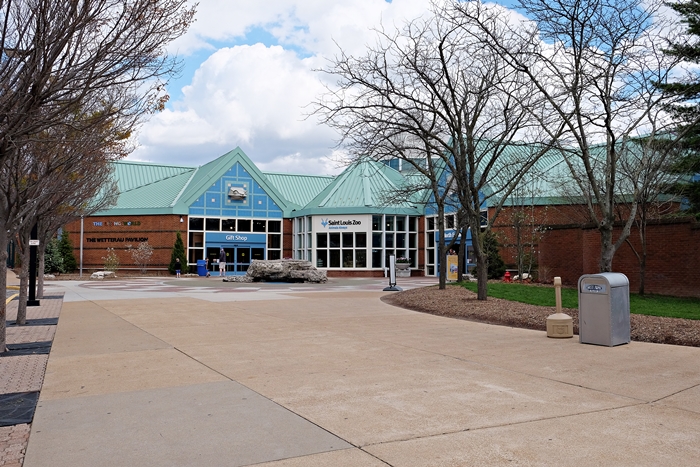 We had to prioritize since we had so little time here, so, of course, we immediately headed to the penguins: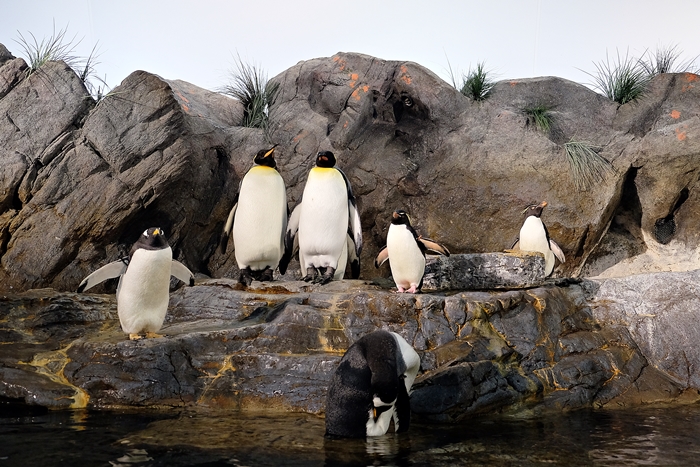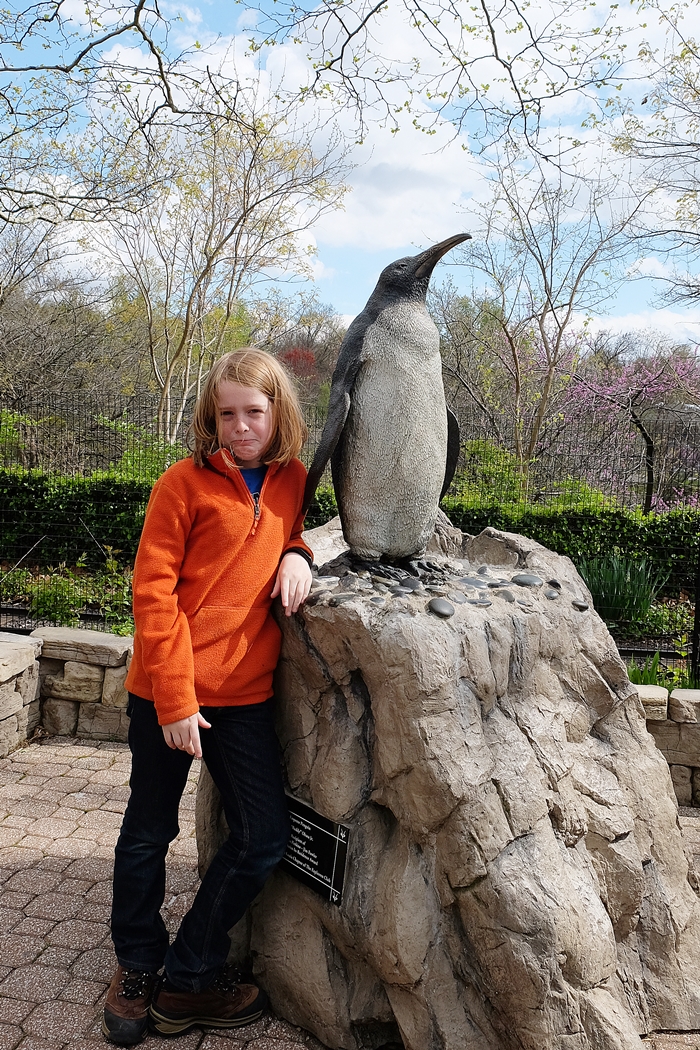 This was the coolest penguin exhibit I've ever seen, because the penguins are right there. They could hop out of their enclosure and come over and see you if they wanted (and, in fact, the zookeeper who was working in there told Dave they often do just that):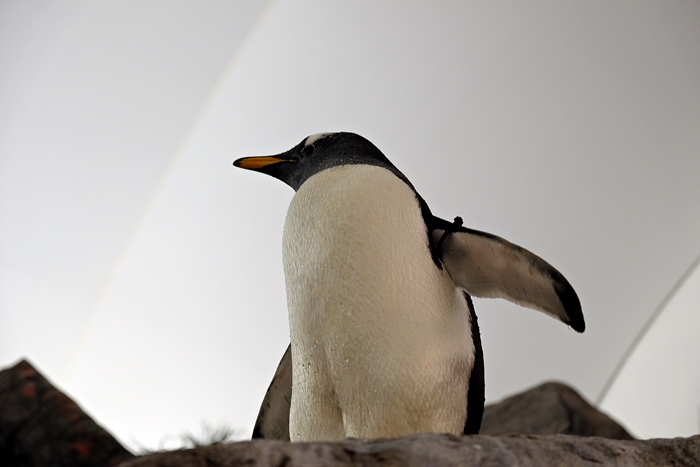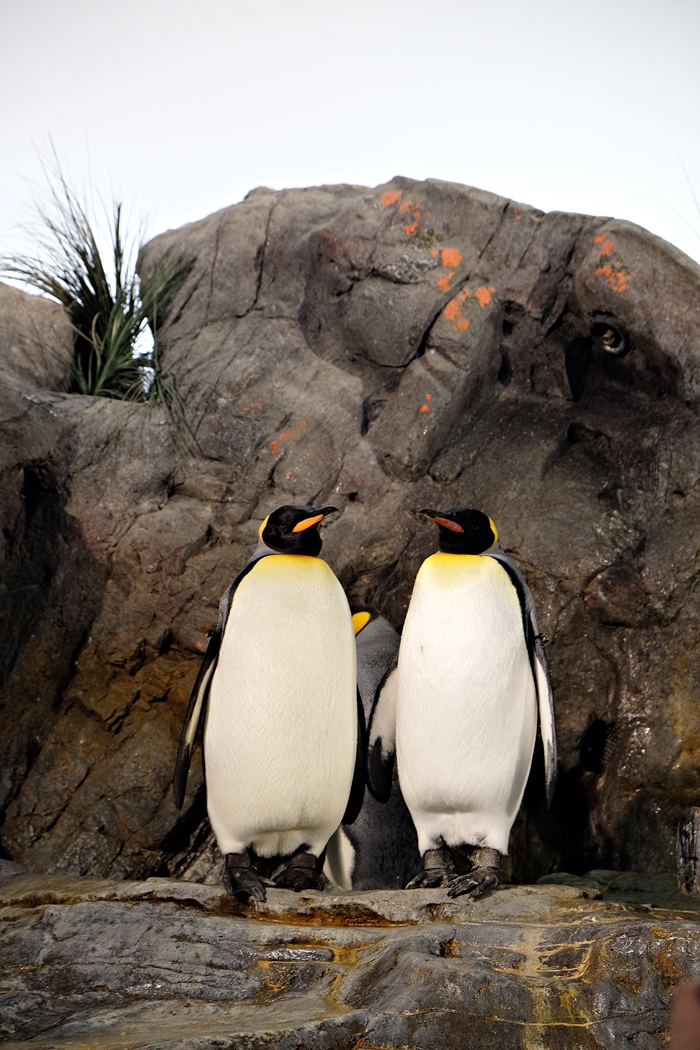 We also had a big bag of popcorn:
Pretended to be sea lions: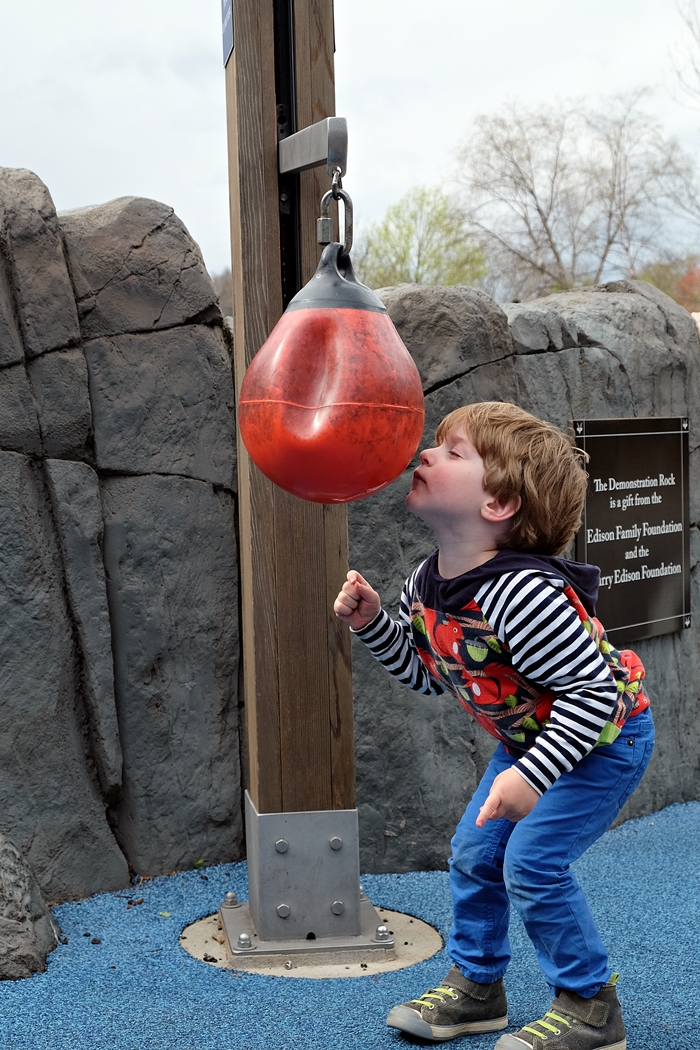 Admired this funny circular water fountain: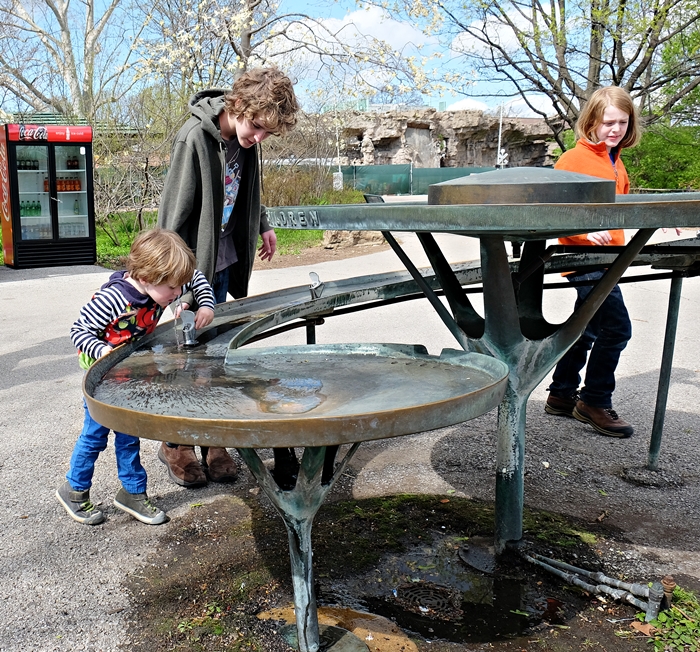 And took pictures in front of an elephant statue: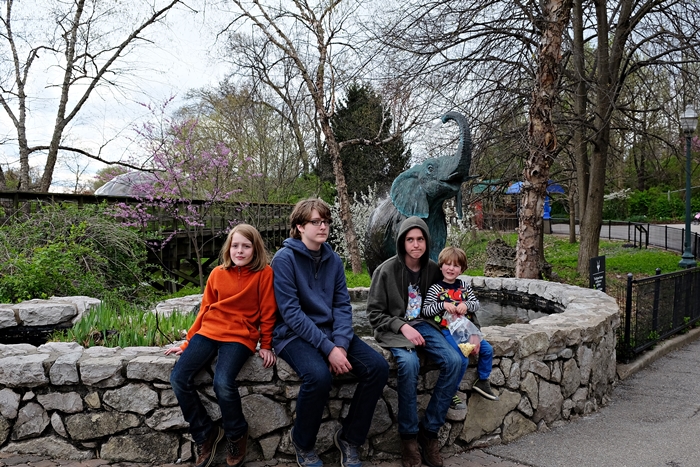 And then, alas, we had to leave, because it was getting late and the sky was looking very ominous. Add it to the list of places we need to revisit next time we're in St. Louis. It's a long list!
And that wraps up the St. Louis part of our trip! We left first thing the next morning. I have one stop on our way home to talk about, and then, only a month and a half later, I'll have recapped the whole spring break trip.