We're home! So much for my big plan to get several blog posts up while the trip was happening. I'll have to get more organized about that by next summer, when we plan to be gone nearly two full months. It's nice to be home, but I also feel a bit antsy already. Fortunately, we have two more shorter trips coming up next month, so by the time I finish the massive piles of dirty laundry from this trip, it will be time to go again!
Our next stop after Elkin, NC was Luray, VA, near Shenandoah National Park. We stayed in the lovely and meticulously maintained Luray KOA in one of the deluxe patio sites. The campground is peaceful and beautiful, surrounded by farmland (and sometimes inundated with the accompanying odors) and mountain views.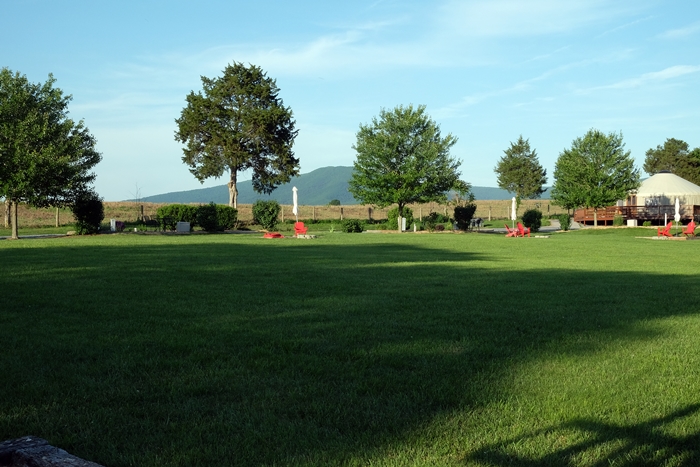 (a note on the route to the campground: our GPS told us to get off of 81 and take 211 to Luray. That looked awfully windy on the map, though, so we did some research and opted to get off 81 farther south and take 33 to 340 instead, through the valley instead of over a mountain grade. I don't how bad 211 would have been, but the route we took didn't add much time and was perfectly fine for the trailer).
We were there midweek, and it was very, very quiet. I hear it gets busier on the weekends, but I suspect the peaceful, relaxed vibe remains. It's not a typical KOA; there are no planned activities, and they don't even have a camp store (they do sell firewood). It doesn't particularly cater to kids, and we saw very few there (although, again, midweek and before most schools around the country were out for summer), but our kids found plenty to do. The patio sites are all along the perimeter of a huge, grassy field, with a small playground: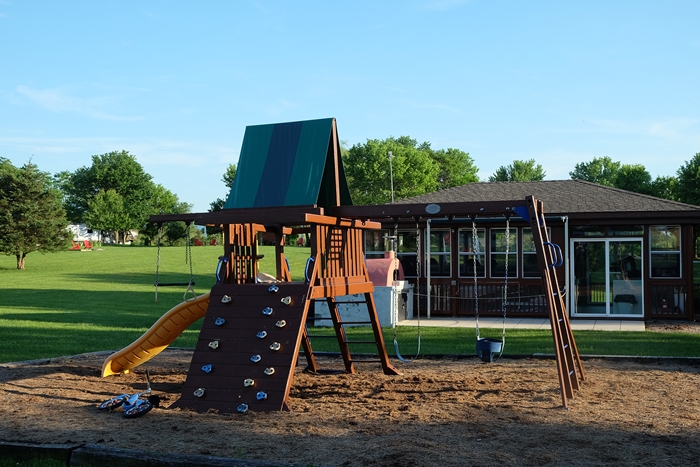 and an outdoor ping pong table (you can put down a $5 deposit to get the paddles and ball from the office):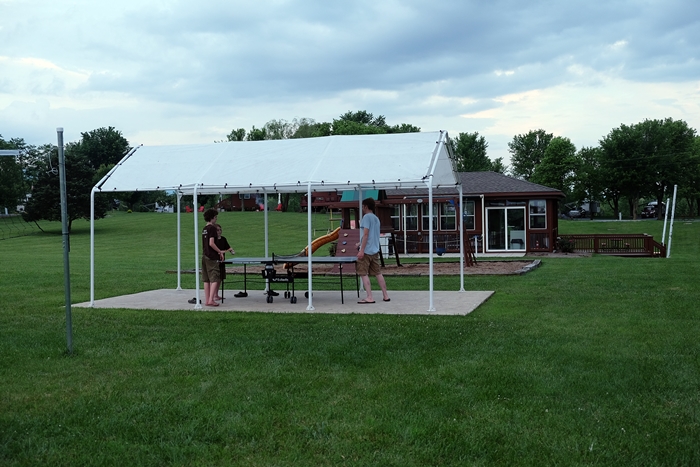 They have two pools. The bigger and newer pool has a sign on the gate indicating that it's only for ages 12 and up, but we asked and were told it was fine for our kids to go in because "it's not crowded." I've read in other reviews that it's generally closed to kids on Saturdays: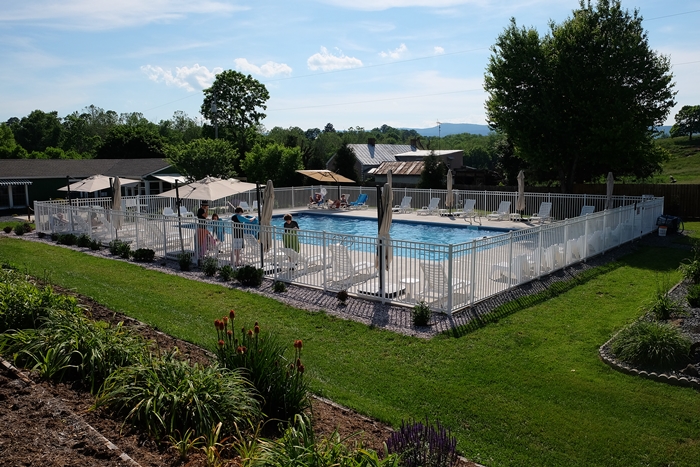 The other pool is fine, but much smaller: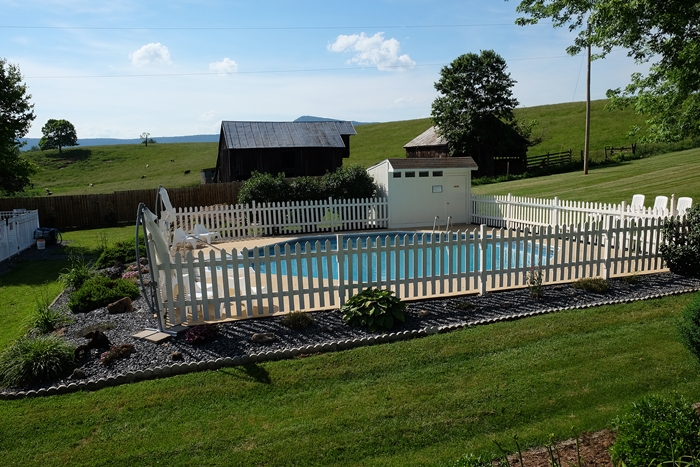 So the pool policy wasn't an issue for us since we weren't there on a weekend, but I can easily imagine that it might have been a disaster if the no kids policy had been in effect. First there would be the outrage (from my kids) about the injustice of age discrimination. And then the problematic reality that two of my kids are old enough for the adult pool and would have tried to argue that they should be able to go in that one, leaving their little brothers to settle for the small pool. So. Be prepared to deal with this if you're going to be there on a weekend with kids under 12.
The dog park was HUGE and shady (although we had to leave after a few minutes when we tried it out because, ahem, SOME of my dogs wouldn't play nicely with others (cough*terriers!*cough):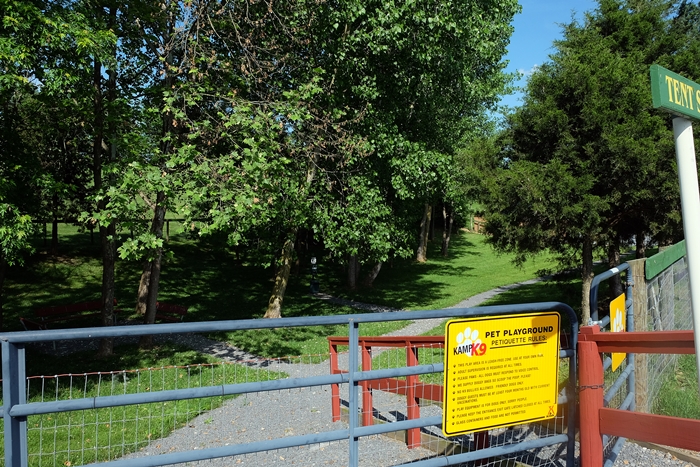 We were in Luray for Milo's 13th birthday, and, back when we were planning the trip in the winter, we thought it would be fun to celebrate his birthday with a rafting trip on the Shenandoah River. But then the forecast looked stormy for that day, and we booked a kayaking tour on Cape Cod for later in the trip instead. But THEN! The forecast cleared AND they gave us a flyer for Mudkat Outfitters at check-in. Mudkat offers tube rentals and will pick you up for no extra charge right at the campground (tubing was $22/person). So we set that up for Dave and the big kids, while I stayed behind with Abe. Abe didn't get to go tubing, but he did get to see the bus come pick everyone up, which was almost as good: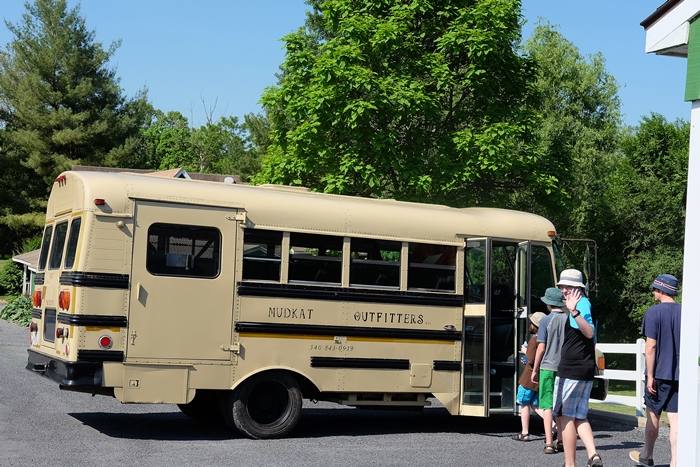 It seems it's very good we didn't try to bring Abe along; Gus's tube tipped over at one point and he needed some help making it back in. It would have been a nerve wracking experience with a toddler. Milo lost his hat trying to help Gus; fortunately, I'd had the presence of mind to take all his Junior Ranger badges off of it before he left.
I have no photos of tubing, sadly, but I do have pictures of the kids putting sunscreen on in preparation. Pretty much the same thing, right?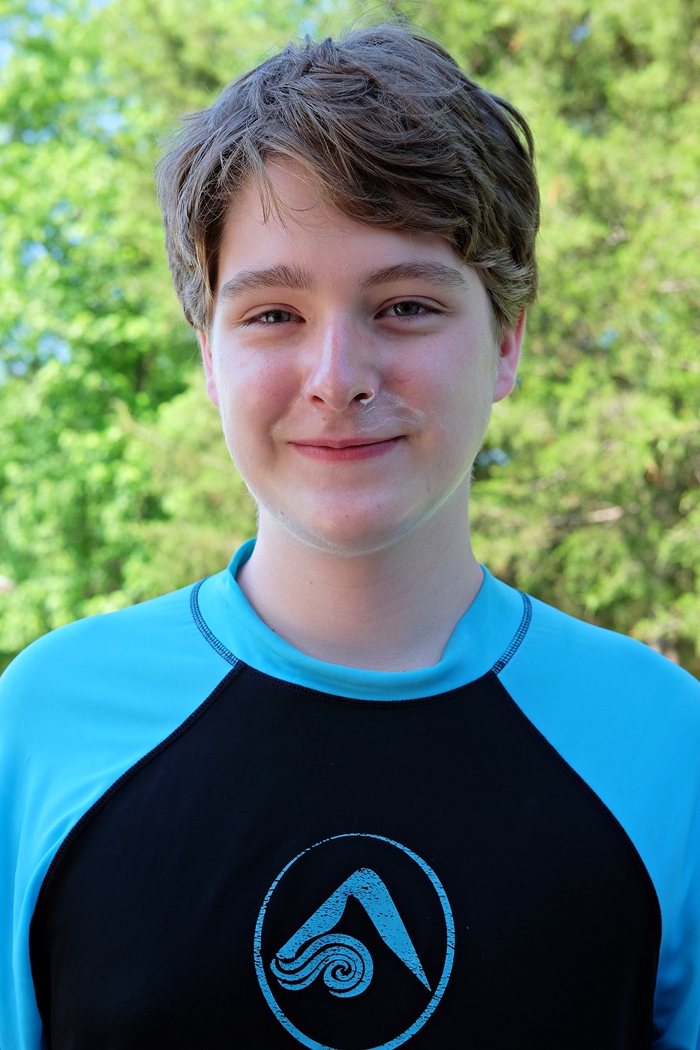 Now, about those deluxe patio sites. They looked amazing on the website, so I talked Dave into paying a little extra for one. And once we were in the site, it was indeed very nice: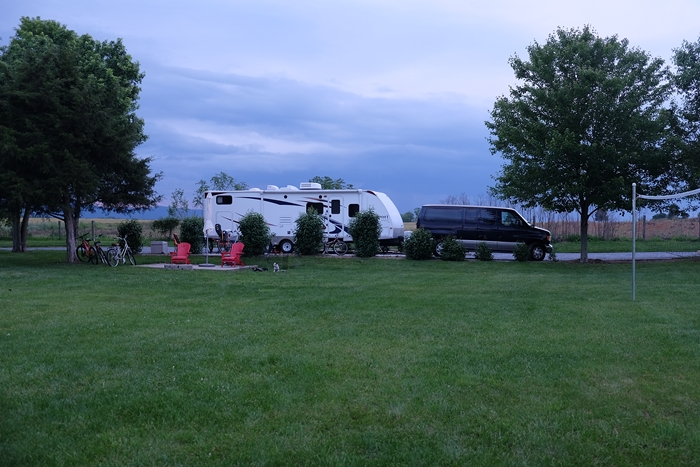 We were right on the big field, so it was kind of like having our own enormous front yard to play in. And the private patios are quite nice, with a real table and chairs plus adirondack chairs and a stone fire pit. Here are the kids, enjoying the lovely setting ;):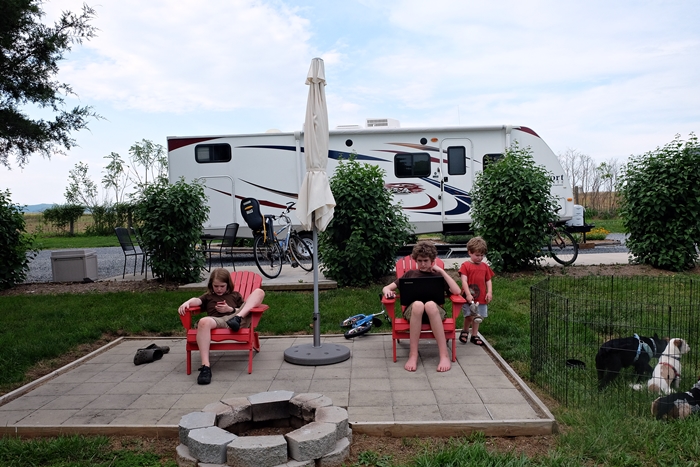 The only thing is the sites can be very tricky to get in and out of. The site we were assigned to could only be accessed by driving over the grass to pull in; there was a another site just across the grass from it, and, had that been occupied, I'm not sure how we would have made it in. We asked to be moved (when we got there, literally every other patio site was empty), and they moved us to a corner site that was easy to pull right into.
But then they put another family in the site right next to ours (even though almost every other patio site was still empty), and we ended up needing to back out of the site when we left. I would chalk all of us this up to how we're still relative newbies, except that I went and read some reviews online and the difficulty of getting in and out of the patio sites is mentioned frequently. A big part of the problem is this lovely landscaping that you don't want to drive your trailer over: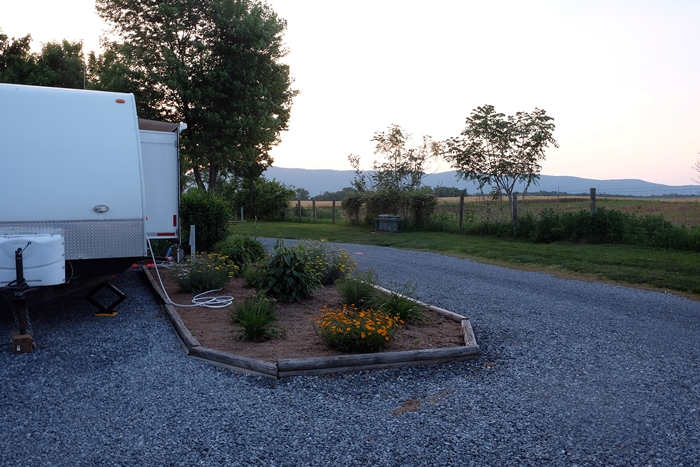 So all of this to say….the regular sites looked perfectly fine, and, if we had it to do over again we'd have just gone with one of those.
I thought that I had a picture to show you of the spacing between the sites to give you a better idea of what I'm talking about, but I seem to have been wrong. Here's a picture of Abe with his new National Park Ranger doll instead: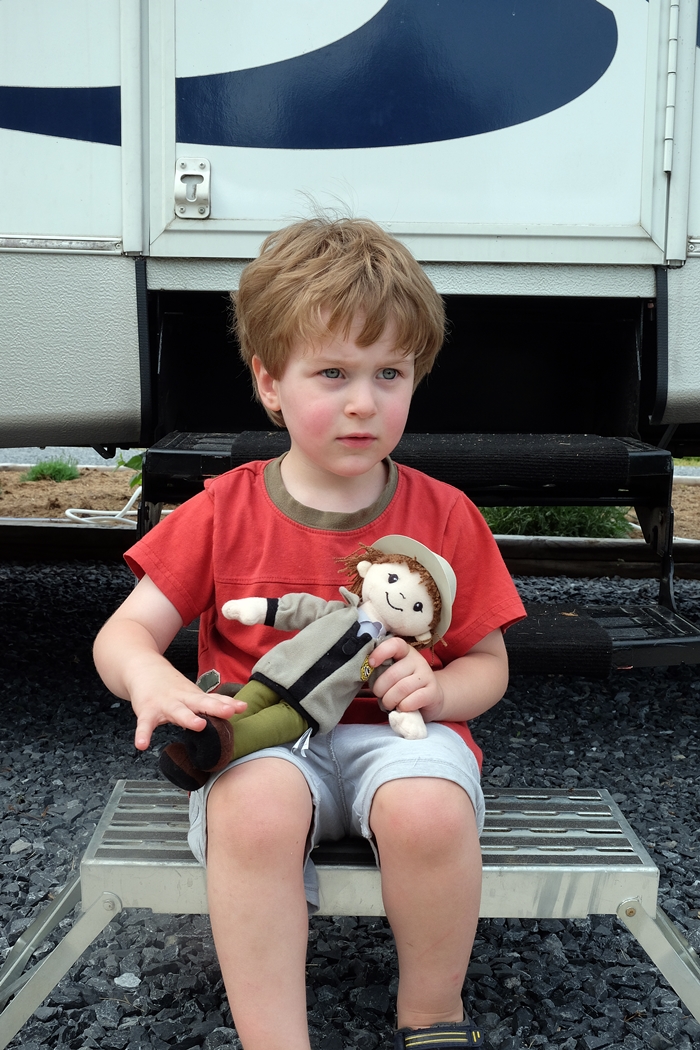 I feel like I'm talking a lot more about things we didn't love about this campground than things we did love, but that should be interpreted solely as a reflection on how long it takes me to explain things, not on our overall opinion. We loved the Luray KOA and wouldn't hesitate to stay here again.
I'll talk all about our time in Shenandoah in my next post, but before I go I'll mention our trip into town for ice cream. My google search for the best ice cream in Luray led us to Flotzie's, where we all enjoyed an assortment of frosty-like creations and soft serve ice cream to celebrate Milo's birthday. When I posted this photo on instagram, I said being at Flotzie's made me feel like I was in an episode of Friday Night Lights. So small town America!