It's finally here! Our big summer road trip: twenty two nights, ten campgrounds, and a whole lot of ice cream. This trip was originally conceived as sort of a practice trip for next summer's massive road trip, but it's turning out to be pretty substantial all by itself. As I'm writing, we're already about two thirds of the way into it, and, ask me again in a week, but so far I'm wishing we had at least a few more days. Alas, this summer Dave is still working on his master's, so we need to get home. Next summer there's nothing to bring us back until August!
You can follow our trip in real time on Instagram, and I'm going to try to get a start on more in-depth documentation here while we're still traveling.
I can't really remember how I found Byrd's Branch Family Campground….I think I was just scanning campground options on Roadtrippers, looking for somewhere that would make a good stopover between home and Shenandoah for our first night, and it popped up. And then we were only planning to stay one night, but they had a two night minimum for Memorial Day weekend….and all of this to say that it was a great find and we loved our two nights there.
Byrd's Branch only opened last summer, and it's a very small campground (only nine sites), so I didn't have much luck finding reviews online. This made me a bit nervous, but the website looked good, and the campground owners were very nice on the phone, so we took a chance.
Here are seven of the nine spots. These are all back ins with water and electric. There are two pull throughs about a quarter of a mile down the road with, I believe, full hook ups.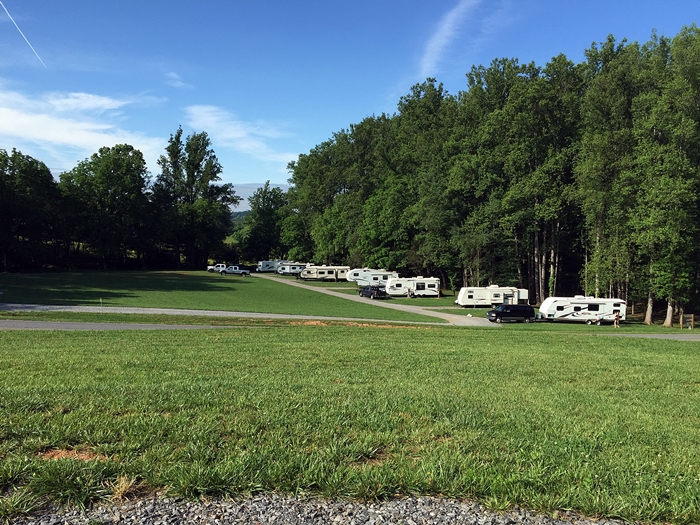 I asked one of the campground owners if they have any plans to expand, and he told me that was still up in the air. They have plenty of land to add more sites; he said he'd add them if he needed to, which I take to mean if the ones they have already do well. They were all full when we were there, but it was Memorial Day weekend.
I said at the time that our site (we're the nearest one in that picture up there) was the nicest we've ever had; four campgrounds later, I'm standing by that. All the sites back up to a little creek, which was a nice surprise, and they're all spacious and private, with a big wooded area behind them.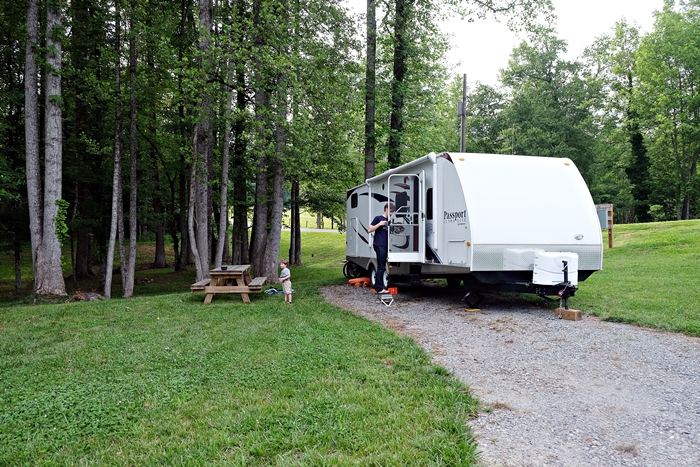 Plenty of room for Milo and Gus to hang up their new hammocks (we've yet to find another campground good for hammock hanging on this trip. Disappointing!):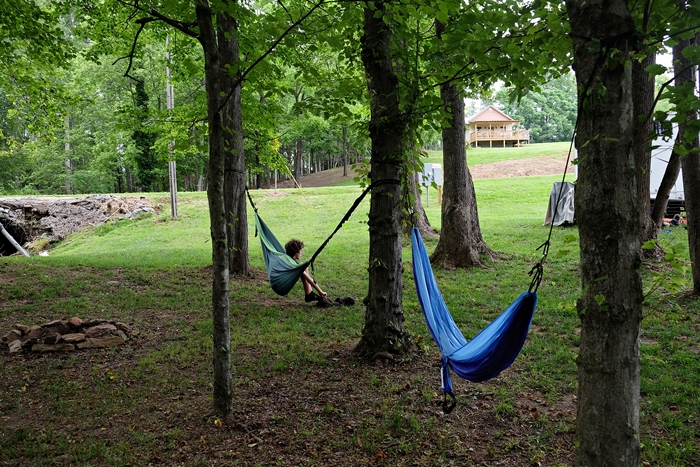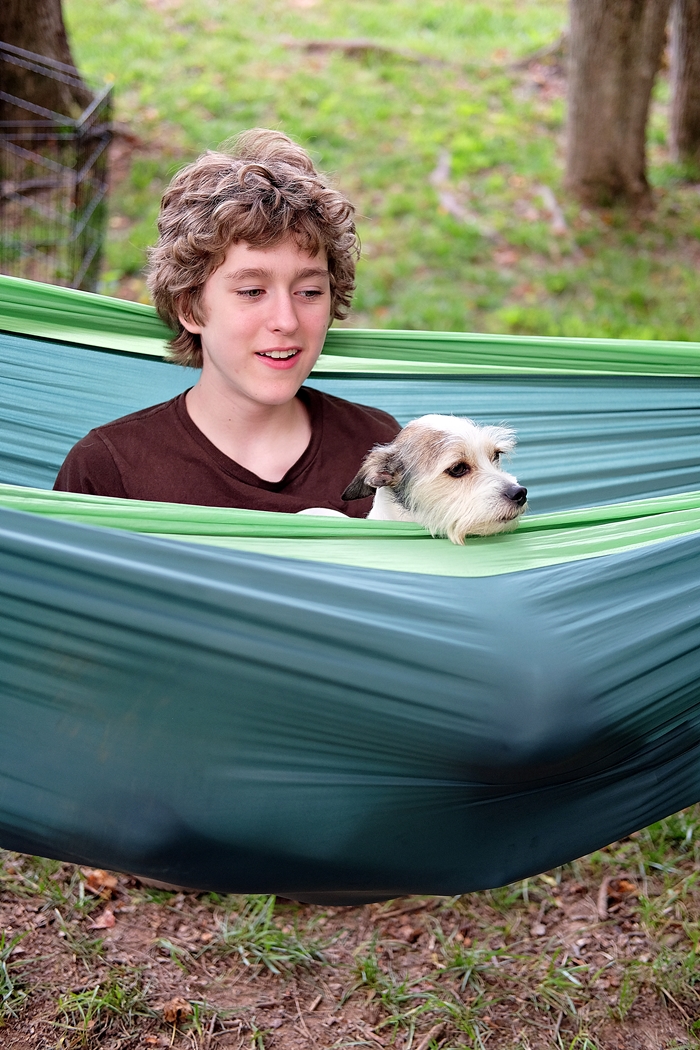 Every site has a picnic table and a fire pit (back in the wooded area):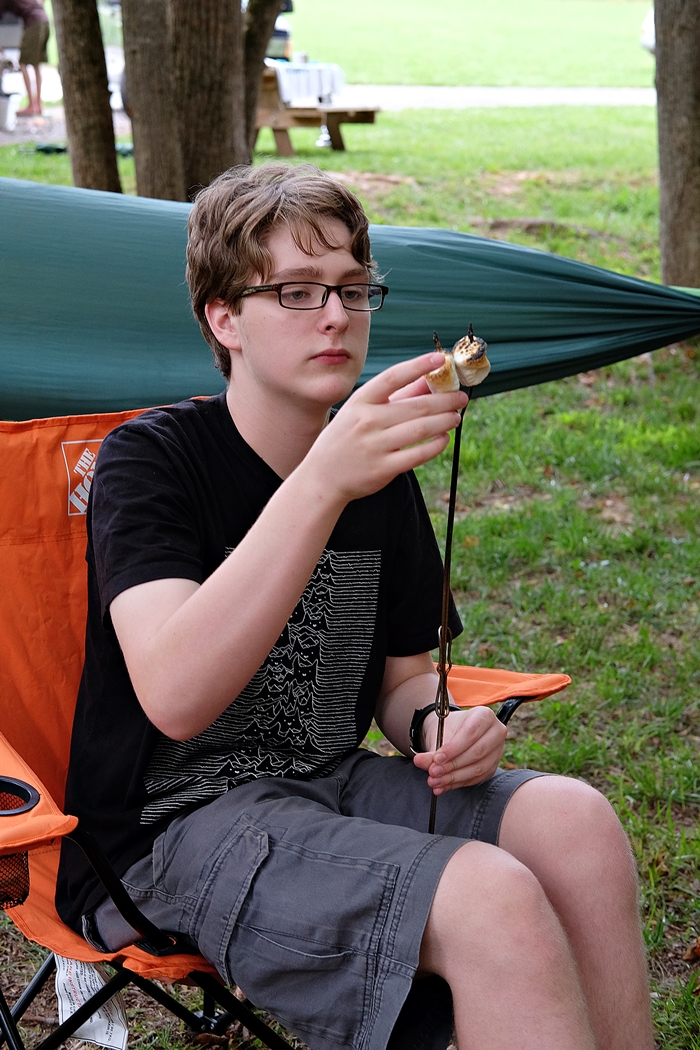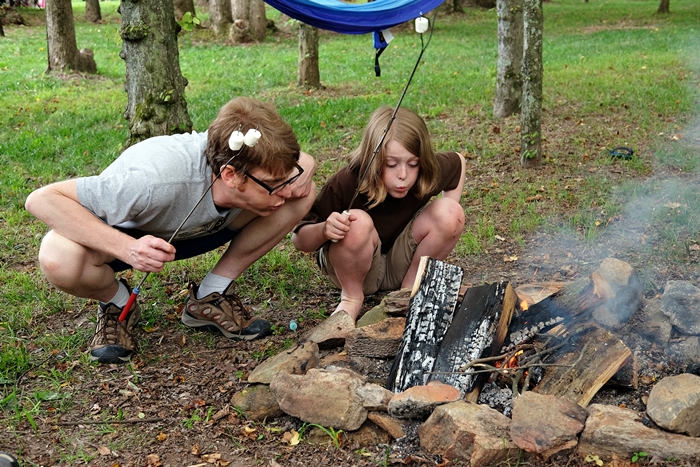 There are no real amenities to speak of here: no pool, no planned activities, a very small playground: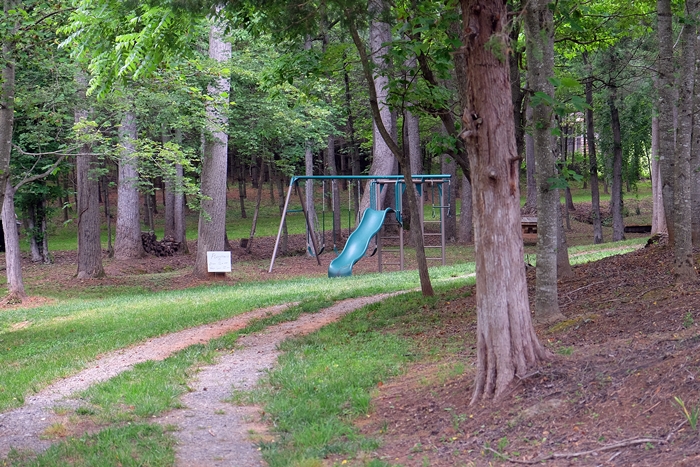 There's a tiny camp store that sells a very small selection of groceries and souvenirs, but makes up for its tiny size with hand dipped ice cream. Which you can eat on the rocking chairs on the front porch overlooking the campground.
As you can see in the picture up there, there's a big grassy field across from the campsites, where we kept meaning to go play catch and not getting around to it. But you could!
The bathrooms are behind the store, and they're really nice: super new and super clean.
There's just one men's and one women's room, but that's plenty given how few sites there are.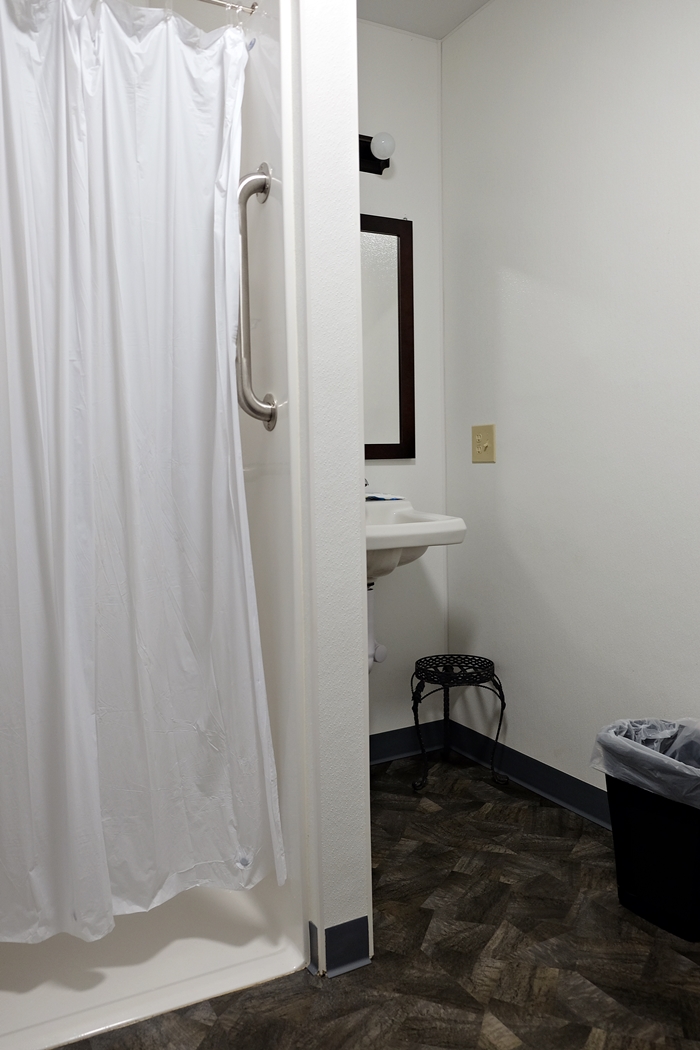 One thing we didn't love was how the bathrooms and store and playground are all across the street from the campsites. It wasn't a particularly busy road, but most of the cars that were on it were going uncomfortably fast.
Overall, though, this campground was absolutely lovely and a bargain at $30/night.
Another thing it has going for it is a hiking trail that runs directly from the campground to the Grassy Creek Winery. The hike is about 2 miles each way, and it's how we opted to spend the morning after our arrival. Sadly, it was a Sunday, so the tasting room didn't open until afternoon, so we weren't able to actually try out the wine. But it was still a lovely little hike, and a great way to tire out the dogs so they'd be happy napping in the trailer while we went out exploring later in the day.
The campground owner told us that the forest service planted these trees, and that's why they're all in a grid like this: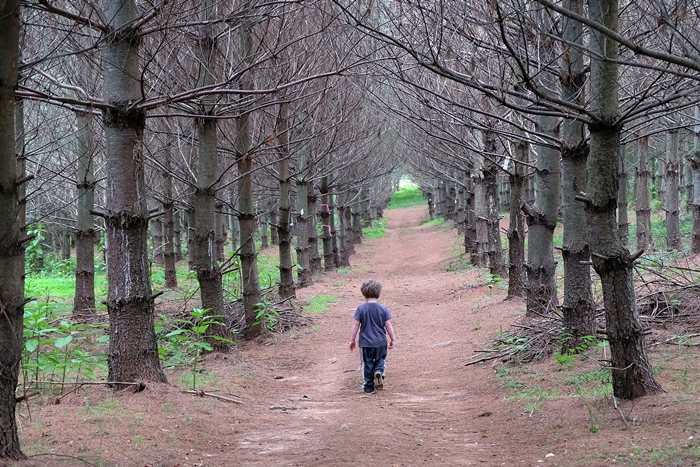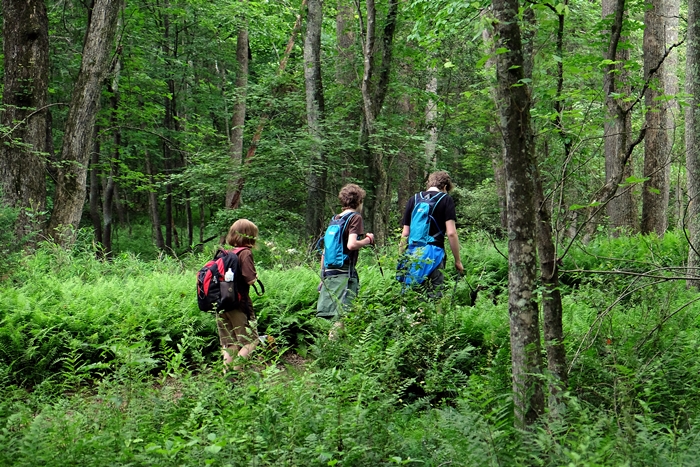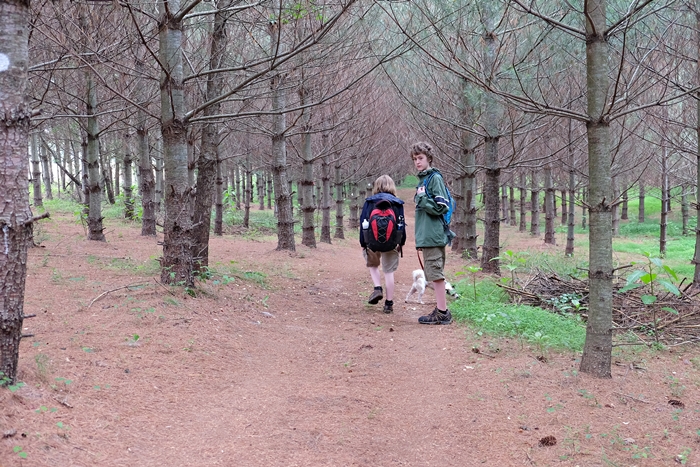 Once we made it to the winery, we ate lunch in the pavilion there before heading back: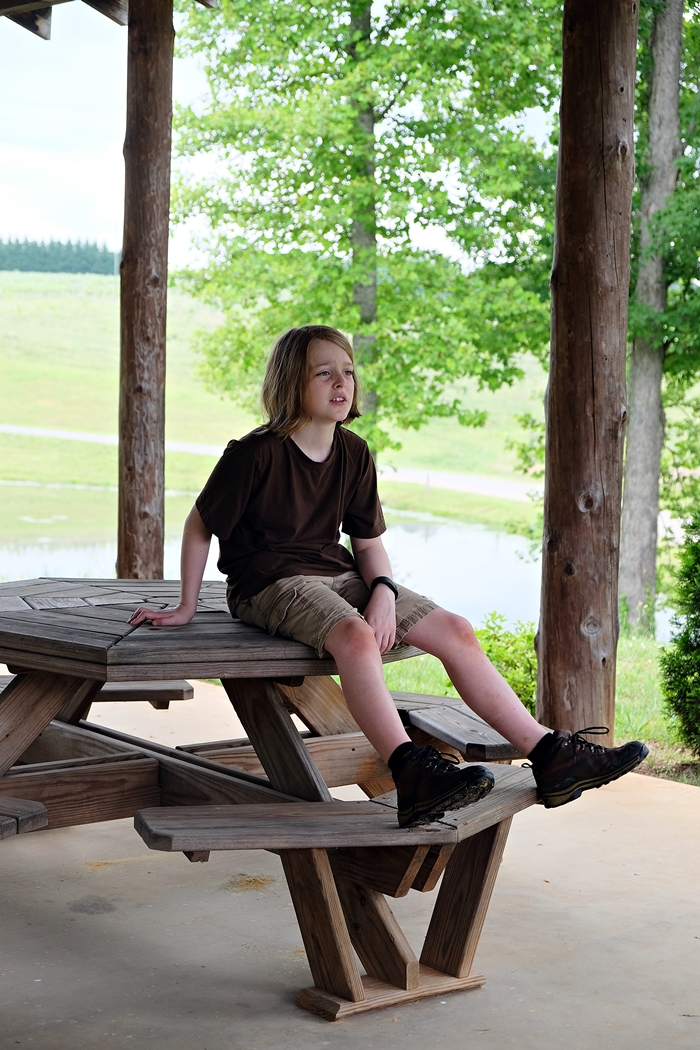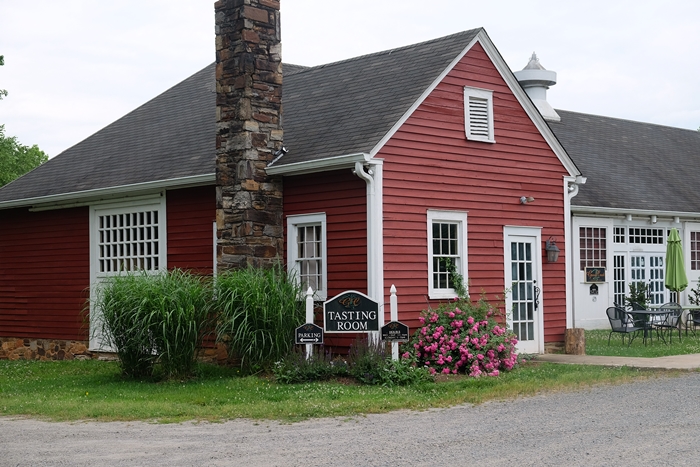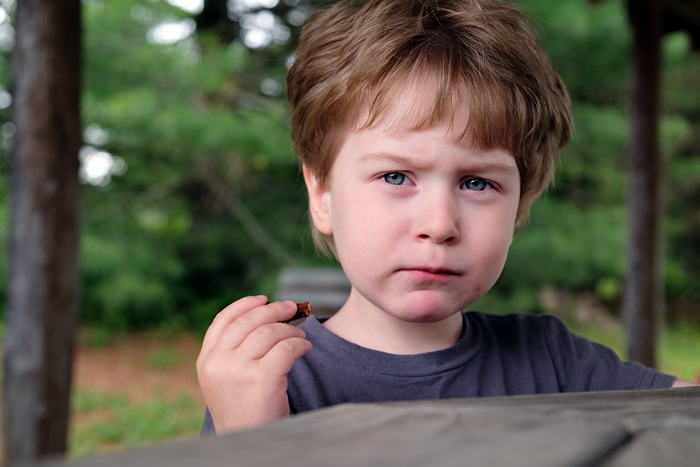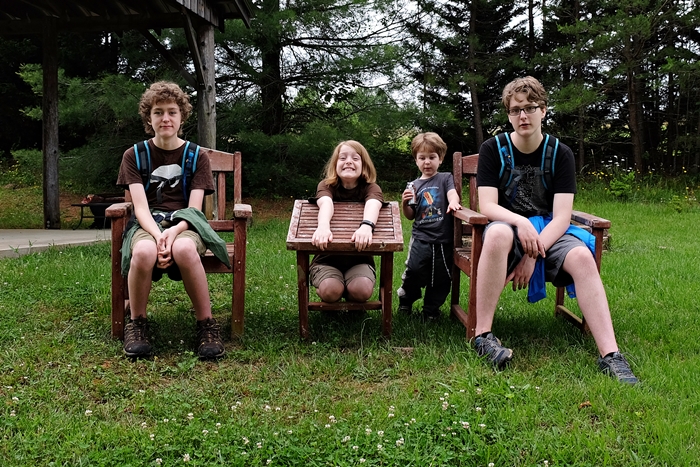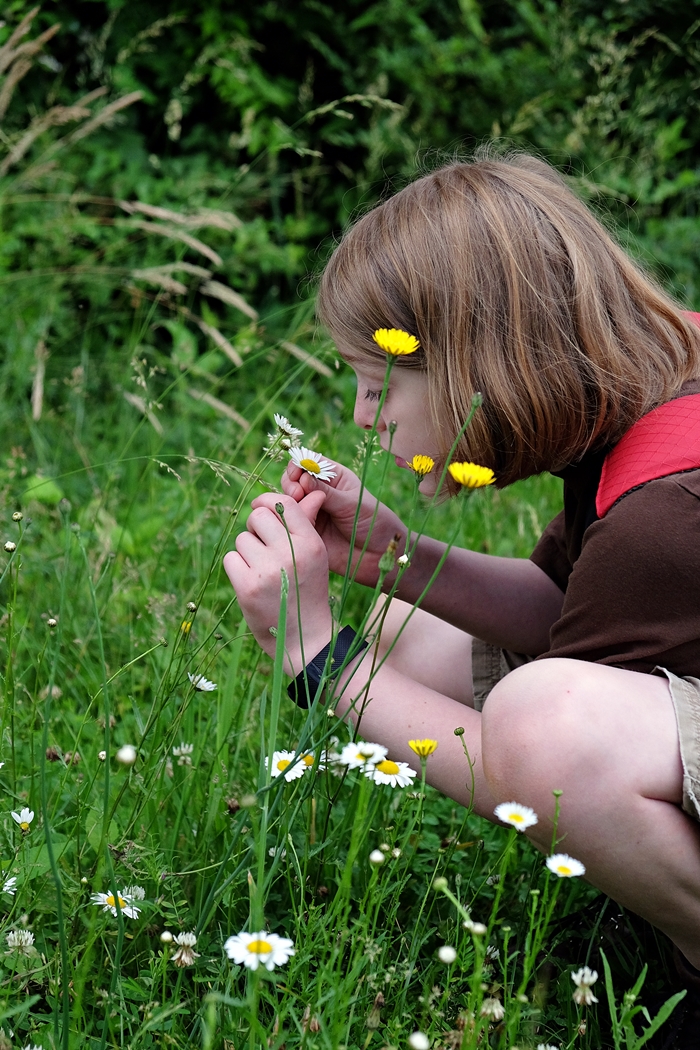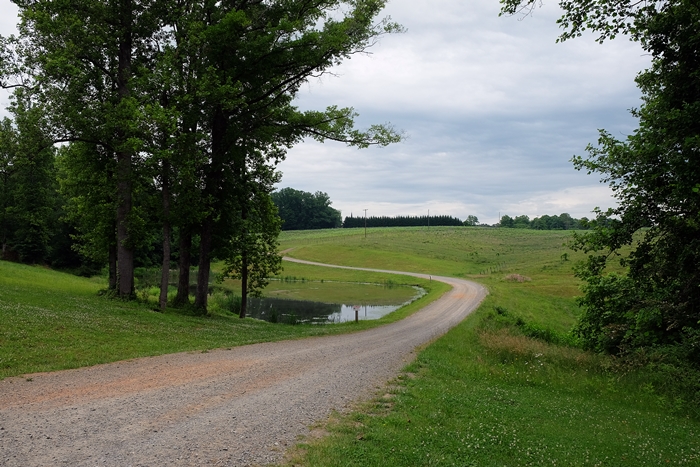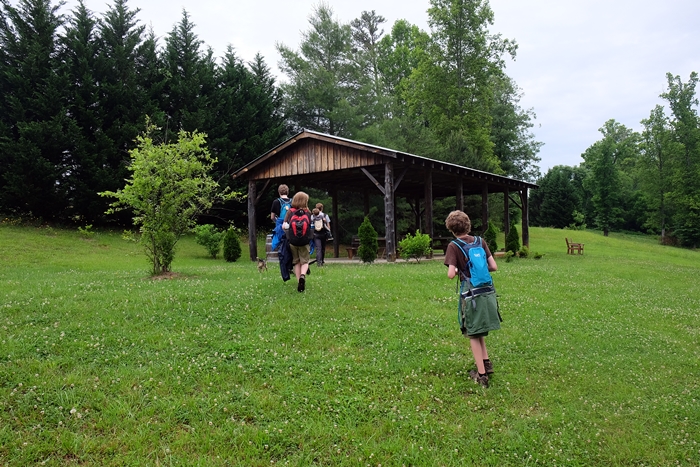 In the afternoon, we decided to spend a bit of time checking out the Blue Ridge Parkway. The closest entrance to the parkway is maybe 25 minutes from the campground. We actually opted to make a big loop and get on a little farther north, near the Blue Ridge Music Center, then follow the parkway south for a bit before heading back to Elkin.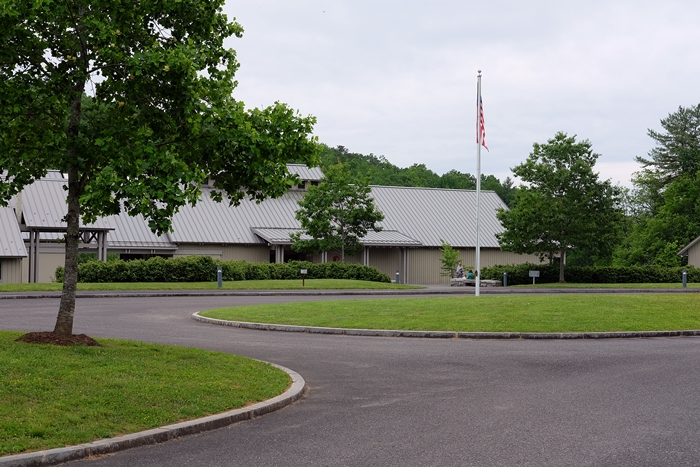 The Blue Ridge Music Center has a nice museum about the music in the region, with a number of hands on exhibits. Like this one where the kids learned to mix music. They're pretty much ready to open a recording studio now: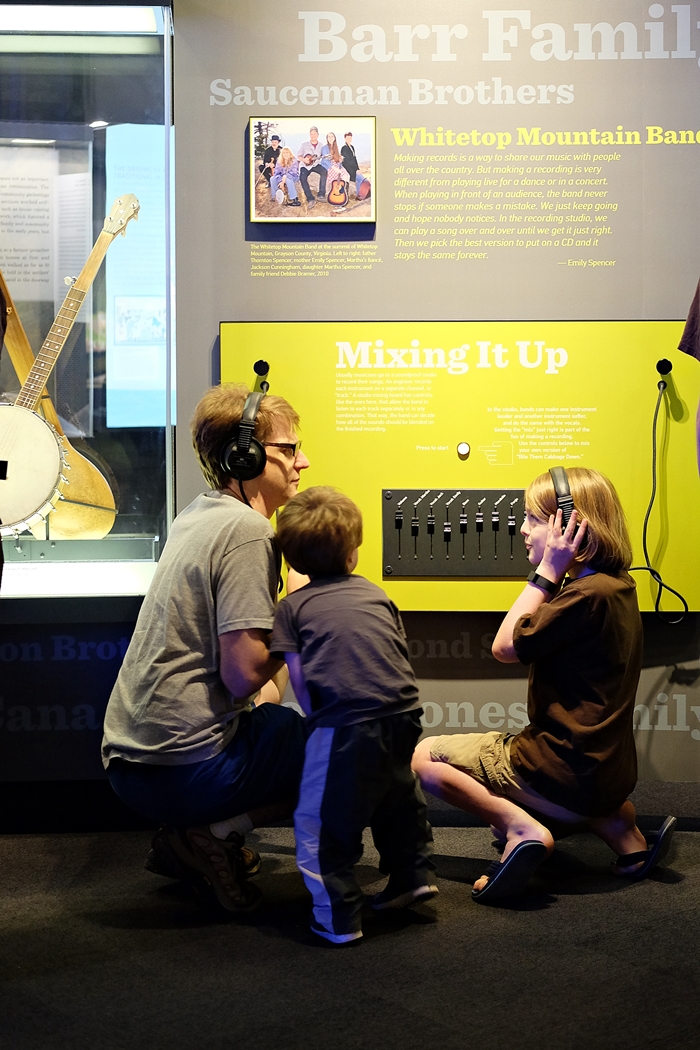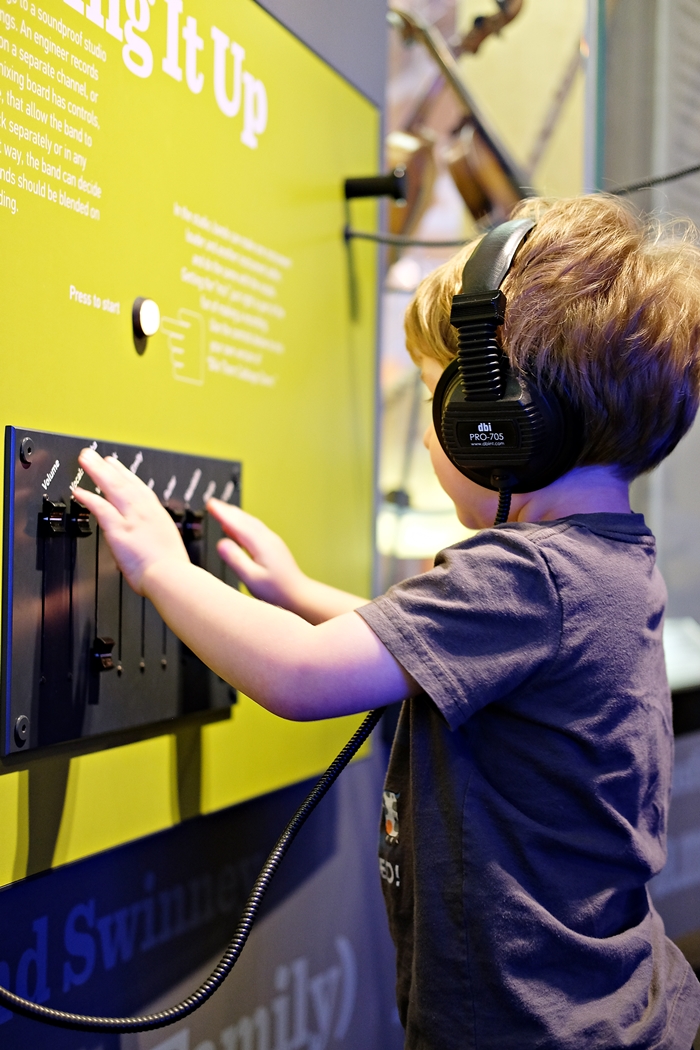 AND live music every afternoon: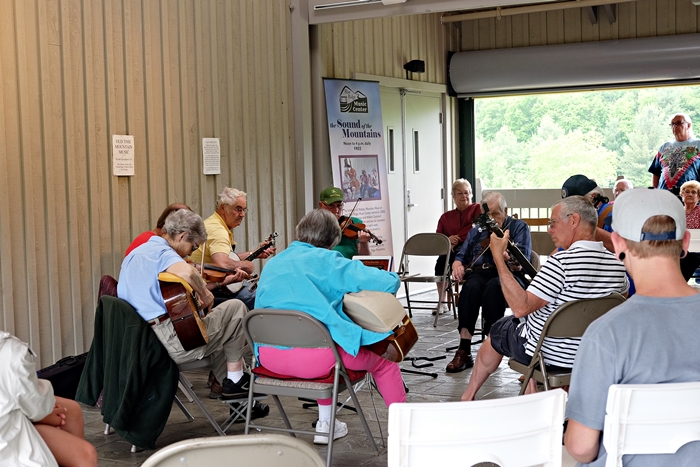 Also, the gift shop has a lap harp for sale, and Gus played that thing for a good 20 minutes, and would have stayed longer if we'd let him. We didn't buy a lap harp, though. Just a magnet.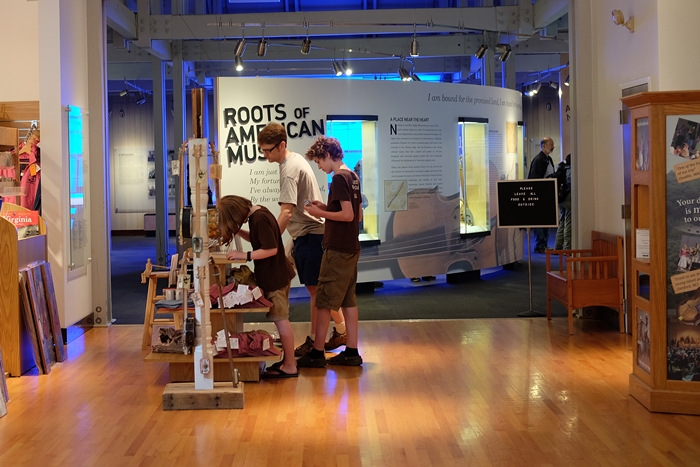 We looked into Junior Ranger badges (they have kind of an interesting set up, where kids can do separate booklets for different sections of the parkway to earn a badge, with some bonus prizes if they manage to do them all), but after looking through the book decided our short time in the park wasn't really going to give the kids enough time to finish. It's hard leaving a Junior Ranger badge unclaimed, though.
Then we drove down the parkway for a few miles, just long enough to take in a couple of scenic overlooks: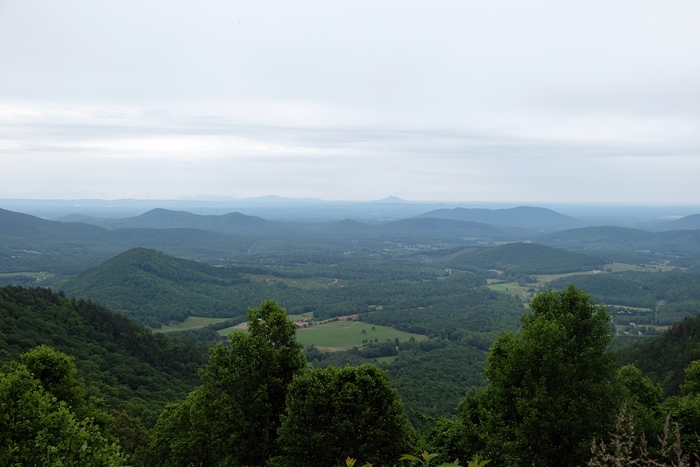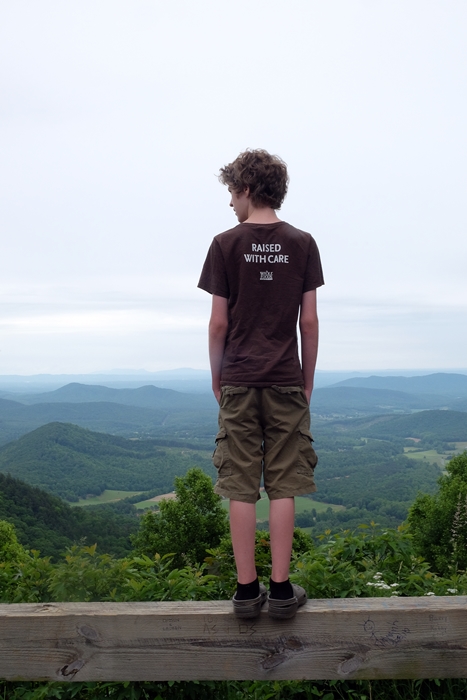 Thanks to Elkin for a great start to our trip!