Travel date: June 23, 2017
Way back when we first started planning our cross-country trip, we put two quirky-sounding museums in Idaho on our tentative itinerary: the Idaho Potato Museum and the Museum of Clean. I'm not kidding when I say that my kids were as excited about the Museum of Clean as they were about pretty much anything else on the trip. At some point we had to shift things around and the potato museum didn't make the cut. This made the kids a little sad. But when we talked about also cutting out the Museum of Clean there was an all out revolt. Okay, FINE! we said.
We had a 282 mile drive that day, leaving Grand Teton and heading for Arco, Idaho. The Museum of Clean closed at 5. But we left early and made good time, and we were on track to have a good 2 1/2 or 3 hours to spend at the Museum of Clean.
Until we hit the traffic. Now, we're not new to traffic. We live near Atlanta. We used to live in Boston. We were recent veterans of a two hour bison jam in Yellowstone. But our introduction to Idaho featured the worst traffic we'd ever seen in our lives.
As near as we could tell, some sort of planned closure had one lane shut down, but then an accident of some sort happened and shut down the remaining lane, so there was nowhere for anyone to go for a good long time. It was terrible. It was also very, very hot that day, and our van's AC–which works just great under normal circumstances–is fairly useless when the van's not moving. UGH.
By the time we made it to the museum (after some nerve-wracking maneuvering through town. Don't trust your GPS!) we had only about an hour until closing time. Fortunately, the fine people at the Museum of Clean did their best to help us pack as much into our hour as possible, and we had a fabulous visit.
The website specifies that they have RV parking; the parking lot out front was mostly empty while we were there so we were able to just park off to the side in the main lot. I think they might have a separate lot to direct people to when things are busier.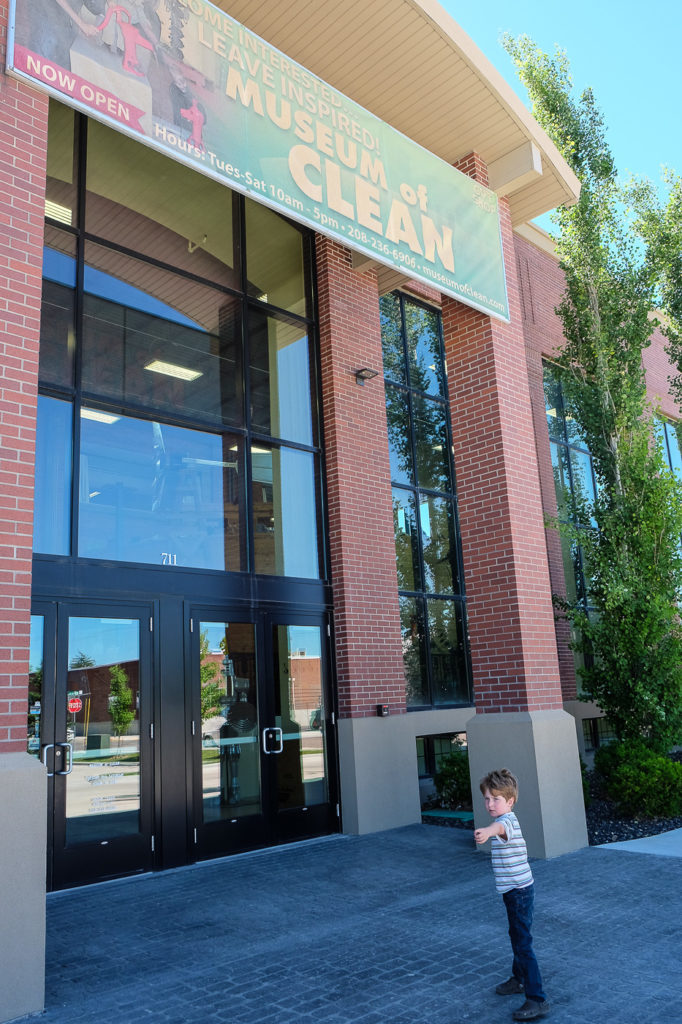 So the Museum of Clean is…exactly what it sounds like: it's a museum dedicated to all things clean and cleaning related. Like, for example, the world's largest privately owned collection of vacuum cleaners. It's a labor of love from museum founder and, clearly, lover of clean things, Don Aslett.
Admission is $6 for adults, $5 for kids 3-11, or $20 for a family of 2 adults and 3 kids.
Your museum admission includes a guided tour, and I highly recommend you take advantage of this rather than just wandering amidst the vacuums on your own, wondering what exactly you're looking at. Museum director, Brad, gave us our tour, hitting just the highlights since we had so little time. The tour was full of interesting anecdotes, audience participation, and terrible jokes. We even won one of Don Aslett's books! (I think everyone wins one).
Abe and Gus were vacuumed: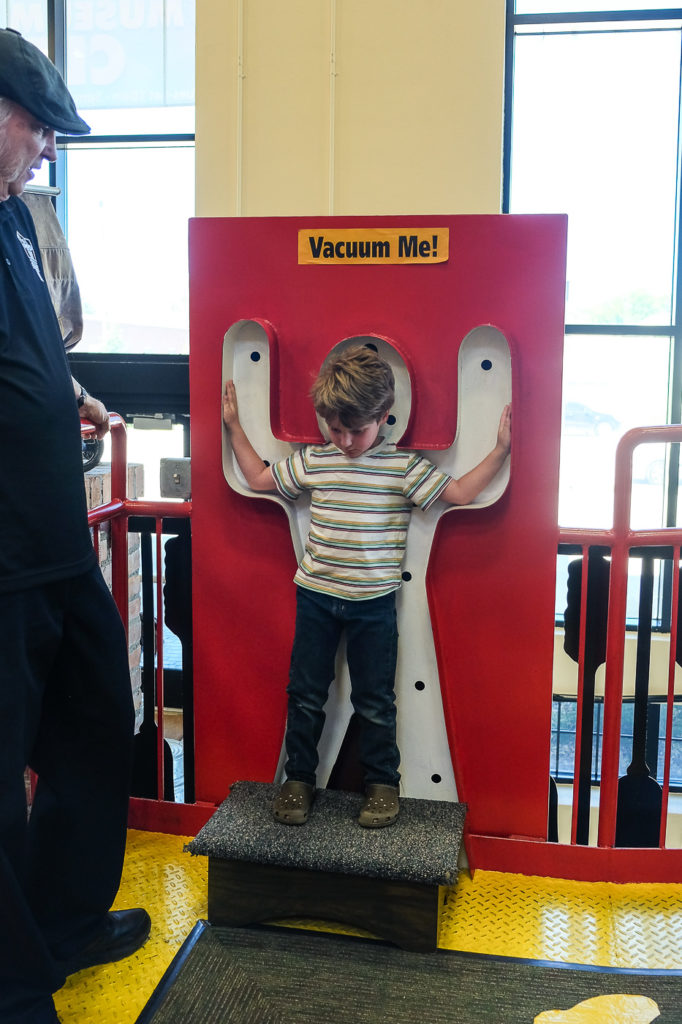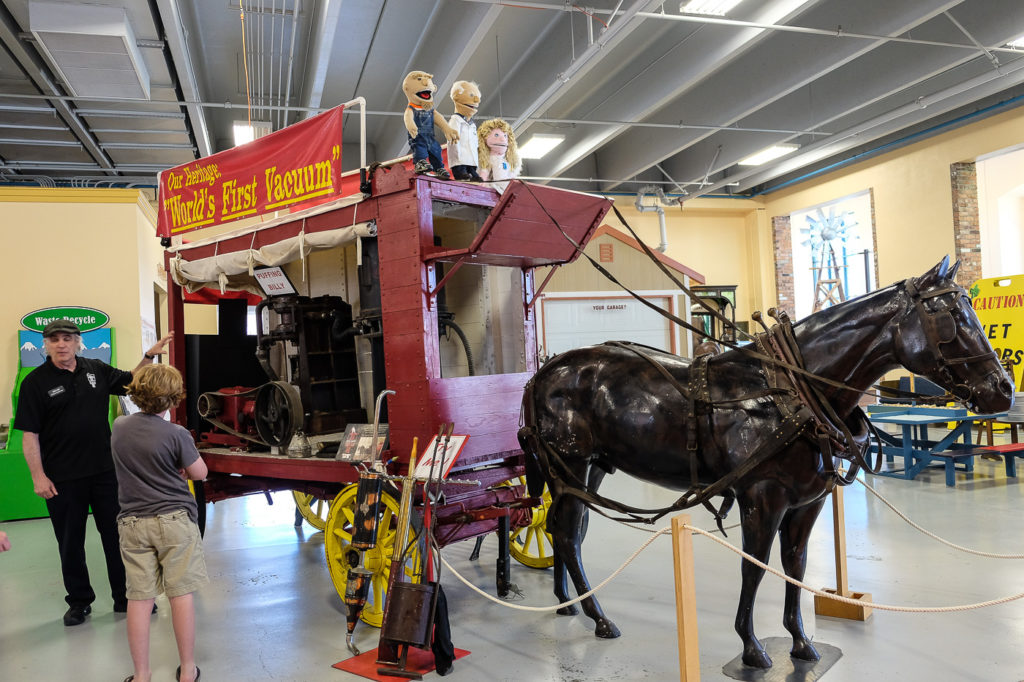 More vacuums: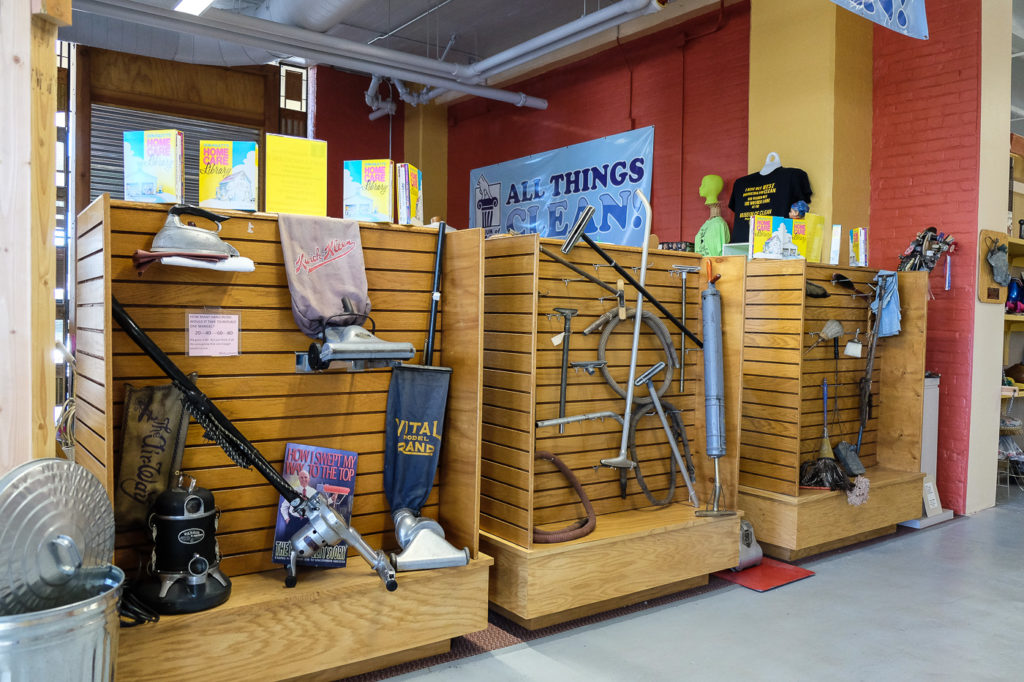 A band made out of cleaning things: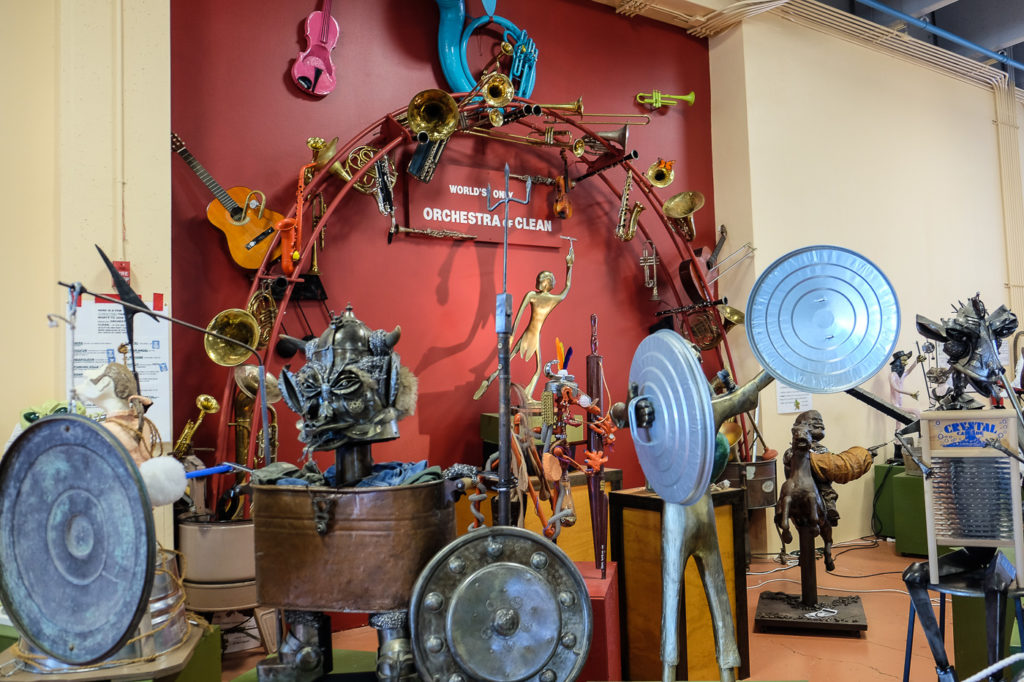 There's a floor devoted to more kid friendly stuff, with lots of hands-on activities: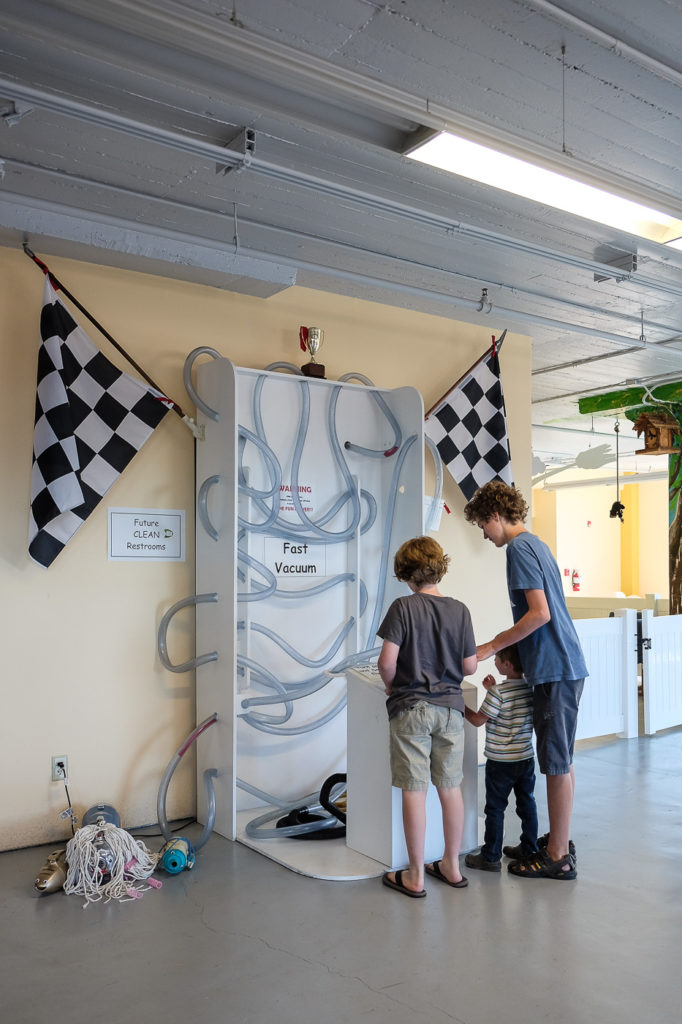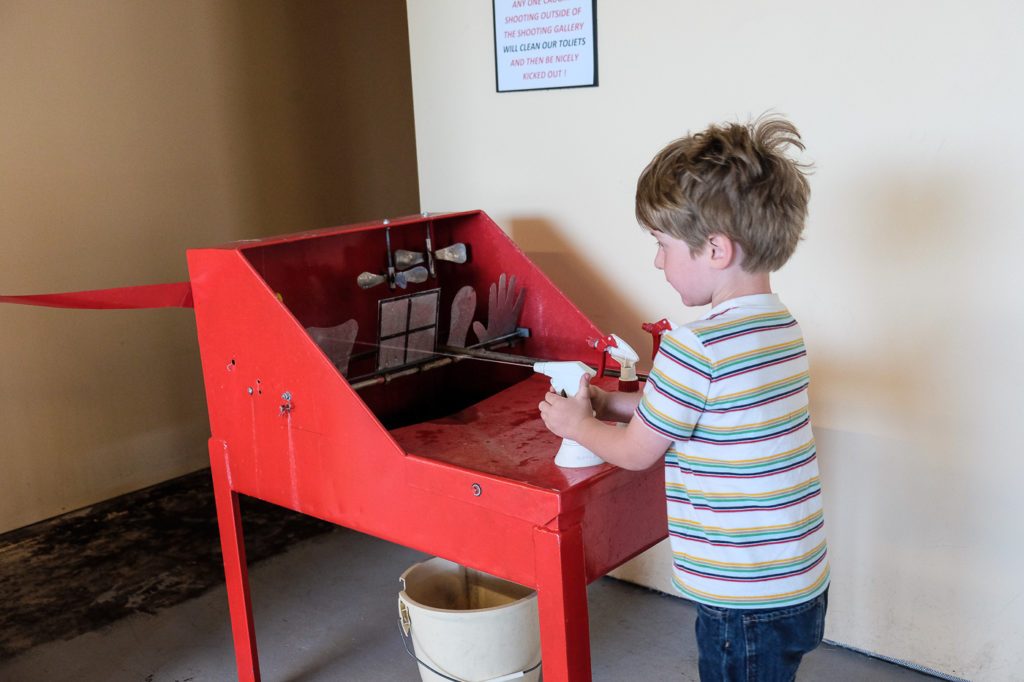 Plus another kids' play area inside this giant green globe thing: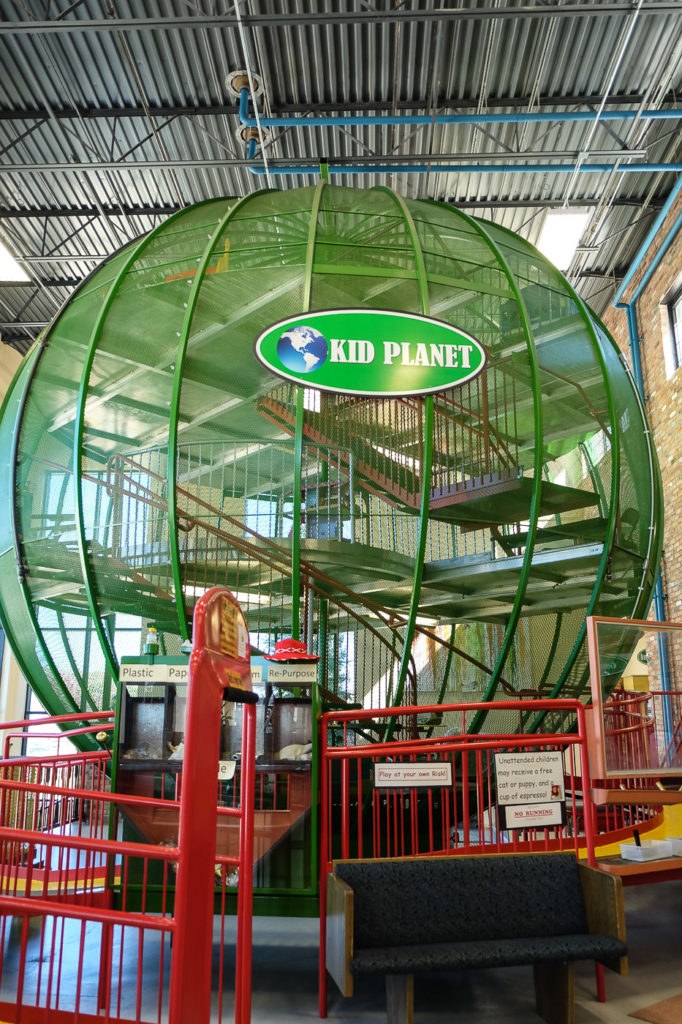 And, of course, a photo opp with the world's largest janitor: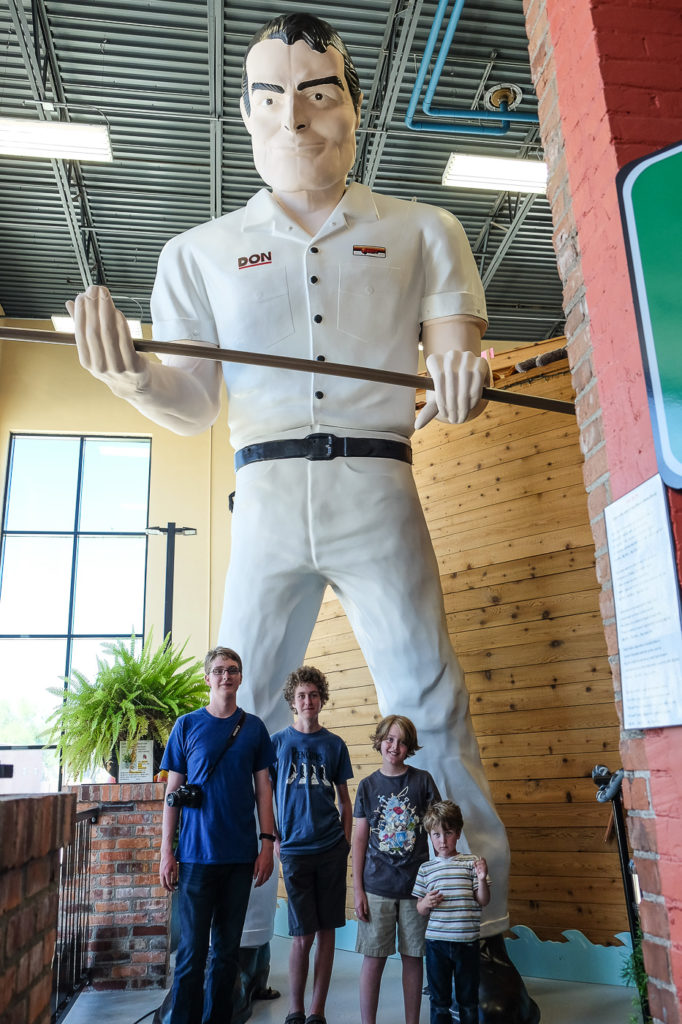 After more than a week spent soaking up majestic mountains and impressive geysers and whatnot at Yellowstone and Grand Teton, the Museum of Clean was a charming change of pace. We loved it so much that we all bought T-shirts in the gift shop (Abe's features the World's Largest Janitor himself). Highly recommended stop if you're passing through the area (even better if you don't have to battle the World's Largest Traffic Jam to get there!)