travel dates: October 6-9, 2017
We usually try to take advantage of long weekends to go to places that are out of reach for regular weekend trips. But when we were looking at Columbus Day weekend, we realized that Dave had the Monday off, but Ari (who's taking dual enrollment classes at a local college this year) did not. With this, our long weekend became a regular weekend, and we decided to stay close to home and check out Don Carter State Park, Georgia's newest state park and the only one on Lake Lanier, only an hour or so away from home.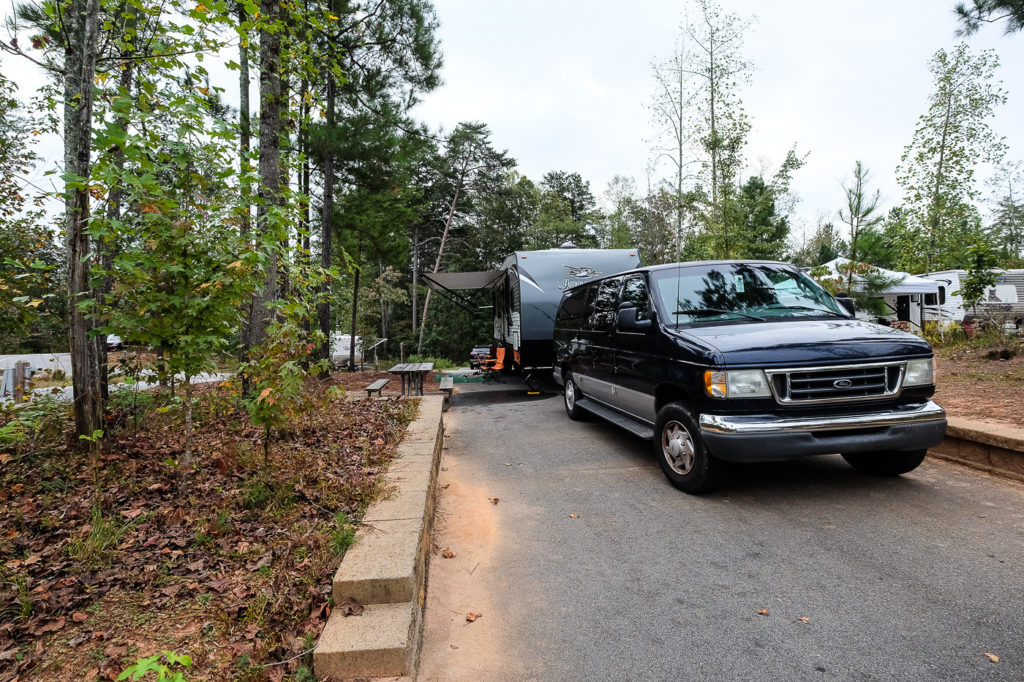 Our plan was to take semi-advantage of Dave's long weekend by booking our site for Friday through Sunday nights and taking two cars, so that I could take Ari to class Monday morning while Dave and the other boys packed up and drove home. But then a tropical storm came through on Sunday, and we ended up leaving Sunday morning instead. So we only spent one full day in the area after all.
Booking and arrival:
At Georgia state parks, you book a type of site that will fit your rig, but you don't get to pick a specific site until you arrive. This can be a good thing for people with a lot of flexibility in their schedules, since it means you don't have to spend a lot of time squinting at Google Earth trying to find the best site but can just drive around and find one you like when you get there. But for people like us, who generally have to start our state park visits on Friday evenings after work–i.e. the most popular arrival time of the week–it usually means we're stuck with very limited sites to choose from even if we booked the trip many months in advance. I understand that Georgia is experimenting with site specific reservations at a few parks now, so I'm hoping this will expand in the future.
That said, the quality of Georgia State Park campgrounds is generally very good, and we've never ended up in a site that we were genuinely unhappy with. So Don Carter was nearly full the weekend we were there, but we got a great site anyway. More on that later. In addition to RV sites, the park offers cottages for rent and a primitive tent-only campground.
When we booked online, maybe two months in advance, there was still tons of space available, but it did book up by the time we arrived. So definitely book in advance for busy times.
The drive to the park isn't difficult, but it does involve a lot of turns and a lot of smaller, windy roads.
The park office called while we were on the way to ask if we'd be there before they closed at six. We weren't sure if we would or not, so they gave us all the info we'd need (including key codes for gates) to check in after hours. It turned out Dave got there just a couple of minutes before six, but if you're going to be getting there late, I'd recommend calling them to get the information you need before you leave. I was driving when they called, so I had to repeat everything to Ari so he could write it down. And then I had to call Dave (who, you'll recall, was driving a separate car) to repeat everything to HIM. It'd be nice if the park had a standard e-mail to send out to everyone a day or two before their reservation with all the info in it.
But, as it was, Dave got there while the office was open and checked in no problem. They suggest taking the second entrance into the campground if you have a bigger RV, which Dave did….but the turns they warned us about going into the first entrance really didn't look too bad.
Campsites:
There are 41 water/electric sites here ($30/night); all are paved and at least 50 feet long, so they can fit any size RV. Many of the sites are long, spacious pull-throughs, including the one we got. We had site 35, which Dave picked because it was the first one he saw, but it turned out to be a nice one. The only issue we had with it was that there was very little room around the fire pit, thanks to an inconveniently placed wall. The site next to ours (which stayed empty the whole time we were there) would have been better.
I was a little surprised that our nice, easy to get into spot was still open, but I suspect it's because a lot of people are looking for the sites closer to the lake. All of the sites looked pretty good to us, though. All sites have picnic tables and fire rings.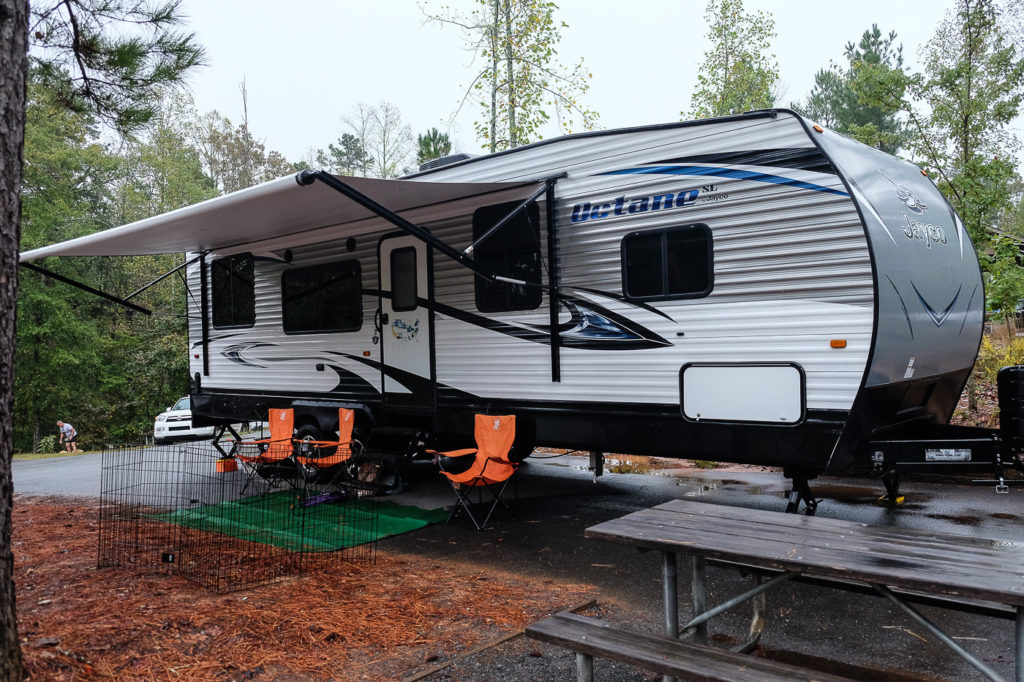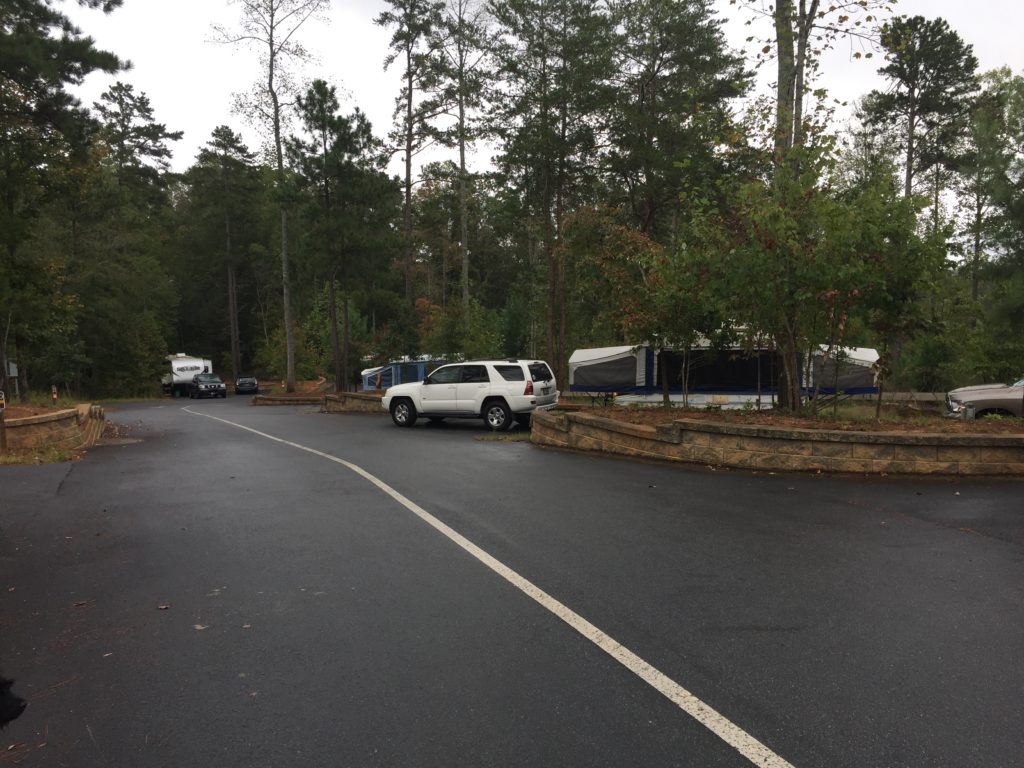 Amenities/Activities/Campground Overall
We didn't use the bathhouses much since we were only here two nights, but since the park is pretty new so are the bathhouses; they're quite nice: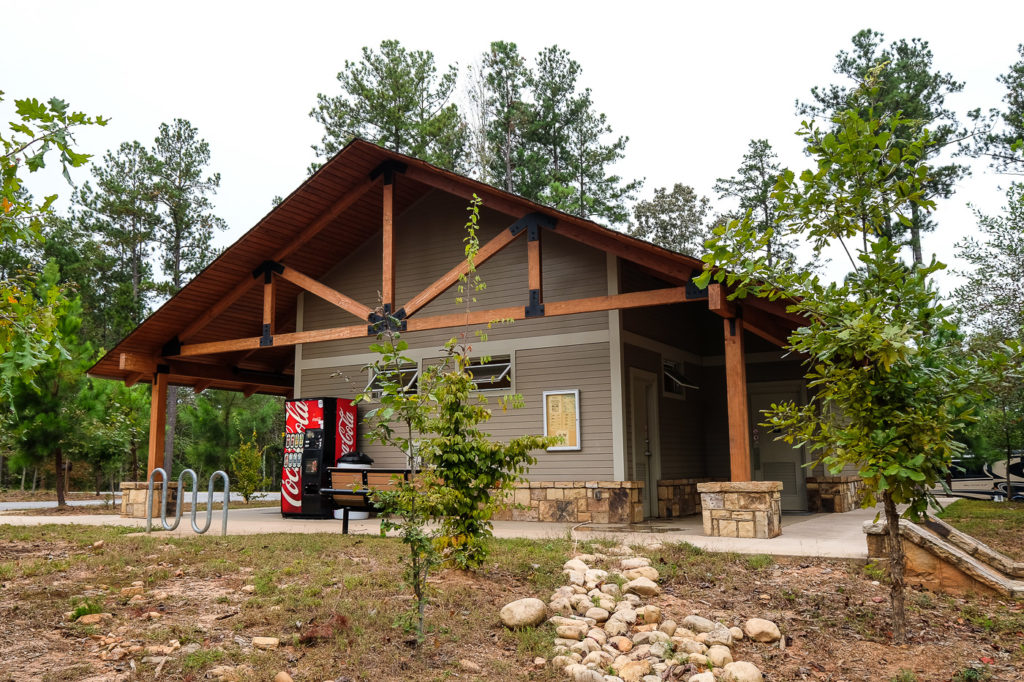 There's also a communal picnic pavilion inside the campground and access to the park's trail system and the lake.
We walked the trail over to the visitor center one morning; the signage and following the trail was a little confusing because, I think, of damage from Irma a few weeks before. Lots of downed trees and trails having to be re-routed as a consequence: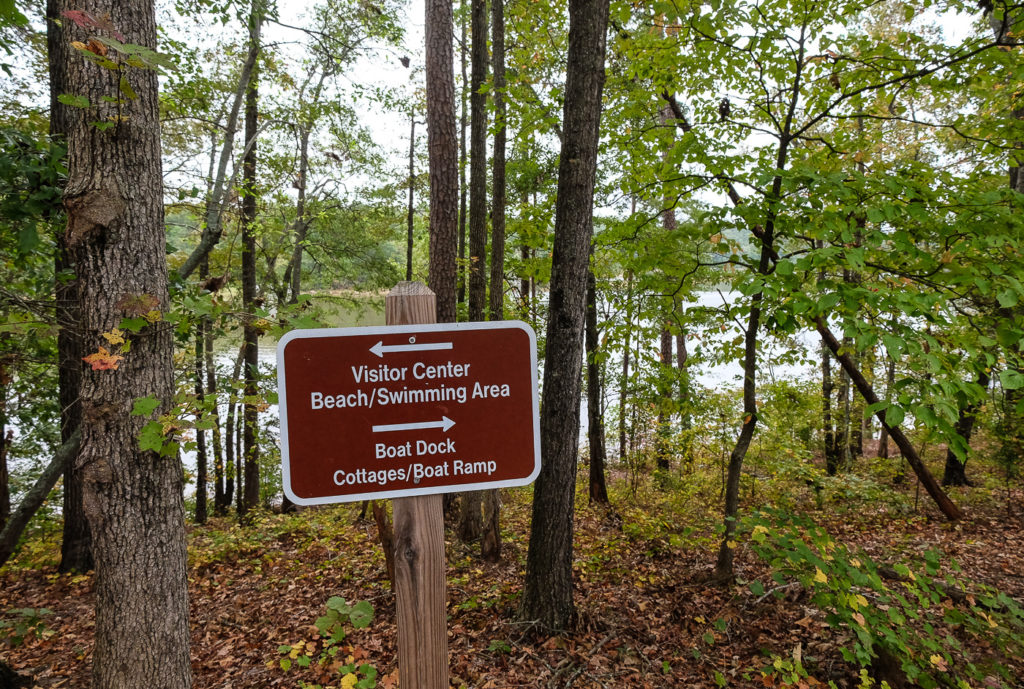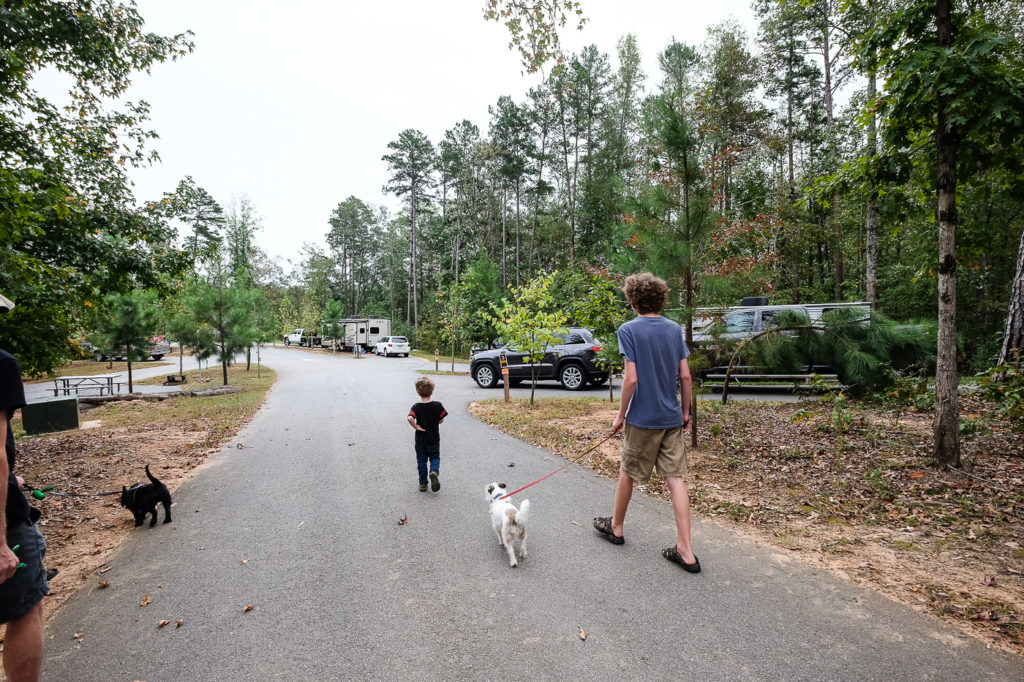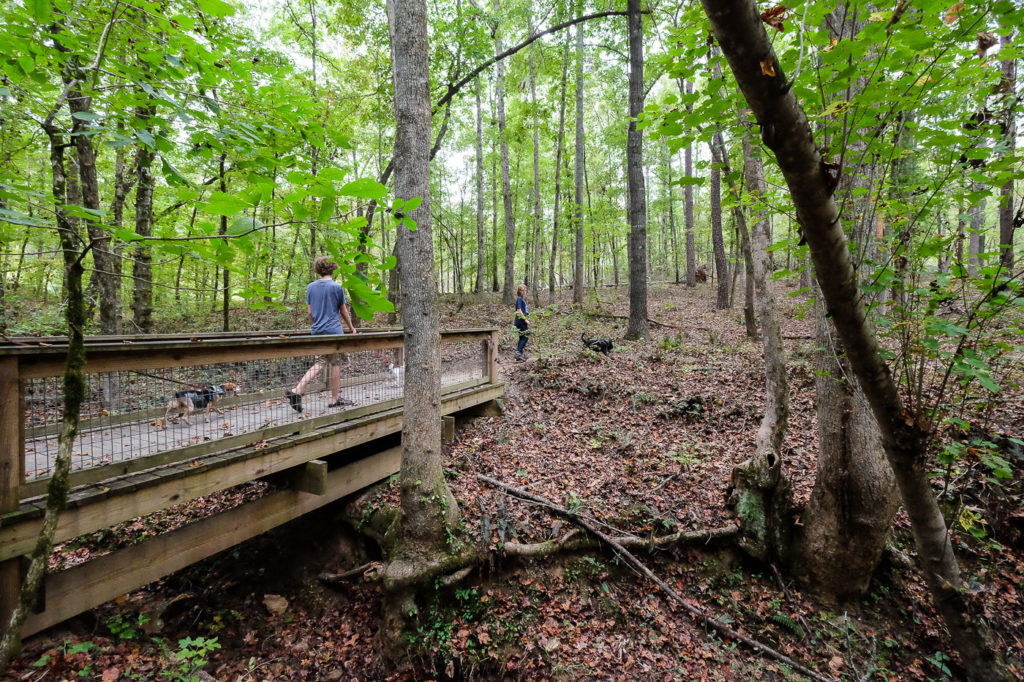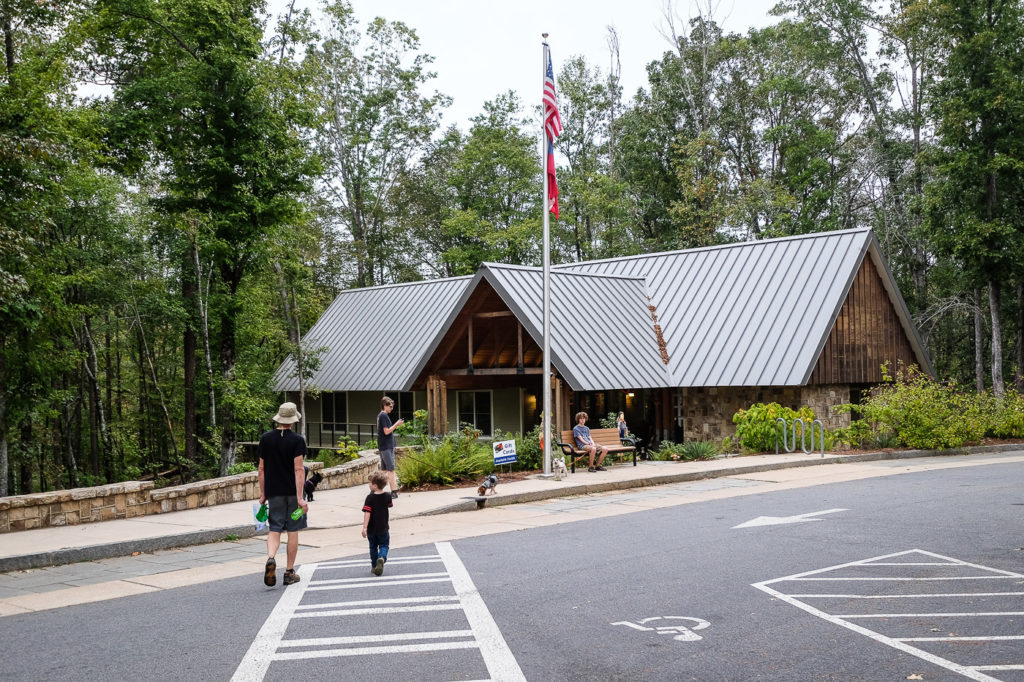 So overall Don Carter is a lovely, well maintained park and a great place to spend a weekend. Inside the park itself, Lake Lanier is definitely the main attraction (in addition to boating, there's a small sandy beach area for swimming)….but we didn't get out on the water at all on this trip, opting instead for a few land based activities in the area…which I'll talk about in my next post.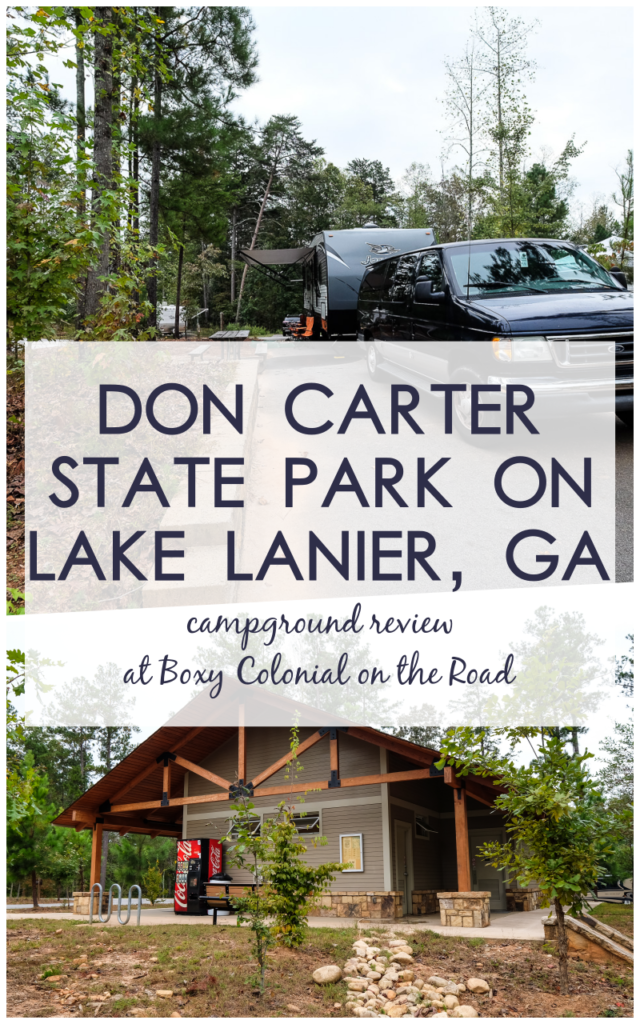 SaveSave
SaveSaveSaveSaveSaveSave