Travel date: December 29, 2016
I think our Tybee Island day was my favorite from this trip, which has me overanalyzing and trying to figure out why. And I can't really put my finger on it–some combination of Tybee itself, the stuff we saw there, everyone's various moods….I wouldn't be able to replicated the experience in a lab, but, at any rate, we had a great day.
(note: I asked the kids if they agreed with me about Tybee being our best day, and they reminded me that we had tried and failed to find an open ice cream place after lunch….apparently that knocked it out of contention for them. So important note: it can be tricky to find ice cream in the winter on Tybee).
Tybee Island is about 30 minutes away from Savannah, and it's known as "Savannah's Beach" because it's the closest open ocean beach to the city. It's also the closest beach to Skidaway Island, where we stayed on this trip, so we knew we wanted to take a day to head out there. We went to Tybee for a day during last year's Savannah trip, too, but we spent a lot of that time visiting friends who were staying there, so we didn't do as much sightseeing as we did this time. Here's what we did this time:
The Beach! Obviously. We live several hours away from the closest beach, so we try not to pass up a chance to stick our feet in the ocean. Even when it's December, and a thunderstorm is threatening, and the ocean is COLD.
We found parking on a street near the pier, hung out by the water for awhile, then ate a picnic lunch in the pavilion next to the pier (there are picnic tables there, and a snack bar that's open seasonally).
I've only ever been to Tybee in winter; even on this chilly and stormy day, there were a lot of people out. I'm sure it's very crowded in warmer weather.
Umm. I took a lot of pictures.
Here's the pier. I learned from Instagram before the trip that it's the law that everyone who goes to Tybee Island has to take a picture of this pier. Real Instagrammers get there at sunrise to take their photos. But I think a stormy day made a fair substitute.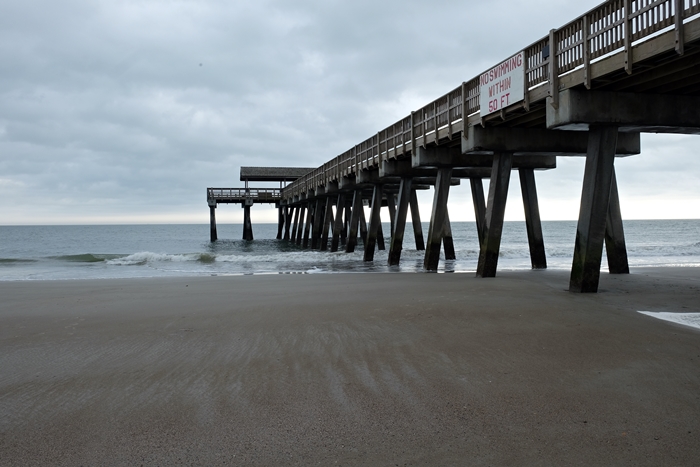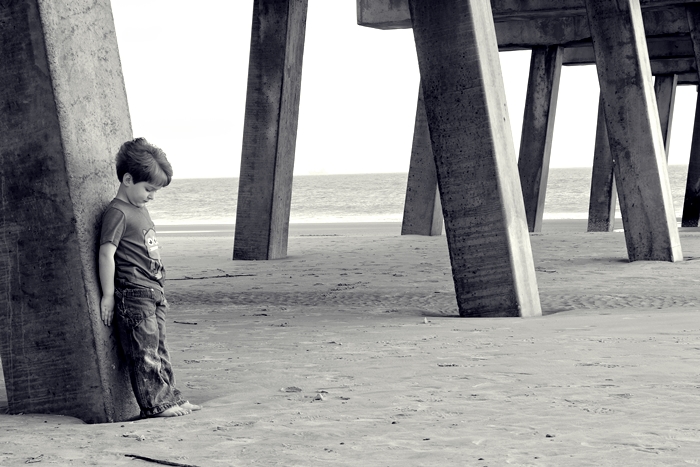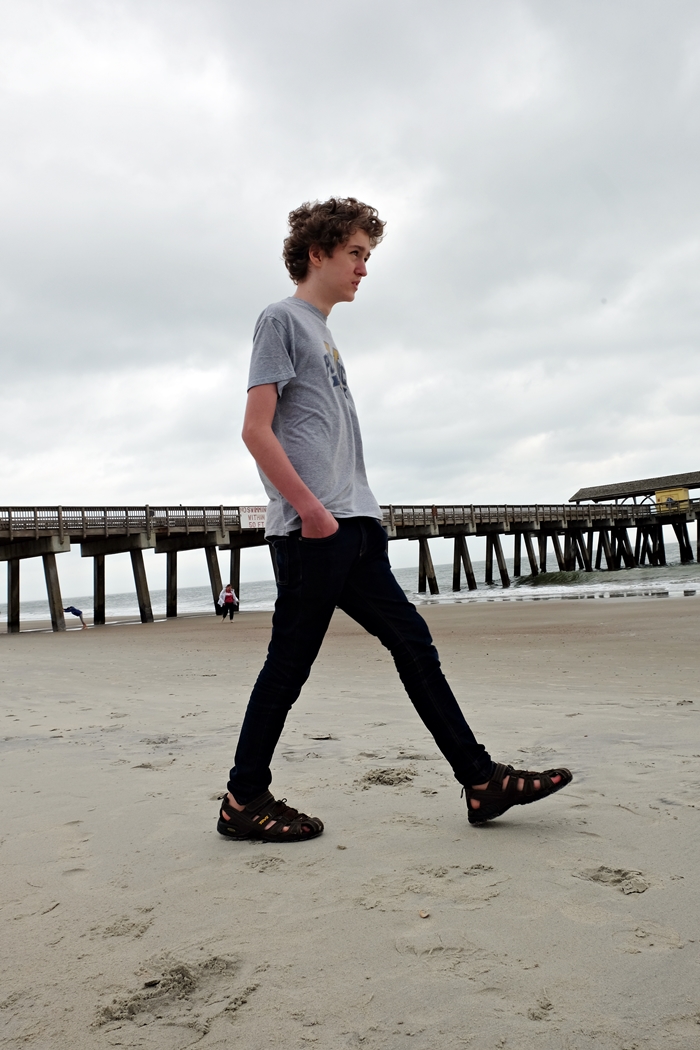 So Abe insisted on putting his pants on backwards on this day. We have no idea why: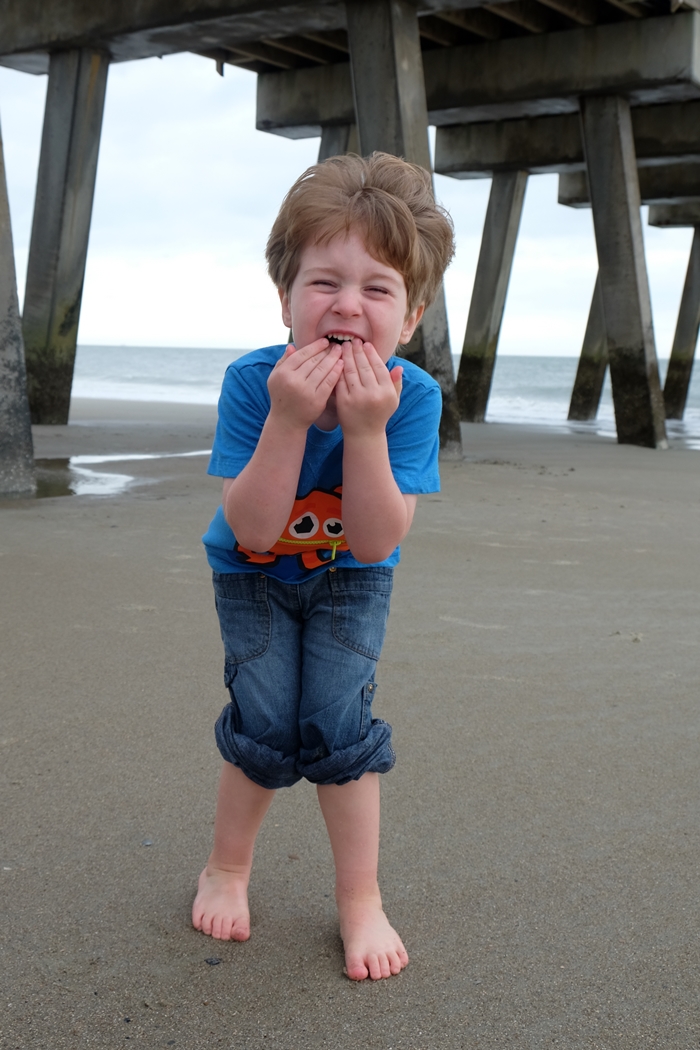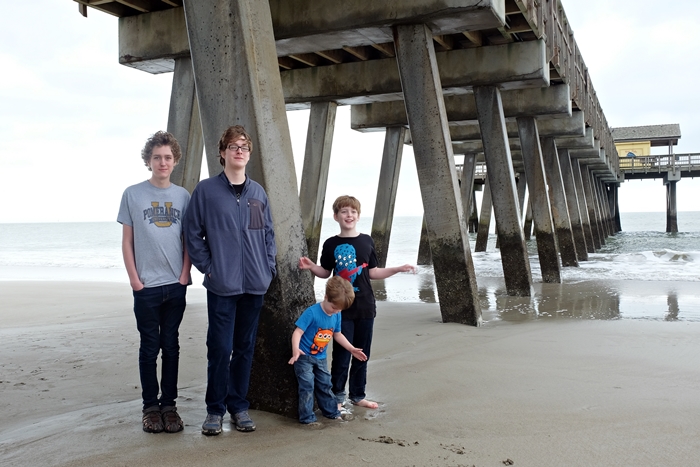 "Hello seagull!"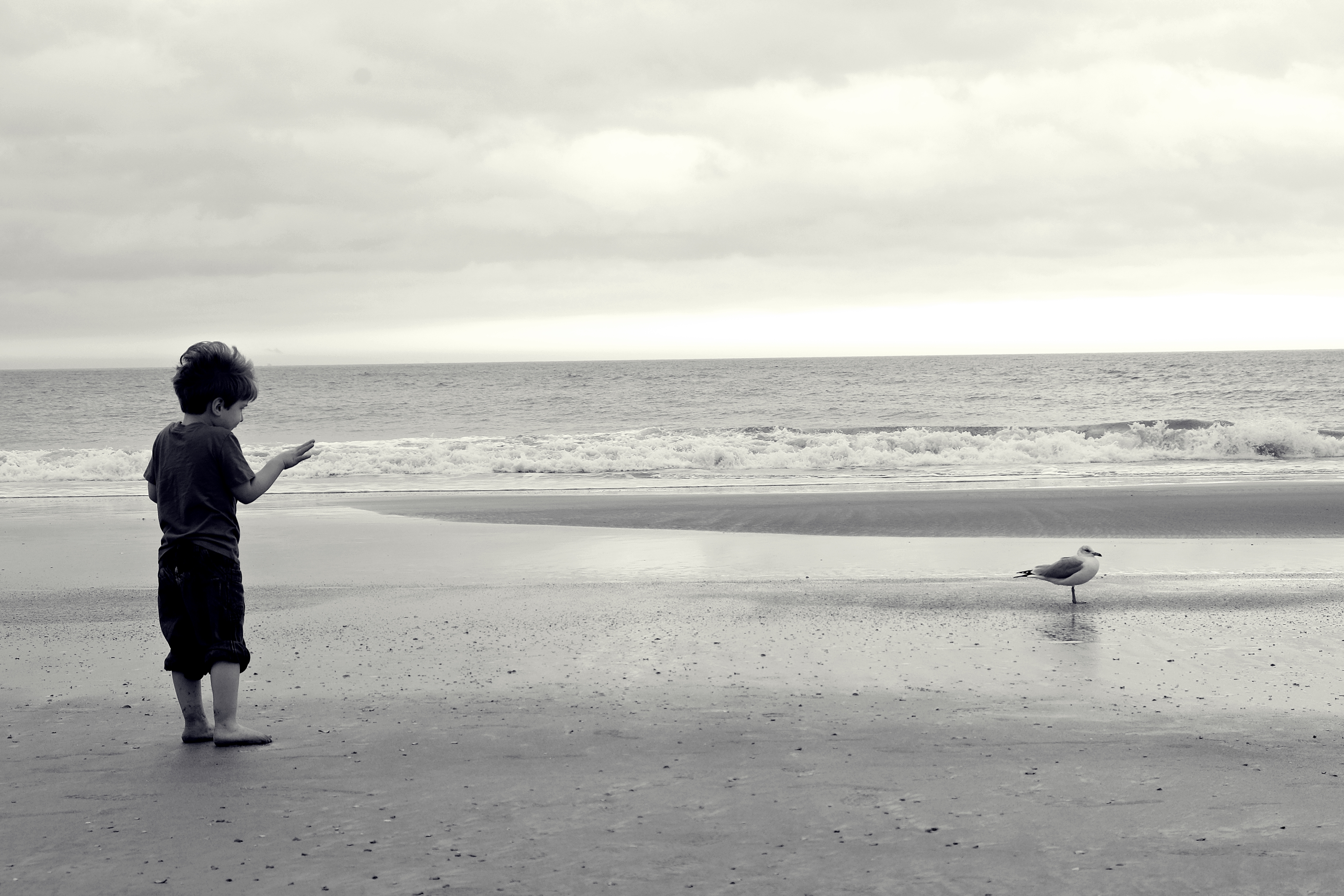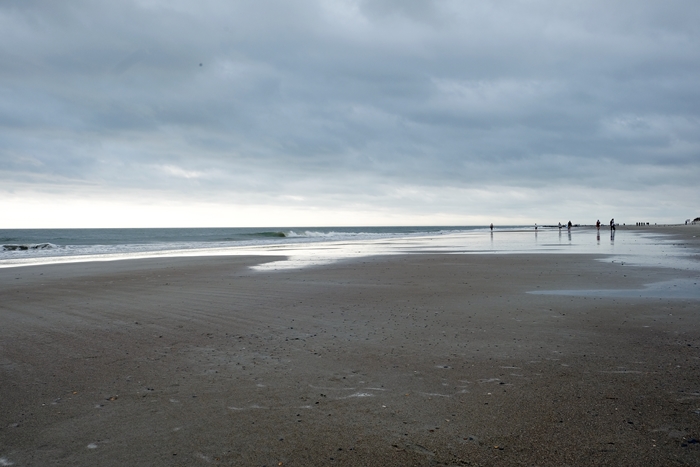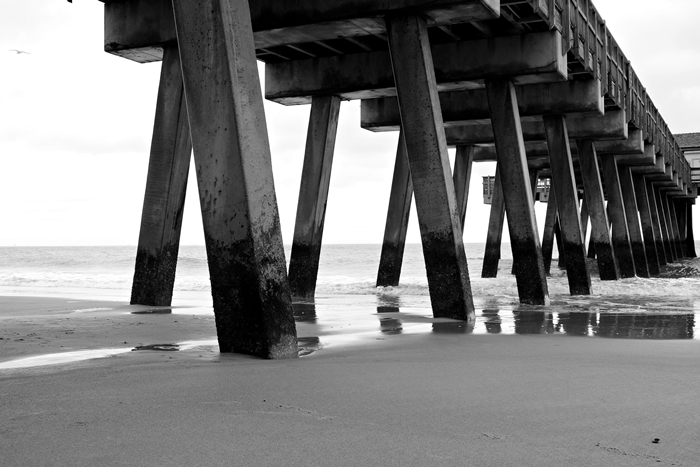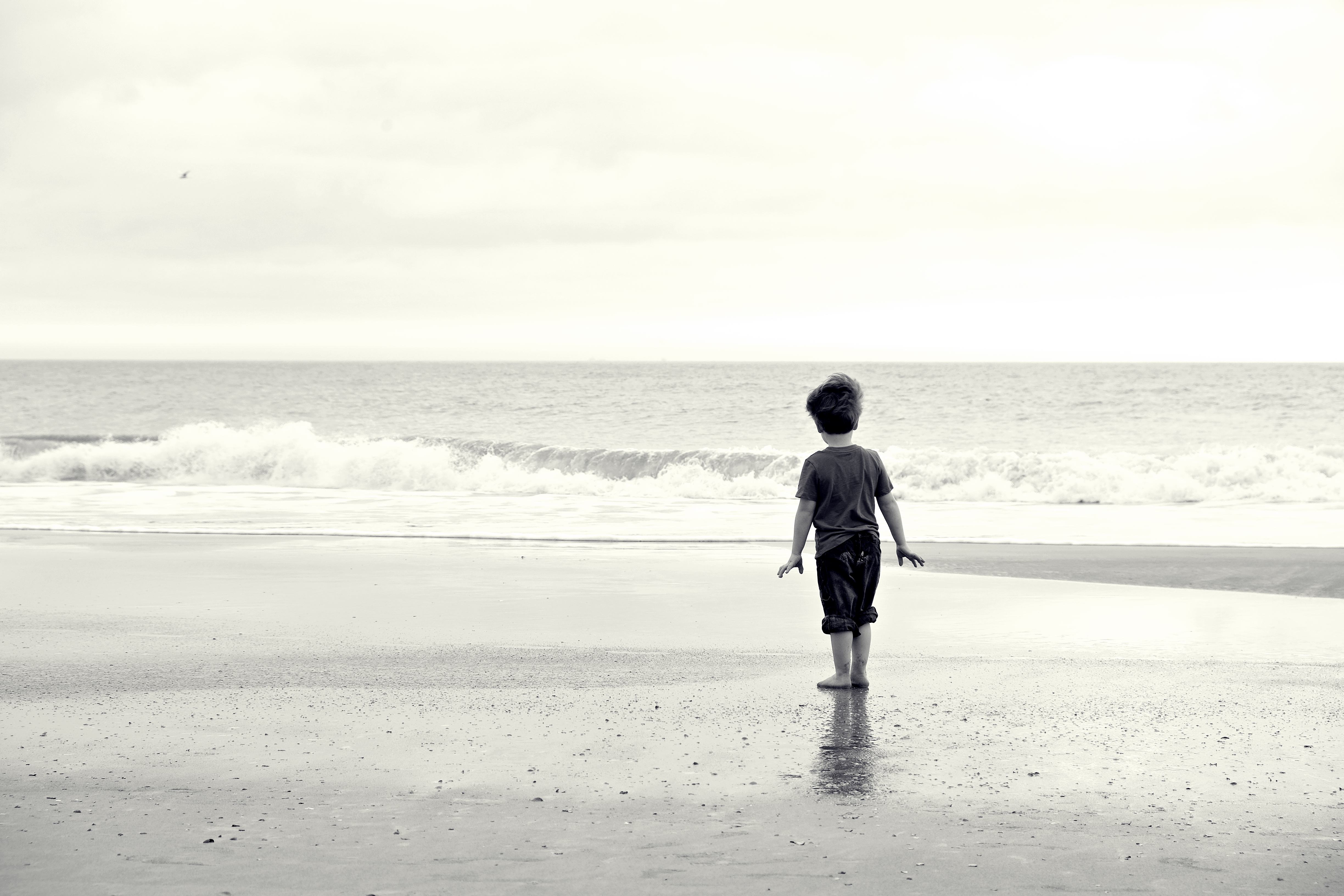 I didn't get nearly as many photos of the older kids and Dave as Abe, because they all ran away from me instead of hanging out right by the pier with their backwards pants: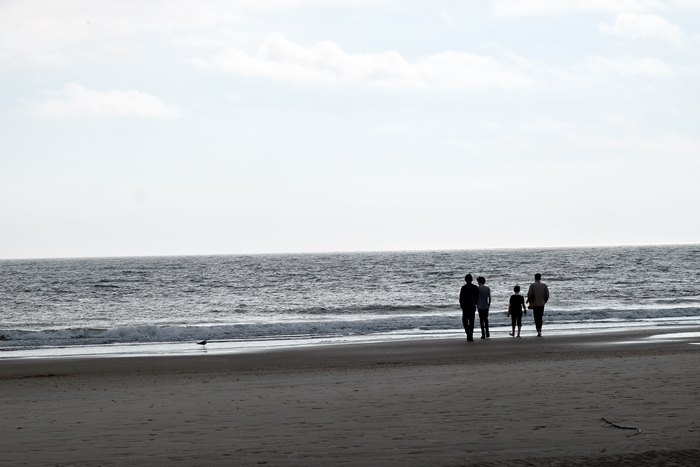 Tybee Island Marine Science Center: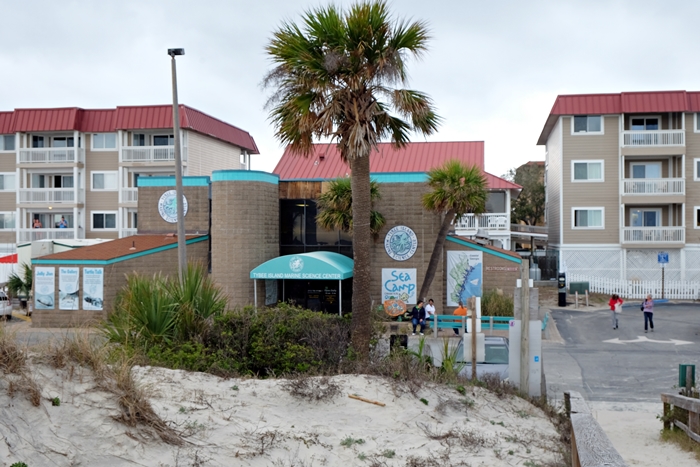 This is a small aquarium right across from the pier. They do educational guided walks along the beach and out on the marsh and whatnot, but we just went there to see the turtles. I mean, and the fish and all the other stuff. But mostly the turtles. They have a few rooms of exhibits, including a touch tank:
The center runs a rehab and rescue program, so most of the animals are there temporarily and will be released back into the wild when they're old enough to have a good chance of survival. Like this sea turtle, Ike: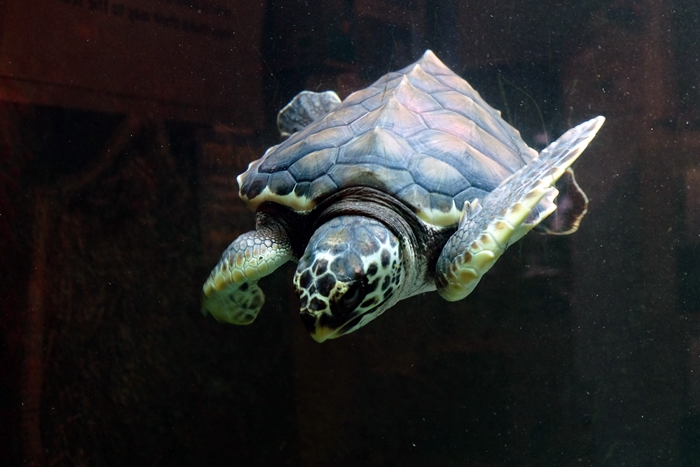 I don't remember what the story was with this guy, but he really, really liked me. Seriously, we gazed into each others' eyes for a good long time. I wanted to stick him under my shirt and bring him home with me, but I suspect that would have gone against the conservation mission of the center. But LOOK HOW MUCH HE LOVES ME! I miss you, too, little buddy!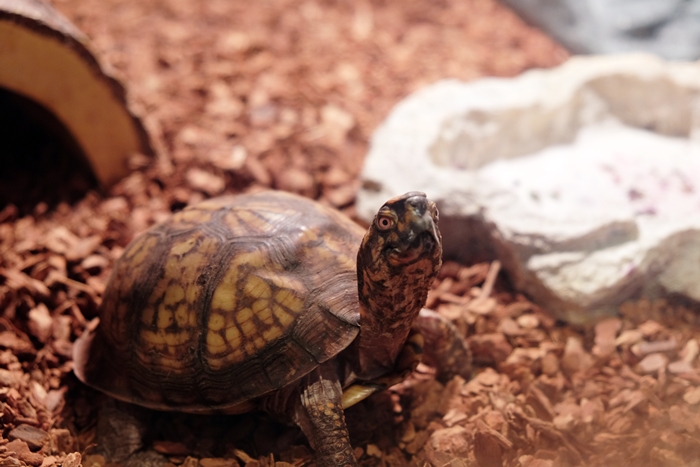 Anyway, the Marine Life Center is a great little stop on your way to or from the beach (or both; you can come and go all day with your admission) or a nice place to spend some time on a rainy day. Admission is $5 per person/free for kids 4 and under. There's no dedicated parking, but there are city lots and on street parking nearby.
Tybee Island Light Station and Museum: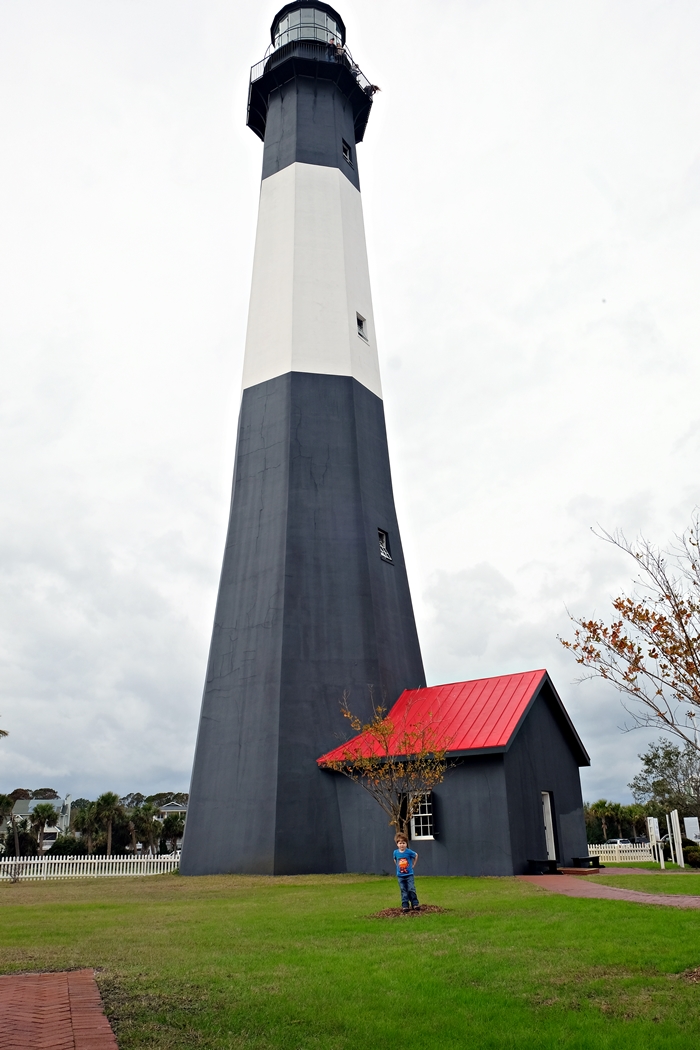 We've been to a decent number of lighthouses in our time, but I think this is my favorite one yet. Or at least my favorite site. The lighthouse itself is lovely, and has a catwalk on the outside so that you're not just peering through windows at the ocean…and the grounds are lovely and have a ton of other stuff to see. We only had time to climb the lighthouse, watch a video about the history of it, and tour the lighthouse keeper's cottage, but had we had more time (or more patient kids) our admission also included a tour of a Tybee raised cottage and admission to the Tybee museum. Admission is $9 for adults and $7 for kids 6-17 and seniors.
We climbed the lighthouse first. Many lighthouses we've been to have height or age requirements before kids can climb, so we were glad to find out that that wasn't the case here and Abe was welcome. Abe wasn't quite as glad as we were; he was pretty nervous about going up. But we took lots of breaks, carried him some, reassured him as necessary…and he made it! After his triumphant ascent, he spent about three seconds out on the (very windy and cold) catwalk and then was ready to go back down. But in the end, he was very proud of himself for having made it to the top, and I'd rate the lighthouse as a great destination for kids of all ages.
If you're worried about the climb, either for yourself or for your young kids, it is a lot of steps, but they let a limited number of people in at a time, so that it's not super crowded, and there are platforms where you can stop and rest (and let speedier people without three year olds pass you) in several places on the way up.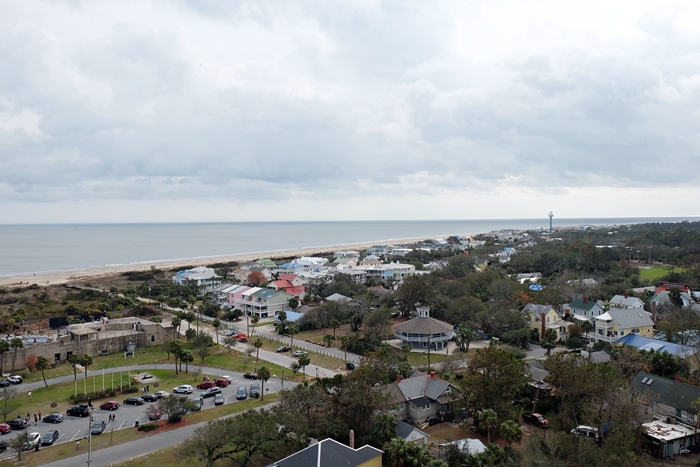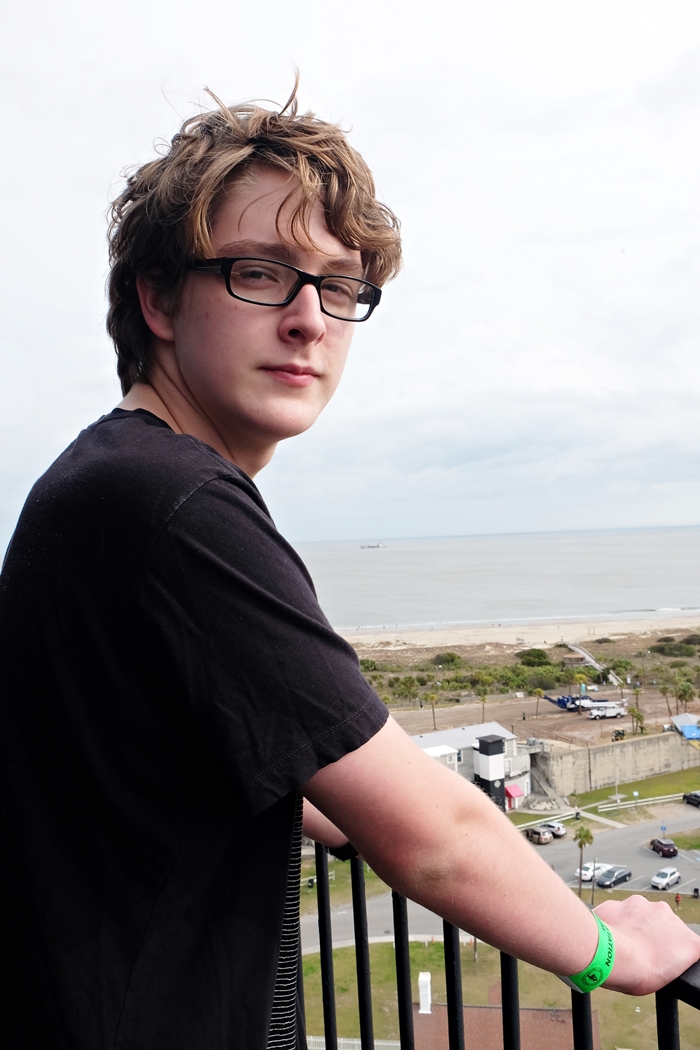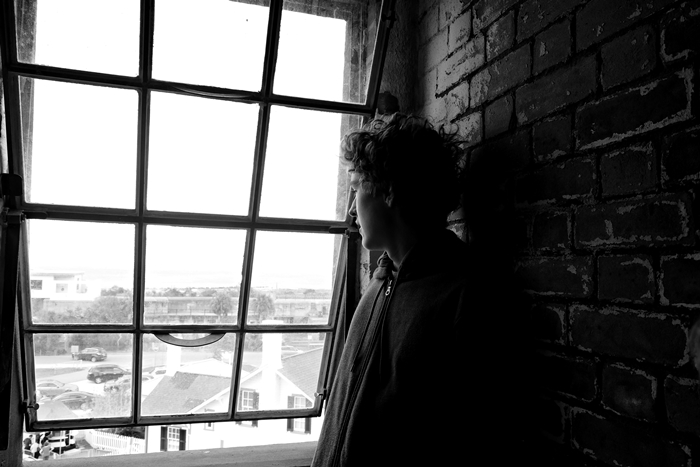 After the lighthouse itself, we watched the film about the history of the lighthouse, which includes interviews with the daughter of one of former lighthouse keepers, who actually grew up there. Which was a great introduction to going next door to see the lighthouse keeper's house. In contrast to some of the fancy houses we saw in Savannah, this one was cozy and homey and I could totally imagine living there.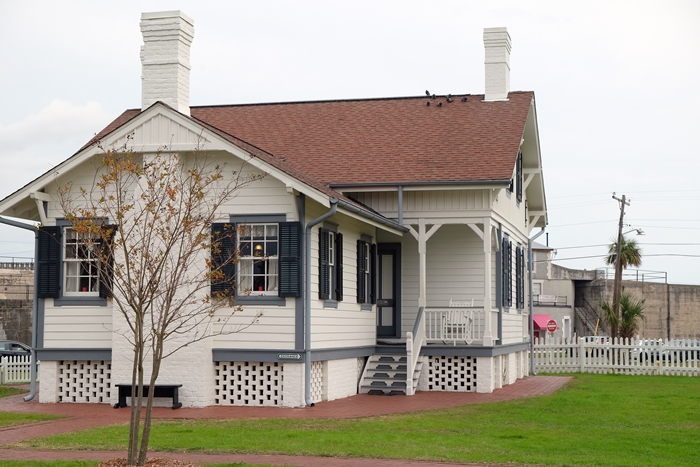 We saw a number of Christmas place settings on this trip, but this one with mismatched china definitely topped all the rest for charm: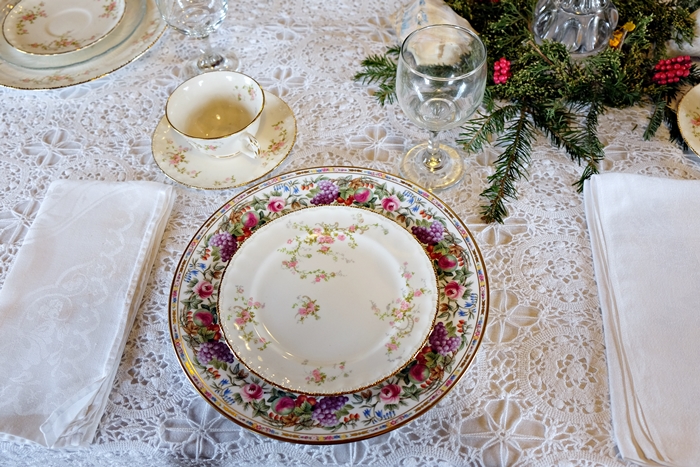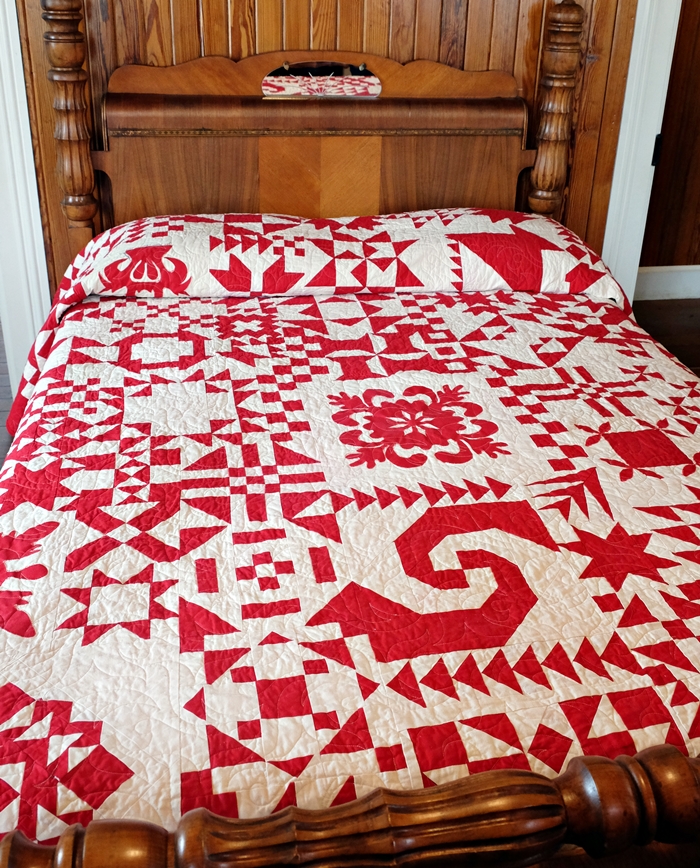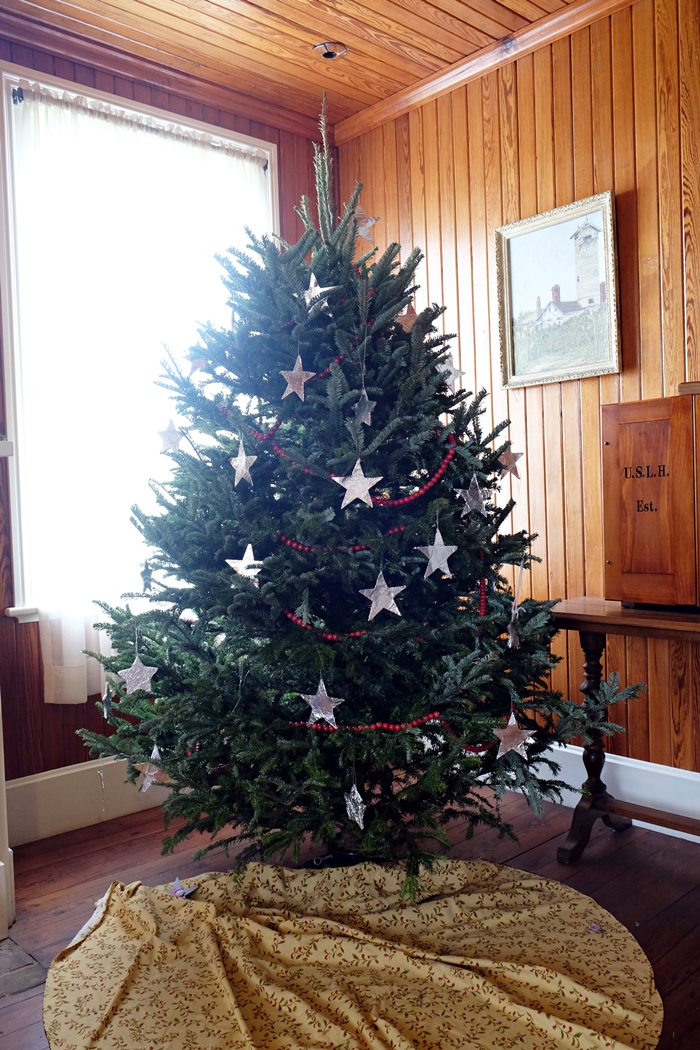 A lot of the furnishings in the house were donated by the lighthouse keeper's family and are original to the house.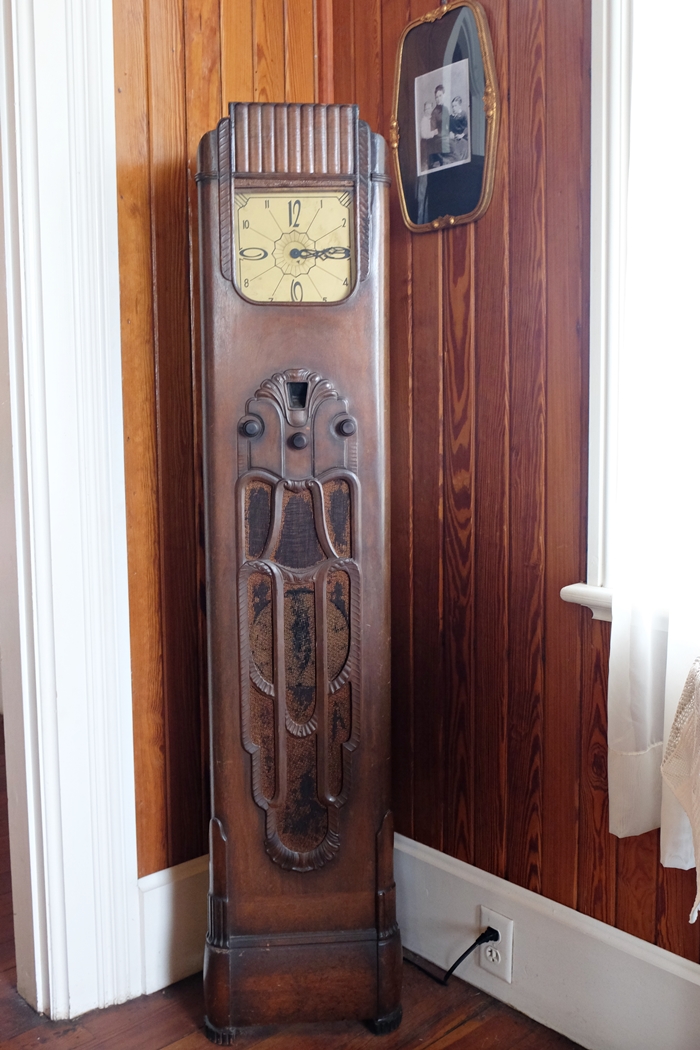 Fort Pulaski National Monument: We went to Fort Pulaski last year, so I was thinking we could skip it this trip, but the kids all vetoed me. Because Fort Pulaski is full of tunnels to explore and stairs to climb and walls to peer over and cannonball damaged walls and whatnot, so kids really like it. You can read all the details about last year's visit here.
I won't rehash the whole thing here, because we did most of the same things. Difference included the fact that the storm that had been threatening all day finally showed up pretty much as soon as we got inside the visitor's center: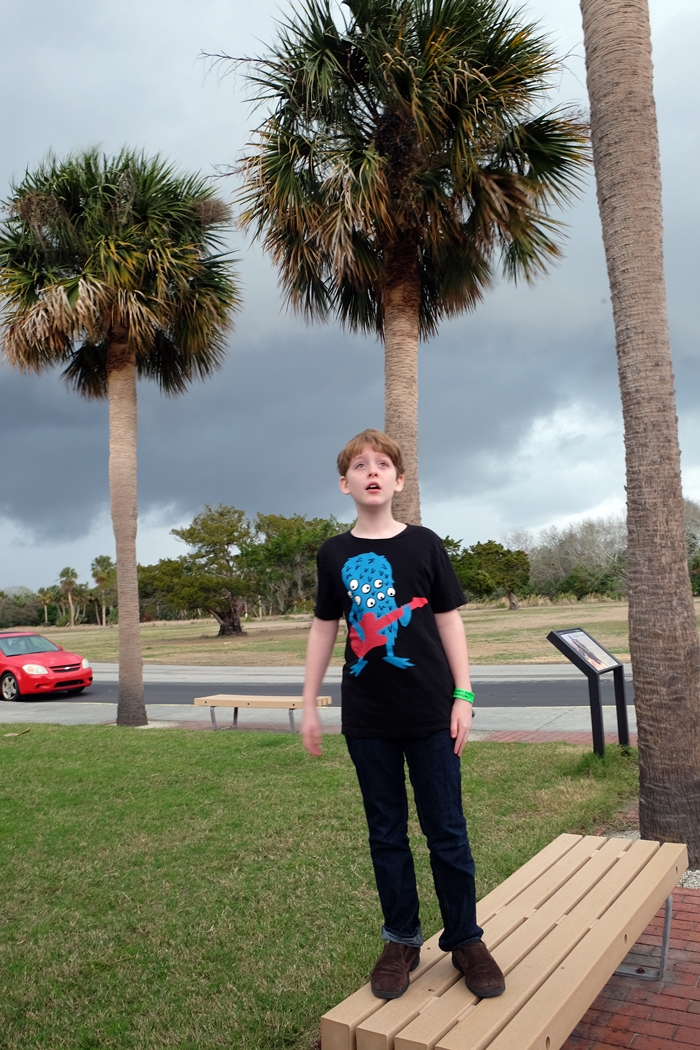 The older kids and Dave watched the film about the fort's history while we waited out the storm and Abe and I worked on his Junior Ranger book (he wasn't quite three last time we were here, so he didn't get it last year when Gus did his):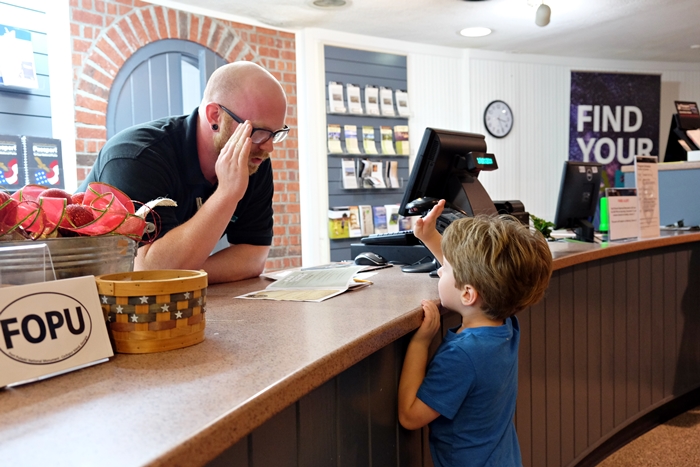 Hurricane Matthew hit Fort Pulaski hard a few months ago. There are still some areas that are blocked off because of storm damage, and they have a slide show up in the visitor's center about all the work people did to get the site open again after the storm.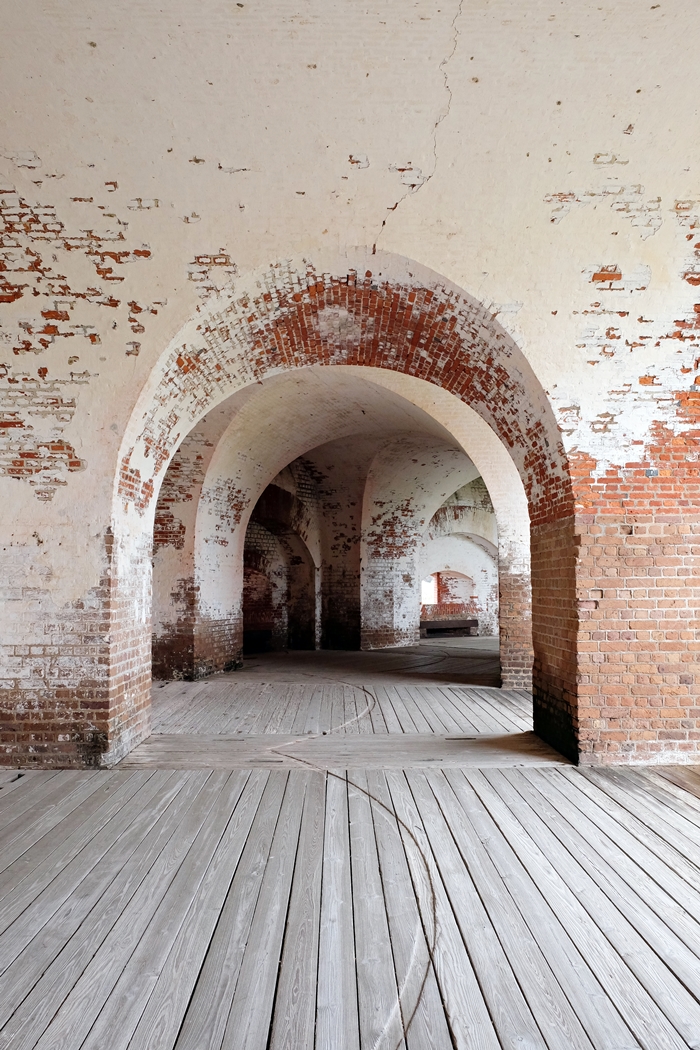 The crowds really cleared out after the rain. Here's Abe and Dave with the whole place to themselves, finishing Abe's Junior Ranger book: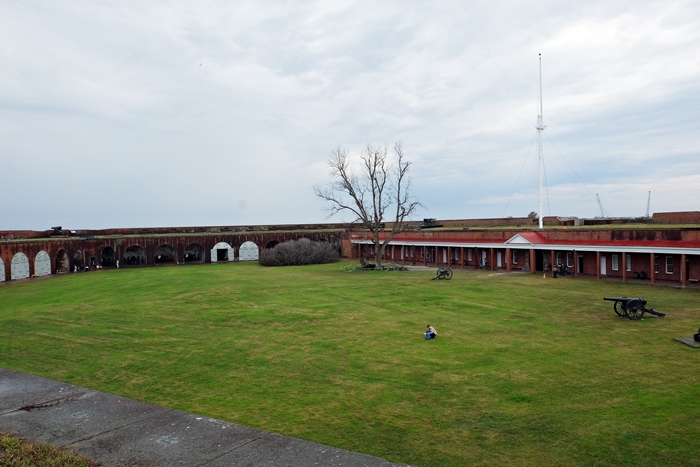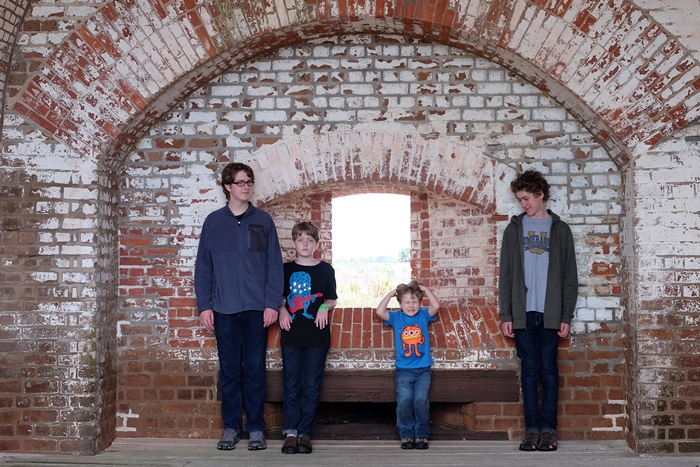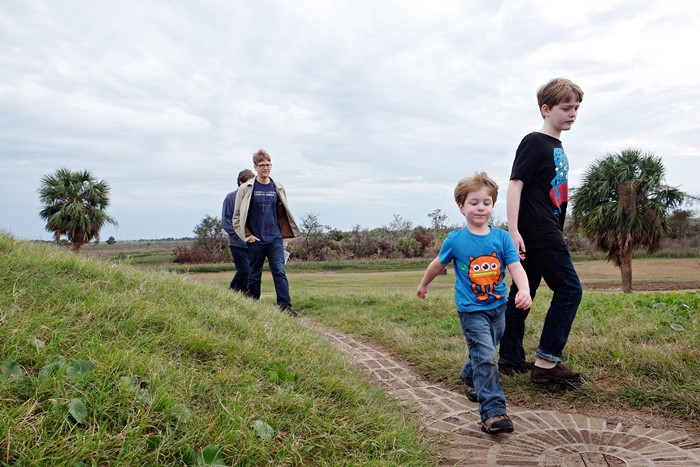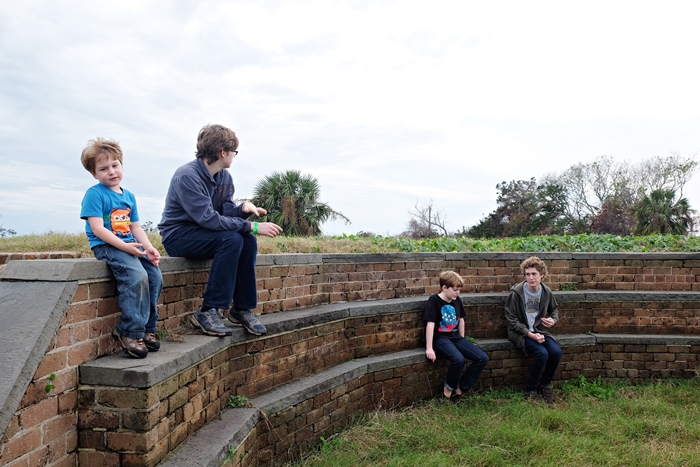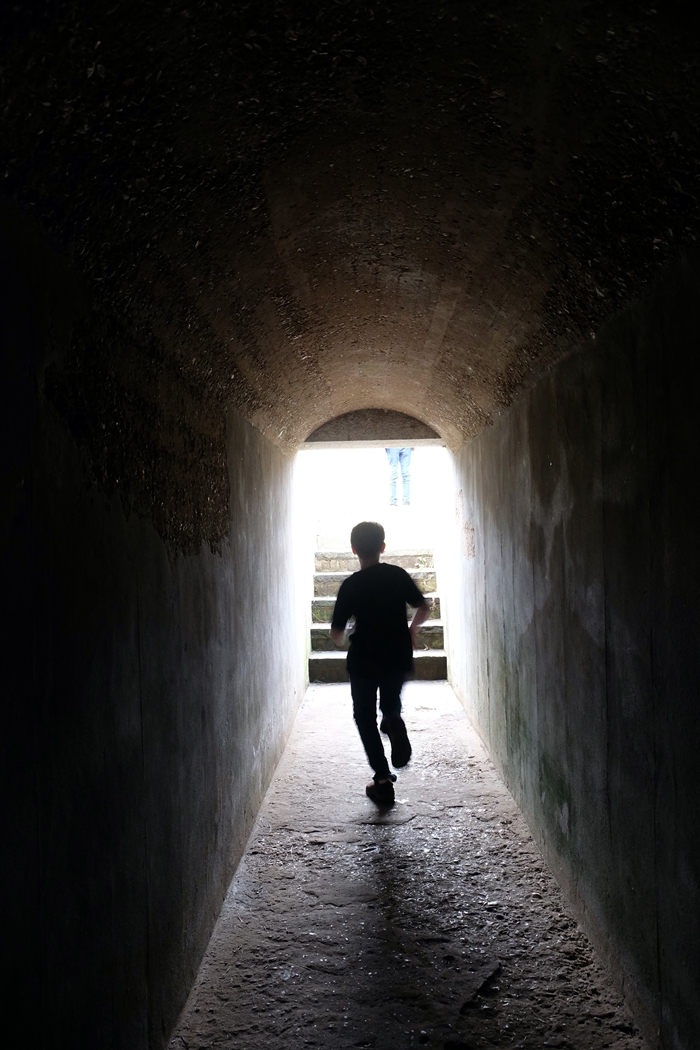 We made it out to see the wall with cannonballs still lodged in it this year (last year it was very cold, and we all opted for warming up in the car instead):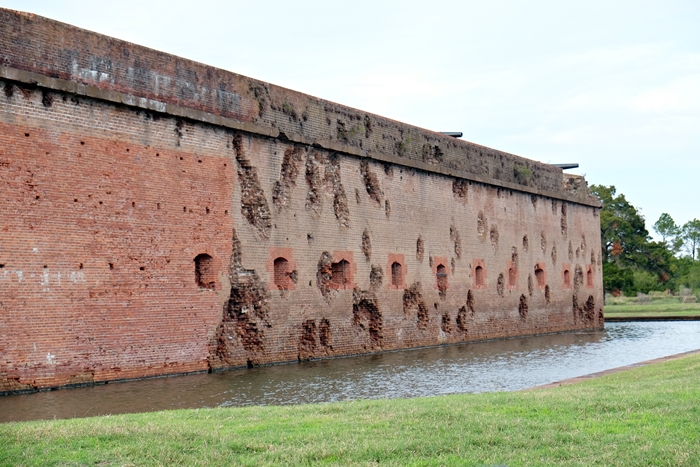 This was a quick trip compared to last year; we didn't do the hike out to the lighthouse or a guided tour….but everyone was glad to get a chance to run around in tunnels some more.
This was our last day in the Savannah area. Next time I'll talk about our last minute Florida add on to pick up our new toy hauler!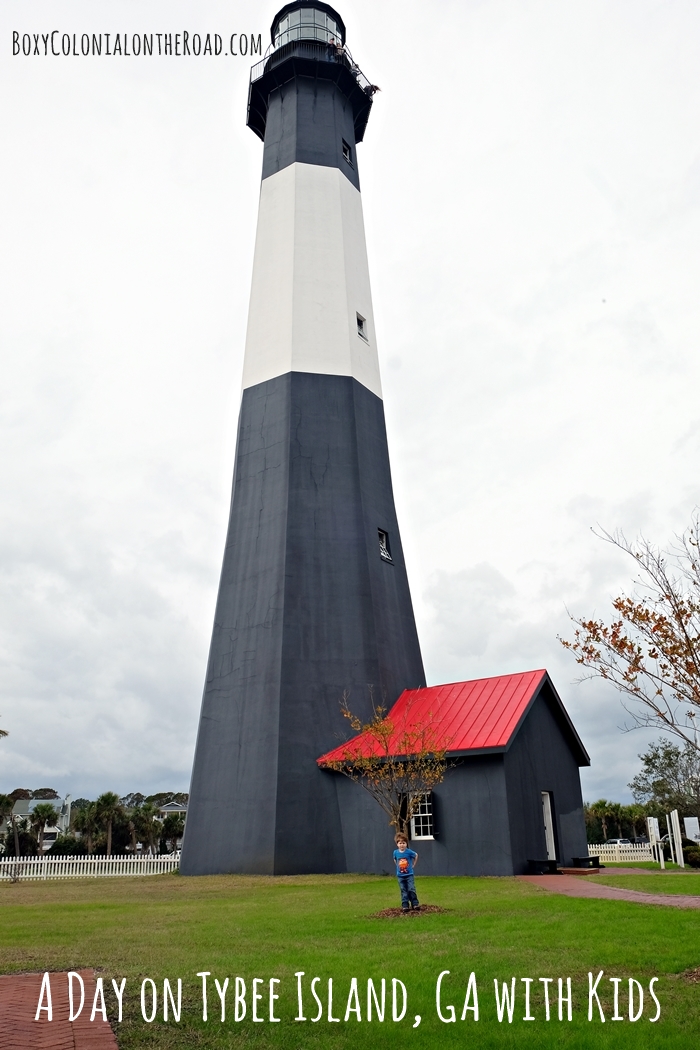 Thanks to Visit Savannah  for providing passes for some of the attractions mentioned. I was not otherwise compensated, and, as always, all opinions are mine.
Save
Save
Save
Save