It's finally here: the very last post about our big summer trip! I mean, except I would like to do a kind of overview of our first long RV trip–lessons learned, things we'd do differently, things that worked well, and all that kind of thing.
But Greensboro, NC was our last stop of the trip, and I'm writing about it just as we're about to leave on another trip soon after Christmas, so that works well. I actually have A LOT to talk about after the first of the year, so I'm hoping I'll have time to pick up the blogging pace….which should be possible since Dave is now all finished with his master's degree. Woot! Also no more scrambling to find wi-fi for turning in assignments and doing online sessions while we're on trips anymore.
Okay, so Hagan-Stone Park is a county park (Guilford County) about 15 minutes outside of Greensboro, NC. We picked it mostly because it was a good location for an overnight stop between Monticello and home, and we didn't really have much time to check out the area, unfortunately.
We did eat (and drink) at a nice little brewery in downtown Greensboro, called Natty Greene's (Greensboro is named for Revolutionary War hero Nathanael Greene, most well known these days for trying to hire Alexander Hamilton, as very briefly mentioned by George Washington in Hamilton. At least most well known to our family. We wanted to go find out more about Nathanael Greene and the other important stuff he did at nearby, at Guilford Courthouse National Military Park, but, alas, there just wasn't time. All we could do was drink his beer: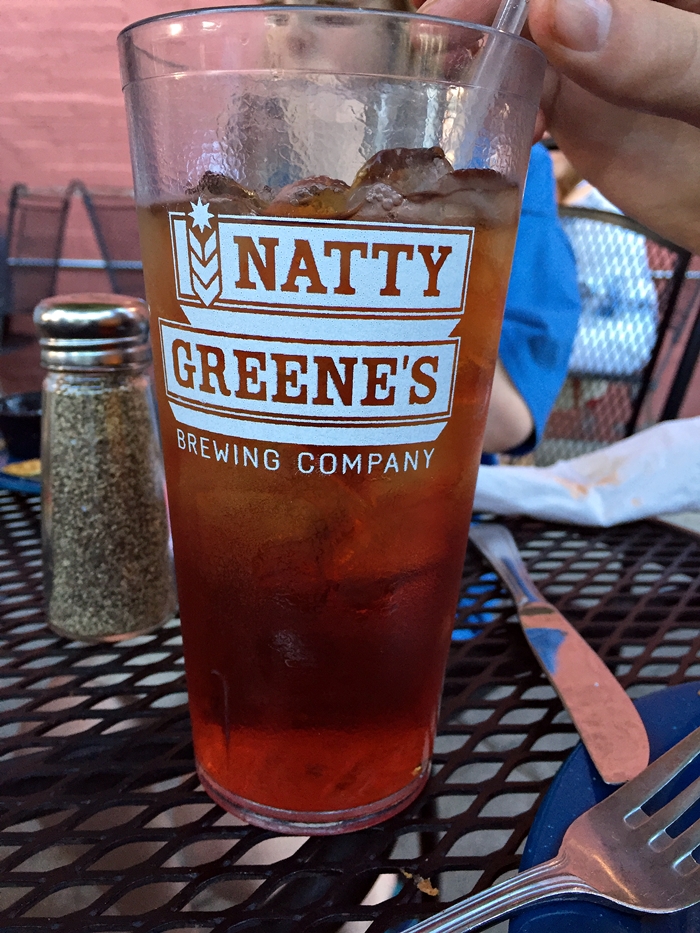 That's not beer. It has ice in it. I think that's Ari's sweet tea. But you get the idea.
But the campground. Hagan-Stone has been one of the more…interesting campgrounds we've stayed at. It's $20 for a water/electric site, so the price really can't be beat. And it's a lovely setting; there are hiking trails in the park and a new aquatic center (we checked out the trails a bit, but didn't have a chance to go to the aquatic center). It's also convenient to Greensboro and easy to access. We would probably stay here again if we were in the area; the campground has a lot to recommend it, and it's an indisputable bargain.
All of that said, there are a few quirks to be aware of.
You reserve a site online and then you're supposed to show up and just kind of…find your site. So make sure you remember which site you reserved. We did have the number (only because I'd read a review that warned me about this issue), but we still were having trouble finding it. Fortunately, there was a park worker riding around the campground when we got there, and he was able to help us find it.
The campground is divided into two loops, and they have very distinct feels to them. Loop B (I don't know what happened to Loop A) is a wooded area with mostly smaller sites. Loop C is completely open, around a big grassy field, with long back in sites. We went with site C12 after reading a review that recommended this or C13 as one of the only two pull throughs in Loop C.
Well. Technically it was a pull-through, in the sense that there was an opening in the fence behind the campground so that we could drive through it, but it was so tight that we had to pull back and forth a million times to get the trailer in the right place anyway, so there wasn't really much advantage to the pull-through aspect. Plus we had a neighbor right next to us even though the campground wasn't very crowded overall (mid-week); we would have been better off with a back-in and room to spread out.
This was the tightest site we've ever had; it was very tricky to get the trailer set up so that the awning of the motorhome next door wasn't hitting our slide: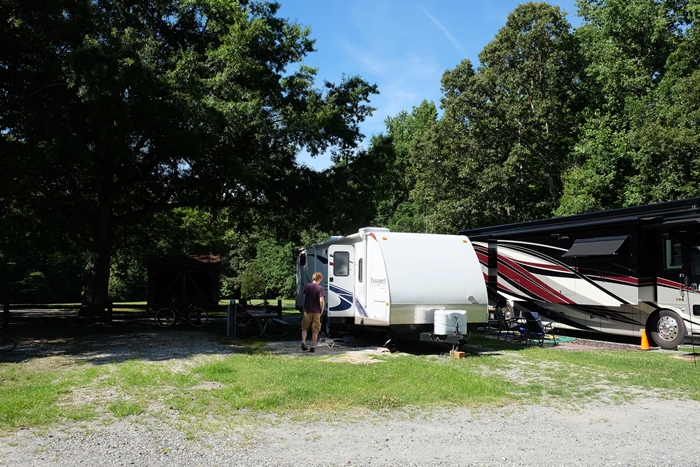 Which was just kind of mysterious, because there's a ton of room in the campground; they could easily have set things up so that people had more space and still fit just as many (or more!) sites in. There was a big grassy field across from us that could have been used, for example. I understand wanting to keep the big grassy field for big grassy field usage, except that 1. there was ANOTHER big grassy field right behind us and 2. there were trucks parked all over the big grassy field anyway since the sites were so small that people often didn't have room for their trucks.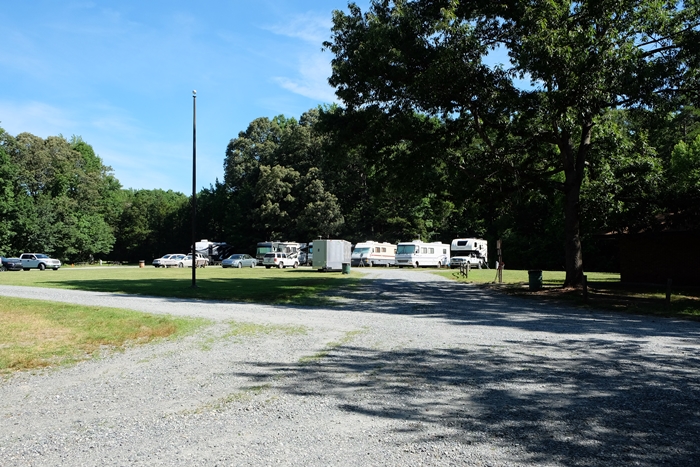 Another thing to be aware of is that there is a shared water connection between every two sites. We'd never encountered this before, and were not at all prepared for it. Apparently, explained our very close and, fortunately, also very friendly and helpful neighbor, this is something one will encounter from time to time and he had a splitter with him so that we could share the connection. We've since ordered our own splitter in case we ever run into this again. "What would have happened if you didn't have a splitter?" asked Dave. "I guess you wouldn't have had any water," said our neighbor.
Loop B was a completely different story, with lots of trees and generally more separation between sites. Also turtle sculptures to climb on:
But the sites were generally smaller here, and it was mostly pop-ups and smaller class C's. There are a couple of sites in Loop B before you make the turn back into the woods that we thought would have worked nicely for us, and we'd probably try to get one of these if we stayed here again: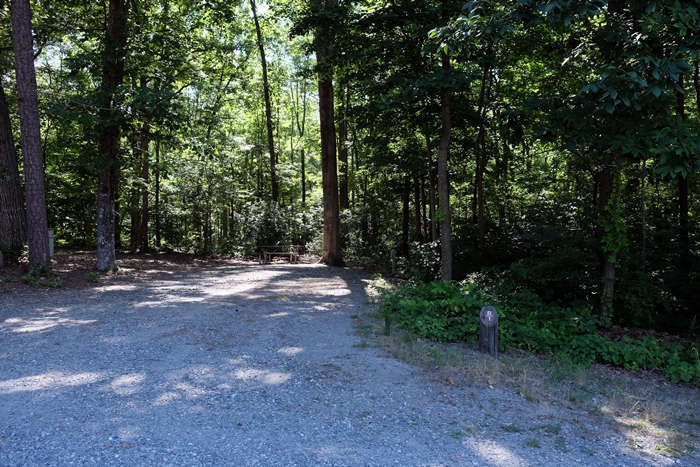 This is B1, but B2 also looked good and maybe B3 and 4, too. I'd maybe call and see if they can tell you the exact length before booking if you have a bigger rig, though.
The bathhouses were not terrific here; basically clean, but poorly ventilated, dated, and not entirely free of bugs. It wasn't a big deal for our short stay, but it would give me pause for a longer visit since there are no sewer hook-ups.
There aren't individual fire rings at the campsites, but there is a centrally located pavilion with an outdoor fireplace: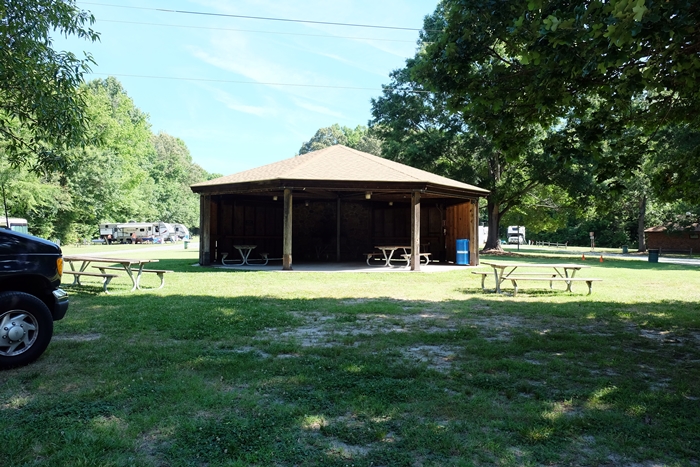 There's a small playground: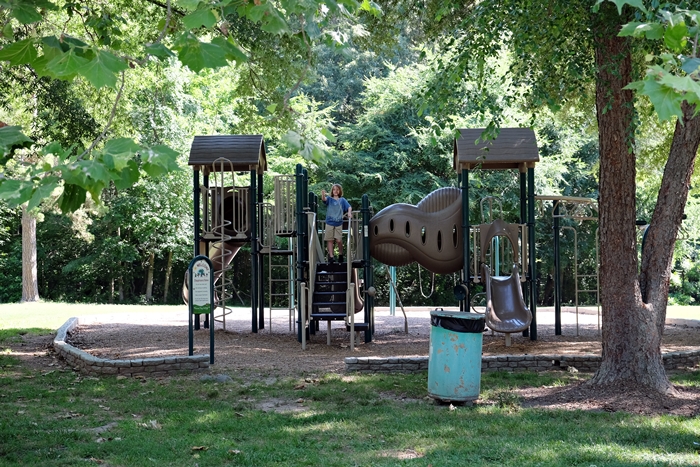 And overall things were clean and felt safe, and people were friendly. There are some compromises, but, again, for $20/night you really can't complain too much.
Which feels like an anti-climactic end to our big summer trip narrative. Then we drove home. The end. So maybe that wrapping things up/big picture kind of post IS a good idea. I'll get on that!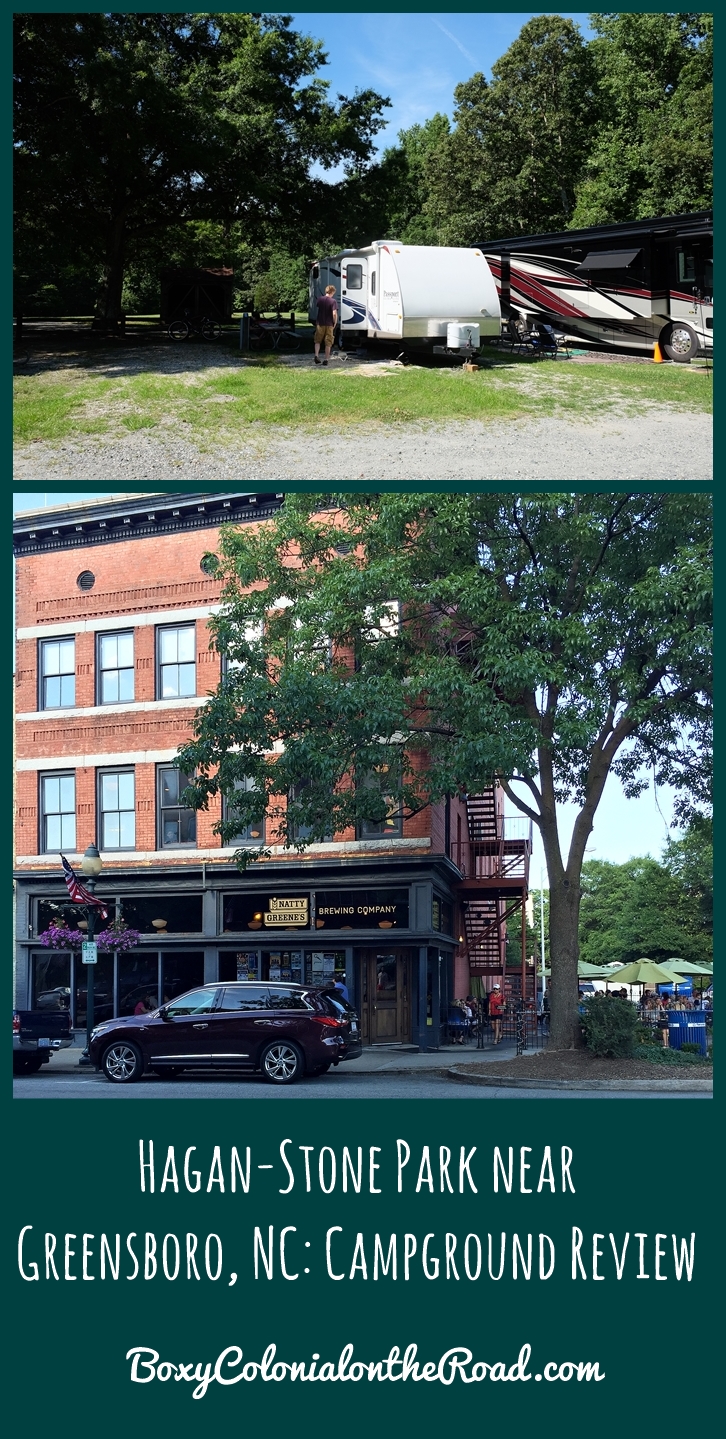 Save