Travel dates: June 16-18, 2016
I was more nervous about the Charlottesville KOA than any other campground on our summer trip, and I attribute this nervousness entirely to its website's unwavering devotion to truth in advertising. "Highway 64 was not constructed until after  our campground was founded," the website told me. "Our campground is not close to the highway (9 miles) because there wasn't a highway to be close to when the campground opened." And then: "There used to be over 120 sites at our campground. Over the years, RVs have become bigger and better. As a result, our campground has changed as sites have shifted and combined to accommodate the larger rigs. Due to these changes, the layout of our campground is unique and far from uniform." Throw in multiple warnings about all the roads we should absolutely avoid when driving to the campground, and I was sort of expecting a terrifying trip hugging cliffs on steep mountain roads and then to arrive at an ancient, labyrinthine campground impossible to navigate with our big ol' trailer.
But it was totally fine. I would not hesitate to recommend the Charlottesville KOA to anyone interested in visiting Monticello.
It is indeed nine miles from the highway, but the route is not at all scary if you go the way they advise (just be careful not to miss the turn into the campground, as I hear it's quite a ways before there's anywhere to turn around if you do), and we weren't staying there for convenience to the highway, but because it's the closest campground to Monticello (which is about 20 minutes away).
It's a small campground (fewer than 70 sites), but the layout worked fine for us, and it was easy to get around.
Reservations/Arrival: We were here from a Thursday evening through Saturday morning in mid-June, and the campground was quite full. We reserved several months in advance. When we got there, they handed us a map with the vacant spaces that we could fit in marked and let us drive around and pick one (I think there were 3 or 4 we could have chosen). Rates are in the $50-60/night range.
Campsites: they have back-in and pull through sites, plus tent sites and a few cabins here. I mentioned before that we got to pick our own site when we arrived from the ones that were still unoccupied, and I think we really got lucky here: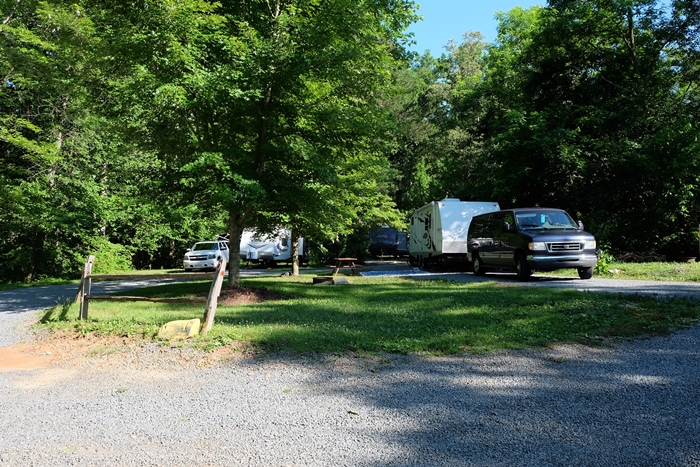 As you can see, we were in a pull through on the very end of the row, and we had a huge open area next to us. Our neighbor on the other side was relatively close, but the site was very wooded, so we didn't feel at all crowded.
Some of the sites that are listed as pull-throughs are really more pull-offs, and we watched one of our neighbors spend a very long time trying to get into one of those without backing into the creek, so….word of warning. But our space was very easy to get in and out of, and there were quite a few similarly easy to deal with pull-throughs (although most weren't as spacious as ours).
Abe managed to fall off our trailer steps and bust his forehead open on the gravel shortly after we arrived. Which, of course, is not the campground's fault at all, but it was so traumatic that I felt I should mention it. Here he is on the same steps in happier times: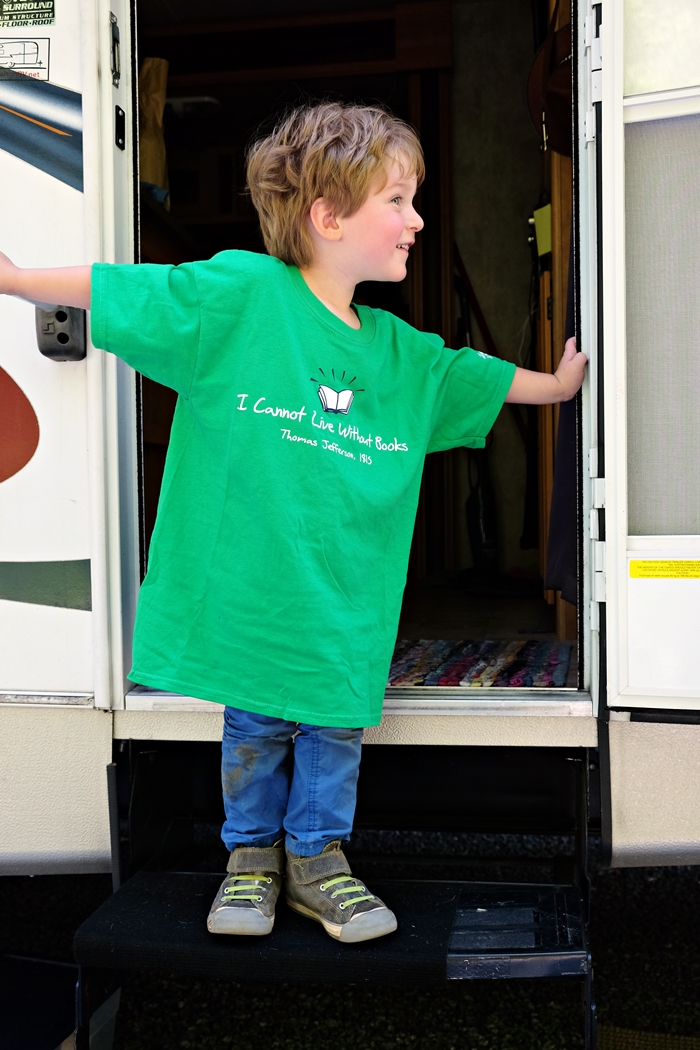 We couldn't find any shirts that actually fit him at Monticello.
Amenities and Activities: As mentioned, this is a very small KOA, so you're not going to find a bunch of organized activities or bells and whistles. There is a pool, a nature trail (with a beaver pond!), tetherball, volleyball, a small playground, and a dog run: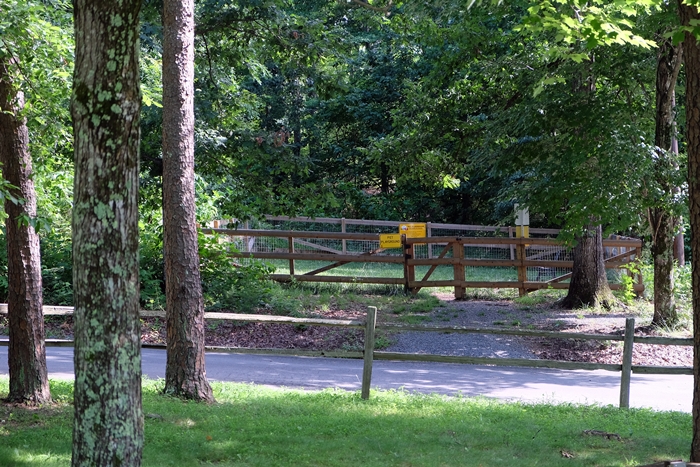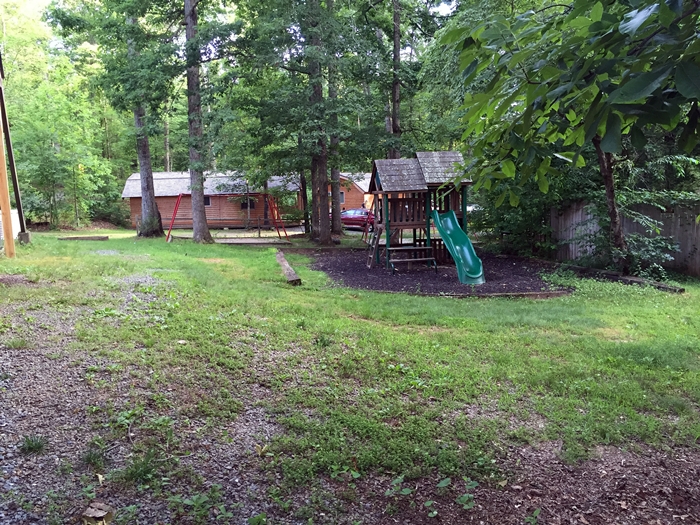 We were only here two nights and we spent most of our time at Monticello, so we didn't explore very thoroughly. I think Ari and I did take the dogs on the nature trail, though, and it was surprisingly long and….natural.
I did a very bad job on this trip of noting where the wi-fi worked and didn't work, but I can tell you that we didn't have a good connection here (either with wi-fi or our Verizon hotspot) because Dave had to go into Charlottesville to find internet for a session of his online class.
Location and Local Area: As I've already mentioned, access to the this campground is fine as long as you make sure to follow the directions on their website rather than just doing what your phone or GPS tells you. Monticello is definitely the big draw here; you're also close to the town of Charlottesville….so there's not much in the immediate area, but 20 minutes down the road you'll find plenty of shopping and restaurants. More about Monticello in my next post!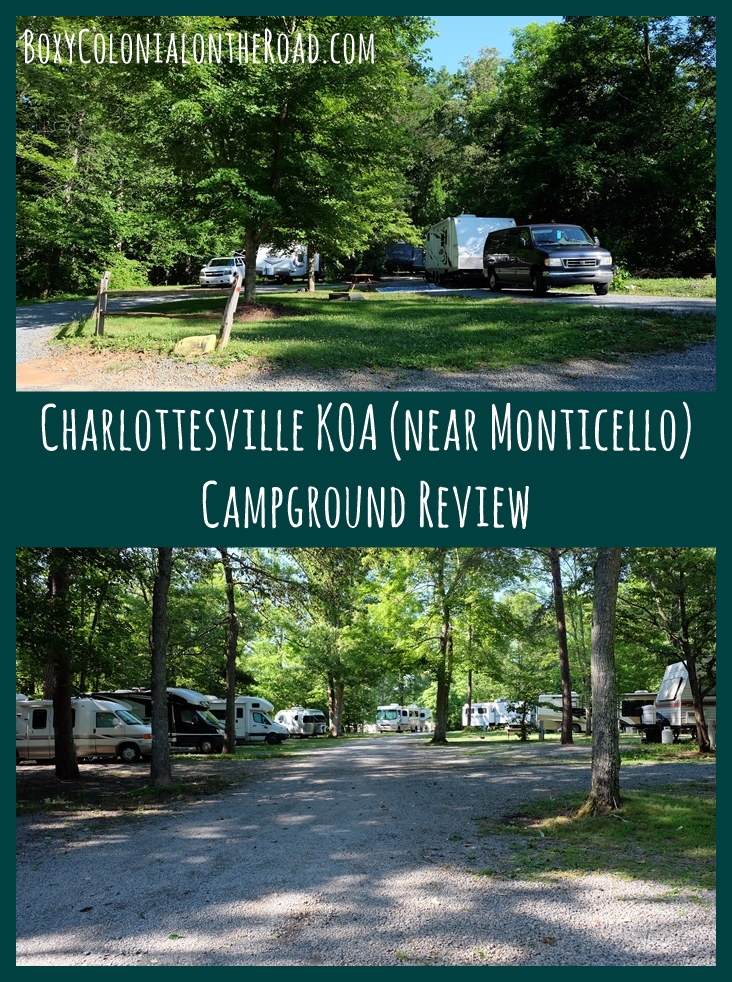 Save