travel dates: June 11-13, 2016

Let's take a moment to reflect on my title up there and on the fact that the campground spells minuteman as all one word, whereas the NPS site splits it into two. Is there some deep significance to this? Is it like how the Wallace Stevens poem is called "The Snow Man" instead of "The Snowman"? One time I had to read "The Snow Man" aloud in a college lit class, and the professor was very annoyed with me because she said I read it too fast and messed up one of the most beautiful poems in the English language. Sorry, Wallace Stevens.
At any rate, one must have a mind of winter to spend nearly five years living in Boston, but that's what we did back in the early aughts, right before and after Ari was born. And we've spent plenty of time, both when we lived there and on visits since, exploring Boston's historical sites. We've walked the Freedom Trail, explored the USS Constitution and Paul Revere's house, and toured the House of Seven Gables in Salem twice, oddly enough….but we'd never seen the place where the whole Revolution thing got started at Lexington and Concord. Until now!
As is the case with most big cities, there aren't a lot of good campground options close to Boston. But one that gets mentioned frequently is Boston Minuteman, and that was our pick for a couple of nights after we left Cape Cod (and launched the returning home portion of our trip). The campground's in Littleton, which is about 32 miles west of downtown Boston (about 45 minutes without traffic….but there's usually traffic) and close to a commuter rail stop so you can catch the train into the city. So it's a good location for a day trip into Boston, but since we've explored Boston pretty thoroughly in the past, we decided to use it as a base to see some closer sights instead.
The campground feels surprisingly wooded and secluded for being so close to a big urban area. There are tons of tall pine trees and good separation and privacy between the sites. Rates range from around $45-60/night, which is very reasonable for this part of the country and being so close to Boston.
I've been squinting at the somewhat hard to decipher campground map, trying to figure out what our site number was. My best guess is that we were in site #1. Scratch that. Look–you can see right here in this picture that we were site 23!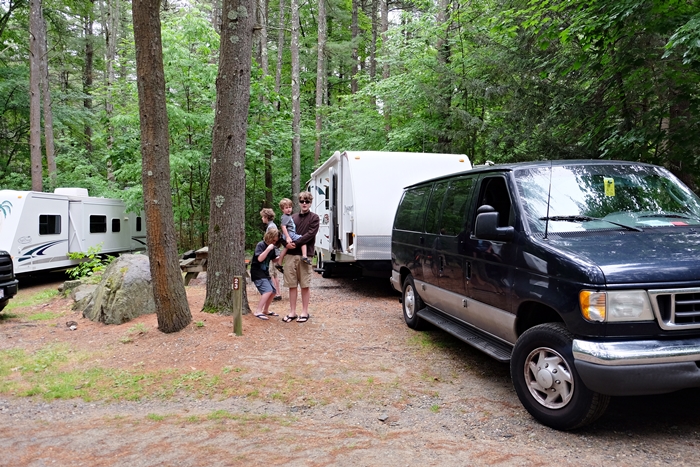 This was a full hook up, back in site on the main circle and close to all the amenities. There are a handful of RV sites and cabins in this area, but most of the sites are tucked back around a couple of other loop roads. We were happy with our site, but it looked like you might get a little more space and more quiet back further in. As it was, we were very close to the pool and playground and to the bathhouse, and we had a good amount of space as you can see.
All the firepits look like this, which was pretty cool: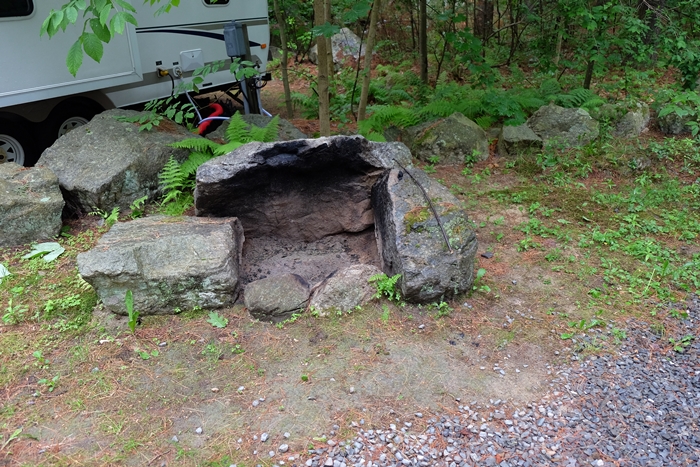 The bathhouse was pretty nice and quite clean every time we went in (another note about site location….we were right across from the bathhouse, but it looks like there's just the one; a lot of the sites would be quite a hike).
Minuteman isn't a resort campground with a lots of fancy amenities or scheduled activities, but I was impressed with how much they did pack in as far as stuff to do. There's a small but nice playground: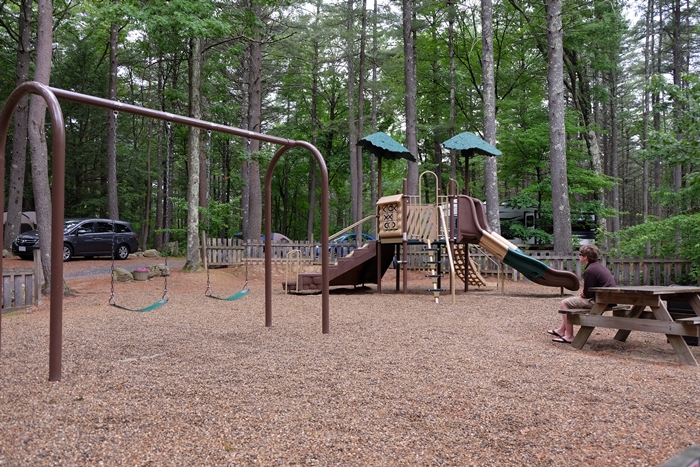 A "rec hall" with a few video games and a ping pong table, I think: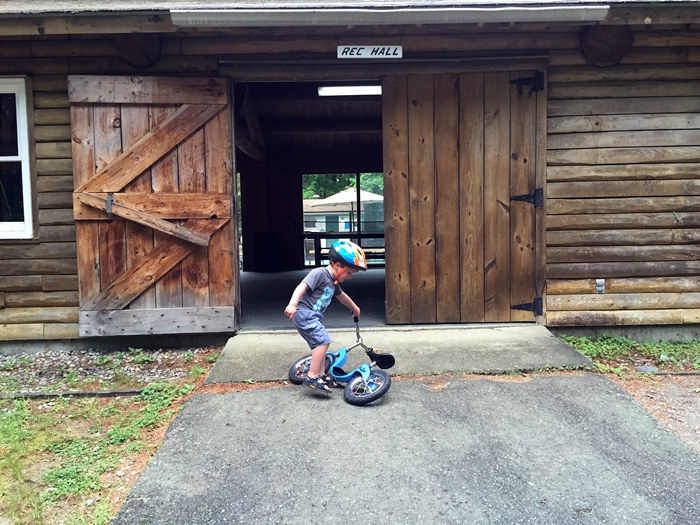 They had a pool table in the camp store/office building. Nice heated pool. And then this area tucked off in the woods with all kinds of outdoor games: bocce ball, cornhole, horseshoes, volleyball, basketball, tetherball. The dog run was also back in this area. And some construction equipment, which fascinated Abe: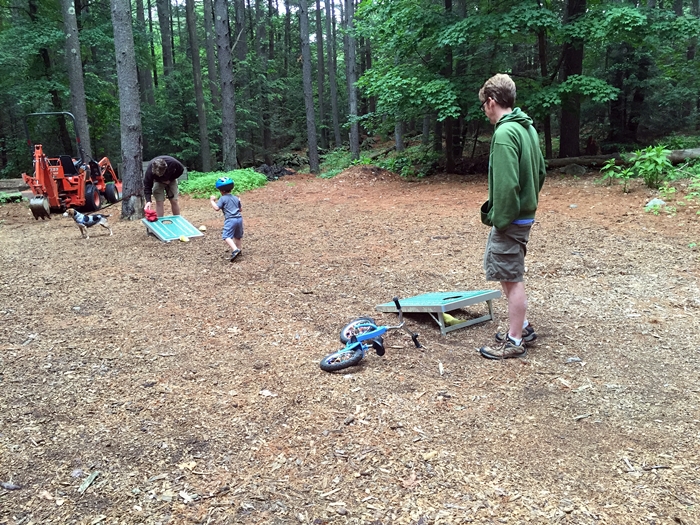 So you wouldn't think of it as a hang out all weekend at the campground kind of place, but there was plenty to keep the kids entertained while we were there.
I also appreciated all the folksy charm on the rules and policies section of their website:
"All day visitors must be registered. There is no free lunch. Except, of course, for kids under five and seniors, like Aunt Gladys."
"5 MPH. Children, puppies, and old folks are everywhere. Please drive slowly."
And it was nice to read this after the "pets are allowed, but please don't actually bring them" stuff on Atlantic Oaks' website:
"Quiet animals can be left behind inside RVs, but please make sure a cell phone number is on file in case of emergency."
So, to sum up, we had a really good experience here and would definitely stay again.
We only had one full day here, and we decided to spend it checking out Minute Man National Historical Park in Lexington and Concord, about 20-30 minutes away from the campground. We also had some wild, overly optimistic hopes of hitting another NPS site close to the campground, Lowell National Historical Park, while we were there. But, yeah. There wasn't time for that. Duh.
The good news is that the cradle of the Revolution is plenty to fill your day with. Or at least your 3/4 of a day and then you go back to the campground for a swim.
There are two visitor centers at the Minute Man park: we started off at the Minute Man Visitor Center in Lexington: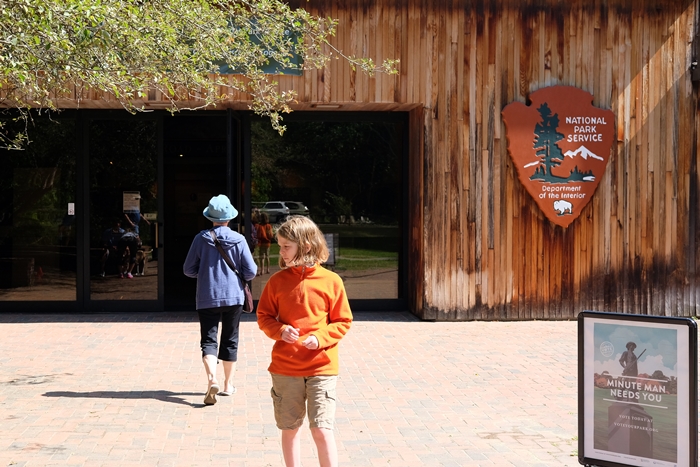 Here we picked up Junior Ranger books, watched the multi-media presentation all about how the Shot Heard Round the World came to be, and explored the small museum area. Thing to note about the park: there are no trash cans here, except for paper towels only in the bathroom. You're supposed to pack out anything you bring in. So something to be aware of. Also: composting toilets!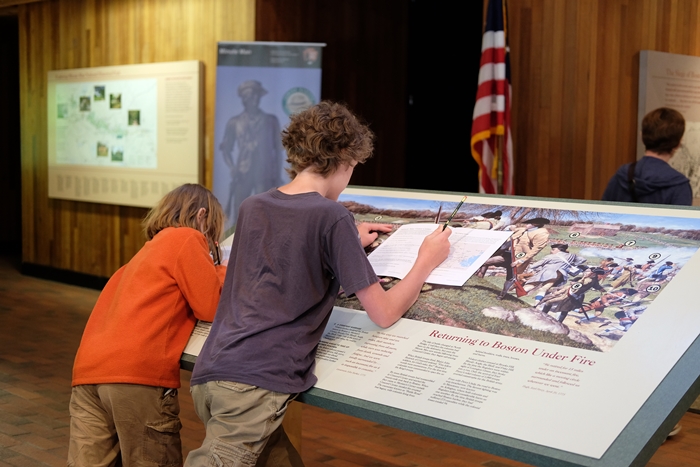 The Battle Road Trail starts just outside the visitor center; it's a walking or biking trail that goes for five miles and passes a number of historically significant sites. We didn't do the bike ride because Nana and Grandpa were with us on this leg of the trip and didn't have bikes with them (we looked into renting them, but there doesn't appear to be a bike rental place right on the bike path, and it just seemed too complicated). But we did walk a ways down the trail: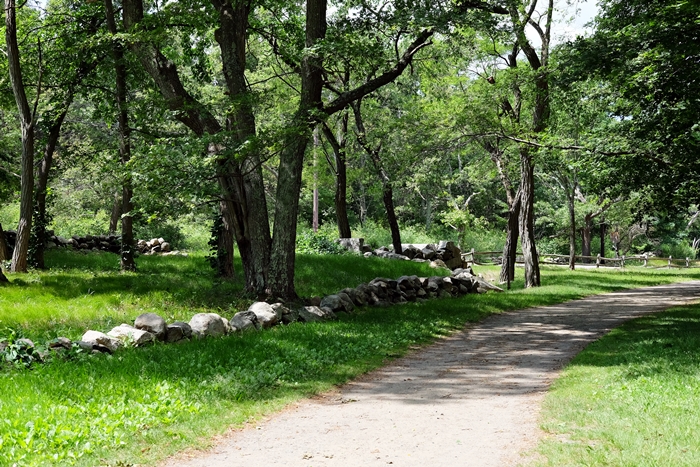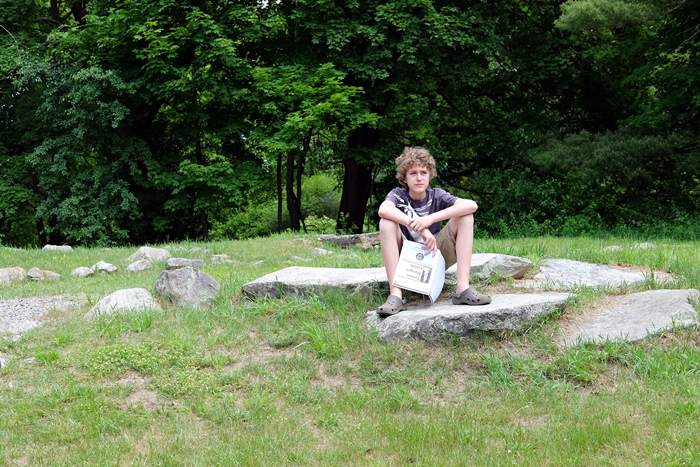 We were here in mid-June, before area schools were out for summer, and there was considerably less to do than there would have been just a few days later. During the summer, the park has a full roster of scheduled activities and several of the historic buildings are open to the public. But we could only admire them from the outside on our visit: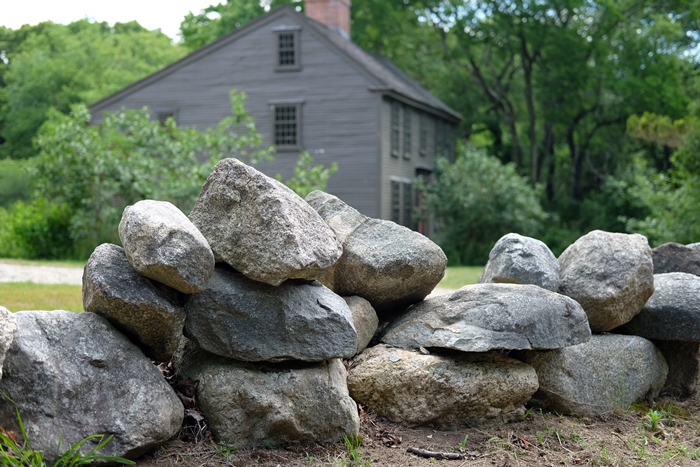 We walked to the Paul Revere capture site (about a mile from the visitor center, I believe) and picked that as our spot to turn around: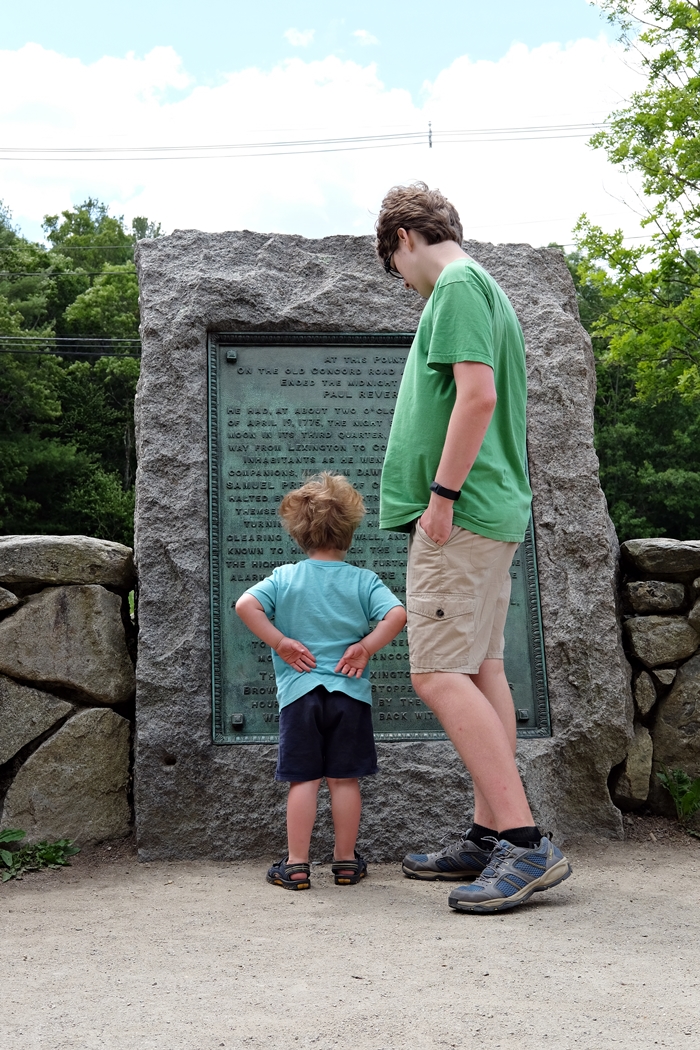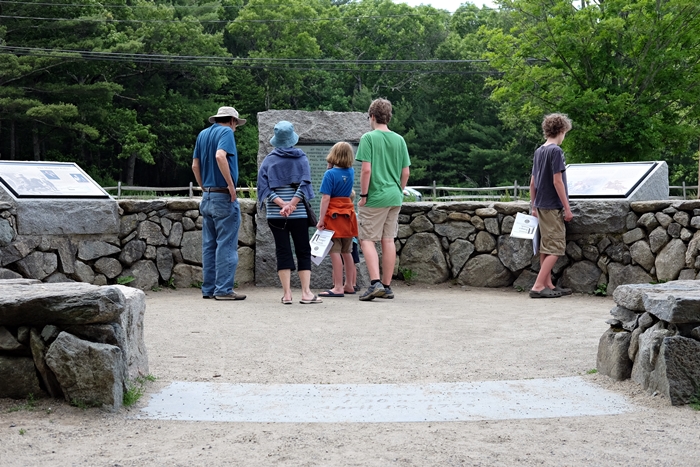 There was some drama about the Junior Ranger book at this point. This is Gus in between spells of frustration.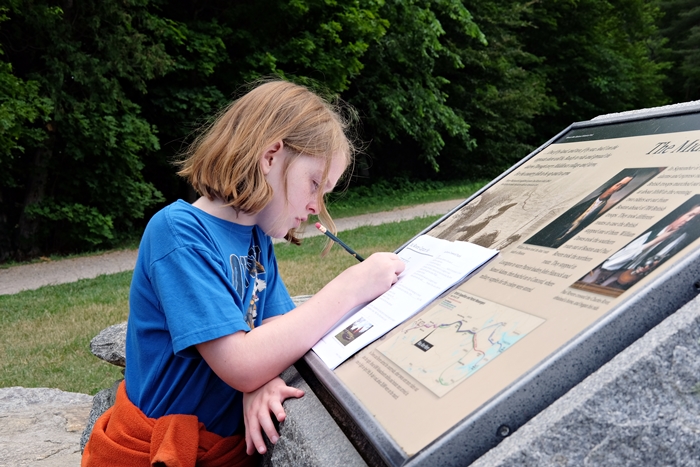 Next we headed to the North Bridge Visitor Center at the other end of the park in Concord, where there are big trees in the parking lot: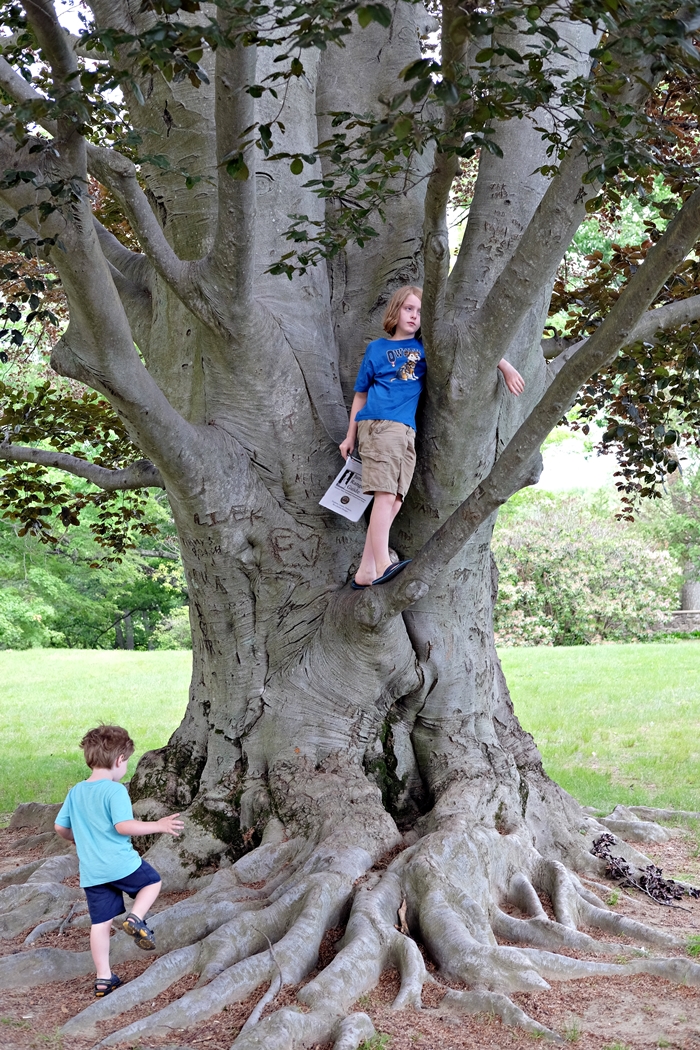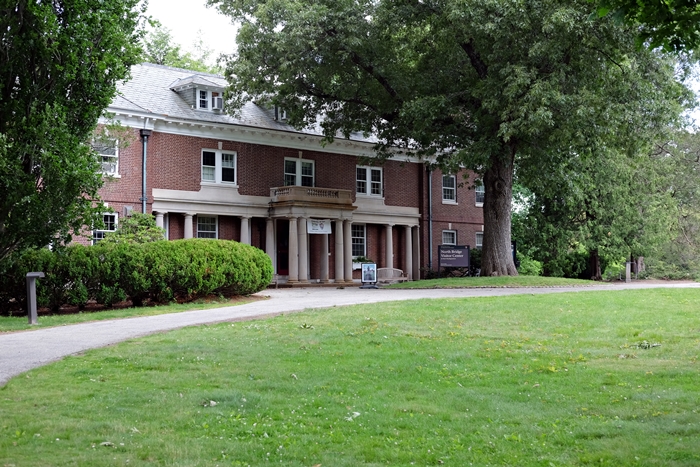 There are a few more exhibits and a small shop in here, and then it's a short walk to see the Old North Bridge itself  (or least the latest replica, built in 1956), where the colonists turned back the British: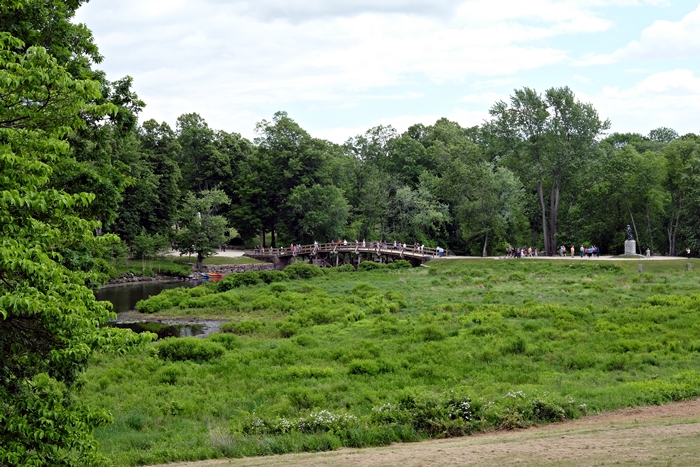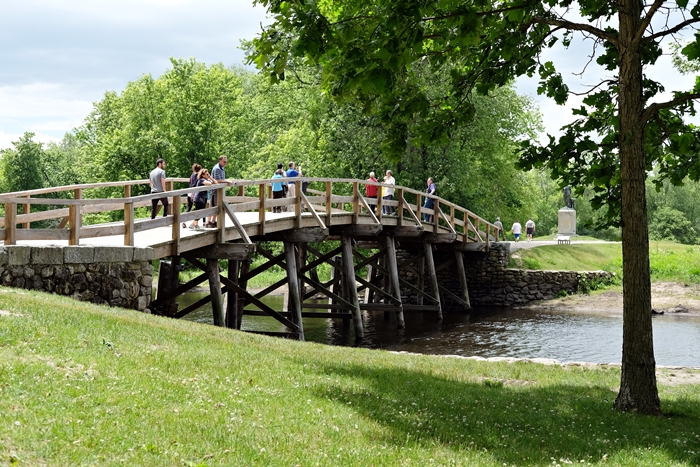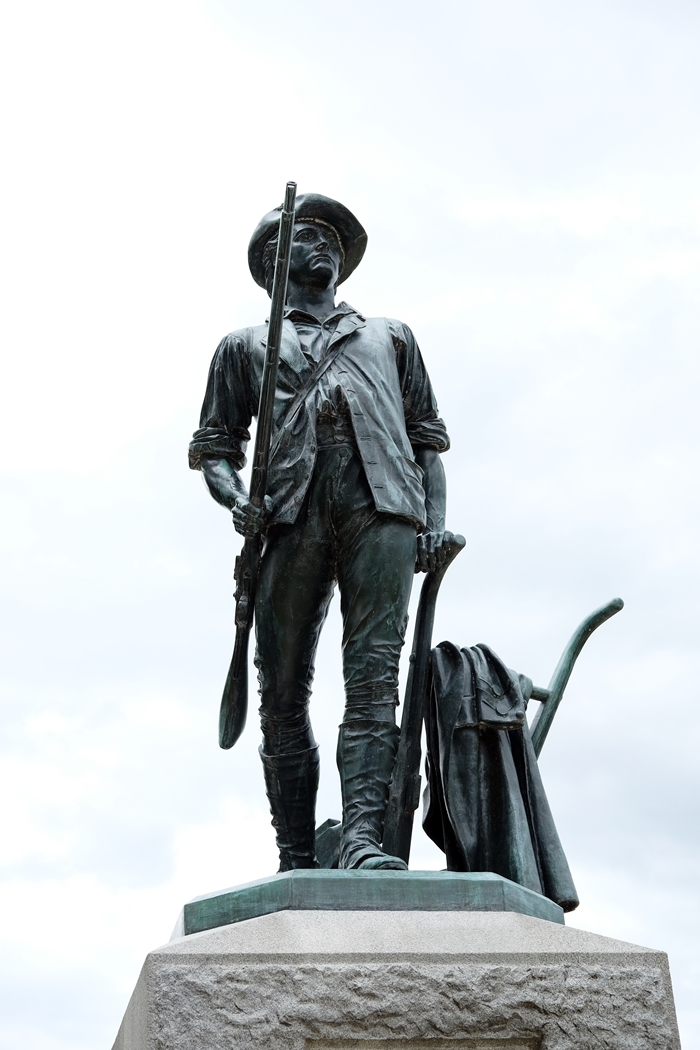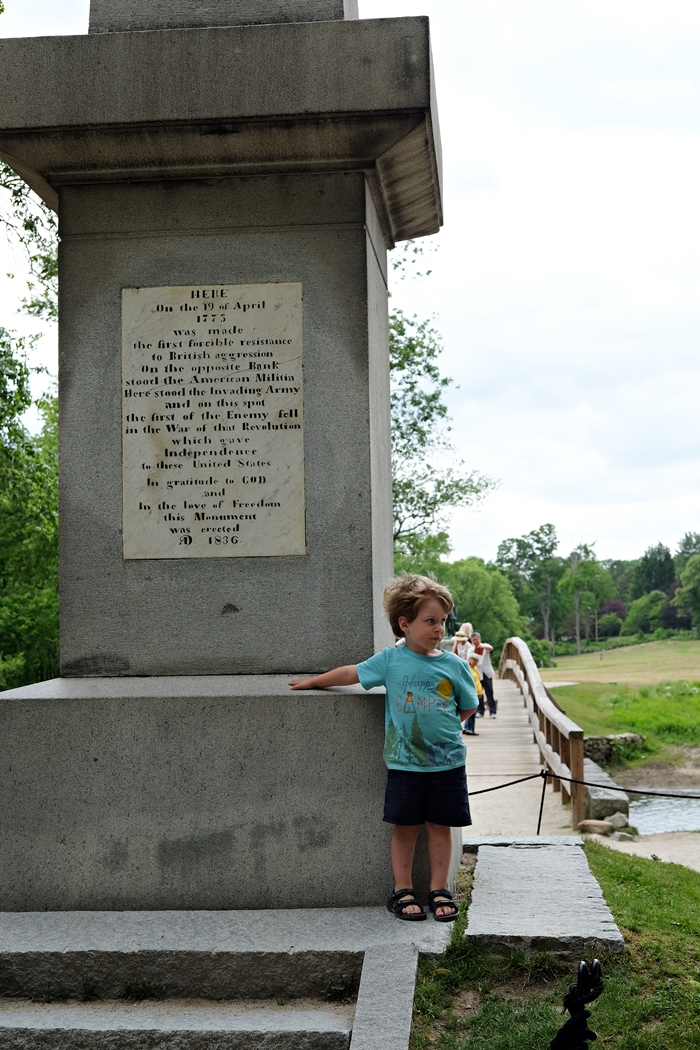 There was mountain laurel everywhere, even though the mountains were nowhere near. I had my new 35 mm lens with me that day, so I decided to put its bokeh skills to the test.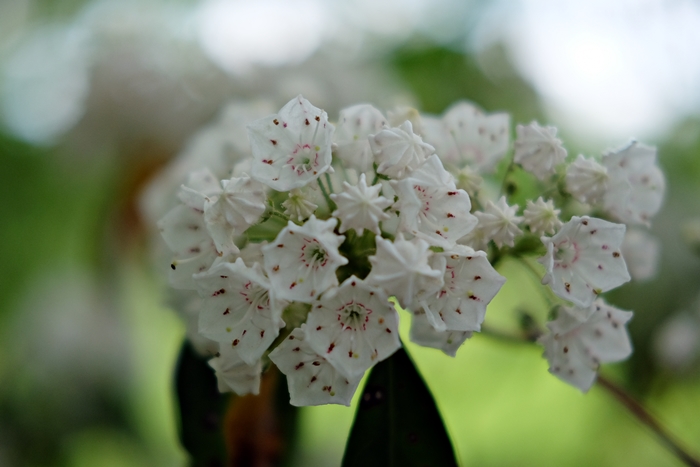 We finished up the outing with lunch in downtown Concord: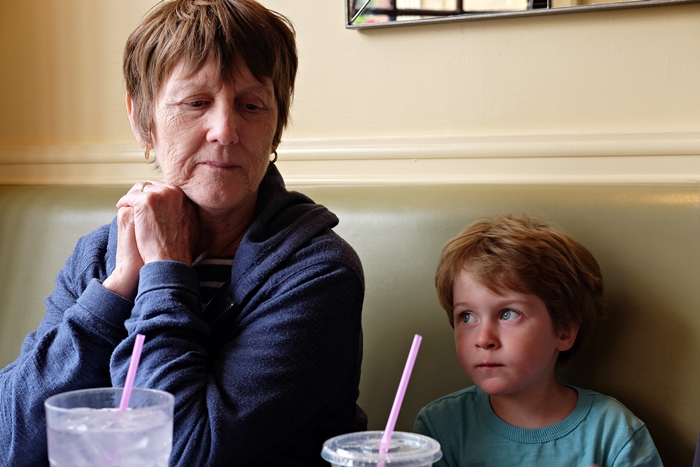 …and some exploring in the old cemetery there. Dave's family on his mom's side has roots in the area going back a very long way. One of his ancestors is Lydia Longley, known as "the first American nun." She has a marker nearby that Dave's parents went off to see after this, while we took the grumpy toddler back to the campground. We were looking for another ancestor in the cemetery here. I can't remember who. And we didn't find it, because there were so many graves! And it was really cold and windy.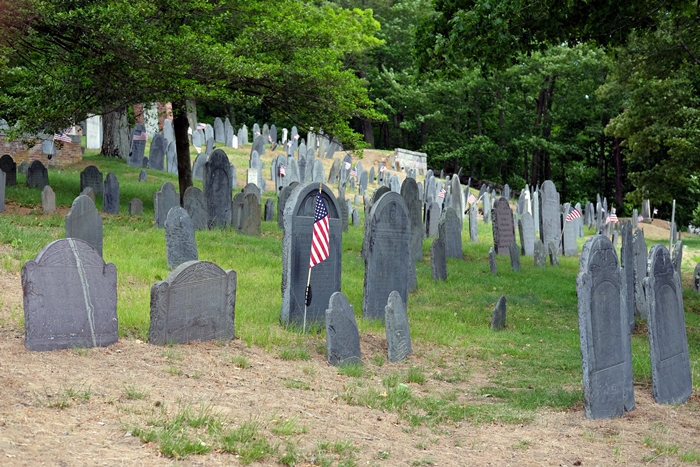 Next up, we headed west to start the long trip back home!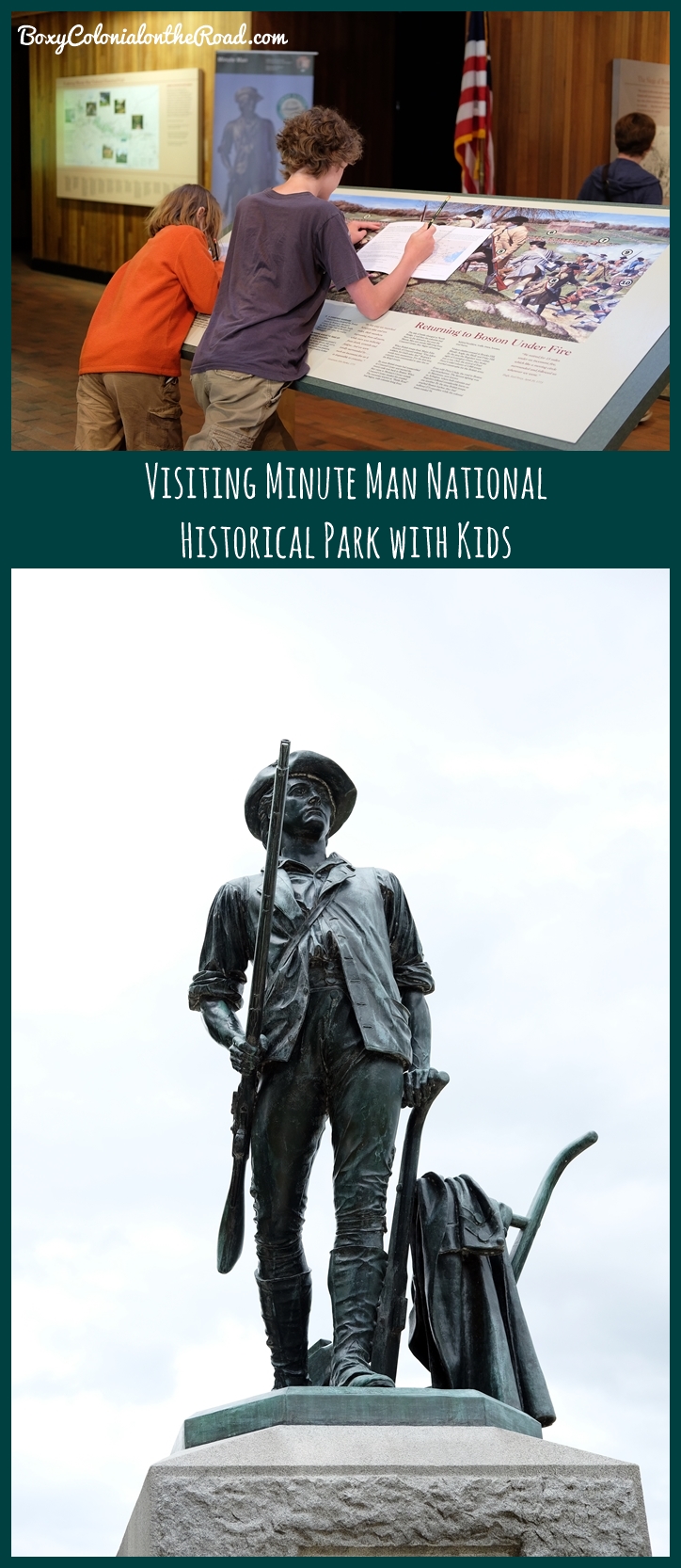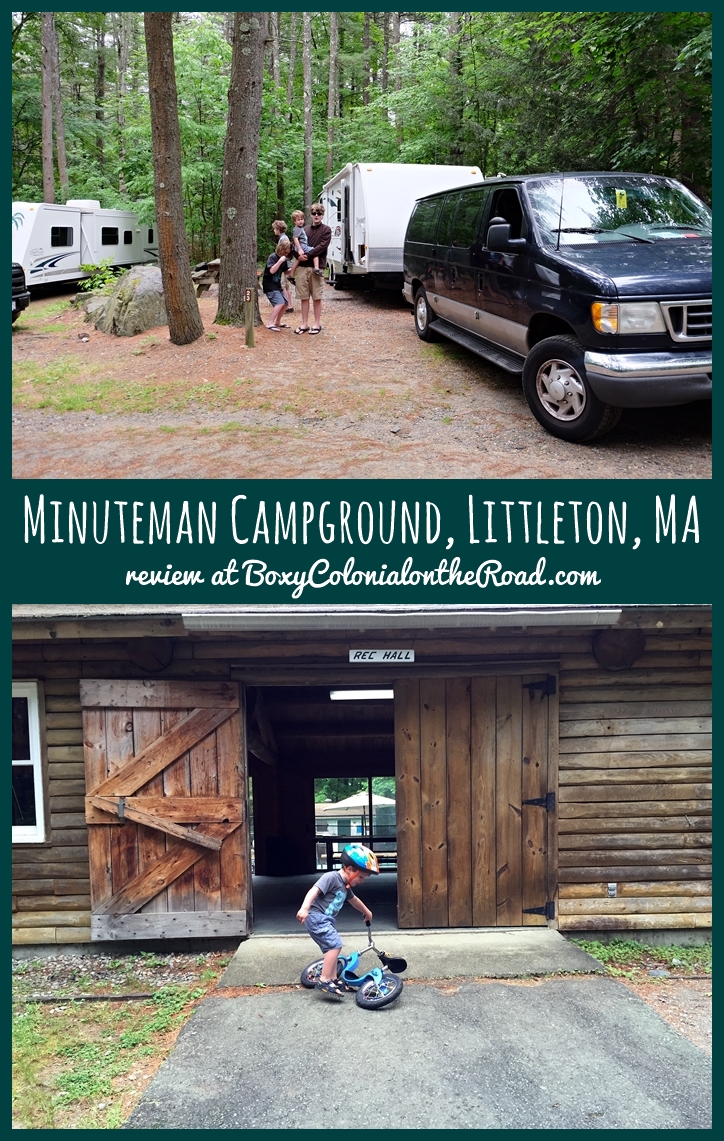 Save
Save