I'm once again interrupting the posts about our long early summer trip to talk about our late summer trip to the Great Smoky Mountains.
Choosing a campground near the Great Smoky Mountains is a daunting task. First you have to decide what area you want to stay in in or near a huge park that spreads across two states. Then you have an overwhelming number of different campgrounds in pretty much any area you choose. We also needed to find a place with cabins, since we were taking this trip with Dave's sister, Amy, and her two boys, Benjamin and Louis. Ultimately, we decided to simplify the decision making process by going with an area we were already familiar with–the side of the park near Gatlinburg and Pigeon Forge–and a campground that someone else had already stayed at and recommended for us: the Jellystone Park in Cosby, TN, enthusiastically reviewed by RV Family Travel Atlas.
The only problem, when I started looking, was that the Jellystone in Cosby, TN did not appear to exist, which made it really difficult to book a site there.
Finally, after much sleuthing, I figured out that the campground is still there, but is no longer a Jellystone (though I'm pretty sure it's under the same ownership as before) and has been renamed Imagination Mountain. This isn't an issue for us, since we're not especially attached to Yogi (though we have no problem with Yogi!), so we went ahead and made our reservations for five nights at the end of July.
Location: Cosby is sort of an interesting little place to consider when you're deciding where to say in the Smokies. Generally, people either decide that they want the quiet side of the Smokies (which can mean Townsend, TN or maybe the North Carolina side) or they decide they want some utter madness to go along with their natural beauty, which means Pigeon Forge or Gatlinburg. Cosby is definitely quiet. It's right next to the National Park (there's a NP trail accessible from Imagination Mountain, in fact, although we didn't get a chance to check it out), but to get most of the big deal attractions in and around the park, you're going to have to drive the 25-30 minutes to Gatlinburg first. So it's a mixed bag; the drive got kind of old, but, on the other hand, I think we might well have been miserable had we stayed right in Gatlinburg or Pigeon Forge. Would we have preferred the NC side or Townsend? Not sure; we're actually staying in Bryson City, NC for a few nights next month, so I can report back then! There are some things to do close to the campground, and I'll get into those in the next post or two. You could definitely fill up a weekend without doing a ton of driving.
Reservations and Arrival: We reserved on the phone several months in advance; we were there over a weekend and for part of the week late in July, and the campground appeared to stay pretty full the whole time, so I think reservations as far in advance as you can make them are a good idea, especially in summer. It's a fairly long drive from the interstate (or from anywhere, really) to the campground, but the roads are easy to navigate. The campground snuck up on us a little bit, so watch out for it. There are several places to turn in to the drive (which runs parallel to the road in front of the office) and we missed the first couple and ended up at the last possible turn in, which made things a little trickier than they needed to be (if you miss the turn, though, there are a few businesses nearby where turning around should be pretty easy).
I'd read in several reviews that the staff here are pretty much wizards at directing people on backing in to sites, and that was definitely our experience as well. Dave was in awe of how precise and perfect it was.
Sites range from $45-69/night in season. Ours (full hook ups, back in) was $59. Oh, and I just noticed this: that rate includes 2 adults and 2 children; extra people over age 5 are $8/person. Which is pretty steep as far as such fees go. No Good Sam discount. Limited cable, and wi-fi (ours worked surprisingly well).
Campsites: First up the best thing about the sites at Imagination Mountain: almost all of them (with the exception of the few pull-throughs) back up to one of two absolutely lovely mountain streams. It's beautiful AND constant entertainment for kids: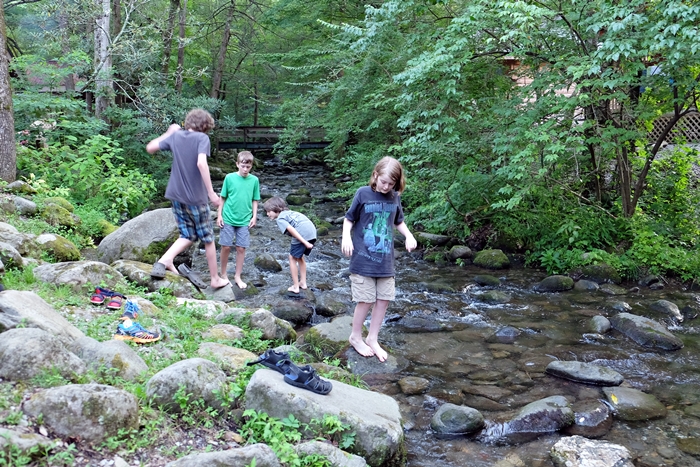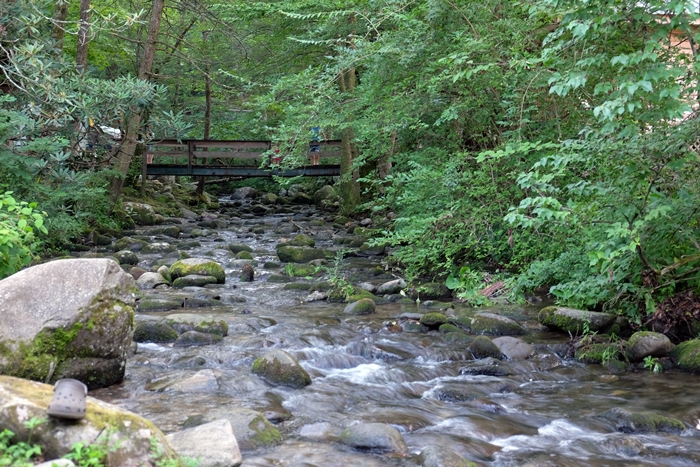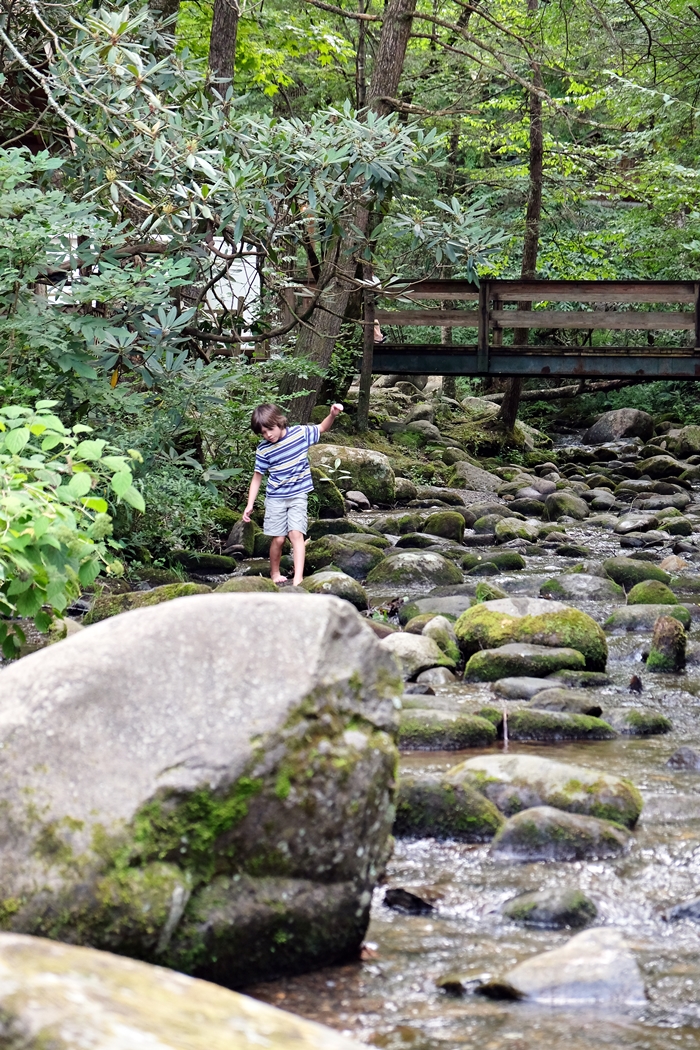 The worst thing about the sites? They're really close together. Remember that part about how great the staff is at backing you in? They pretty much have to be, because there's not much room for error. In fact, we were so perfectly situated next to the water connection that we came very, very close to hitting it on our way out. I don't want to exaggerate; it's not one of those situations were you can't get your slide out without hitting the trailer next door, but the sites are quite tight and there's no landscaping or even a strip of grass in between the gravel sites to make you feel like you have more privacy.
Here's us and a couple of neighbors, to give you an idea: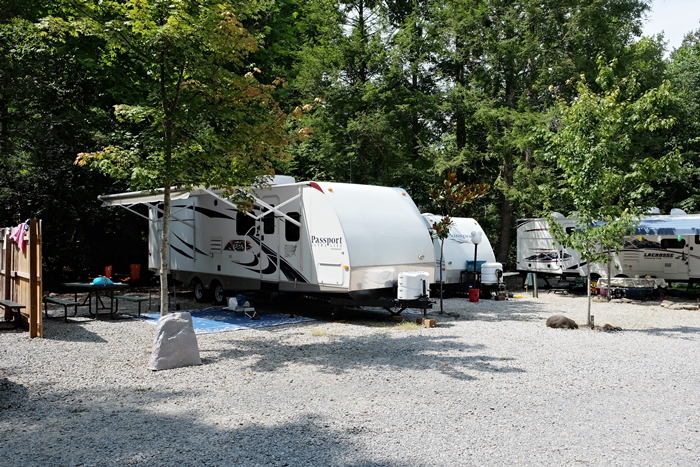 I've read a lot of reviews of a lot of campgrounds in the Smokies, and small sites is a common complaint. Which makes sense when you think about it, since people are having to carve these campgrounds out of the mountains. So, something to be aware of, but the creek behind you pretty much makes up for what you lack in a side yard. A couple of ideas if you'd like a little more space between you and your neighbor's sewer hose: there are a number of sites that are listed as premium, and I'm pretty sure all this means is that these are the spaces that happen to be a little roomier, so they charge a bit more for them. I think one of these sites (the one in the center of the shot) is one of the premiums.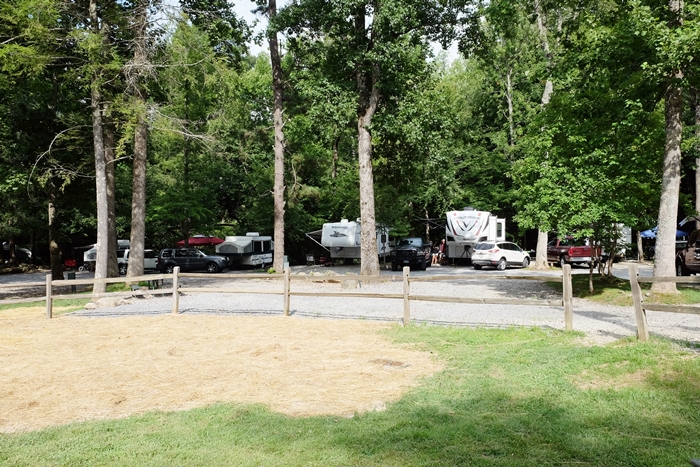 We were in site number 57, which isn't a premium site and wasn't especially spacious, BUT instead of another RV on the side our door opened up to, we had a tall wooden privacy fence, because our next door neighbor was a cabin instead of an RV site. They put us there because Amy was staying in the cabin next door, but that site or any like it would another way to get the illusion at least of more privacy without paying for a more expensive site.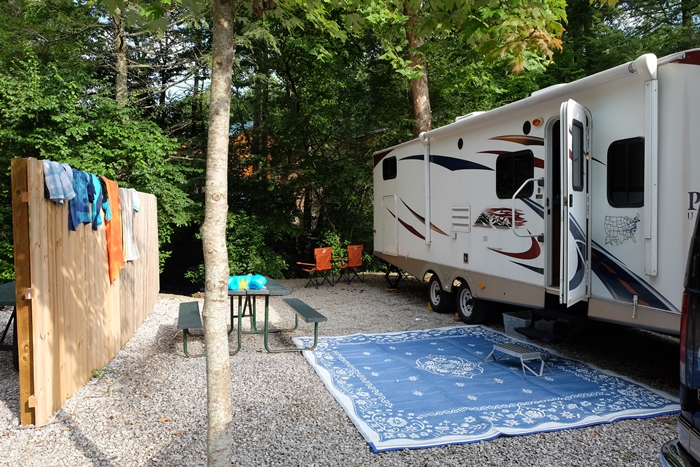 All sites have a picnic table and a fire ring. Our fire ring was back by the creek, which was a nice spot for a fire, but it did mean there wasn't really room for everyone to gather around and set up chairs (without falling into the creek). We used the one at Amy's cabin instead, which had a bit more room: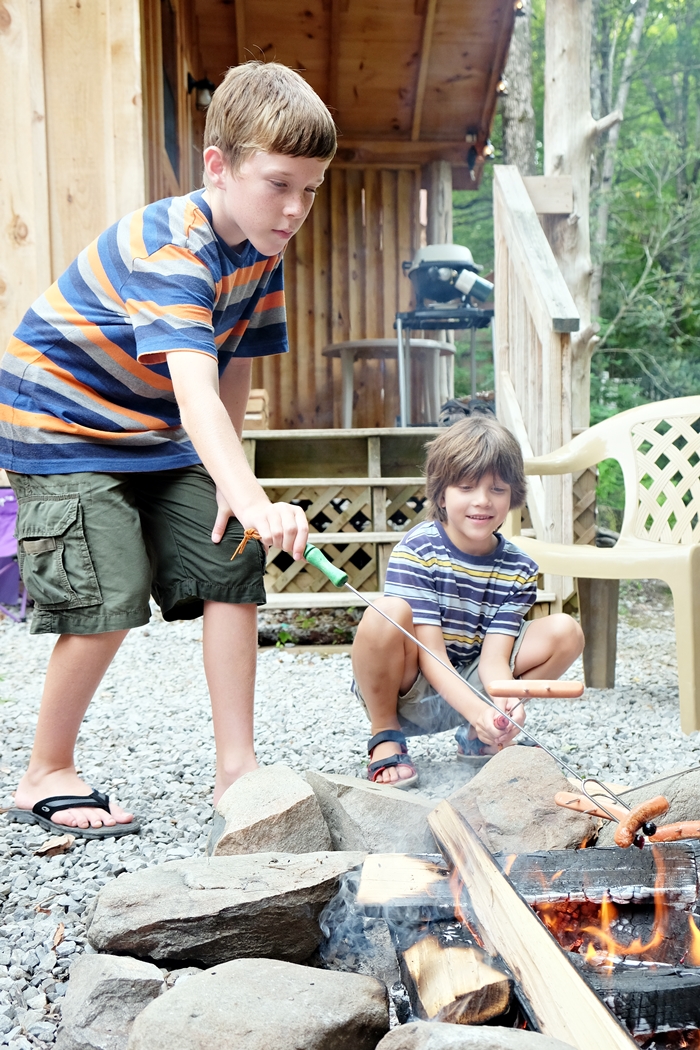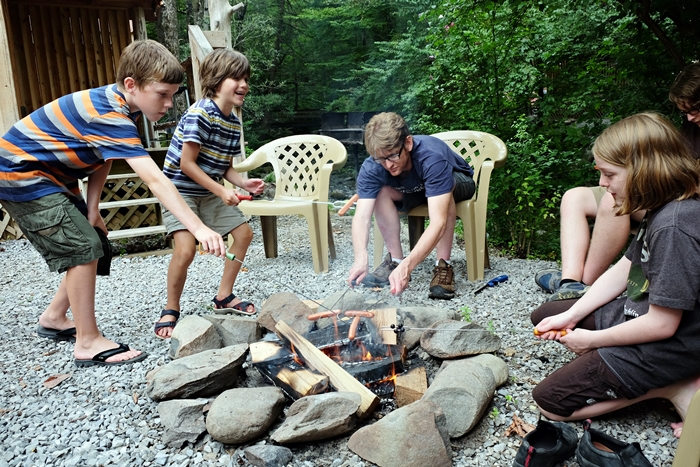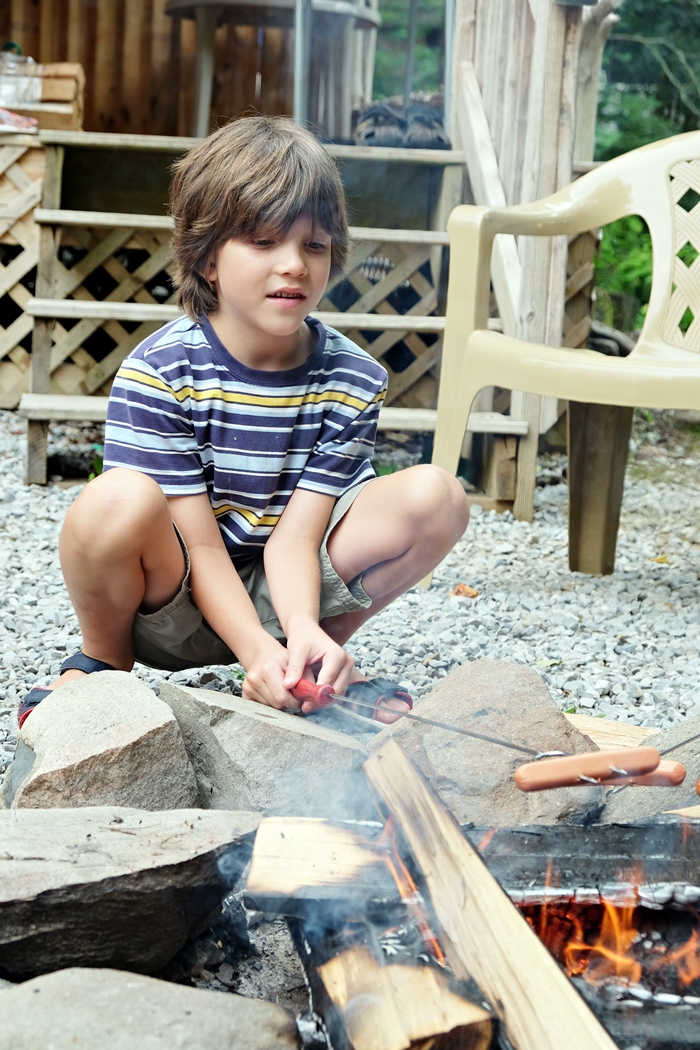 Campground and Amenities: One of the big reasons we decided to stay at Imagination Mountain was that it sounded like the perfect place for a pack of cousins to run around and have fun, and it fulfilled our expectations. The campground overall is pretty small; all the RV sites and some of the cabins are in one big loop that goes around the playground area and then there are a few more cabins off in another area (and tents in yet another area)–glancing at the map, it looks like there a total of 65 RV sites and cabins and then a handful of tent sites. Given that, it's kind of remarkable how many nice amenities and activities they pack in here.
There's a very nice pool: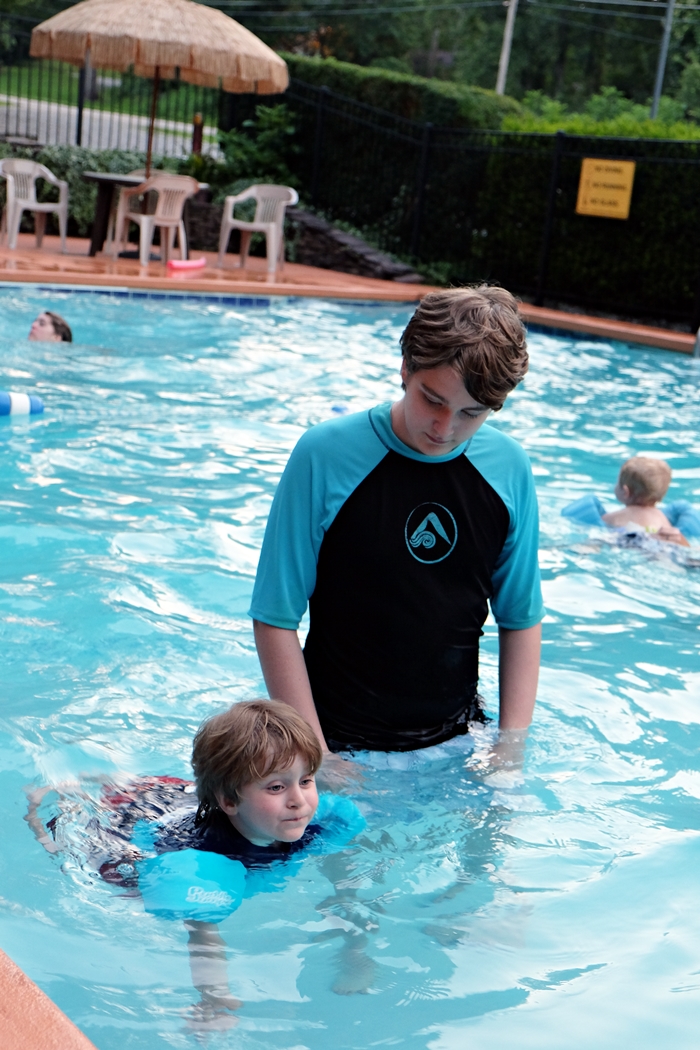 Mini golf (no extra charge!):
Gem mining: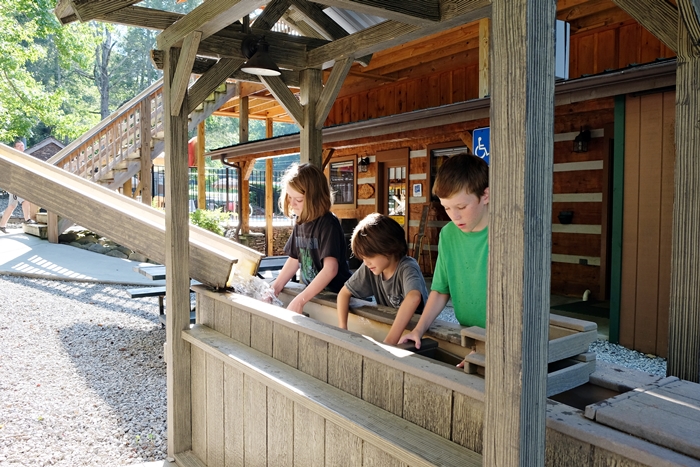 A giant chessboard: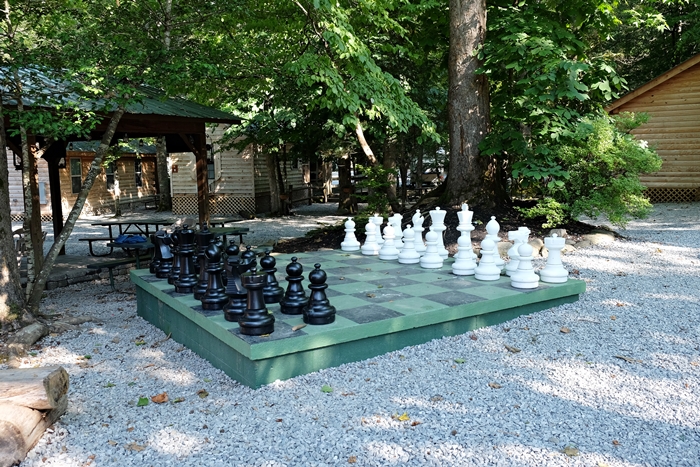 An adorable ice cream parlor attached to the camp store: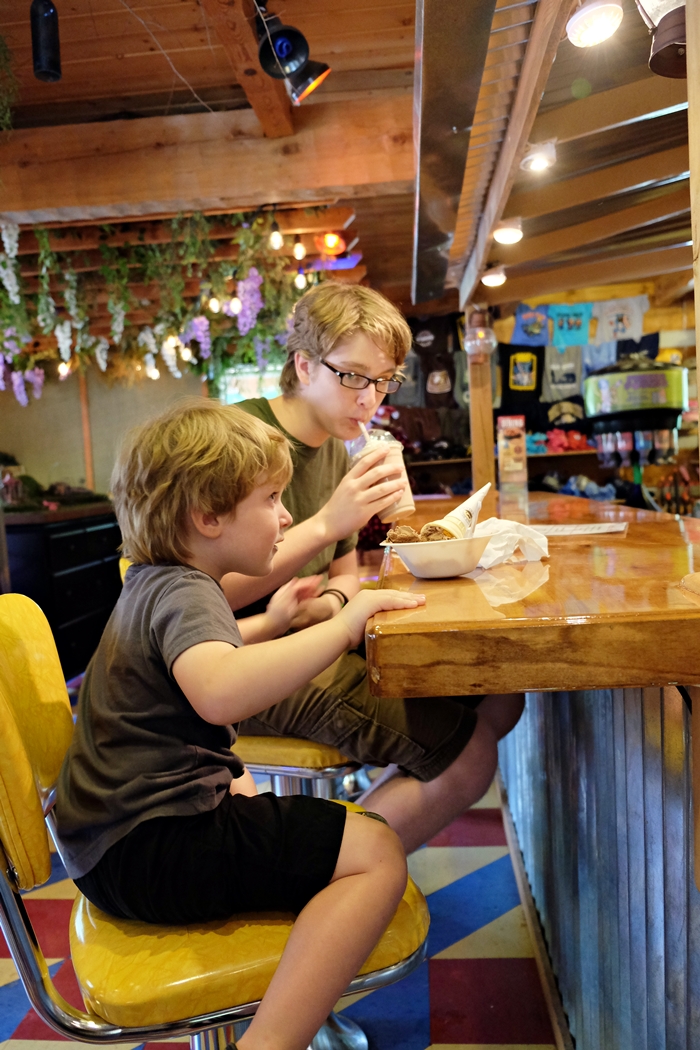 And a really nice pirate ship themed playground, which Abe was a little obsessed with. Our site was directly across from the playground: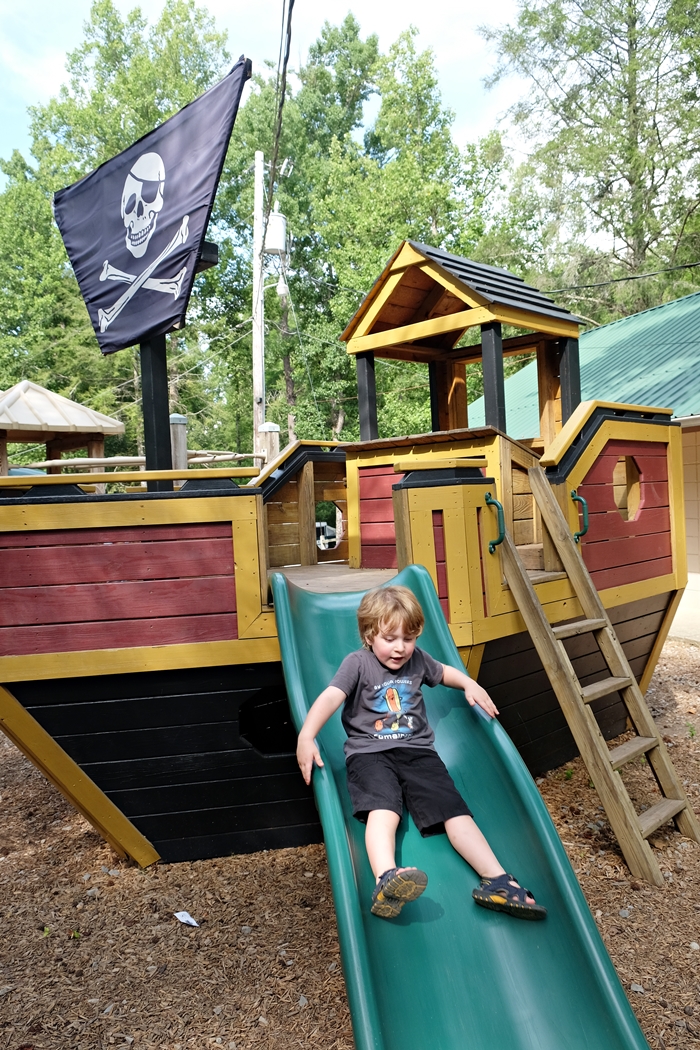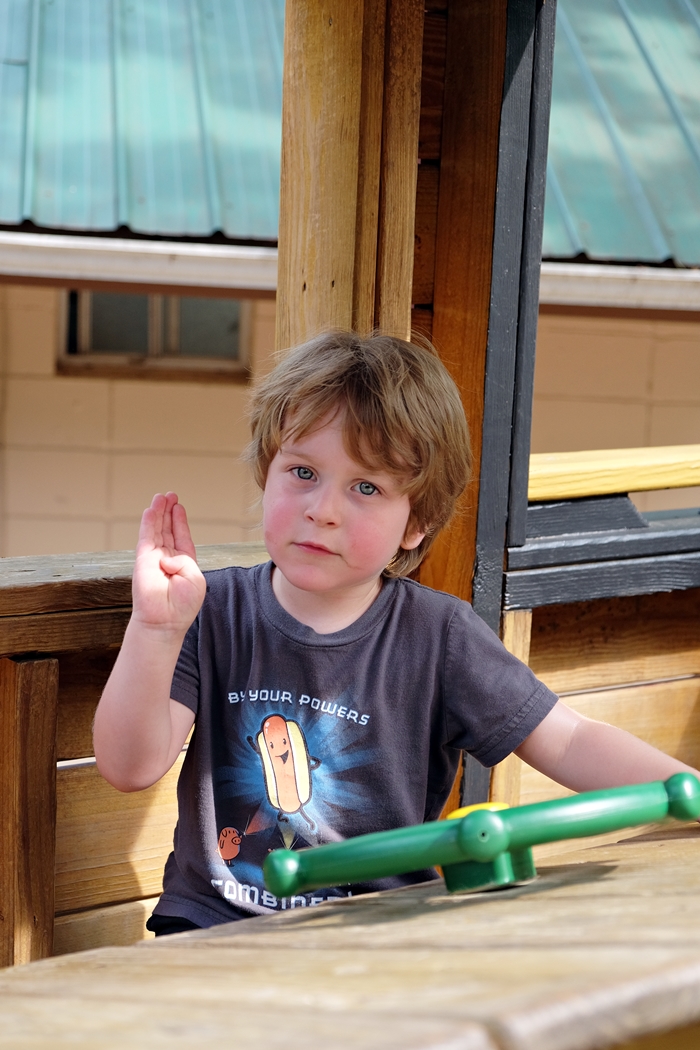 Between all of that and the creek, the kids were never the least bit bored. I mean, except Ari. He's old and jaded.
The planned activities were not quite at Jellystone level, but there were quite a few, especially on the weekend. There was an outdoor movie every night, karaoke one night, a couple of craft-type things, and candy bar bingo. It turns out you're supposed to go buy a candy bar and "buy" your bingo card with that (and then I guess the candy bars are also the prizes? Either that or the guy running bingo has to eat all the candy bars himself at the end). We had no idea. So we didn't play.
Oh, and the cabins! I should have taken a picture or two of the inside of Amy's cabin, but I didn't think to. Here's the outside: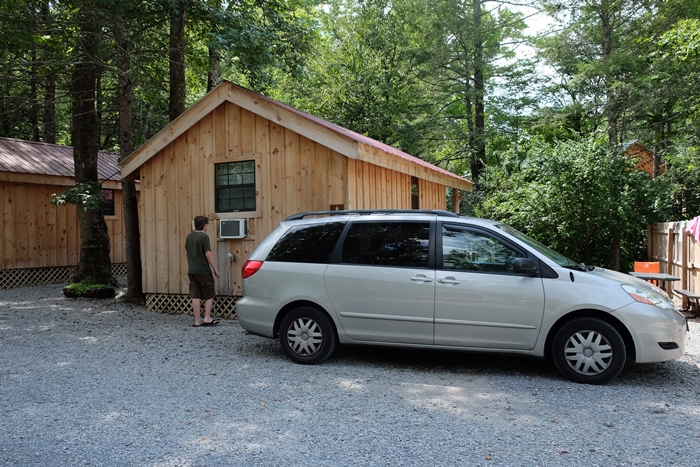 This was one of the "dwarf cottages" which was tiny, but adorable. There was a front room with a small kitchen and a futon, and then a back room with bunk beds (and a bathroom). They have some bigger cabins, too.
I should mention that the central bathrooms, next to the playground, were not impressive. They're a bit dated, but more importantly, they weren't particularly clean any time I went in there. At least one toilet always seemed to be stopped up and not working. That said, we had full hook ups, so I wasn't in there much; it's entirely possible I just kept hitting it at a bad time. The bathrooms next to the pool were much nicer. Look: track lighting! Fancy!
Overall: Great experience, and just what we needed for our particular group.

Save
Save