Even though we live in the Southeast, the vast majority of my kids' beach time has been spent on Cape Cod and on the west coast. They don't really have much of a grasp of the idea that the ocean can be warm. We compound the problem by often visiting the Cape in June, when the water temperatures are still very low and the air temperatures often are as well.
The other thing that's low on the Cape in June, though, is the crowds, and we often decide the trade off is worth it. Schools in Georgia get out before Memorial Day, nearly a month before New England finishes up. So we were able to take a leisurely trip up, with several stops along the way, and still be on and off the Cape well before the crowds and traffic set in. But not much in the way of actual swimming happened. Here's what we did do in Eastham:
Salt Pond Visitor Center: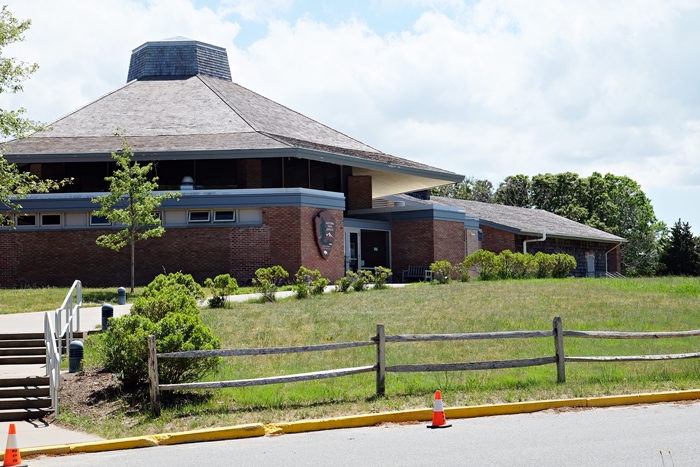 We were able to ride our bikes here from our campground, Atlantic Oaks (it did involve some riding off the bike path, on the street, but there were lots of other bikes and few cars, and it was fine). It's the main visitor facility for the Cape Cod National Seashore, so this is where you go for museum exhibits, movies about the park, ranger programs, and this big round map: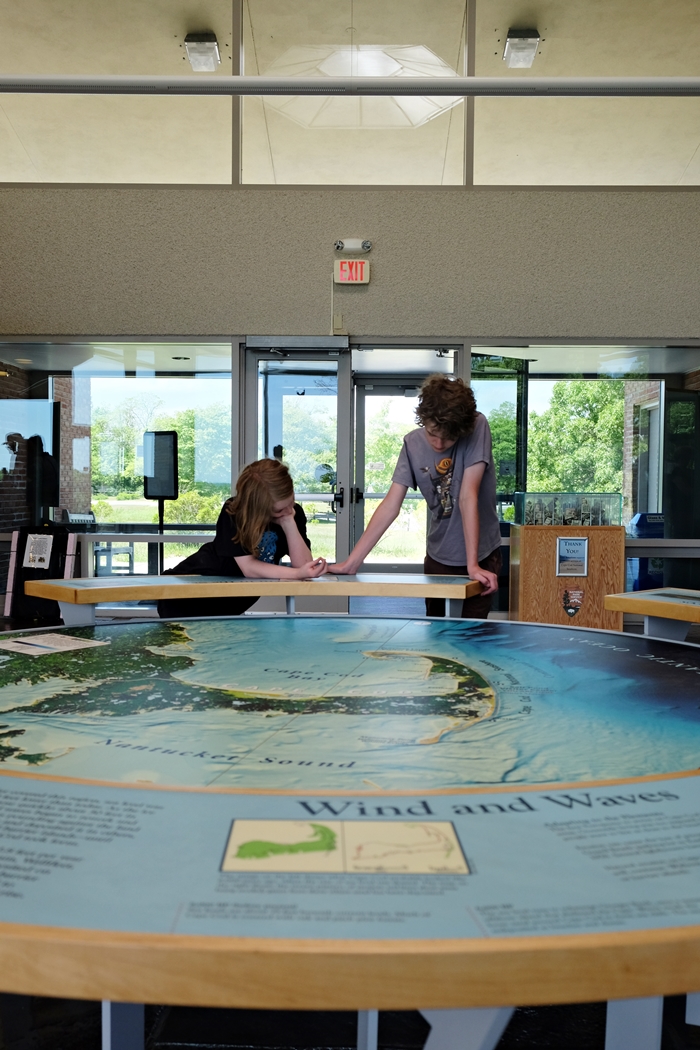 We picked up our Junior Ranger booklets here. They seem to take their Junior Ranger program a little more seriously here than in some parks; we got a little flack about Abe getting his own book since he clearly coulnd't finish it without help (although they did give it to us and when we turned them back in, there was no trouble about it) and they make kind of a big deal about the time commitment required. I gather they probably get a lot of people who are just passing through on their way to an afternoon at the beach and aren't really prepared to spend the time attending ranger programs and visiting different sites. But! The work was worthwhile, because the kids got wooden Junior Ranger badges and patches! Fancy! If I remember right, they also announced their names over the loudspeaker, which is always a nice touch: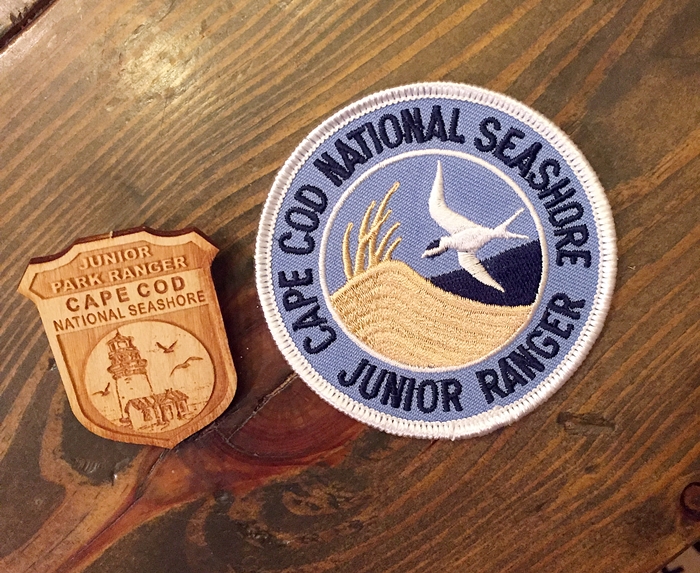 They had a cool temporary exhibit of decorative quilts with a National Park/conservation theme: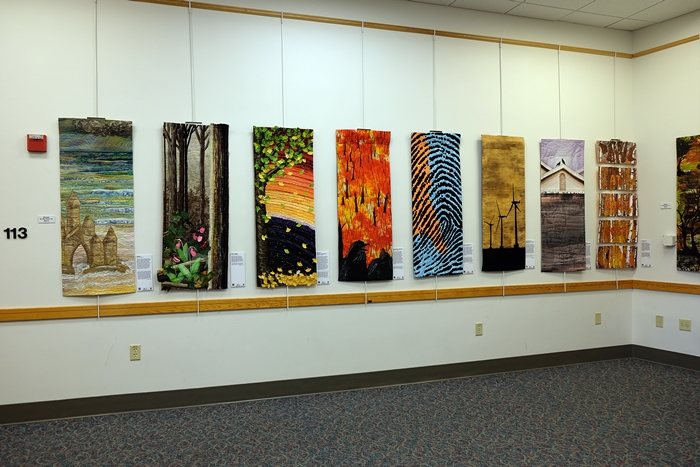 The museum was nicely done, with exhibits on the Native American cultures who lived in the area and also lots of cool scrimshaw (I'm a sucker for scrimshaw. Call me Ishmael), but I didn't get to explore it much, because Abe:
I know: he looks all innocent and cute there, right? The infatuation with listening to whatever narration was going on on the other end of that phone lasted about 3 seconds. He was crazy that day.
Outside of the Visitor Center is the one and a half mile Nauset Marsh Trail, which takes you out to explore Salt Pond and the marshes nearby. Salt Pond is a kettle pond, one of the deep ponds left behind when the glaciers retreated during the last ice age. Word is, they're very, very deep, which freaks me out a little. But we didn't try to dive down to the bottom; we just walked on the trail. Salt Pond differs from most kettle ponds in that it actually flows out into the ocean; over time a narrow passageway has opened up to connect it.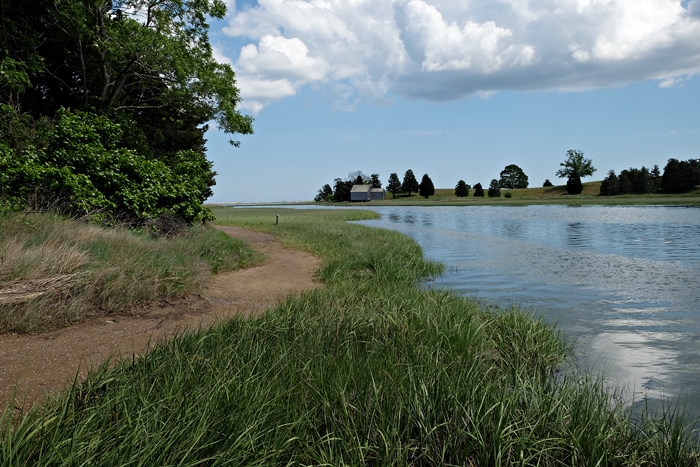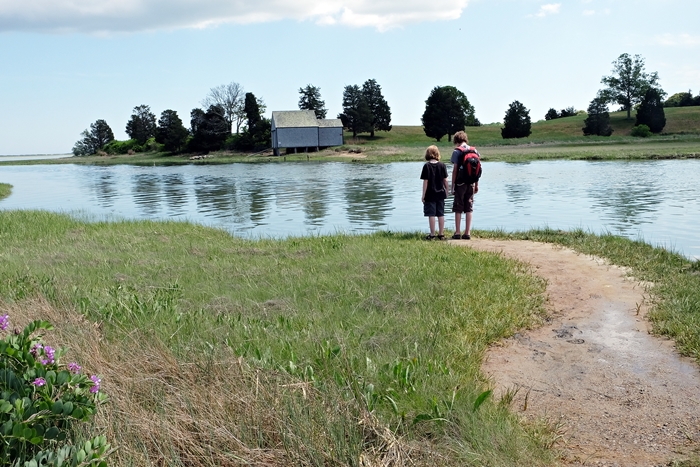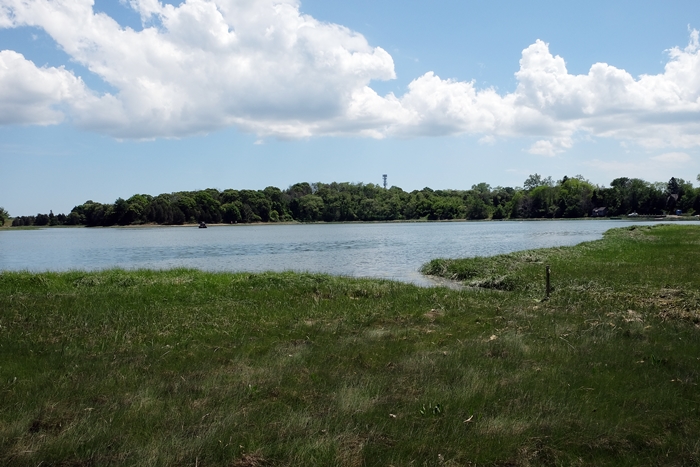 Coast Guard Beach:
Coast Guard Beach is a popular ocean beach within the National Seashore. I believe at least part of it is dog friendly year round, and we took our dogs here for their first beach visit (at least their first beach visit with us; who knows what they were up to before we got them). The water, as mentioned, was freezing, so we didn't actually swim. Its name comes from the old Coast Guard station located here: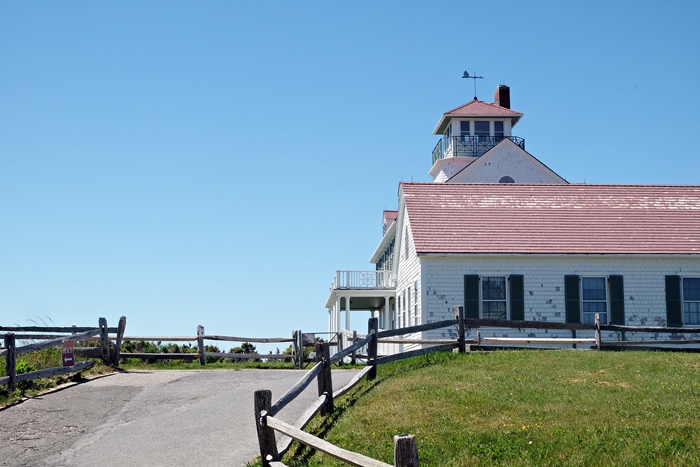 The beach is within walking distance of the house Dave's parents were staying in for the week, so we didn't need to worry about parking. The parking situation wasn't bad while we were there, but I'm sure it gets quite crowded in season; I'd suggest getting there early!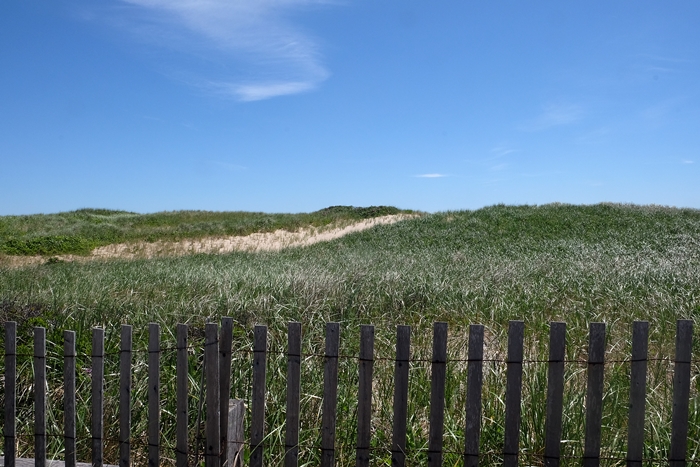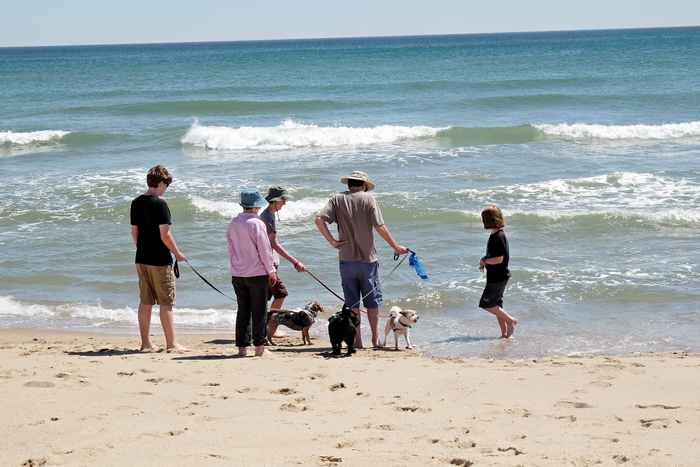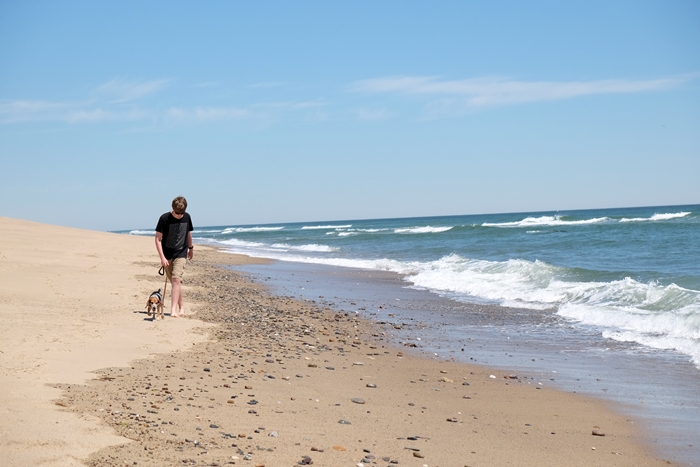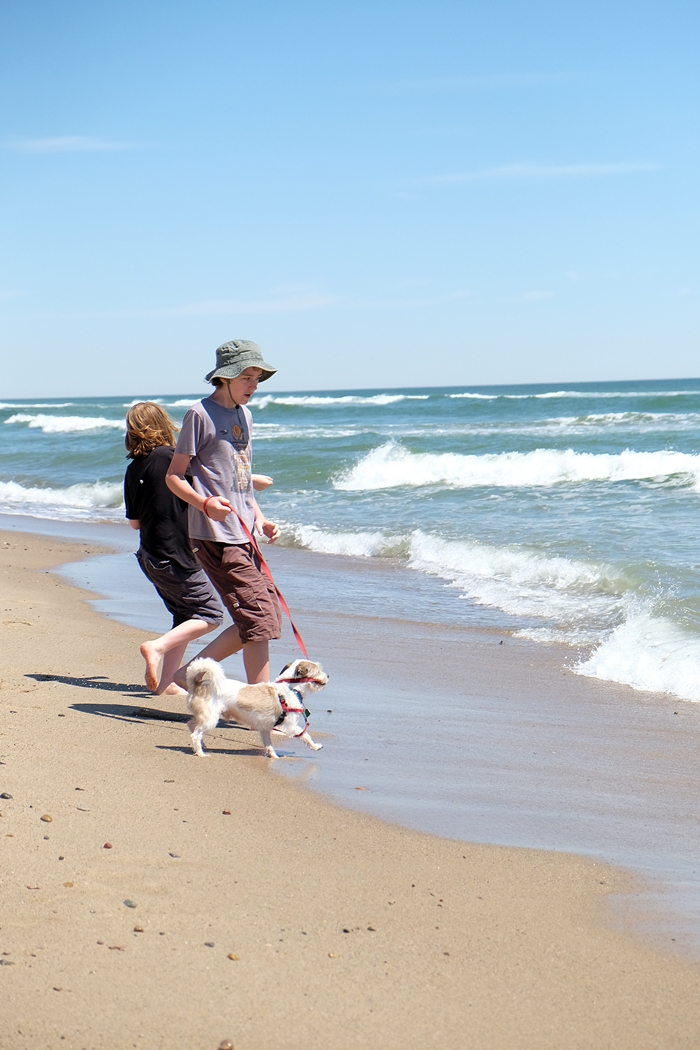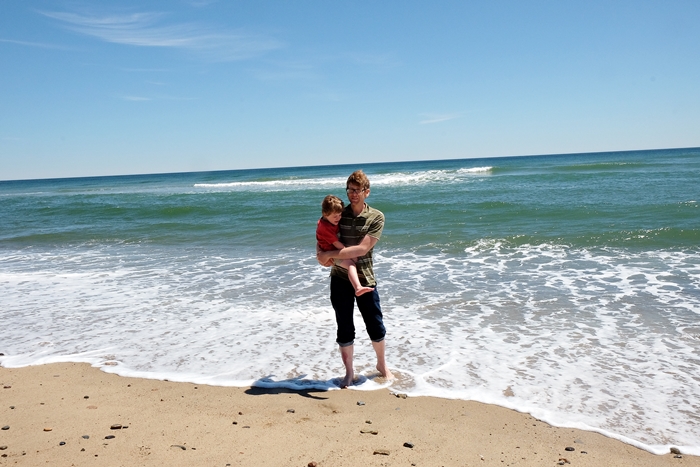 First Encounter Beach:
First Encounter Beach is so named because it was the site of the first encounter between Pilgrims and Native Americans. Sand, water, AND history all in one place! One of the great things about Eastham is easy access to both the colder, rougher ocean beaches and the relatively calm and warm bay side beaches. The bay beaches are great for kids and, we found, they're also great for visits in the shoulder season because the water's actually warm enough to wade and swim in. Also, at First Encounter, you can walk out into the ocean at low tide for about a thousand miles! Anyway, a really long way. See those specks? Those are my children in water up to their ankles: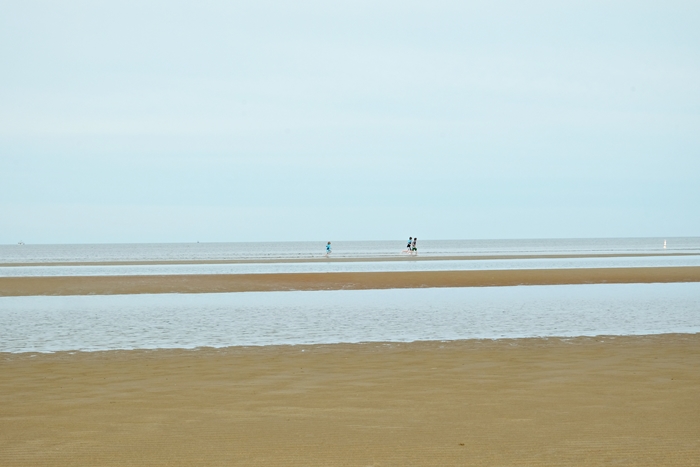 We put off First Encounter until our last morning in Eastham, so we didn't have nearly as much time to spend here as we would have liked. There are tide pools to explore, hermit crabs to gawk at, marsh to check out, sand to dig in, and, of course, a thousand miles of ocean to walk out into.
Abe wanted to sit right next to the parking lot and dig in the sand at first: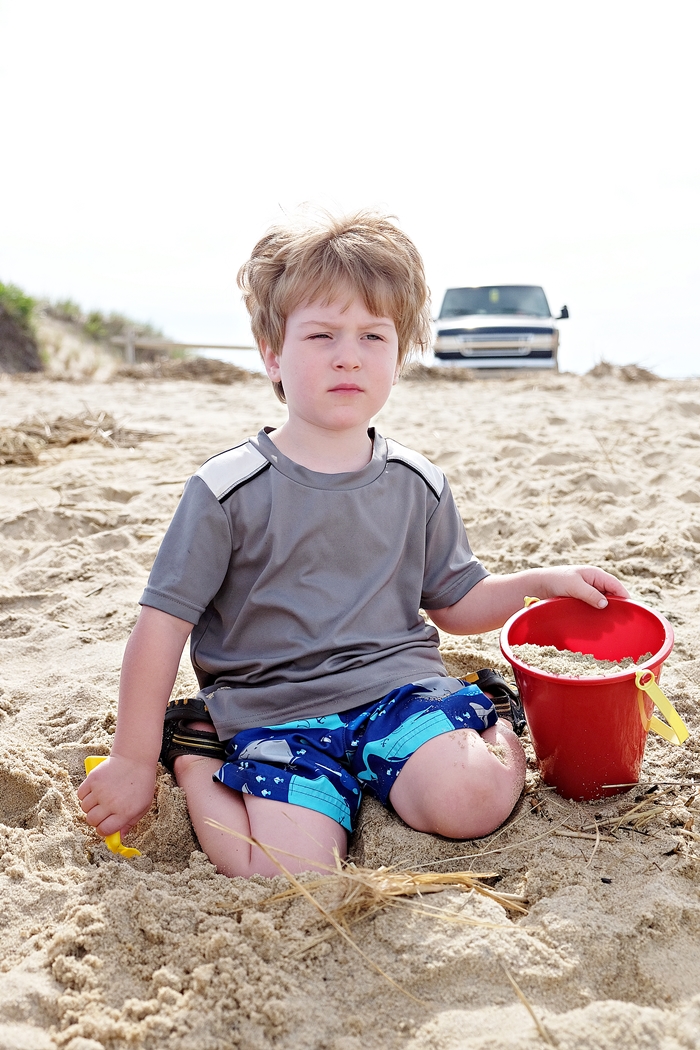 But the pull of the hermit crabs was strong and eventually he joined the rest of us in the water: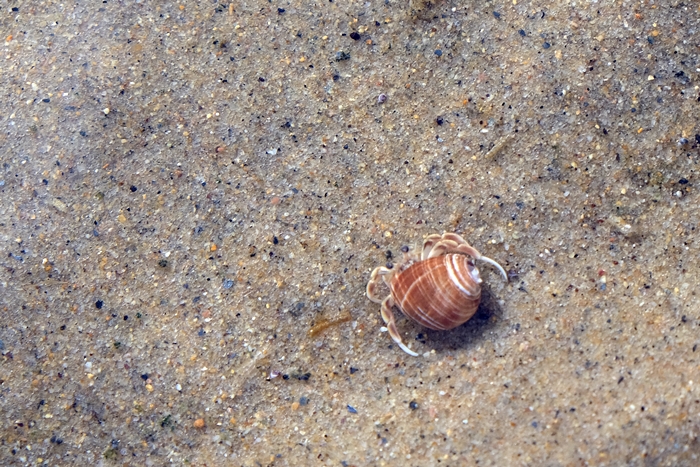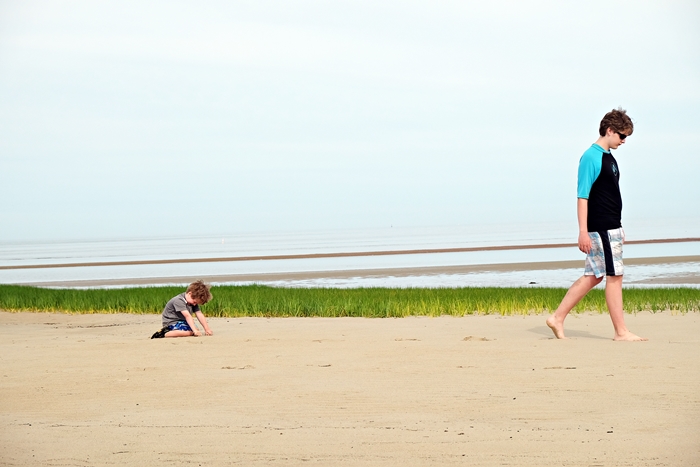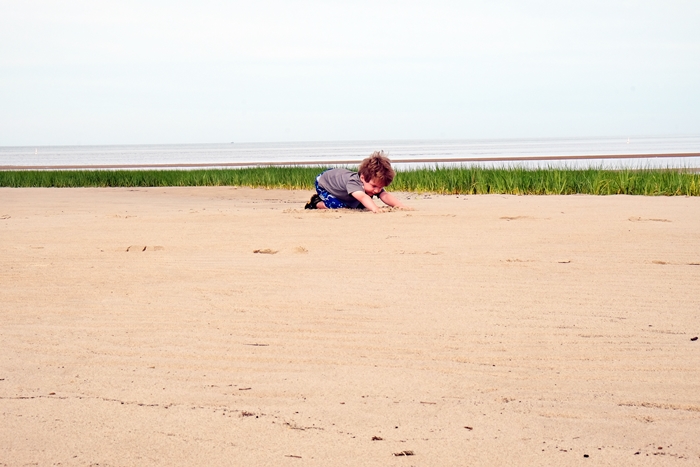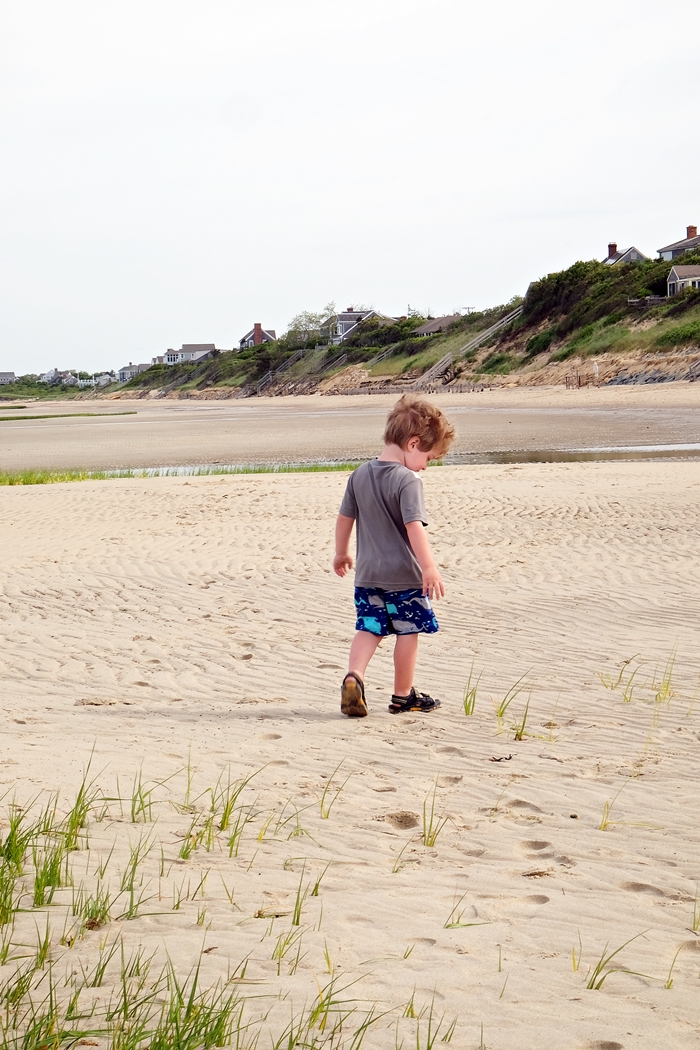 My favorite picture of Abe from the whole trip: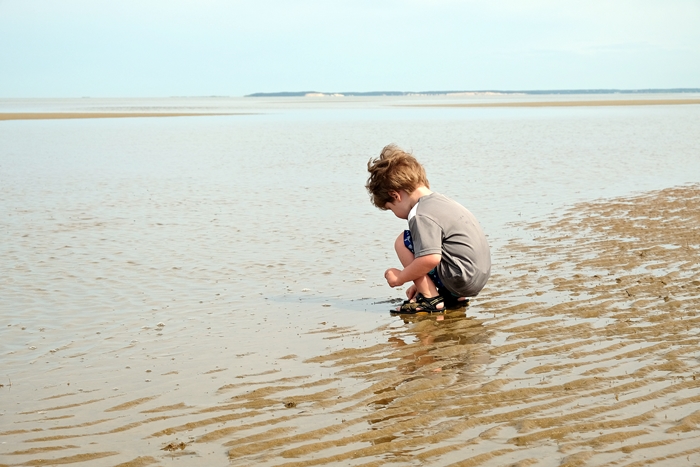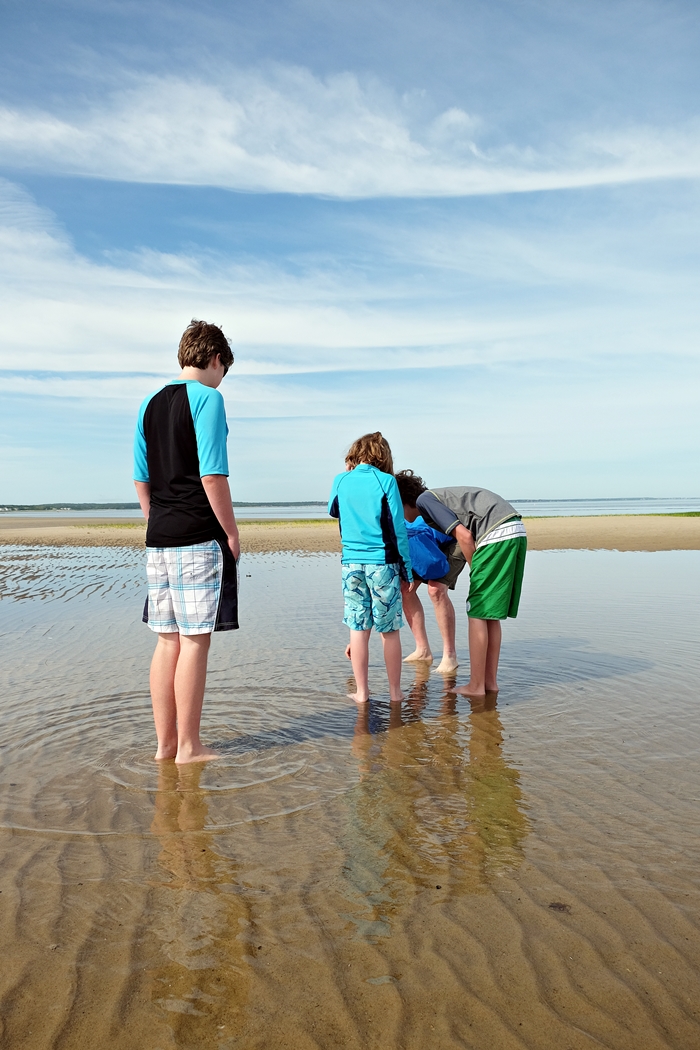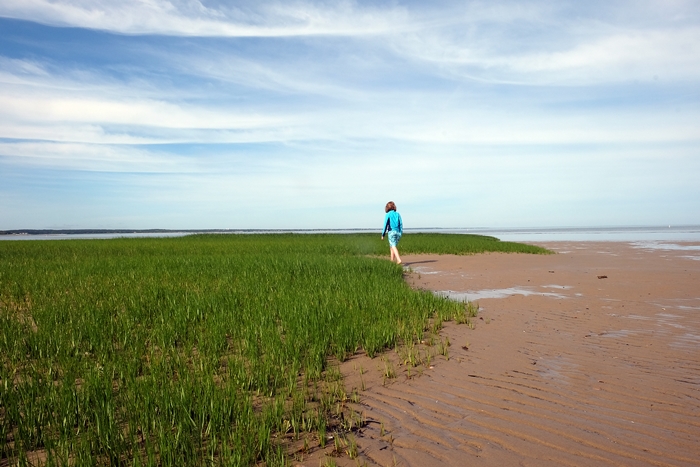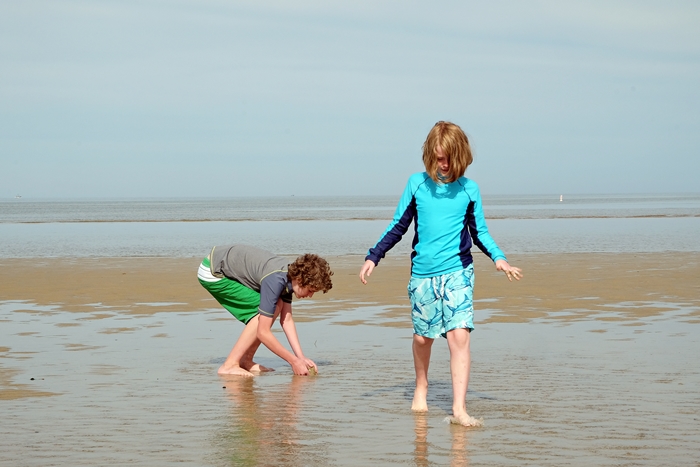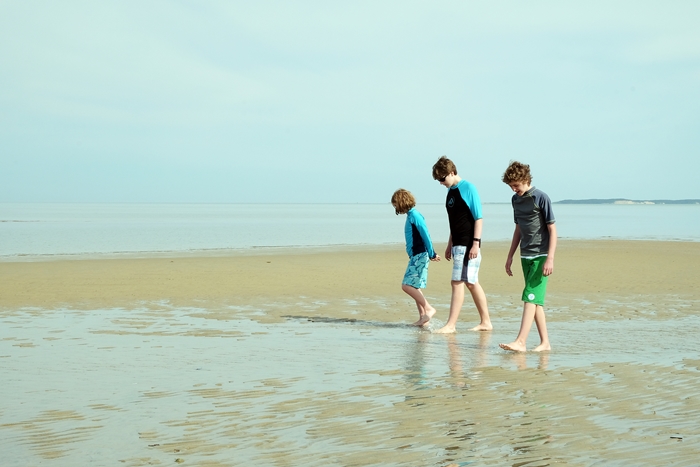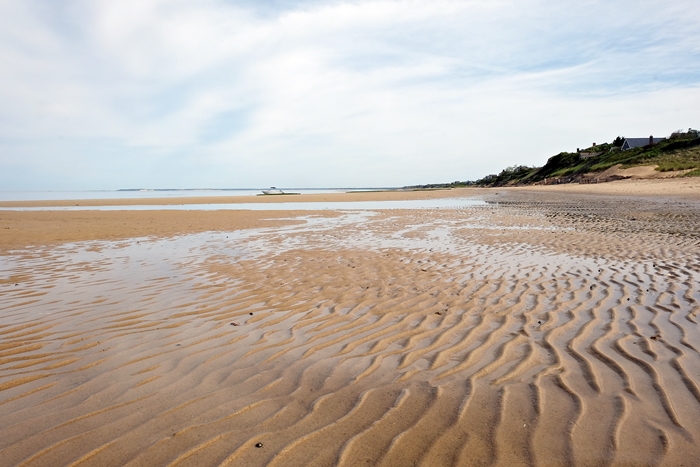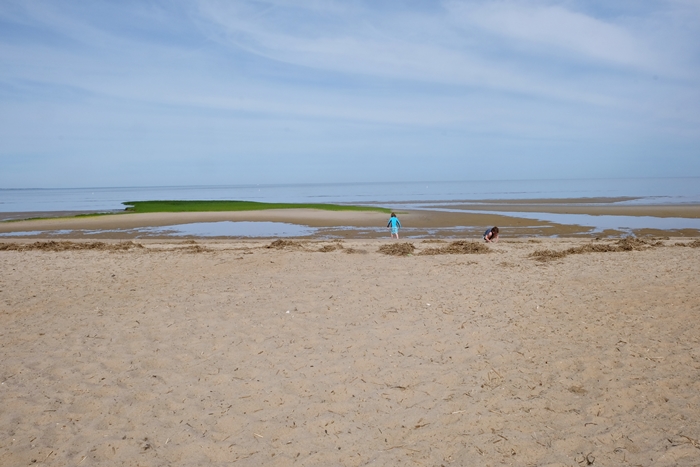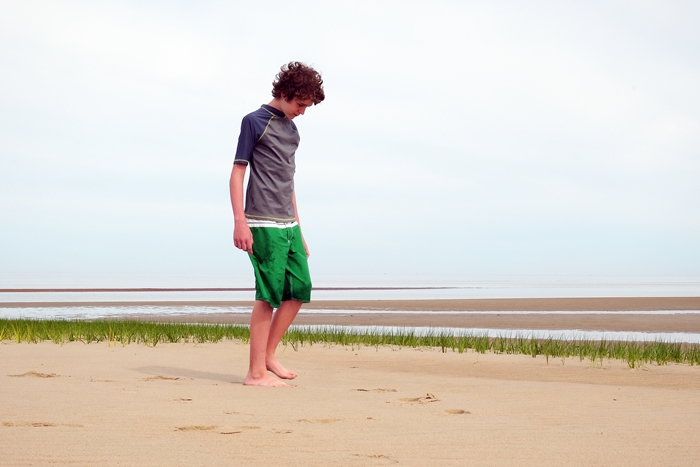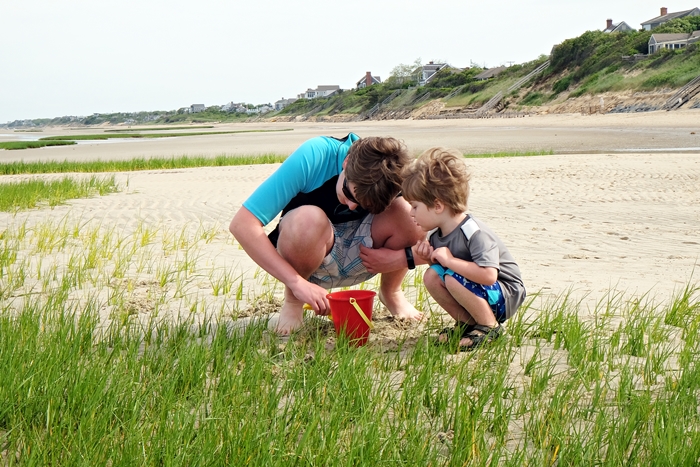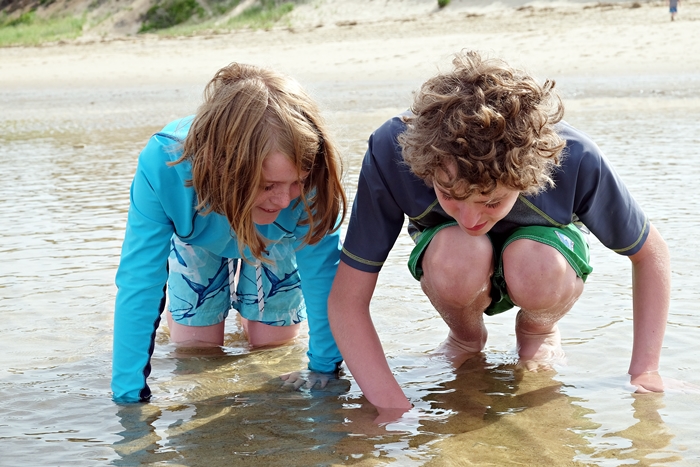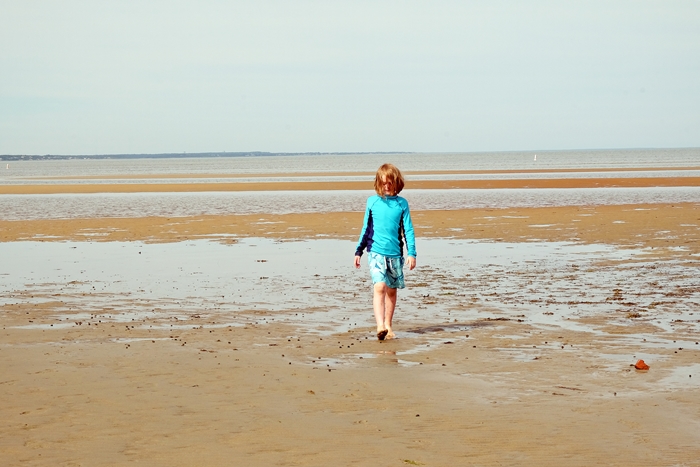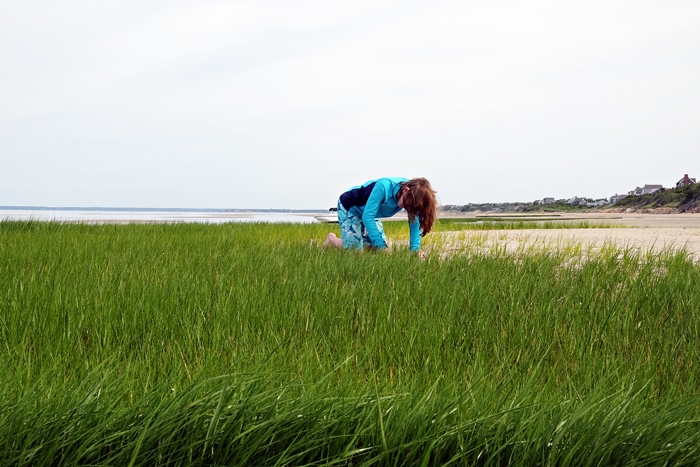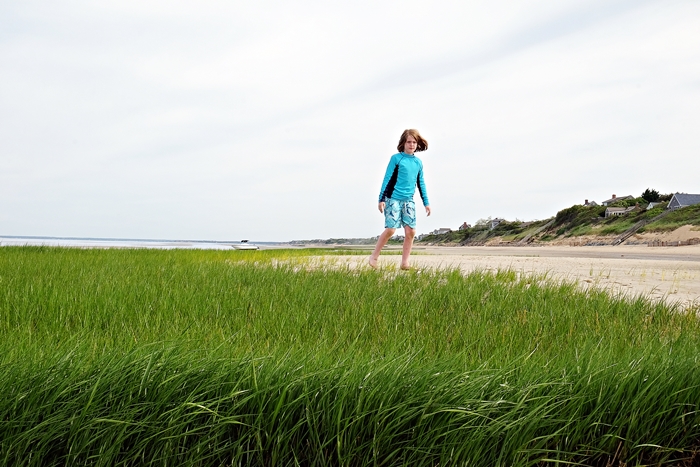 Even big kids had fun, despite this look: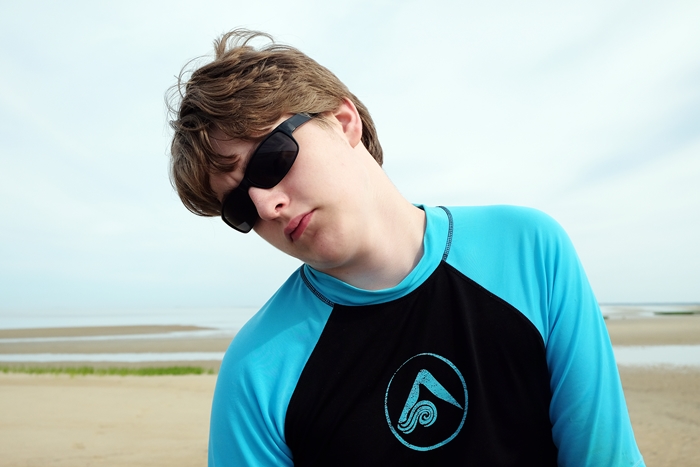 Kayaking:
We've been playing around with the idea of getting our own kayaks, and Cape Cod seemed like a good opportunity to try out kayaking and see if we actually liked it (Dave went kayaking once or twice as a kid; the kids and I have only ever canoed. And my last canoeing experience was a little traumatic. I blame the five year old who was "helping" me paddle. And the wind). After some contemplation, we opted for a guided tour instead of just renting kayaks and taking off on our own (see: traumatic canoeing experience), so Dave's parents treated us all to a kayaking tour with Cape Kayaking as a late birthday celebration for Milo.
It was a great experience, or, as Abe enthusiastically put it (many times), "that was the best trip I ever saw!" None of my fears came true. We did not drown, we did not tip over and get stuck head down in the mud, and no one had to come pull the kayak back to shore because I couldn't get it there myself. Also, Abe did not throw a tantrum in the middle of the marsh.
Our group of eight made up the entire tour. We did the low tide marsh tour, which worked with our schedule and was one of the tours recommended for people without much kayaking experience. We left from a dock in Eastham, very close to the Salt Pond Visitor Center (in fact, we saw some of the same things we saw from the Nauset Marsh Trail from our kayaks). We got a quick lesson in paddling, and then we were off. There was a little confusion about how to split us all up into separate kayaks. I had read on the website beforehand that the weight limit for having ones own kayak was 100 pounds. Milo tipped the scales at a whopping 102 pounds at his check-up right before the trip, so we planned to go ahead and have him share a tandem with one of his grandparents since he barely made the weight limit and he had no kayaking experience. But the guide had misunderstood and hadn't brought enough tandems, so Milo ended up stuck in his own kayak after all (Dave and I had a tandem with Abe on a jump seat in the middle, Gus shared with Grandpa, and Nana, Milo, and Ari were all on their own). This caused a few minutes of frustration on Milo's part and anxiety on my part while Milo struggled to get the hang of paddling. But our guide was very patient and stayed with Milo to talk him through it, and soon he was doing great. All 102 pounds of him.
The tour was around three hours total, with a stop in the middle on a small island to rest and dig for clams. I missed the safety talk about how to dig for razor clams (hint: from the side) and ended up with a nasty slice on my finger (fortunately, our guide had a tiny, waterproof first aid kit, so I did not bleed to death. Which is great because bleeding to death hadn't even been on my list of things to worry about before the kayak trip!)
We still haven't decided about kayaks. Abe really wants them, but the kids who actually had to paddle are slightly less enthusiastic. But really the main issue is finding a way to travel with them; if we do get kayaks, we'll likely go with inflatable ones.
Losing my camera or my new iphone in the marsh was one of my fears, so all of our pictures are from Dave's cheapo phone that we don't care about: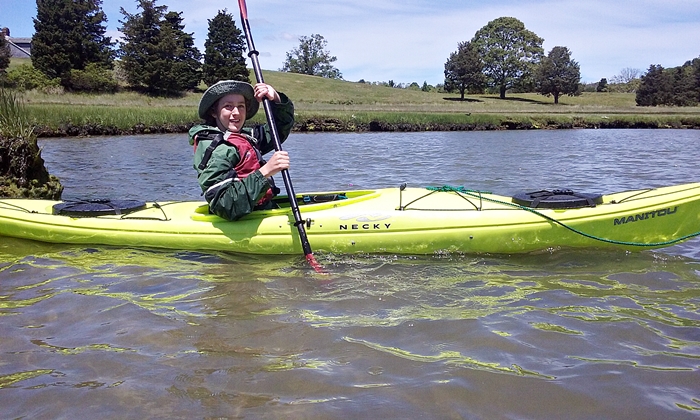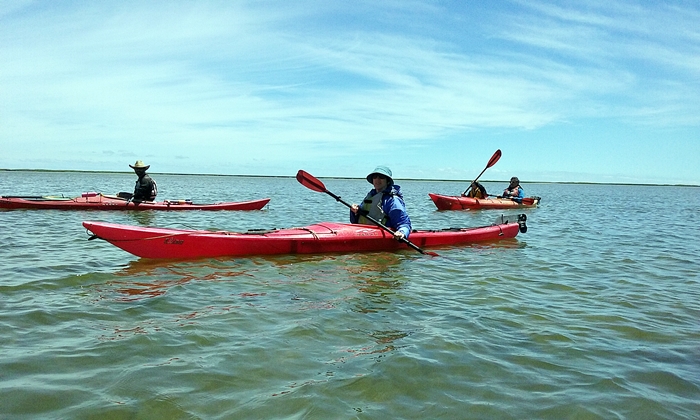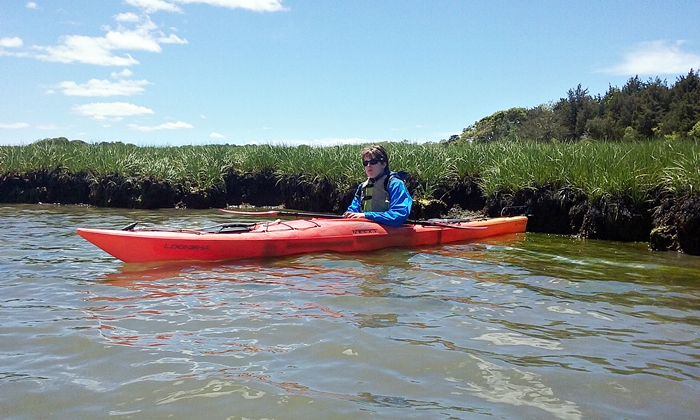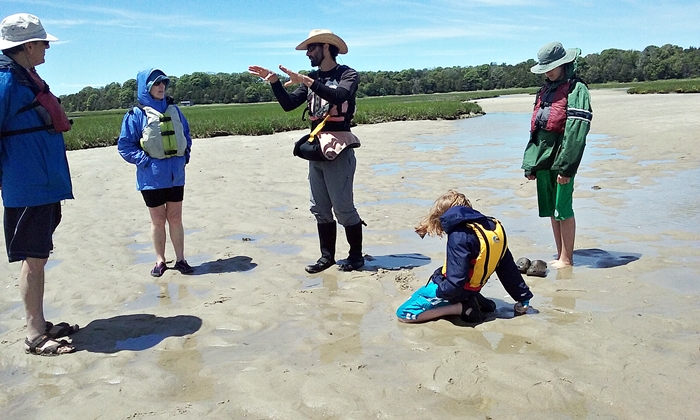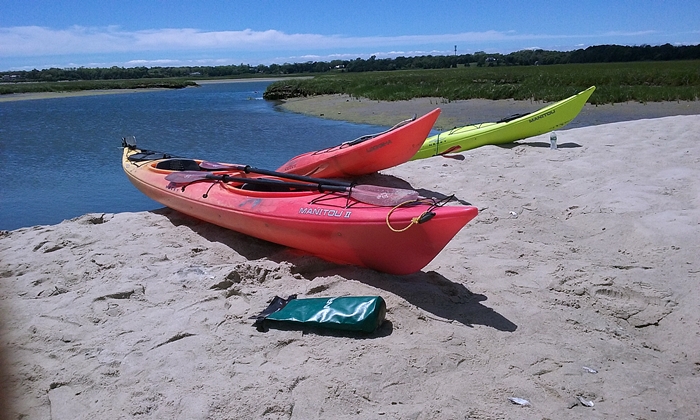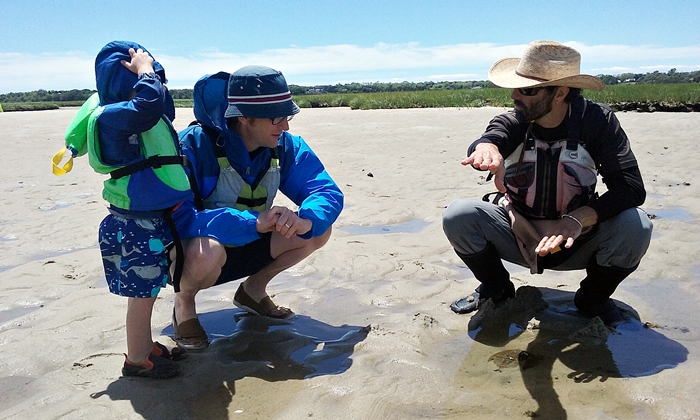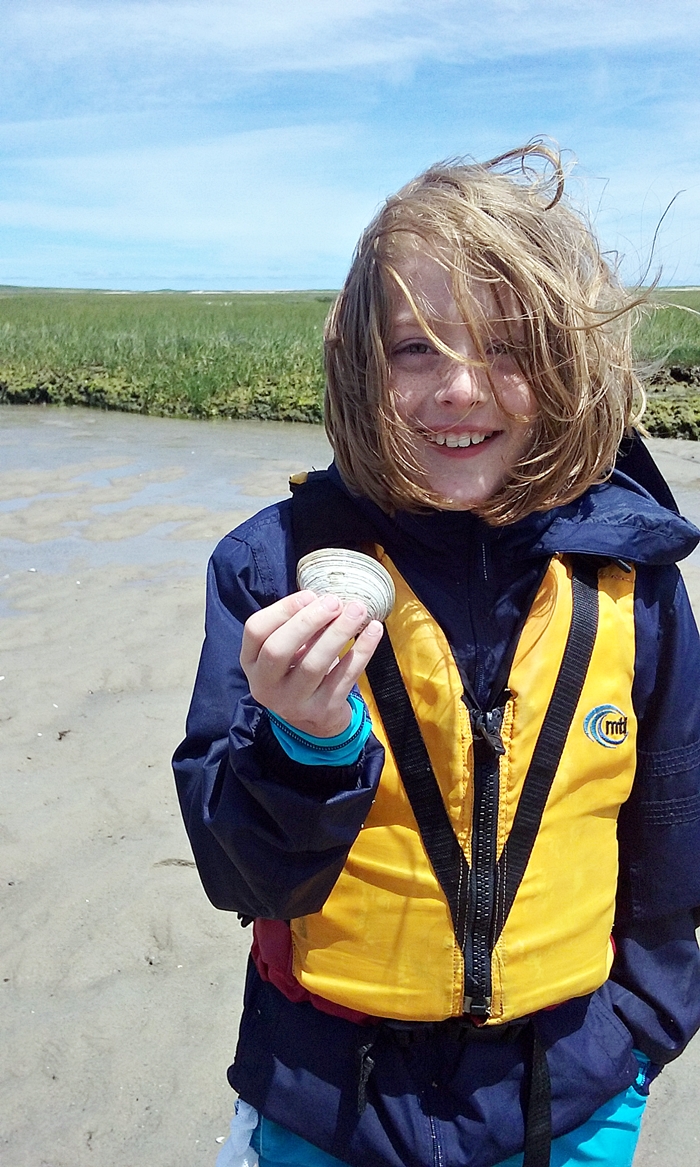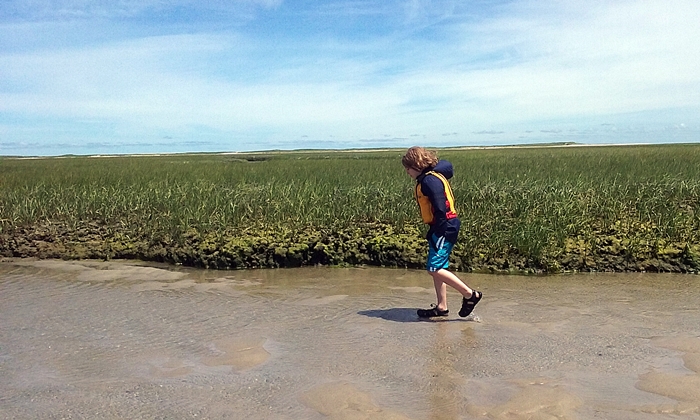 Historically our Cape trips have been long, leisurely affairs of at least a week and a half or two weeks…plenty of time for hanging out at the beach and long bike rides and lots of ice cream stops. We only had three full days this time (one of which we spent in Provincetown, which I'll talk about in the next post), and we all agreed this wasn't nearly long enough. But we did pack a lot in, and, of course, there's always another Cape Cod trip in our future. 

Save
Save
Save
Save