We've spent a lot of time on the Cape over the years, but somehow Eastham had never been on our radar before. Now that we've been there, I'm not sure how we kept missing it; it really is an ideal location for exploring the Cape. It's farther out from Boston, so the crowds are lower than in a lot of places. It's home to the main visitor center and many of the other beaches and facilities of the Cape Cod National Seashore. It has great beaches both on the ocean and bay sides. The town center of Eastham itself is tiny, but you can easily visit Chatham or Wellfleet to find the whole quaint Cape Cod downtown thing and a wider selection of restaurants. And it's close enough to Provincetown to make for a very easy day trip (we've very often skipped Provincetown on past Cape trips because it just seemed so far away, but we finally made it there from Eastham).
And Eastham is also home to one of the best reviewed campgrounds on the Cape: Atlantic Oaks. Which is where we stayed for the five nights we spent on Cape Cod in June.
Booking and Arrival: We booked our site sometime last fall; there's a map of the campground online so that you can select a specific site. We had heard on the RVFTA podcast about Cape Cod that we didn't want the very front row because all the traffic exiting the campground has to go out that way. So we picked a site maybe three rows in; it was still very close to the camp store, playground, and bathhouse. Honestly, all the sites are very similar as far as size and level of privacy, and I believe all of them are pull throughs, so location is really what you want to look at when you pick a site.
The ends of the rows closest to the campground entrance are closer to the amenities–bathhouse, dog park, playground, etc. The other end of the rows is closer to the bike path entrance. When we were there in early June, it seemed like the spots toward the back of the campground were less full, so if you're looking for a little more space and you're going to be there in the off season, that might be the way to go. I would guess, though, that the whole place stays pretty well booked during all of July and August (even on weekdays in early June, it was pretty packed):
Let me just get this out of the way, since it's the only negative thing I'm going to say about Atlantic Oaks: the pet policy is a little….conflicted. The website actually says, "Although we do allow pets, we do not recommend that you bring them." The reasoning, they explain, is that "they must be taken with you whenever you leave camp and are not allowed on most of the beaches." And then they talk about their awesome new dog park. It's a little confusing. Also, for the record, the Eastham area is probably the single most dog friendly part of the Cape, as far as I can tell. Dogs are allowed on all the National Seashore beaches that aren't lifeguard protected (which I believe means all of them, period, until late June) and they're allowed on Eastham town beaches from after Labor Day until June 15 (so the whole time we were there and later in the summer than most all of the other town beaches on the Cape).
And then when we arrived, they asked about dogs and, when Dave told them we have three, they said, "oh, we actually only allow two dogs per site. But we're not going to turn you away since you came all the way from Georgia!"
Well, good. Especially because the two dog policy is not spelled out anywhere on the website. We've encountered two dog limits at campgrounds before, and so far we've always had good luck explaining that we have three small, well behaved dogs and politely asking if they can make an exception. So we weren't trying to put anything past anyone; there was no indication the policy existed until we got there. And, I mean, it's fine, because they let us in with our three dogs.
My nervousness about the pet policy (plus the fact that we had some long outings planned for a couple of days) led us to book doggie day care stays for the dogs at Nauset Pet Services, a great little place just down the road from Atlantic Oaks.
But! Aside from that (and, again, we didn't have any issues about the dogs once we were there; it just caused me some anxiety beforehand), we had a lovely stay here. The campground directly on Route 6, so easy to get to (getting out is a little tricky; you can't take a left, so we had to plan a place to turn around before we left with the trailer), but the actual campsites are far enough back that road noise was not a problem. Everyone who worked at the campground was very friendly and helpful. The roads were easy to navigate, and the site were no trouble to get into and out of.
The nightly rate (low season) was $53/night for a 30 amp site. They offer a 10% Good Sam discount, but then they also charge extra for more than two kids and for each dog (which was a new one for us). So for people with four kids and three dogs, the extra charges can really add up. That said, after paying something like $80/night at the Mystic KOA, Atlantic Oaks' rates seemed like a big bargain for such a stellar location.
Amenities and Campground Overall:
Atlantic Oaks isn't the place to come for a lot of bells and whistles. There's no pool, no planned activities, and only a tiny and somewhat dated playground. But that really doesn't matter, because you're on Cape Cod, surrounded by beaches and whatnot, and who wants to stick around the campground playing bingo when you have that going on?
Not us.
Abe did enjoy the playground and especially the sandbox, which came equipped with trucks: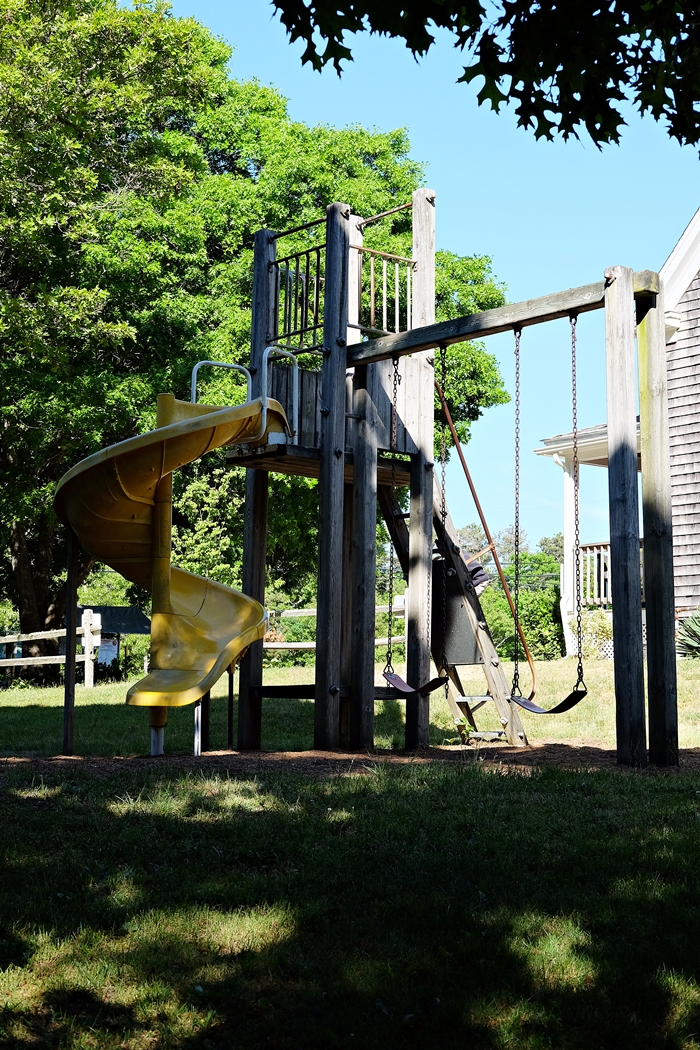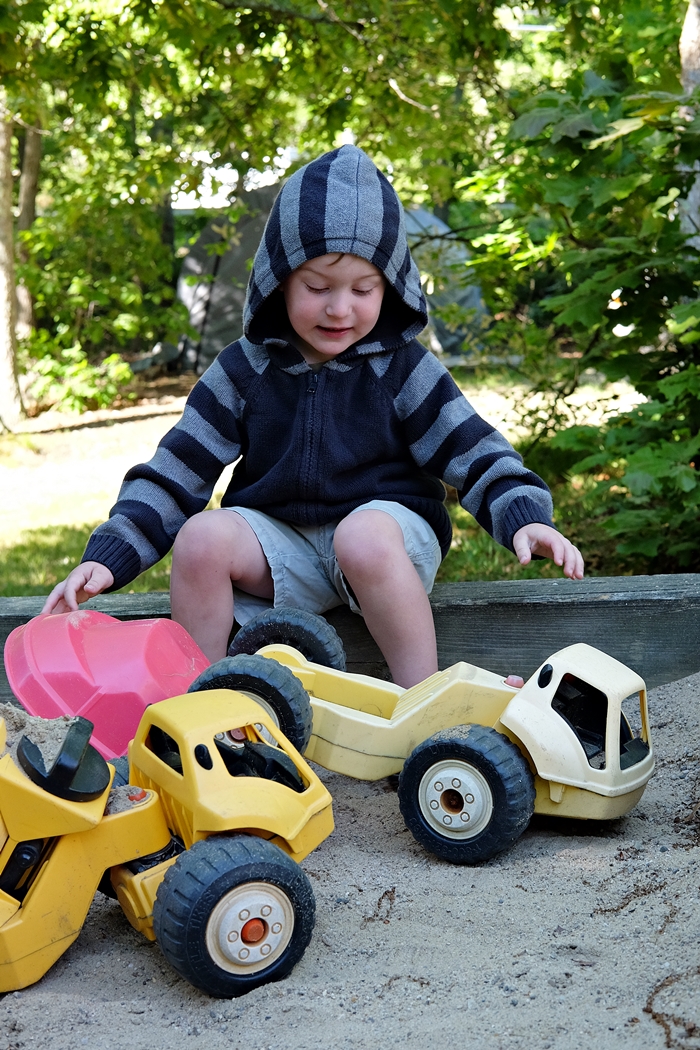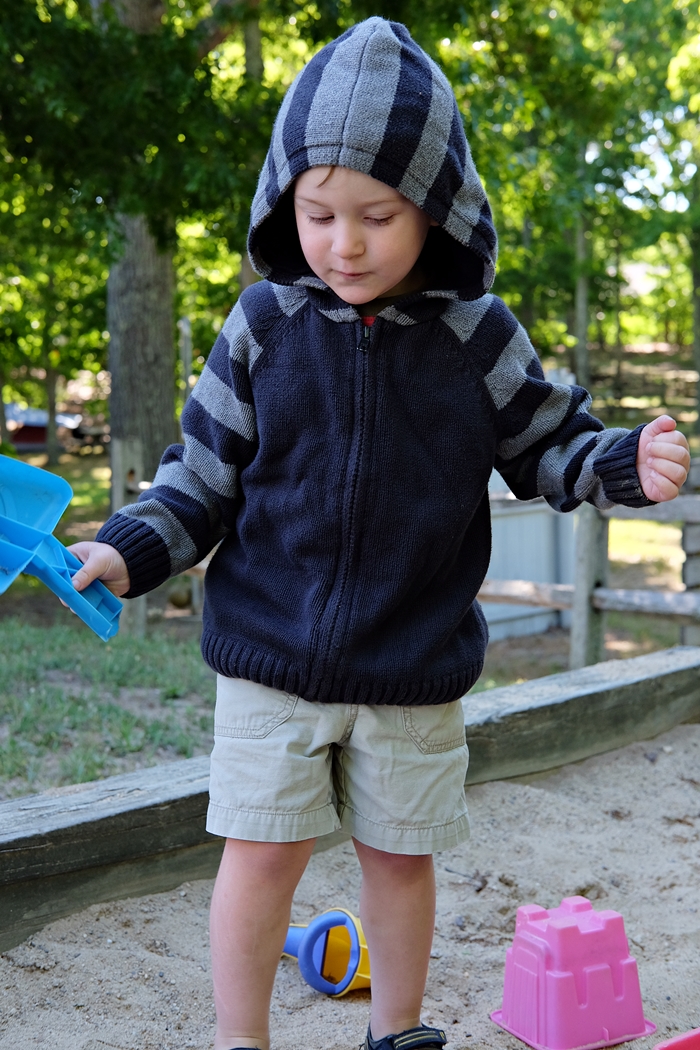 There's a nice camp store with a good selection of souvenir type stuff plus camping supplies and groceries. There's a lovely lounge/rec room area; we didn't spend much time there, but it'd be great for a rainy day. We used the laundry room and had no complaints. The bathrooms were sparkling clean and had music piped in…fancy! And instead of showers in the bathrooms, there was a separate row of individual showers each with its own changing room and exterior door, which was a nice, private set up. The wifi was lightning fast, by campground standards. Dave had to attend an online session of one of a class for his master's, and he was able to do it right from our site.
And of course, there's that dog park: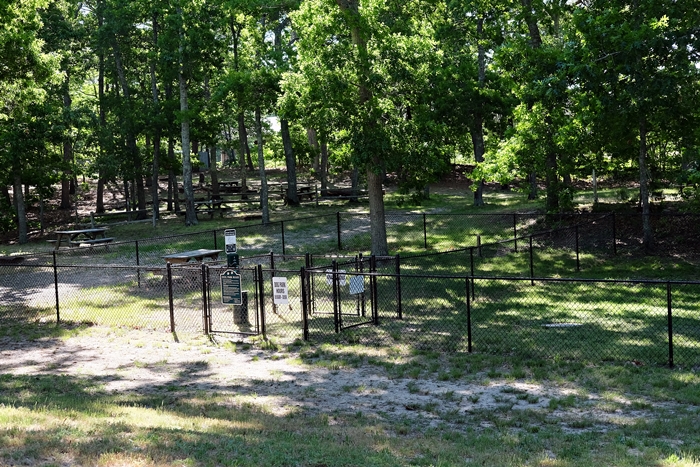 What you're here for, though, is the location, and it's fabulous. You're minutes away from tons of great beaches, and there's direct access to the bike path from the campground: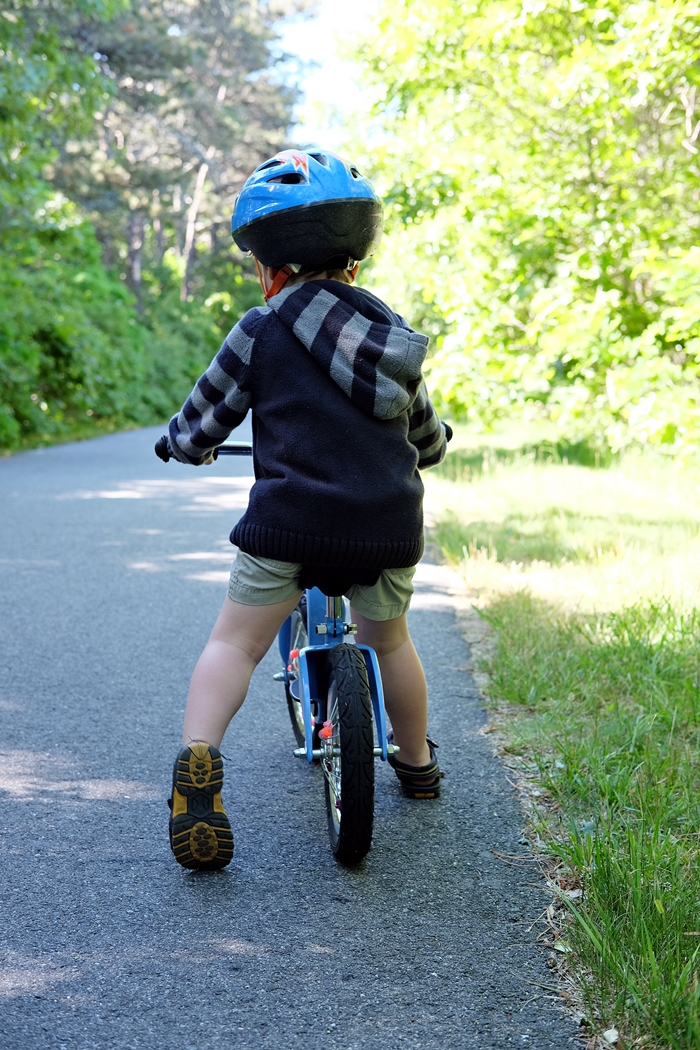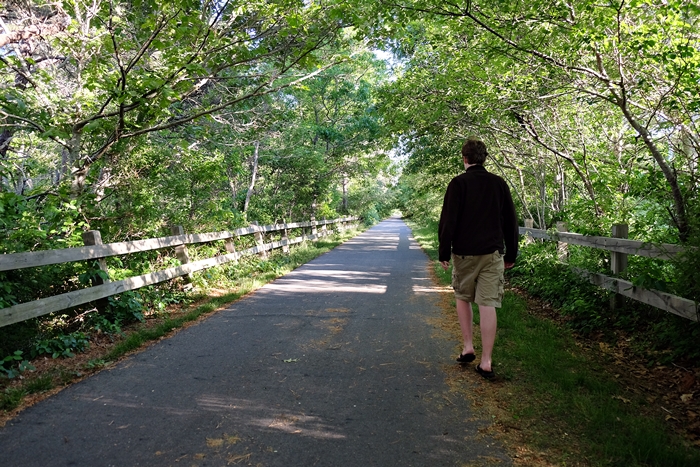 We didn't have to time to take advantage of this as much as we would have liked, but the kids did go off on their own for rides a few times. And we all rode to the National Seashore visitor center one day (you do have to go off the bike path and connect up with another one for that, but it worked out fine). And you can either walk or ride pretty much next door to Arnold's to pick up some fish and chips or lobster or ice cream. Or all three: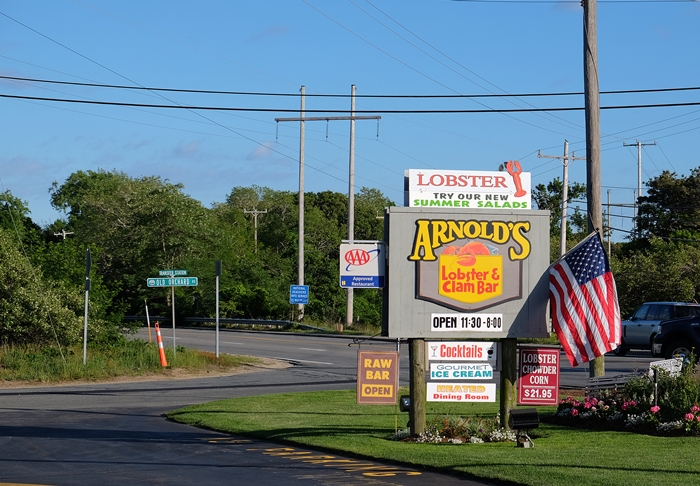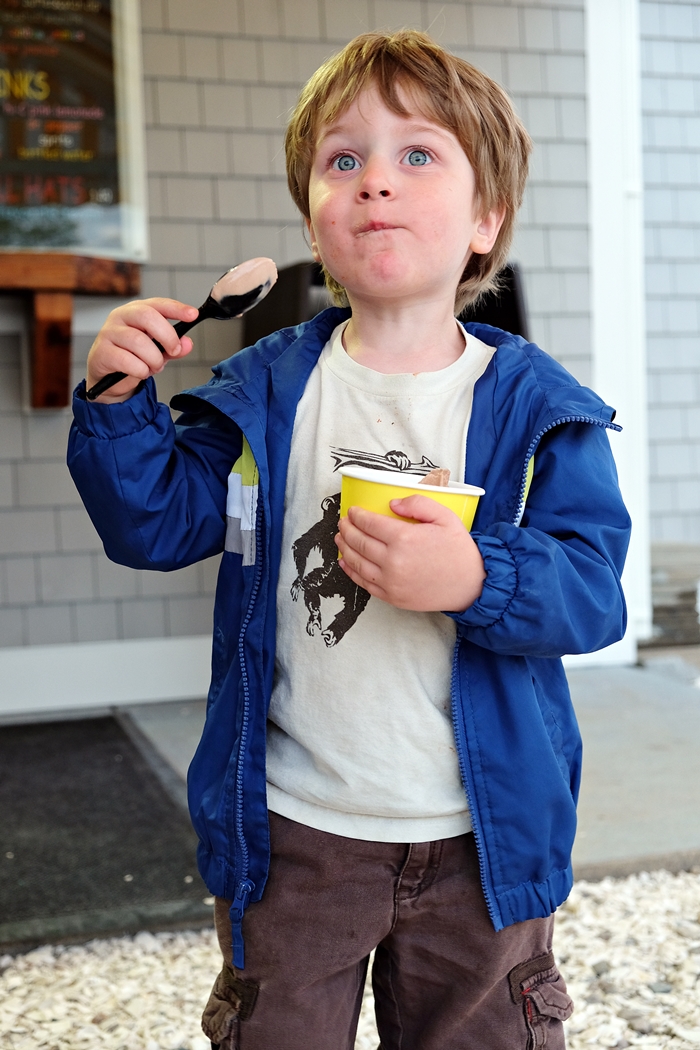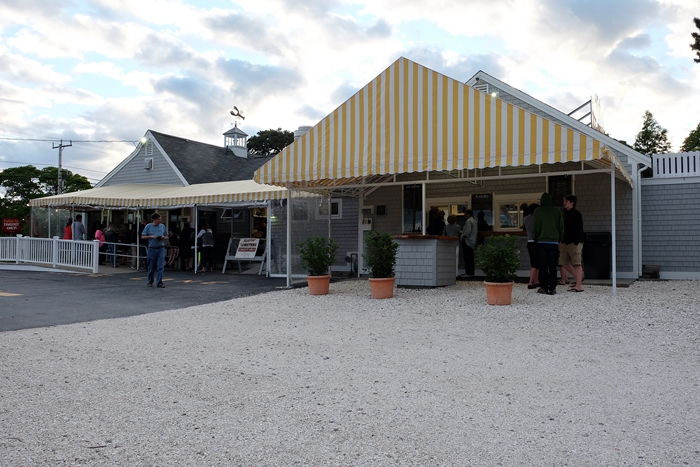 Arnold's was actually closed most of the time we were there (apparently it's only open on weekends during the low season), but we finally made it there the night before we left with Dave's parents and their Cape-dwelling family friend, Sue. We took this picture from a very flattering angle: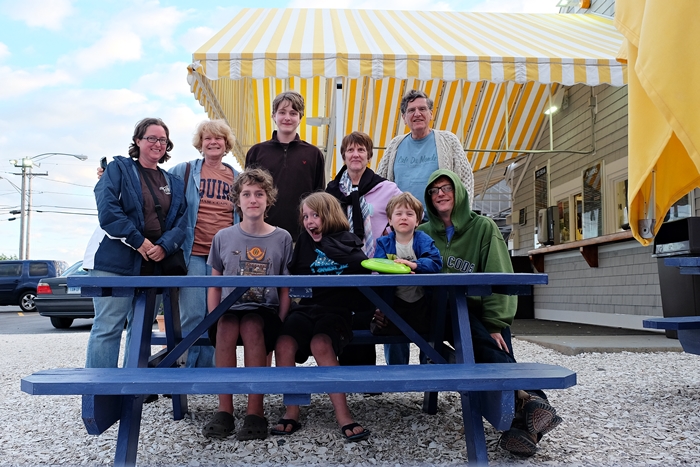 Our Site: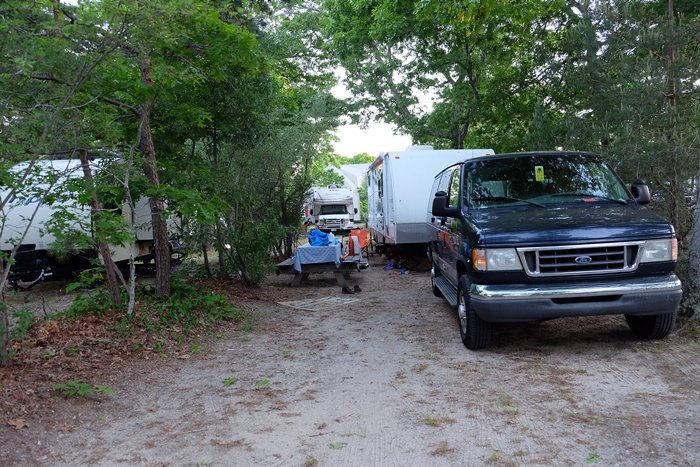 As you can see, the sites here are definitely not huge. But they do all (as far as I could tell) have trees in between them like this one did so that it feels a lot more private than it would otherwise. We had a string of neighbors in the site next to us (the one you can see in the photo), but we never felt too cramped. Each site has a picnic table and a fire ring (campfires are allowed until 11), and I believe all the RV sites are full hookup.
So overall a terrific experience; we'll definitely be back (assuming they let us in again with our plus one dog situation!)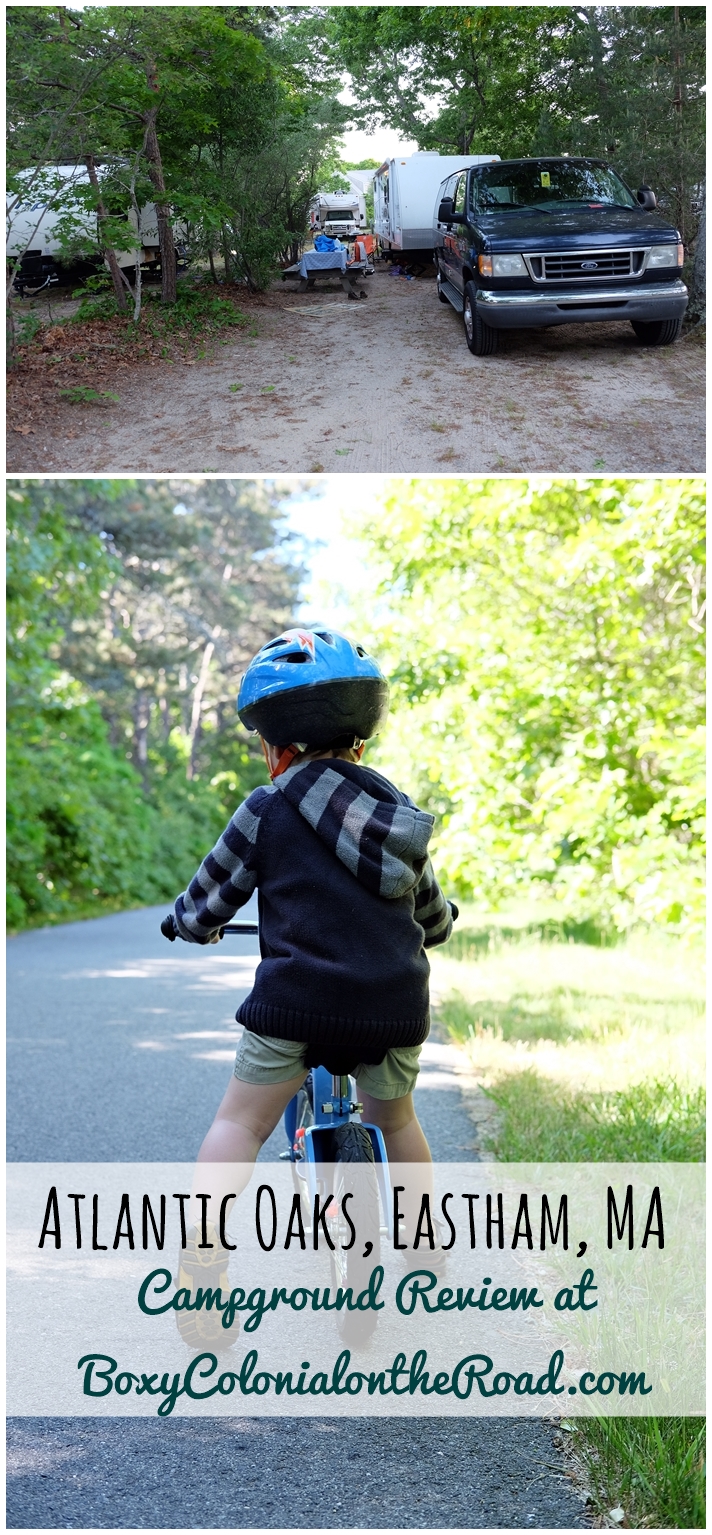 Save