In the weeks leading up to our trip to Vogel, I came up with a long list of things to do in the area. Unfortunately, I wrote it down on an actual piece of paper with an actual pencil like in olden times, and then I lost it. But then I managed to mostly reconstruct it! We didn't come close to doing everything on the list; there are a surprising number of options for things to do in the area–certainly enough to support a return trip at some point–but we did hit a few fun places.
Brasstown Bald
Brasstown Bald is the highest peak in Georgia, at 4784 feet. I couldn't remember having been there before, but I halfway suspected we'd get there and it would look familiar and all come rushing back to me. But no. Pretty sure I'd never been there before.
Brasstown Bald falls within the Chattahoochee National Forest, so the site is run by the US Forest Service. I was a little surprised by how extensive the facilities are and how much there is to do there; I was expecting just a pretty view from the observation tower, but it turns out there's a good sized museum, a store, a film to watch, and a few activities like a scavenger hunt and a junior ranger-type program.
The drive from Vogel is about 25 minutes, the last stretch of it on a very steep but well maintained road (NOT appropriate for trailers, as a sign at the bottom makes clear). I did not find the road terrifying, even though mountain roads freak me out, so it must not be too bad.
The entrance fee is $5 per person 16 and up, which includes the entrance fee and the shuttle ride (incidentally, I find it odd that so many places that seem to be trying to keep fees low for families by not charging for younger kids start charging at 16. It's not like I'm going to make Ari pay his own way when he turns 16; he'll still live at home and be a student….why will he be in a different category than my younger kids next year?) Gus's Every Kid in a Park pass works for Forest Service sites, too, so we didn't pay anything. Had we wanted to take the shuttle instead of walking to the summit, we would have paid $2 instead of $5.
There's a large parking area with restrooms and a store that sells snacks and souvenirs: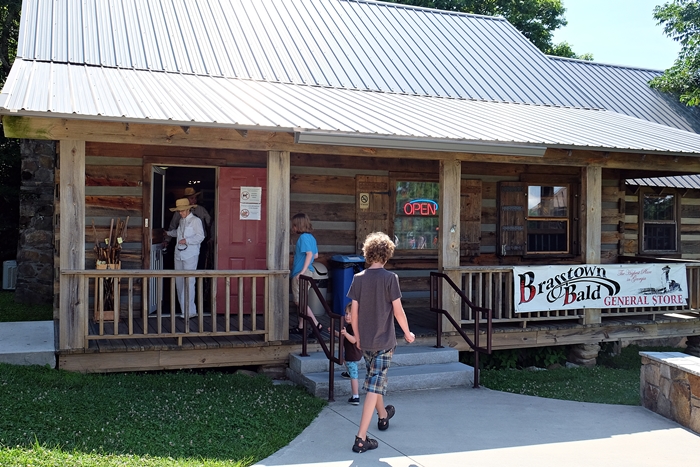 From the parking lot, you can either take a shuttle to the summit or walk up the .6 mile (very steep!) trail. We walked: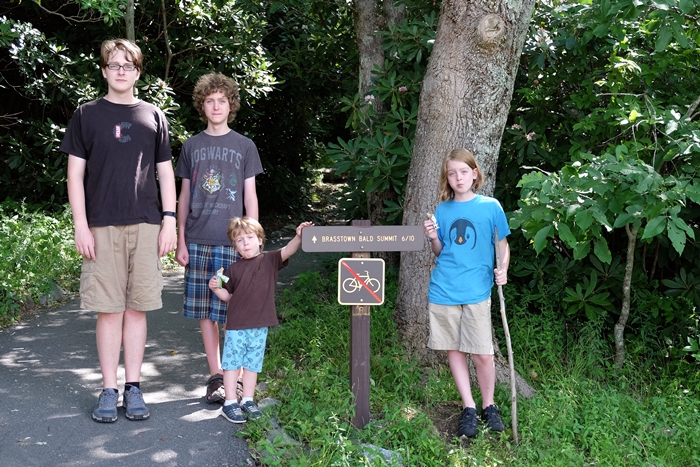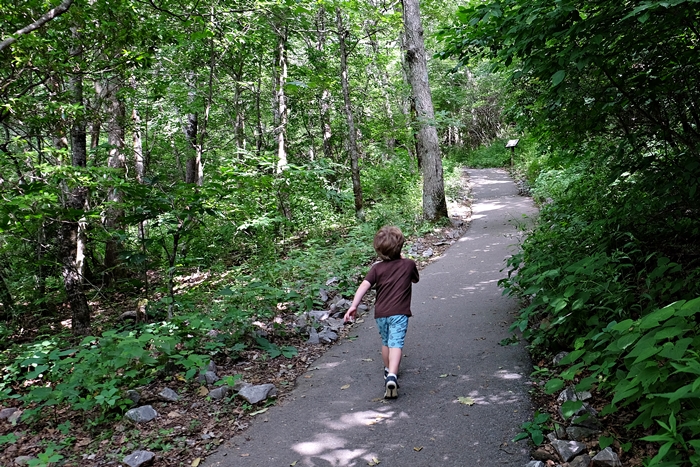 There are lots of benches on the way up, along with a number of interpretive signs, like this very sad one about why there aren't many chestnut trees anymore: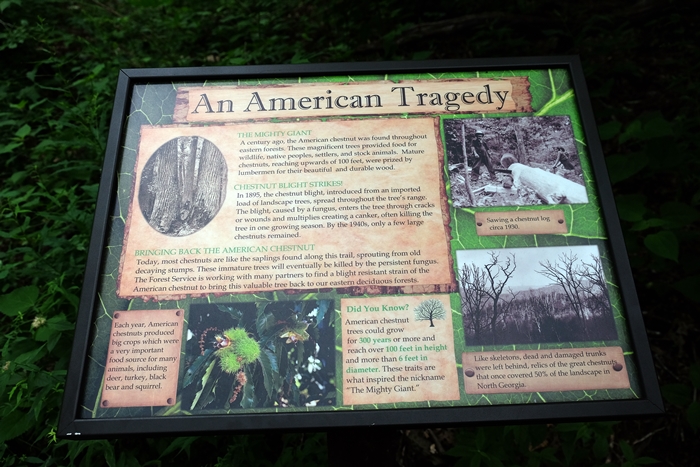 Up at the top, you can watch a somewhat dated film about the mountain. We learned from the film that the climate up here is more like Massachusetts than the rest of Georgia, and that the record high is 84 degrees. Which was one of the reasons we came here. We were very tired of 90+ degree days over and over again.
There's a decent sized museum to check out: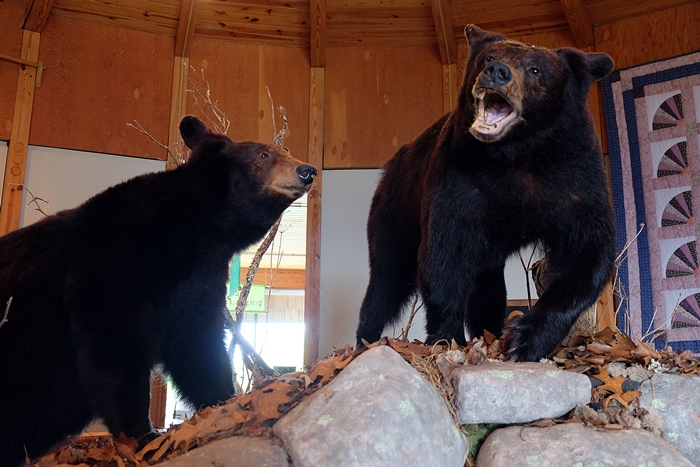 With surprisingly well done animatronics! This guy, Arthur Woody, tells you about his work as a ranger in the forest in the early 20th century: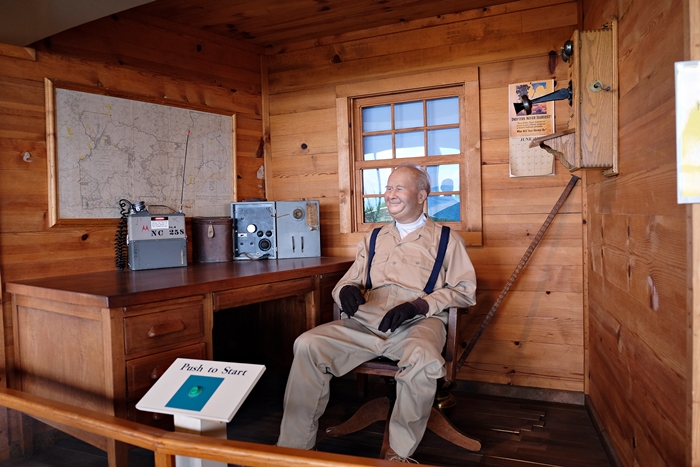 And then the observation tower provides great views in all directions: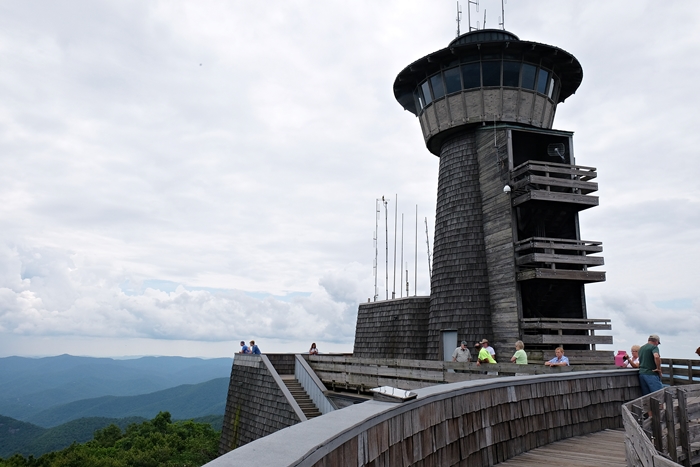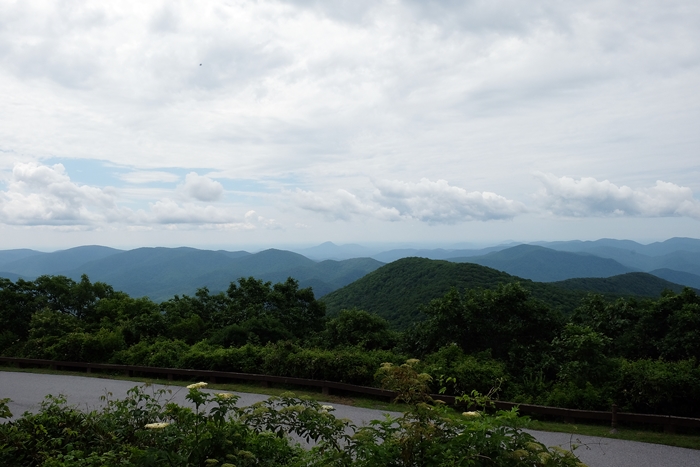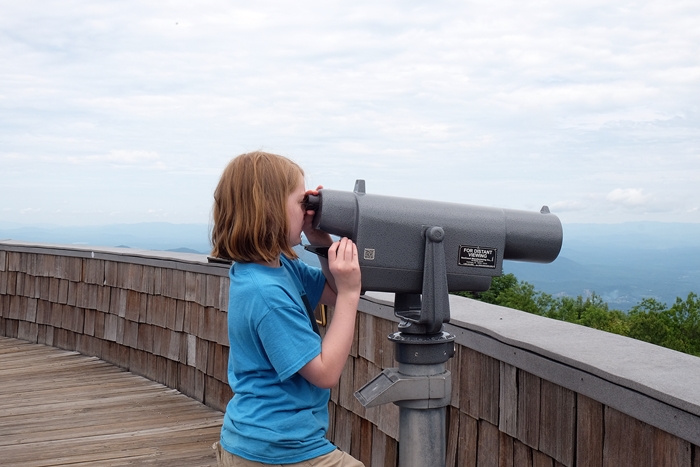 Uhh, I really ought to invest in a good tripod to bring on trips: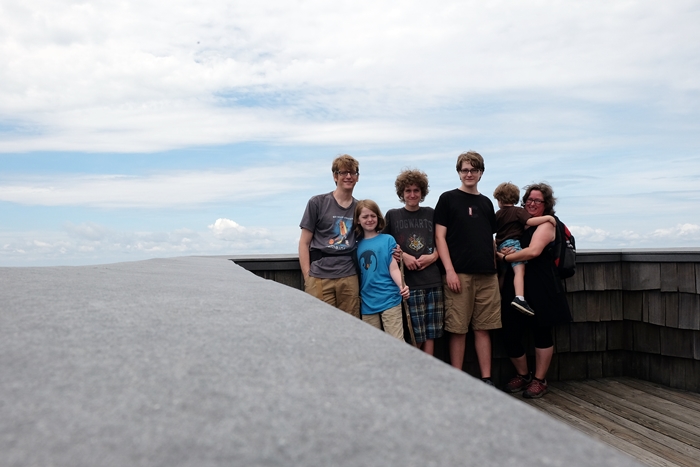 After we walked back down, we rewarded the kids for all that climbing with some ice cream from the store: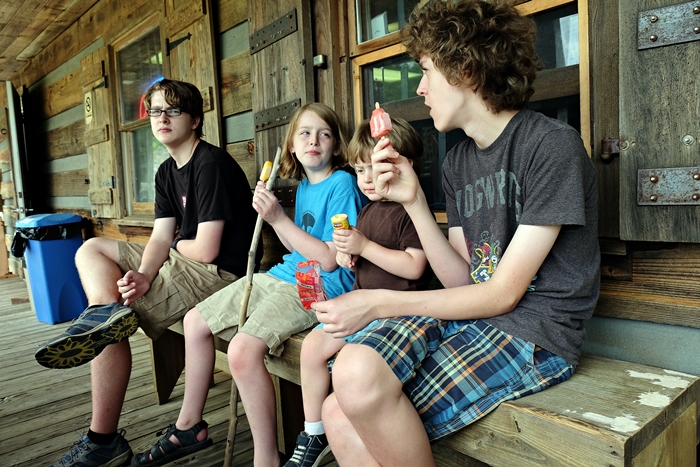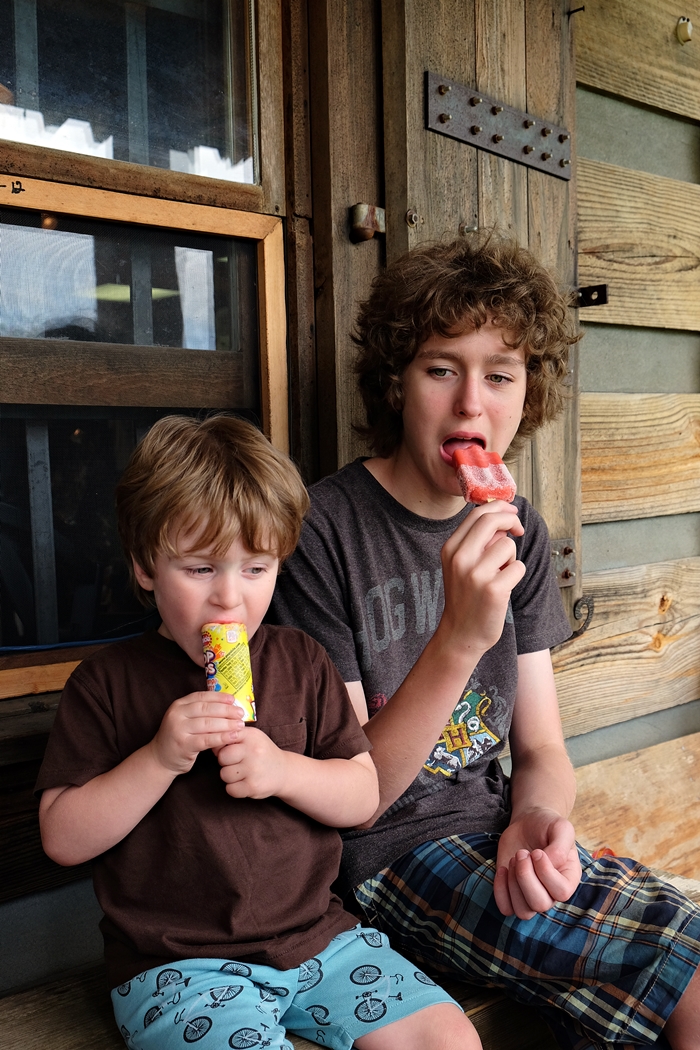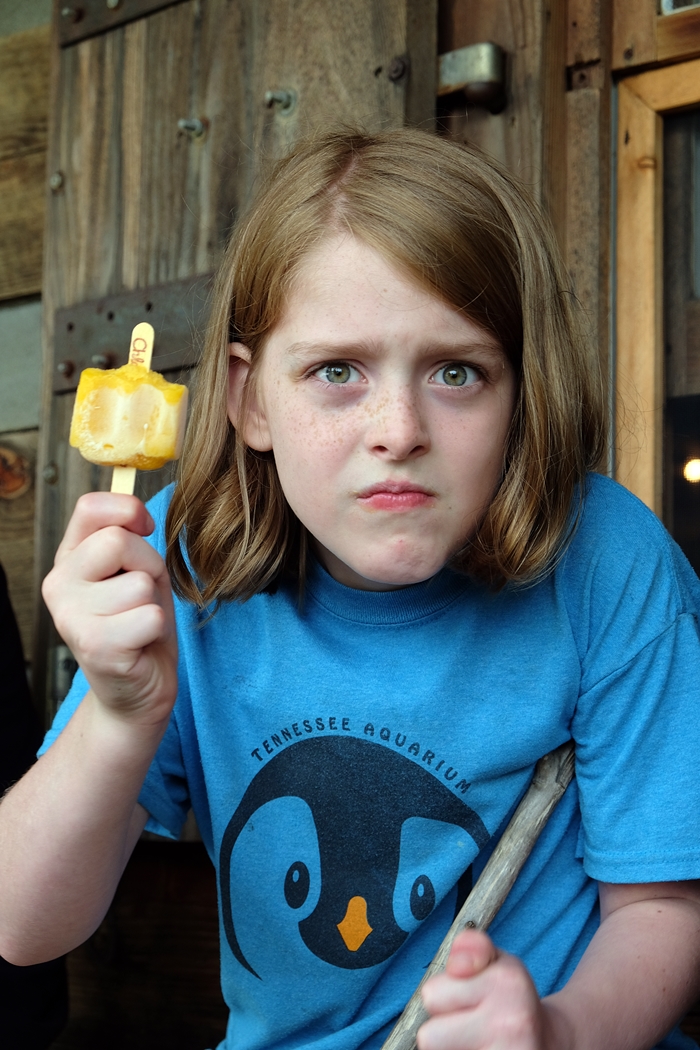 And then we had some sandwiches at the picnic area at the far end of the parking lot: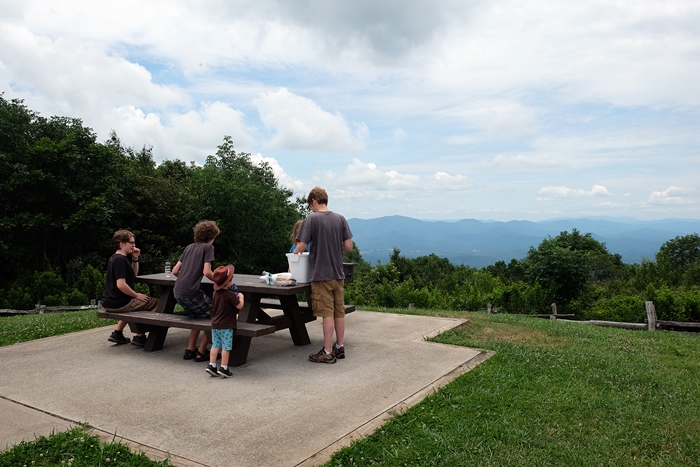 Sleepy Hollow:
The story is that Art Millican, Jr., the owner of Sleepy Hollow Enterprises, used to work for Disney. Now he builds custom playhouses and fairy houses in Blairsville, GA. There's a shop that sells some of the custom work plus a selection of art supplies, and you can also check out the playhouses in the charming little area adjacent to the shop. This is a quick stop that's well worth the time, particularly if you have young kids. Milo and Gus got very inspired by the Hobbit Hole there and made plans to build a model Middle Earth under our porch; to that end we bought a little bridge in the shop to get them started. Now we just need to finally get around to tearing up all the ivy under there.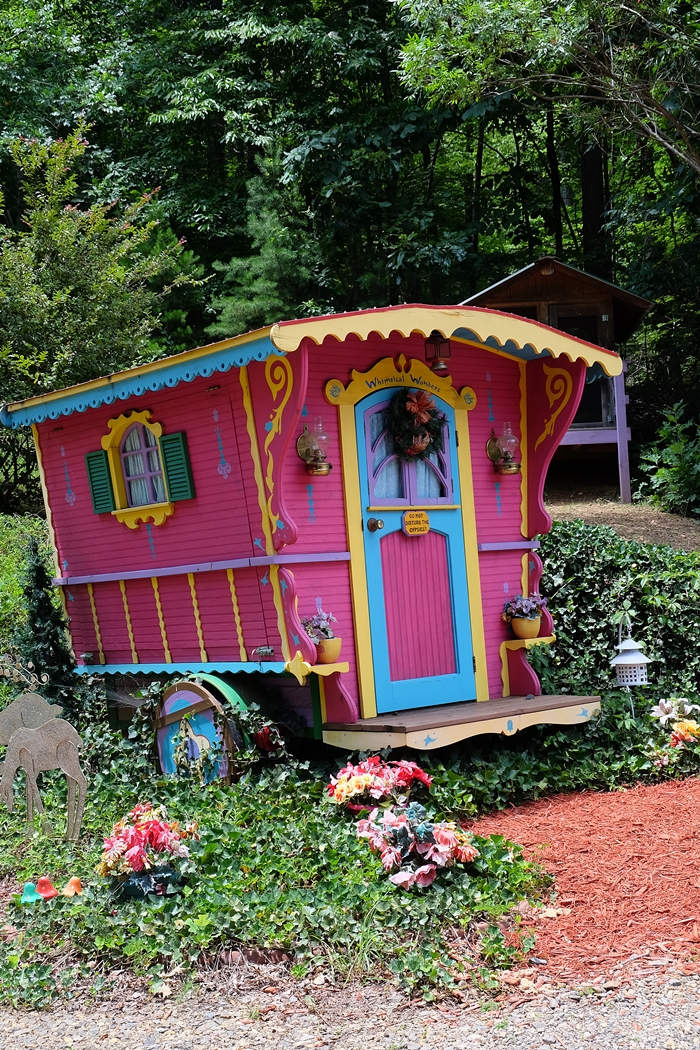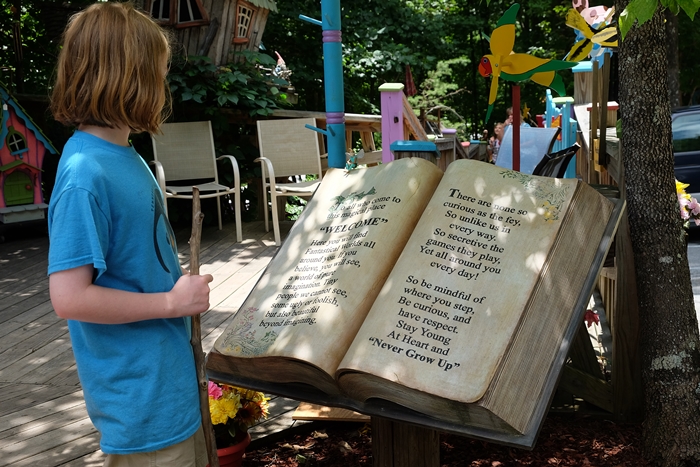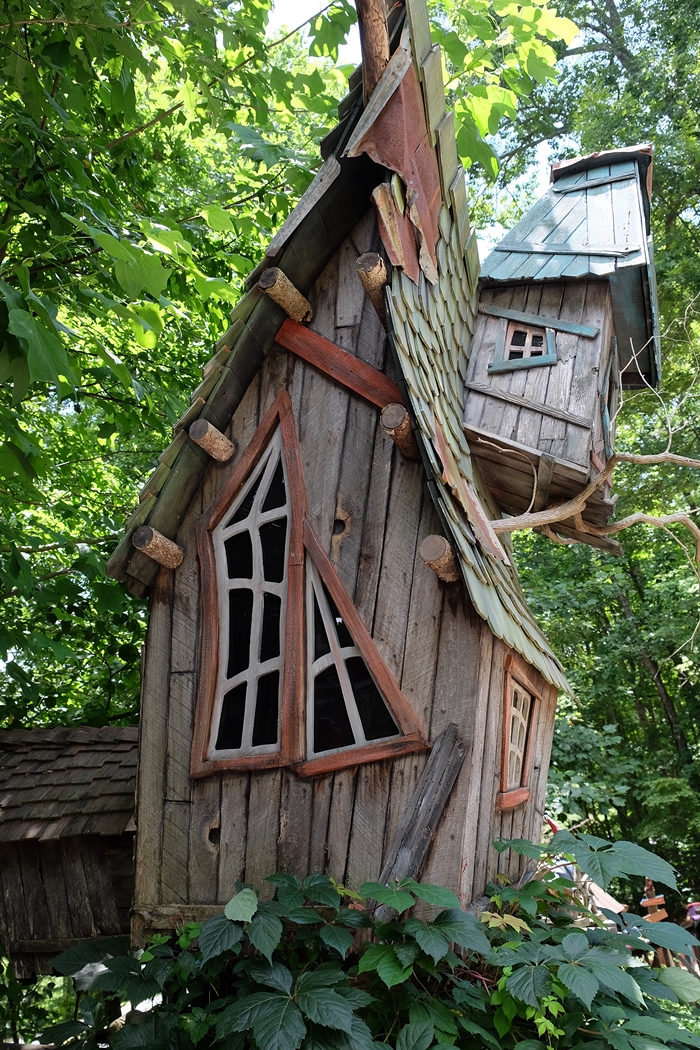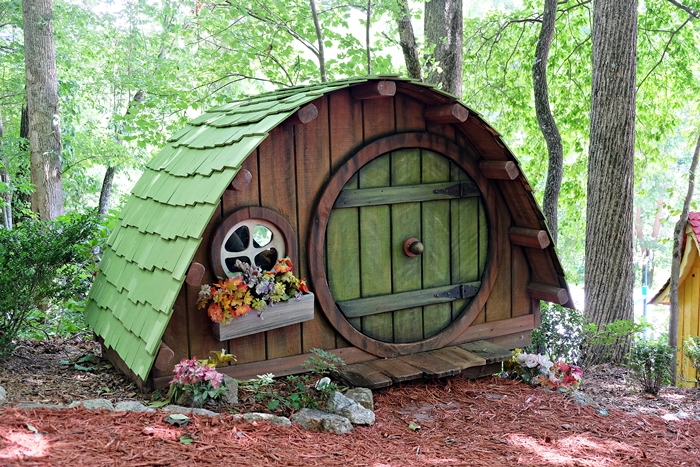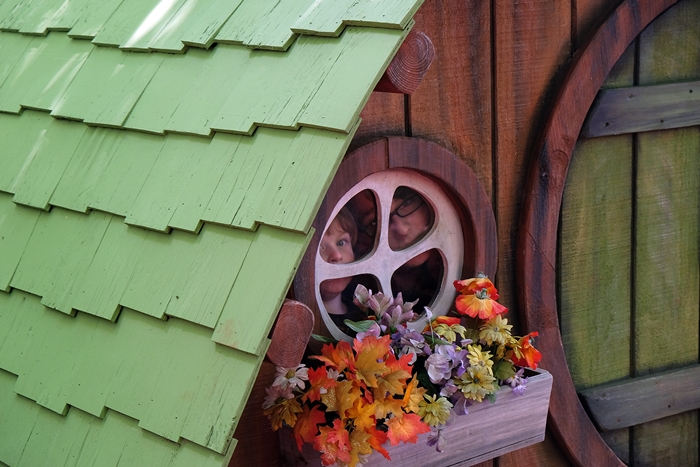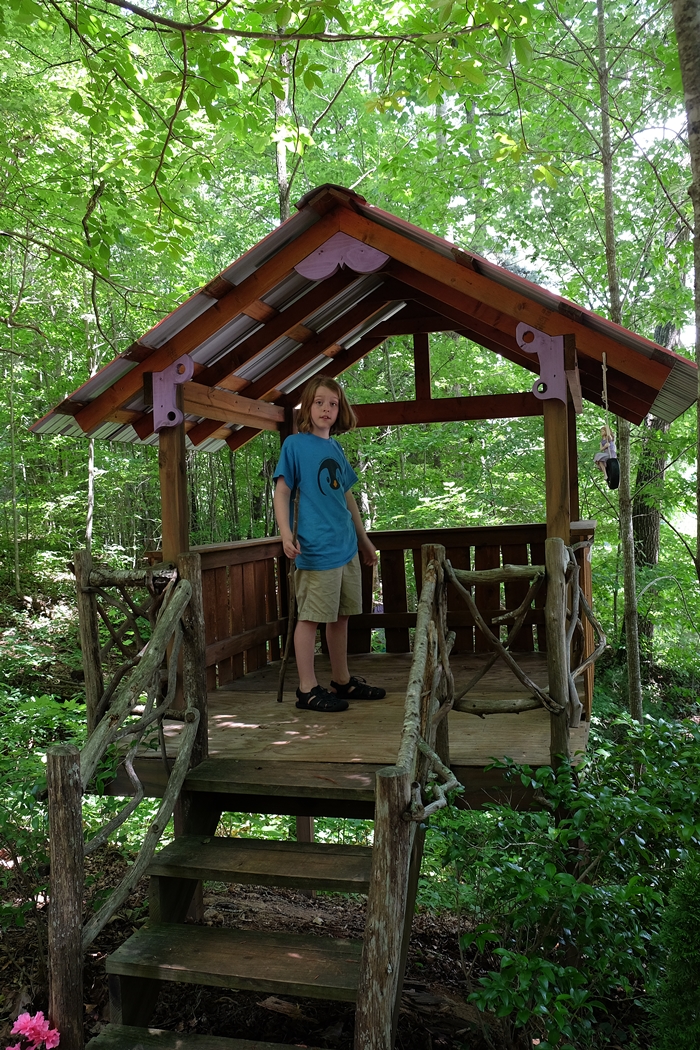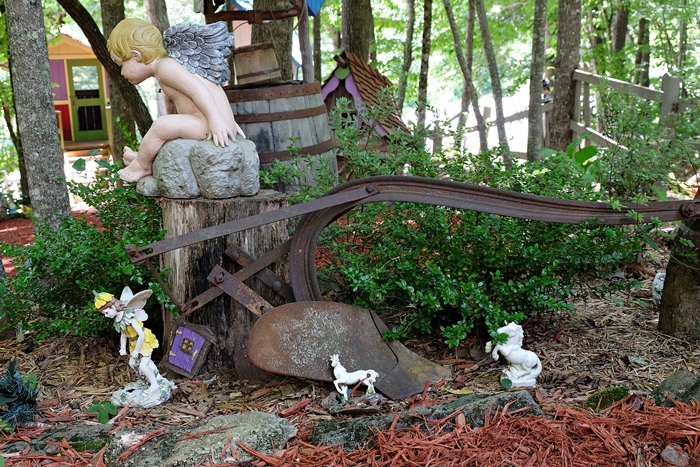 Mountain Crossings at Walasi-Yi:
The Walasi-Yi center–just a couple of miles up the road from Vogel– is another project from our good friends at the Civilian Conservation Corps. They finished the building in 1937, the same year the Appalachian Trail was finished. The trail passes through the breezeway, the only place where it goes through a man-made structure. The center was operated as a hotel and dining hall until the 1960's, when it fell into disuse and was nearly torn down in the 1970's. But it was saved from that fate by some preservation minded locals, and it's been run as a hiking outfitter shop since 1983.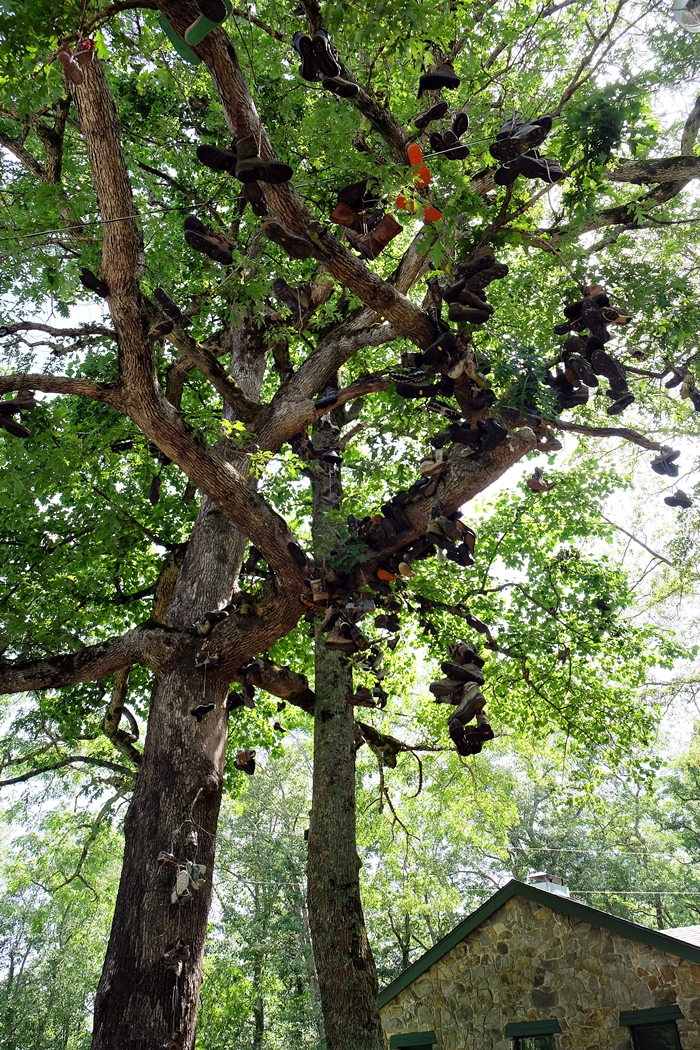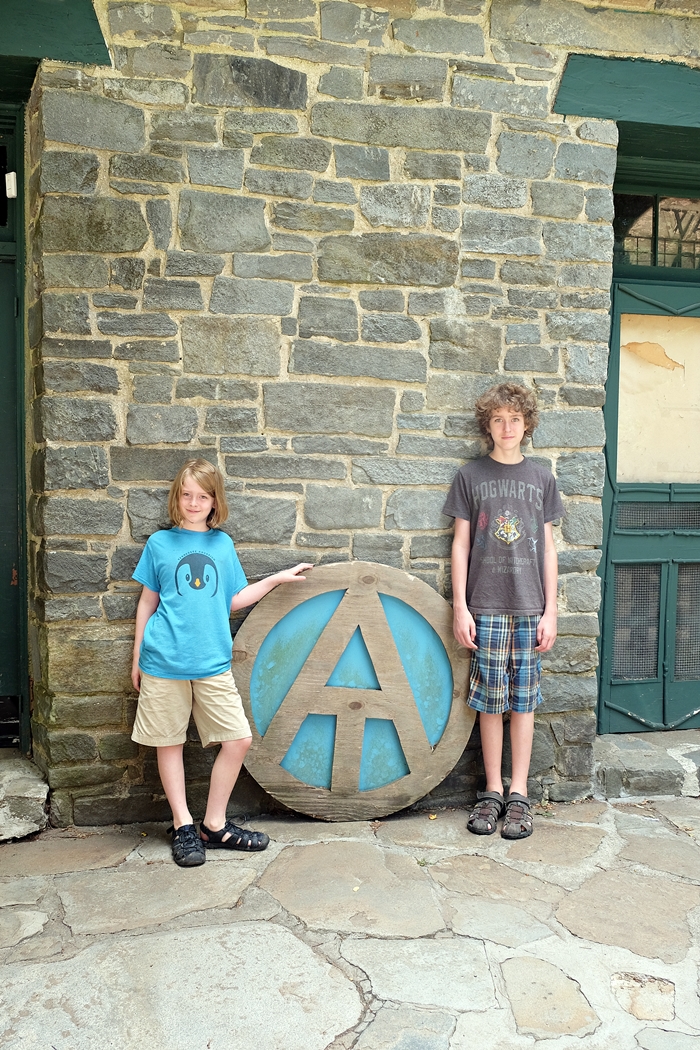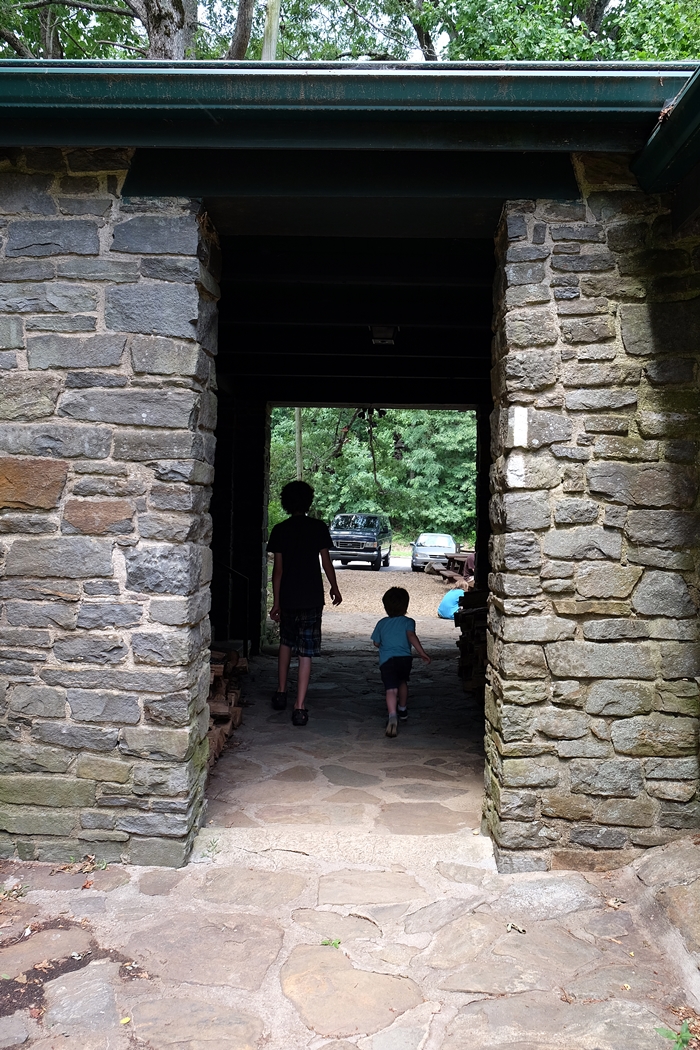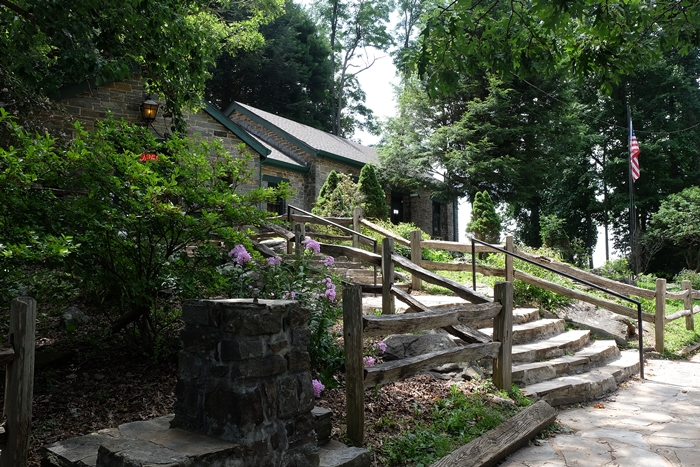 They have a nice selection of Appalachian Trail themed gifts and souvenirs in addition to hiking gear. Also candy, which is what we bought here before going to briefly check out the trail itself.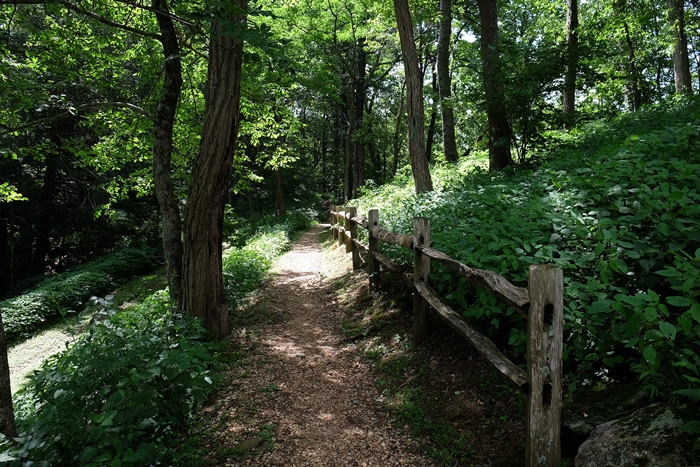 Helton Creek Falls:
Helton Creek Falls is a pretty waterfall close to Vogel, accessible from a short, easy trail. The drive to get there, however, is a bit harrowing. The last few miles are on an unpaved one lane road, with steep hills, sharp drop-offs,  and several switchbacks. There are a number of places where I would have been really freaked out had we met anyone coming the other direction, because it would have meant someone having to drive backwards for a good ways. That said, we didn't encounter anyone else on the scariest stretches and we made it in and back out without incident.
There's a parking area along the road and then a very short trail (maybe 1/4 mile, if that) down to the lower falls. If the weather's good, you can get in the creek and play at the bottom. A little further up the trail you find the upper falls with an observation platform to look at them from. Word is you can go off the trail here and there's a swimming hole at the bottom of the upper falls, but we didn't verify this.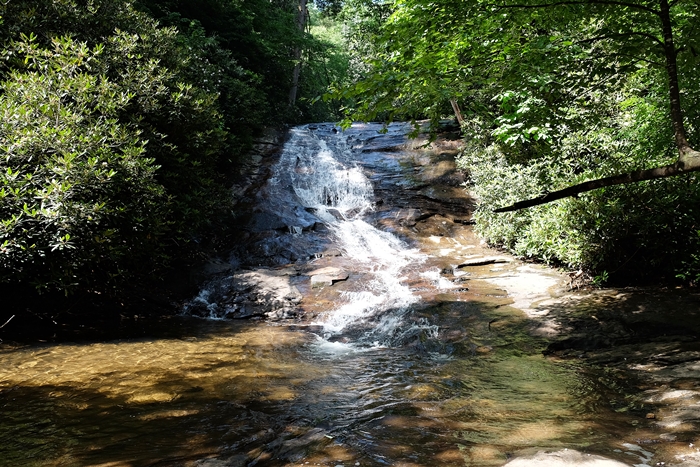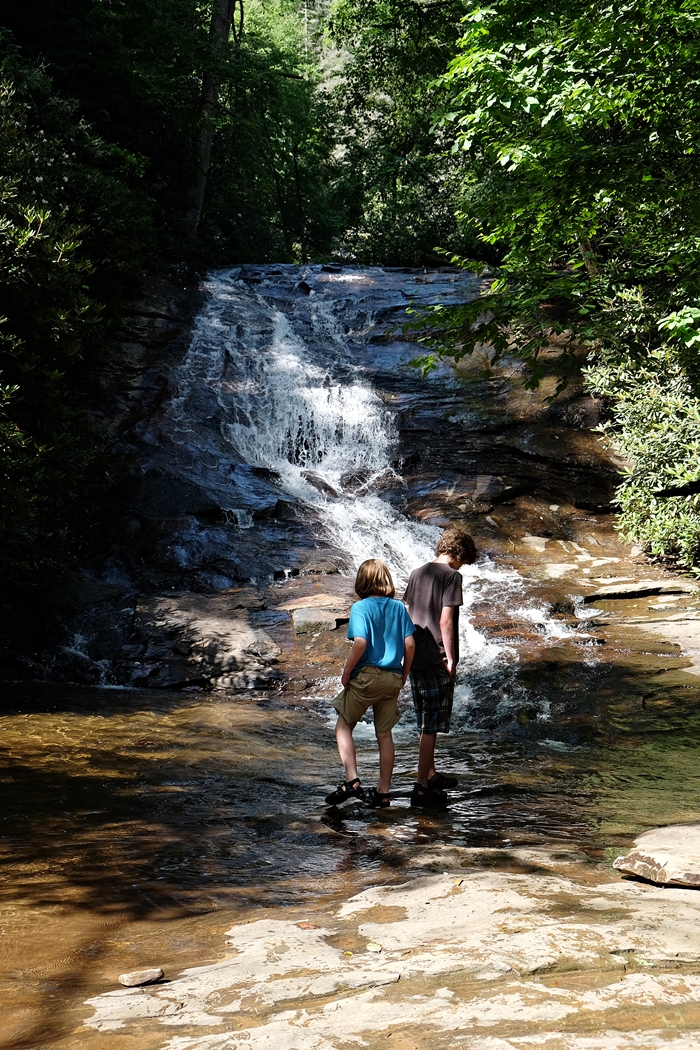 Here's where I told Ari to pick up Abe so I could get a picture of everyone, and Abe completely flipped out and didn't recover for quite awhile. Which made our waterfall viewing a little less than idyllic: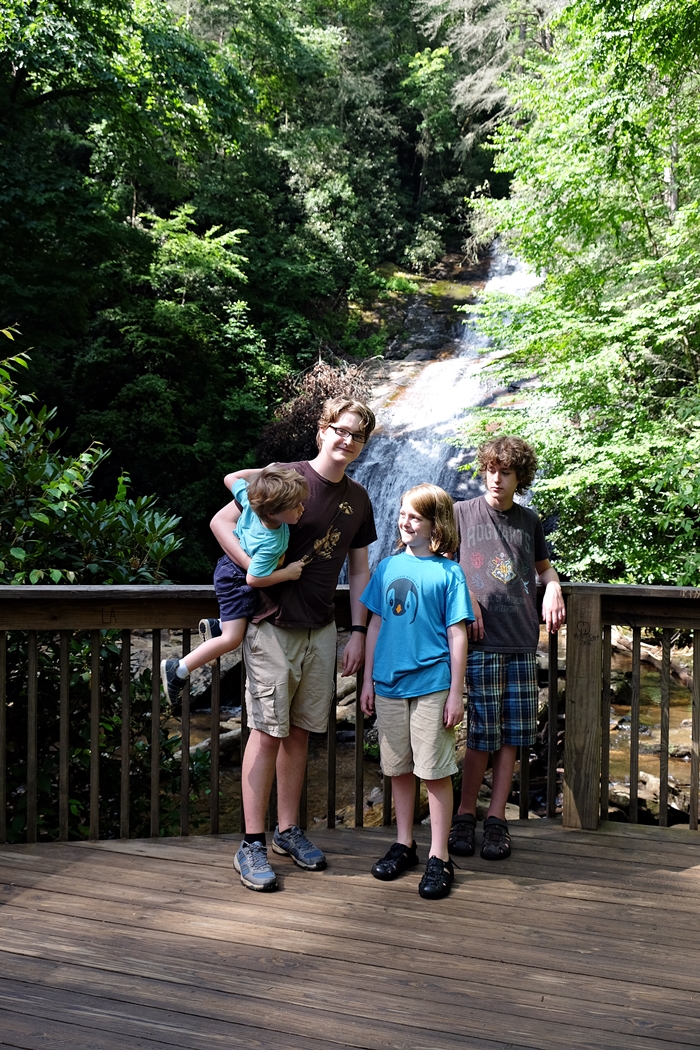 So we left again: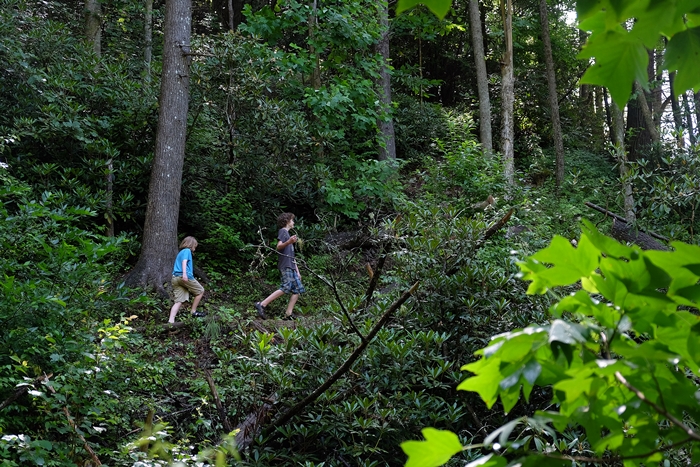 Save
Save