Not to get too political, but I love it when Big Government sends hundreds of thousands of unemployed young men off to build state parks for me and my family to enjoy eighty years later.
Vogel State Park, on the southern end of the Appalachian Mountains and about two hours north of Atlanta, is the second oldest state park in Georgia, and, like many of our state parks, it owes its existence to FDR's Civilian Conservation Corps. The CCC built much of the park in the 1930's, damming a creek to create Lake Trahlyta and carving camping and picnic grounds out of the mountain landscape. Today you can swim, boat, or fish in the lake, stay in the campground or rent a cottage (a few of the original CCC cabins are still available to rent), and hike one of the mountain trails that winds in and out of the park.
We'd never been to Vogel before, but we heard good things, so we booked a long weekend there back in May. And then, a few days before we were set to leave, I realized we'd inadvertently picked the same weekend that Ari was signed up to take the SAT. Oops. So we rescheduled the trip for a few days in mid July instead.
(You'll perhaps notice that the inevitable has happened here and we have a new trip to recap before I've finished posting about our long summer trip. I'm going to interrupt the summer trip posts here and there to post about the shorter ones, I've decided, because otherwise there will chaos and madness!)
In this post, I'm going to talk about the campground and the park itself, and then I'll do another one about what we did in the area.
Arriving and Picking a Campsite:
I was mildly nervous about the drive to Vogel because it involved the mountains. We had done a bit of research and read that the best way to get to Vogel from the south with an RV is actually to go around and past it to the west and then drive south from Blairsville. This adds a lot of miles and a bit of time to the trip, but avoids some very twisty roads and steep grades. So we took GA 515 rather than GA 19, and this route wasn't at all terrifying.
The road into the park itself, though, was a bit harrowing. It's an old park with narrow roads; we had to be very careful not to hit anything or drive into a ditch when we were turning into the park, and we were definitely taking up both lanes for a little awhile. All the roads in the park are tight, but we didn't have any major issues once we were past that first stretch.
Refreshingly, there was plenty of room in front of the visitors' center to park while we checked in (which has not been true as a rule  in GA state parks we've been to).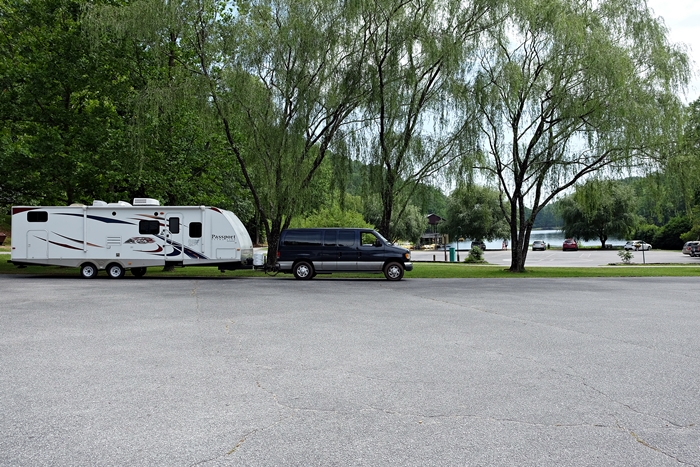 In Georgia State Parks, you reserve a type of site, but then the sites themselves are first come, first served; you drive around and pick from the available sites when you get there. I've heard some people say they like this system, because it means you can scope out the sites in real life before having to pick one. Our experience, however, has always been that there are very few sites to choose from when we get there, so the "choice" isn't really much of one at all.
Case in point: we got to Vogel shortly after the 1 PM check in/check out time on a Sunday, hoping that lots of weekend visitors would have just left and we'd have lots of sites to choose from. No such luck: the campground was already/still mostly full, and I gather that it pretty much stays that way all summer. On the upside, we've never been unhappy with a state park site, even though we've never had much choice.
We drove through the long loop to scope out sites. They give you a sign with your name and check out date on it at check-in, and you hang this on a board at your site to claim it. We spotted one site that looked pretty good on the way in and stuck our sign on it, but we ended up finding one we liked better further along. We've learned the hard way that it's not unusual for another camper to come along behind you and grab your first choice of site while you're driving around to see if there's one you like better, so my recommendation is to claim the first one you see that looks good and then change later if you want. It make you feel kind of like Pa claiming a homestead in the Little House books. Maybe that's just me.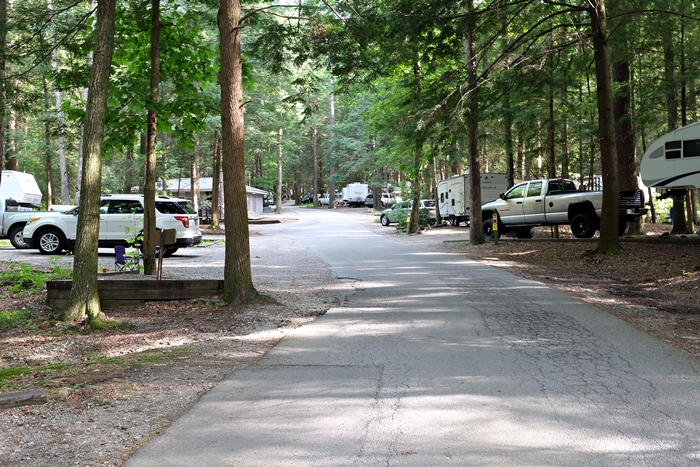 Roughly speaking, there are three areas for larger RVs at the campground (these are the 40′ foot sites, which, I gather, means they're 40′ foot at a minimum. Ours and most of the ones we saw were considerably longer than 40′). Sites 1-22 are clustered near the front of the campground. Many of these sites looked a little crowded to us. Not terrible, but they wouldn't be our first choice. They are close to the playground and closer to the lake and visitor's center, so you might consider them because of the location. Sites 23-31 are on a road off to the right as you enter the campground. These sites are mostly clustered in two little cul-de-sac like areas, with four back in campsites arranged in half circles. These sites would be great if you were camping in a group; they seemed a little awkwardly situated and not very private otherwise. The biggest area is off to the left as you enter the campground: a long road with sites 32-61. I'd say the best sites here are the ones on the right side of the road; all of these back up to Wolf Creek. My other evidence that these are the best sites is that they were all already taken when we got there.
There's another loop off of this one that has 25′ campsites. It's mostly for tents and pop-ups, but you could also fit a smaller trailer. We walked the dogs around this loop several times; the sites are very nice and private but lack the creek access that the main road has. That loop was also much less full; we would have had a ton of great sites to choose from there.
The 40′ RV sites are $30/night (and we got a 10% discount as Friends of Georgia State Parks members). Tent/Pop-up sites are $27.
Our Site/the Campground:
We ended up in site 38, and we were very pleased with it. Most of the sites are back-ins but there are a number of pull-off sites parallel to the road, and 38 was one of these. So on one side we had the campground road and then woods as far as we could see. On the side our door opened onto, we had more woods, plus a little creek (not as big as Wolf Creek, but good enough for the kids to play in).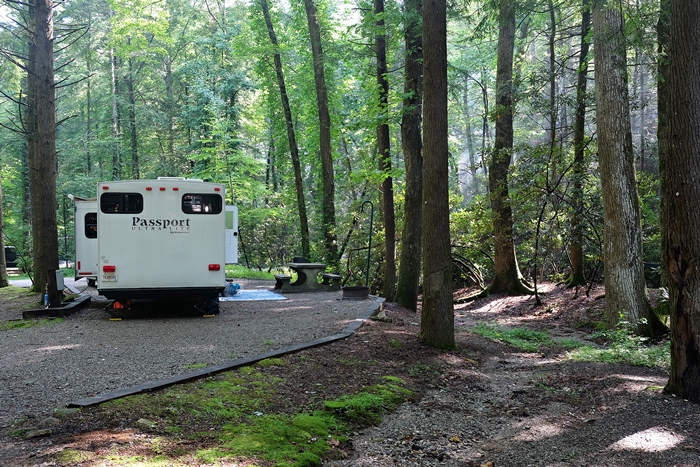 This was the first campground we've been to in awhile with room to set up the hammocks: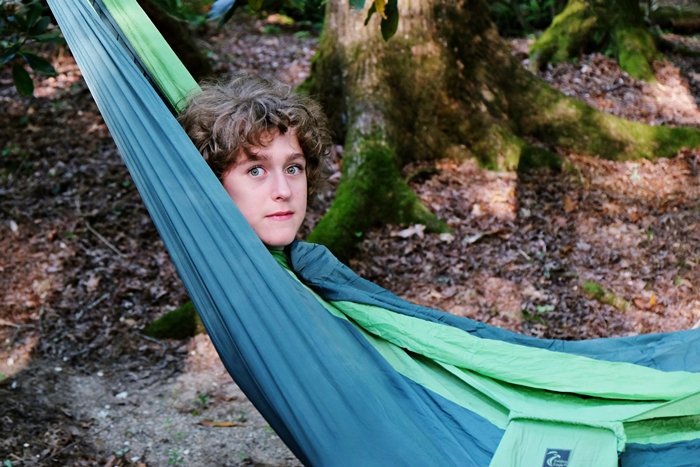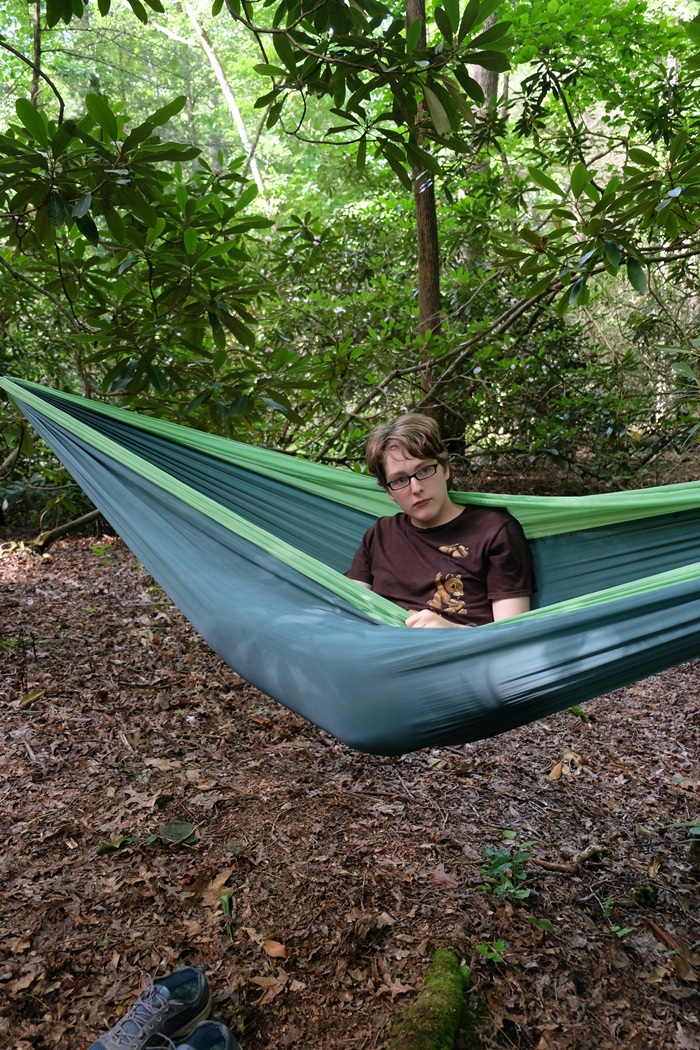 The kids spent quite a bit of time just hanging out in the woods and creek behind our campsite: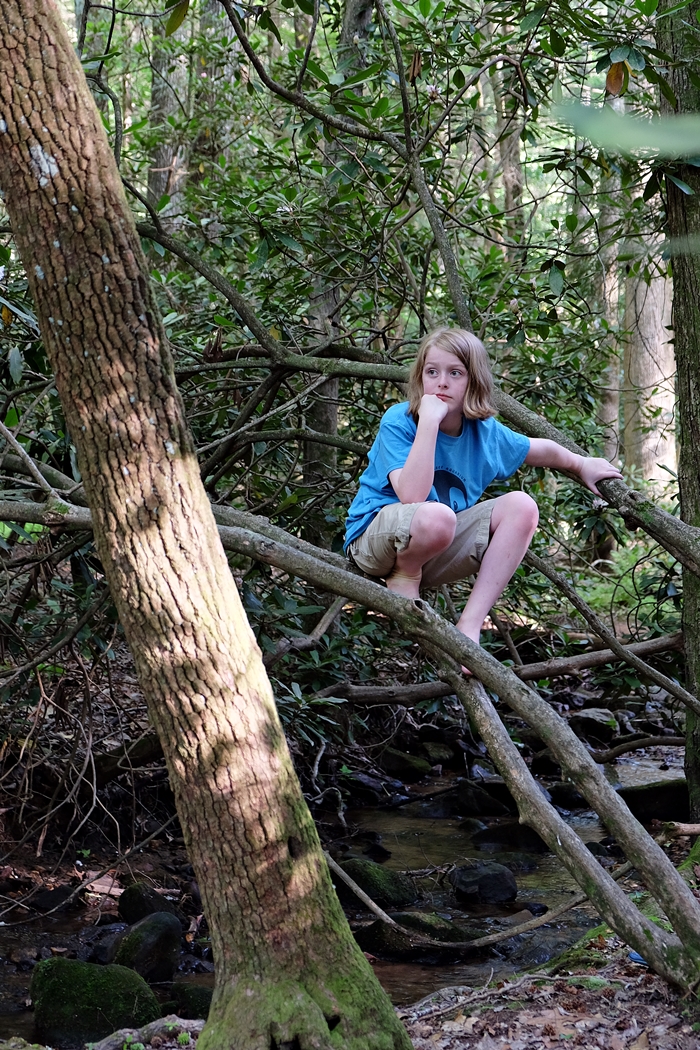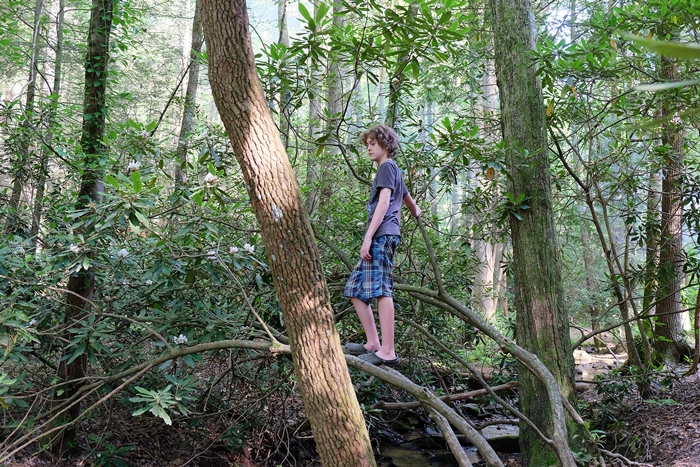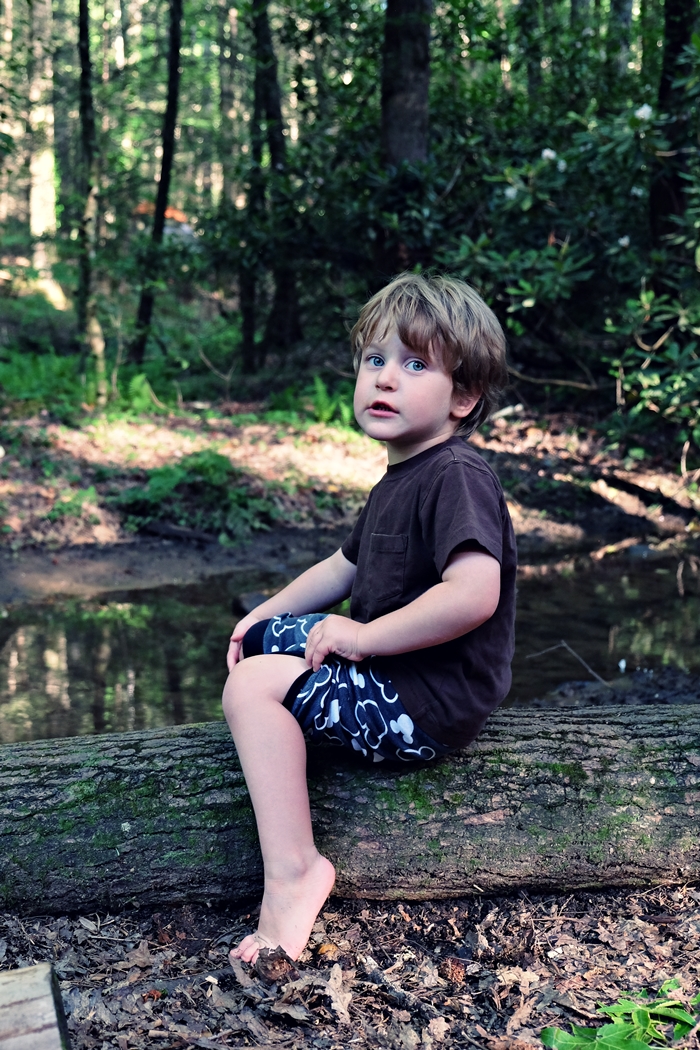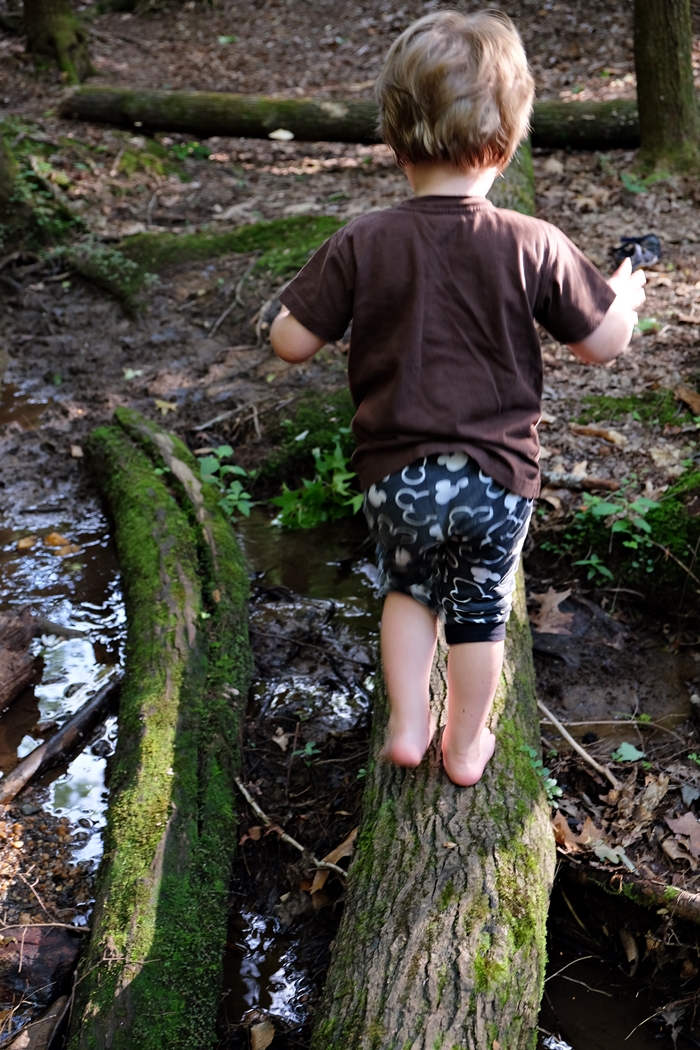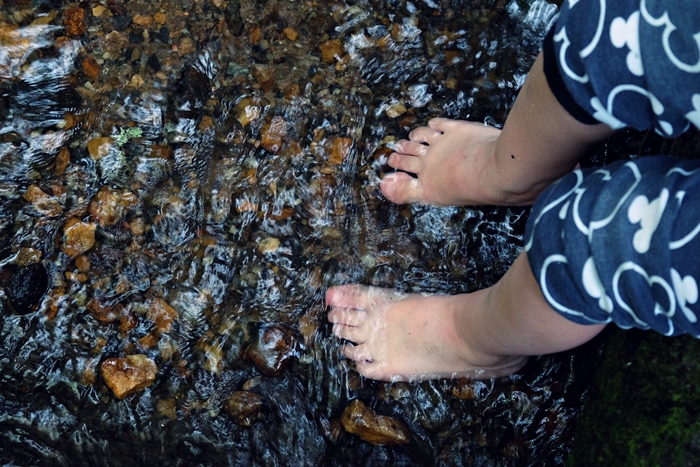 And exploring the bigger creek across the road: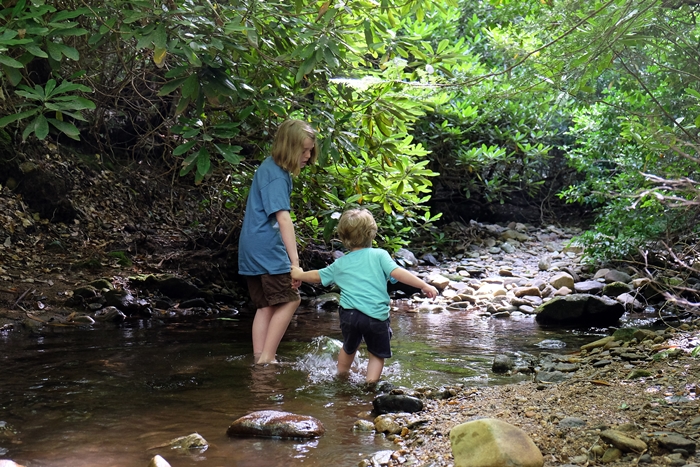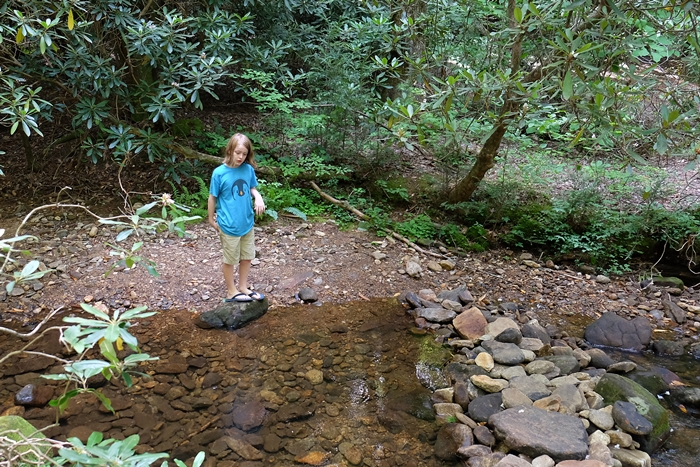 Our site was near the bathhouse, and we used it quite a bit since there are no sewer hook ups at Vogel (all the RV sites are water/electric). The bathhouse was typical of Georgia state parks, which is to say it was adequate and clean, but dated. Occasionally we come across a brand new, shiny bathhouse in a state park, so I gather they're updating them as they have room in the budget. We also had a grey water dump right next door to our site; the only place I've seen these is at two of the state parks we've stayed at. They have a regular dump station at the campground exit, but there are also several places to dump just gray water placed around the campground. We ended up stopping by the Wal-mart in Blairsville and picking up a (affiliate link)  Hydroller to make emptying the gray tank easier, and it made life without a sewer hookup much easier and less paper plate intensive. It gets mixed reviews online; I'll report back about how it's holding up after we've used it awhile longer.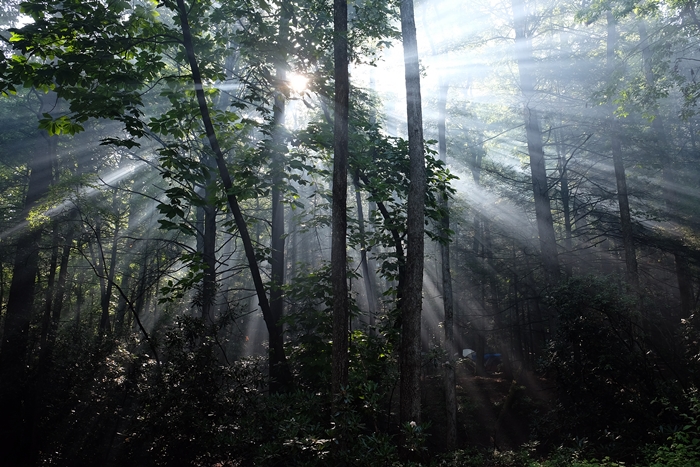 The Rest of the Park:
Vogel, at 233 acres, is on the small side for a state park, which is nice because all of it is walkable or bikeable from the campground. We regretted not bringing the kids' bikes along on this trip, because it would have been easy for them to bike down to the lake or mini golf or the camp store. It was around half a mile from our part of the campground to the main area with the lake and store.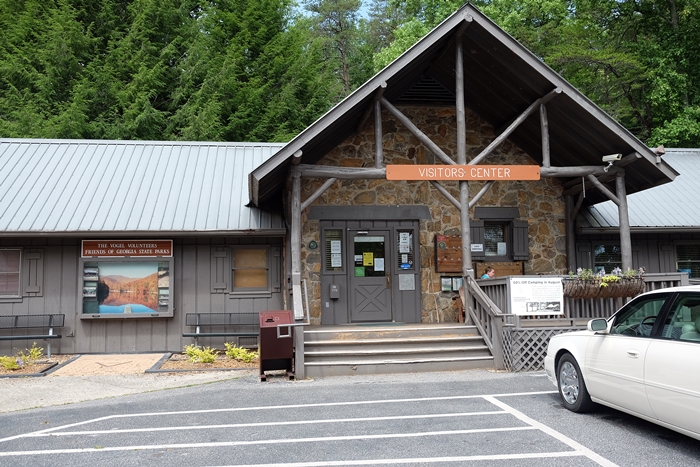 Lake Trahlyta is probably the main attraction at Vogel; it's a small lake where you can swim in a roped off area at the beach, fish, or take out a non-motorized boat (rentals available). The kids wanted to head straight for the beach when we got there: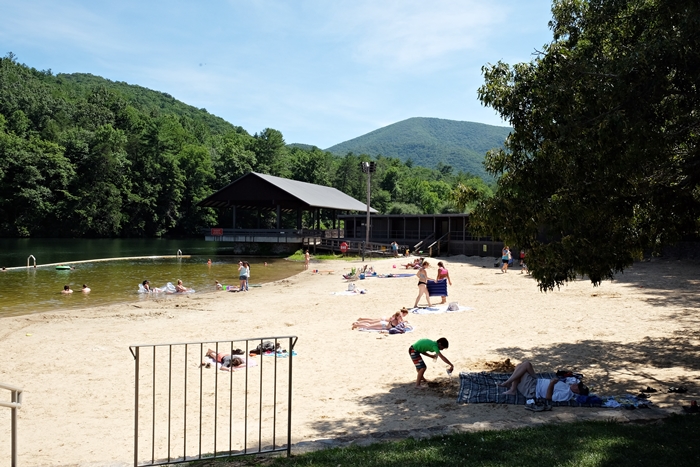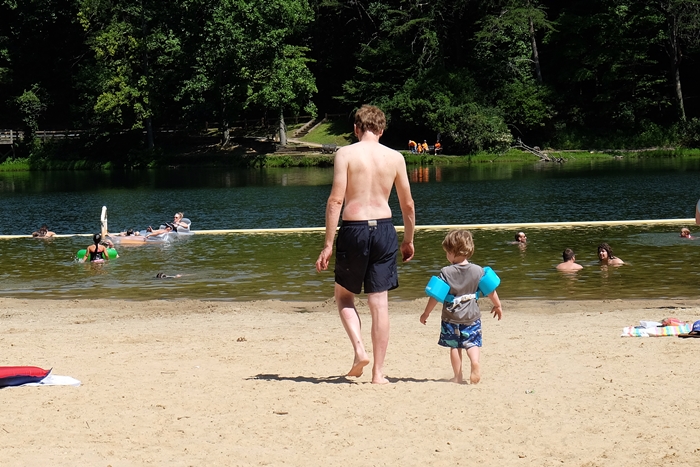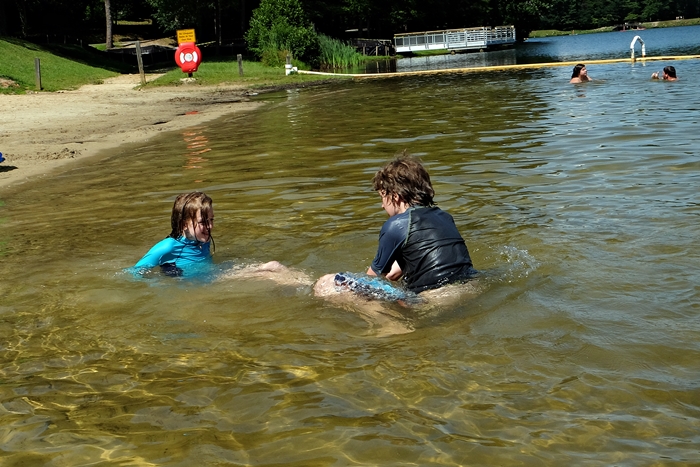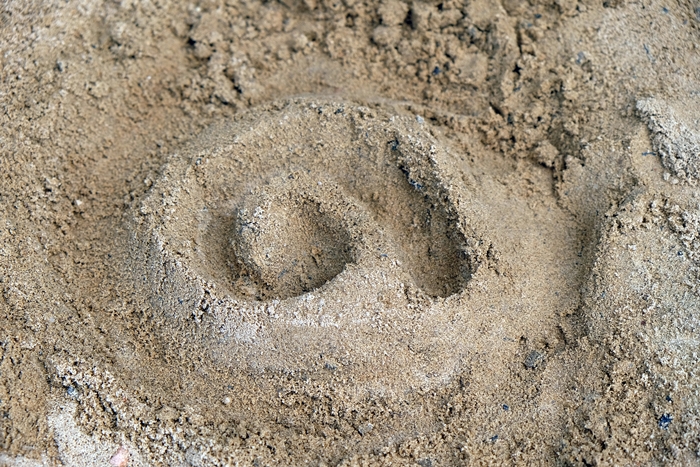 The other big draw is hiking. There are a number of longer trails that begin and end in the park but wander outside of its borders (and through the adjoining National Forest), but we stuck to two short trails inside the park on this trip.
We walked the one mile loop around the lake and the short spur that takes you down to view the waterfall created by the dam and spillway: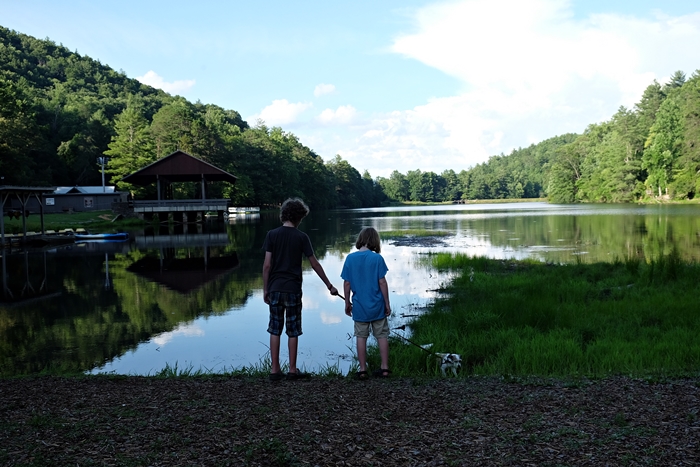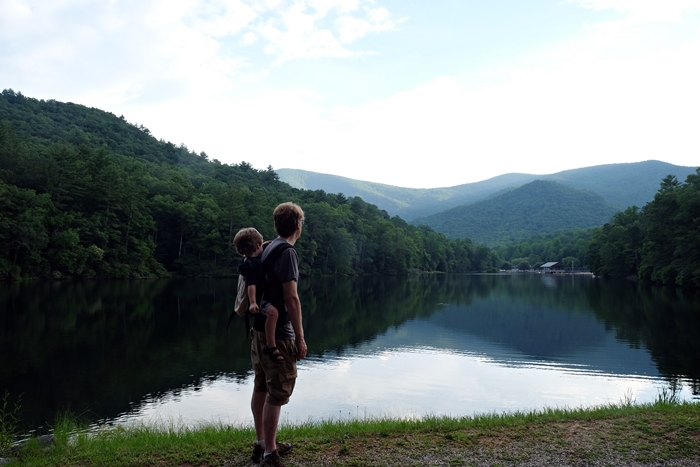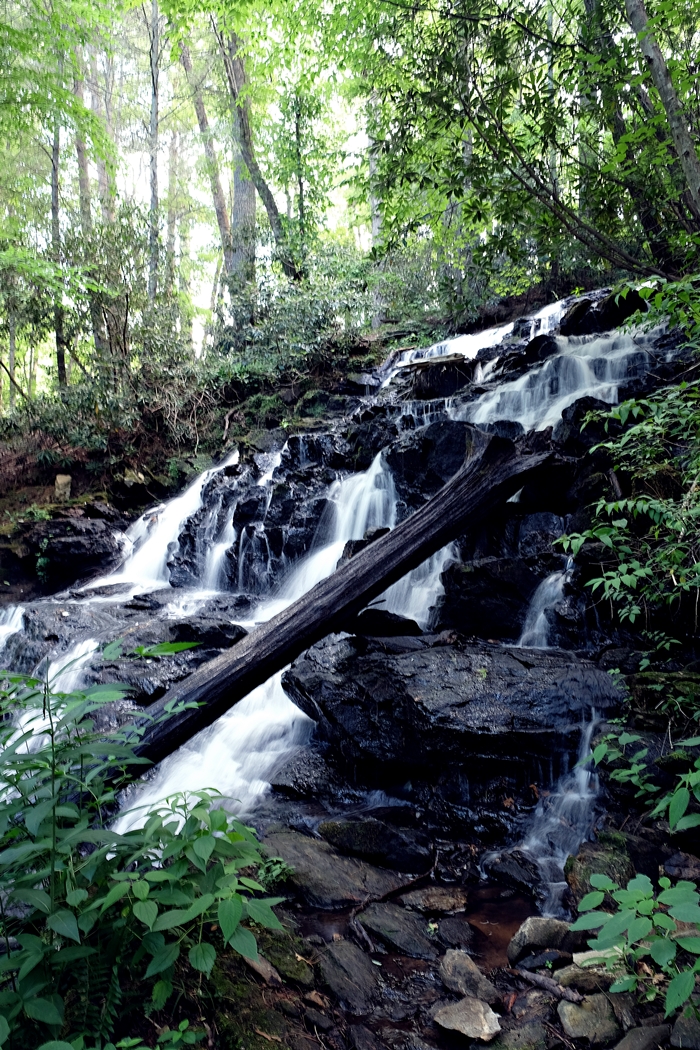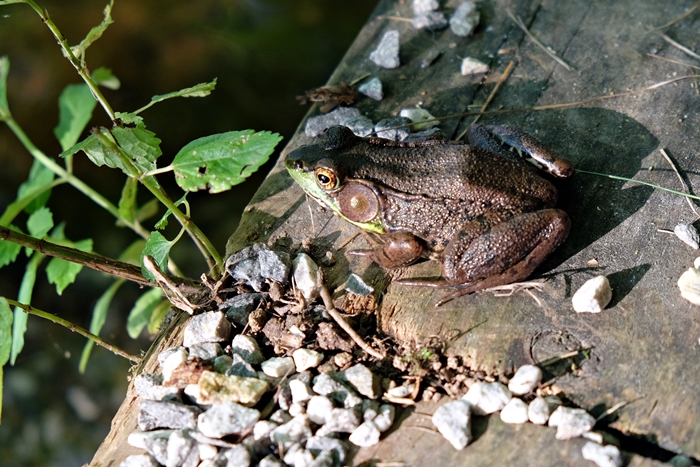 And then we checked out the Byron Herbert Reece Nature Trail, a loop through the woods with interpretive signs about the area's flora and fauna (and about Byron Herbert Reece himself, a poet and farmer who lived in the area):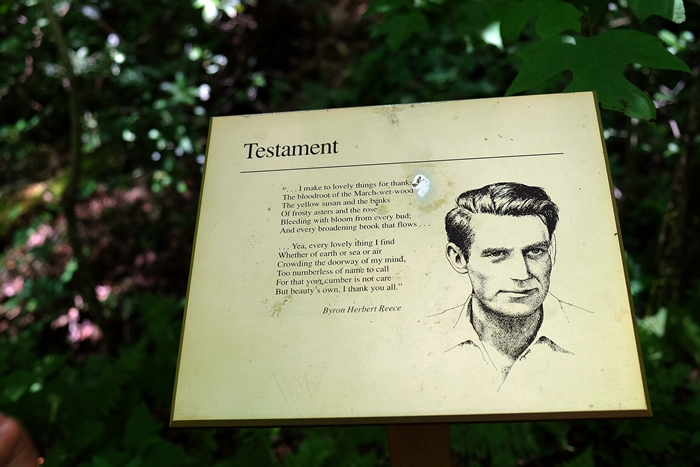 Aside from the lake and hiking, there's a Civilian Conservation Corps Museum and some ranger led programs. The CCC museum was closed while we were there (it's mostly only open Thursday-Sunday, although I was told it's sometimes open at other times, too, depending on whether there's volunteer there to staff it), which was terribly disappointing me as, as I've mentioned, a huge CCC fan. Next time! There weren't a lot of scheduled activities for us, either, since we weren't there over a weekend. They do have a scavenger hunt that you can do any time, I believe, although we couldn't get the kids interested in it.
Overall, we loved the park and our stay here. It would be a great place to go for a weekend and not even leave the park (particularly if you want to take advantage of one of the longer hikes or take a kayak out on the lake), but we spent a lot of time exploring the surrounding area….which I'll talk about in my next post!

Save
Save
Save
Save
Save