After the RVFTA rally and our stay at Lake-in-Wood, we had a long day of driving around NYC (which mostly went well, but we did hit the only significant traffic of our whole trip on this stretch).  We pulled into the Mystic KOA Sunday evening to find thick fog and a nearly empty campground. Which, honestly, was kind of exactly what we needed after the bustling weekend at Lake-in-Wood.
Campground Overview and Sites:
I'd read some mixed reviews of the Mystic KOA (although more positive than not), and I wasn't necessarily expecting great things here, but we were impressed with it and had a really lovely time. It's always a little weird to review campgrounds when we were there at an off time; I'm sure the feel is much different on a busy summer weekend than on a weekday in the shoulder season. Here's what it looked like when were there: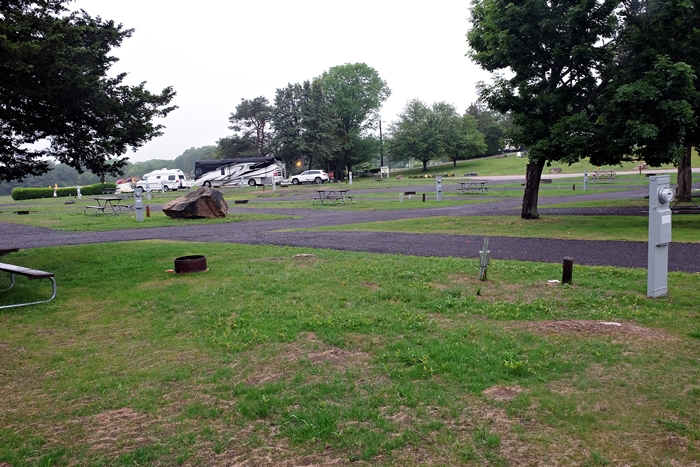 This is the view from our site; we had a pull through in the area closest to the office and pool area. We had one seasonal resident neighbor two spaces away, and aside from that we were all by ourselves. But you can also see that there's nice separation between the sites; I'm sure it would have felt very different if every site had been full, but I don't think we would have felt especially crowded.
Each site has a picnic table and fire ring; our section was mostly open, but there were some shade trees: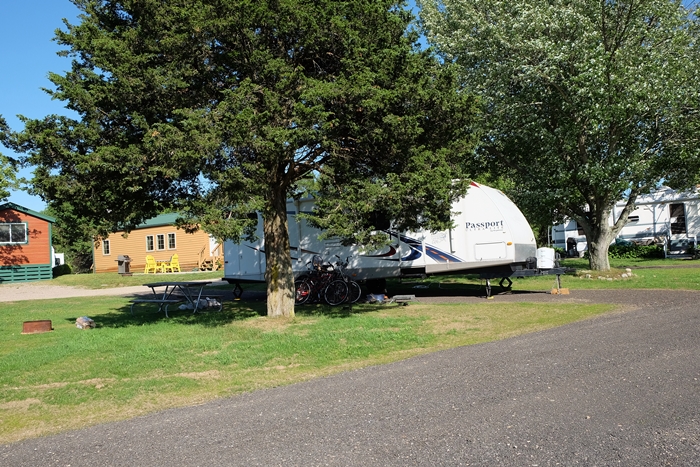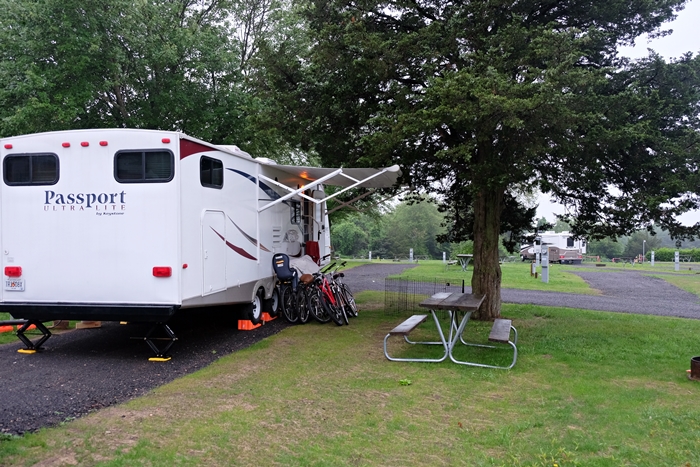 There are a variety of different kinds of sites; our section was all packed gravel pull-throughs, and our site was close to level (I only know that from the picture up there; looks like we used one leveling block) and easy to get in and out of. This section (rows A-D; I think we were D6) seems to be where they put most of the short term stays. All these sites are full hook up. We saw a number of longer term residents in some of the other sections. They have some patio sites farther into the campground, near the dog park and the smaller playground. I'm assuming these cost more, and they didn't really look worth the extra money to me; our site was just as spacious and in a more convenient location. I just checked, and it looks like they're actually a full $20 more a night. Wow. They are 50 amp, though, and our site was 30, so if you're in a big Class A these sites might be the way to go. We're in New England now, so this campground isn't cheap. We paid $85/night before our VKR discount.
Amenities and Activities:
There were no planned activities going on when we were there, but I can tell you that there's a lot going on on the weekends because the schedule from the past weekend was still hanging up in the bathrooms when we got there. The only thing that we were a little sad about in our case was that the waterslides are only open on weekends. They looked really fun.
But we did take advantage of a lot of the other amenities and had them mostly to ourselves. The kids swam: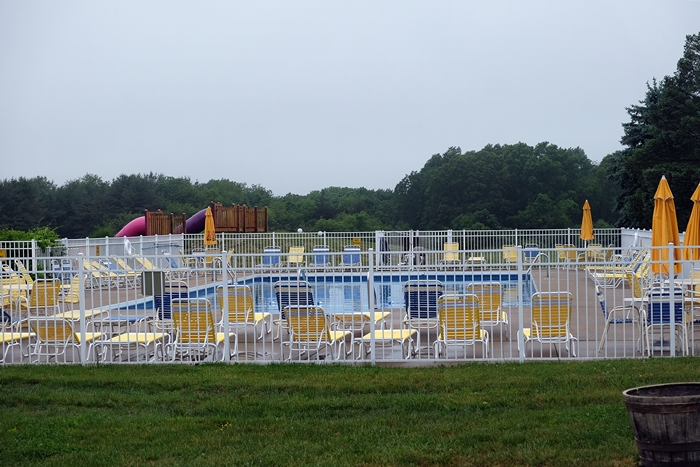 Abe discovered his love for bouncy pillows: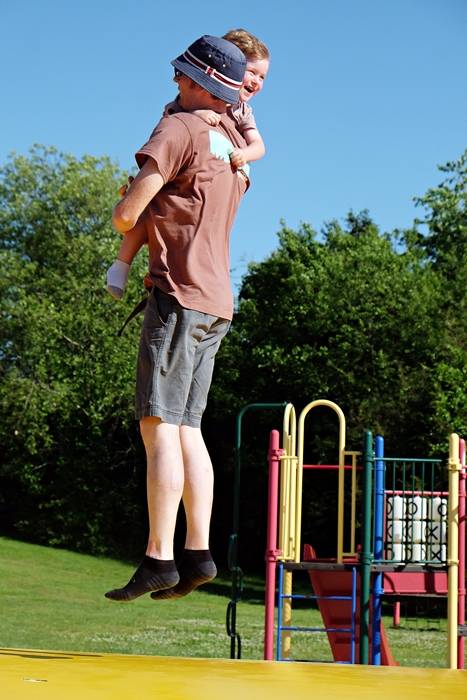 And had fun on the playground: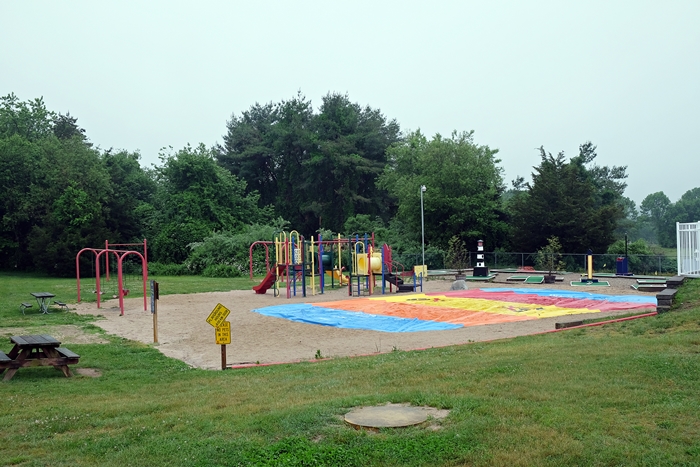 (you can see mini golf off in the background, too. We didn't play). He especially loved the diggers: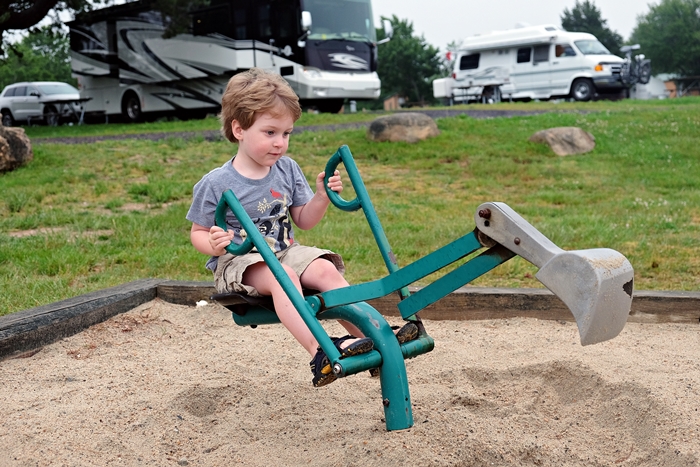 Even big kids like diggers:
We did laundry while we were here, too, and the laundry room was nice and clean and everything worked great.
I will say that the bathrooms farther away from the office weren't sparkling clean when we first got there, but it was at the tail end of the weekend, and I suspect they just hadn't gone in there to clean them yet after the weekend crowd left. We didn't really use the bathhouse otherwise.
We didn't use the dog park, but it's there and it looked nice. It's a big campground, and there was plenty of space all around for walking the dogs. There's also a cool climbing tree in the very back section that you should check out.
Location/Acessibility:
The campground was easy to find and access from the highway, and it was very close (maybe 10 minutes) from Mystic Seaport, which was our reason for being in Mystic. There was a grocery store maybe 5 minutes down the road.
Overall:
We had a great time here, and I wouldn't hesitate to return, even if it weren't a ghost town of a campground like when we were there. I did just get some sticker aftershock when I looked back just now and saw how expensive this place is, but I do think it goes along with the location and you'd have a hard time doing better (at least for a private/full hook up campground) in the area.
Also, if you get there when it's foggy like we did, your kids can play "fog monster"on the big rocks there: