As regular readers will recall, we are, it seems, on a quest to become experts on the history of the iron industry in the Southeastern United States. Or, anyway, we saw a lot of iron-related sites on our recent trip to Birmingham. And we happen to have a state park nearby that hosts an iron pour a couple of times a year to commemorate the area's history as center of iron production back in the 19th century. They heat the iron furnace up to more than 2500 degrees and everyone can buy molds and make their own cast iron art. Sounds pretty cool, right?
Yeah, well, we wouldn't know.
We picked this particular weekend to visit Red Top Mountain State Park for our first RV trip of the year specifically because it was iron pour weekend, but we found out Saturday morning that it was postponed until May because the forecast called for rain. It didn't rain. It would have been a lovely day for an iron pour. Oh well.
Despite this disappointment, it was a fun and successful first trip of the year, and it's good to know that we have a great camping option so close to home (Red Top is about 45 minutes from us, and probably about the same distance from downtown Atlanta, depending on traffic).
Campground:
There are a total of 36 RV sites (water and electric. No sewer hook-ups, but there's a dump station….more about that later), but a fair number of them are small, 20′ back-in sites that would only work for pop-ups and very small trailers. We stayed in one of the 12 or so 40′ pull through sites (ours was much longer than 40′). These are all in a row right by the campground entrance, and they're the only ones I'd try to fit into with our (just under 33′) trailer. When you look at the map of the campground, it seems like this might be a characterless row of close together sites, but there's actually tons of space between them, as we've come to expect in GA state parks.
Here's the view from one side of our trailer: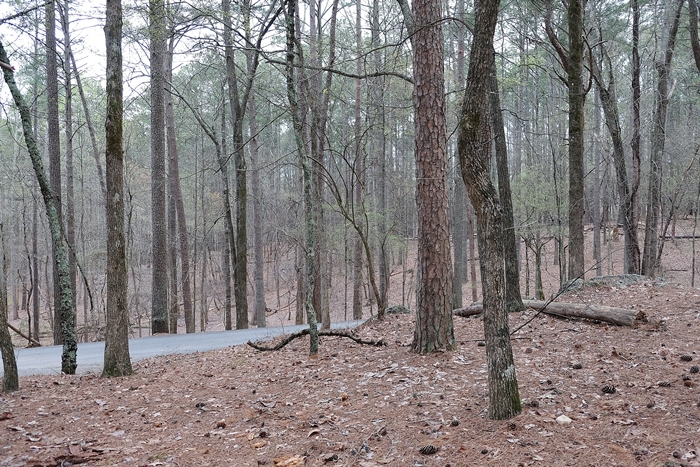 We saw deer several times off in the woods. We were a fair distance from the playground, but the woods made a pretty good playground substitute: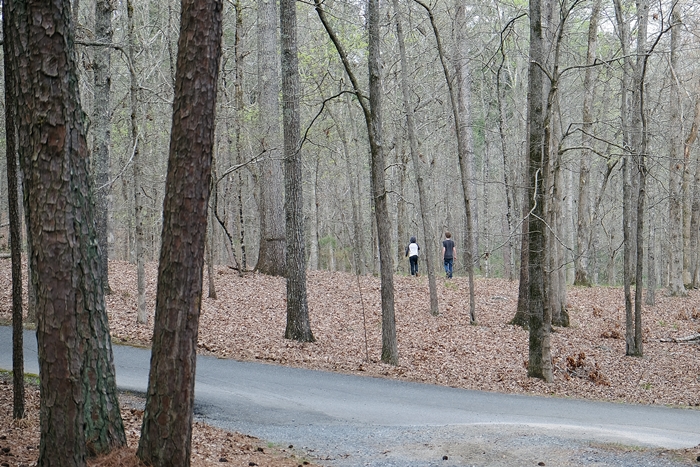 I was afraid we might never see them again, but I went to check on them and they were just playing on some big rocks right over the hill. There are big rocks all over the place at Red Top. If you have kids who are fond of big rocks, this is your park.
A couple more views: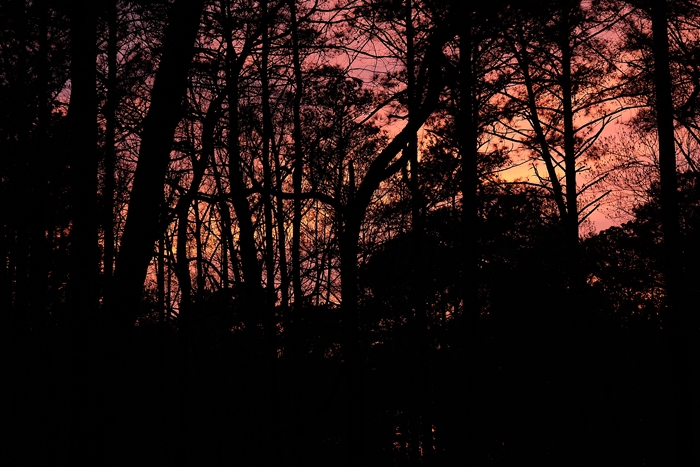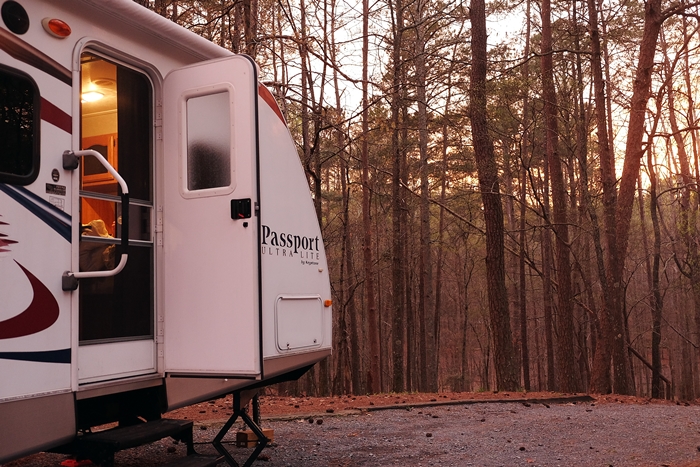 And here's one where you can get an idea of the separation between the sites: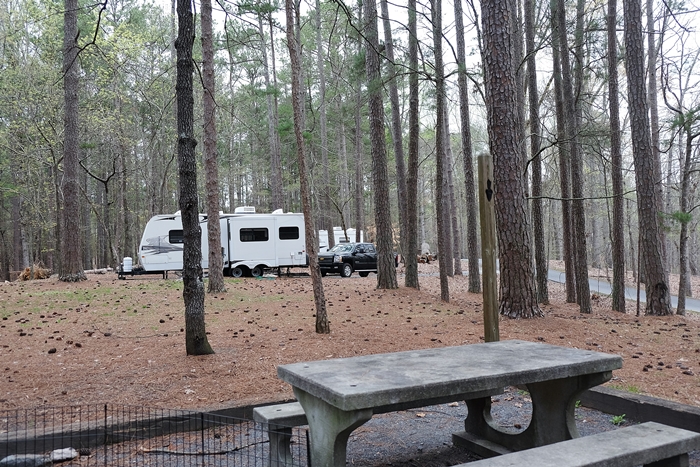 The disadvantage of these pull through sites is that they're not on the water (the big draw at Red Top is Lake Allatoona) and don't have water views. If you have a bigger RV, you do have one other option: there are a few 40′ back in sites scattered around in the other loops, and many of these overlook the lake. We drove through this area to take a look, and….well…WE wouldn't want to try to get into most of these sites. The roads are narrow and windy and the sites look very tricky. But we did see a few bigger RVs in them, so it can be done. But we were quite happy with our pull through with a view of the woods and deer.
What else? The price for water and electric sites is $32/night. There are two different ways you can get into the park. If you come in on the road from the west, you'll encounter a narrow bridge with 14′ clearance and a steep hill with a very sharp curve in the middle of it. This is how we came on the way in, and it was fine, but a little scary. On the way out, we took the road that exits the park to the south, on Glade Rd, and it was much less dicey. Some narrow residential streets before you get back to the interstate, but nothing major.
You check in at the visitor's center, and the parking lot there is not a lot of fun for RVs. There's no dedicated RV parking, and the parking lot is often full because there's a popular trailhead there. We were able to pull into a row of unoccupied parallel spaces, but we got lucky. I suspect it's not unusual to need to just stop in the middle of the lot and block cars while you're checking in during busy times.
A couple of other words of caution: some of the roads in the campground can be a little hard to navigate. There's a very sharp turn as soon as you get through the gate to get to the pull through loop, and another sharp turn to get from the pull through loop to the dump station as you exit. That second turn was our single biggest issue with the campground, in fact. There's also an oddly places fence by the dump station, and Dave sort of scraped against it and almost got stuck when we were leaving.
The pull through sites were completely booked the weekend we were there (I'm guessing that's a pretty common occurrence on weekends, since there are so few of them and it's a popular park close to the city). In Georgia State Parks, you reserve a type of site, but you don't pick out your actual site until you get there. We got there almost exactly at the 1 PM check-in time on Friday, but we still had precisely two sites to choose from. We ended up in site 10, which I think was the single hilliest site in the whole row: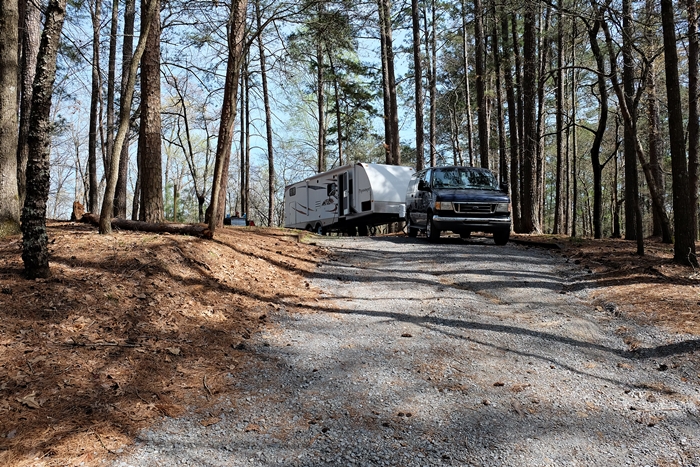 One of the reviews I read before we booked said that the sites aren't level but are "crowned," a description that made sense immediately once we saw them. You pull to the top of the hill and then it's fairly easy to get level. Not all of the sites were like this; the ones closer to the entrance weren't particularly sloped.
There's a small playground in the campground, and you can access a couple of different hiking trails; you need to drive to many parts of the park, though. The bathrooms look to have been recently updated and at least the bath house in our loop was super clean and nice (although a decent walk from our site, but ours was one of the farthest out).
The Rest of the Park: Dave took a personal day on Friday so that we could leave in the morning, not have to deal with rush hour traffic, and have the afternoon to enjoy the park. After we got set up, I looked at the trail map they gave us when we checked in, and noted that the Iron Hill Trail is accessible from the campground. No sooner had I announced to everyone that I thought we should go check out the Iron Hill Trail than Hobson Homestead, noticing on Instagram that we were at Red Top, suggested the Iron Hill Trail for us. Meant to be!
The map said that the trail was just under four miles long. The map didn't tell us that the spur from the campground wasn't included in the mileage….all told we ended up walking more than six miles, which was longer than Gus wanted. It's a really pretty hike with moderate elevation changes, and much of it overlooks Lake Allatoona. Mountain bikes are also allowed on the trail.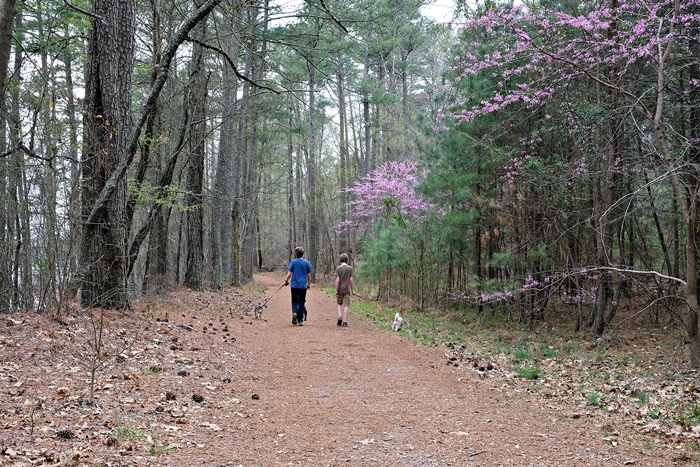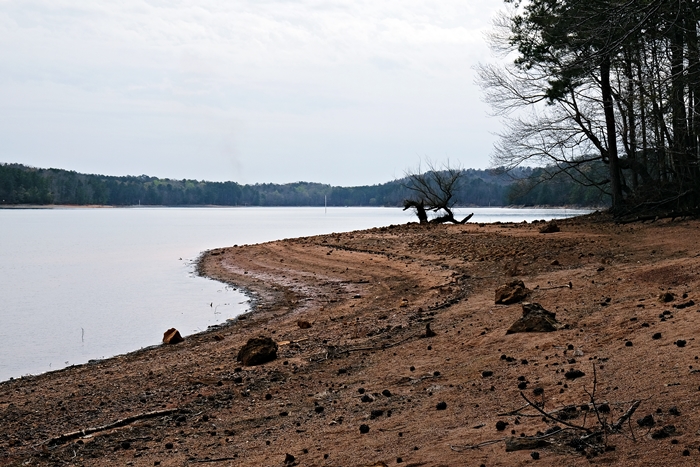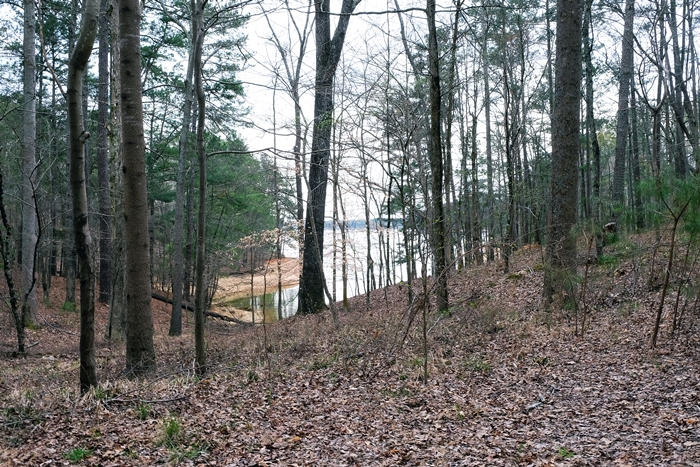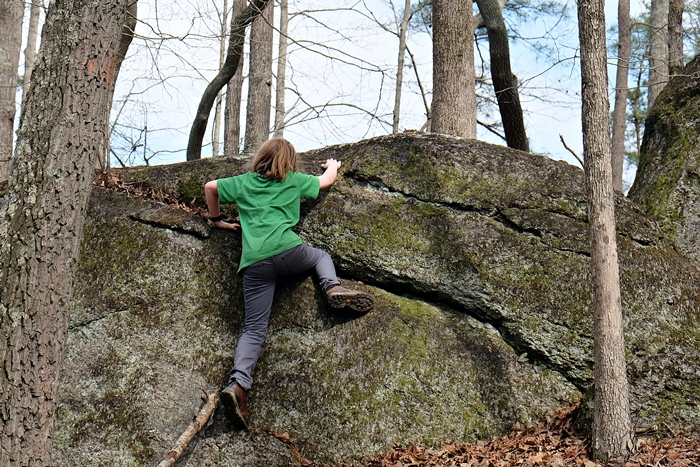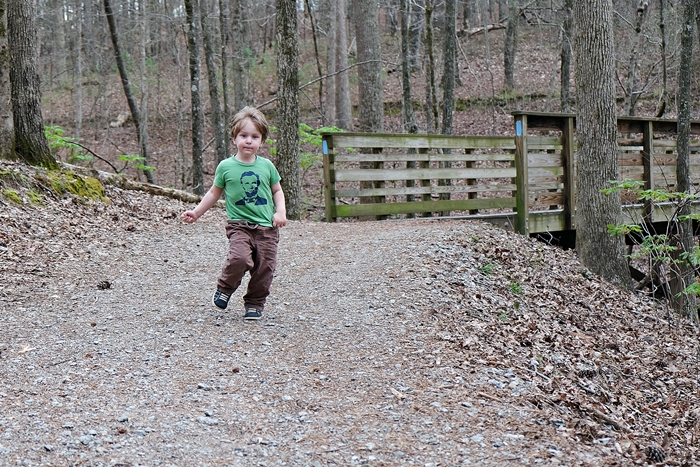 Ari carried Abe in the Ergo part of the time (and either Dave or I carried him most of the rest of the way. I'd say Abe might have gotten in a mile out of the six and a half on his own feet):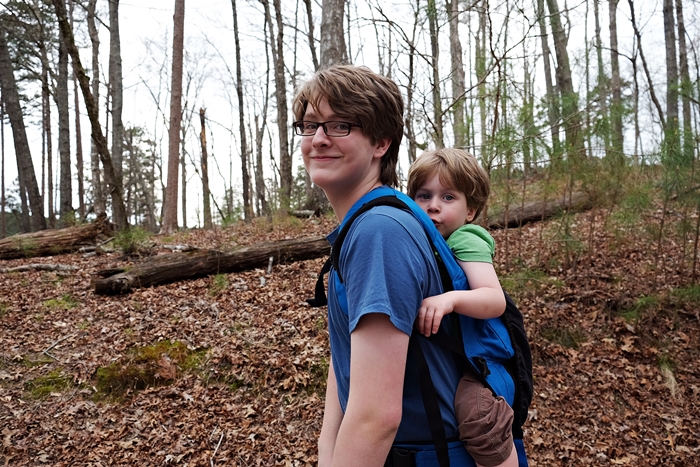 We had planned to go to a sky gazing program that was happening Friday evening, but by the time we got back everyone was ready to eat dinner and call it a night early; it was also really overcast, and we had our doubts as to whether any skygazing would actually be happening.
The next morning we headed out for all the iron-pour related activities, only to find everything had been canceled. There was much disappointment. But we tried to rally and headed over to the park office where there still seemed to be quite a bit going on. This used to be the site of a lodge and restaurant, but they were closed due to budget cuts several years ago. The room that used to hold the restaurant is now a little nature center area with animals on display. Also giant rubber bugs: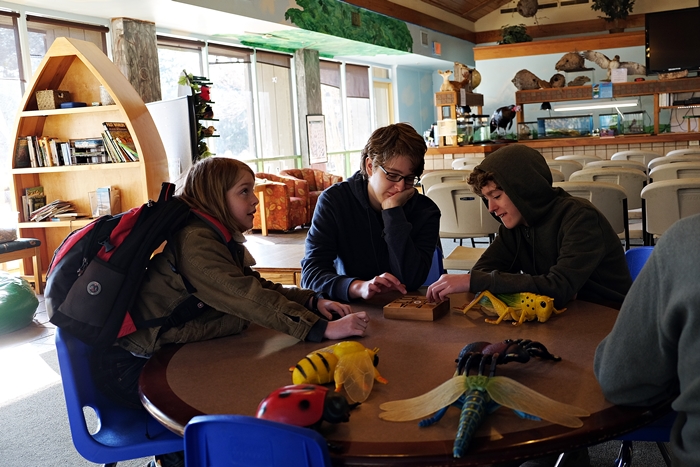 Despite the lack of an iron pour, there was a TON of scheduled programming over the weekend. We saw a live animal presentation on Saturday and went on a guided hike Sunday, and there were several other things we could have done, too. The two rangers who led the programs we did attend were both Americorps volunteers, so I'm guessing that's why there was so much going on compared to other state parks we've stayed at: lots of staff to run programs. I think it's a fabulous idea, and I'm currently trying to talk all my kids into becoming Americorps state park rangers when they're older.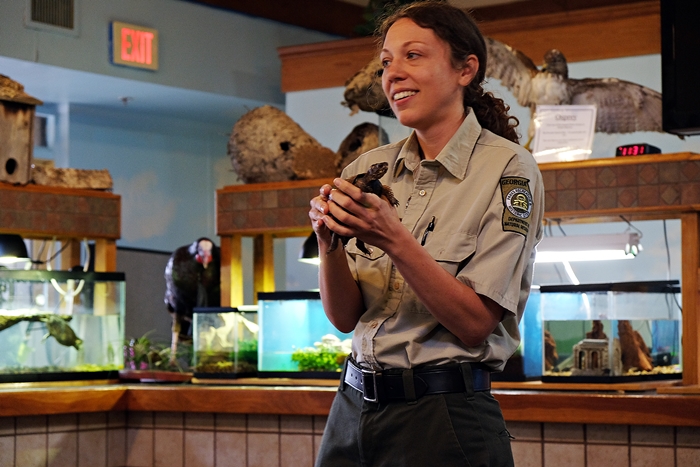 We spent some time exploring the area around the office. There's an old cabin there: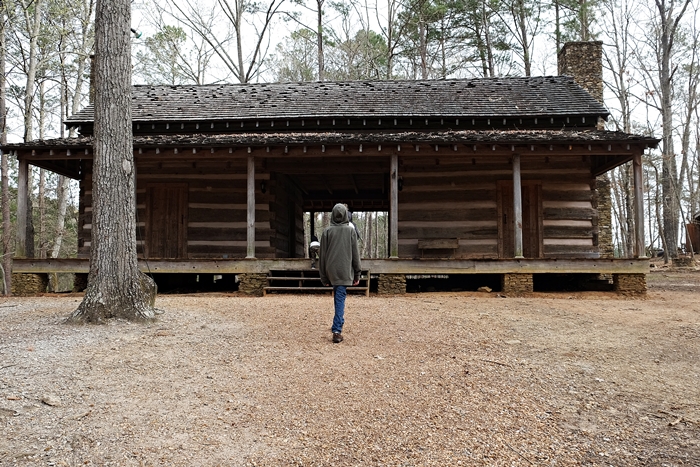 There was a blacksmithing demonstration going on (word is, that happens every other Saturday), which was the next best thing to an iron pour, I guess: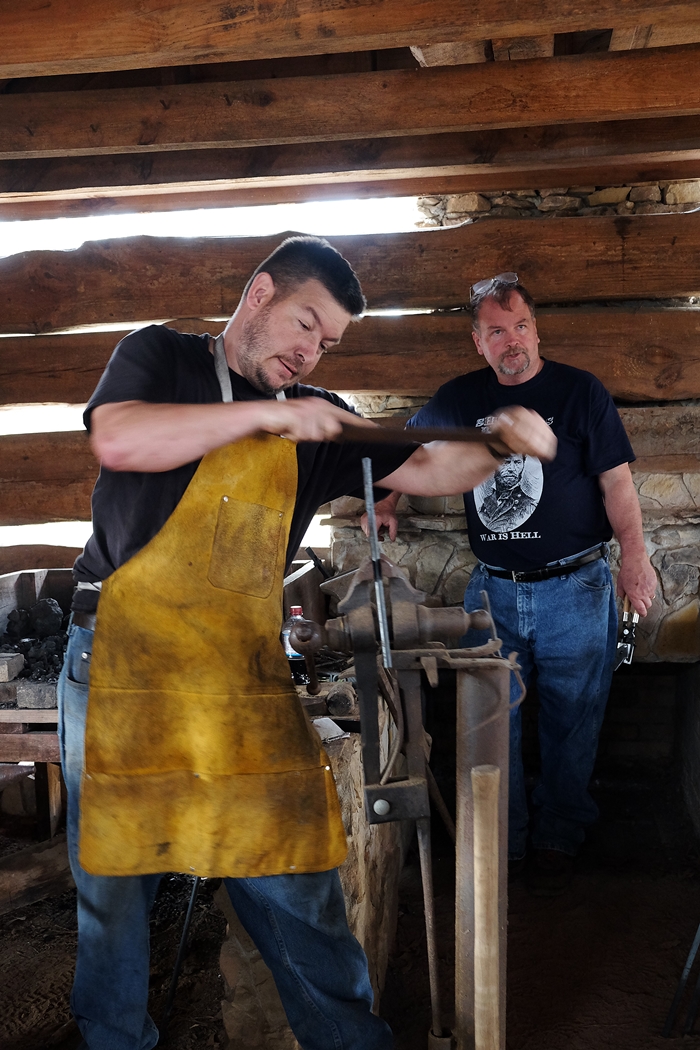 Then we walked around the ADA accessible paved trail behind the office. There's access to the lake from there: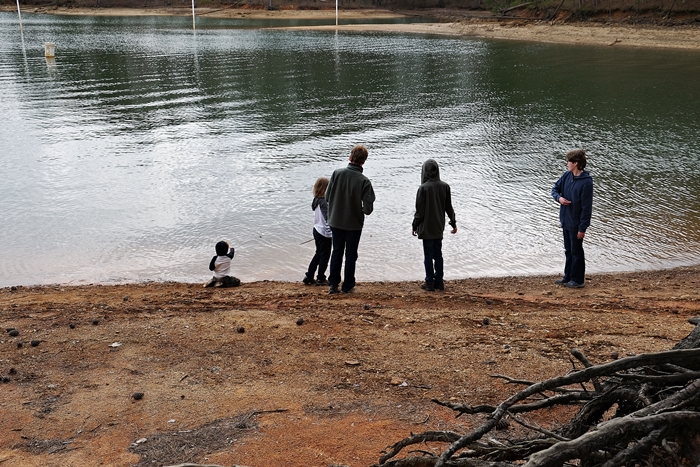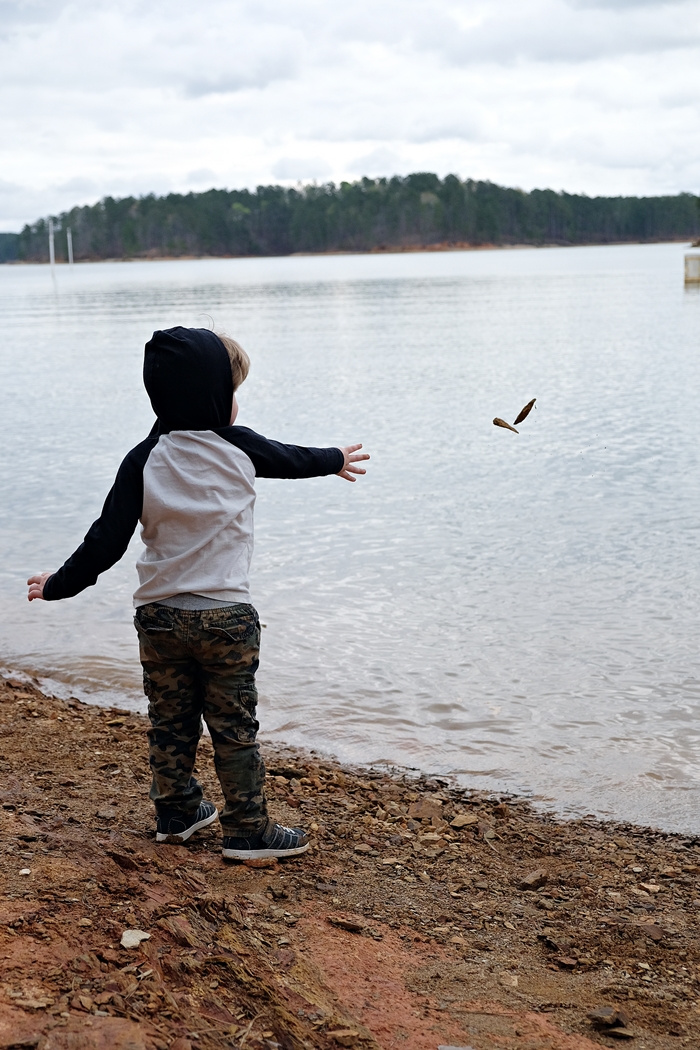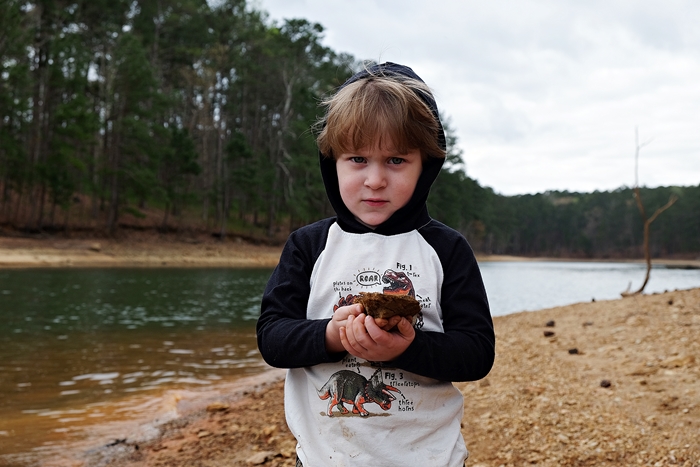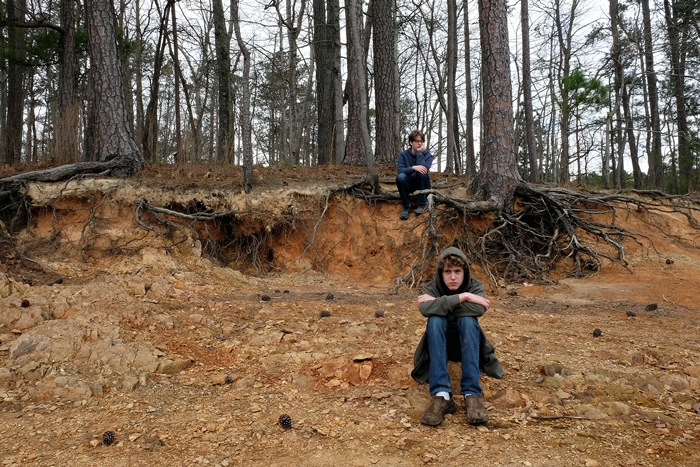 We found out on our ranger guided walk the next morning that the lake is so low because the Corps of Engineers deliberately drained some of it (it's a manmade lake that was created by damming the Etowah River) to…do something. Engineering stuff. The ranger said they're starting to let water back in now, so it should be higher soon.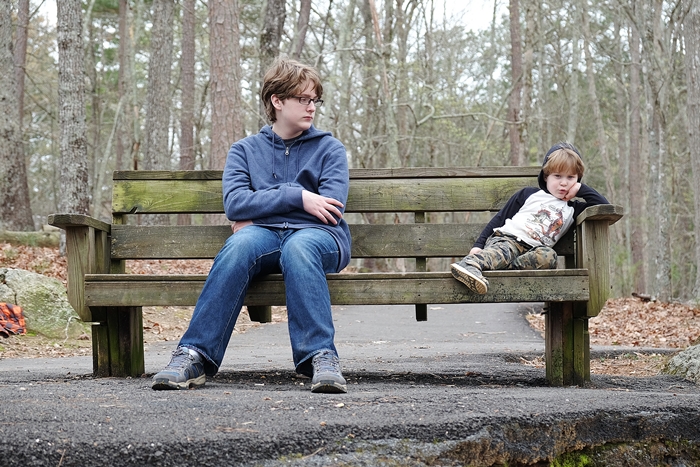 There's also a cool outdoor playground space with different areas for things like music and building. Milo practiced "Greensleeves:"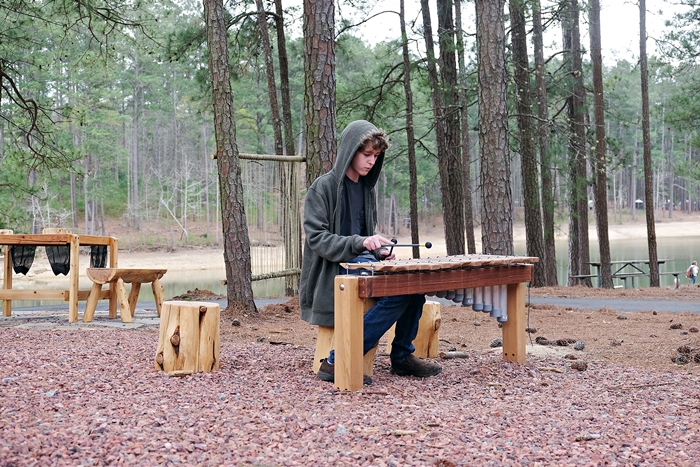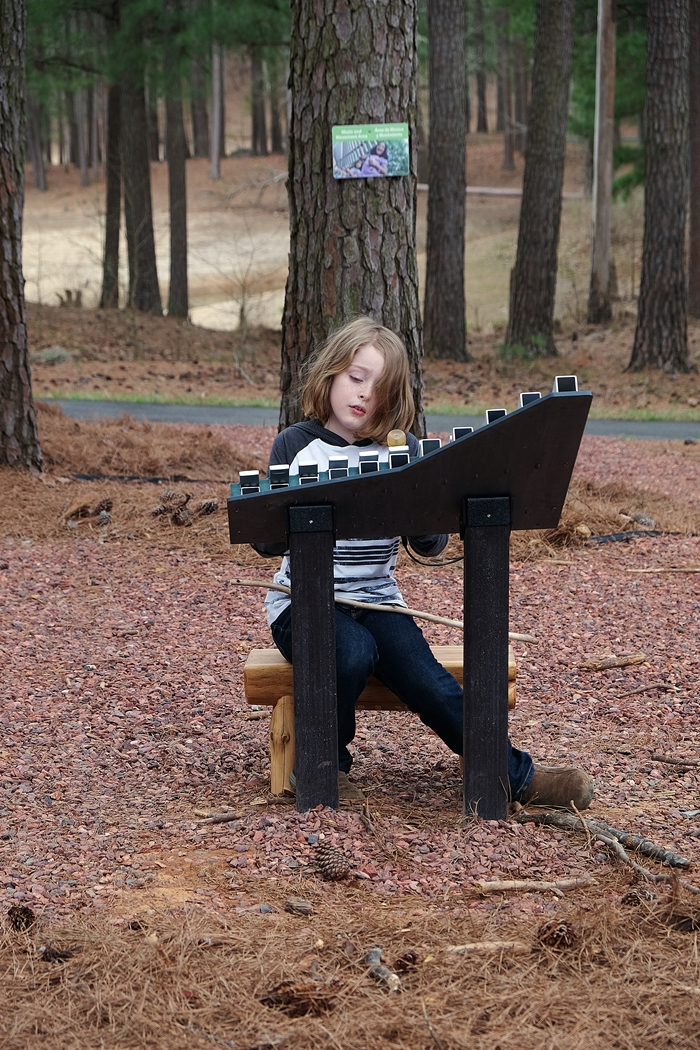 There are lots of other activities in the park that we didn't get to try this time: more hiking trails, boating (bring your own or rent from a private marina), and a beach.
More Local Attractions: Red Top is less than an hour north of Atlanta, so it could make a nice base camp for visiting the city and the surrounding area. But there's also a surprising amount to do in Cartersville, the small city closest to the park. In the past we've visited the Booth Western Art Museum and the Etowah Indian Mounds. We've also been to the Tellus science museum many times, and, when the weather forecast threw off our plans, we decided to leave the park and spend Saturday afternoon here.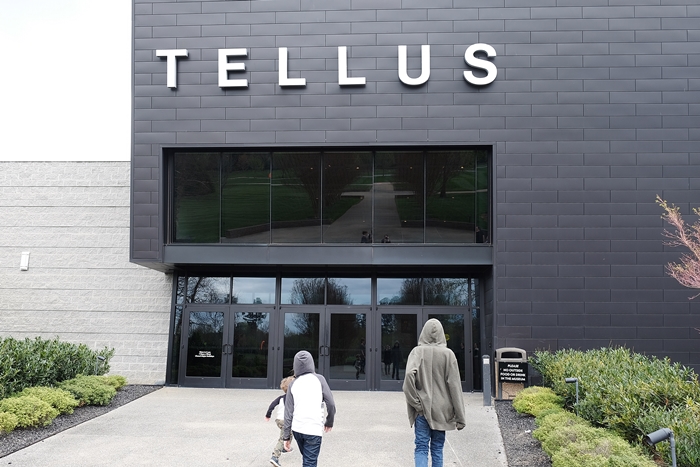 This is a small museum, but we always enjoy our visits here. One of my big reasons for wanting to come here on this trip was to get a membership with reciprocal ASTC benefits before our big trip this summer.  While we were getting that taken care of, the bigger kids introduced Abe to the anticipatory fun of Foucault's Pendulum: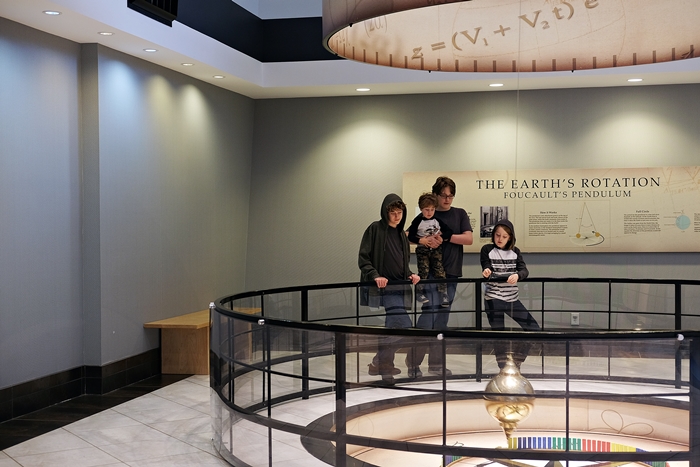 Much like Red Top, Tellus is all about giant rocks. In fact, it started life as a rock and mineral museum before expanding several years ago: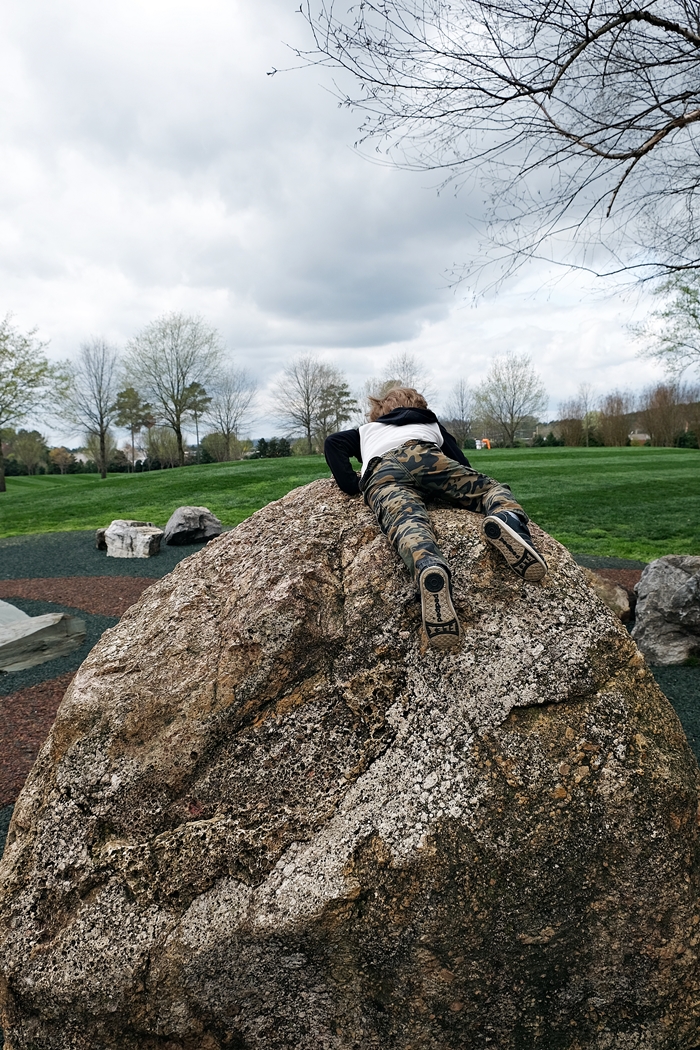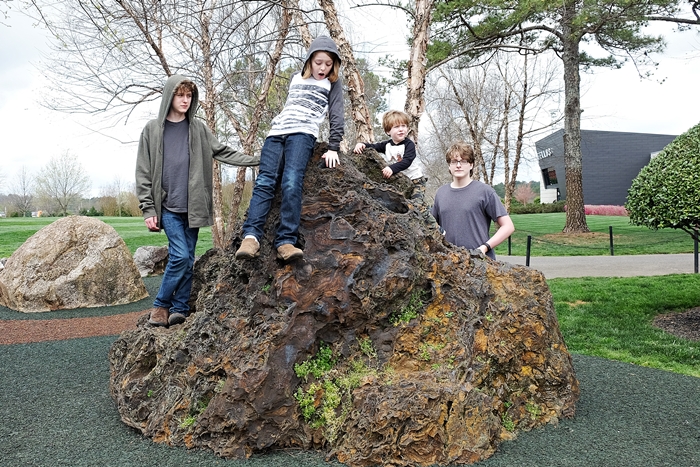 Also giant trucks: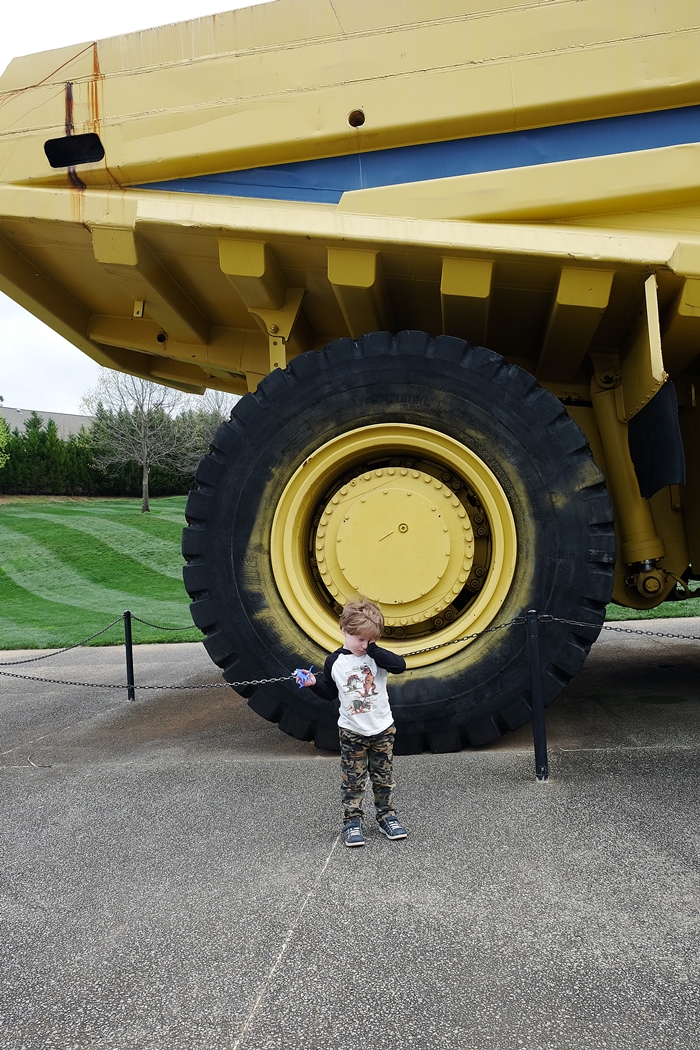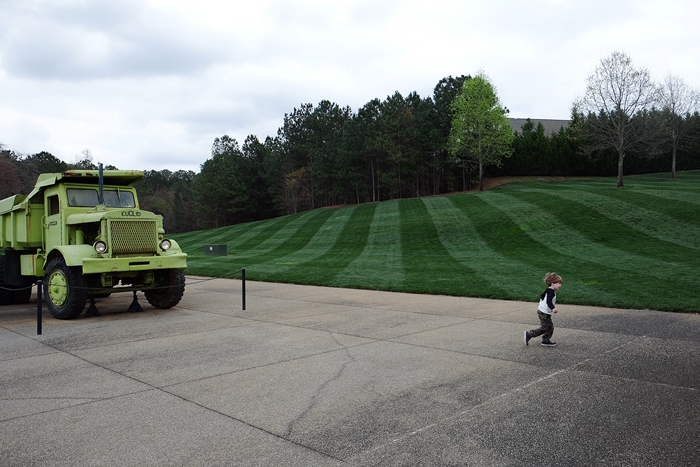 Inside there's a fossil gallery, a planetarium, an area where kids can gem mine and dig for fossils (and bring them home; included in admission), a big rock and mineral collection, a gallery dedicated to transportation, and a nice hands-on area for younger kids. We spent the most time here. They have a temporary exhibit about motion set up there right now: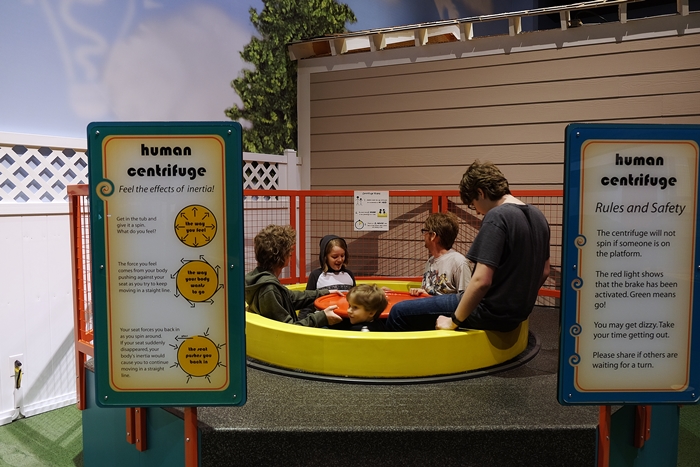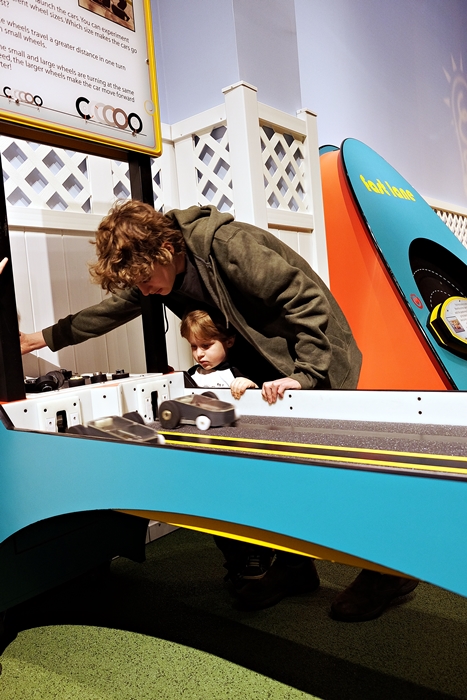 All in all, it was a great first trip for 2016. And maybe we'll make it to the November iron pour….