Post contains affiliate links; thanks for supporting Boxy Colonial on the Road!
Magnets are our go to souvenir on trips these days. They're pretty, they're functional, and, of course, they're cheap. When I win the lottery, it's matching T-shirts for the whole family from every gift shop we pass! But until then….
Magnets.
But, sadly, the refrigerator in our trailer isn't magnetic; the front of it is like a wood-toned laminate material (I have plans for you, too, refrigerator, just you wait. Maybe only until later this week. We'll see. Probably next week. Anyway).
For awhile my solution to this problem was to let the magnets we bought on trips sit around in the bottom of a bag or in the glove box of the van for far too long, then rediscover them and stick them on the fridge in our house so that we wouldn't lose them. But we already have plenty of magnets on that fridge, and anyway I wanted them in the trailer!
Our new and improved solution, then, is a DIY magnet board on the wall in between the bathroom door and the bunkroom. Obviously, any big enough wall space will do, but in our trailer this one was a good size and in a good, central location, so it won out.
On to the question of how to make a big magnetic board without spending a ton of money. We first considered getting several Spontan magnetic boards from Ikea. But the size didn't work in the space; they're 14 1/2 by 30 3/4 inches, so either one hung horizontally or two side by side would have been too wide for the wall.
So our next idea was these thin sheets of galvanized steel from Amazon. They measure 12 by 24 inches and fit just about perfectly into the wall space hung horizontally. The problem with these is that they have unfinished, sharp edges, so getting them meant we'd need to do some kind of framing around them lest we constantly snag clothes (and skin) on them as we walk past. It's worth noting that these aren't really any cheaper than the Ikea boards. They're slightly less expensive per board (about $10 vs about $12), but they're also slightly smaller. I won't do the math for you, but I think it's a wash. So if the measurements of the Ikea boards work for your space (and you don't WANT a frame for it; the Ikea boards stick out a bit, so you wouldn't be able to frame them out as easily), you should probably just go for those. If you're going to make your own magnet board, that is.
We used Scotch double sided foam mounting tape to hang the metal sheets on the wall. I've used this before, for the kids' lego table, and it's been going strong for three years now, so I'm fairly confident in it. I'll report back if a few hours of being bounced around at 65 mph ends up being too much for it. We considered liquid nails, but I'm wary of doing anything too permanent in here just yet. There are guidelines on the back of the tape about how much to use for a particular amount of weight, so we just went with those (if I remember right, each metal sheet weighs about a pound and a half) and made sure to distribute the strips of tape fairly evenly. We put one piece hanging over the edge, so it would connect up to the next piece of metal below it, and we lined them up as closely as we could. We did four metal boards all together, so the total size is 2×4 feet. I probably should have taken more pictures. Sorry!
Okay, so while we were out buying the double sided tape, we saw this beautiful duct tape with a peacock feather pattern on it. We'd been planning to do a wooden border around the perimeter, but we were suddenly inspired. Couldn't we just duct tape around it instead to keep the sharp edges contained? Duct tape can do anything, right?!
Not quite anything.
We got it all taped, and it looked lovely. Just lovely!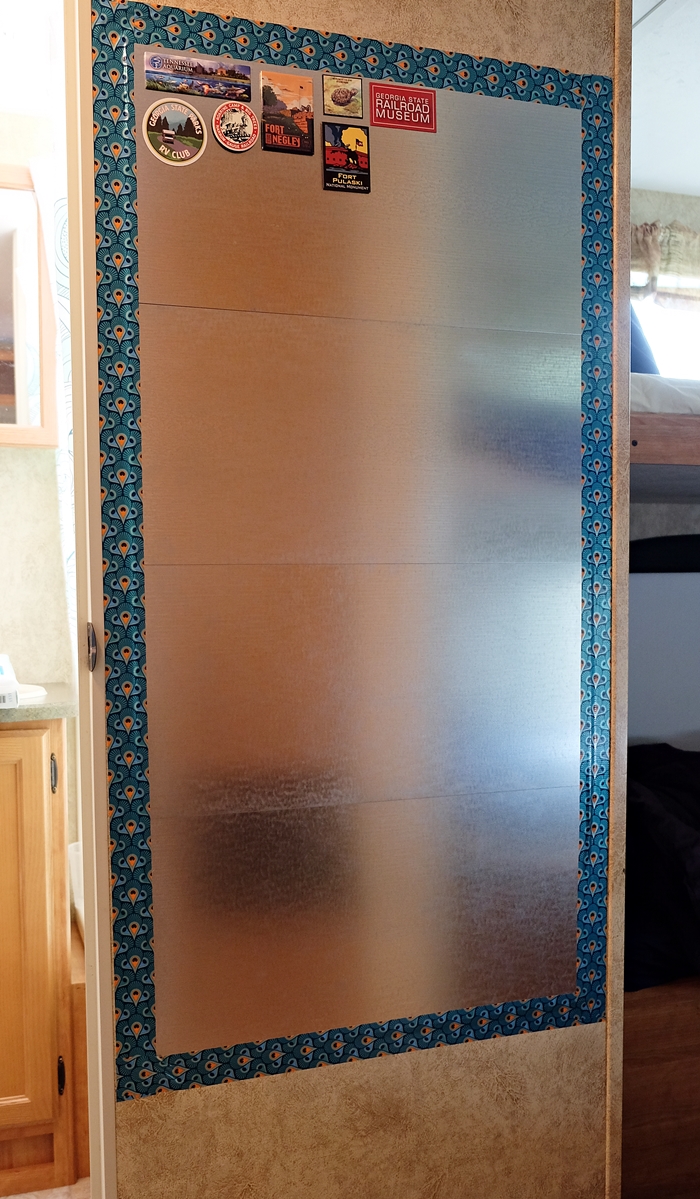 And then, the next day, I came back out to the trailer…and the tape was peeling off the wall in several places. Undeterred, I stuck it back to the wall, pushing down really hard on it.
There! That ought to do it!
The next day it was peeling off worse than before. And it hasn't even started getting really humid out yet.
Lesson learned: sometimes the prettiest AND easiest solution is still not the best solution.
So! Wood border after all! We used just the basic, cheap molding that goes around a non-fancy door frame. In fact, ours actually came from an old door frame in the basement that we needed to remove the trim from. Dave just measured and cut it to size with the mitre saw (we have an electric mitre saw, but you could do it easily with a hand saw and mitre box, too).
Then we used more of the double sided tape for the wood: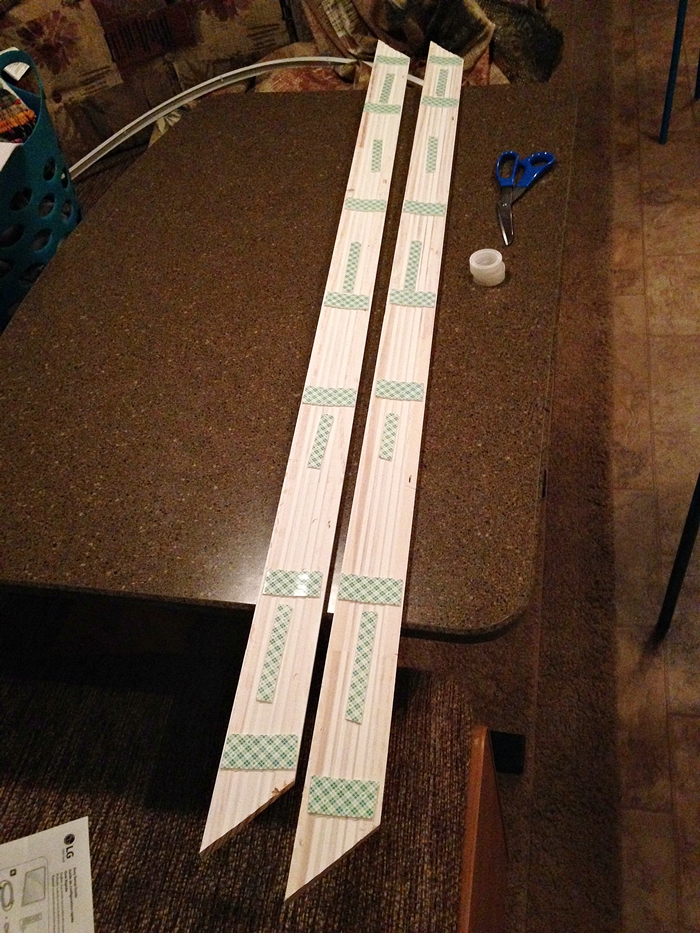 (the strips going vertically–against the grain if you will–are what you want to focus on there. The other strips are what we put on before we realized that they wouldn't work because they were kind of sitting in the grooves of the wood too much to stick to the wall).
And….finished!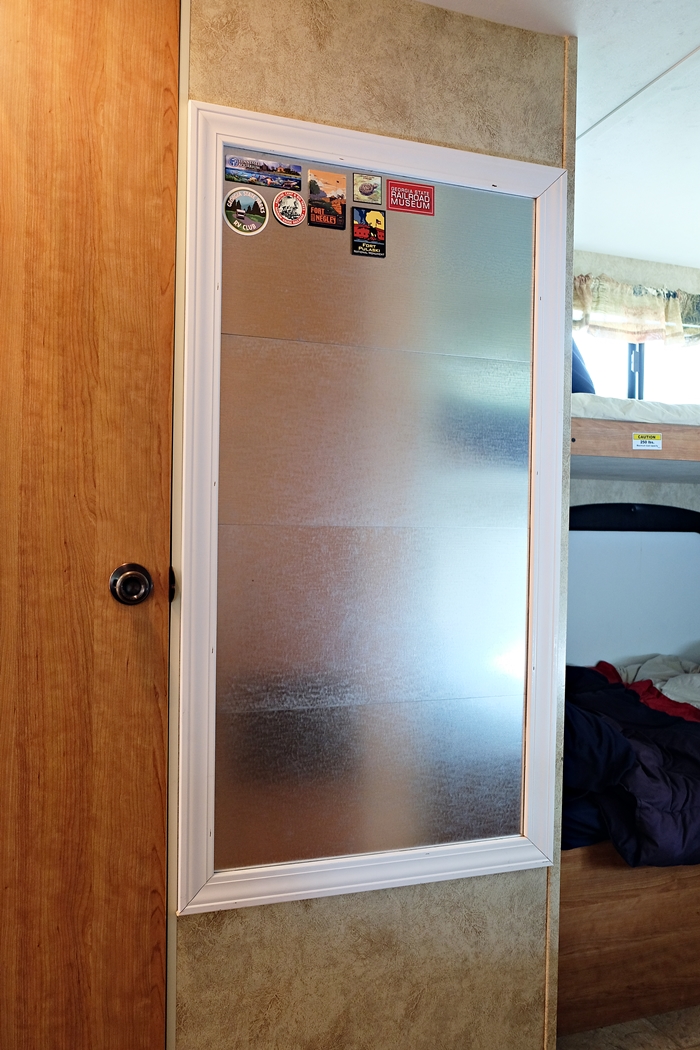 I miss the peacock feathers, but it does look more….official with the wood molding on there. All our magnets feel so fancy now!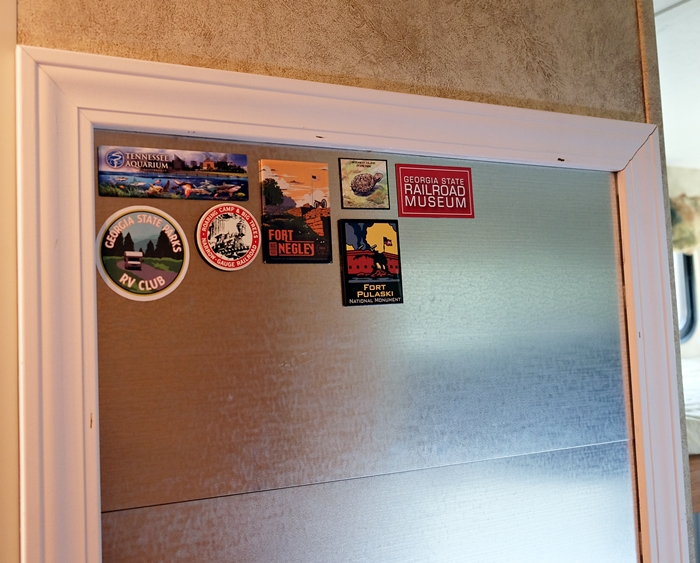 The bottom is at a good height for Abe, so we can bring along his magnetic letters to play with and maybe pick up some other fun magnets or magnetic games to make for a fun thing to play with that doesn't take up any floor space. And, of course, we can also use it to hold notes or things we need to save or whatever. Like on a refrigerator!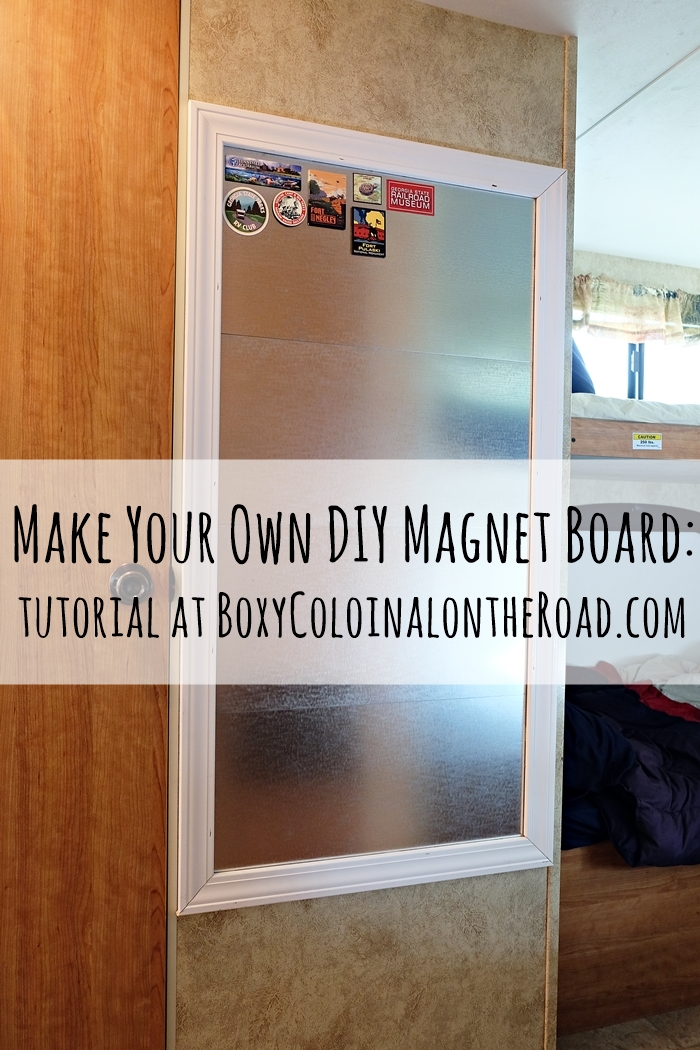 SaveSave