Last spring, back when we first started thinking seriously about a trailer, we went to a small RV show in Chattanooga, TN. I wrote about our experience there on the other blog, and I posted a photo of a 20 foot Starcraft AR-One and said, delusionally, "here's the kind of thing that we're leaning toward at the moment–20ish feet long, just barely big enough to sleep six:"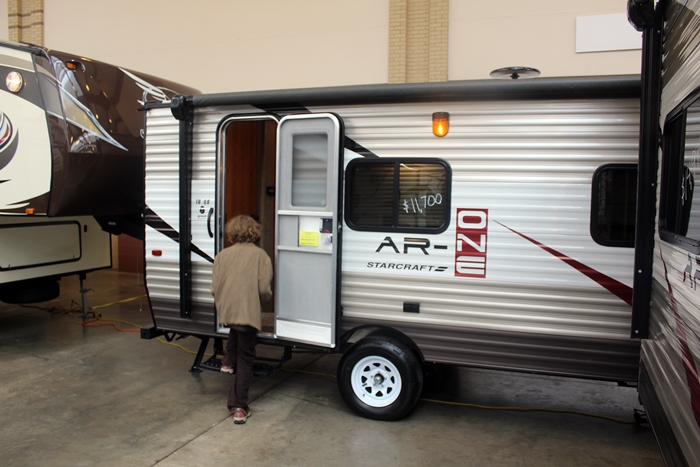 Less than a year ago, I was naive enough to think we might really get away with a 20 foot travel trailer. And one that costs $11,000 brand spanking new.
Here's the thing: I really, really, REALLY did not want a big trailer. I tried very hard to convince myself that we didn't need one. But at some point I had to come terms with the fact that "sleeps 6" doesn't always mean really sleeps six. I believe that Starcraft up there must have been the one with two bunks, a dedicated double bed on one side, and a dinette that converts for miniature people to sleep on. I guess we thought maybe we could put Ari and Abe in the bunks and then somehow smoosh Milo and Gus together on the dinette? And then the six of us and the three dogs would all coexist peacefully together in there for our planned eight week road trip in 2017?
Once I reluctantly let go of the twenty foot trailer dream, I turned my attention to a couple of other possibilities that would still get us in under 26 feet or so: a trailer like the Rockwood Mini Lite with quad bunks and a murphy bed, or a hybrid with three tent ends. We eliminated the Mini Lite (reluctantly) because it turned out the bunks were too short for Ari to sleep in comfortably. And we actually came very, very close to buying a hybrid; we had one all picked out, but it sold the same day we were going to have someone come out and inspect it for us. Had three tent hybrids (with a slide) been easier to find used, we probably would have ended up with one. But, in retrospect I'm glad we didn't for a few reasons: 1. bears 2. Abe would have had to sleep on the jackknife sofa because there's no way he and any of the older kids could share a bed 3. noise, particularly with the dogs with us (they'd bark every time they heard someone outside, and everyone would hear every bark clearly).
So we bought our really long (just under 33 feet) bunkhouse trailer: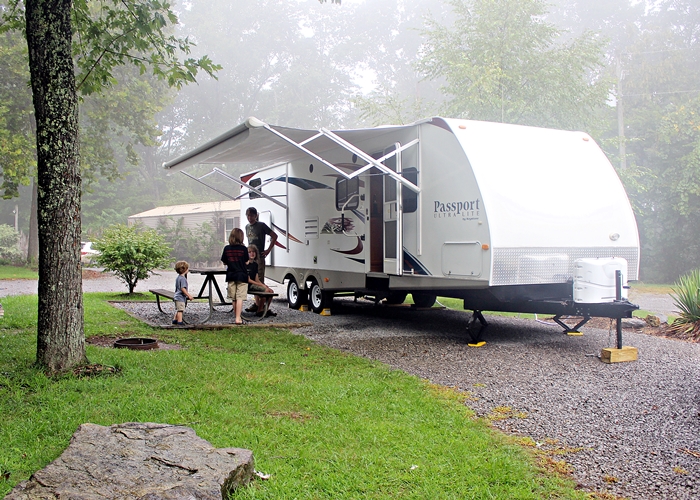 And, for the most part, I'm happy with our choice so far.
But I still harbor dreams about somehow getting under 30 feet and still fitting everyone in comfortably.
I've come up with a couple of different options that I hadn't thought of when we bought our trailer, and one of my objectives when we visited the Atlanta Camping and RV show over the weekend was to see how reasonable my options seemed when I got to sort of test them out in real life.
Option #1: Toy Hauler
Back when were actually shopping for a travel trailer, I had a vague idea that a toy hauler might be a possibility, but I really didn't know enough about them to seriously consider them. I remember going in one at the Chattanooga show and just….not really getting what it was all about. But Jeremy and Stephanie have been talking up toy haulers a lot on RV Family Travel Atlas, and it's made me give them another, more thorough look.
And here's what I like about them: they are (a lot of them anyway), essentially, a master bedroom and kitchen and bath plus a big empty space that you can configure however you want. I mean, usually what they have is two benches in the back with a table in between. And you convert the benches to a bed and then another bed comes down from the ceiling. And then across from the kitchen (in the middle of the trailer) you might have optional chairs or another couch or whatever. But I feel like that space would be super easy to customize. Like we need separate sleeping spaces for all the kids. Ideally. Milo and Gus CAN share a bed, but they'd rather not, and they sleep better when they don't. And even if we did put two of the bigger kids together, it would only help a little, because no one can share a bed with Abe. If they want to actually sleep.
But here–let me show you the toy hauler that we really liked at the RV show before I blather on any more, so you can understand what I'm blathering about better.
Here it is–the terribly named Vengeance 25V from Forest River:

What we like about it already:
*look how separated that master bedroom is! I'm not sure how they're calling it a king bed; I don't see how it could be any wider than the queen one in our current trailer, since it's a walk around bed and a standard width trailer. Oh, actually–I just checked, and it looks like this trailer is 6 inches wider than our current trailer (102 vs 96 inches)…so maybe that's the difference. Anyway! The bathroom is in between the living area and the master bedroom, so you get not just one, but two real doors separating it. And a second exterior door in the bedroom, too (which you'd need to get anywhere if someone goes into the bathroom while you're in the bedroom–the only potential annoyance about the layout).
*the bathroom feels really spacious compared to ours, and has that corner shower with a glass door instead of a curtain.
*I love the idea of the ramp that turns into a deck on toy haulers. Abe and another little girl who was there had an impromptu dance party on the deck at the RV show.
*It's only 30′ 6″ long! Not quite to my dream of being under 30 feet, but about as close as you can get. I'm guessing if we looked more, we could find something under 30 feet with the same amount of sleeping and living space, but a smaller bathroom. But this one is more than 2 feet shorter than our current trailer but feels much more open and spacious to me, even without a slide. Of course, what you're giving up is the dedicated bunkhouse. But our bunkhouse really only gets used for sleeping (and sometimes reading); there's no room to play or hang out in there, and, in retrospect, I think we might rather have more openness and a space that changes from living to sleeping space at night.
But to make it work for us, we'd need to make some modifications. Getting back to the aforementioned shared bed issue, I think what we'd do to avoid that is give Ari the drop down queen, take out the convertible benches that turn into one bed in the back and replace them with two single beds for Milo and Gus (that would still serve as benches during the day) and then put another single bed/seating area where it shows two chairs for Abe. That would mean less room than intended for actual toy hauling, of course, but the only toys we really plan on hauling are bikes, and there'd still be more than enough room for those. Then we'd have three big couch/benches for sitting on during the day and separate beds for everyone at night. And a real door on our bedroom! All with more than 2 feet less trailer than we have now.
Option #2: Small trailer plus an extra "bedroom"
This one's a little more unconventional, I think. We tow our trailer with a full size van. What if, I thought, we installed seating that folds out to a bed in the van and used that as either a master bedroom or a kids' bedroom, and then towed a much smaller trailer that would now only need to sleep four. My dream of a 20 foot trailer could finally be realized! It could even be something vintage or otherwise adorable!
Advantages: adorable, tiny(ish) trailer!
Disadvantages: the van bedroom would be just that. We could run an extension cord over to it when at campgrounds with electricity and have some light and a fan or whatever, but it wouldn't have heat or air or a bathroom. Still, it would be a step up from tossing extra kids in a tent outside, which is what some people with bigger families do. It's also a plan that would really only work for families with older kids. I would feel totally comfortable with a couple of the older kids being in a separate vehicle from the rest of us for the night; not so much if we had a pack of preschoolers.
Dave doesn't like this plan very much. Because he's really not much fun. But I think maybe I could convince him. Like with a vintage Airstream. Everyone wants a vintage Airstream, right? Or maybe Abe could fulfill his dream of having a tiny trailer like this: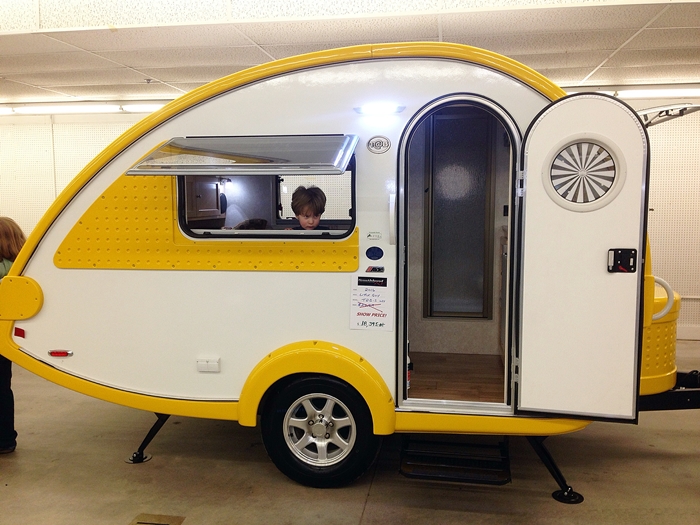 Not really. Still not big enough. Maybe we could tow TWO of these with our van! I have a lot of great ideas.
Of course, we just bought our trailer a few months ago, and probably what we're going to do is just keep it. For now. Next up, in fact, will likely be some talk about things we'd like to do to make our current trailer a little more suited to our needs. But it doesn't hurt to think about other options, just in case ;).