We had really high expectations for Skidaway Island State Park, because I kept reading reviews that said things like, "we have stayed in more than 4000 campgrounds all over the known universe, and this is the very best one." That sort of thing. We've only stayed in four campgrounds in the known universe, but so far we're putting Skidaway right up at the top as well.
Dave has the whole week off for Thanksgiving; normally his parents (and often his aunt and uncle) come to visit that week, but they weren't able to make this year, so we found ourselves with an entire week free and decided one more trip with the trailer before calling it a season was the obvious thing to do. We opted to come home in time for actual Thanksgiving, though, so we went down on Saturday and came back Wednesday. Still, at four nights, this was our longest trip yet with the trailer, and the six or so hour drive was three times as long as any others we'd done.
Skidaway Island is about fifteen minutes from downtown Savannah and 40 from Tybee Island (which is the closest place where you'll find a beach; Skidaway is an island, but it's bordered by river and marsh, not open ocean). There are several full hook up sites, but they were all booked by the time we planned our trip, so we reserved a water and electric site. But when we got there, there had been a cancellation, so we got to upgrade to full hookups. Score! (Price for W/E is $39/night; price for full hookups is $45). Nearly all the sites are pull throughs, and they're BIG pull throughs. They call them all 50 foot sites, but ours must have been at least 80 or 90, and there's tons of space between the sites.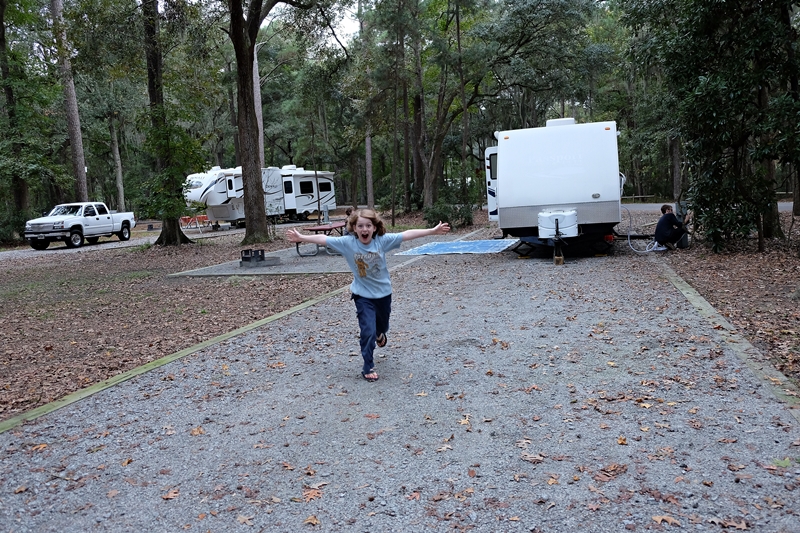 At Georgia State Parks, you reserve a type of site, but the sites themselves are first come, first serve. There were only three full hookup sites left to pick from by the time we arrived (late afternoon on the Saturday before Thanksgiving). One was one of the few back  in sites, one was directly across from the dump station, and then there was the one we picked. All of the sites are gravel, with a big picnic area with a fire ring and table. All of the ones I saw were very shaded. There's no wifi at the campground, but there is at the office/store, and we used it a couple of times and found it was pretty good. I believe all or most of the sites have cable, but we don't have a TV yet in the trailer, so we didn't test that. The roads in the campground are good; no troubles with tight turns or anything like that. The only thing to look out for is narrow roads that are two way. That said, it was a very crowded week when we were there, and we didn't have any trouble with this ourselves nor did we observe anyone else running into any.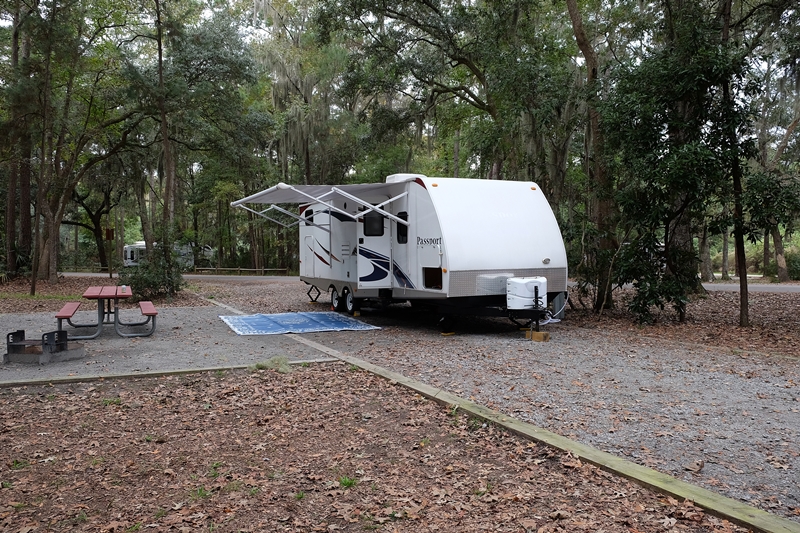 There's a small store that mostly sells souvenirs and a few snacks (including a freezer with ice cream, my kids were pleased to see). But it's only a five minute drive to the closest grocery store, and there's pretty much any shopping you could need within fifteen minutes or so.
Bathrooms are dated but adequate (we didn't see much of them since we had hookups), and there's a small playground: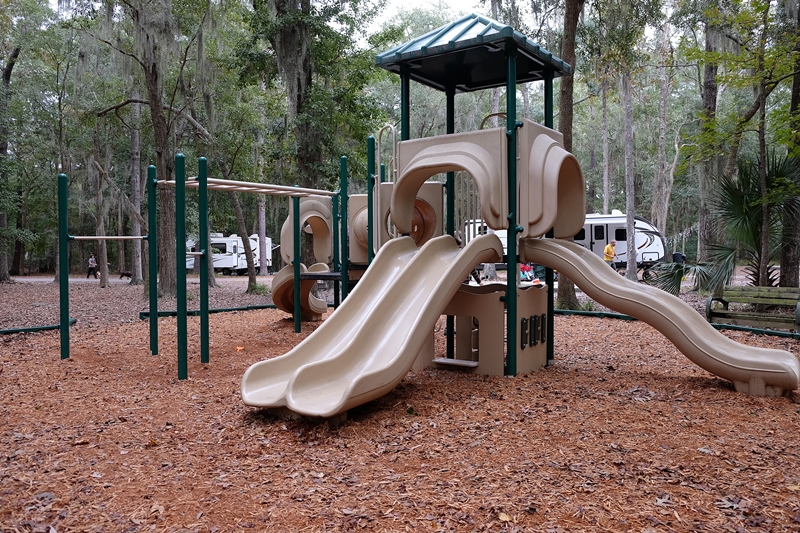 Oh, and also? It's beautiful there. There's Spanish moss everywhere: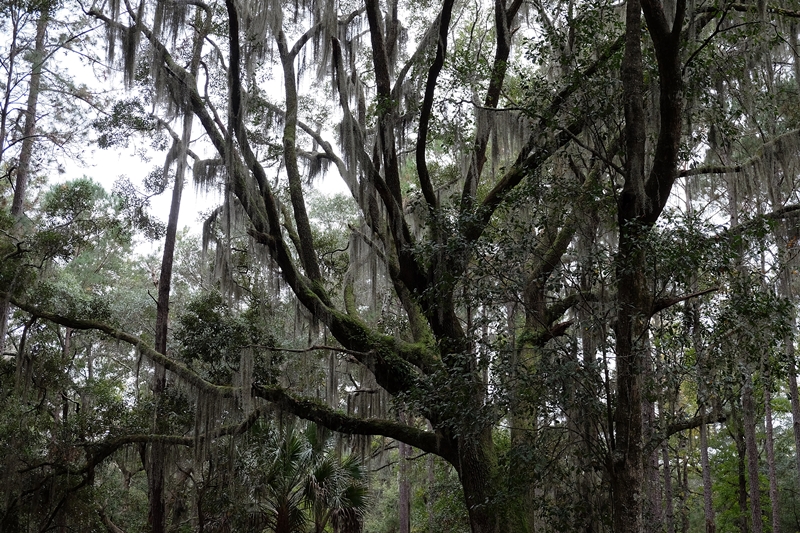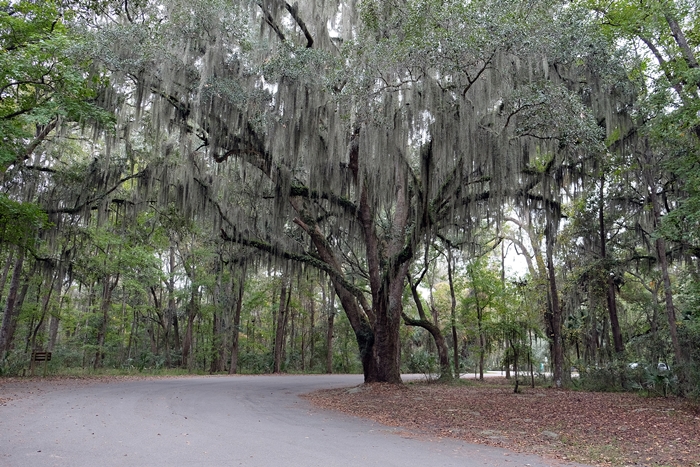 The park is fairly small and compact, and we really liked that about it. The store and office and all the trails were walkable from the campground. The evening we arrived we had just enough time to check out the small nature center before it closed and get in a walk on one of the trails before dark.
The nature center has a few live animals, some exhibits on the area, a giant sloth replica: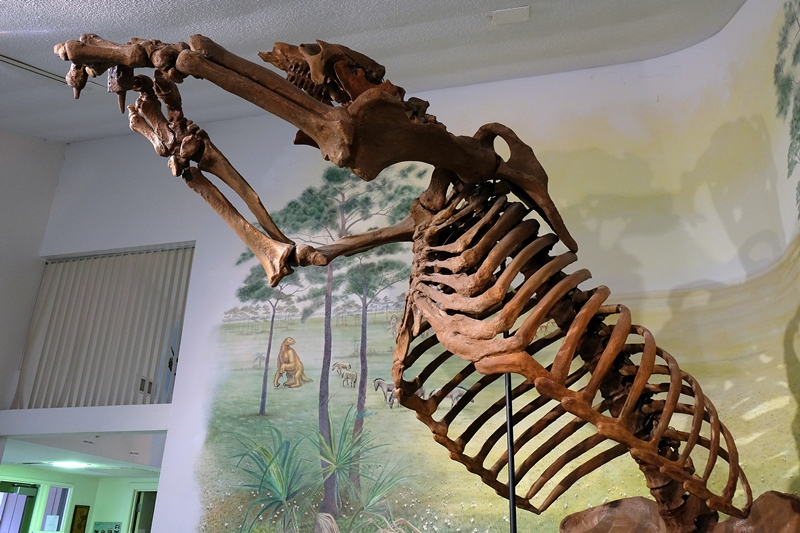 ….and a nice play area for kids:
There are three main hiking trails in the park. The Sandpiper trail starts just behind the nature center and is only a mile long, so that's the one we went on our first evening. It takes you over salt flats and tidal creeks and through the woods.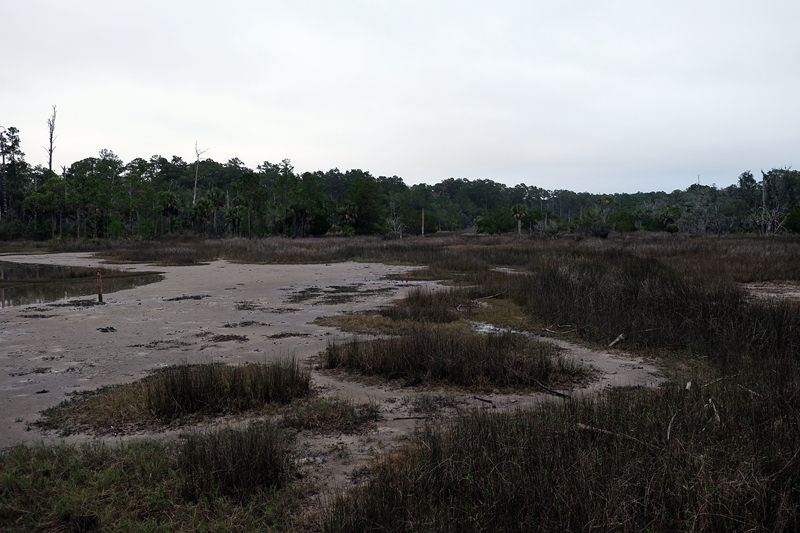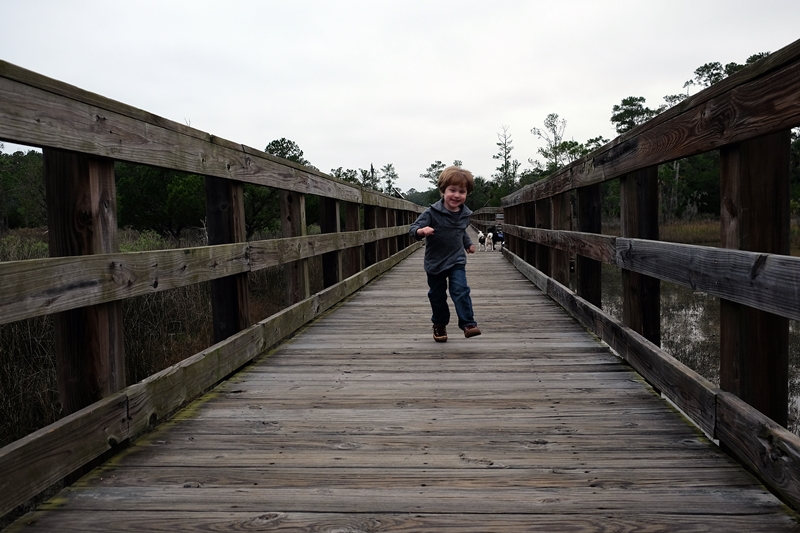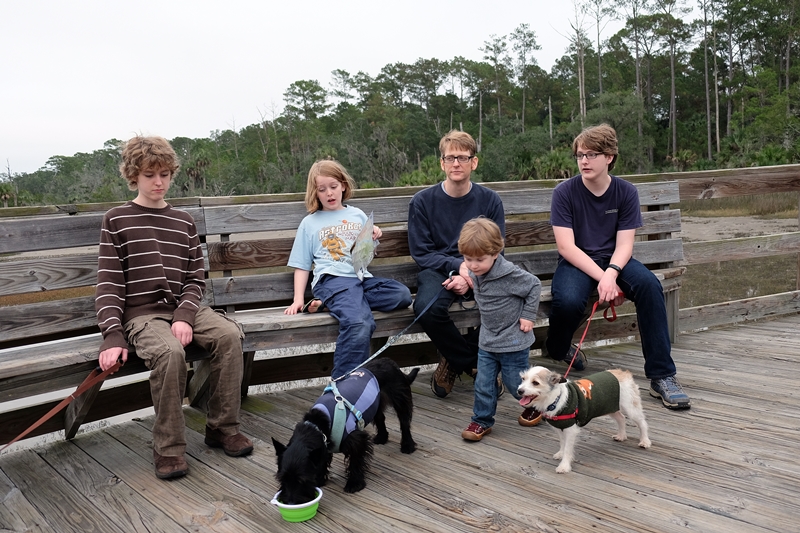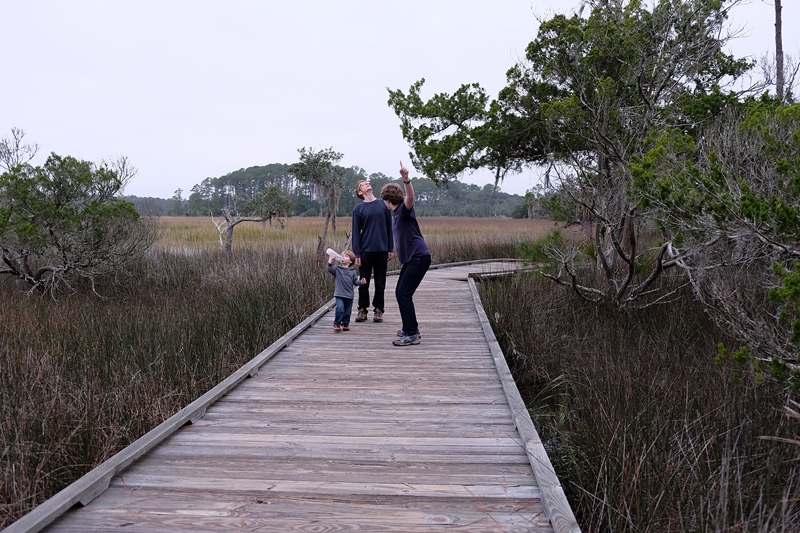 So there was a part right near the beginning of the trail where we had to walk through a fairly wet and squishy stretch. We didn't put together the whole tidal thing, and were surprised to find the water considerably deeper by the time we came back. This was too bad because it meant by brand new hiking shoes got soaked and didn't dry out before the end of the trip (fortunately, I had a back up pair). Dave was smart enough to take his shoes off: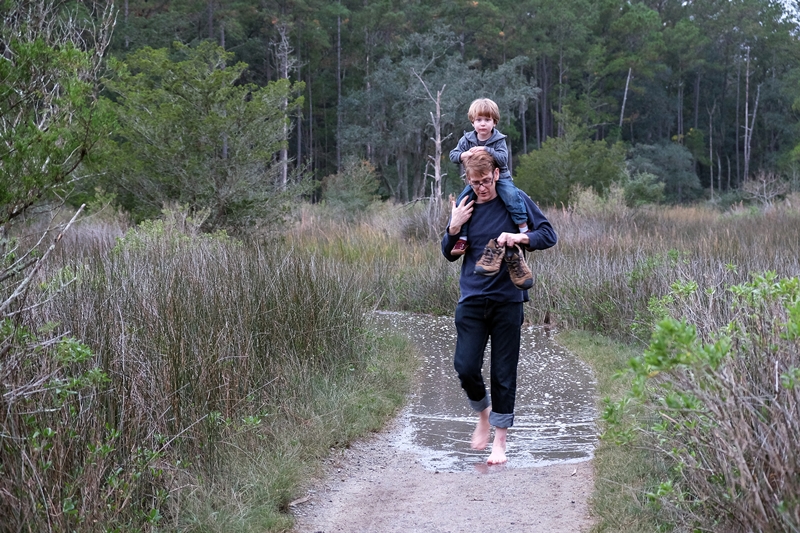 The next day we checked out the Big Ferry Trail, which, at nearly three miles, is the longest one in the park. There's quite a bit to see on this loop, including an observation tower, the remains of an old moonshine still, and some earthworks from the Civil War. There are also a bunch of ticks, we found out. Even in November. Next time: bug spray.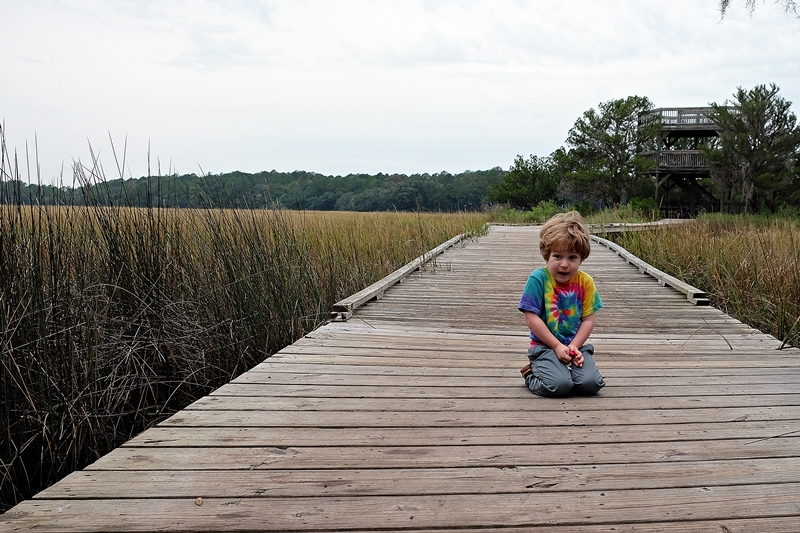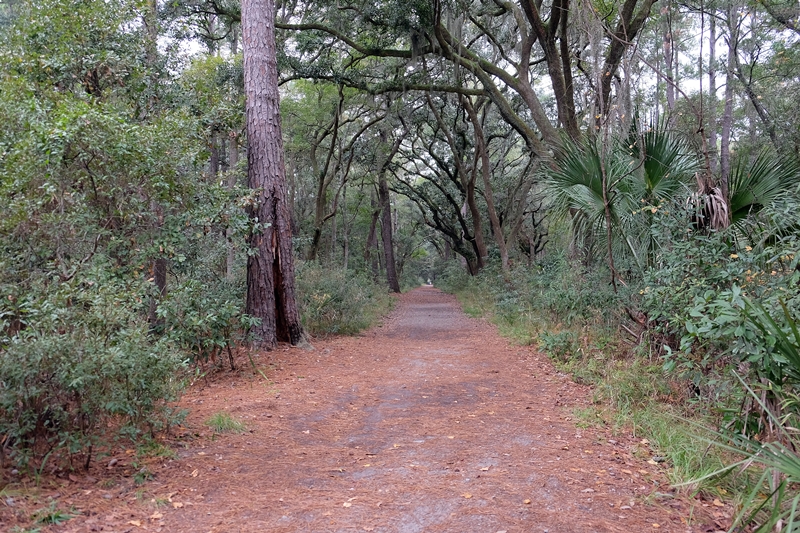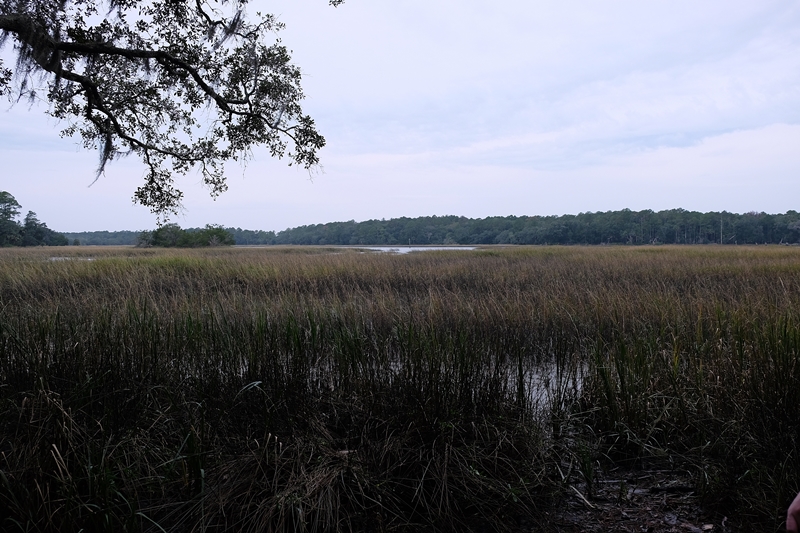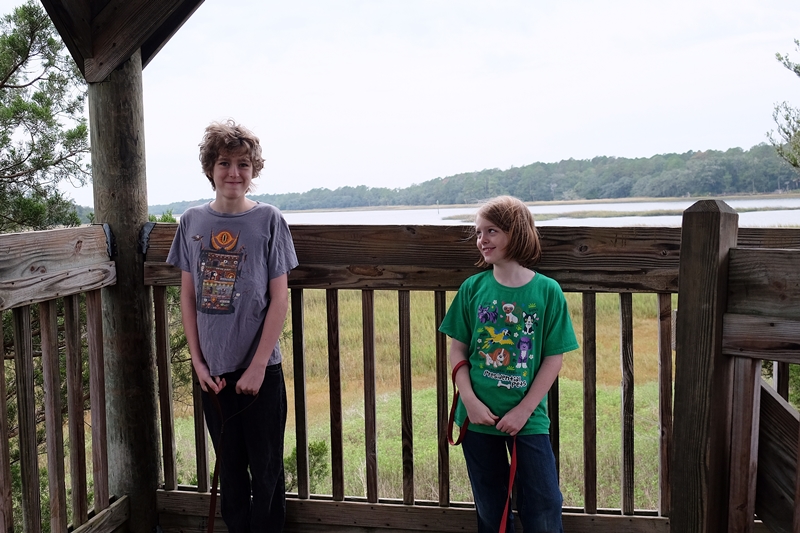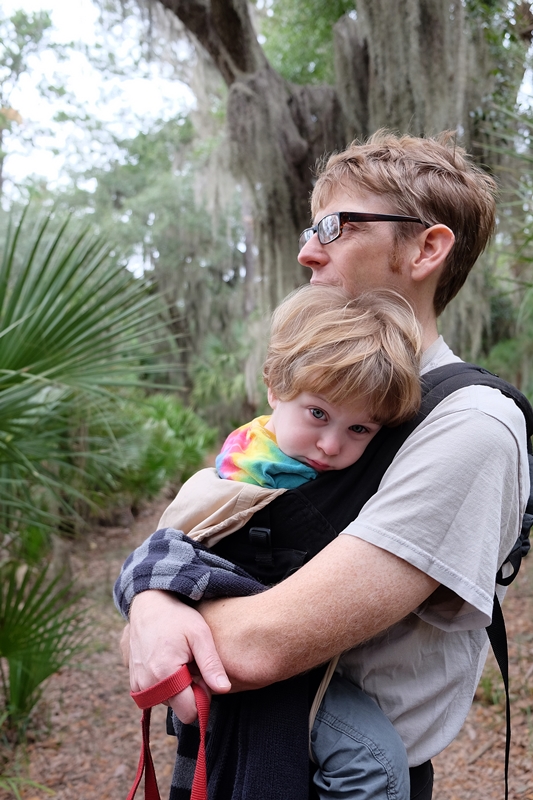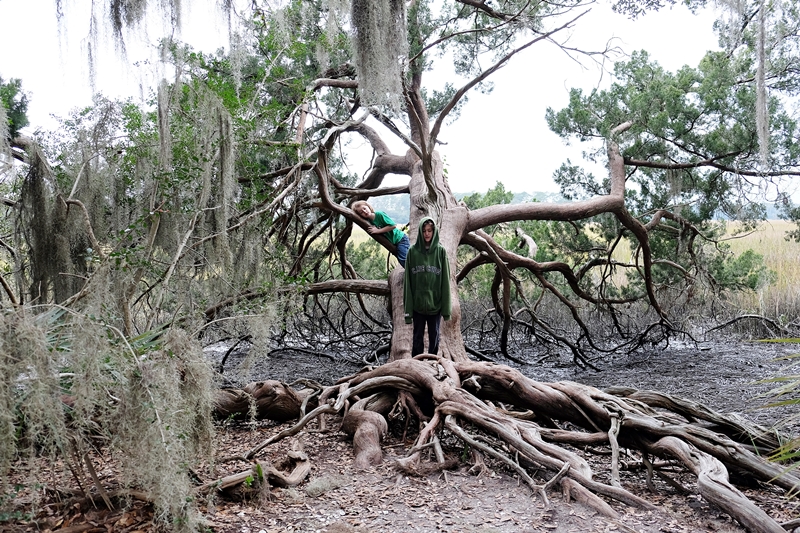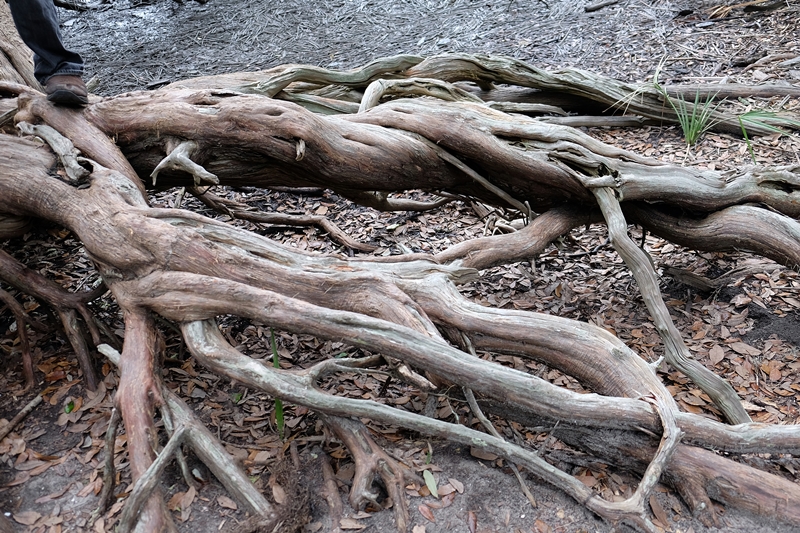 So that's it for the campground part. Back next time with more about what we did while we were in the area. Oh, and by the way, I added a clickable map up there on the top menu that shows all the places we've gone (that I've blogged about). At the moment most of them predate the trailer, but the ratio will start changing soon.