Travel dates: June 17-21, 2017
We stayed in a lot of fairly rustic campgrounds last summer, which is not something we mind….but the tidy, pristinely landscaped Yellowstone Grizzly RV Park, with its orderly grid of well-kept campsites was a welcome mid-trip oasis. We loved the town of West Yellowstone itself, too: compact and walkable and offering a surprising number of attractions in its own right.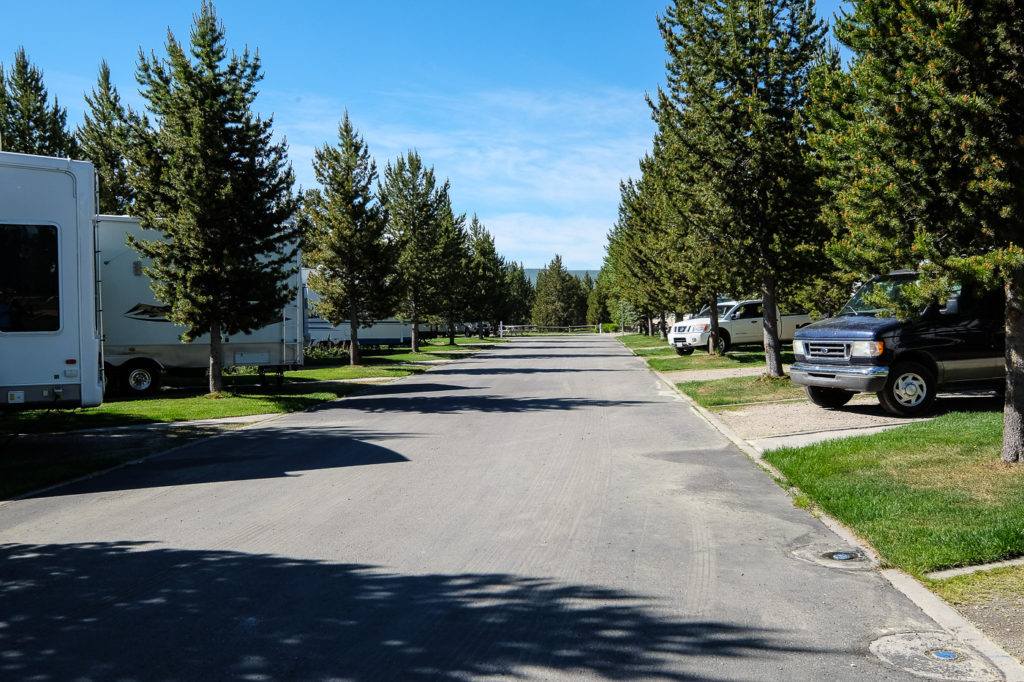 Booking and Arrival:
I knew that Grizzly RV fills up fast, so I first e-mailed (filled out their online form) asking about reservations in late spring of 2016, more than a year before our trip. Apparently there's no need to be quite that cautious, though, and they let me know that they start taking reservations for the next season in October. So that's when we booked, and that was plenty far in advance….but definitely do book as far in advance as you can. When we started having second thoughts about Fishing Bridge a couple of months in advance of our trip, we contacted Grizzly RV to see if we could add a couple of nights, and there was nothing left (we also called right before to check for cancellations, and, again, no go).
We booked using the online form, and they were great about getting back to us quickly. We also talked to them on the phone a couple of times in advance of our arrival, and that always went well, too. Sites range from $69-83, and they don't charge for extra people until the 7th person, which is a big deal for us.  All sites are full hook up, and they offer a 10% discount with Good Sam, AAA, to the military, and a couple of others.
West Yellowstone is a big grid with wide streets, so getting to the park was no trouble, and, as with everything, they're very organized about check-in, with several lanes available to park in while you go inside and while you pose with the grizzly bear: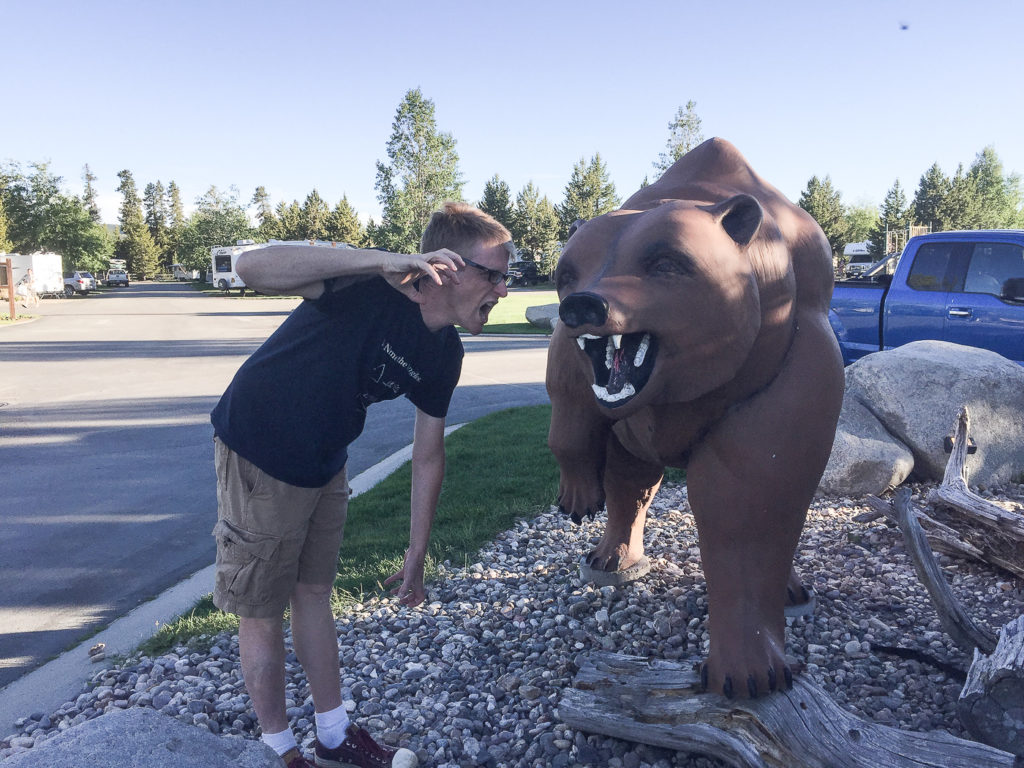 Campsites:
There are several types of sites to choose from: pull-throughs and premium pull-throughs, back-ins and premium back-ins, plus cabins. We tried to book a regular back-in but were told that those aren't recommended for trailers over 25 feet (it says that on one place on the website and not on another that describes the sites). The premium back-ins are the same price as the regular pull-throughs, so we just got one of those.
We were very happy with our site, which was close to the front of the campground and near the store and playground.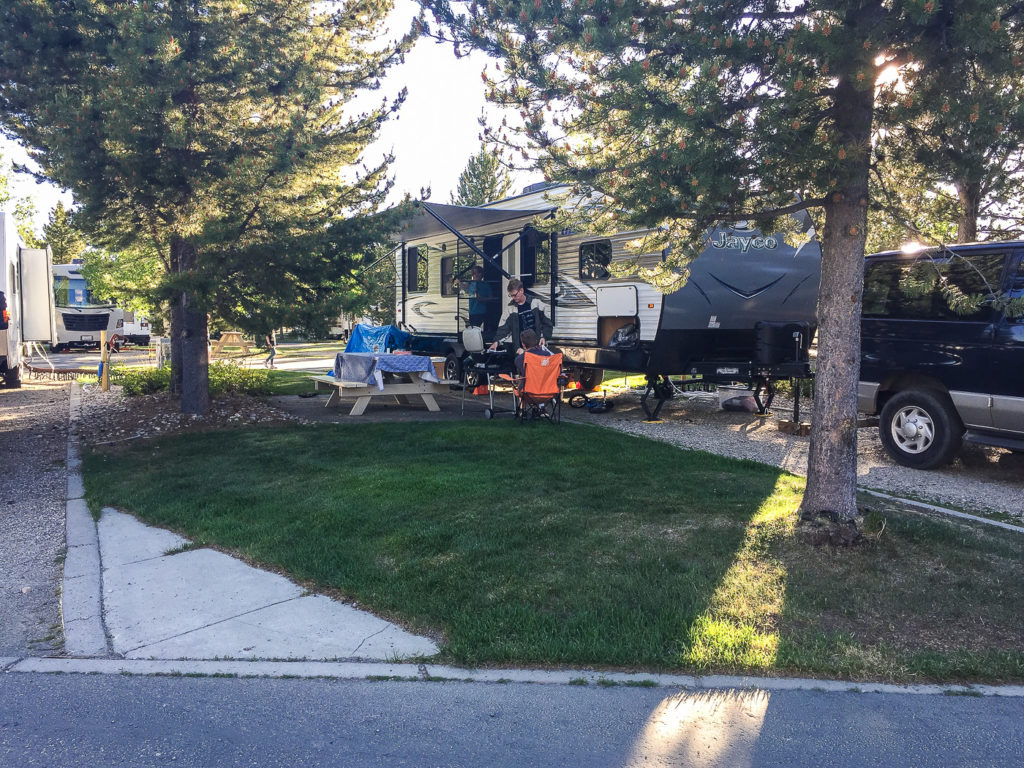 All the sites are very similar, from what we saw (it looks like extra length is the main thing the premium sites have going for them), so it's more about location. The back in sites are around the perimeter of the campground and seem to mostly back up to empty woods, so those would be a good choice if you want to feel a little more remote. But, as you can see, there's pretty decent separation between all of the sites,  nice landscaping, and they all have picnic tables. No campfires allowed here.
Amenities and Activities:
If you're staying here, you're staying here to see Yellowstone, so you're not going to find a bunch of planned activities or really a whole lot to do at the campground itself (there's no pool, for example). But they do a great job of providing everything you need to stay comfortable while you're here. Clean and well-equipped laundry and bathhouses, a large, well-stocked store (with free coffee, tea, and hot chocolate!), a clubhouse: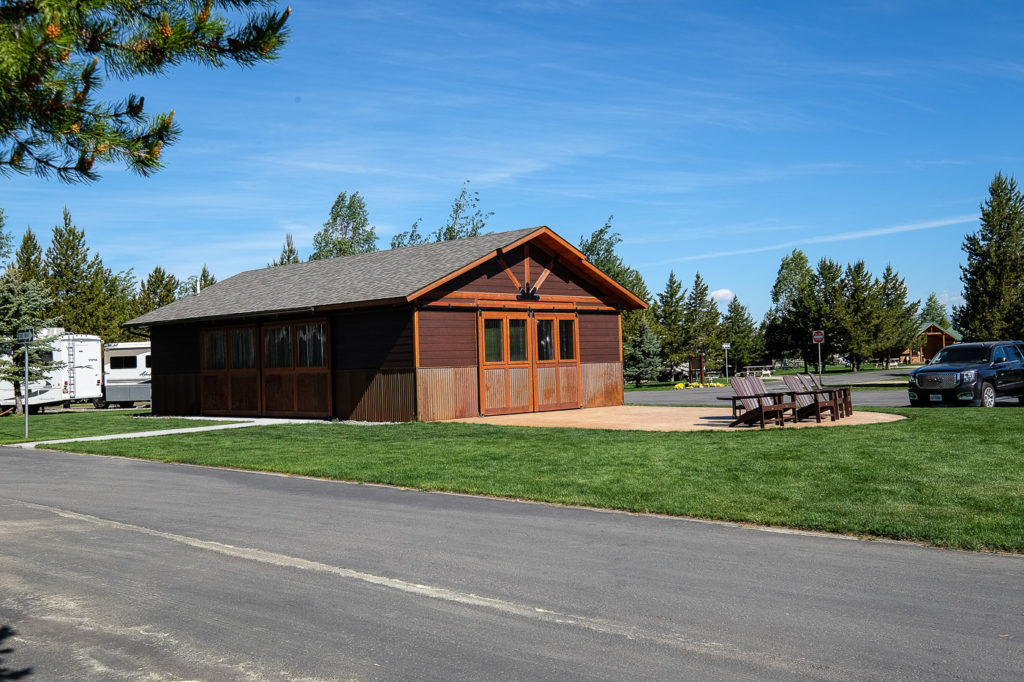 and a small playground: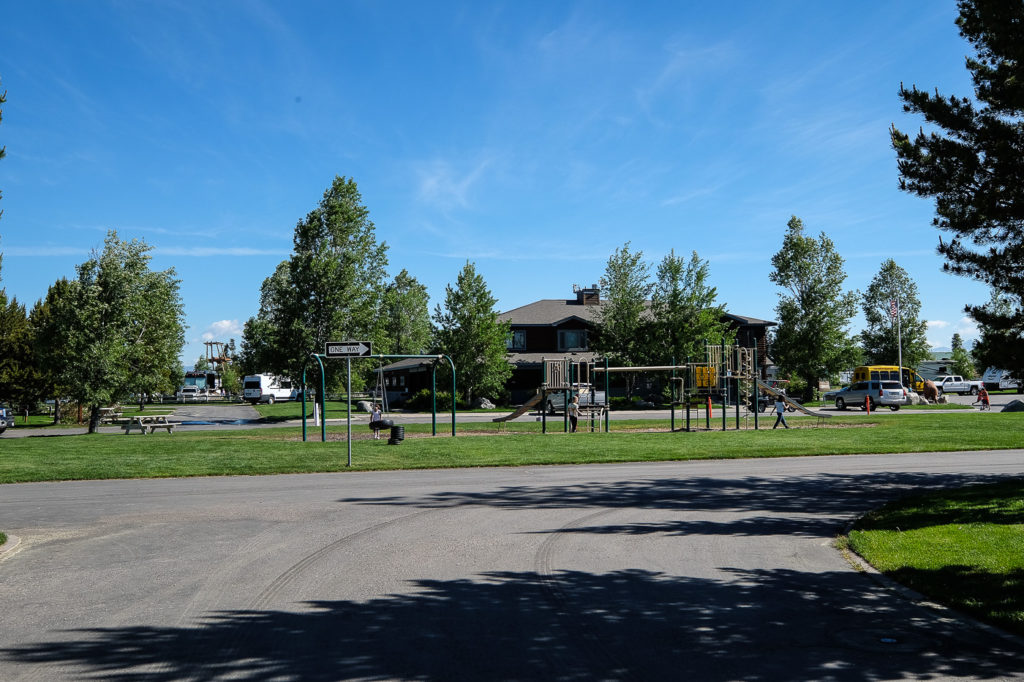 Local area:
One of the biggest "amenities" Grizzly RV has going for it is its location. It's just outside of Yellowstone's west entrance, and it's within easy walking distance of most of what you're going to want to see in West Yellowstone.
For example, maybe one day you need to take your feverish 4 year old to the doctor because he had a tick bite back in St. Louis and you don't mess around with possible Lyme disease–you'll be very glad that the only doctor's office within 30 miles or so happens to be a five minute walk from the campground:
In case you DO need medical help while you're in West Yellowstone, we couldn't have been happier with them. It was open hours, so we had a LONG wait, but the woman we saw was very helpful and understanding and knowledgable, and sent us on our way with antibiotics and a great sense of relief.
But probably you'd rather do different things in West Yellowstone. There are tons of gift shops, and we did a lot of our souvenir shopping here. One shop makes custom t-shirts while you wait, and we got Abe a Yellowstone shirt there….with playful bear cubs!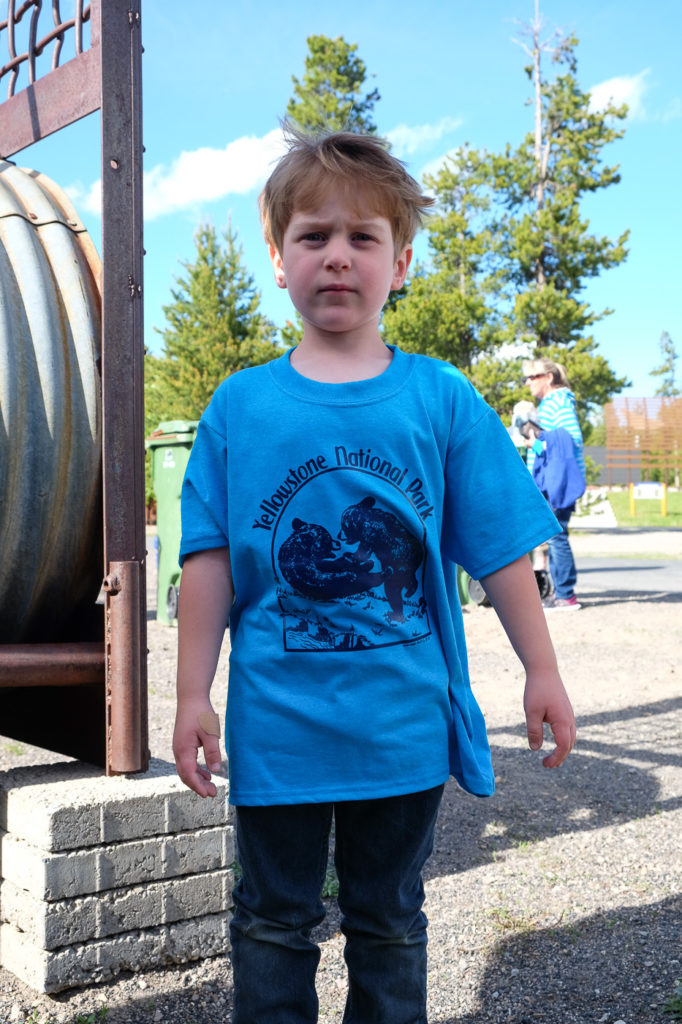 There are a number of restaurants in West Yellowstone; we sampled the, umm, Dairy Queen, an ice cream place, and Las Palmitas, aka The Taco Bus. Dave and the big kids highly recommend the Taco Bus. Abe and I went to Dairy Queen.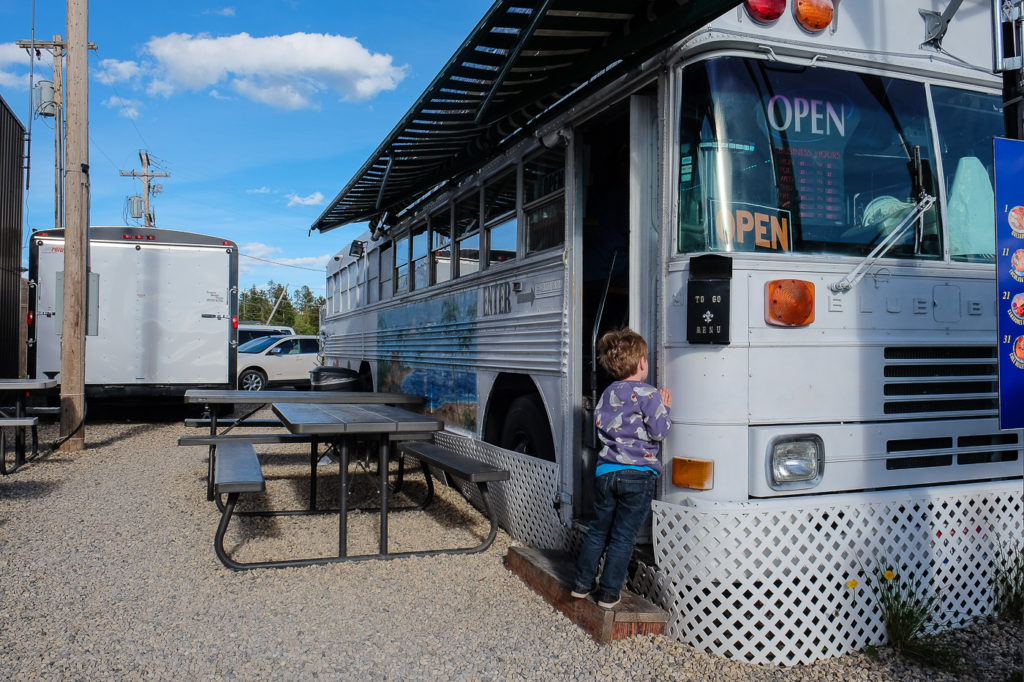 There's also the West Yellowstone Historic Center, and Imax theater, and the Grizzly and Wolf Discovery Center.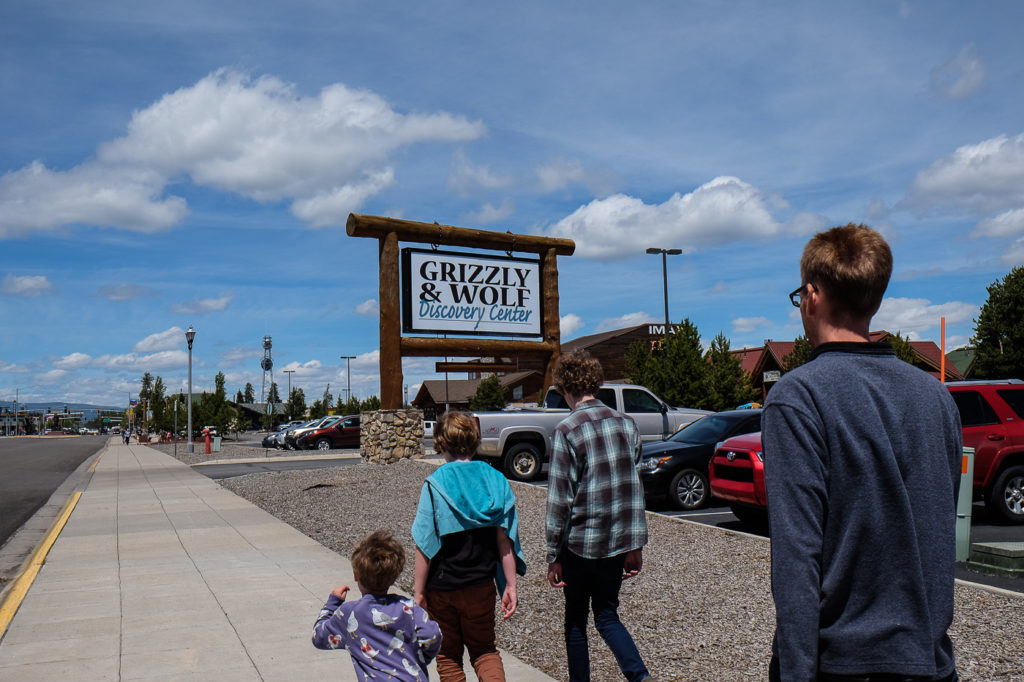 We spent a few hours at the Grizzly and Wolf Discovery Center on our check in day. It's a quick walk from the RV park and a nice way to spend an afternoon when you're all National Parked out and need a break from crowds and driving. The Discovery Center is an AZA accredited, not for profit center that houses unreleasable wolves, grizzly bears, and birds of prey. Admission is $13 for adults, $8.00 for kids 5-12, and free for 4 and under; it's good for 2 consecutive days (which is a great perk, but I would love it if it were for, say, any two days in a seven day period or something instead. That second consecutive day is why we got a late start and didn't get to see Norris Geyser Basin!)
I really loved this place; it's fabulous to be able to get so close to the grizzlies and wolves the you're lucky to catch a distant glimpse of inside the park. The whole place is very clean and well run, and they offer a full schedule of educational programs so that there's lots more to do than just wander around gawking at bears and wolves.
Not that there's anything wrong with gawking at wolves and bears: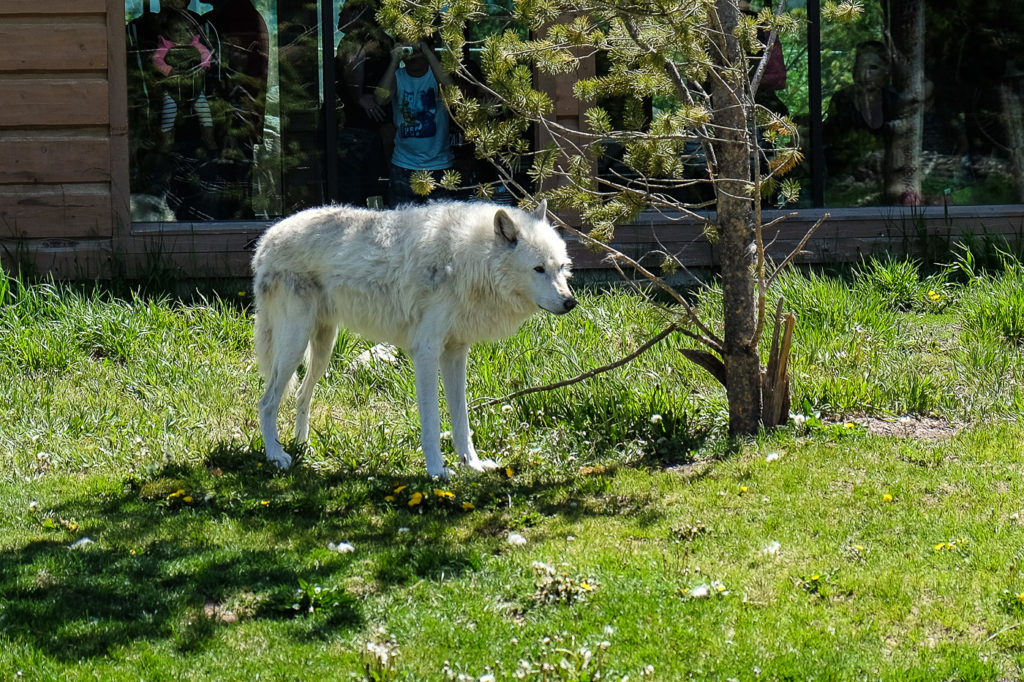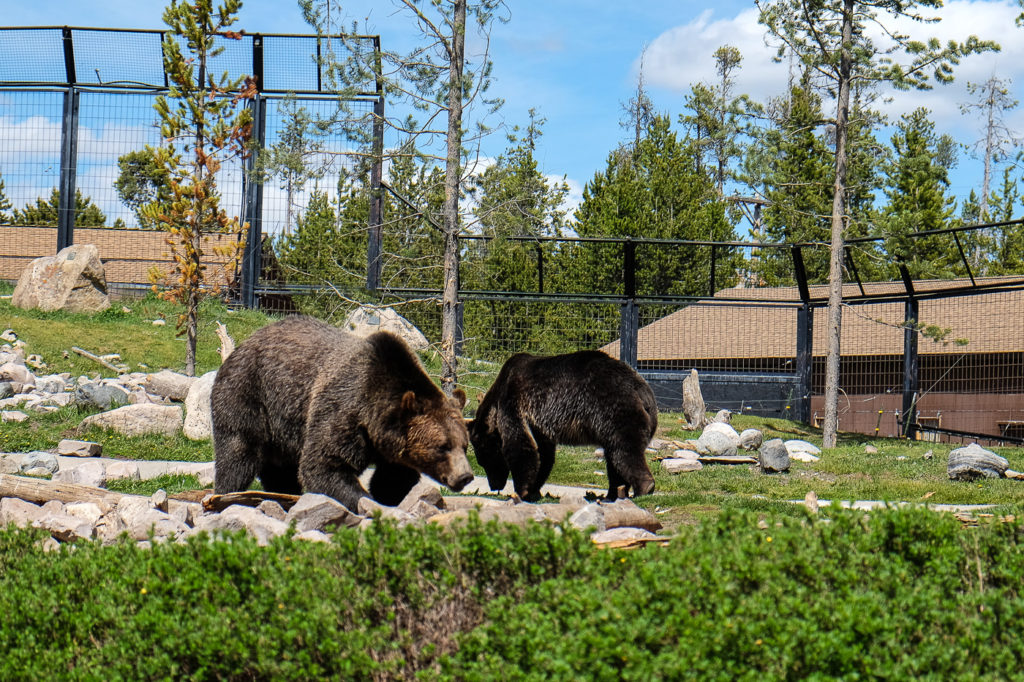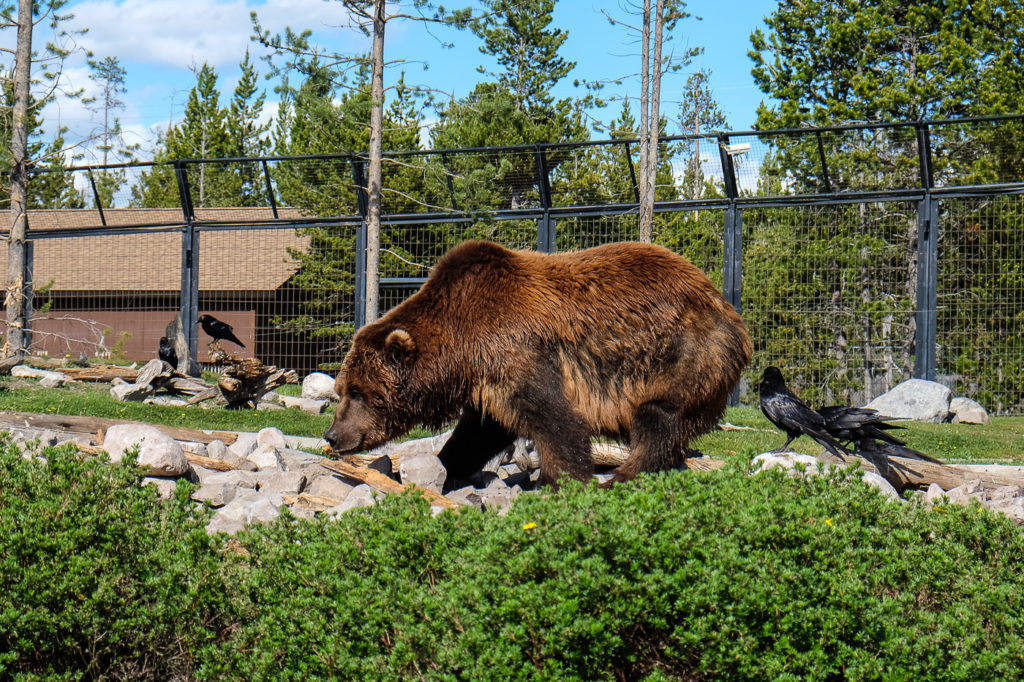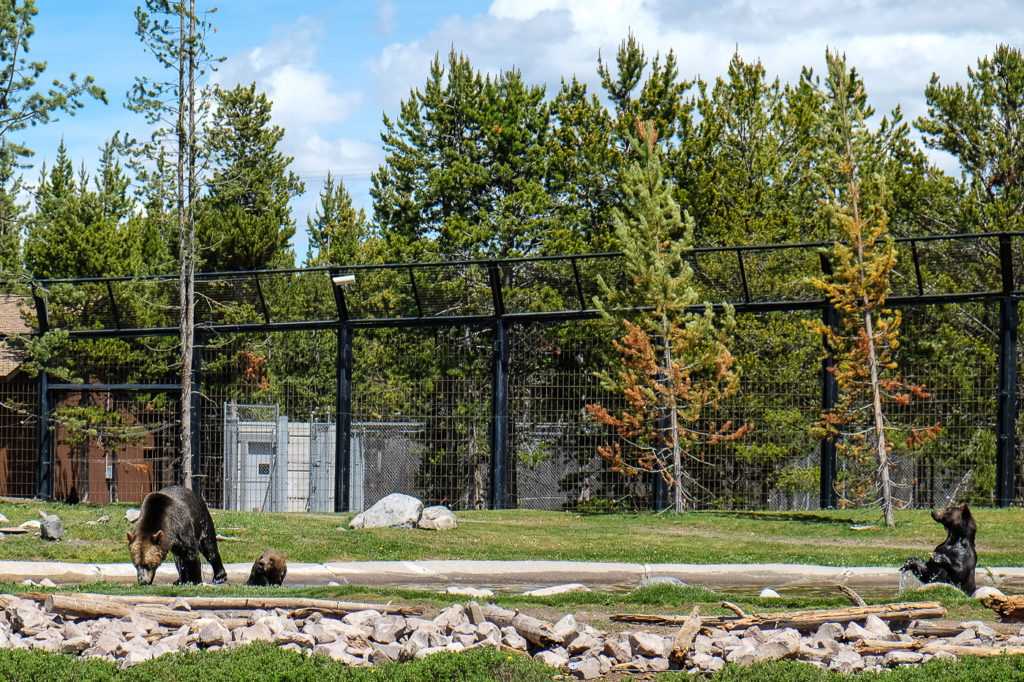 There are ravens EVERYWHERE in the bear enclosure.
We saw the Wolf Pack Chat and Enrichment program, where the keepers put some new things in the wolf enclosure for them to find. Unfortunately, the wolves weren't interested on this particular day, so we didn't get to see them do anything exciting…but we learned a lot about wolves from the keeper who was doing the presentation anyway.
They have a very popular program for kids 5-12 called Keeper Kids, where the kids get to learn all about grizzlies and then go into their (empty!) enclosure to hide food for them to find. It costs $5/kid and often fills up well in advance (you can only sign up the day of the program at the center). Gus was our only kid who was the right age for it. They have a free program for teens, but it just involves getting the food ready for the Keeper Kids and doesn't really sound as exciting. And there's no wiggle room on the five year old age limit; we asked. Gus is never very excited about doing things that his big brothers are too old for, but I was very into the idea of the program and it was only $5, so I talked him into it. Turns out Gus was right, and he was a little old for this….at least a little old to do it on his own; he probably would have liked it fine if his brothers had been there, too. Also, it lasts a really long time, because there's a long part at the beginning where they talk about bears before they turn you loose with bear food. I think Abe would have loved it, on the other hand.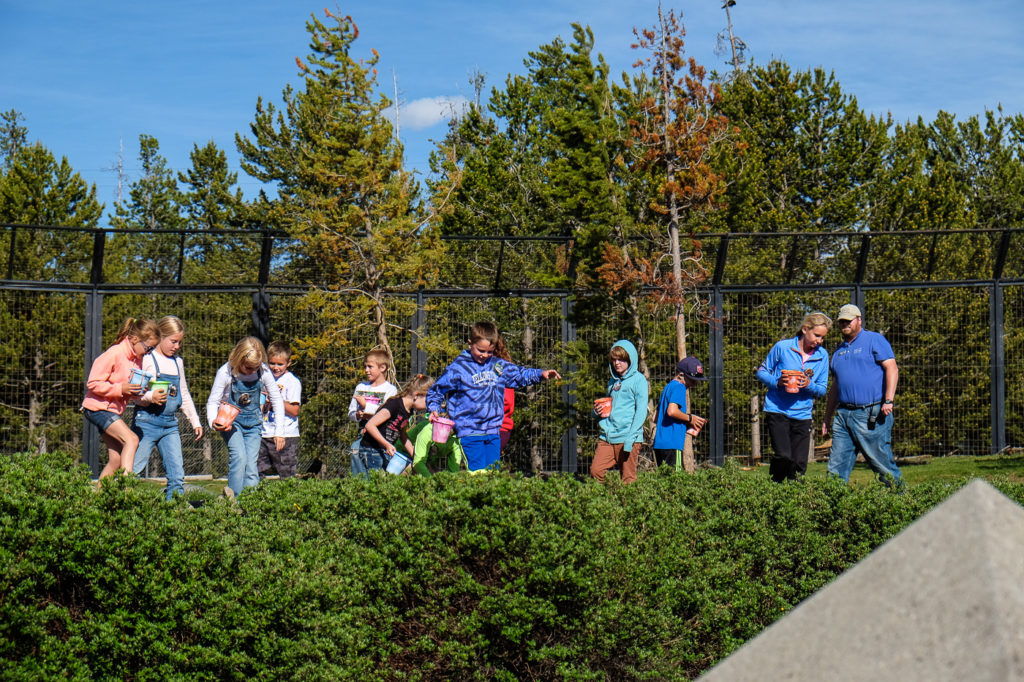 In addition the actual animals, there are indoor exhibits all about bears and wolves and outdoor exhibits about bear safety.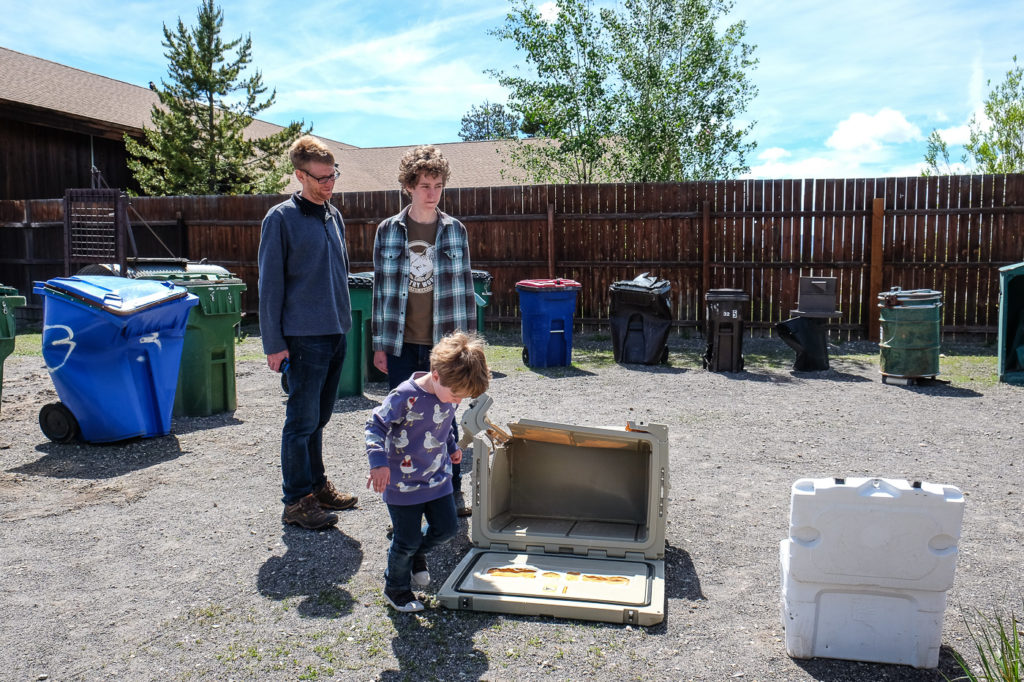 We used our bonus second day to come back and see a presentation about Karelian Bear Dogs and meet the center's own dog, Nakiska. These dogs are used to chase bears out of residential areas, because they are badasses, but Nakiska is very chill when she's doing presentations. You can pet her and and everything.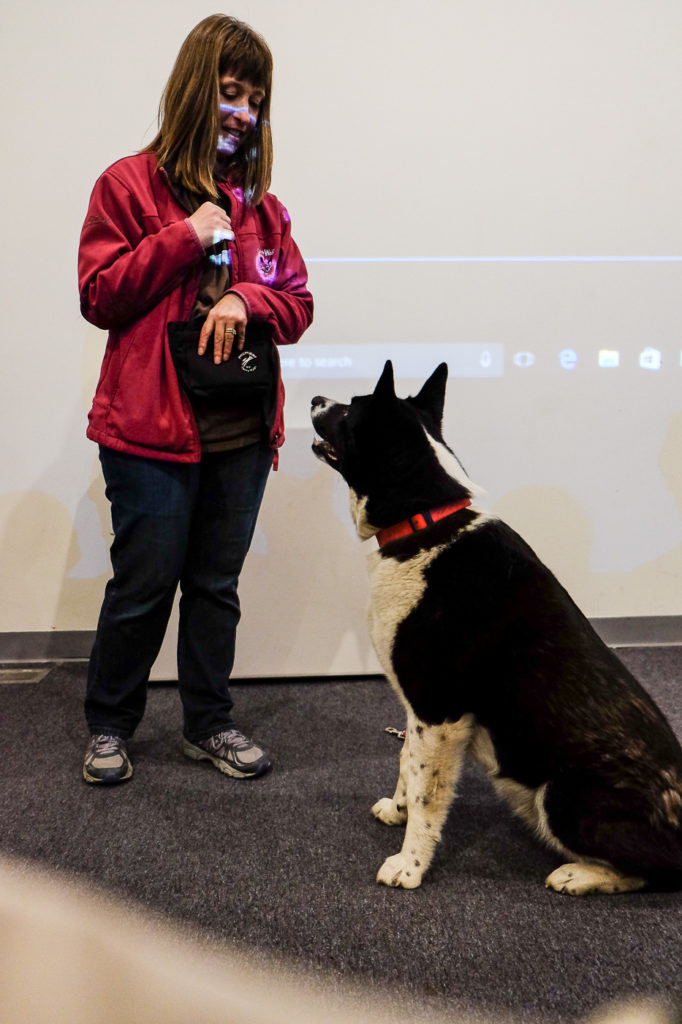 So to sum up–Grizzly RV Park=highly recommended! Karelian bear dogs=nice dogs!
maybe you would like to pin this?