travel dates: June 13-15, 2017
Our trip from Devil's Tower to Cody was fraught with drama. First we had to drive over the Bighorn Mountains, which I'd started worrying about probably a full year before our trip. This went fine. (I talk more about it in my short recap of that part of the trip).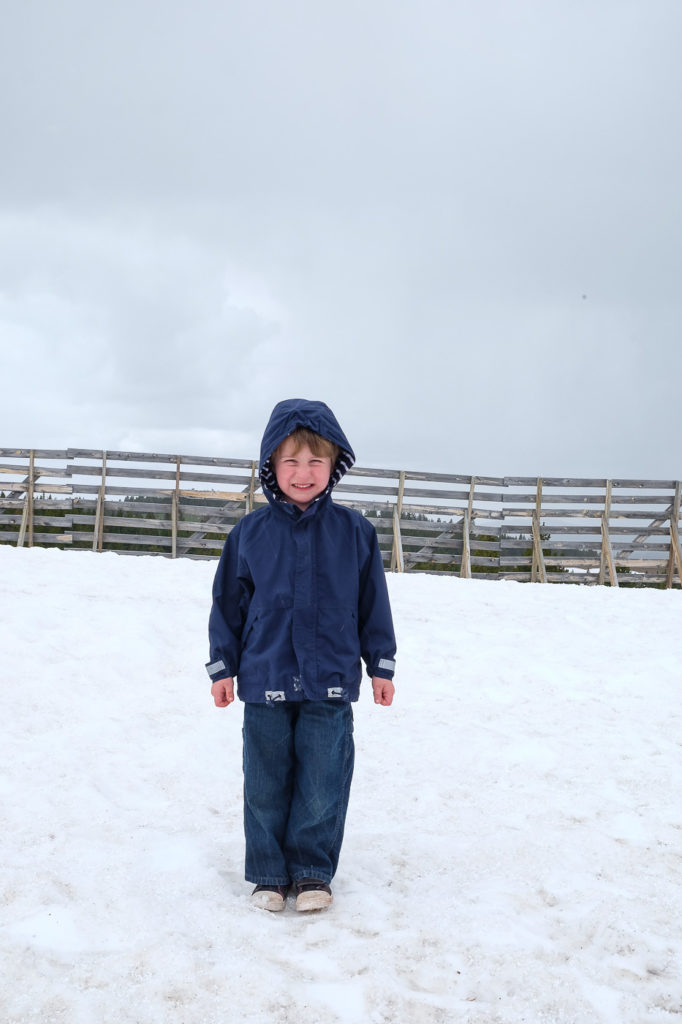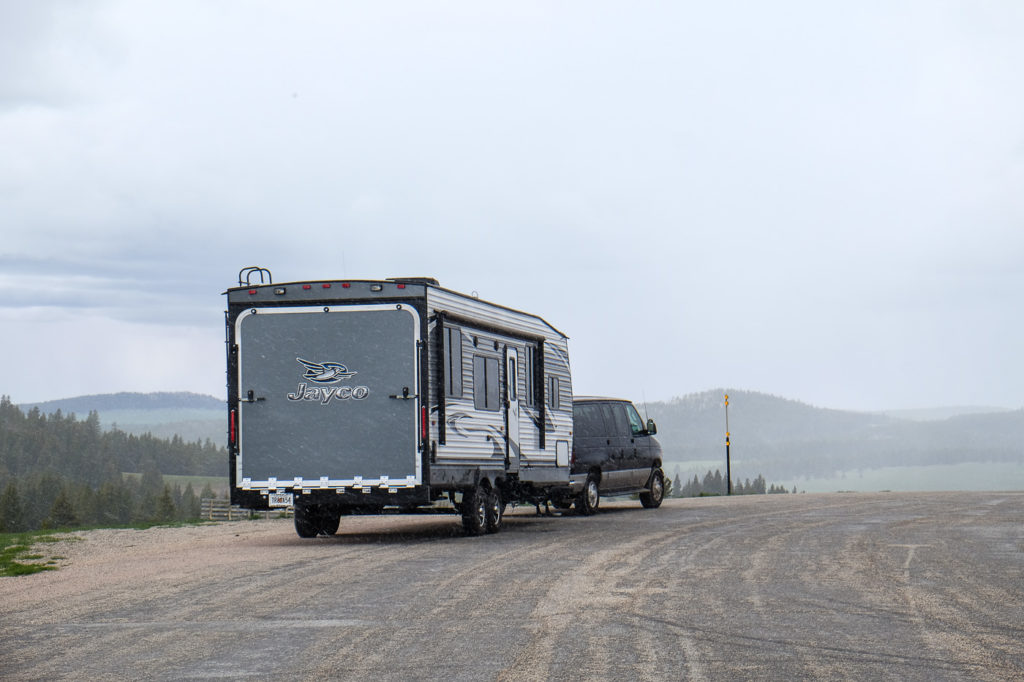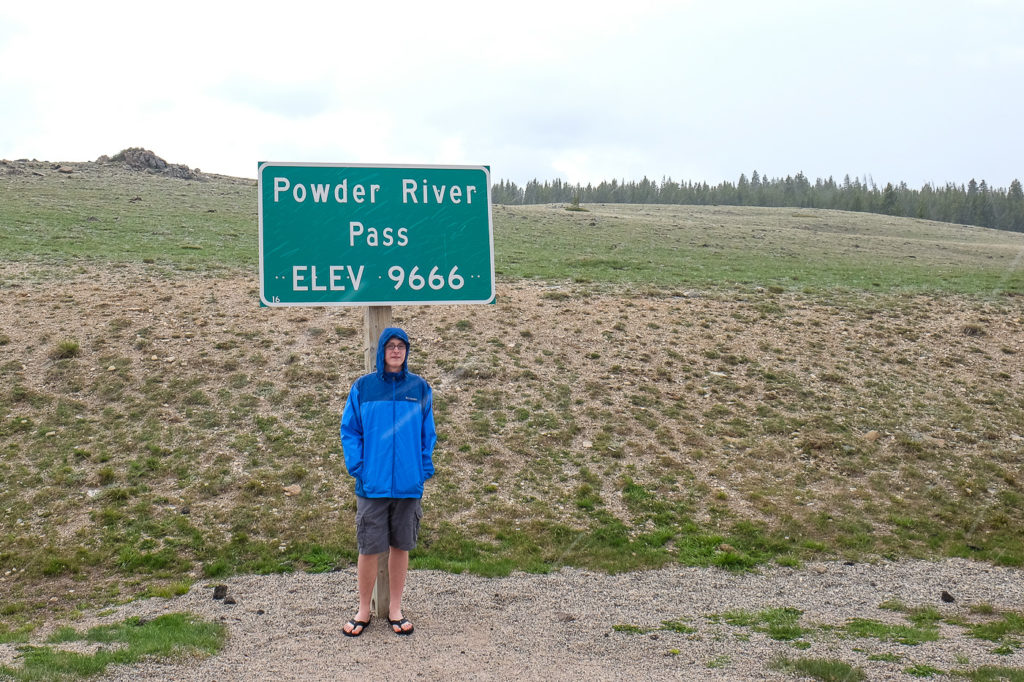 Then we got a call from Buffalo Bill State Park telling us that there was a problem with the water main and our water/electric site was actually just going to be electric. This was not a huge deal since it was just a two night stay, but it did mean that we needed to drive several miles past our campground to the other campground in the park so that we could fill up our freshwater tank.
Which wasn't a huge deal either, except that by the time we got to Cody the wind was unbelievably strong and driving a few extra miles in it was not really much fun. And standing outside in it at the dump station filling up our tank. We were amazed by how windy it was, and we wondered aloud to a guy working at the campground if this was normal. It was not, he told us. Wind is normal in Cody, but this particular wind, he said, was extra annoying.
But! Then we got to our campsite, and it was all worth it: a huge campsite with one of the best views we've ever had. We were just sad that we couldn't sit outside and admire it more, lest we be blown into the reservoir.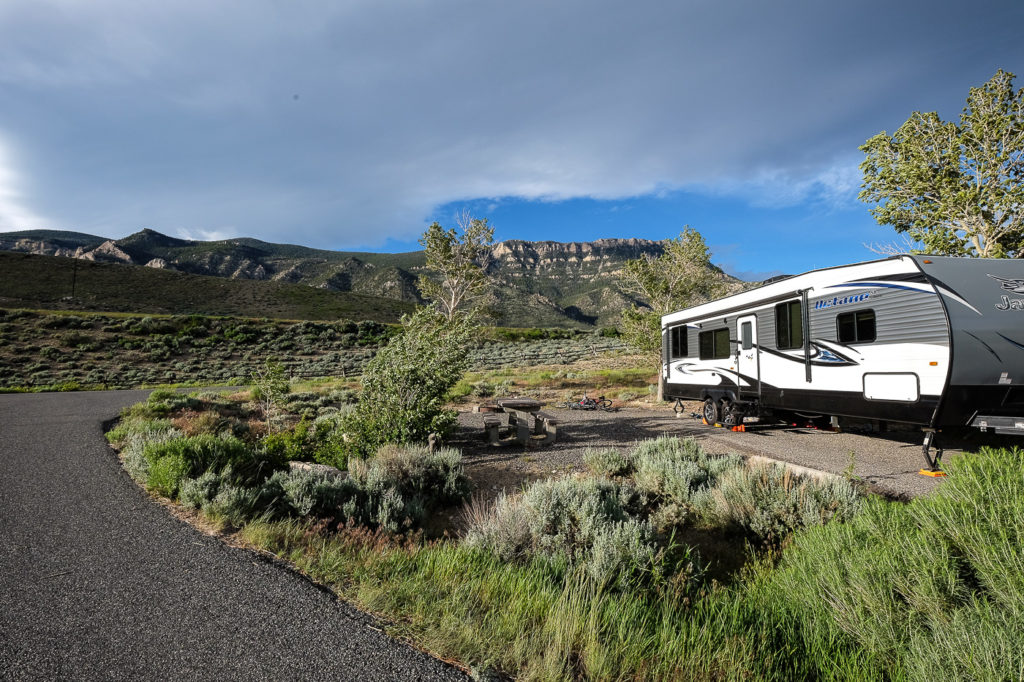 Booking and Arrival
Buffalo Bill is one of a few places on this trip where we were originally planning on a more expensive, private campground and then changed our minds in order to save some money. There are a number of private campgrounds in Cody, but all of them are more than the $22/night (plus an $8 booking fee) that we paid for Buffalo Bill.
I've tried and tried to make sense of the information on the website, but I've failed. The website, for example, tells me that there are no utility hookups at any of the campsites, something I know to be untrue. So I'll just tell you the stuff I'm pretty sure about it. There are two campgrounds in the park: North Fork and North Shore Bay. We stayed at North Shore Bay, which is a few miles closer to Cody and which is the campground right on the reservoir.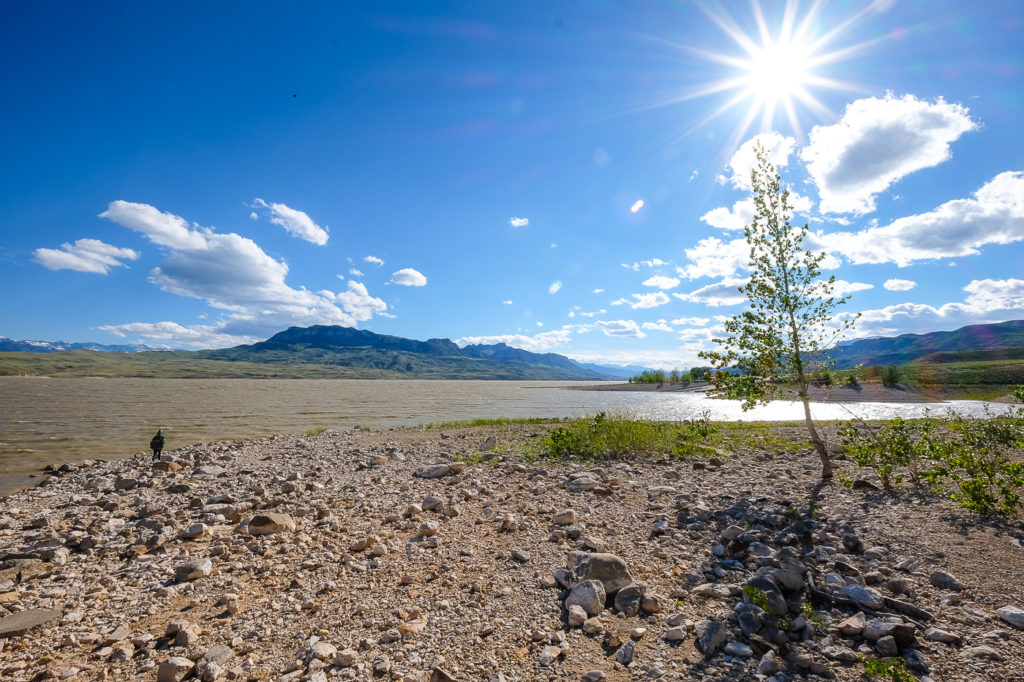 There are three loops in North Shore Bay, and only loop A has water/electric sites; the rest are dry camping. Most of the sites are first come, first served, but there are seven reservable sites in Loop A. We booked several months in advance and got the last of these, Site 1.
Since we were filling up our water, we went to North Fork campground first (it's where the dump station is) and were able to check in at at the manned booth there. There was no one in the booth at North Shore Bay. Worth noting: if there's no one in the booth, there's nothing at the entrance to tell you which site you booked. We had our site number written down somewhere and the person at North Fork also had that information, but someone got there just after us and had no idea which site he had reserved. So make sure you make a note somewhere (that doesn't require internet to find) of your site number.
Campsites
Most of the sites here are pull-throughs (specifically "pull-off" type sites along the sides of the road). In Loop A at least, many of them are not particularly level and might be tricky to get into. Site 1 is one of the few back-ins. It was not particularly tough to get into, but it's on a steep slope, and it was impossible to get all the way level. We got it close enough that it didn't bother us much, though.
Looking at these pictures, the slope doesn't look nearly as dramatic as it seemed to me at the time. Hmm.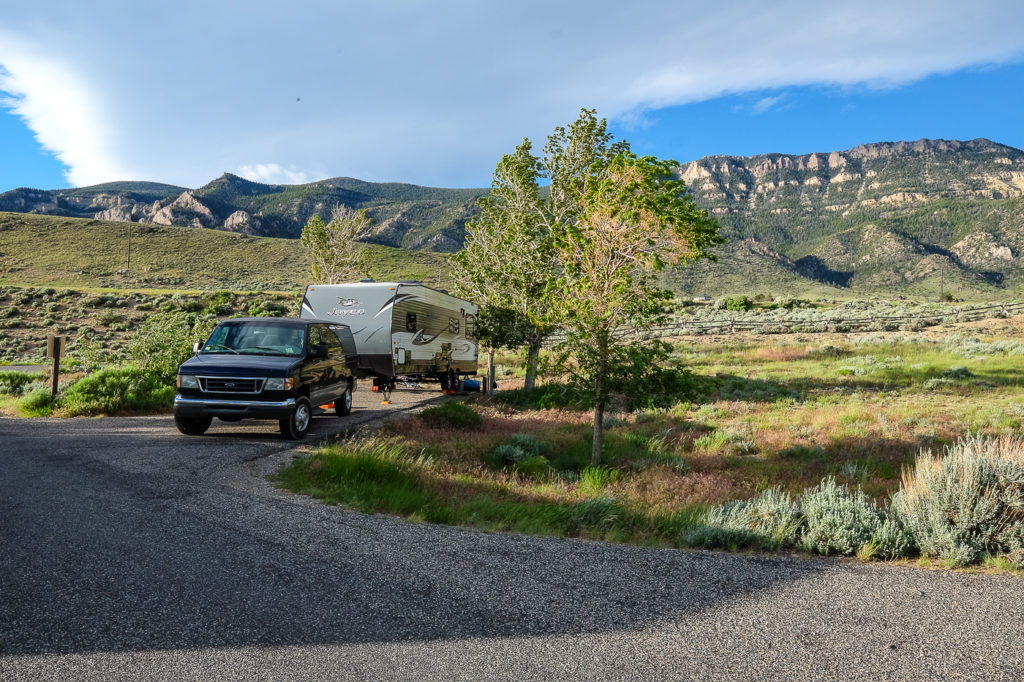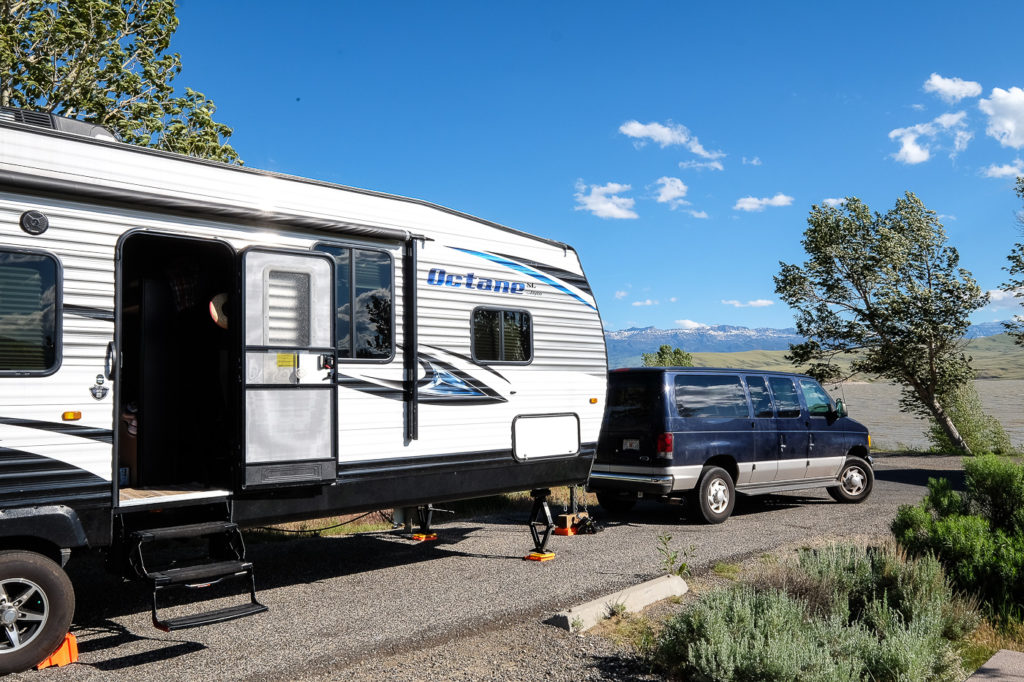 Sites are asphalt with picnic tables and fire rings, and all the sites are very spacious.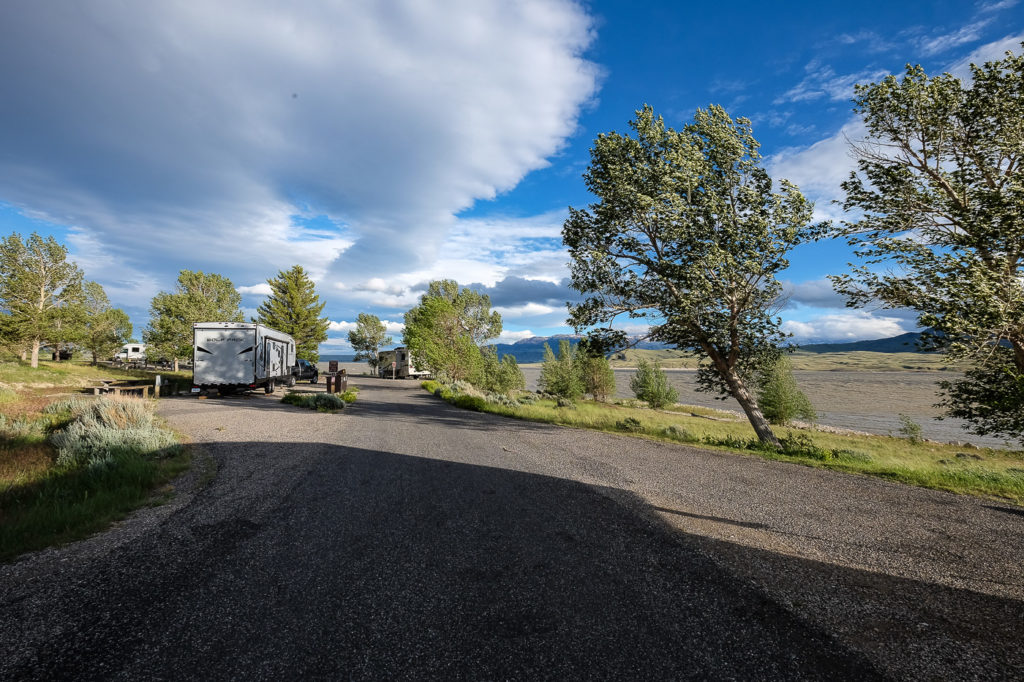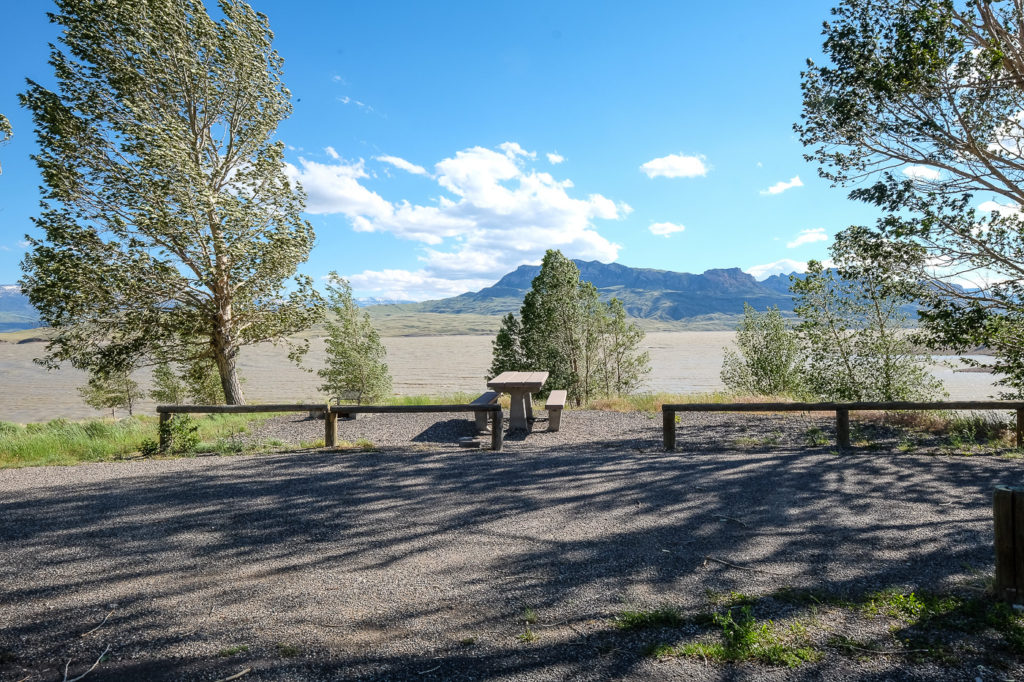 Amenities and Activities:
If you want to get out on the water, you can launch your boat right from the campground. But aside from the reservoir, there's not a whole lot going on in the park or in the campground. There are, in fact, not even showers at North Bay Shore campground; just vault toilets in a couple of spots. This was fine for us for a two night stay, but since there are no sewer hookups, either, it would make a longer stay tricky. There's no camp store or visitors center, and the office is sporadically staffed. This is pretty much just a really pretty place to park your rig for a couple of days.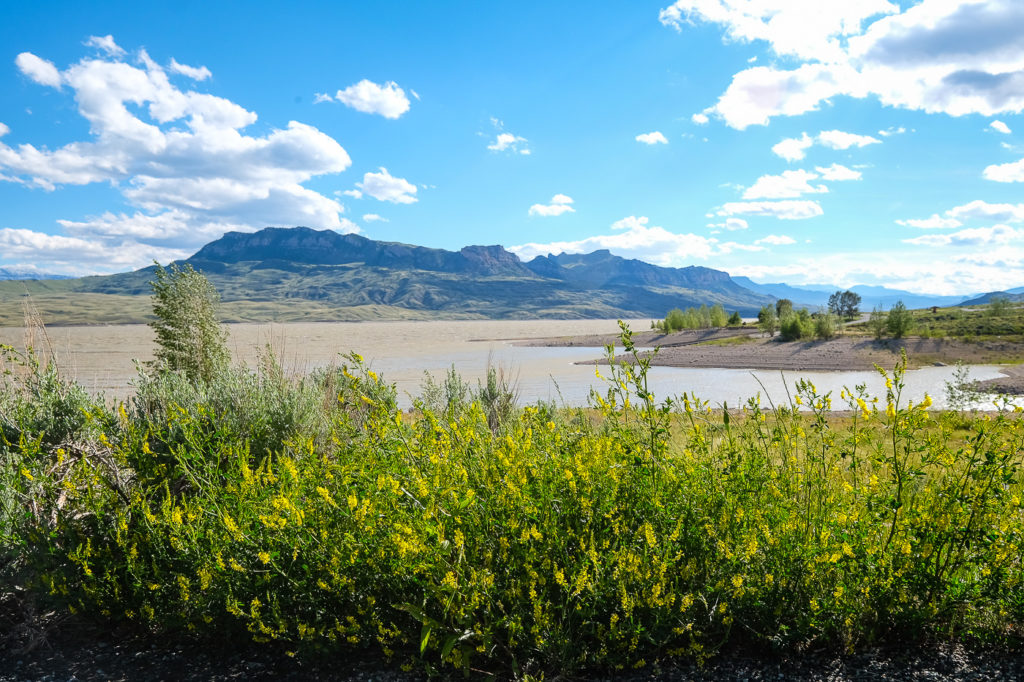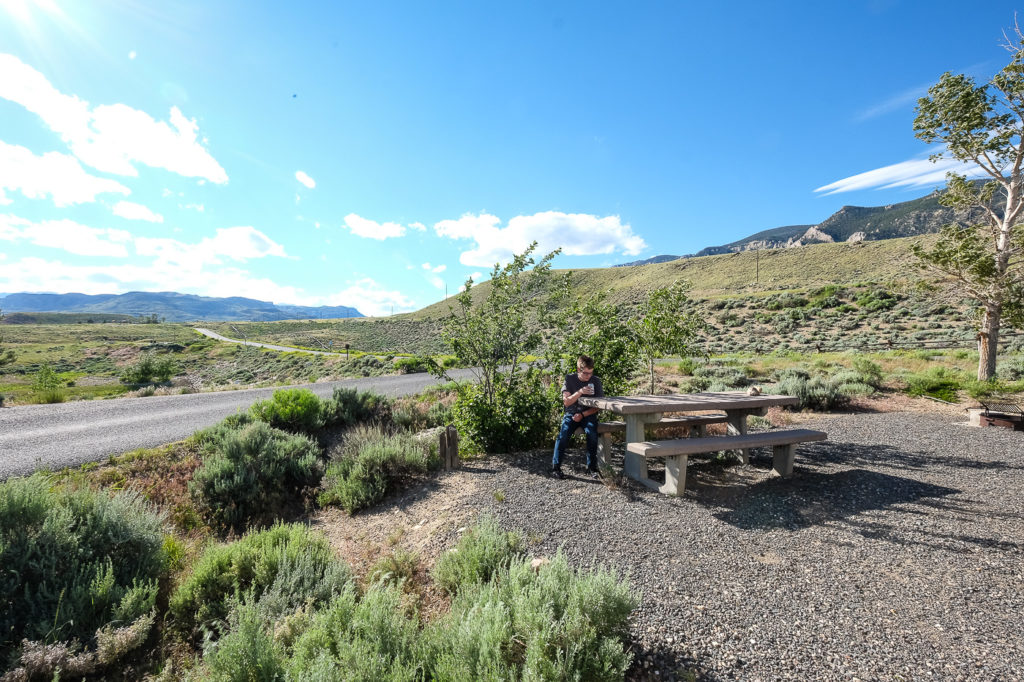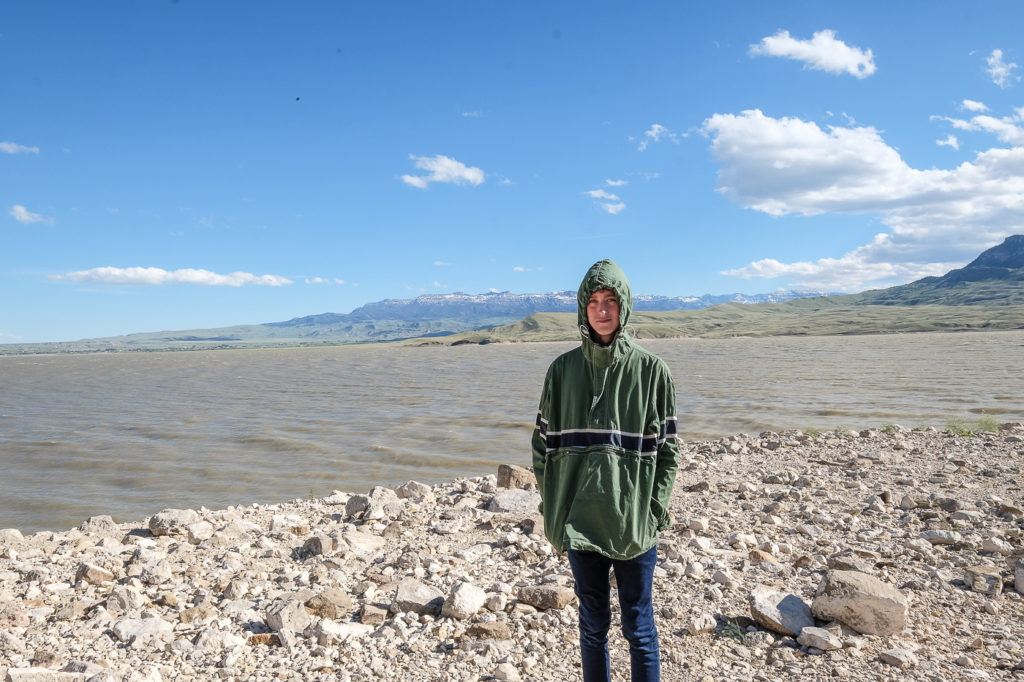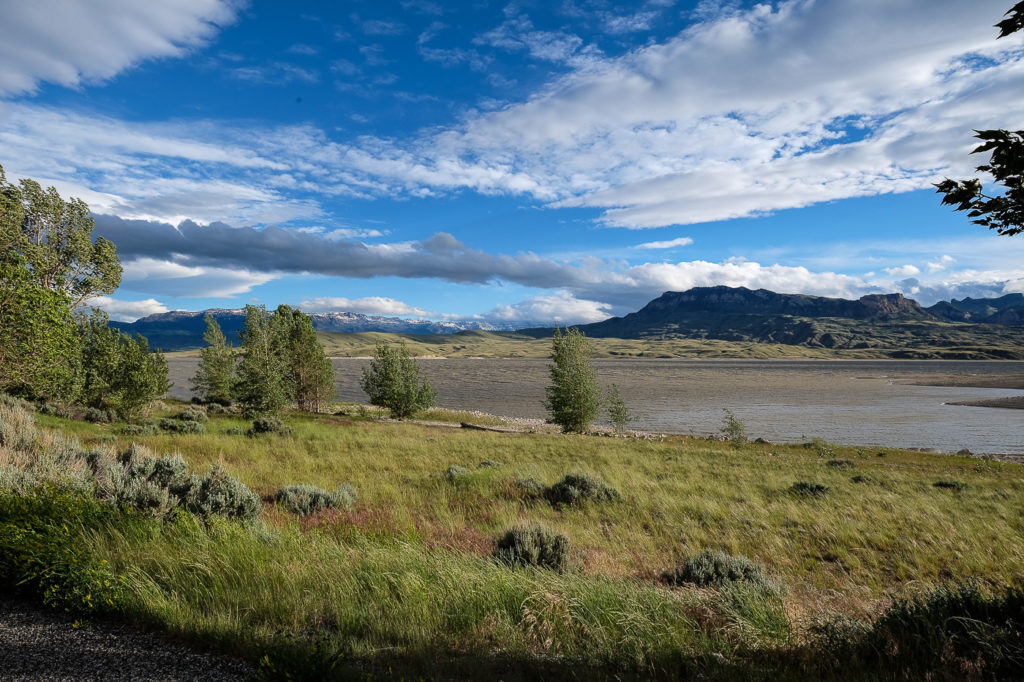 Inside the park, but a short drive from the campground is the Buffalo Bill Dam–the thing that's responsible for the reservoir–and it's well worth a visit.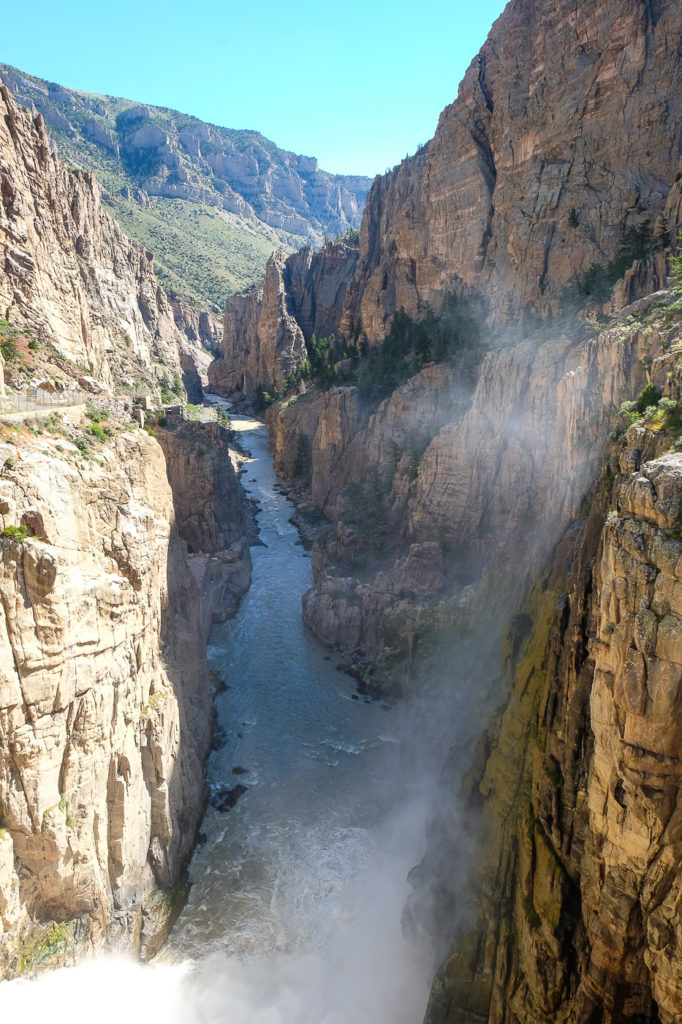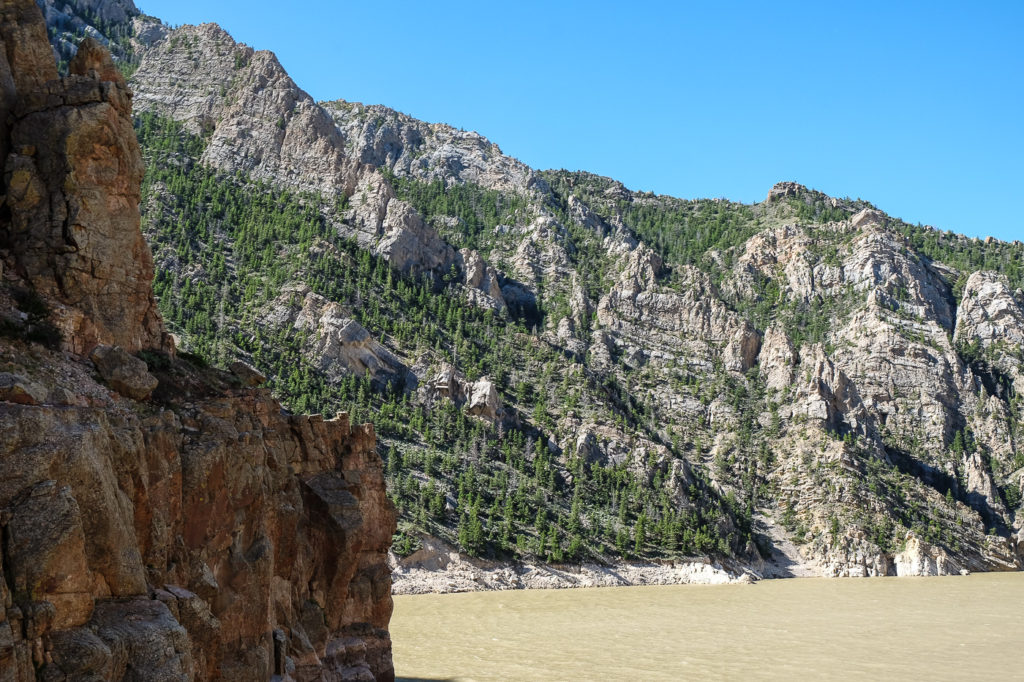 You can take a look at the impressive dam from the bridge across it and check out the small visitor center and gift shop with exhibits about the construction of the dam.
Location
The park is about 40 miles from the east entrance of Yellowstone, so in theory it's reachable in a day trip from here. In practice, though, there are much better options for visiting Yellowstone, and the main reason you'd want to stay at Buffalo Bill is its proximity to Cody. Cody is just nine miles away and a very easy drive. There's not much of anything between downtown Cody and the campground, so make sure you have everything you need before you get here.
And I'll talk about what we did in Cody in my next post!
maybe you would like to pin this?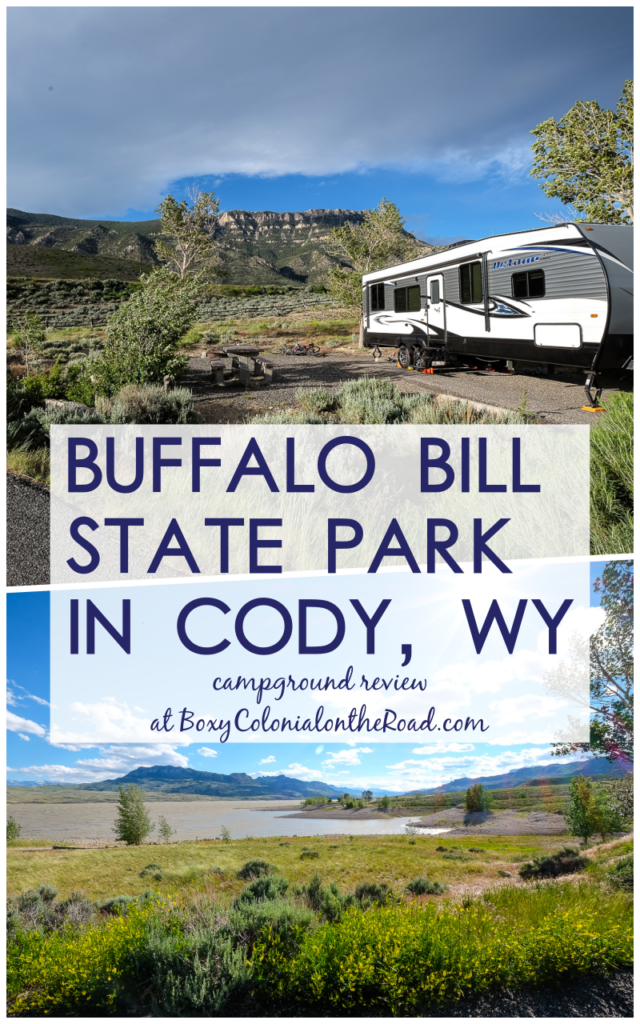 SaveSave
SaveSaveSaveSaveSaveSaveSaveSave