Travel dates: June 12-13, 2017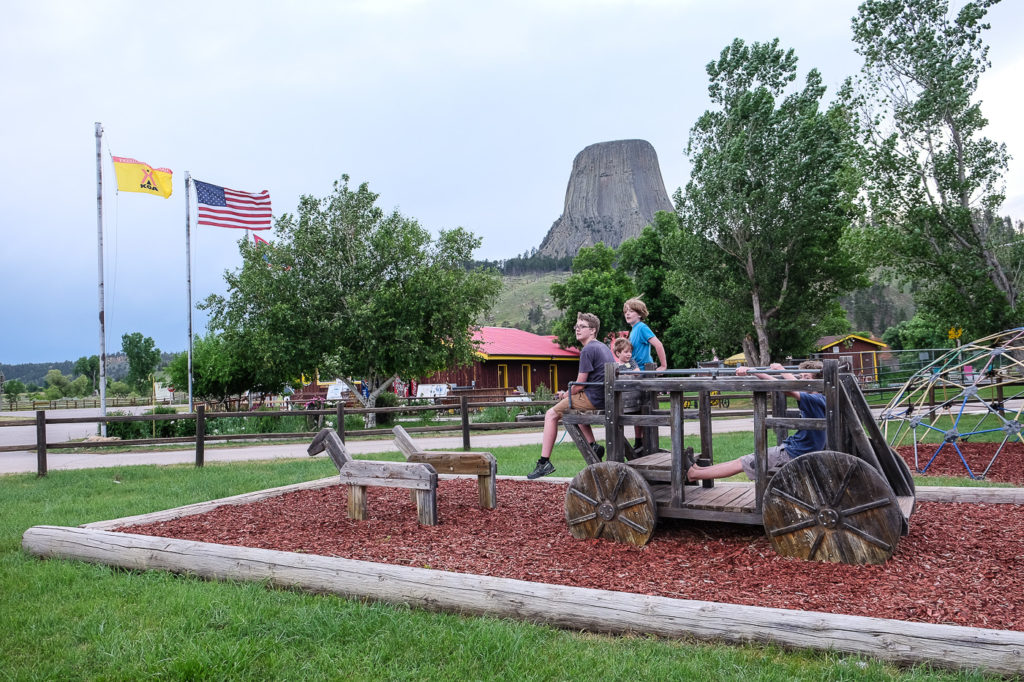 This was one of my favorite moments from our trip: brothers spending the evening hanging out at the campground playground with Devil's Tower in the background. That's a pretty good summer right there.
The main thing the Devil's Tower KOA has going for it is its proximity to the park (it's right outside the gates) and that view. To be fair, it's pretty tough to be anywhere near Devil's Tower and NOT have a great view. It dominates the landscape for miles and miles. You can get a wee bit closer by staying at the campground inside the park, but there are no hookups at that one.
Booking and Arrival: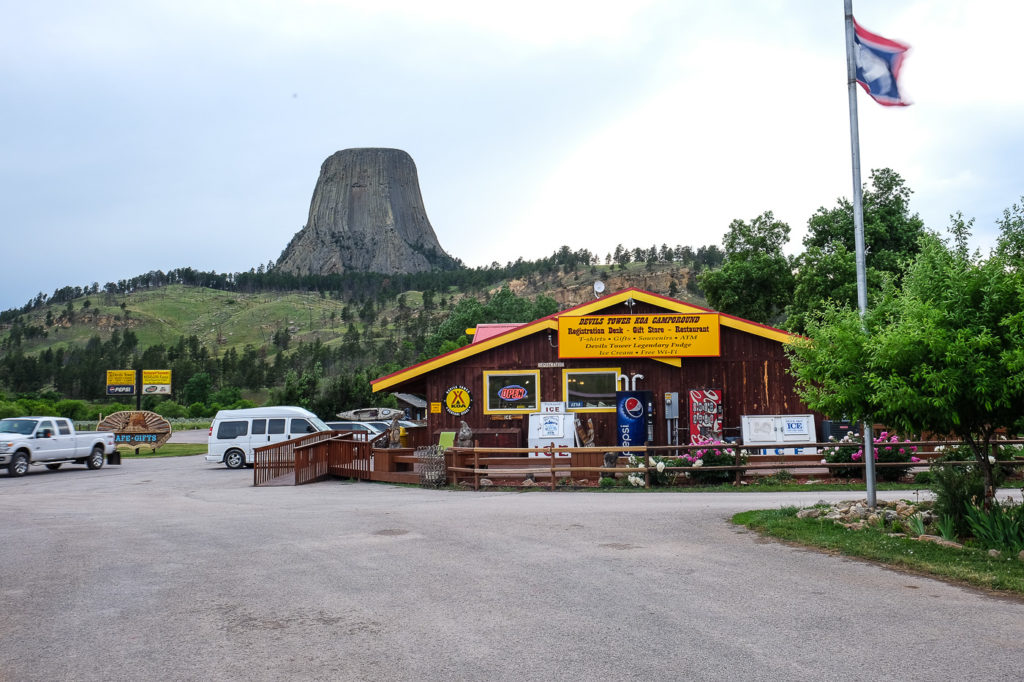 We booked early here because we wanted to make sure to get a site with a great view. And we did! I'll talk more about that in the next section, but if you're going to be here anywhere near peak season, reserve as far in advance as you can; it's one of the only games in town, so it stays pretty busy. We had a fairly short drive on our arrival day, coming from Custer State Park, but there is a good bit of off the interstate driving (much of it with views of the tower).  Even though we were there on a Monday night the first half of June, the campground was pretty packed, and there was often a line to check in. But there's a big area to park in while you wait, and we didn't have any trouble. We paid $75 after our VKR discount (some of that was for having too many kids)….again, you're paying for the location and the relative lack of competition here.
Campsites: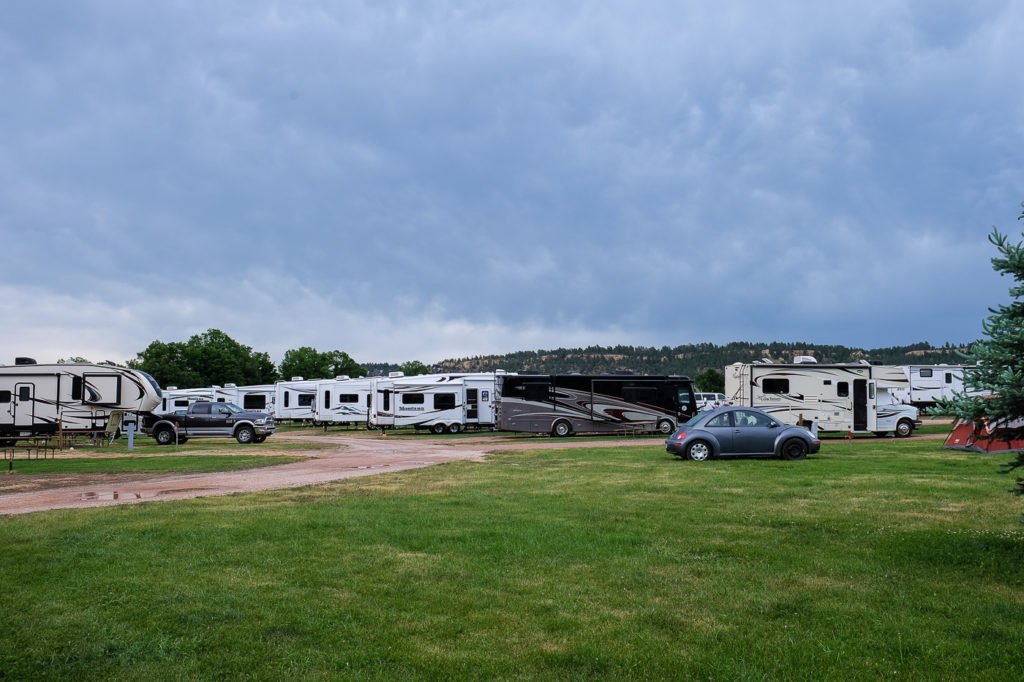 For the most part, this is a fairly typical KOA, with a mix of pull through and back in sites, relatively close together. I believe they were all or mostly gravel sites (and gravel roads). But we were in a row of grassy sites with an unobstructed view of the tower; these are all back in sites.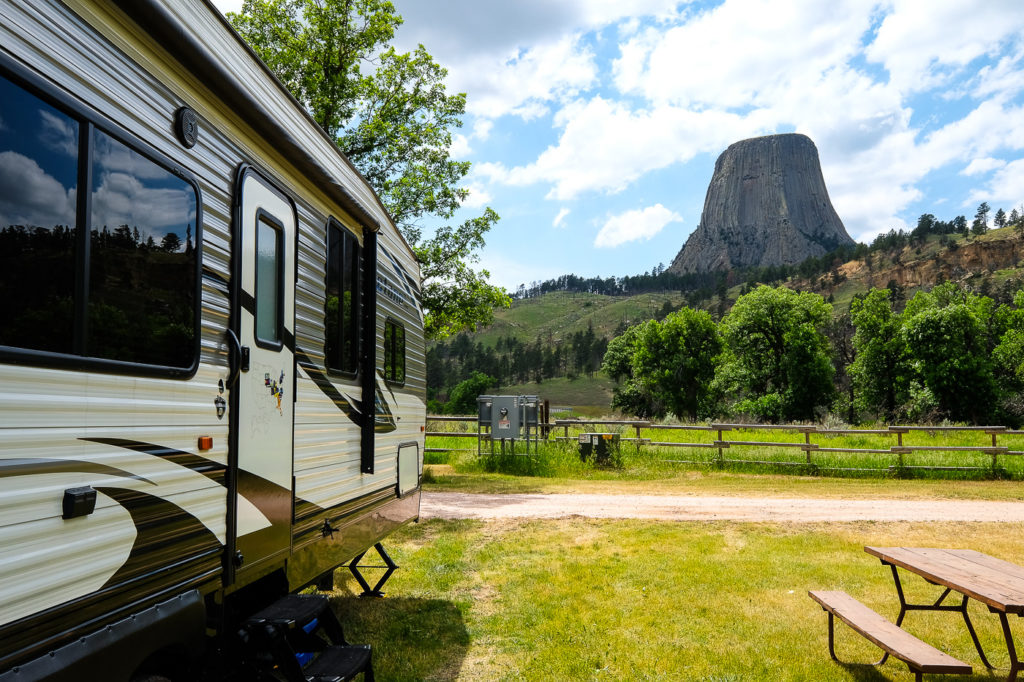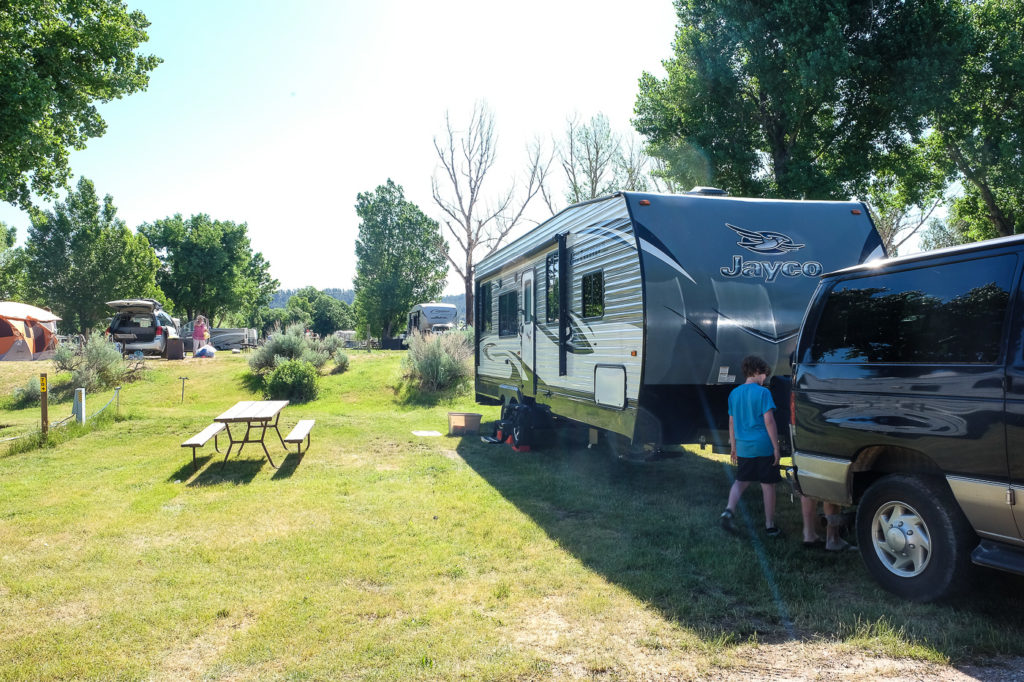 The site itself was very nice and plenty long for our trailer, but we did have a lot of trouble getting backed into it thanks to a very inconveniently placed post next to the road across from the site. I think it was there to get keep people from hitting the electric box you can see in the photo up there. If we had been in the site right next door we would have had no problem (or, you know, if we didn't have such a long trailer). Dave also did not love that the sewer hose had to go uphill. In fact, he decided not to mess with it all since we were just staying one night and to hit the dump station on the way out instead. But then we got a little turned around trying to read the somewhat confusing campground map and going by the dump station was less straightforward than it was supposed to be.
But have I mentioned that view?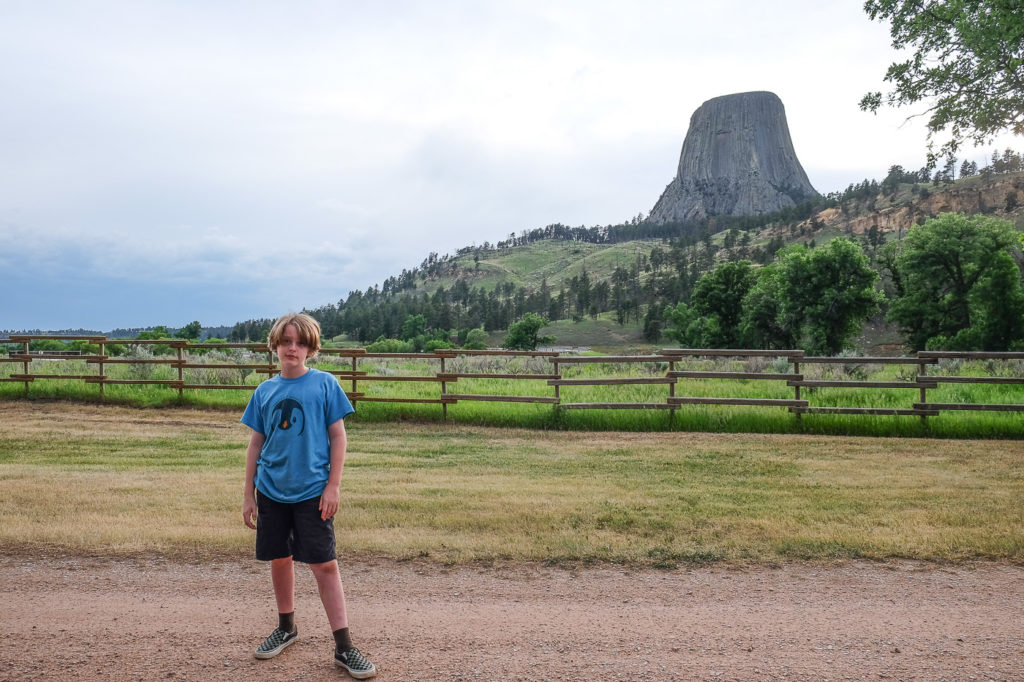 It's worth noting that you'll likely have a view of the tower from anywhere in the campground; it's just that there might be other trailers and whatnot in the way if you don't get the row on the edge.
Amenities and Activities:
I don't remember if anyone used the bathhouse at all, so I can't report on that. Nor on the swimming pool, except to say that they do have one. I can tell you that the camp store is huge and even has a pretty extensive collection of local craft beer (at the expected inflated "you're in the middle of nowhere" prices), plus groceries and camping stuff and lots of souvenirs. They also have a restaurant with a fairly extensive menu (summer only); something else we didn't have time to try.
We did spend quite a bit of time at the playground, which is a sort of odd but appealing mishmash of play equipment from various places and eras: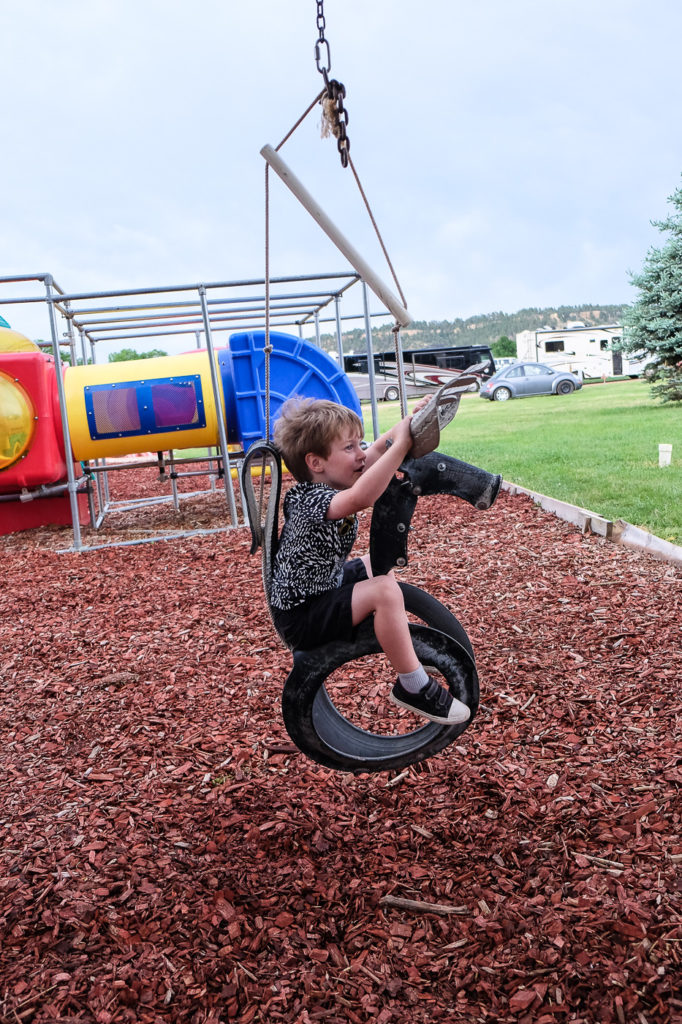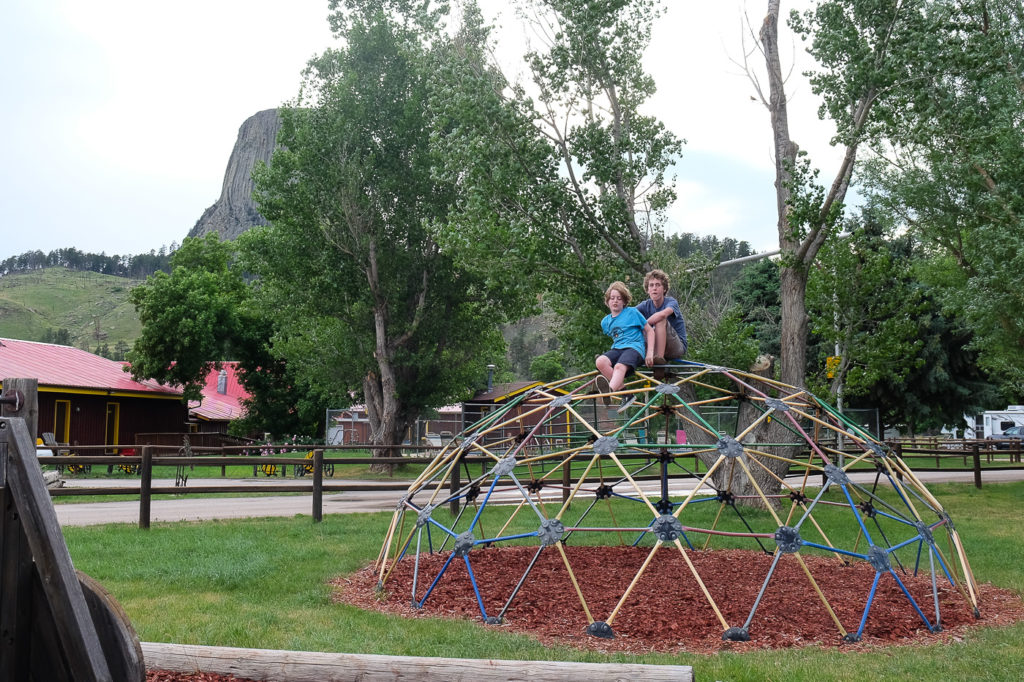 The big activity here is one that happens every single night (in summer, at least): an outdoor screening of the movie Close Encounters of the Third Kind, in which Devil's Tower features prominently. We spent a lot of time obsessing about this before our trip. On one hand, it sounded really cool. On the other hand, we only had one night here; maybe it would be better to do an evening program inside the park and watch the movie at home instead.
In the end, all of our agonizing was for nothing, because it ended up storming the night we were here and we didn't get to do either thing. I think Dave went over for the beginning of the movie, but got rained out in pretty short order. Oh well. At any rate, if you're staying more than one night, watching the movie is a no brainer.
Location:
As I mentioned, you're pretty much in the middle of nowhere here. There is a store across the street from the campground. We didn't make it over there, but word is the wifi is better there than at the campground. And I think there's a small town nearby that you might want to check out if you have time. But if you're here you're almost certainly here to see Devil's Tower….which I'll talk about in the next post!
maybe you would like to pin this?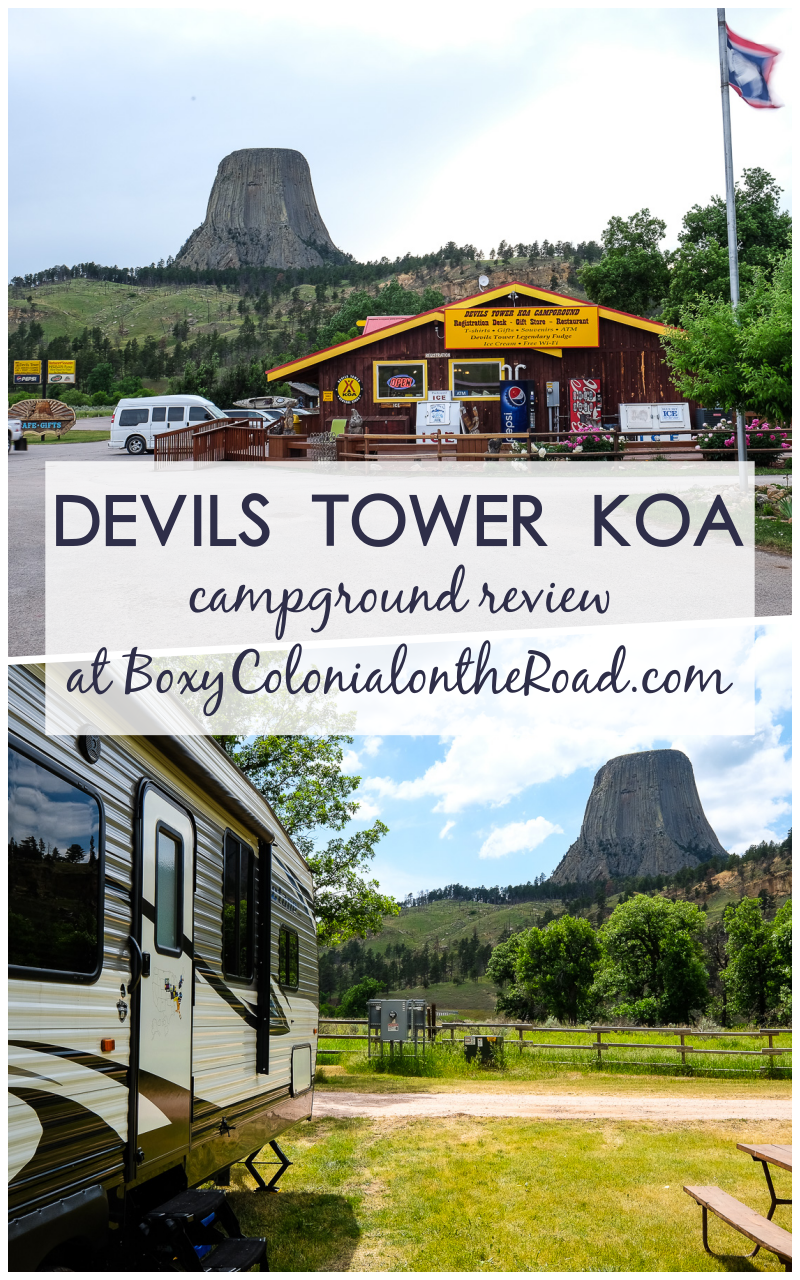 SaveSaveSaveSave
SaveSave