It's 98 degrees in Rapid City, South Dakota. Dave and Abe have found a playground with a splash pad downtown and are hanging out there with all the other reasonable humans in the area. My older children, on the other hand, are dragging me all over downtown, begging for just a couple of more photos posing with Rapid City's famous president statues.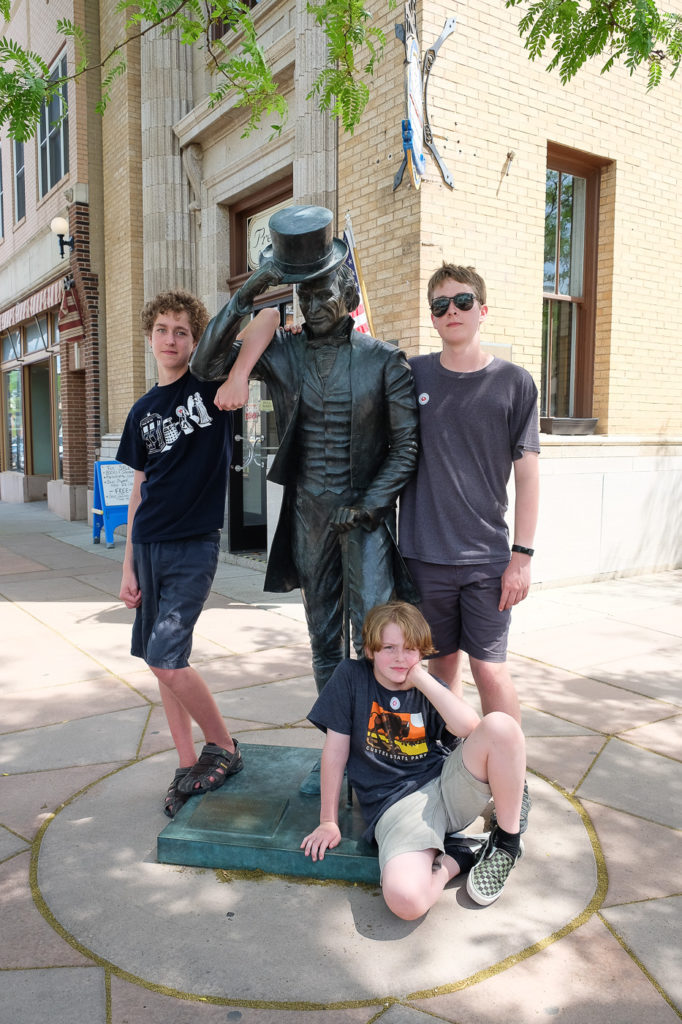 We spent two days (or well, one full day and then part of another day) in Rapid City–more time than we'd planned because we ended up making a second trip to have something checked out on the van. Rapid City is about 40 minutes from Custer State Park, and it's what passes for a big city in South Dakota. For a lot of people, it's the place you fly into to visit Mount Rushmore (or, say, where you go when your van starts making a funny noise in the middle of your cross country road trip), but there's also an awful lot to see and do right in town. Looking back, I'm surprised both by how much we did in our day and a half here and by how much we didn't get to.
Biking
My research beforehand suggested that Rapid City is a town rich in bike paths, and the reality lived up to our expectations. We found the downtown area compact and walkable and other destinations a little farther out from the center were easy and fun to reach by bike.
We started our bike ride at Memorial Park where there is–for reasons that might have been posted on a sign or something but if they were I've forgotten them–an exhibit about the Berlin Wall, complete with two large pieces from it. It wasn't exactly what we were expecting to find in Rapid City, but it was a nicely done exhibit and the kids (and adults!) learned a lot.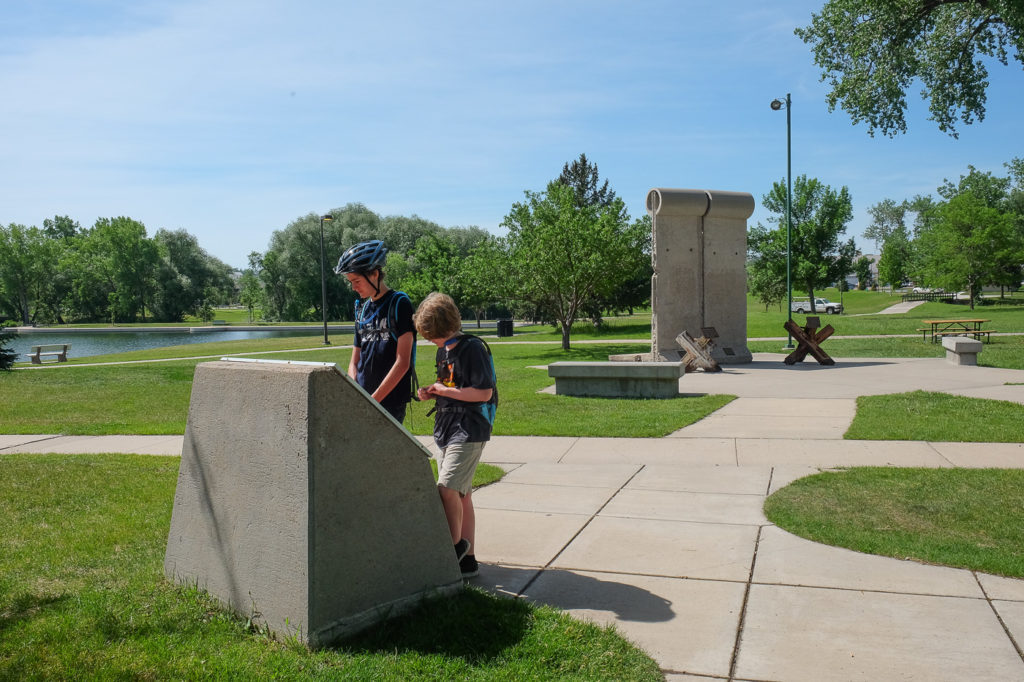 From here we biked to the Legacy Commons Playground–a nice playground along the creek that would have been a lovely stop had it not been a gazillion degrees out and right in the sun. This was a theme in our Rapid City visits.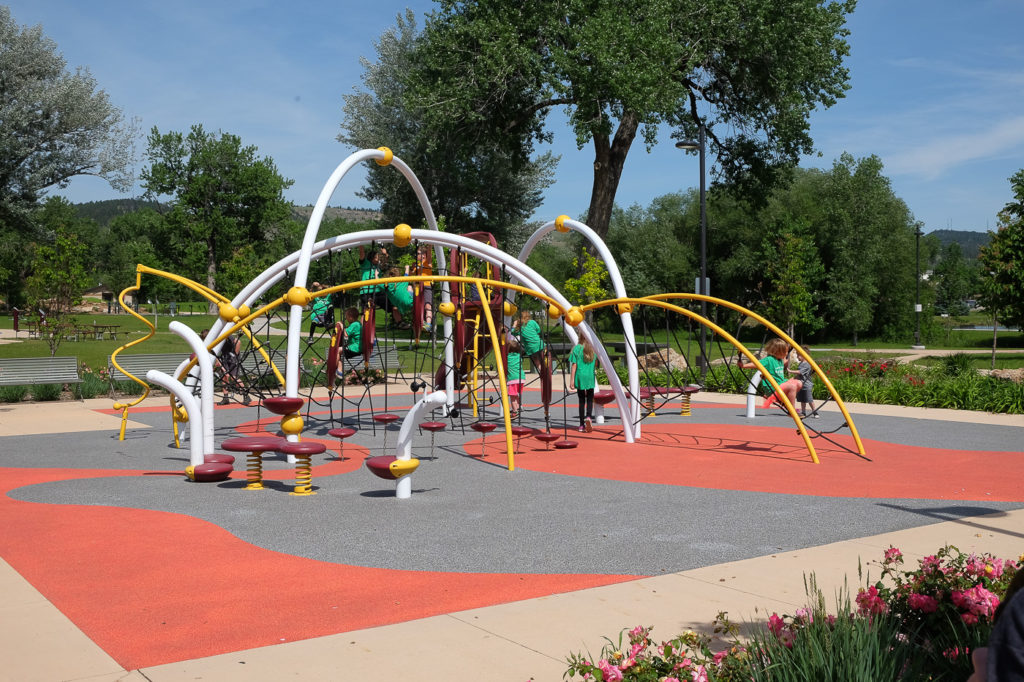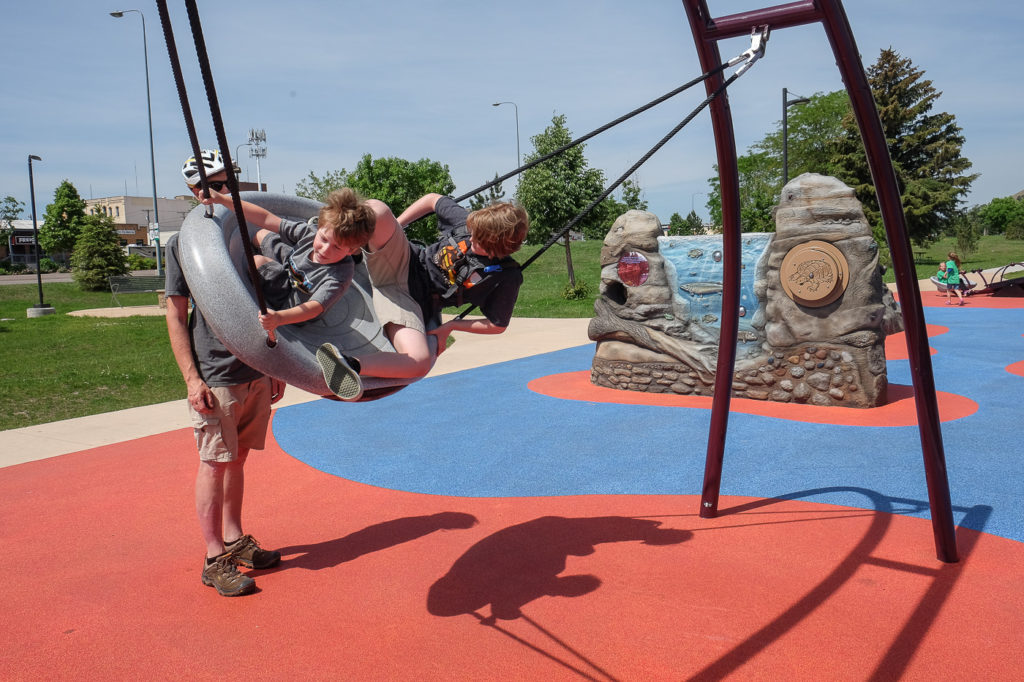 Journey Museum
So after the park we headed for somewhere inside, specifically the Journey Museum. The Journey Museum tells the story of Rapid City and the Black Hills, from the Big Bang through modern times. As such, it's part natural history museum and part regular old history museum. I've read that the Journey Museum hasn't done as well financially as the city hoped (and it definitely wasn't at all busy when we were there), which is too bad, because it's a nicely done museum and we really enjoyed it. So here's my plug: don't skip the Journey Museum if you're in Rapid City; it's a particularly great stop for a rainy day or a ridiculously hot day.
The bike path didn't go all the way to the museum, so part of our route was on the road/sidewalk, but there wasn't a lot of traffic, and we felt very safe.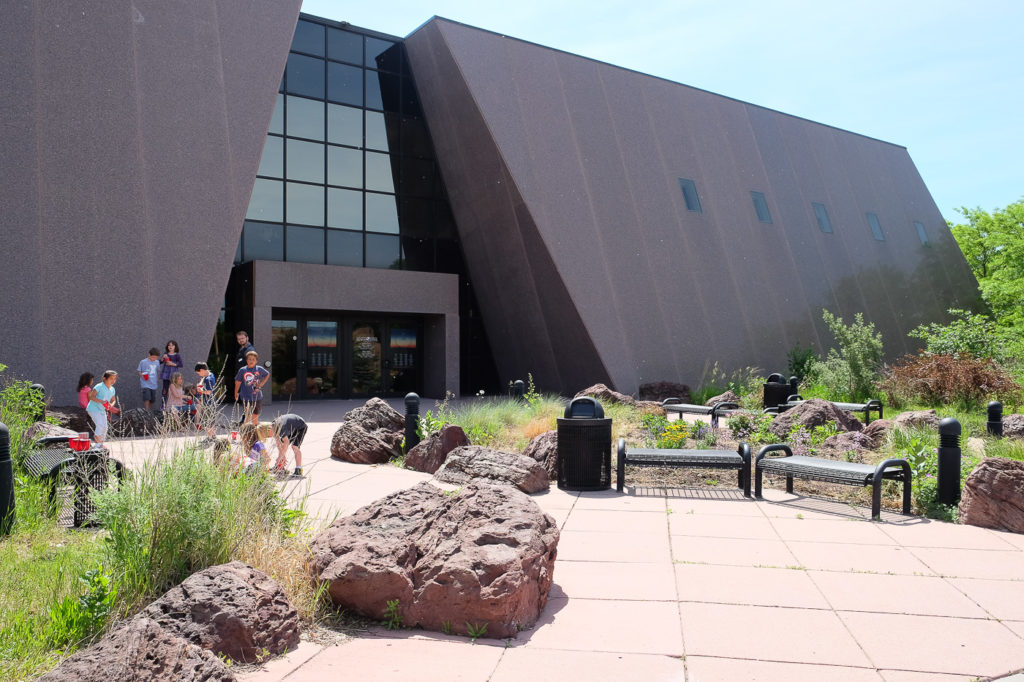 Admission is $10 for adults, $8 for seniors, $7 for ages 6-17, and free for kids 5 and under. The museum participates in the North American Reciprocal Museums program, and we were able to get in free through that.
They show a few different movies on a rotating basis (ours was about, like, how beautiful the Black Hills are or something) and then they turn you loose for your journey through time. There are rocks, and dinosaurs, and Native American history, and then the story of white settlers starting Rapid City.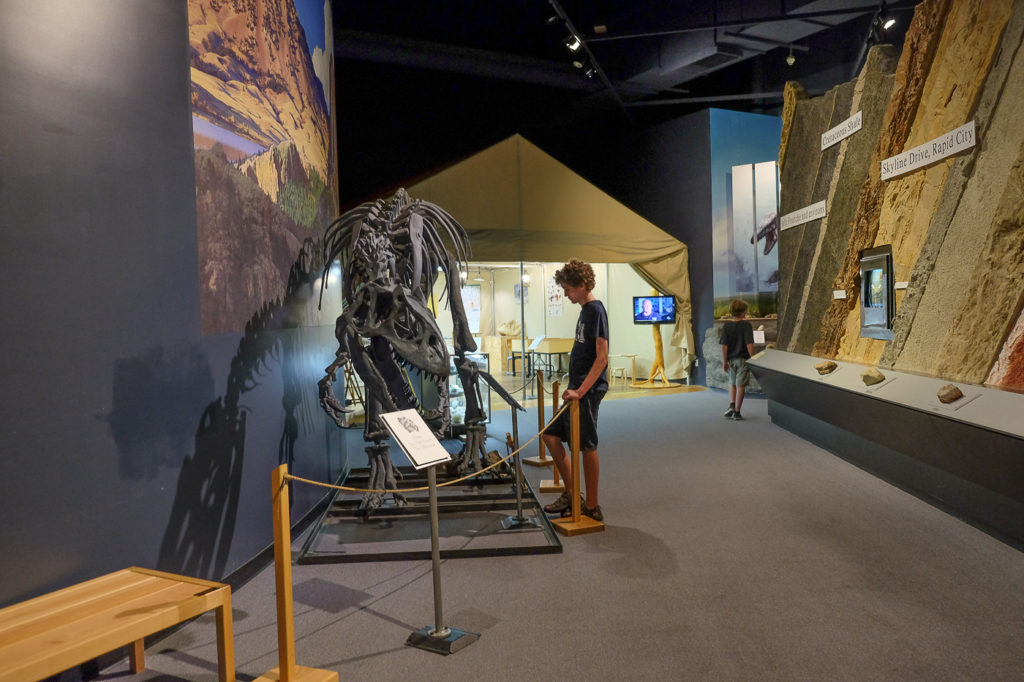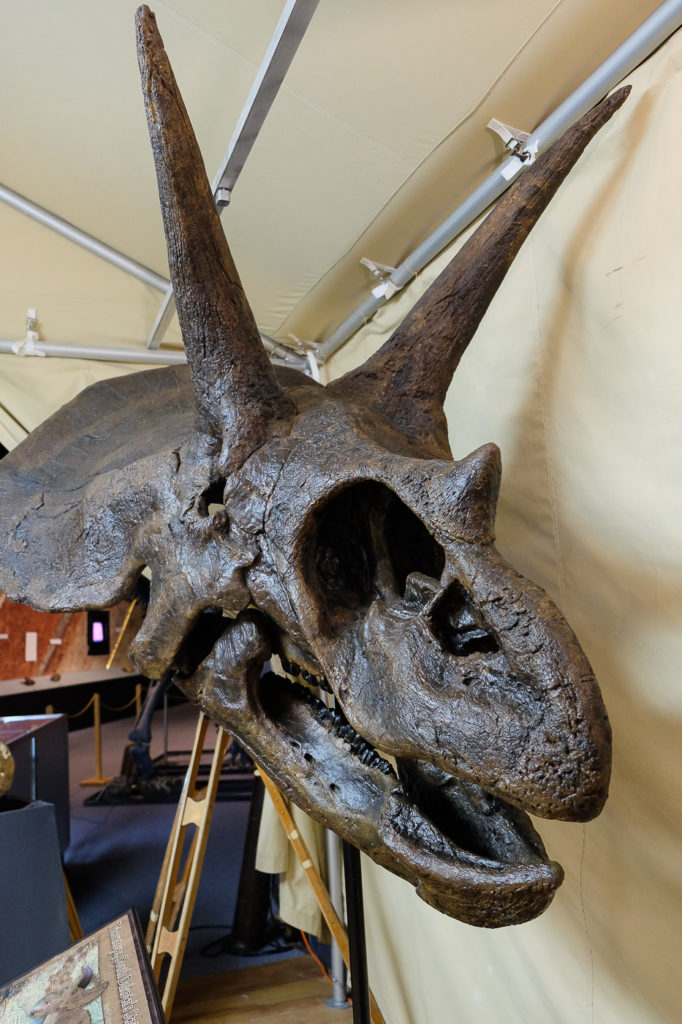 Abe got really, really fixated on the fossil dig area….not because of an interest in fossils, but because he was fascinated by the recycled rubber they use to bury the fossils and declared it his "beef jerky store" and spent a long time selling us beef jerky.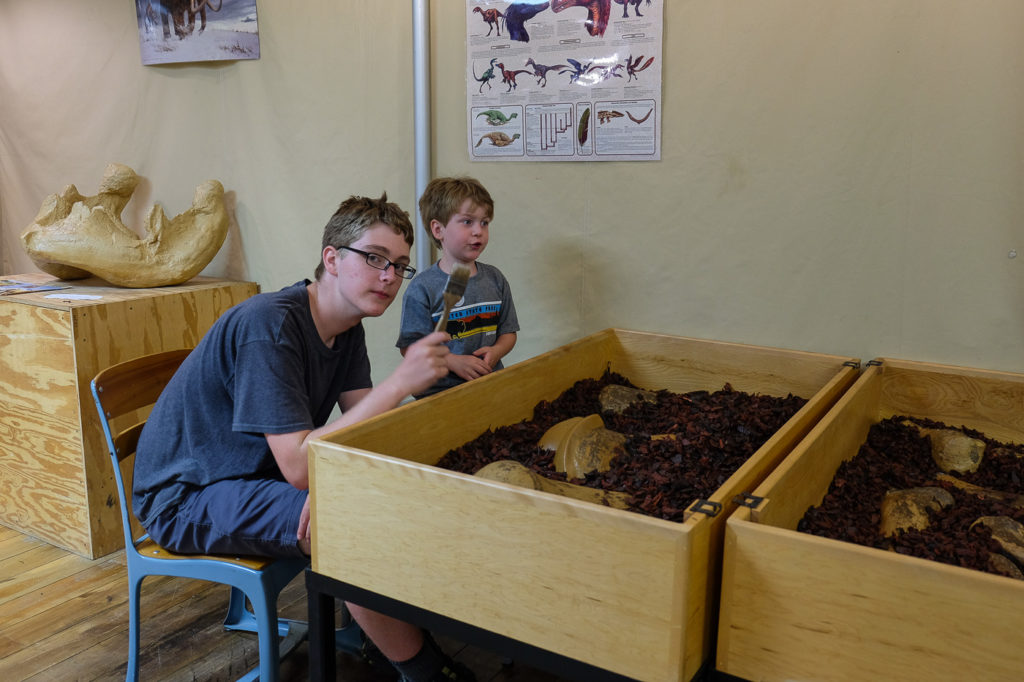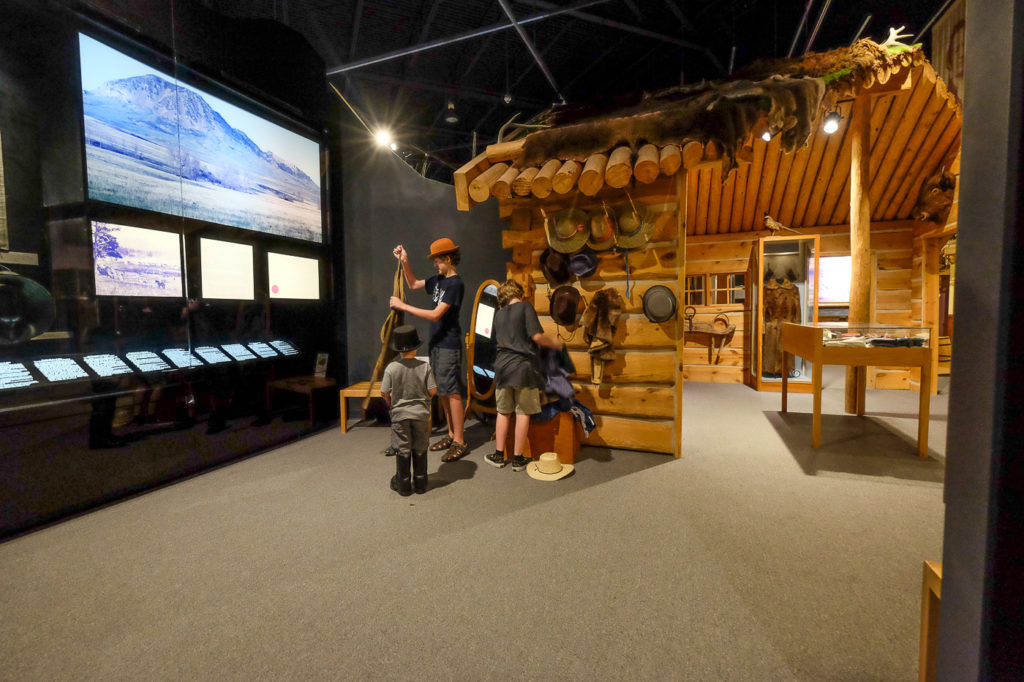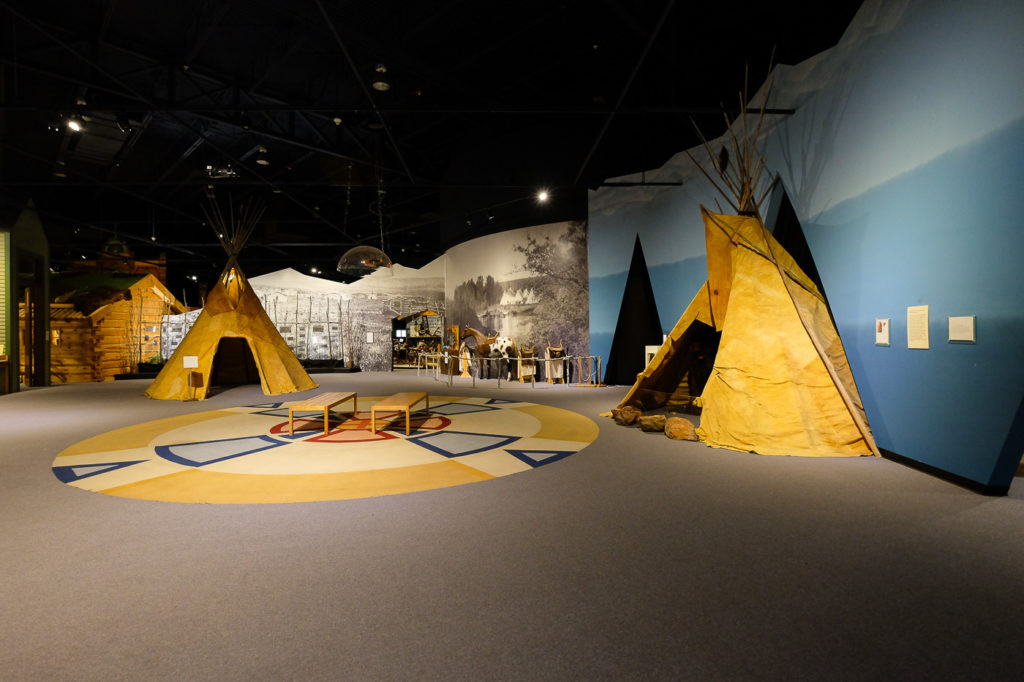 Firehouse Brewing Co.
We ate lunch at Firehouse Brewing Co, South Dakota's oldest operating brewery, located in an actual old firehouse. Firefighter stuff AND beer=fun for kids and grown-ups. We enjoyed both the beer and the food and came home with a growler of the Jefferson Plug Nickel.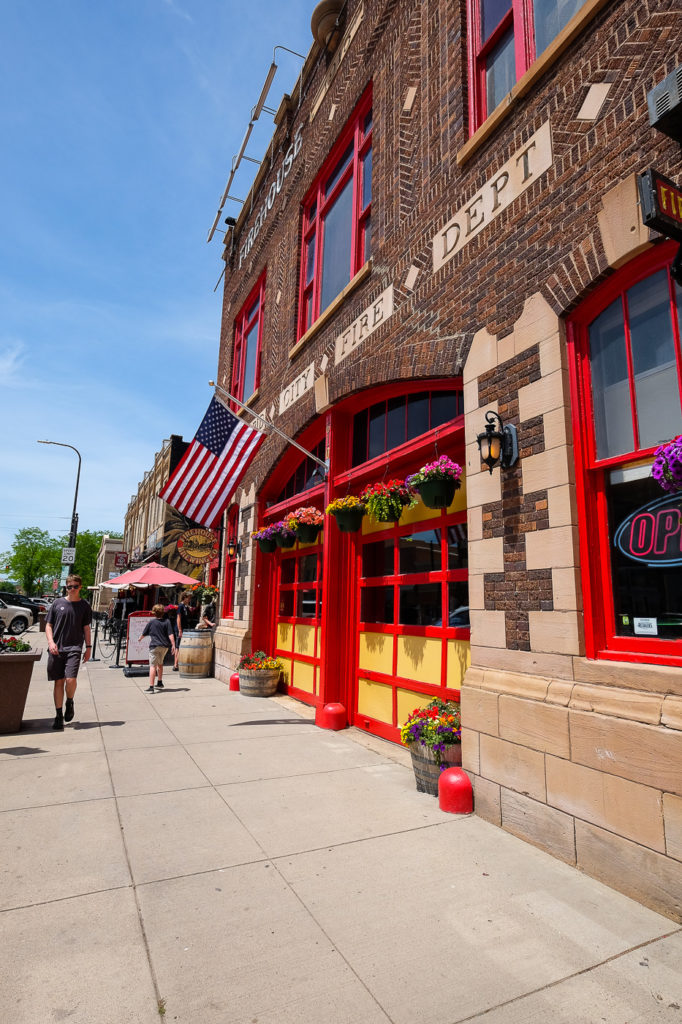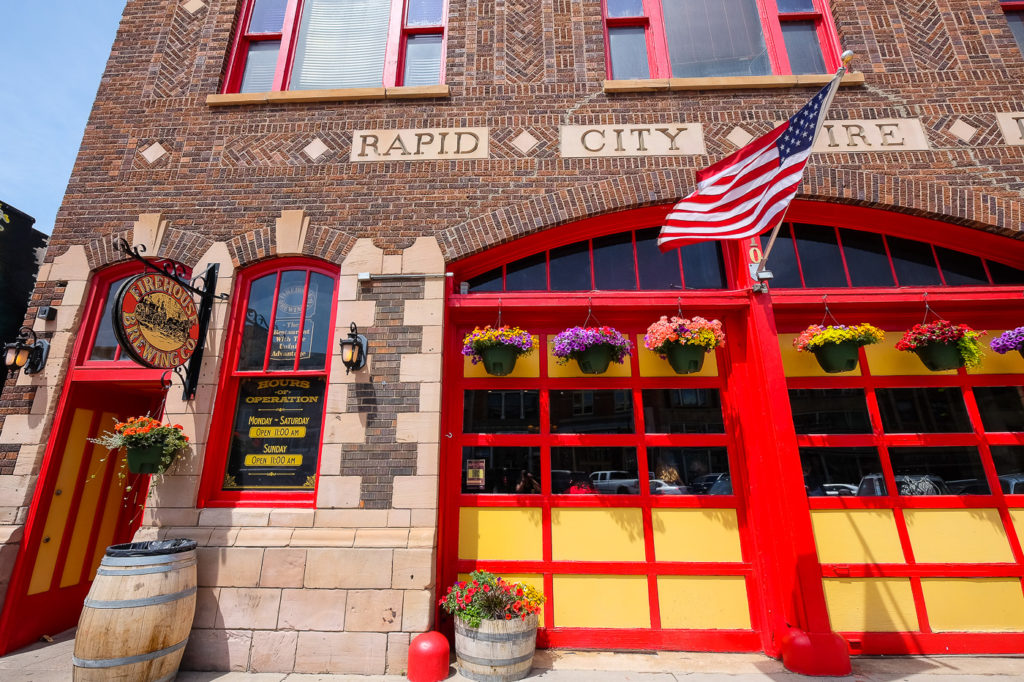 President Statues
Rapid City's nickname is the City of Presidents, because of Mt. Rushmore, I assume, which is more intuitive than a Berlin Wall exhibit. There are life size statues downtown of every president through George W. Bush (with plans for more to come). And, as I mentioned, my kids wanted to see every single one. But it really was (have I mentioned?) terribly hot. So we didn't make it to all of them. But we did see a lot of them!
Ari was most excited about John Adams, because we had just finished watching the miniseries: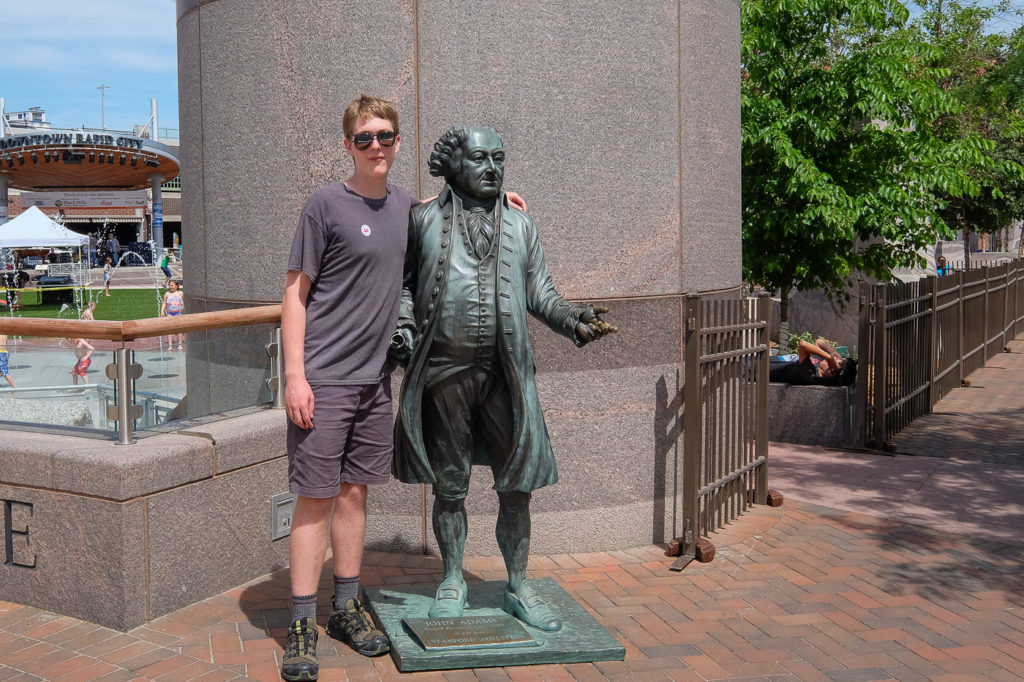 We had to find Jimmy Carter, because Georgia, but he was sort of a strange and unappealing color compared to most of the other statues: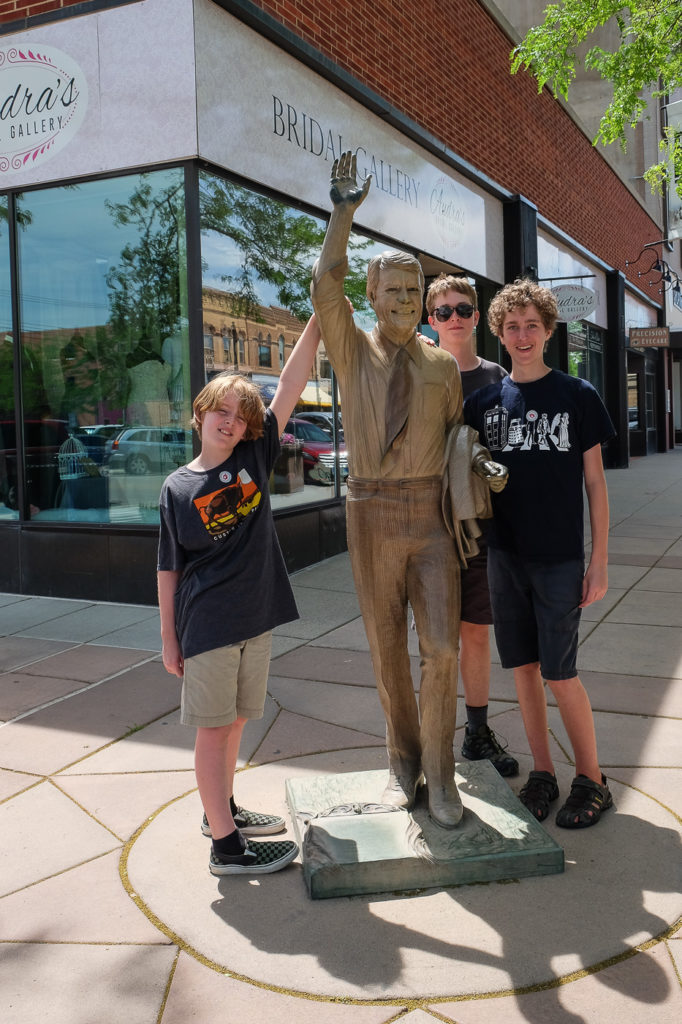 Our tour made us realize that some presidents are very famous and some are….not as much:
?????
This is Millard Fillmore! I really am not sure of this at all. But it might be! Who knows?!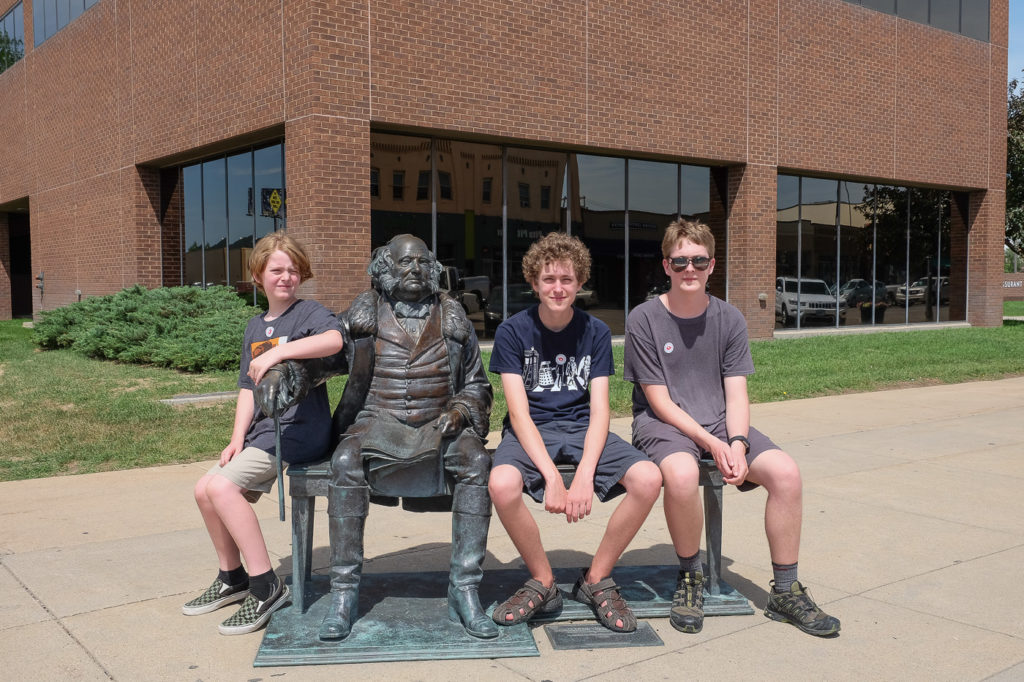 Nice hat, Mr…..umm, President: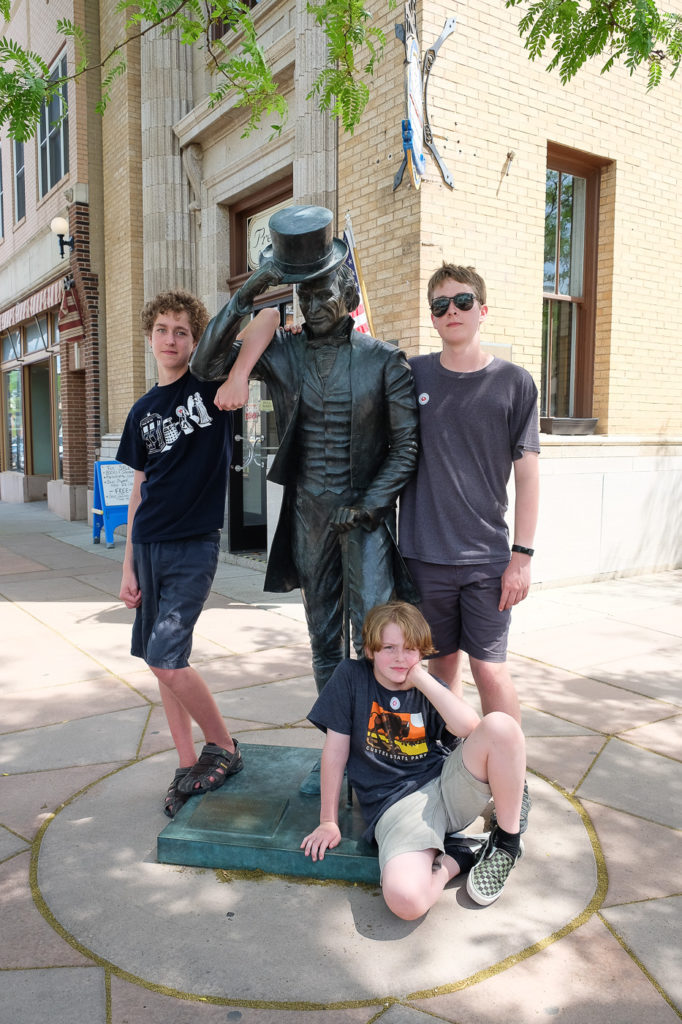 This guy looks more familiar. We saw your house, Andrew Jackson! As you can see, Gus is still pretty mad about that whole Trail of Tears thing. Frankly, you deserve that look, Andy.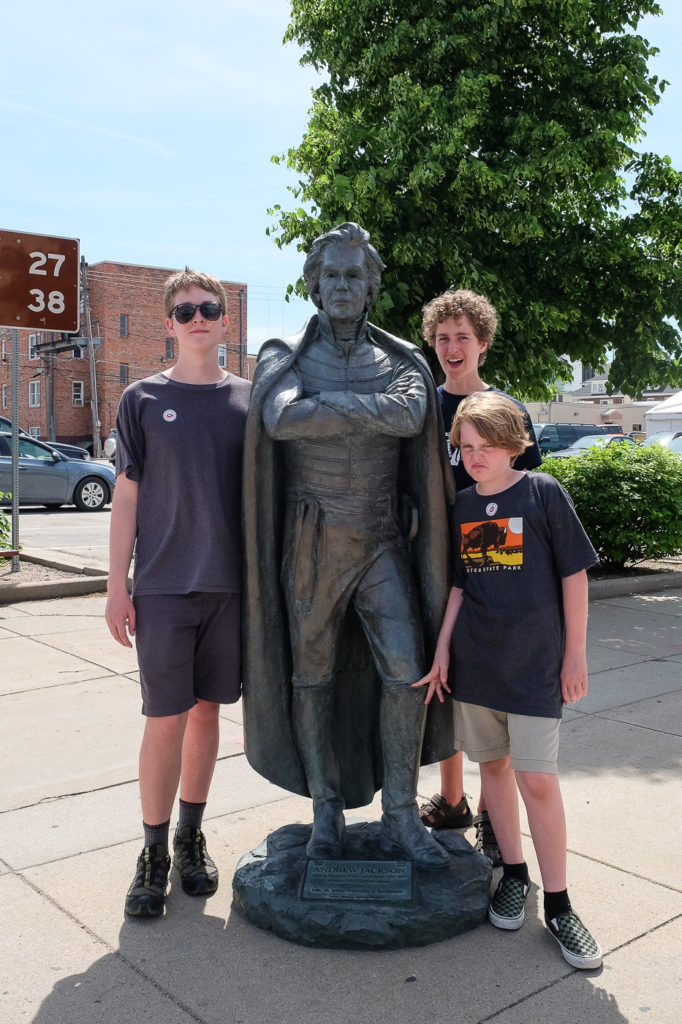 Museum of Geology
Another great rainy/hot weather destination, the Museum of Geology is a small, FREE museum run by the South Dakota School of Mines and Technology. They have exhibits on paleontology and mineralogy, as well as a nice little play area for kids. We were here while Dave was off doing van stuff, and I mostly hung out in the little kid area with Abe while his brothers checked out the exhibits. So probably not the best destination for the average 4 year old (i.e. one who's not particularly into fossils or rocks). I somehow seem not to have gotten any decent photos here, except this one of the kids in the hallway outside. Actually, it's not so good, either. But it's all I've got: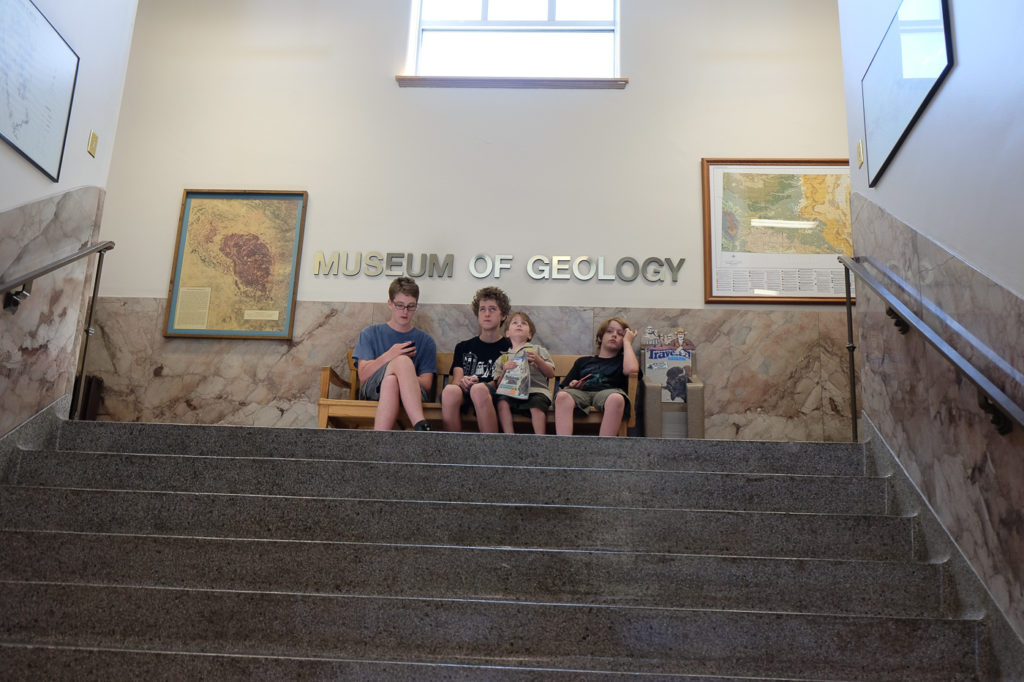 And that was it for our time in Rapid City (unless you want a blow by blow of our trip to the grocery store). But there was so much we wanted to get to and didn't (largely because of the weather. We need a return trip when it's 20 degrees cooler). I was especially bummed not to make it to Storybook Island, since Abe was the perfect age for it on this trip and likely won't be any more by the time we make it back. There are always grandchildren! (or at least there'd better be, kids!) Also Dinosaur Park and the Chapel in the Hills.
But we really enjoyed Rapid City. I remember thinking, for the first time in awhile on this trip, that I could see us living happily in Rapid City. I mean, maybe not in January.
maybe you would like to pin this?