A terrible thing happened to us a few weeks ago: we had to cancel our planned Labor Day trip to the Smoky Mountains because our trailer was still in the shop. (Now it's home! We headed out with it this weekend!)
Terrible might be an overstatement, but we were disappointed. So we decided to devote one day of Labor Day weekend to a day trip to the mountains, revisiting some old favorites and seeing some things we'd never seen before. And we thought it would be super fun to not tell the kids where we were going, and make it a surprise adventure. I think it might have been more fun for us than the kids (except maybe Abe).
Our first stop (surprise!) was the little town of Dahlonega, site of the first gold rush in the US, where we did gold-related things. And ice cream related things. Dahlonega's a charming little town that's less about gold mining and more about tourism these days. The downtown area is a nice place to walk around, and they had people playing live music while we were there.
We checked out the Dahlonega Gold Museum State Historic Site: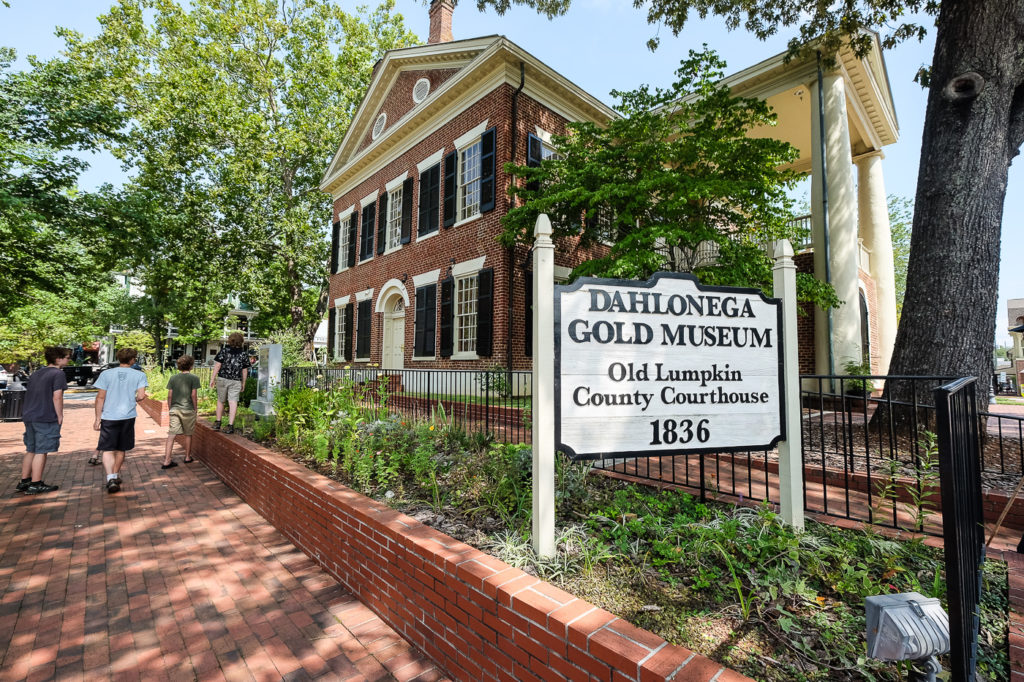 The museum is in the old Lumpkin County Courthouse; there's a film about the gold rush in Georgia and a few rooms with exhibits. Honestly there's not a TON to see here right now (an hour is plenty of time to see it all), but were learned that they're planning to redo and upgrade all the exhibits soon, so it will be cool to go back and see the changes later.
Upstairs there's the movie and a couple of restored courthouse rooms, like the Judge's chambers and the jury room: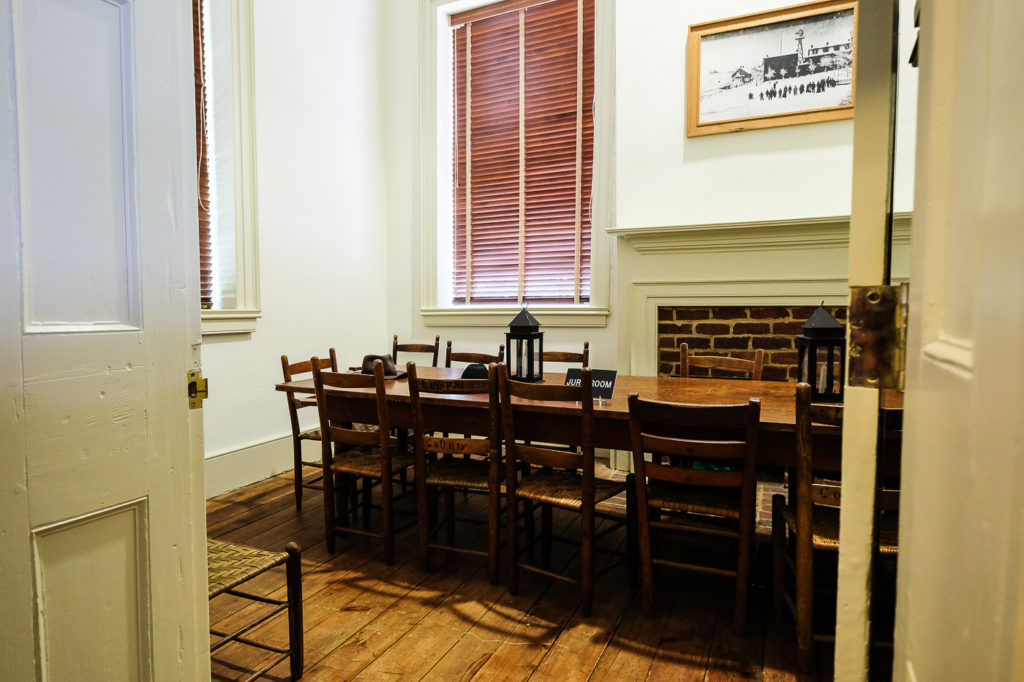 And downstairs there are two rooms of gold rush exhibits. This machine did some…gold stuff. Separated the gold from the ore? Maybe that.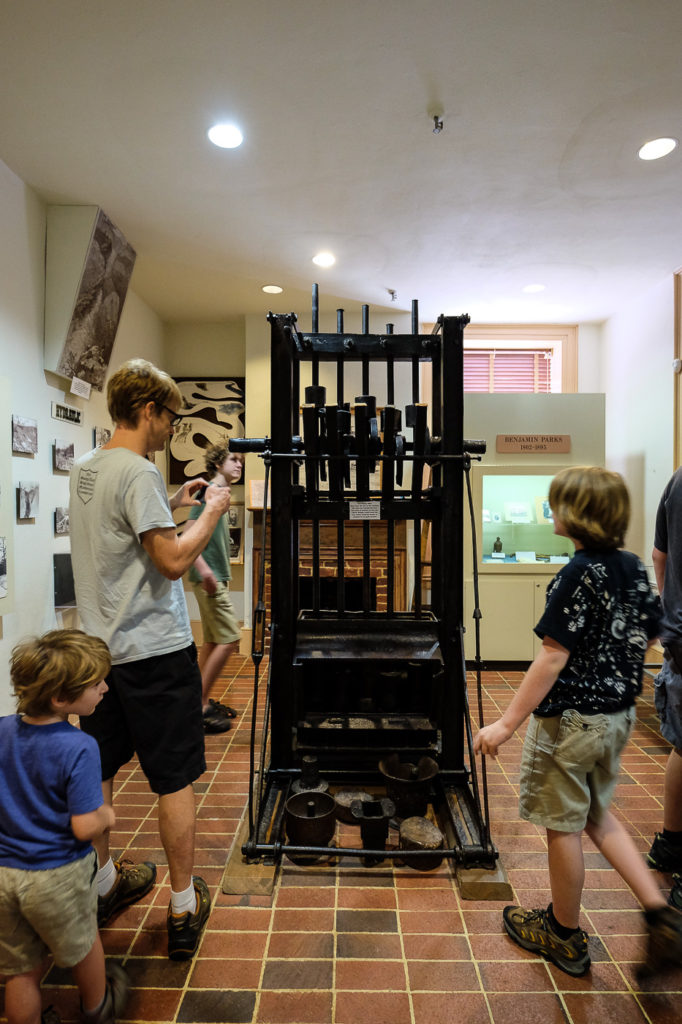 I think there's also a room in the basement with a collection of coins minted in Dahlonega, but we didn't make it down there.
In keeping with Georgia's usual very specific and tiered pricing for historic sites, admission is $7 for adults, $6.50 for seniors, $4.50 for kids 6-17, and $2 for kids under 6. If you have a Friends of Georgia State Parks membership, you get 25% off admission.
After the museum, we took our picnic lunch to the campus of the University of North Georgia and ate on a lovely lawn with big old oak trees: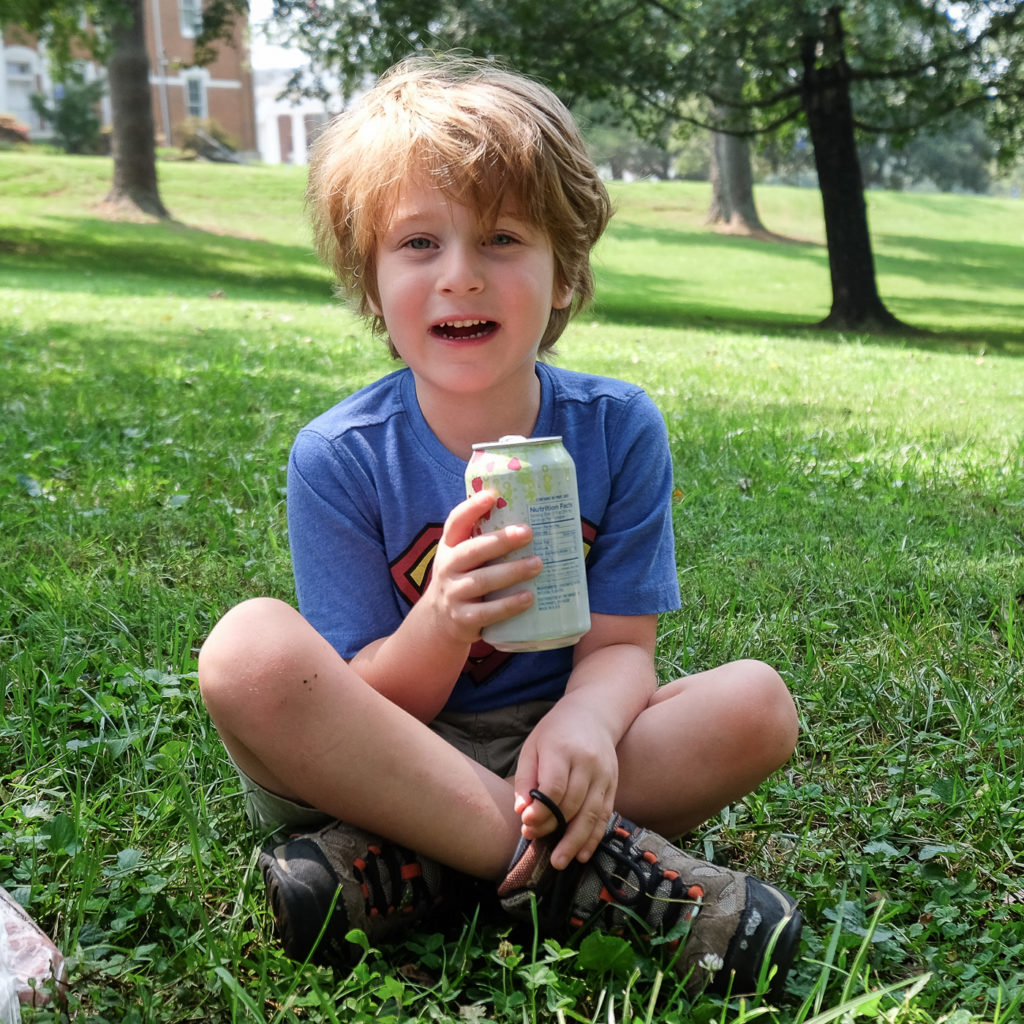 And then ice cream!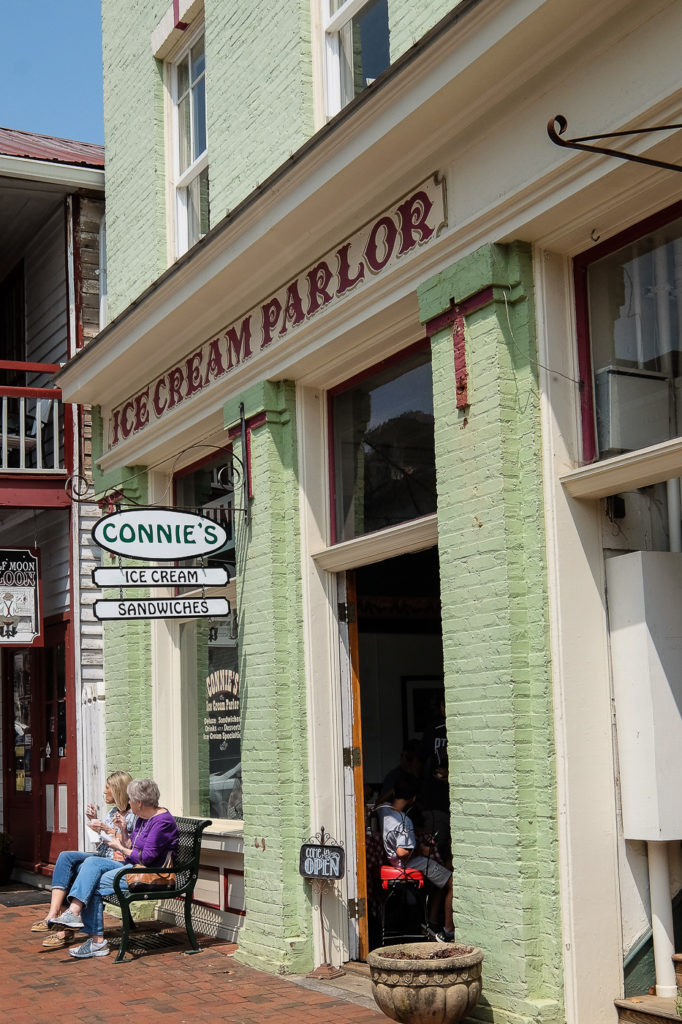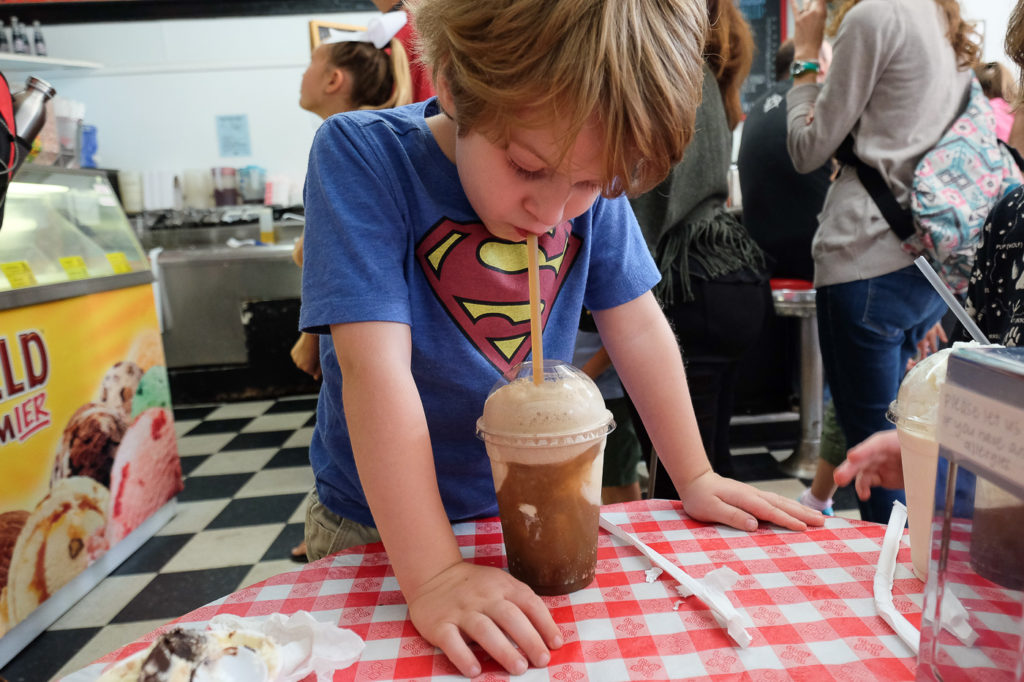 Once we were sufficiently ice creamed up, we made the short drive over to the Consolidated Gold Mine. This was a working gold mine for only a few years (1895 to 1906) before the price of gold and the cost of mining it out of the rock made it unprofitable to operate. It sat empty, with the tunnels filling with water, for 75 years before the property was sold and another brief attempt to turn a profit mining was made. Today it's the only gold mine in the area that's open for tours.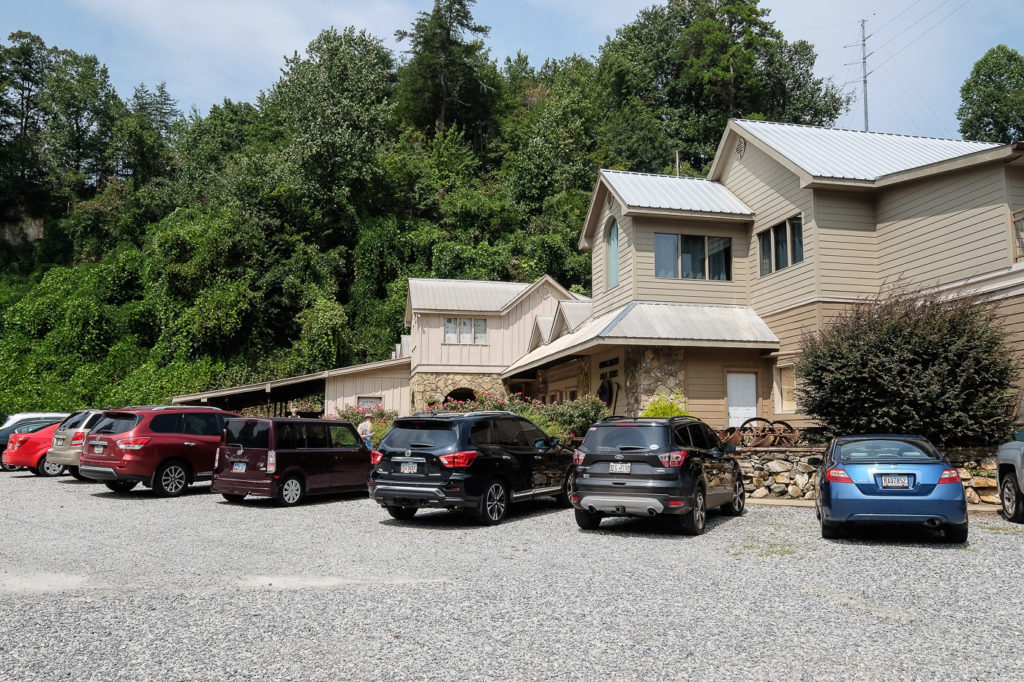 The cost of the 40 minute tour is $16 for adults and $11 for kids 4-14, and it includes gold panning before or after your tour. Kids under 4 are free, but they suggest that tour might not be the best choice for most toddlers (Abe at 4 1/2 did fine and enjoyed it, but it would have been challenging to bring him when we was much younger).
It was a busy day, and we had about 45 minutes between when we bought our tickets and when our tour was scheduled to start, so we did our gold panning first. There's a short video to show you how to do it, and then they hand you a pan with sand and, one hopes, flecks of gold in it and send you to the water. After you slosh the sand around for awhile, wondering whether you're doing it right or not, you take it over to another area so that the people who know what they're doing can finish it up for you and send you on your way with a couple of tiny flecks of gold in a vial. And then you bring those home and wonder what on earth you're supposed to do with a vial full of mostly water and a tiny fleck of gold or two. Still not sure. Ours are in a cabinet somewhere right now.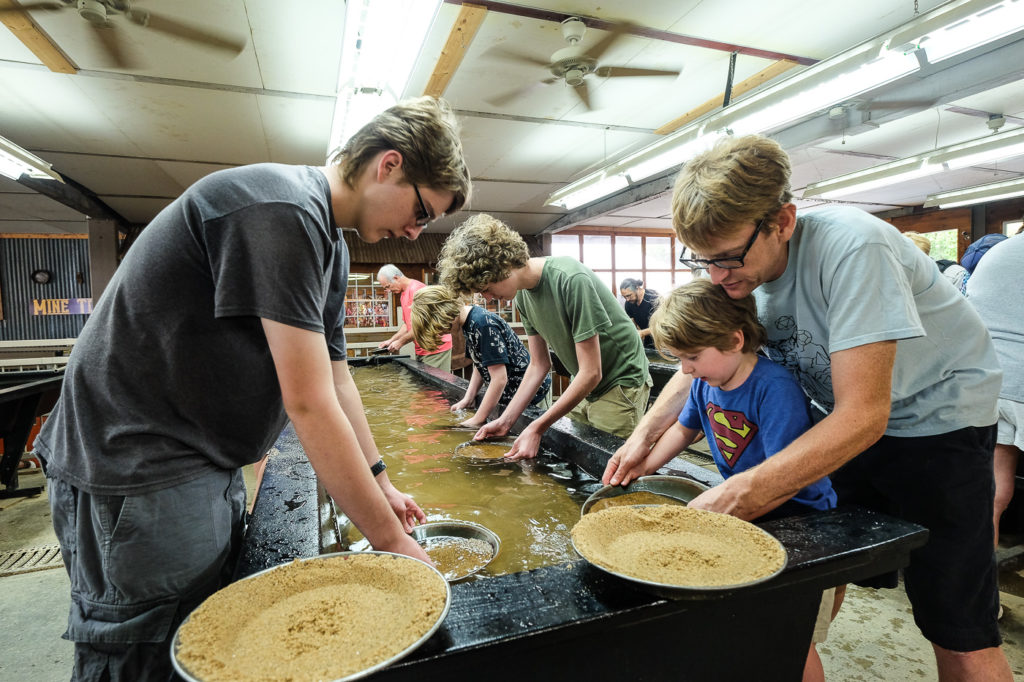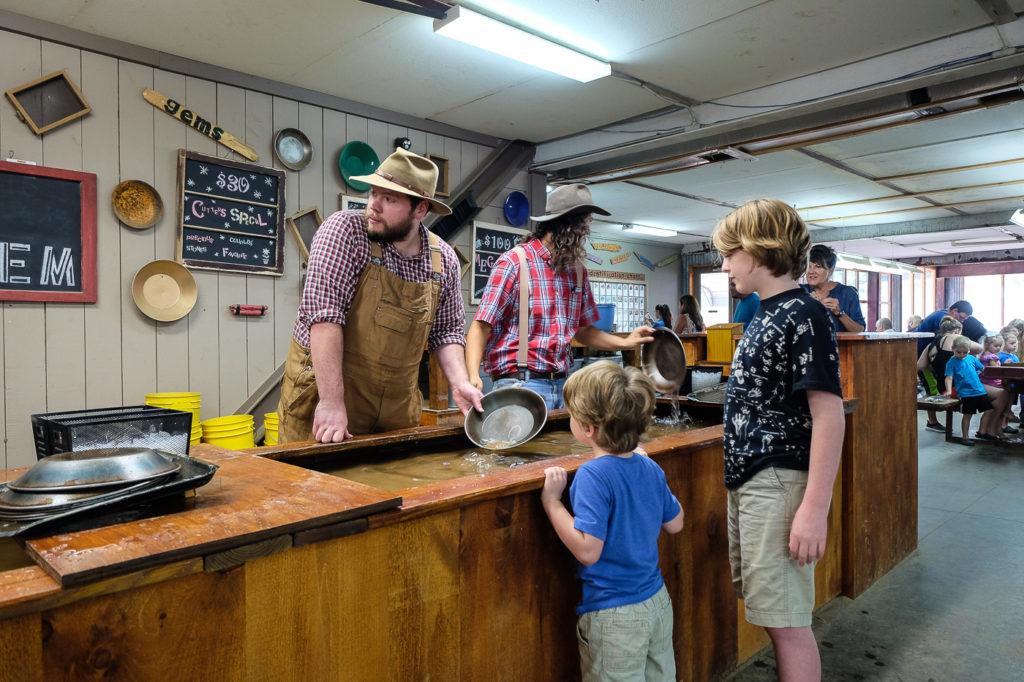 Then tour time! After being in so many natural caves over the summer, it was interesting to go down into one that had instead been blasted out of the mountain. There's a video before the tour that goes over the different kinds of mining and then you climb down a whole bunch of stairs and walk around in the some creepy wet tunnels for awhile with a guide (ours was entertaining and knowledgable–always a good combo). Abe's favorite part was when he got to turn the lights out for a second so everyone could see how dark it was down there. Gus got to help demonstrate some old school mining techniques: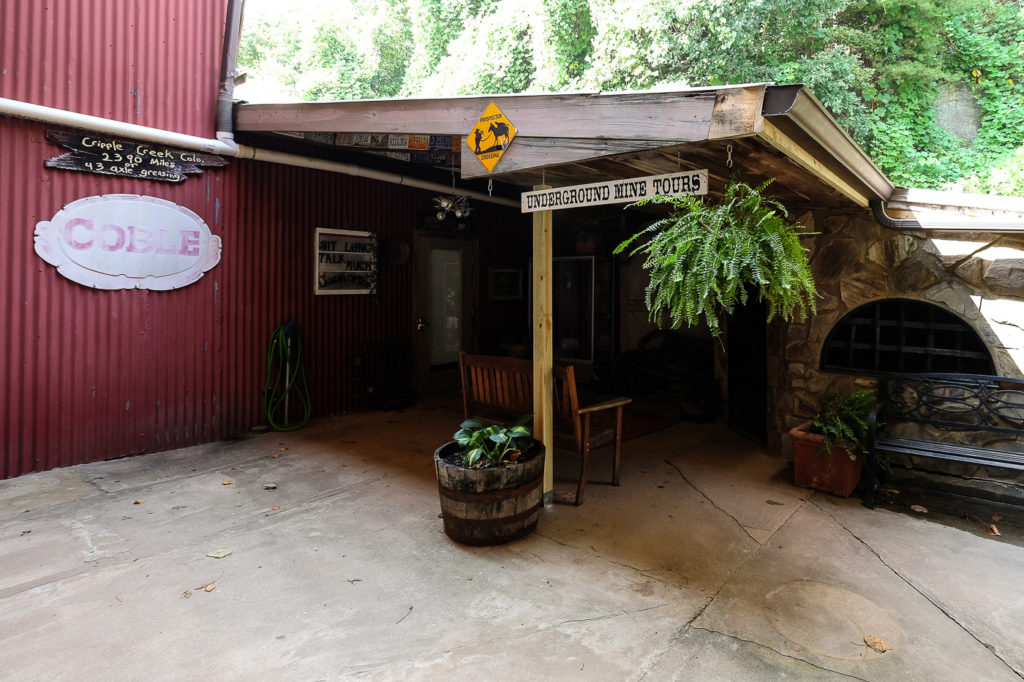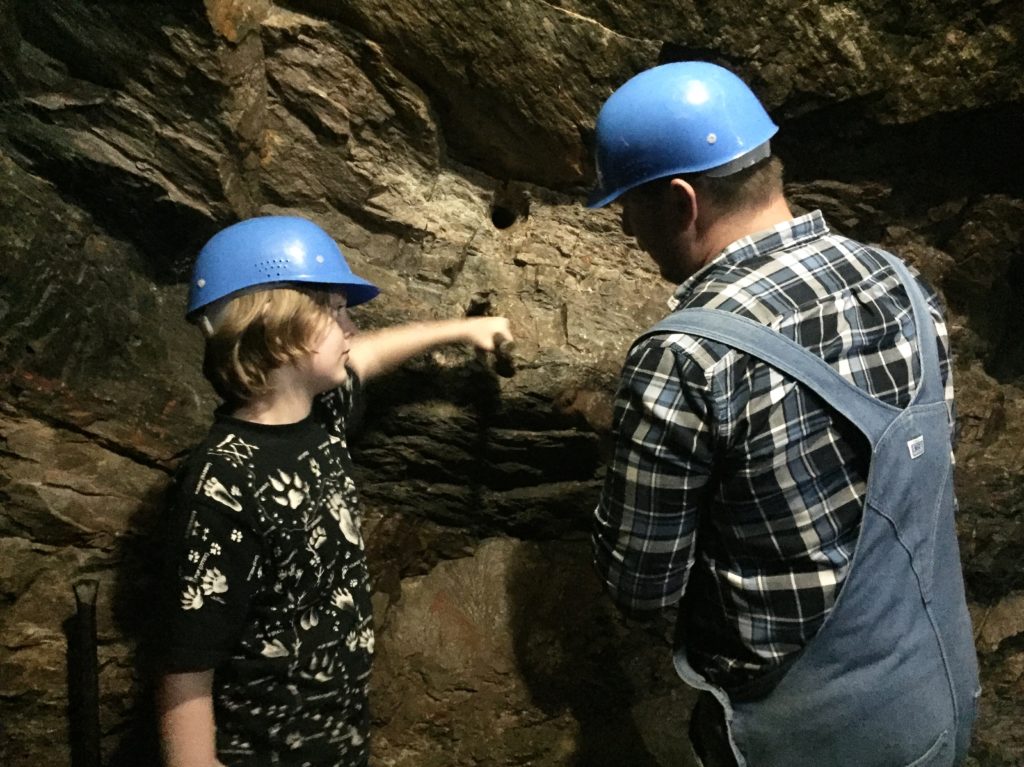 This is the "Glory Hole" where they found a whole bunch of gold and everyone was very excited about it: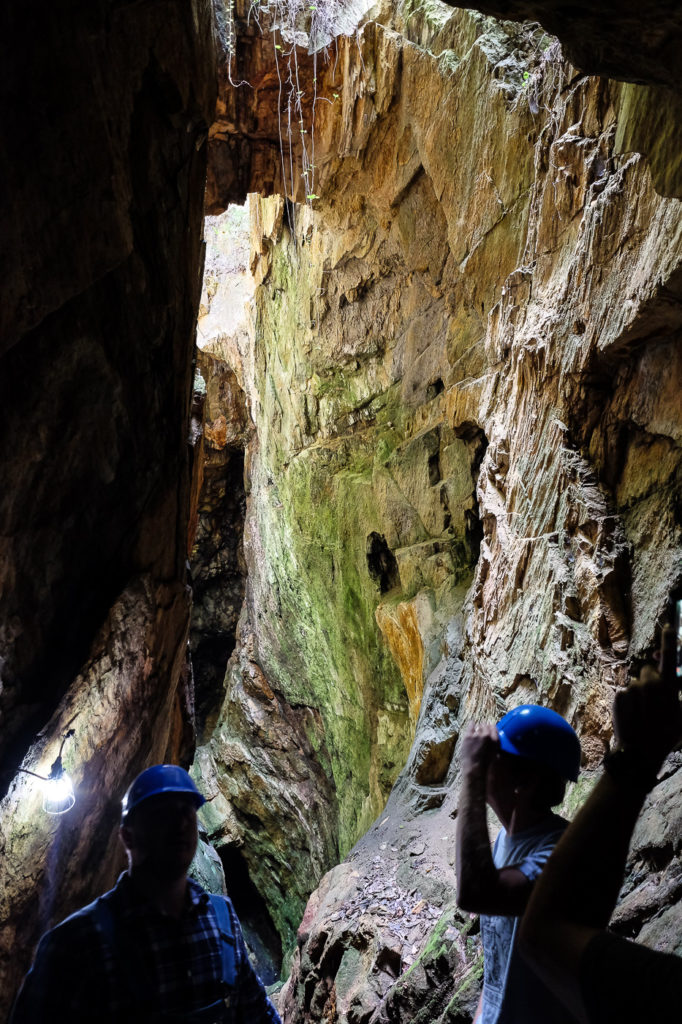 Before leaving Dahlonega, we stopped by Gold City Growlers to pick up some local beer: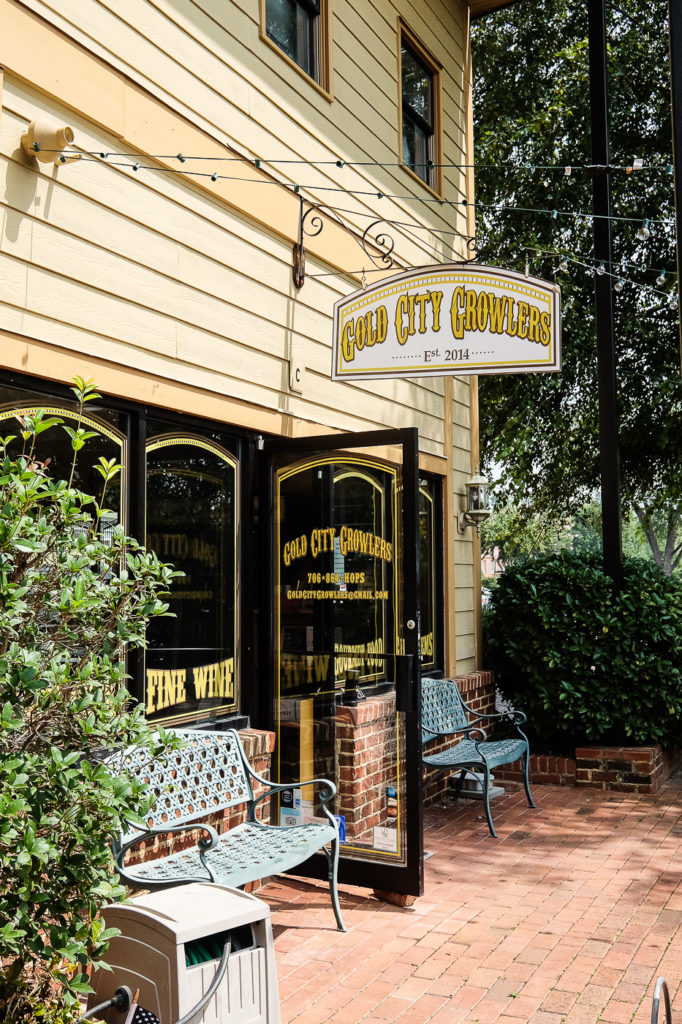 Our next SURPRISE! stop was Amicalola Falls State Park, about 20 minutes away. We'd been here before, but not for awhile, and we'd never actually done the hike up to the top of the falls before. Dave went a little crazy with his videoing here, and then one night we were kind of bored and experimented with making an introduction thing where we talk, complete with terrible lighting at night in our dining room. Umm….enjoy?
Amicalola falls is the tallest waterfall in Georgia, at 729 feet, and it's a really pretty one as well.
There are, it turns out, two different ways you can hike up to the falls. One way is via lots and lots of wooden steps built along the side of the falls. The other way is via a steep but stepless trail through the woods, and this is the way we went. We weren't entirely clear on what we were doing, though, and kept expecting to get to the steps at some point and need to climb them. Which would have made us really sad, since we were already pretty tired from the trail. But we came out at the top of the falls! And only had to walk DOWN the many, many stairs. Either way you go, the round trip will be about 2 miles, and very steep both ways.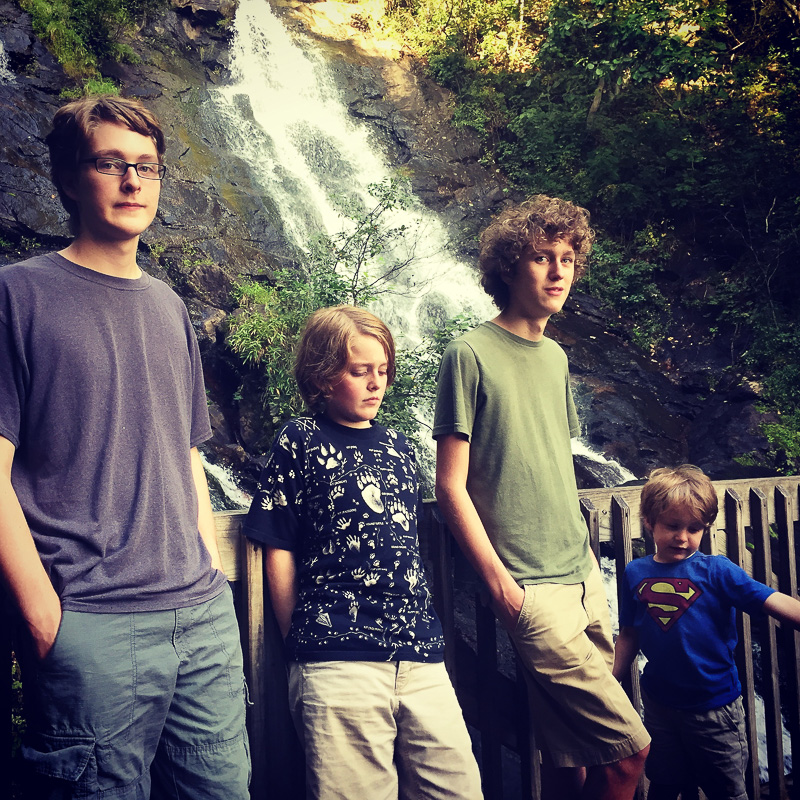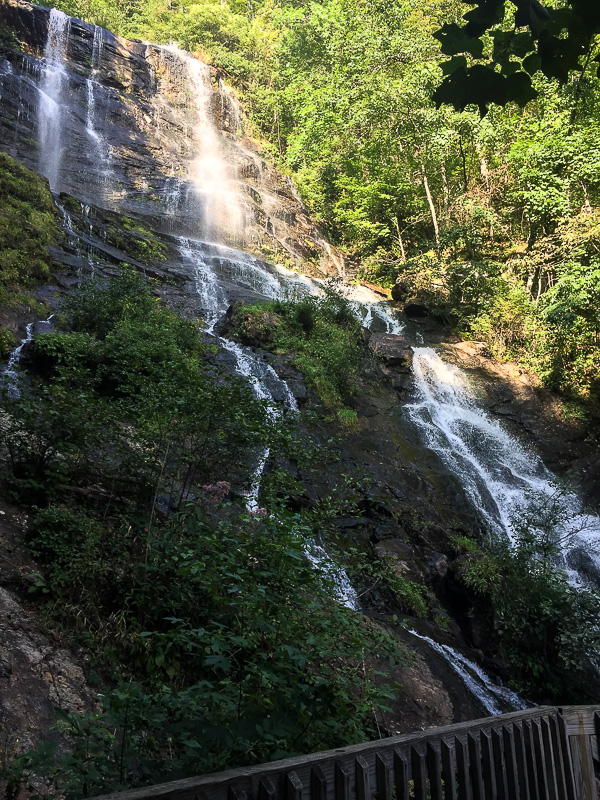 My camera's battery died. These are all phone photos.
The hike up, if you take the route we did, is the typical east coast hike where you go up and up and up through lots of trees and then eventually the trees part and you get an awesome view:
I like the order we did this in. Going down all the steps killed my knees, but I'm guessing going up the stairs would not have been any fun.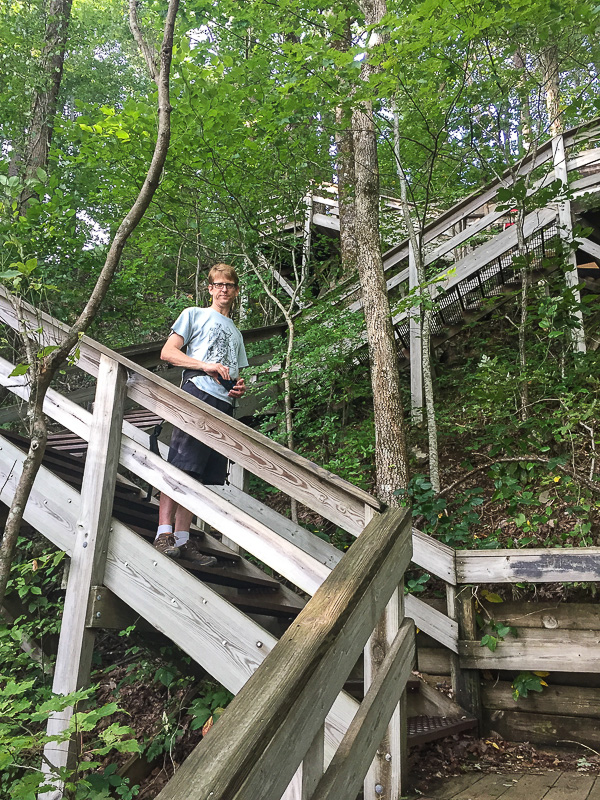 Amicalola is a very popular state park, and there's a lot more to do there. There are some other trails (including a 9 mile trail that takes you to the beginning of the Appalachian Trail), a lodge with restaurant, and ziplining and whatnot, like the kids like these days.
There's also a campground, but we won't be making it there anytime soon (like not until we get a smaller trailer), because the road to the campground has a 25% grade (!). Fortunately, it's only about an hour away from home, so day trips work fine.
Maybe you would like to pin this?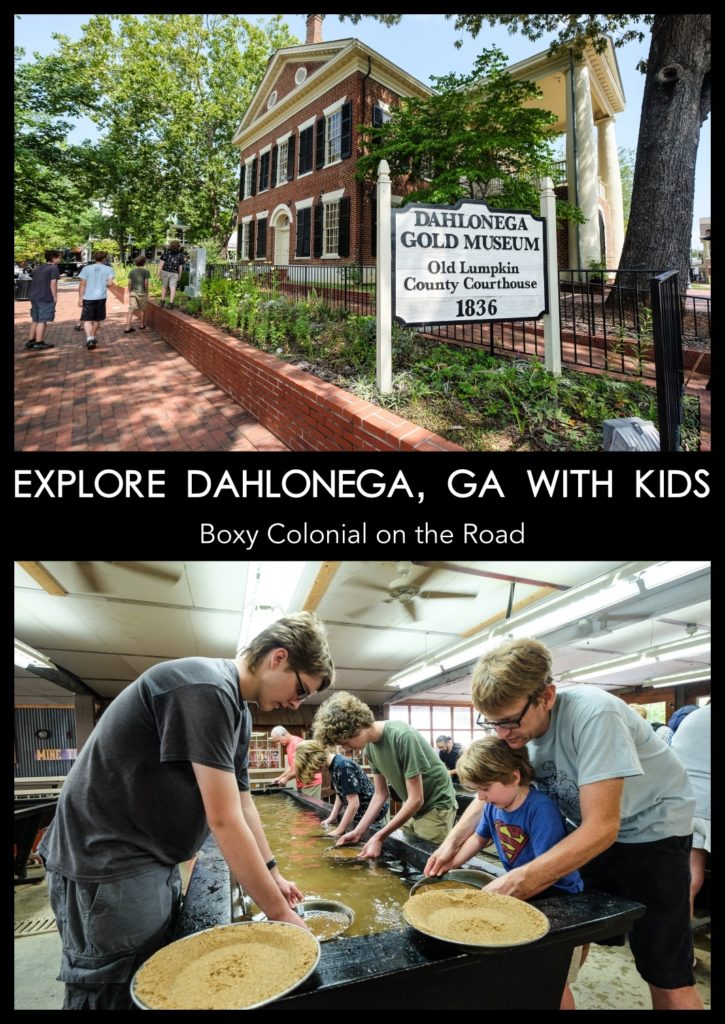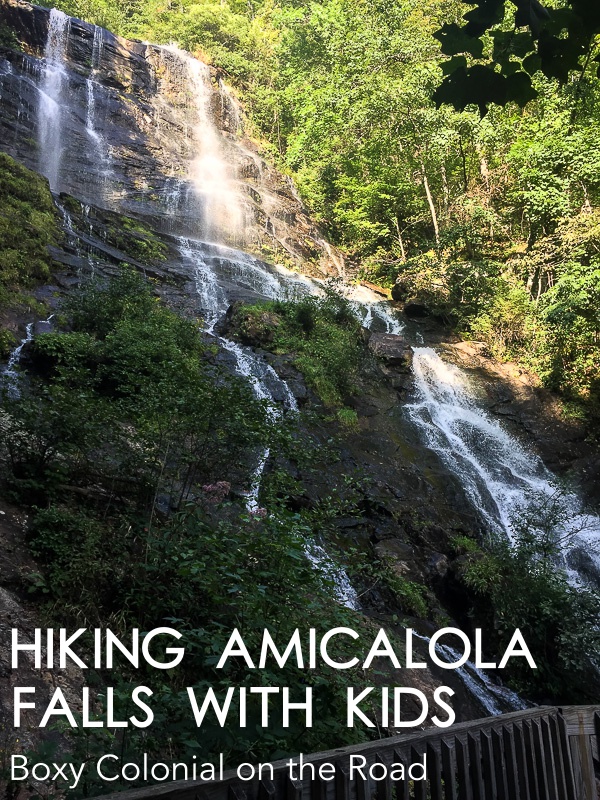 SaveSaveSaveSave
SaveSave
SaveSave
SaveSave