Travel dates: June 3-4, 2017
It was dinnertime in Sioux Falls, SD, and we were running into an unexpected problem: none of the restaurants we could find seemed to want us there. I looked up a few different places online and noted that they had "no one under 21 allowed" policies for no discernible reason. I didn't feel like our needs should be so hard to meet: we didn't want a chain and we didn't want a counter service place. It had been a long day of driving, and we just wanted somewhere where we could sit down and have someone bring us food. And also a beer. At home, and pretty much everywhere else we've traveled (with the exception of Cody, WY….but that hadn't happened yet), kids are welcome more or less anywhere we'd feel okay bringing them…but I guess they do things different out….mid….west.
I finally found somewhere downtown that sounded promising, JL Beers, and we headed over to check it out: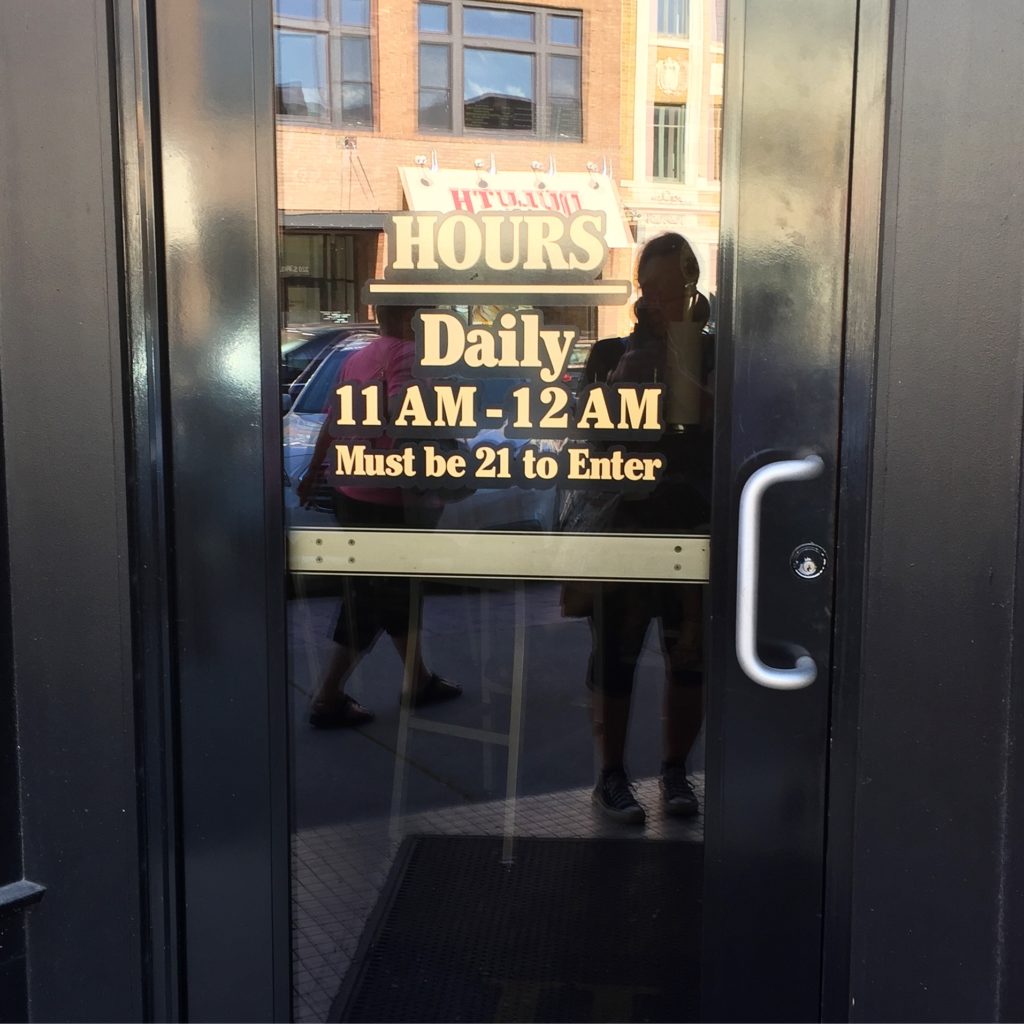 Womp womp
But! Right next door was the Backyard Grill barbecue place. This seemed promising! There was an extensive beer menu! It looked like a nice place! They let us in! The reviews are not amazing for Backyard Grill, and we did note that it was virtually empty at prime eating out time on a Friday night, but we didn't really have many options at this point anyway.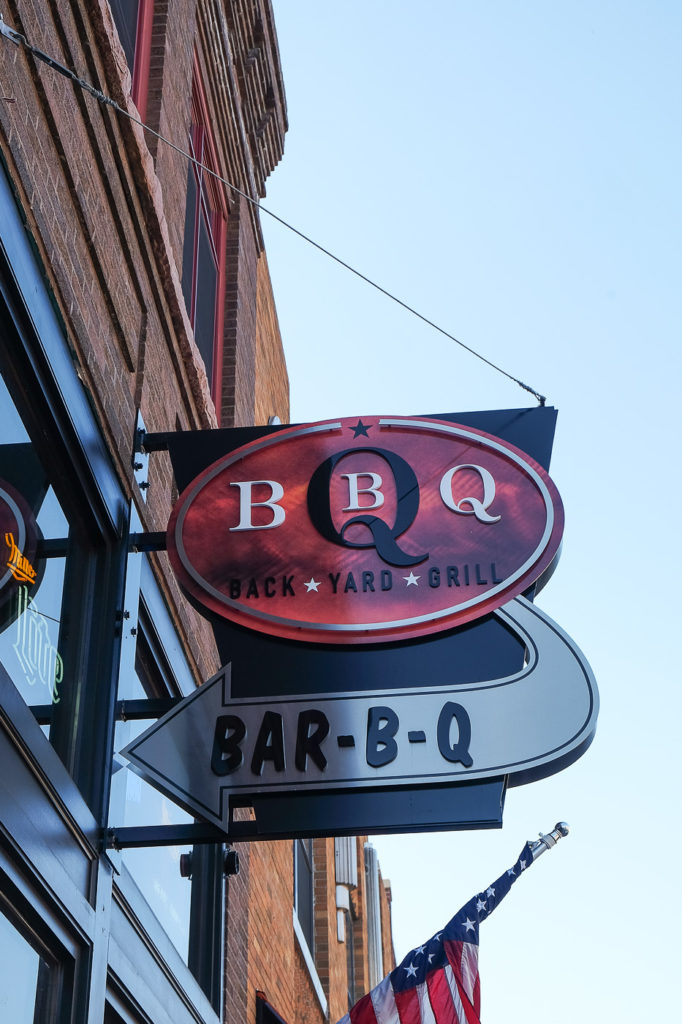 The food here was nothing to write home about, but it was fine, and I got my wish to sit down and have food and beer appear before me as if by magic, so I was happy. But the thing that left a lasting impression on us was when I asked if they had a kids' menu and our waiter shook his head and then added, utterly unnecessarily, "kids are allowed, but not encouraged." Seriously, dude? Have you noticed my four year old here? Did that not clue you in that I might not find this sentiment endearing? Have the owners of your restaurant considered that you might fill up more than two tables on a Friday night (the only other table also had kids at it) by being a little more welcoming or at least by not insulting the few customers you already have?
I've got to say that our dinner experience left us with kind of a bad taste in our mouths about Sioux Falls (oops. no pun intended) (it didn't help that it was a gazillion degrees out while we were there, but I don't blame Sioux Falls for that)…which is too bad, because it sounds like there's a lot of cool stuff to do in the area. Which is not to say that we won't be willing to give it another go if we pass by again someday…I guess we'll just plan out our restaurant choices very carefully in advance.
But on to better things! After dinner we walked around downtown a bit and saw some art: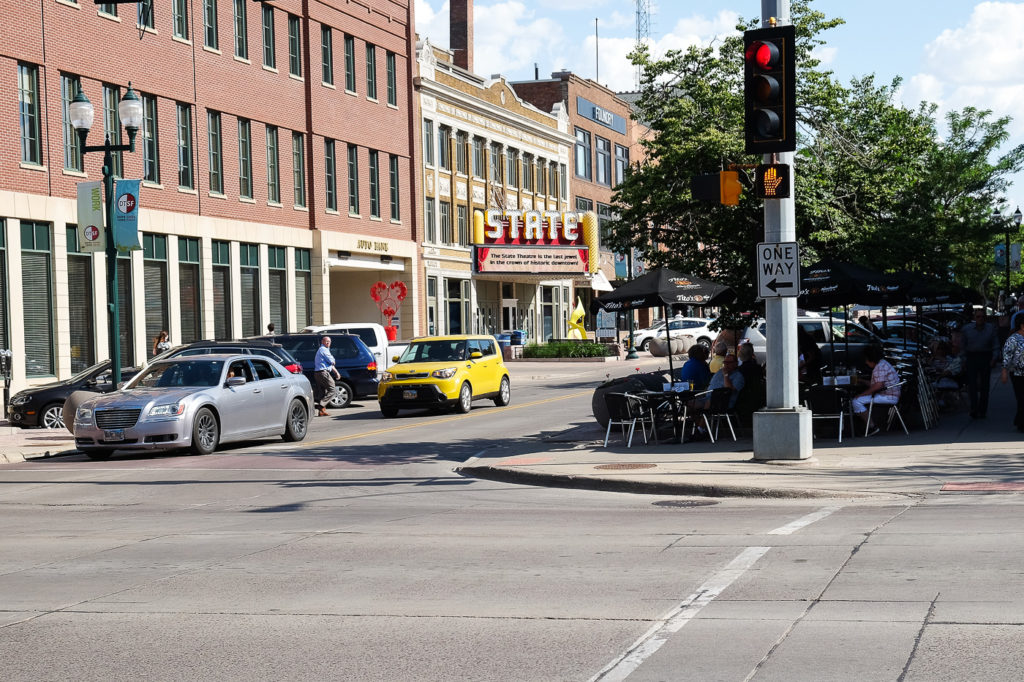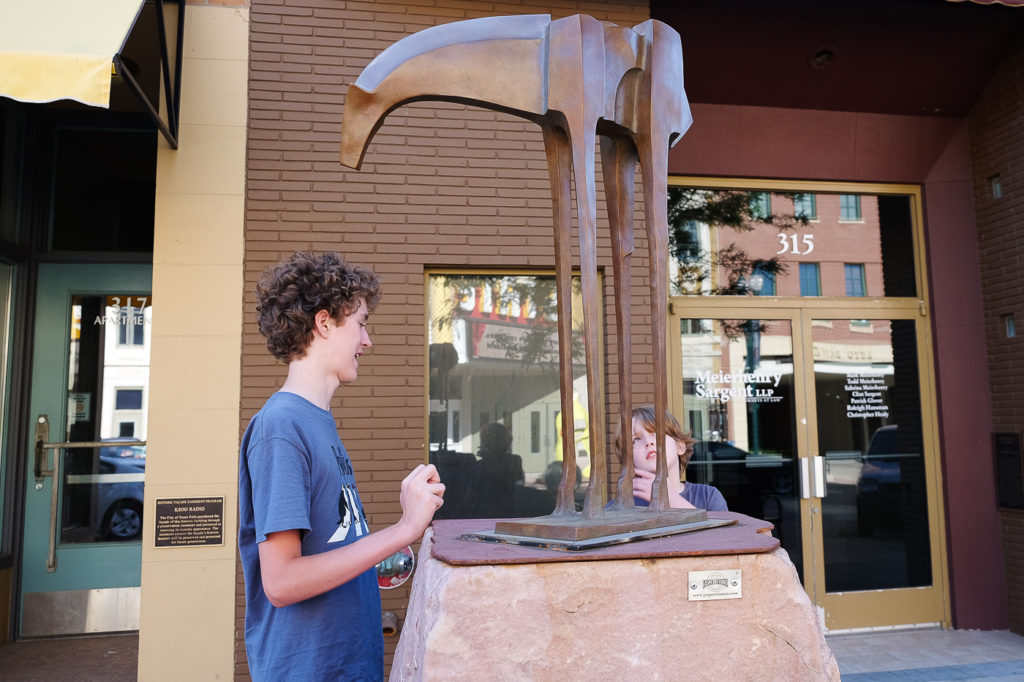 And then we drove over to the falls themselves.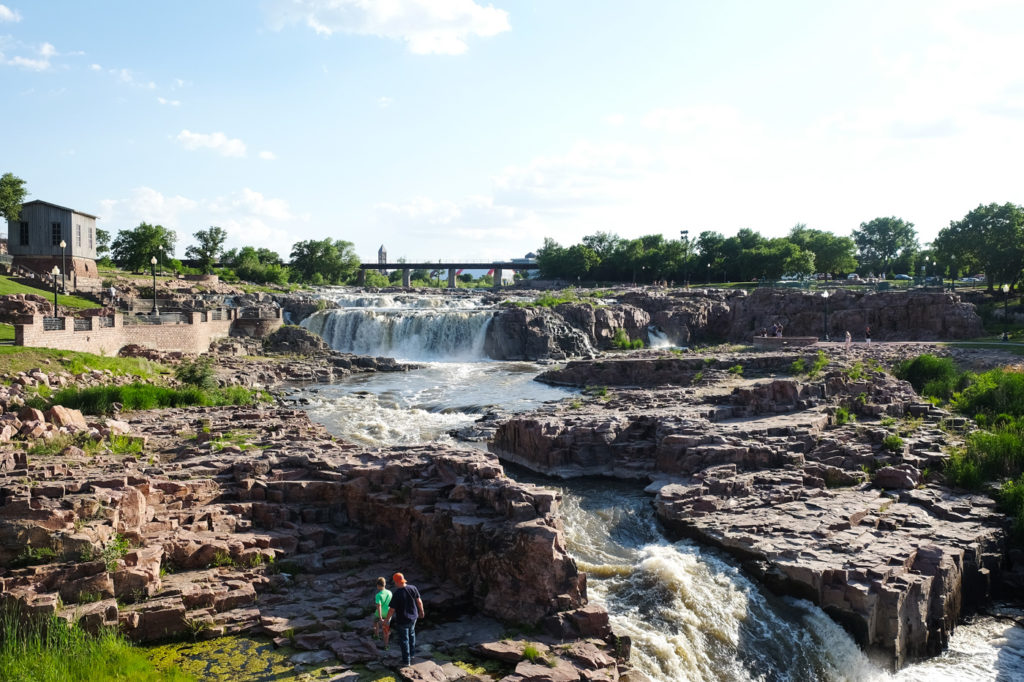 Sioux Falls is the largest city in South Dakota by far; in fact, its metro area makes up nearly 30% of South Dakota's population. It was founded around the site of the falls in the mid 1800s, and people spent a lot of time and resources trying, with little success, to turn the falls into a manufacturing moneymaker. You can still see the remains of some of these attempts today, like the charmingly named Queen Bee Mill, in the lovely city park surrounding the falls.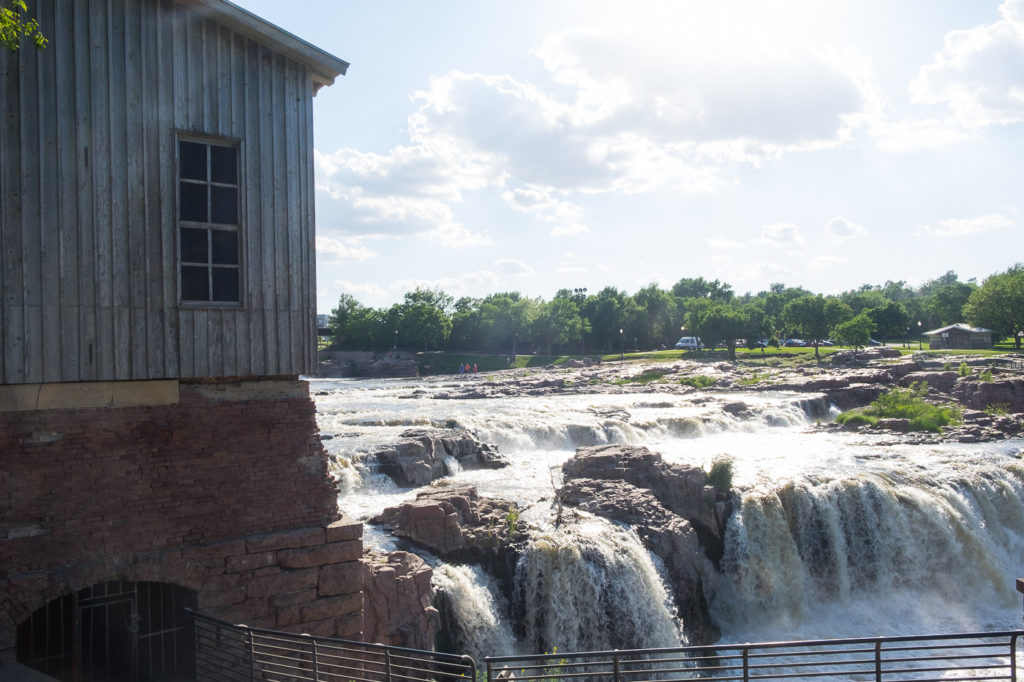 Here's Dave's short video; the falls are very loud:
We checked out the ruins, read a bunch of signs about the history of the falls, Abe climbed on the Sioux quartzite that's all over the place: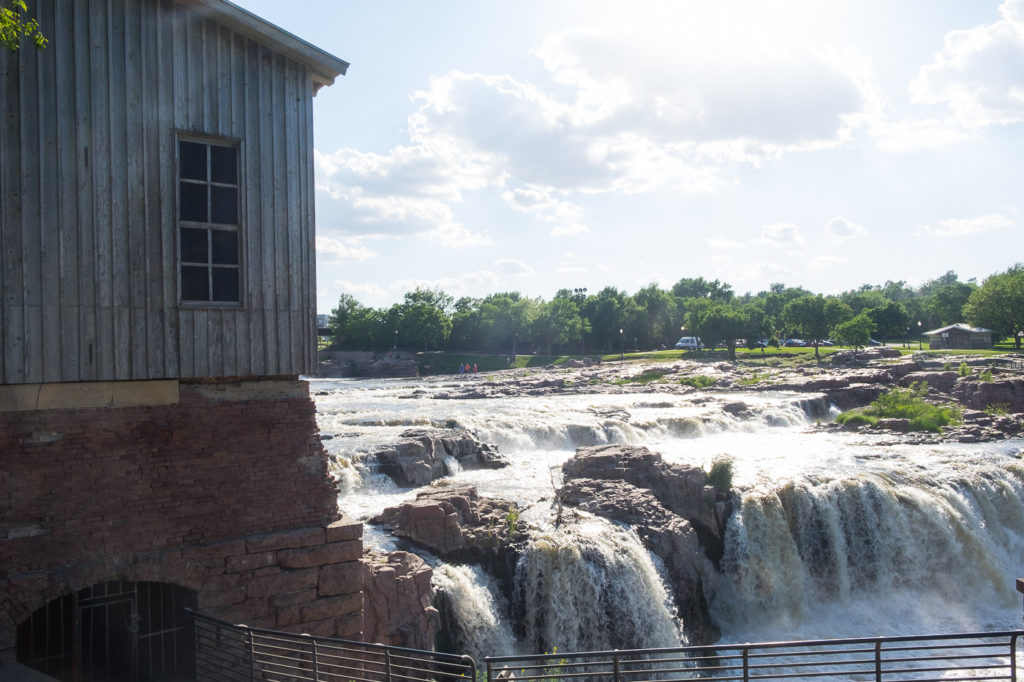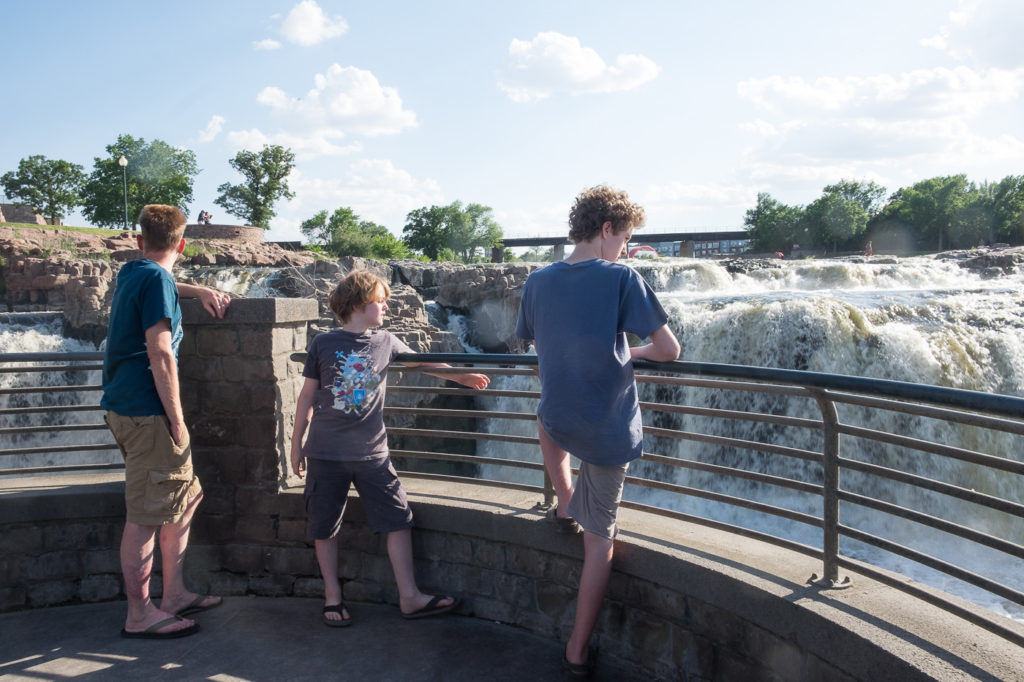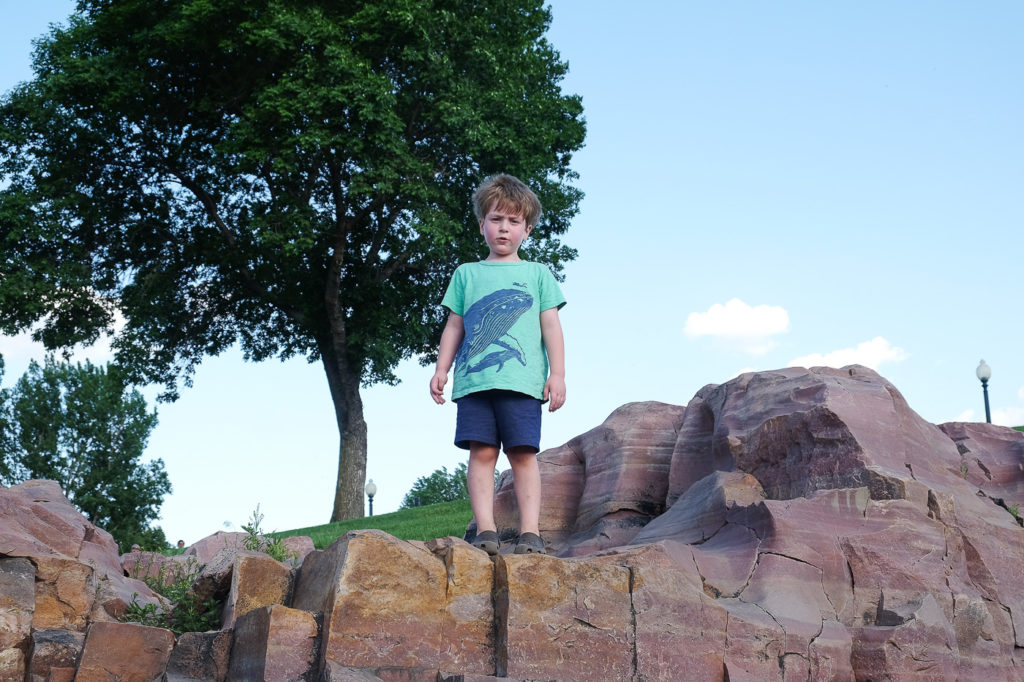 I'd read that the falls sometimes have a less than impressive amount of water, but they were really going while we were there: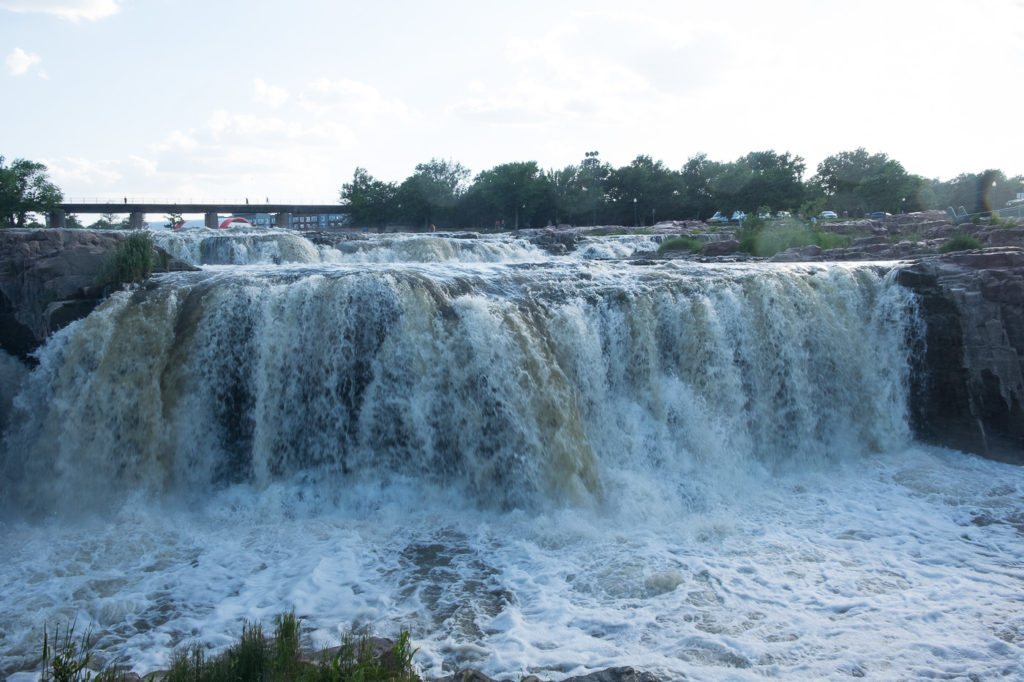 Then we climbed up the tower (the one back across the water in the picture down there) to get a look at the falls from up high: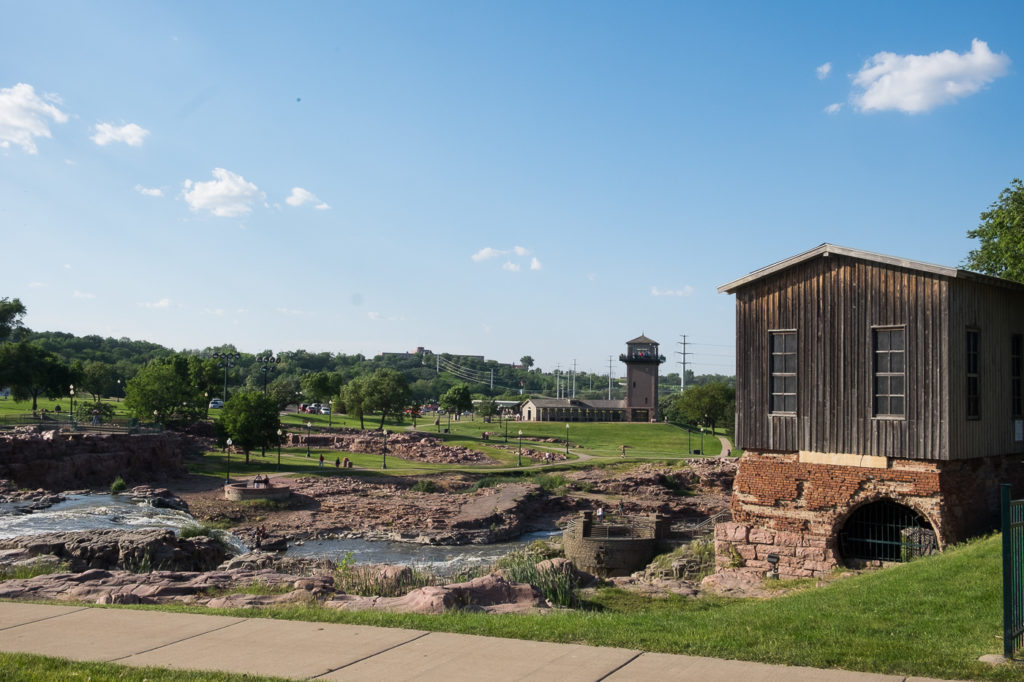 And that, alas, was all we had time for in Sioux Falls. This guy looks like of bummed about it, too: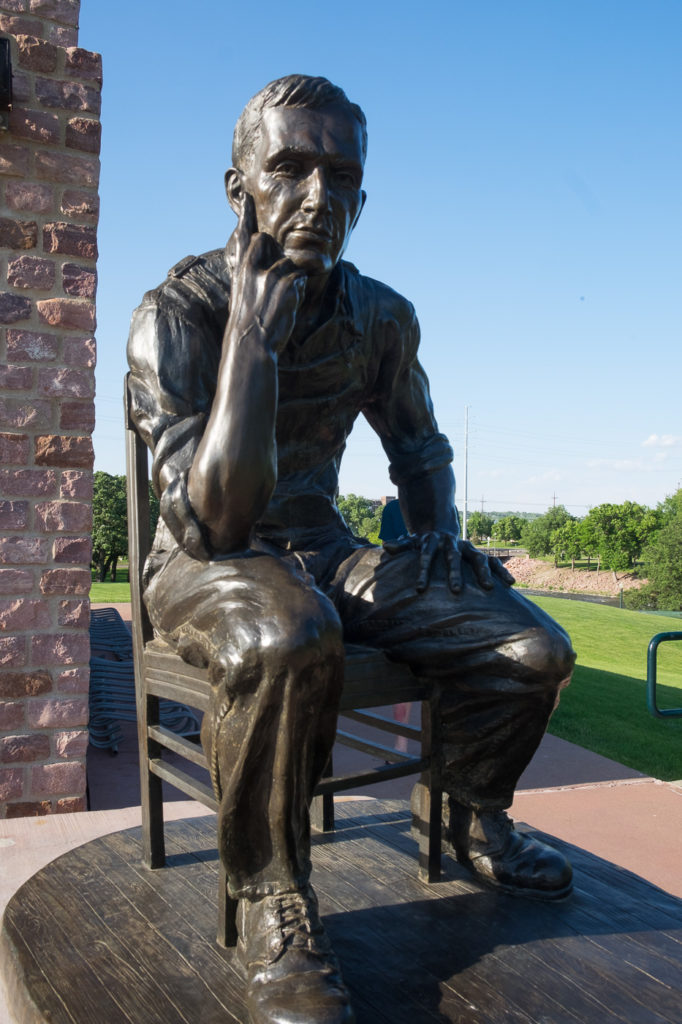 But I also want to throw in a fun stop we did on the way to Sioux Falls from Omaha. We stopped in Sioux City, IA to see the Lewis and Clark Interpretive Center and found ample RV parking, a nice playground and picnic pavilion along the Missouri River for our lunch stop, and a FREE and surprisingly extensive and well done museum, complete with animatronics. There's another museum, the Sergeant Floyd River Museum,  on the same property, too, that we didn't get to check out. Highly recommended if you're looking for a worthwhile place to stop and break up the drive–I always get very excited when I find somewhere like this that's an easy on and off the highway and has dedicated RV spaces: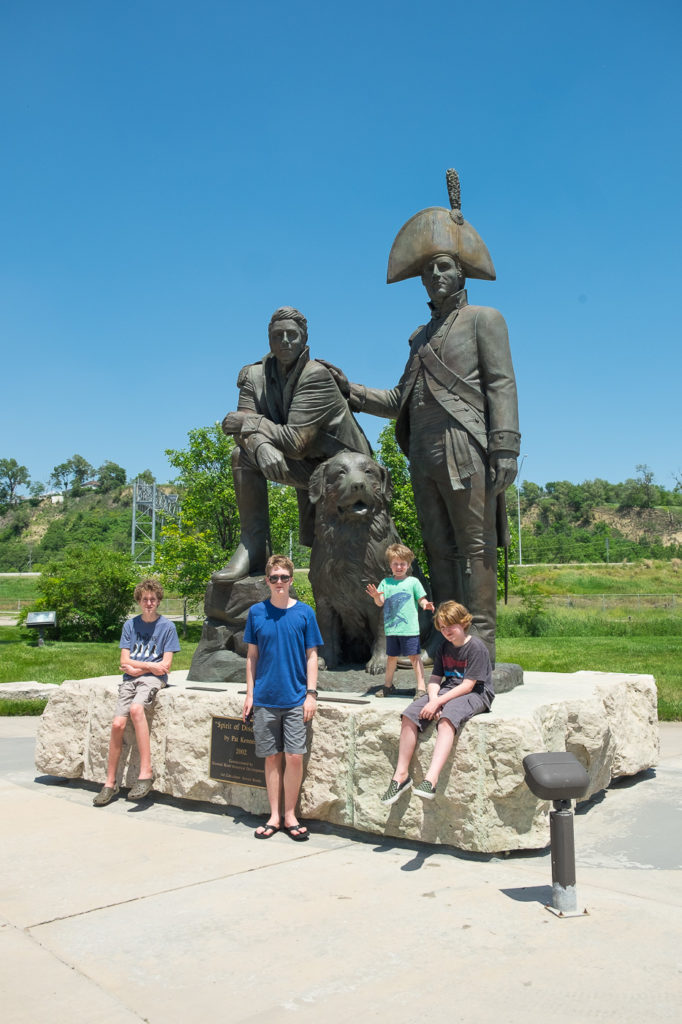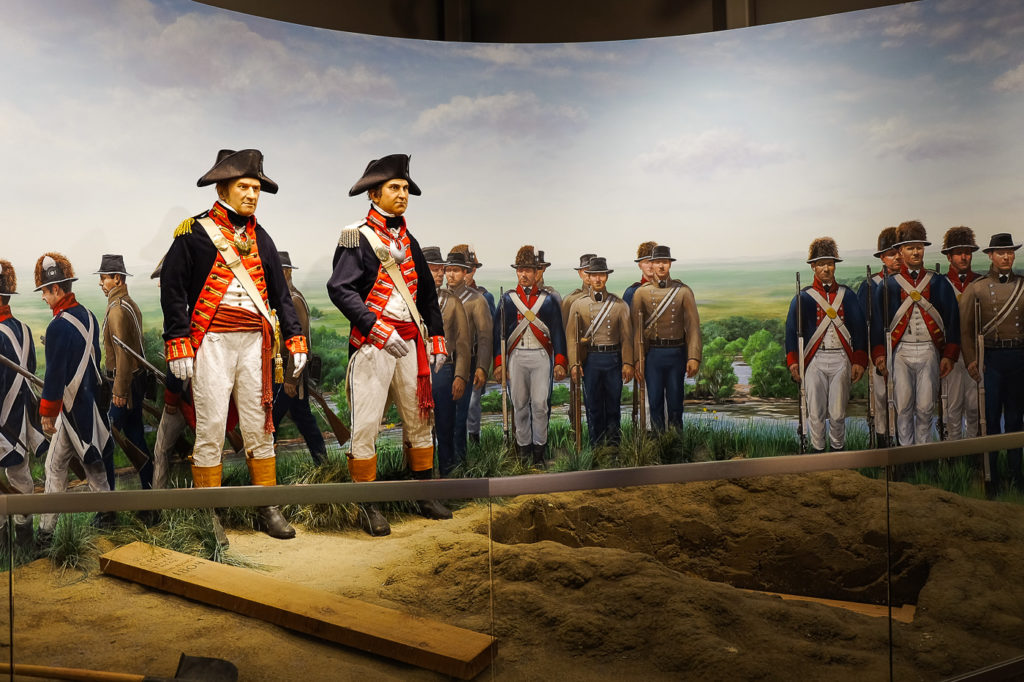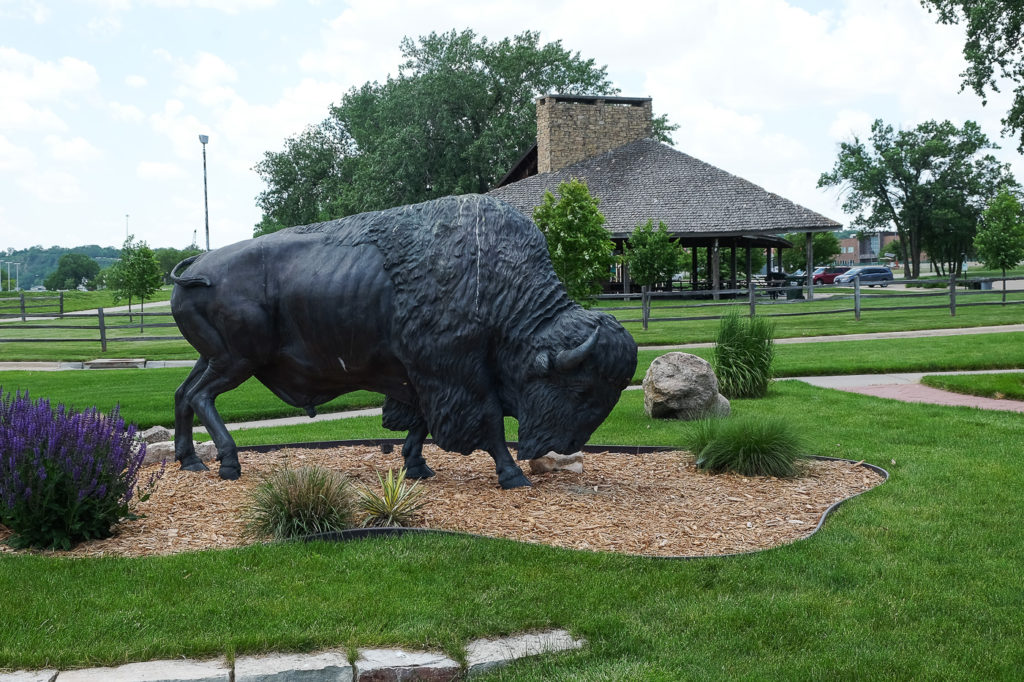 Animatronic Seaman the dog!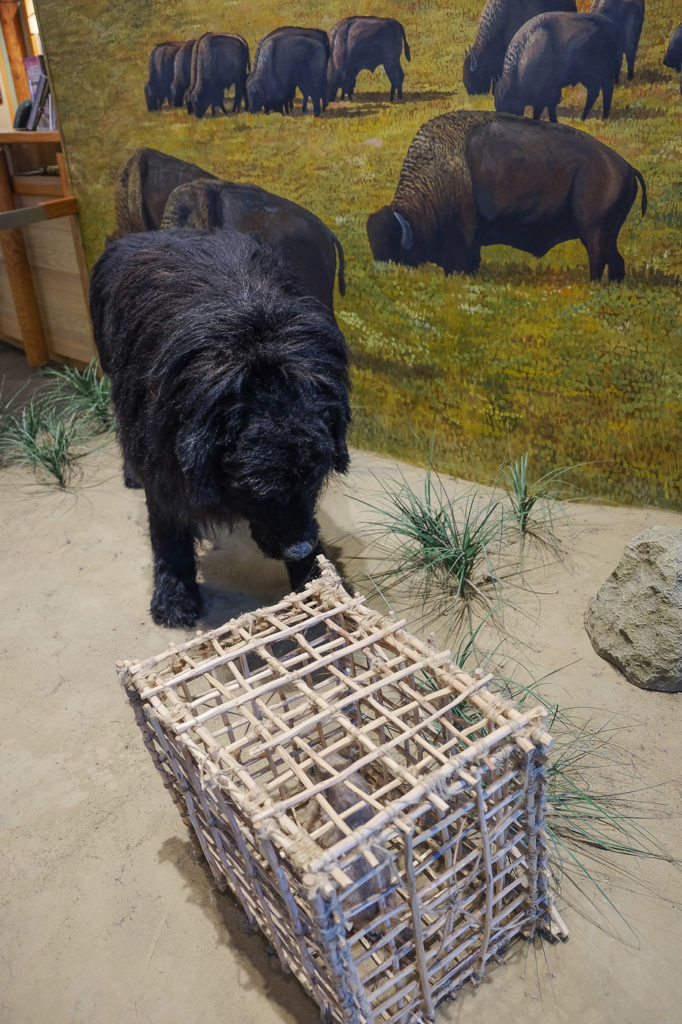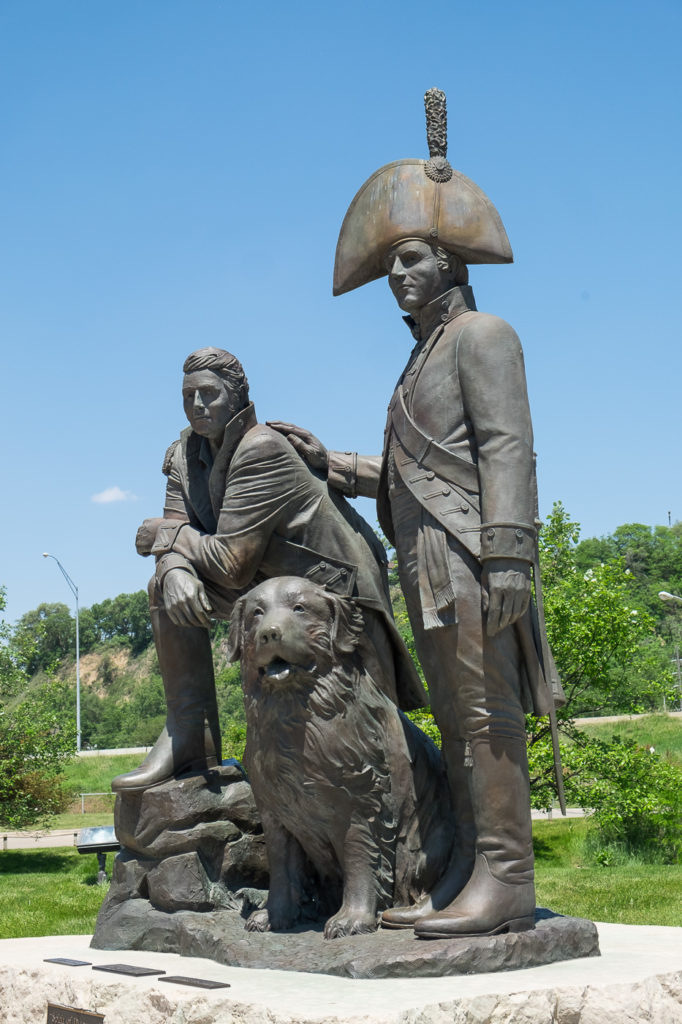 And, finally, our campground for our night in Sioux Falls: the Sioux Falls KOA.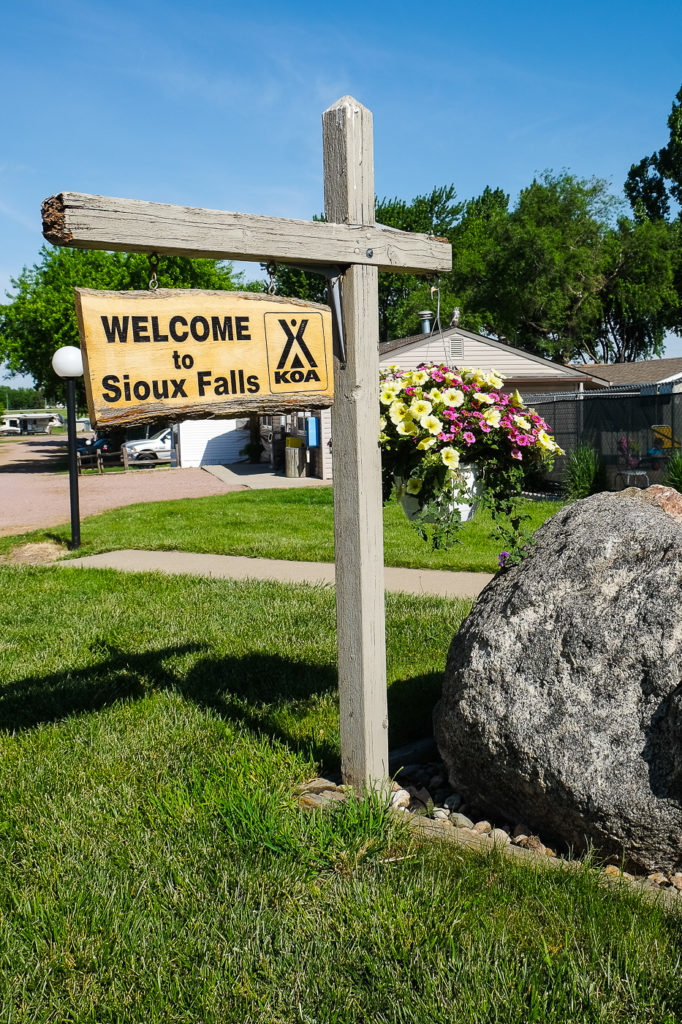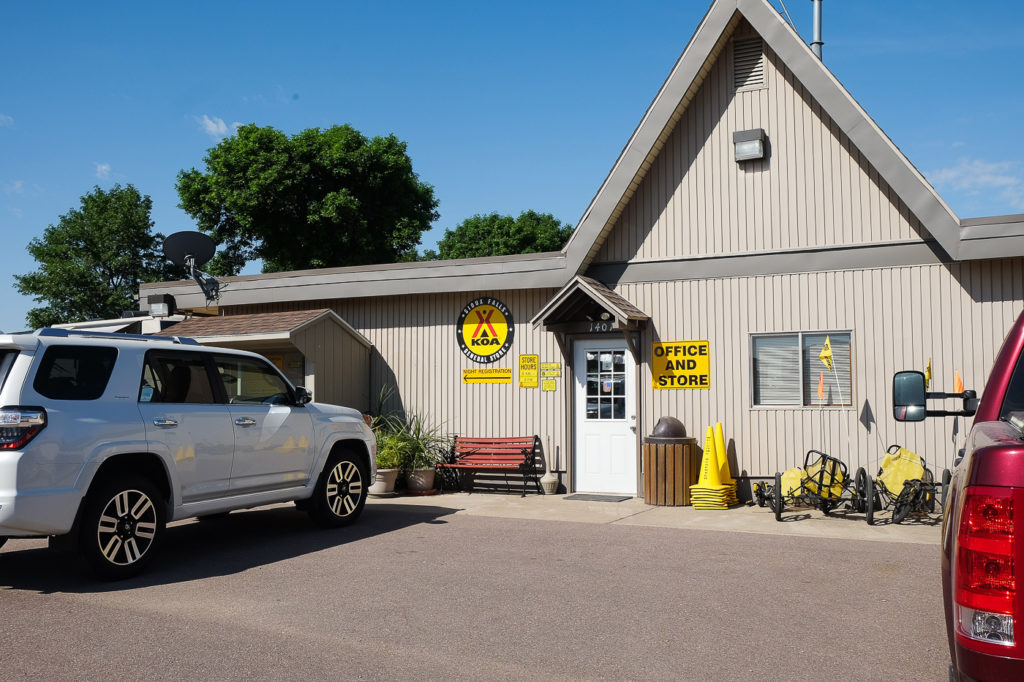 It's always hard to do a full campground review with just a one night stay to go on, so I'll do a sort of condensed one. This is a pretty typical Journey KOA–easy to get to, well-maintained, a few nice amenities but nothing over the top. The people in the office were super friendly. The roads and sites are gravel. We had a long, fairly level pull through in a row close to the highway, so we had a good bit of road noise. The rest of the campground was quieter, so make sure you ask for a site away from the road if the noise will bother you. Not a ton of space between sites, but room for a picnic table and to set up some chairs.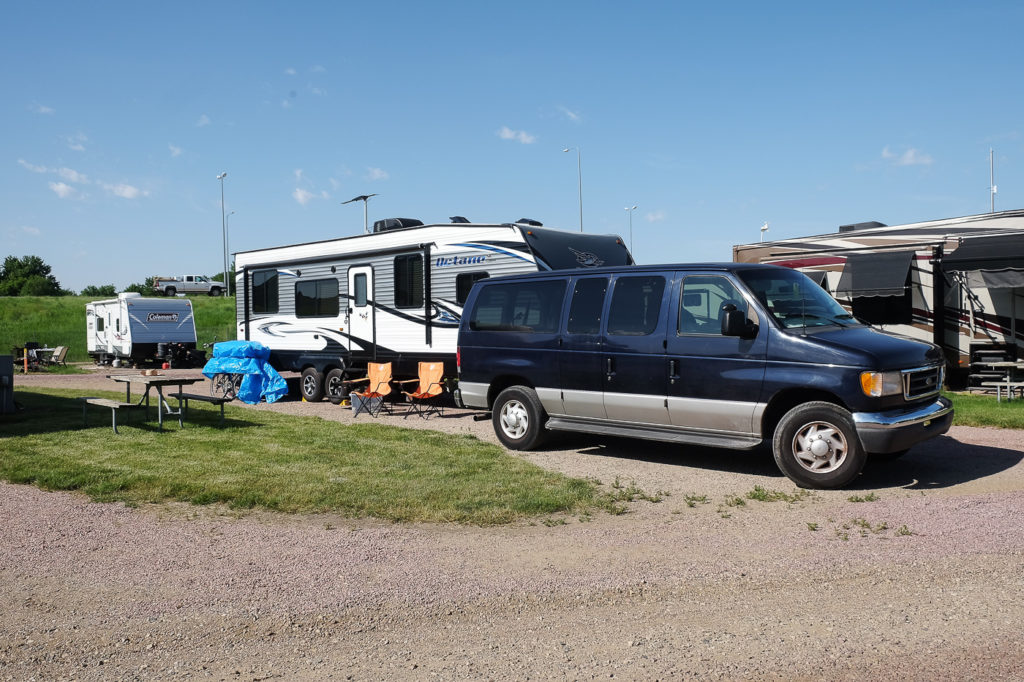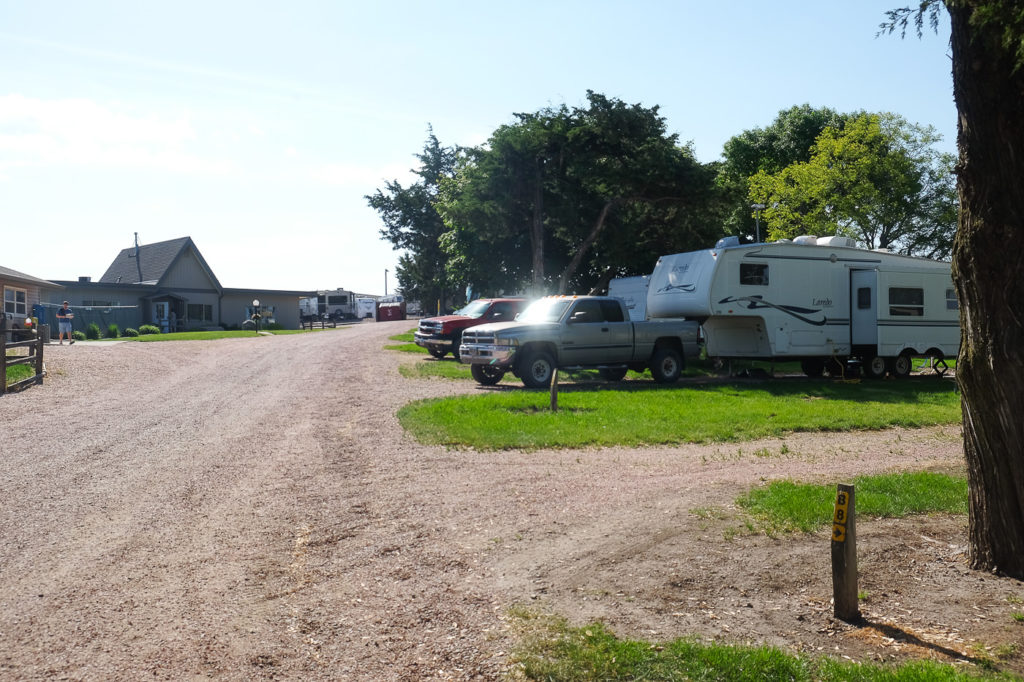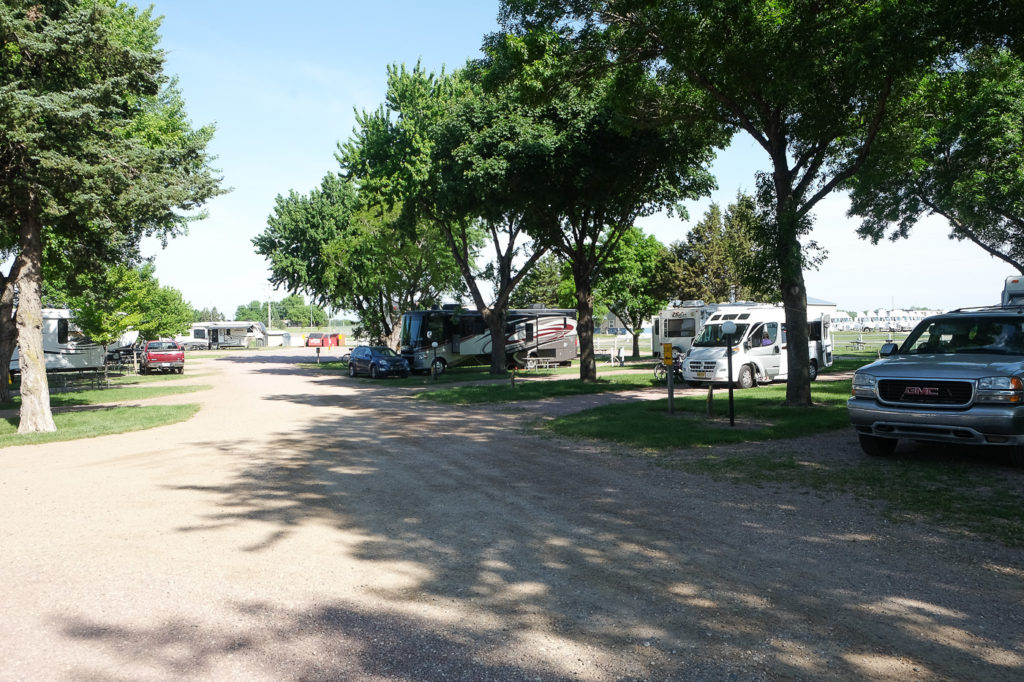 We did laundry here, and the laundry and bathhouses were in good shape. We didn't make it to the playground, but we did fit in a quick swim in the morning before checking out. We also noticed–alas, as we were pulling out–that there's a craft brewery across the street. Given what we learned about Sioux Falls, we probably couldn't have gone there with the kids, but had we known, we'd have sneaked over there for a quick tasting after Abe went to sleep. Ah, well–next time.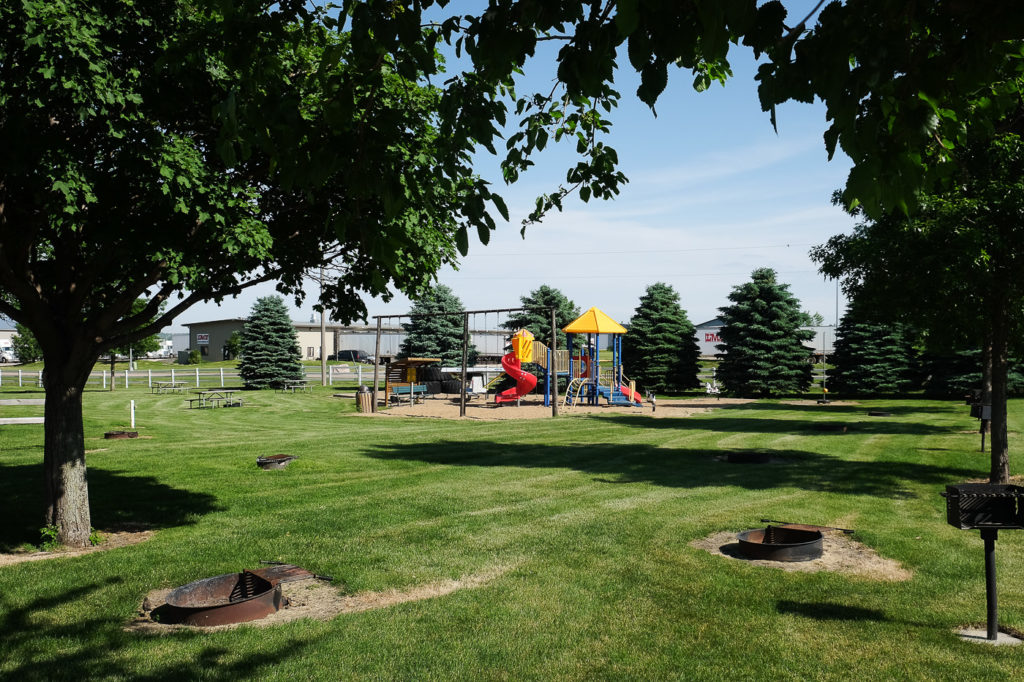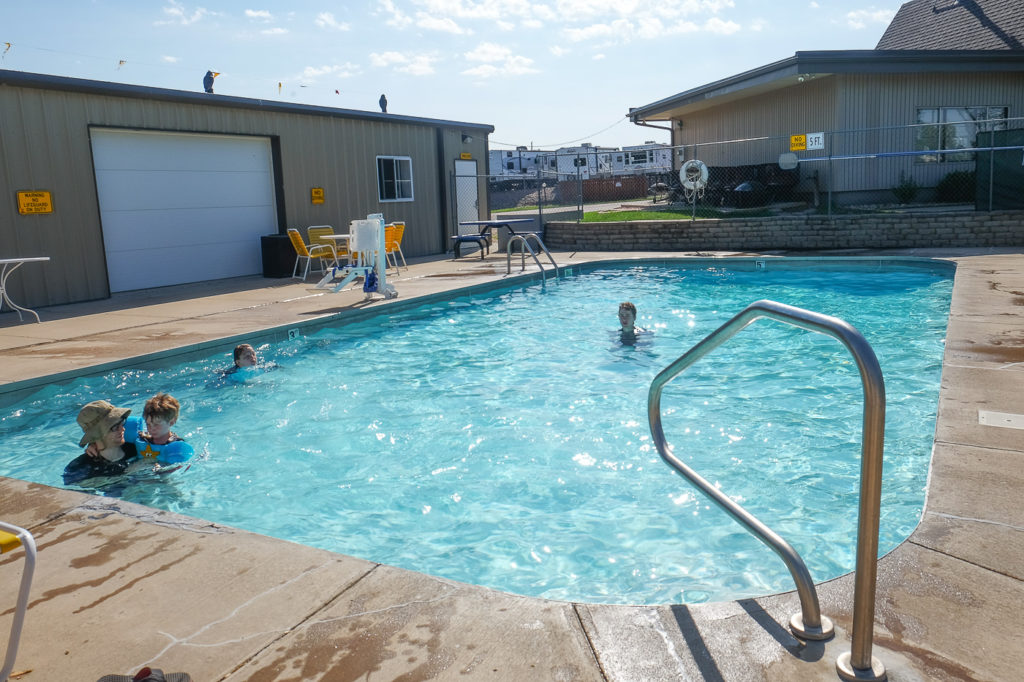 After our quick Sioux Falls stop, it was time to start heading west and keep heading west for a long time.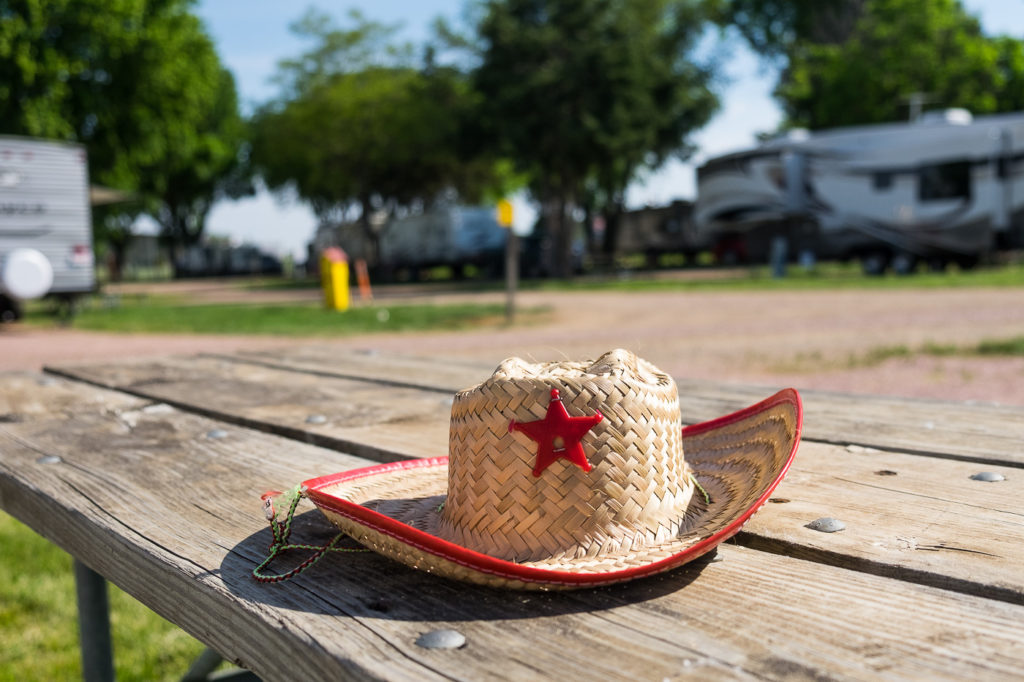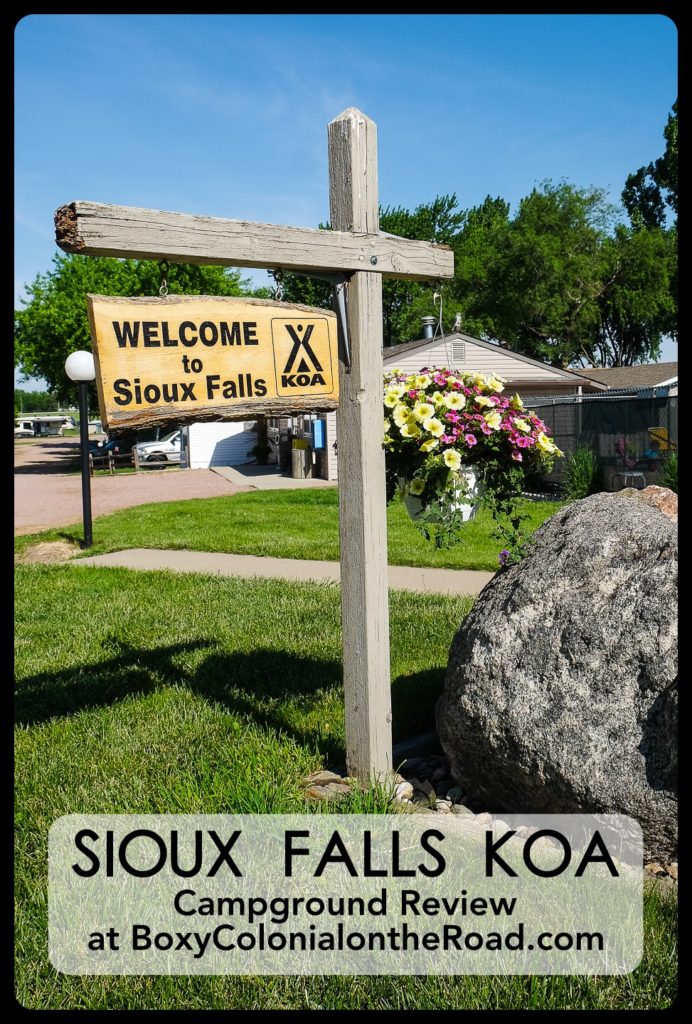 SaveSaveSaveSaveSaveSave
SaveSaveSaveSaveSaveSaveSaveSave
SaveSave
SaveSave