Travel dates: May 27-28, 2017
Chattanooga is only a couple of hours from our house, and there's tons and tons to do there, so we go pretty frequently. Holiday Travel Park is, in fact, the third Chattanooga RV park we've stayed at (you can read my review of Raccoon Mountain here and my post about the Chattanooga West KOA, our very first night in the RV ever, here).
But apparently we're on a quest to check out every single RV park option in Chattanooga, so we stayed at a third one on our first night of our summer trip. Actually, it was because we wanted a very easy in and out close to the highway, and this seemed to fit the bill. We'd originally planned to leave home Sunday morning, but our house sitters were getting into town Saturday afternoon, so we met them and showed them around and then loaded up and made the short drive to Chattanooga for a quick overnight stop.
We pulled in here after dark on Saturday night and left first thing Sunday morning, so this isn't going to be a super involved review, but I did want to give a quick run down of our impressions since it's a good option to have if you're passing through Chattanooga. Holiday Travel Park was very easy to access from the interstate, and we had a pull-through that was easy to get in and out of and long enough for us to stay hitched up.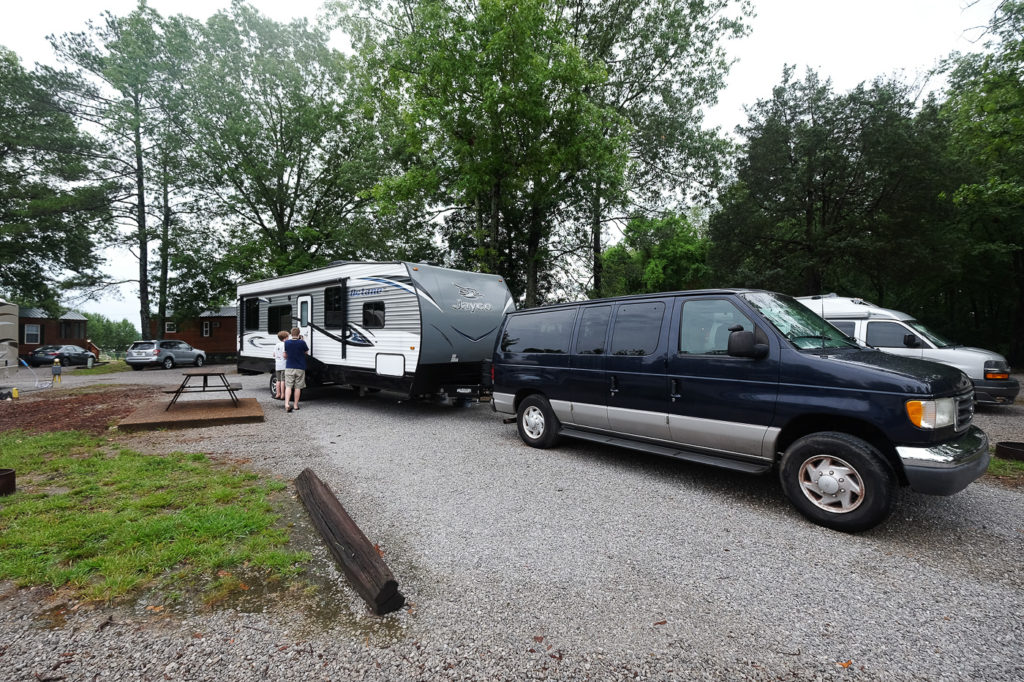 It was pouring much of the time we were here, so even if we'd had more time, the weather wasn't ideal for exploring the campground. We did take a walk around in the morning and noted that some of the sites in the back were really flooded. We were glad not to be in those, but our site was fine.
One cool feature of this campground is that it's located on a Civil War battlefield, and there's a trail from the campground to some kind of monument. We were going to check that out before we left, but the trail was very muddy, so we changed our minds.
There's a pool and a playground, tent sites and cabins to rent. Gravel sites weren't huge, but were relatively well spaced, with picnic tables and fire rings.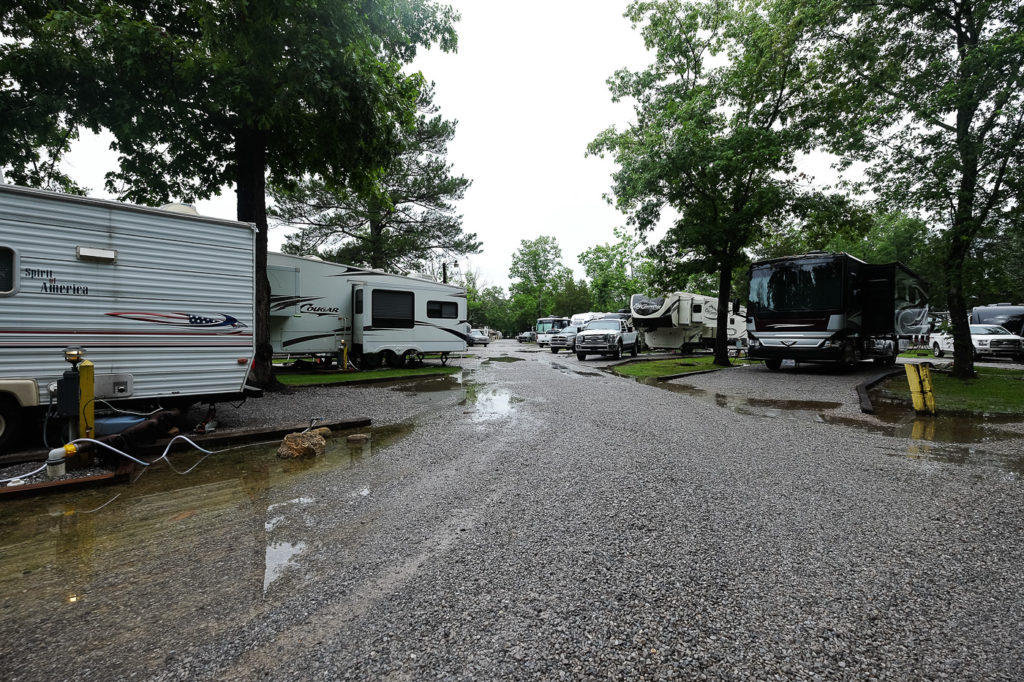 So all in all, a good option for a quick overnight stop. I think I'd give the edge to Raccoon Mountain for a longer stay….we felt like the sites there were more spacious and the whole place felt less RV park-y and more like a campground (but, it should be noted, we were there in November with a not very full campground) and there were some nice perks like the caverns right on site. But Holiday Travel Park is half a mile from 75, so you can't beat it for location if you're passing through like we were.
If you do have some time to explore, there's SO MUCH to do in Chattanooga. I have posts about it here, here, here, and in my Raccoon Mountain review.
Next up: Nashville!
Maybe you would like to pin this?