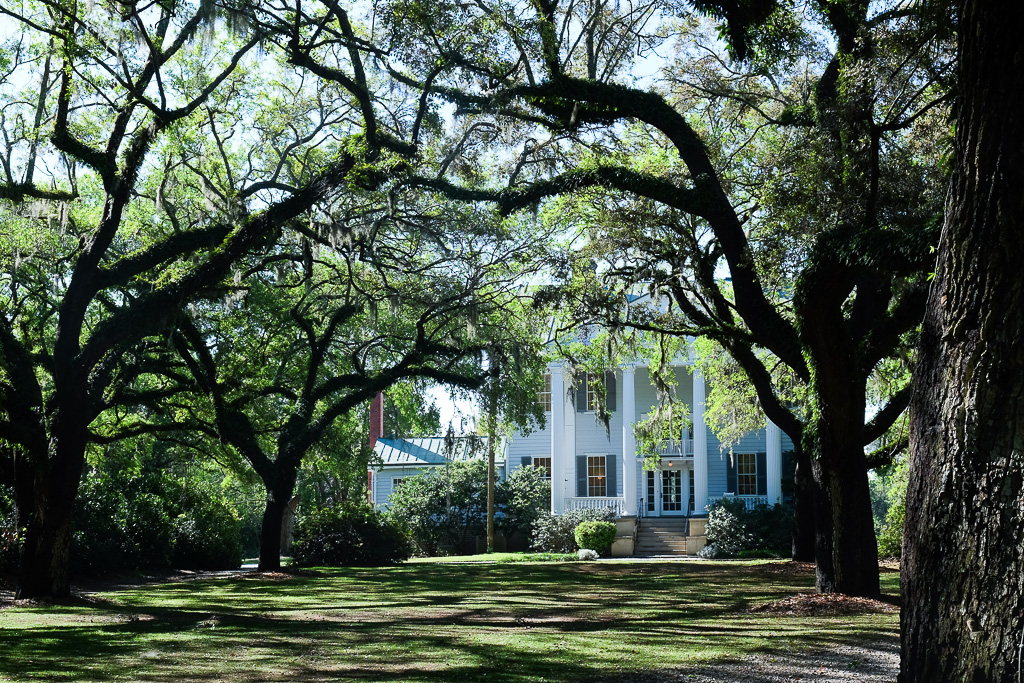 When our McCleod Plantation tour guide, Paul, tells us, "'Plantation' is really just a euphemism for 'for profit slave labor camp,'" I know we've come to the right place.
We try it out, driving around Charleston later in the trip: "Shadowmoss Slave Labor Camp Golf Club." "Slave Labor Camp Oaks Apartments." I can see why they didn't go with that.
I take my tourism pretty seriously, and, in particular, I take the task of responsibly and honestly introducing my kids to different aspects our country's history pretty seriously. And it's difficult to go to Charleston without confronting the curious phenomenon of plantation tourism.
Charleston visitors have their pick of plantation houses to tour, complete with beautifully restored houses and lavishly landscaped gardens. And often with extra features like boat rides and petting zoos and living history demonstrations. There are guided tours of the homes and maybe–just maybe– there's a separate guided tour about the lives of the enslaved workers who lived there.
It's not that I'm uninterested in beautiful old houses and lavish gardens, and God knows I'm certainly not uninterested in living history demonstrations. But I am uncomfortable with the notion of a plantation as a big, fun tourist destination: slavery Disneyland! (incidentally, remember that time when Disney considered making an actual slavery Disneyland?! Well, in part at least. No? I didn't either, but it's fascinating. I'm equal parts convinced that Disney's America would have been a giant nightmare and sad that it was never built and I don't get to go there).
So when I was looking for places to visit in Charleston, I looked for something different from the typical plantation visit.
McCleod is the only plantation in Charleston (and one of the very few in the country) with the express mission of telling its story from the perspective of the enslaved people who lived there. It's a little remarkable that this is such a rare approach when you consider that the average plantation might have had a family of four or five or six white people living on it and more than 100 enslaved people.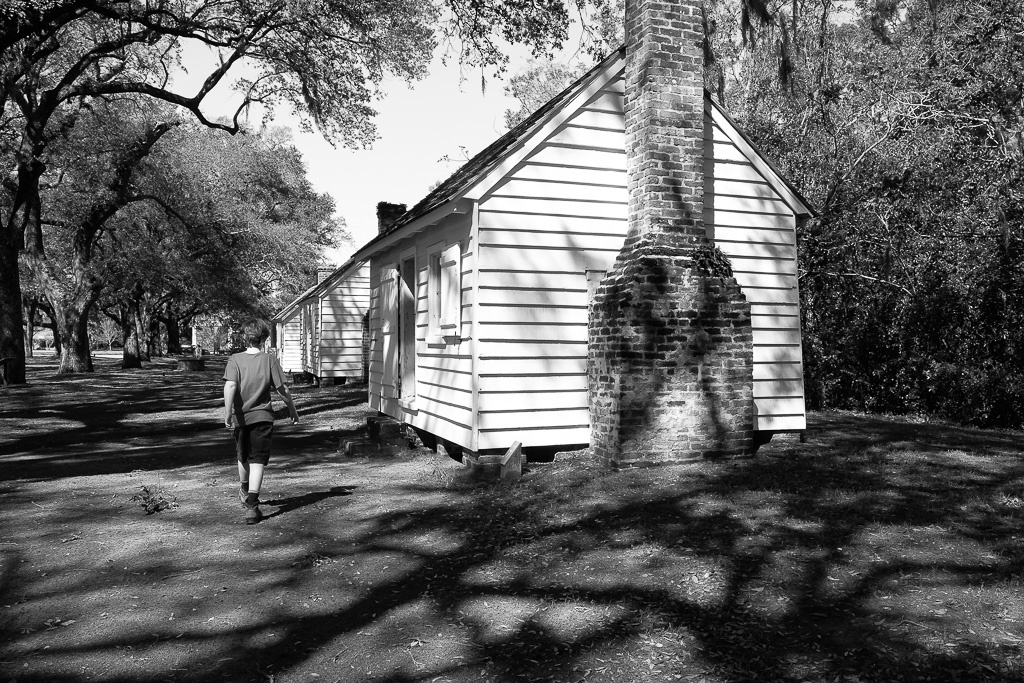 Our guided tour covers the grounds of the house and the outbuildings. We learn that the columns on the "front" of the house were actually added to what used to be the back of the house after the cotton industry in Charleston died and the house's owners were trying to make money off of tourism; they needed to make the house look more like people thought a plantation house should look. The original front of the house: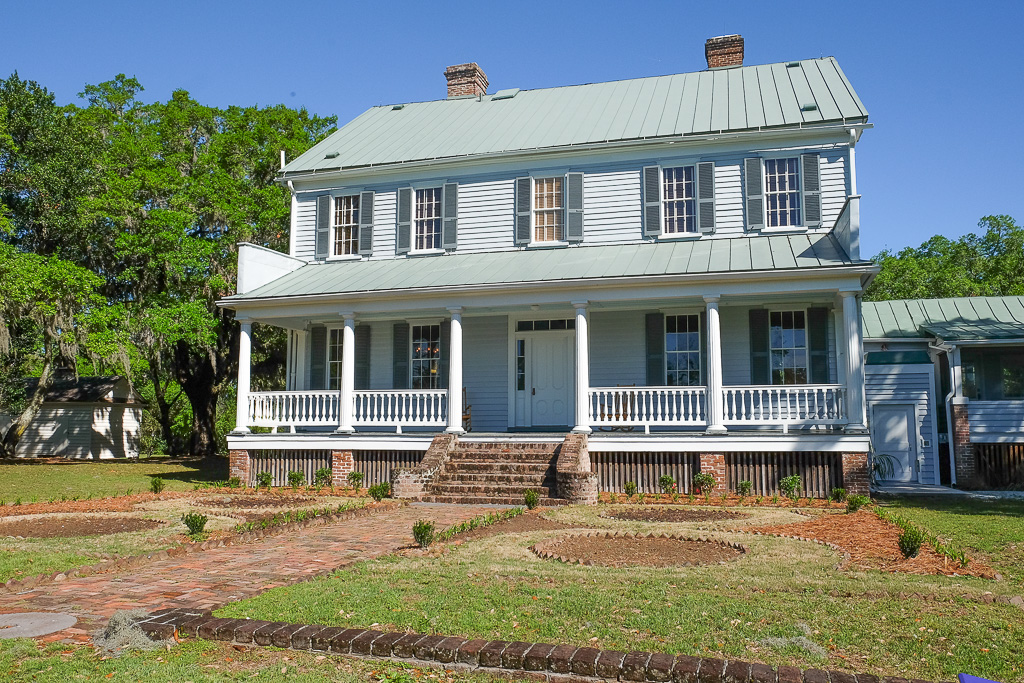 Paul shows us a brick on the side of one of the building at McCleod where you can still see the fingerprints of the enslaved child whose job it was to finish the bricks by hand.
We learn about the plantation before the war, during the war, and since. Everyone's story gets told, and it's clear that the research that went into telling these stories has been a thorough and exhaustive labor of love.
After the guided tour, we explore the first floor of the big house, and there's an interpreter inside to answer any questions (and signs giving more information in each of the rooms):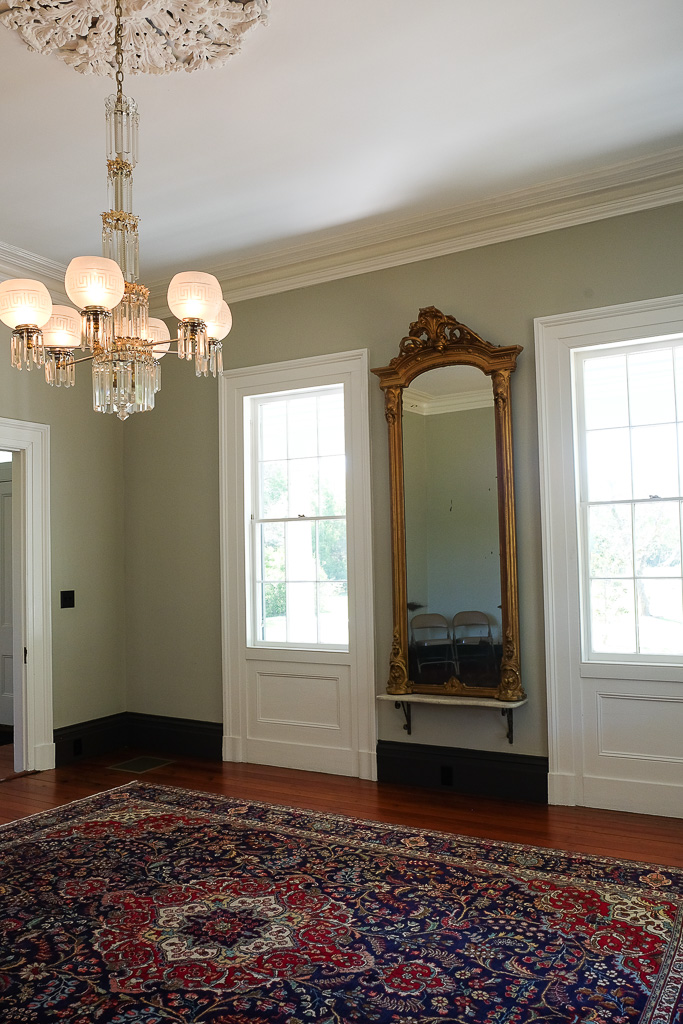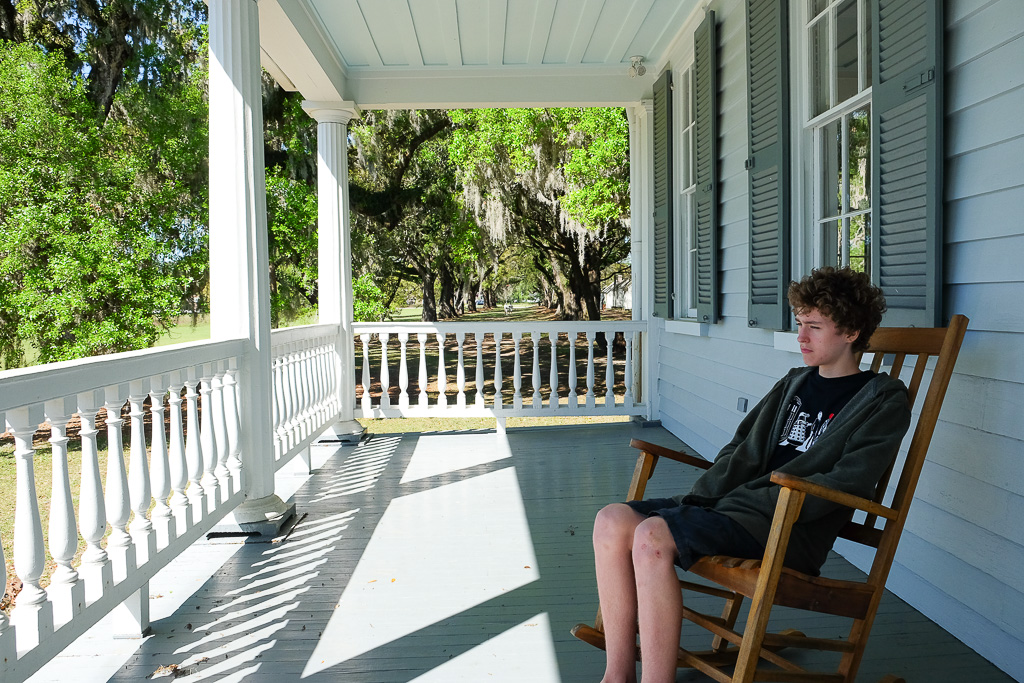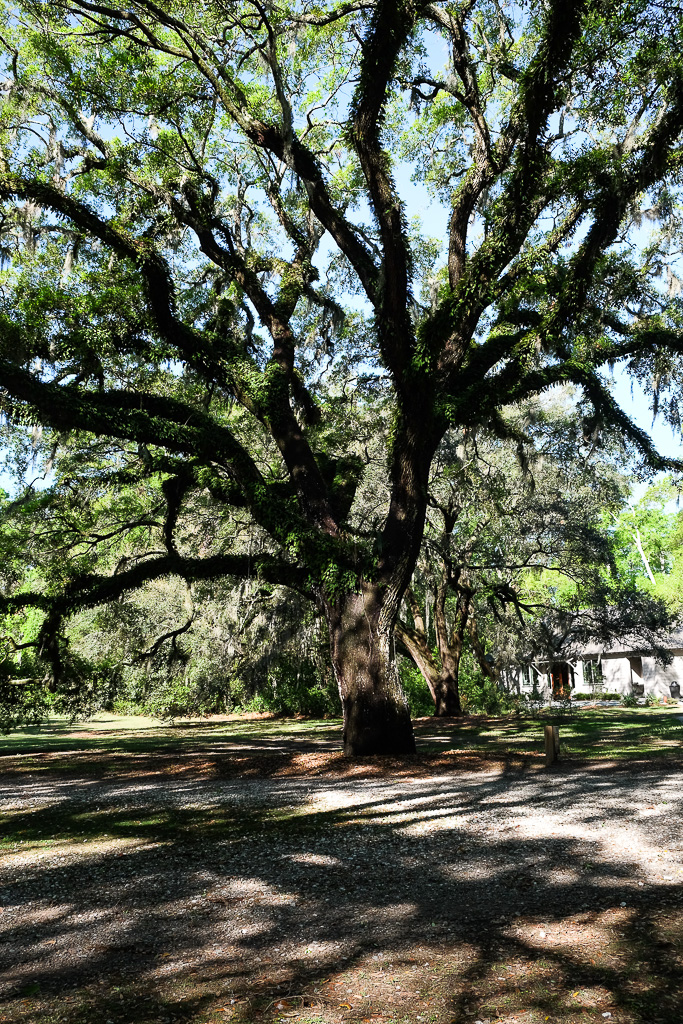 I spent some time reading the twitter feed Af Am History Fail (@Afamhistfail) before our trip. The….author (is that what you call the person maintaining a twitter feed?), Margaret Biser, used to work as a tour guide at an unnamed plantation and used the feed to report on some of the more…interesting questions and comments she heard from visitors:
'These were house slaves, so they must have had a pretty all right life, right?' is a phrase I heard again and again. Folks would ask me if members of the enslaved household staff felt "fortunate" that they "got to" sleep in the house or "got to" serve a politically powerful owner. (source)
Now, I should note here that I feel like we've had pretty good experiences with plantation visits over the years. We went to Monticello last summer, and we took the "Slavery at Monticello" tour, but the topic wasn't relegated just to the separate tour; the specter of slavery and the stories of the enslaved people who lived at Monticello were all over the place.
Biser again, in an interview with The Toast:
One of the best things a historic site can do is demonstrate the humanity of African-Americans. When cops are out shooting people because they find black people scarier or less sympathetic than white ones, anything museums can do to remind us that historic African-Americans were complex human beings with emotions and initiative is great. Unfortunately, good records weren't always kept about enslaved people, and those we do have are rarely in the voice of an actual African-American person. For that reason, and due to the too-frequent failures of museums past to place value on black history, a lot of historic sites' discussion of slavery has been of slaves en masse. It lacks the careful personalization of white history, which often includes endless recitations of names, homes, and family relationships.
We also toured Drayton Hall, another historic home in Charleston; my understanding is that Drayton Hall itself was not actually part of a working plantation, but more of a country retreat home for its owners. The focus was on the architecture and history of the house itself (and it was a fascinating and wonderful tour. I posted about in my house blog here), but the tour guide made sure to make it clear that the skilled craftsmanship and carpentry we were admiring were all done by enslaved laborers.
We toured the Woodrow Wilson Boyhood Home in Augusta a couple of months ago and even there–in a middle class home that was nothing like a giant plantation–our tour guide told us what she could (without being asked) about the African American servants who worked in the house: there is no record of either the Wilson family or the Presbyterian Church that owned the house being slaveholders, so it's possible the servants were free Blacks who had traveled to Augusta with the Wilson family, but there's no way to know for sure. If I remember right, we were also told the names and some personal details about the people who worked there when the information was known.
So all of that to say that in most of our visits to historic sites, the people working there and leading tours are careful to tell the stories of the enslaved people who lived and worked in them rather than glossing over them or ignoring them all together. And I'm sure, based on research I've done, that this is a conscious effort to be inclusive and a big change over how things were done 10 or 20 or 30 years ago.
But lest we think that pretending slavery never happened is a problem unique to the 70's or 80's….I did some very quick googling to look at the websites of other plantation tours, and the very first thing I clicked on, randomly, was Houmas House in Louisiana. I looked at all the information about the tours they offer and didn't see a word about slavery. I scanned the page giving a history of the property and "slavery" "enslaved" "slave" weren't mentioned once. Curious, I turned to the reviews on TripAdvisor to see if I could get any more insight. Sure enough, most of the negative reviews (and, to be clear, the vast majority of the reviews are glowing) complain that there is no mention whatsoever of slavery on the house tour. The owner's responses to the negative reviews are defensive and manage to spectacularly miss the point.
Its unfortunate that you were disappointed in your visit to Houmas House. It seems that your disappoint is due to your expectiation was that the story of slavery was to be told at Houmas House. Unfortunately, that is not our story. Our story is one of the beauty of the architecture of this historic house, and its collection of antiques and artwork. Our gardens are of great pride, and many consider them the most beautiful gardens in the South. That is our story, of the great architecture, collections, and gardens. That is what we advertise, and promote. We do not say that this is a place to visit to learn about slavery, and its horrors, and injustices. Ours is a tour of beauty of this great estate.
But, see, the "story" of a plantation that, at its zenith, enslaved more than SEVEN HUNDRED people is a story about slavery. Slavery isn't some unfortunate bad habit that plantation owners had–"John's a great guy–I just wish he'd give up smoking"–it's the only reason the plantation system could exist at all.
We are showing the artwork, furnishings, and architecture of the Sugar Barons who lived at Houmas House. We are telling the story of the lives and family members of the wealthy Sugar Barons. We are telling the story of the commerce and lifestyles of the Sugar Baron.
Again, this IS a story about slavery. There are no sugar barons without slavery. There is no Houmas House without slavery. You're telling part of the story and ignoring the parts that make people uncomfortable and in doing that, you're erasing people.
And in case there's any lingering inclination to give the owner of Houmas House the benefit of the doubt–maybe he just doesn't know how to talk about slavery and doesn't want to do it in an offensive way–the advertising copy makes things crystal clear:
Houmas House offers visitors much more than a tour of a plantation home.  Here, guests feel transported back to a time of antebellum, Southern splendor.  The owner invites you to slow down and enjoy a leisurely time here.  So, relax.  Play a game of croquet.  Sip a refreshing Mint Julep.  And experience the South the way it was meant to be, at Houmas House Plantation and Gardens.
…."the way it was meant to be." Yeah. Is there anyone who doesn't long for the South to return to the way it used to be back before the Civil War? When Mint Juleps magically appeared in your hand and, really, who even needs to think about how they got there?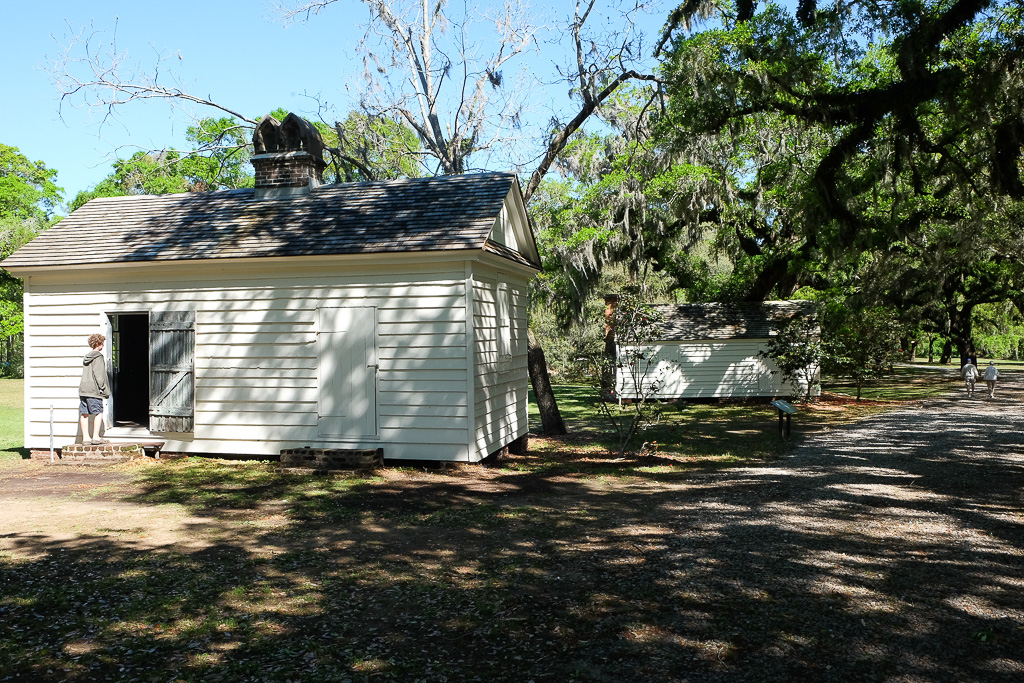 The Basics: McCleod Plantation is operated by the Charleston County Park and Recreation Commission (the same place that runs James Island County Park; they do good work!) Admission is $15 for ages 13 and up, $12 for ages 60+, and $6 for ages 3-12 (free for kids 2 and under). Hours are Tuesday through Sunday 9-4. Your admission includes a guided tour (check website for times and plan your trip accordingly, but if you don't have time for a guided tour, I understand that they have an app you can download to help with a self-guided tour). McCleod is just a short drive from James Island County Park, so if you're staying there you can get there much faster than most of the other Charleston area historic sites.
The older kids (11-15) got a lot out of the tour and enjoyed it; Abe, at four, not so much. There's a lot of talking and relatively little walking around, so he got pretty restless. You won't need more than a couple of hours here; the tour lasts about an hour, if I remember right and then you can see the main house, other buildings, and grounds in maybe another half an hour. There's a small visitors center/gift shop with a couple of exhibits to look at, but, again, nothing time intensive.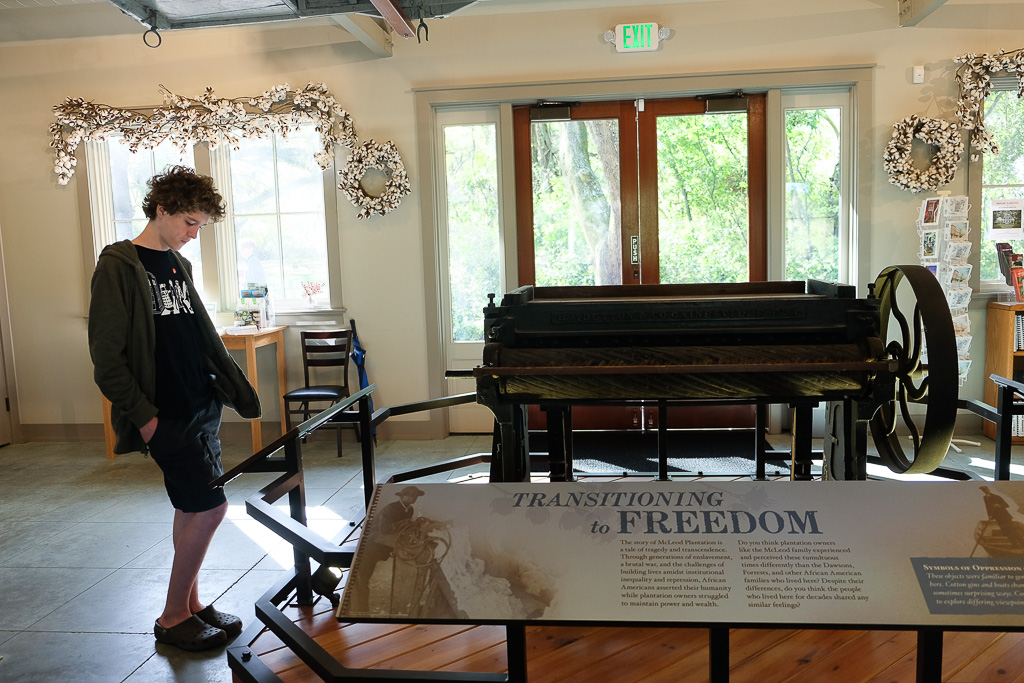 It has, incidentally, taken me FOREVER to write this post. Partly because it's 2000 words long, but mostly because I wanted to be careful with the content and the tone. I didn't want it to come across as pedantic or self-congratulatory, and I wanted it to be about plantation and historic site tourism specifically, not about how slavery is really, really bad. We all know that slavery is really, really bad (I hope. If you don't think slavery is bad, please don't read my blog anymore), but the narrower topic of how historic sites should talk about slavery is really interesting to me and something I hadn't thought a lot about until I started looking into in preparation for some of the trips we've taken recently.
Maybe you would like to pin this?