If you're looking for RV camping near downtown Augusta, you don't really have a lot of options outside of Heritage RV Park. So it's lucky that it happens to be a pretty nice place. I'll say right up front that the big caution here is that there's no bathroom; if you're not self-contained, you're out of luck (and, honestly, with six people and one bathroom in the trailer, not having a backup bathroom nearby makes me a little nervous). Aside from that, though, we found this to be a great place to stay while we visited Augusta.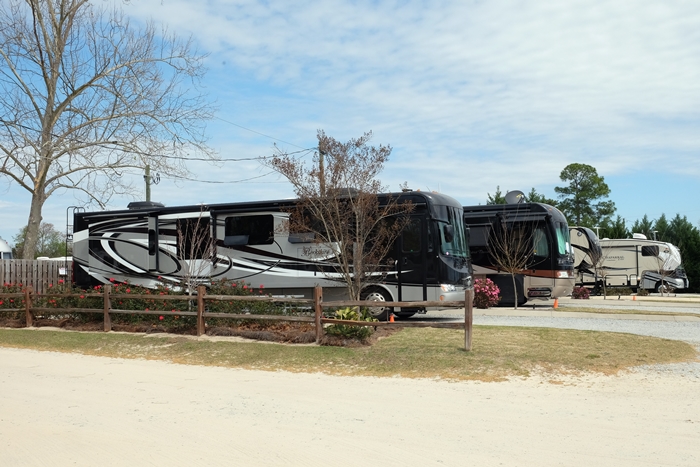 Booking and Arrival: There's very detailed form to fill out on the website to request a reservation, and then they'll get in touch with you to complete the reservation. The website mentions that some sites are "premium" sites with aluminum picnic tables and landscaping. When we asked about this on the phone, he told us that they're updating all the sites and that we'd love our site. Which we did–more in a bit. It looks to me like they're working on updating the whole campground and starting with the sites in the areas reserved for short term stays. Except during Master's week, sites are $35/night, with discounts for longer stays. And they don't charge for extra people, which is really refreshing for a private campground. All sites are full hook up. There's free wifi and it worked great; maybe the best we've ever had.
The park is easy to access from the interstate and very easy to get around in. The gravel interior roads are super wide. The office hours are very limited; we arrived not only after they ended but after dark, so I was a little nervous about finding and backing in to our site with no guidance. But there was a map with instructions left on the office door for us and we found our site easily. And the campground is very well lit with small solar powered lights at each site, so we could see easily to get into the site and we had plenty of room to play around with and get it lined up on the wide road. I will say that the individual site was pretty narrow (the gravel pad, that is; there was a concrete patio next to it and then grass….the actual site was quite spacious, but the parking pad required a bit of precision).
Campsites: Our site backed up to the (fairly busy) road, but there was a good bit of space and a privacy fence between our trailer and the road, so we weren't bothered at all by noise. There's good separation between the sites, and the upgraded sites with landscaping are really lovely. We liked that ours was a corner site, so we had a privacy fence on on side which made for a big, private "yard".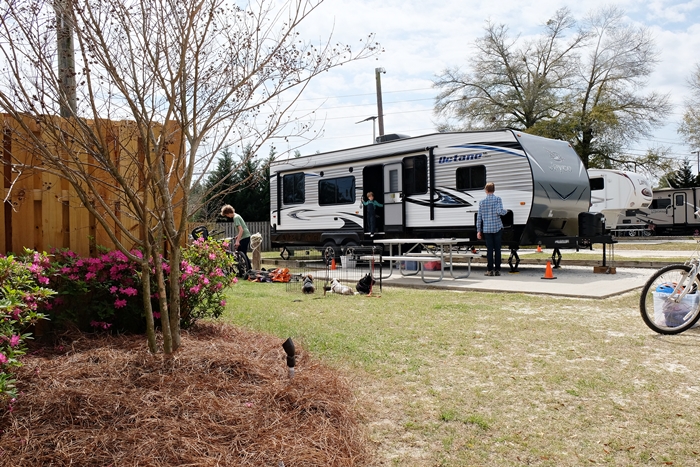 Each site has a concrete patio and picnic table, but there are no fire rings. This was a little bit of a bummer for us, since this was our first camping trip of the spring. Our site was nice and level, and the others all looked to be, too. A couple of little quirks about our particular site: we had tons of space behind us, but there was a wooden post right behind our trailer that meant we couldn't open the garage door. Also, we ended up having to go out during the weekend to buy an extra sewer hose because ours didn't reach the sewer connection. This is a combination of weird placement of the sewer connection at our site and weird placement of the other end of the sewer connection on our trailer, I think. At any rate, we now have enough sewer hose that it shouldn't happen again.
Most of the sites in the front of the park (the section used for short term stays, as far as I can tell) were similar to ours. There is one lone pull through right off the road, so you might want to ask for that one if you're doing a quick overnight stop and don't want to unhitch. It's not the prettiest site in the campground, but it's about as easy to get in and out of it as it gets: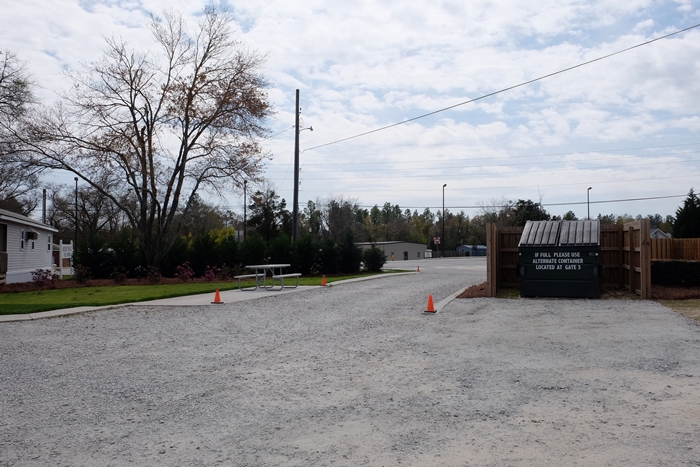 Campground overall/amenities: Other than the actual sites, there's not much going on here. The office is only open a few hours a day and not at all on weekends, if I remember right (but the owner is easy to get in touch with over the phone if you have problems or questions). As I mentioned, there's no bath house. Also no pool, no dog walk, no store, no nothing. The park was spacious enough that we could get a decent walk for the dogs in, but you're not going to be spending lots of time hanging out here enjoying the amenities because there aren't any. But it was a really nice spot to come back to after we were out touring all day. We've stayed in other "just a nice place to park your rig" kind of campgrounds before that don't put nearly so much care into making the actual campsites a pleasant place to hang out. I appreciated that we had a lovely site with plenty of room to spread out outside in the evenings; it's definitely not a glorified parking lot kind of place. I'll note that we didn't see any other kids while we were here, but we didn't feel uncomfortable or unwelcome at all.
Local Area: Heritage RV Park is about 15-20 minutes from downtown Augusta, and in a residential area with plenty of shopping (groceries, Wal-mart, chain restaurants) just a couple of miles away. You can read about all the stuff we did in Augusta here and here.
Overall, we were very pleased with the campground and wouldn't hesitate to stay again if we ever make it back to Augusta.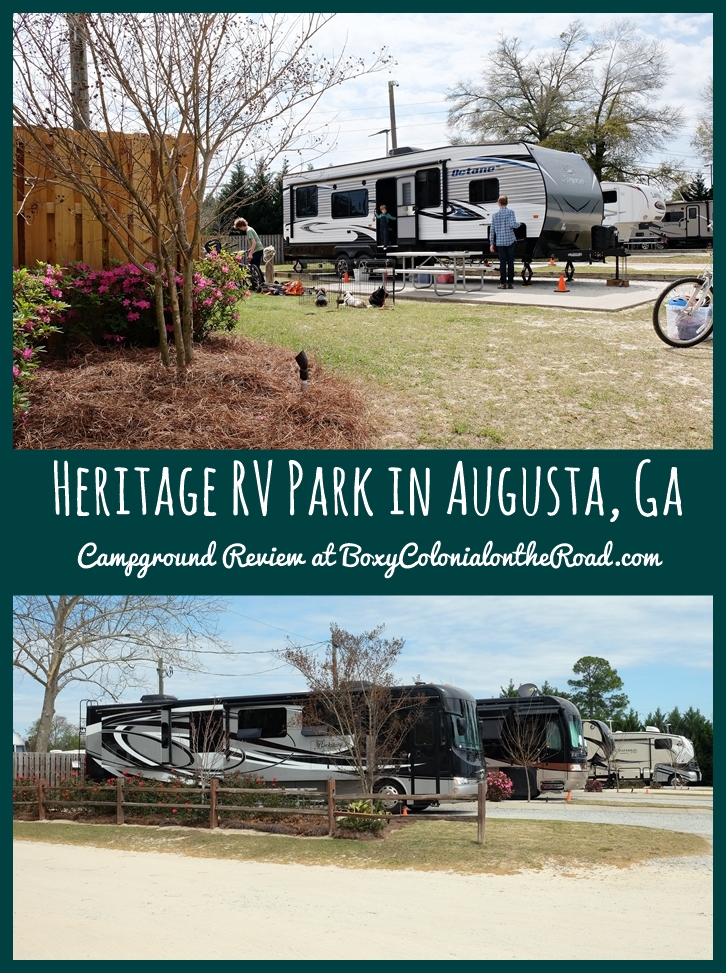 Save