If you just can't get enough Savannah, you can read the post about our first day here or my post on my other blog about design and architecture here.
Abe is a big fan of transportation. Especially recycling trucks, school buses, mail trucks, and cement mixers, but, really, anything with wheels and a motor will do. So he'd been looking forward to our trolley ride in Savannah for months.

We saved it for our second day not to torment Abe, but because we got a bit of a late start on our first day, so we decided to wait so that we could make sure to have time for maximum trolley fun time.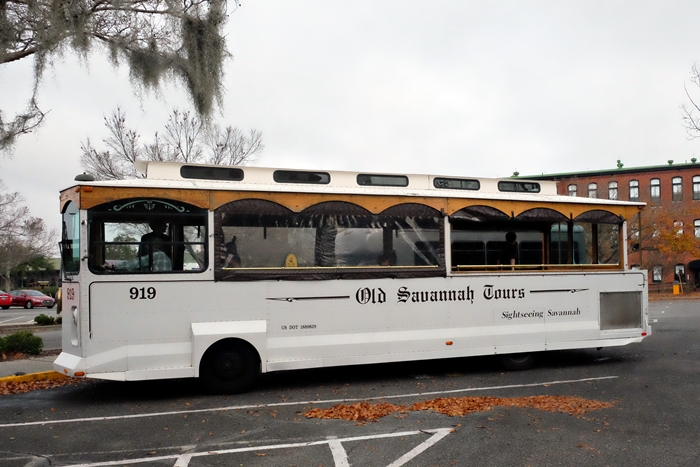 There are a few different companies that offer trolley tours of Savannah; we picked Old Savannah Tours because we liked that it's locally owned and because it has costumed characters that hop on the trolleys at some stops. Costumed characters!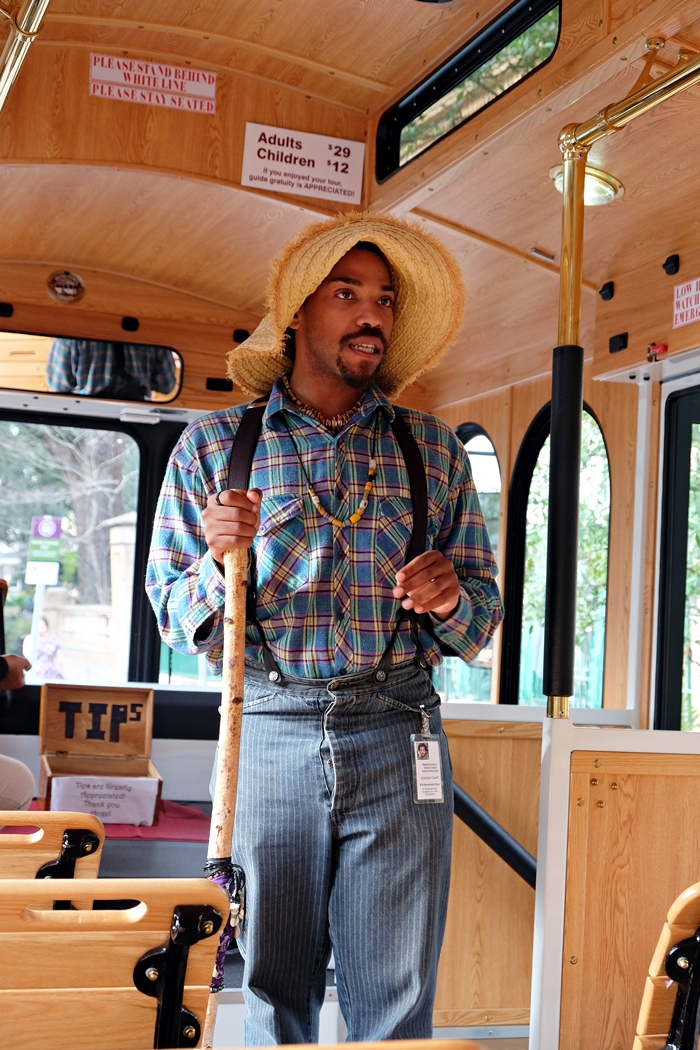 They have a place to park (for free) and buy tickets across from the Savannah Visitor Center where you board the trolley. We opted for the Historic On/Off tour, which meant we got a narrated tour of the downtown area that would last about 90 minutes if we stayed on the whole time, but we could hop on and off at fifteen different stops around town to sight-see along the way. The price is $29 for adults and $12 for kids, and it looks like it's fairly easy to find discounts and coupons, depending on the time of year you go.
The trolley tour was a great way to get an overview of the city and to get to all the different places we wanted to go without having to drive the very crowded streets and find parking every time we stopped. And it lived up to Abe's (very high) expectations: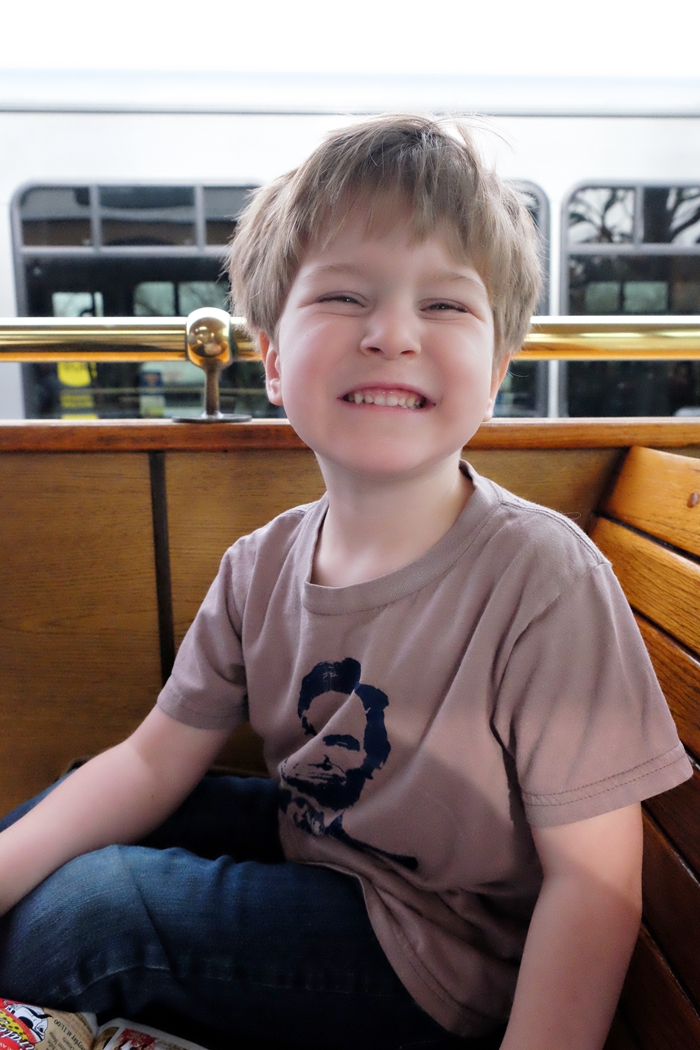 A couple of other thoughts:
*we found the trolley much more crowded early in the day than later, to the point where it was hard to really use the on/off privileges at times because completely full trolleys passed us without stopping. By later in the day, the trolleys were half full and we had no trouble getting a seat. If we had it to do over again, we might start early and stay on for the full 90 minute loop to get an overview of the city, then spend the later part of the day hopping on and off and seeing things.
*the narration is not at all scripted, and the drivers that we encountered had very different styles/personalities. So, you know, try to check out more than one driver, because it will be a completely different tour.
*we only ended up hearing from one costumed character (the one in the photo up there). We saw one other one, but we had just gotten off the trolley when he got on. I have no idea what the schedule is with the characters; if the same ones are there all day or if you'd see different ones if you went around more than once. They just hop on at certain stops, tell you a little about themselves, and then get back off. The one in the photo talked about the Gullah people; the other one we saw but didn't hear was dressed as a soldier, so I imagine he talked about Savannah's role in some war or other.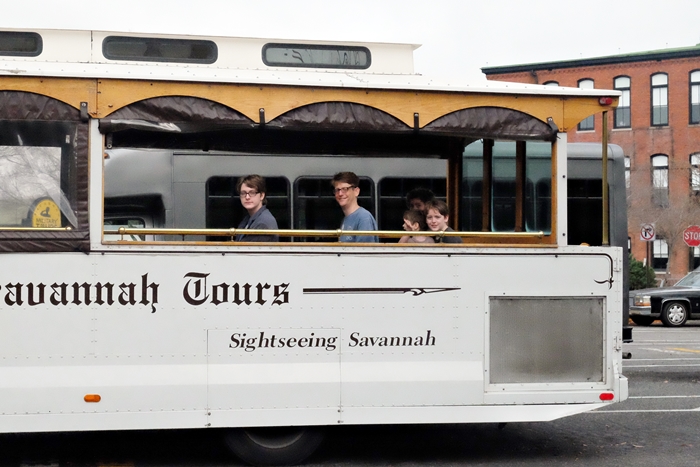 Our first hop off the trolley was to see Forsyth Park, a big green space in the Victorian District. Also, pretty: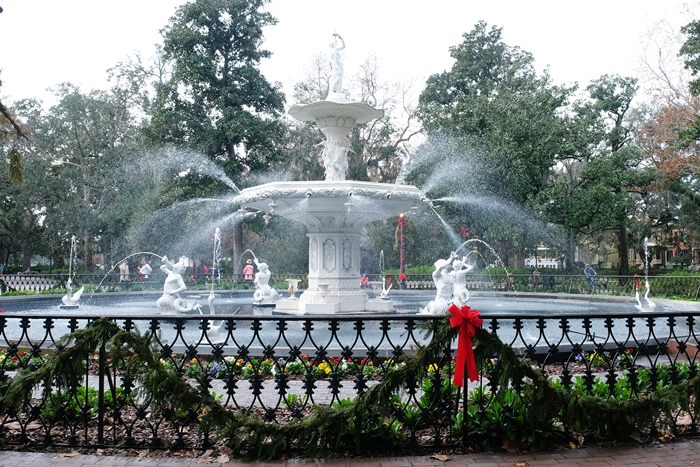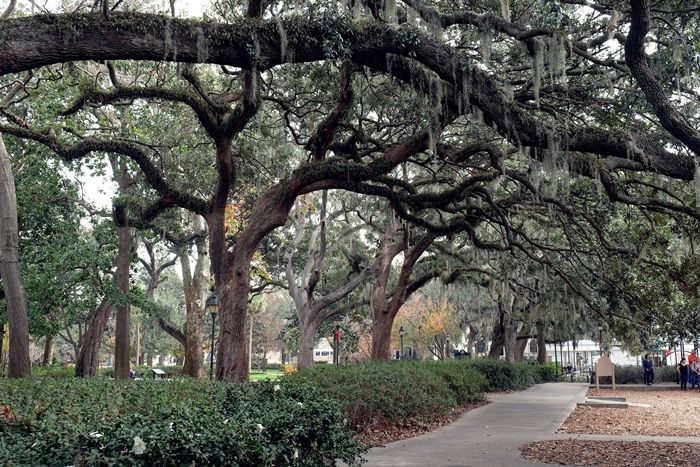 My kids were very excited to pose for photos in front of the fountain, as you can see: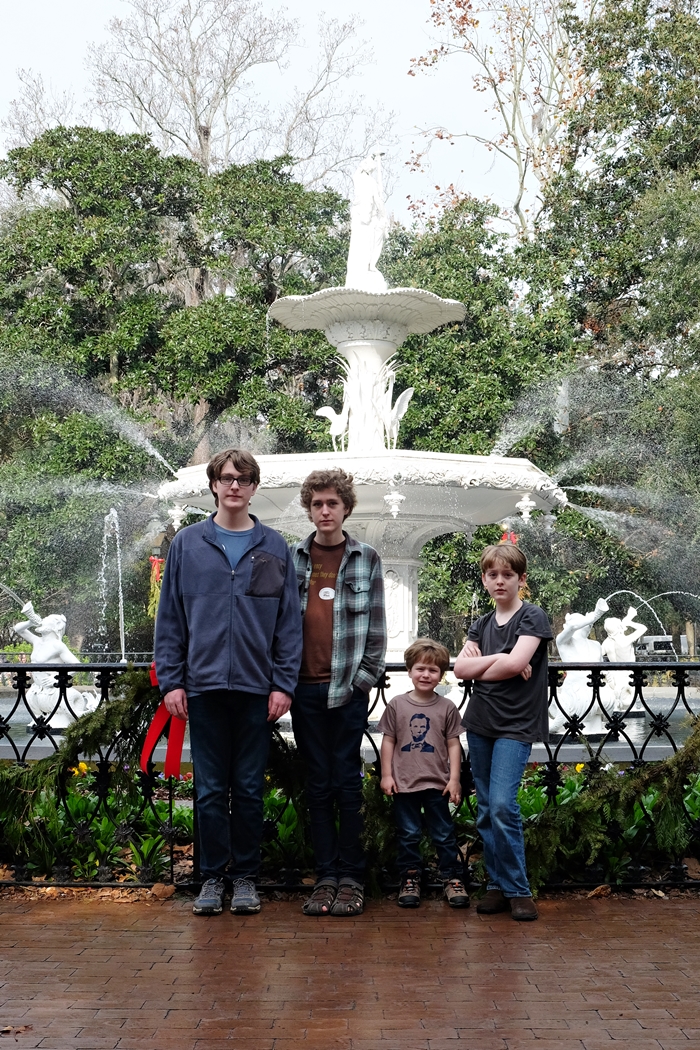 We wandered around looking at stuff for awhile, played on the playground, and checked out a pretty garden: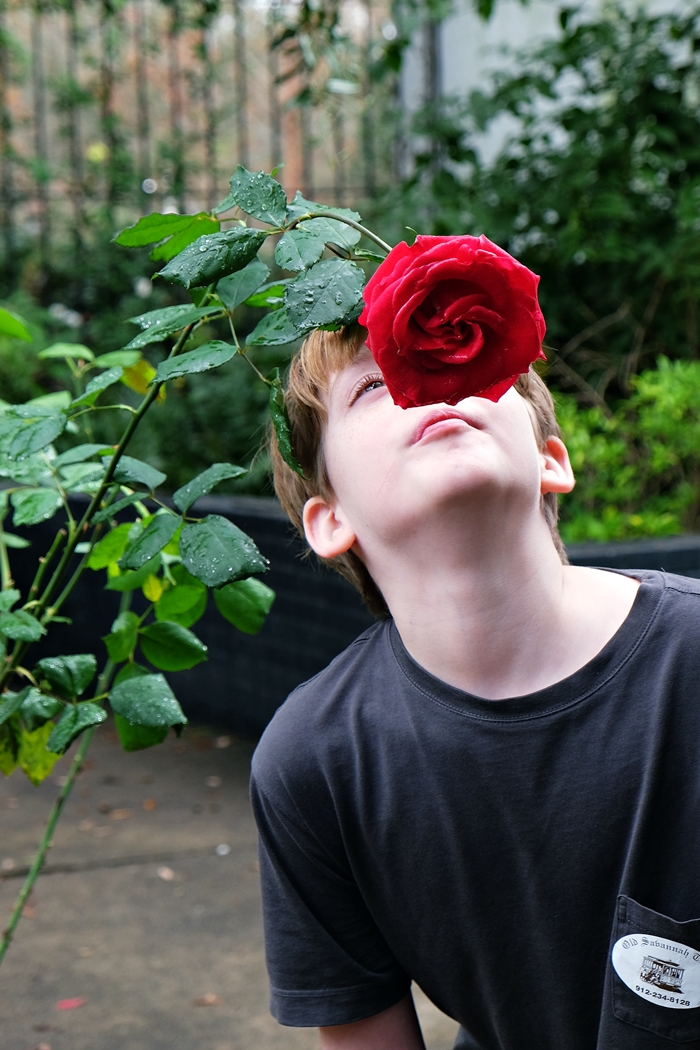 Ari looked like a scary prisoner: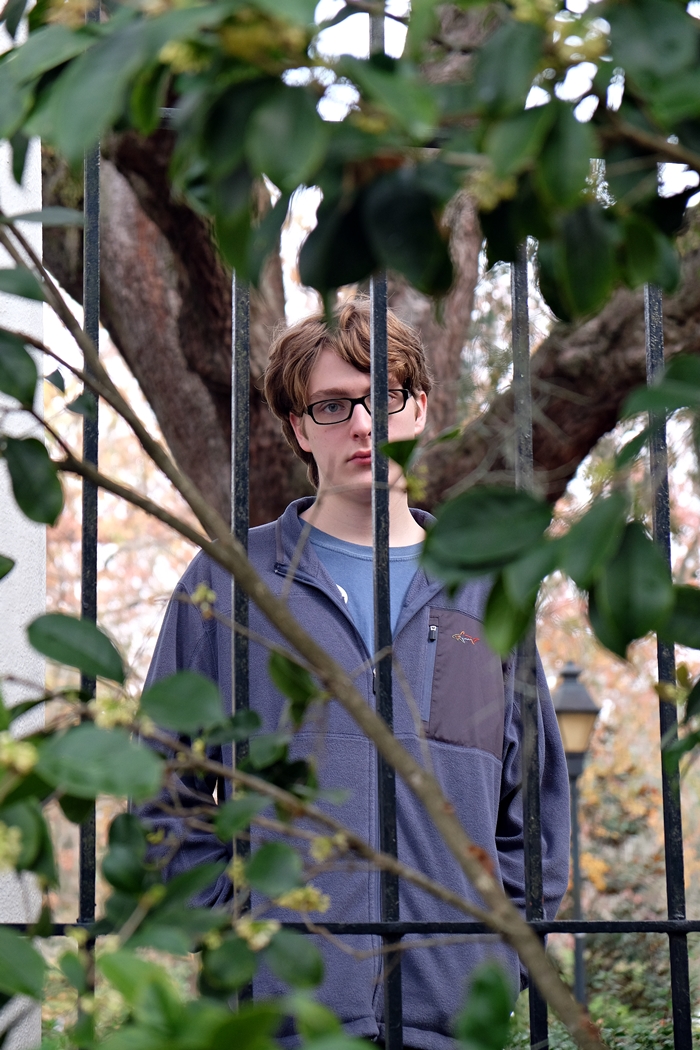 Then we took a look at the google to find a good restaurant option nearby. We had planned on a picnic lunch in the park, which would have been very nice….if we hadn't left the backpack with all of our sandwiches in the trailer and not realized it until we got to Savannah and parked. Oops.
The most well-known, touristy option near Forsyth Park is probably Mrs. Wilkes Dining Room, where they serve traditional Southern favorites like fried chicken and biscuits family style. We considered heading over there, but decided the $22/person price tag was too big of a jump up from the sandwiches in the park we had planned. We ended up at Betty Bombers instead, a diner with a World War II theme that's inside the American Legion building.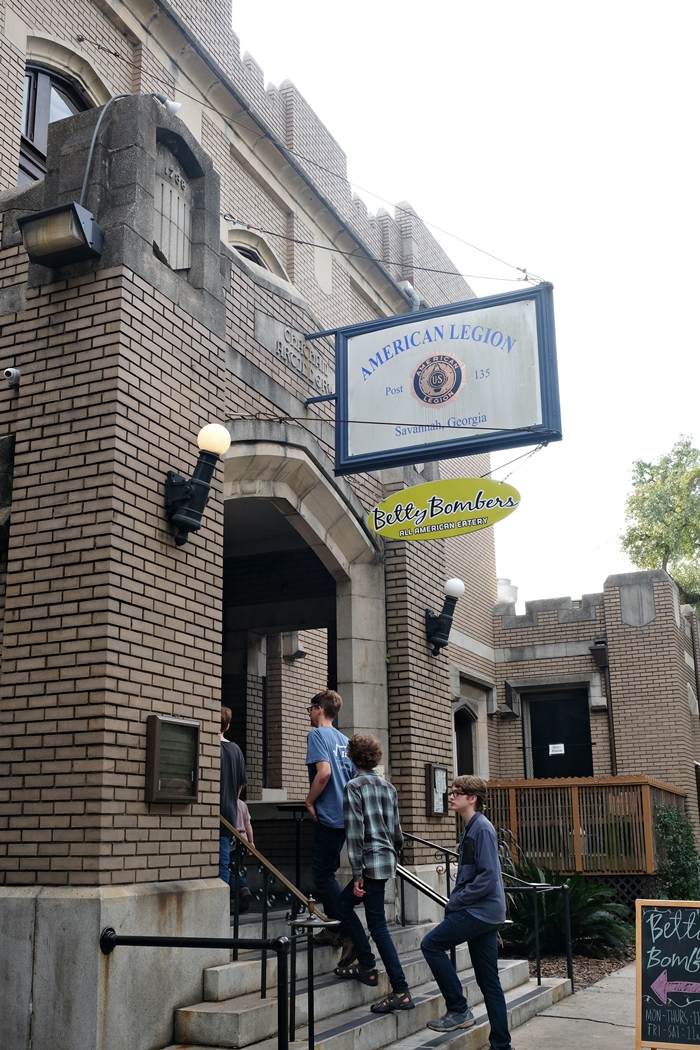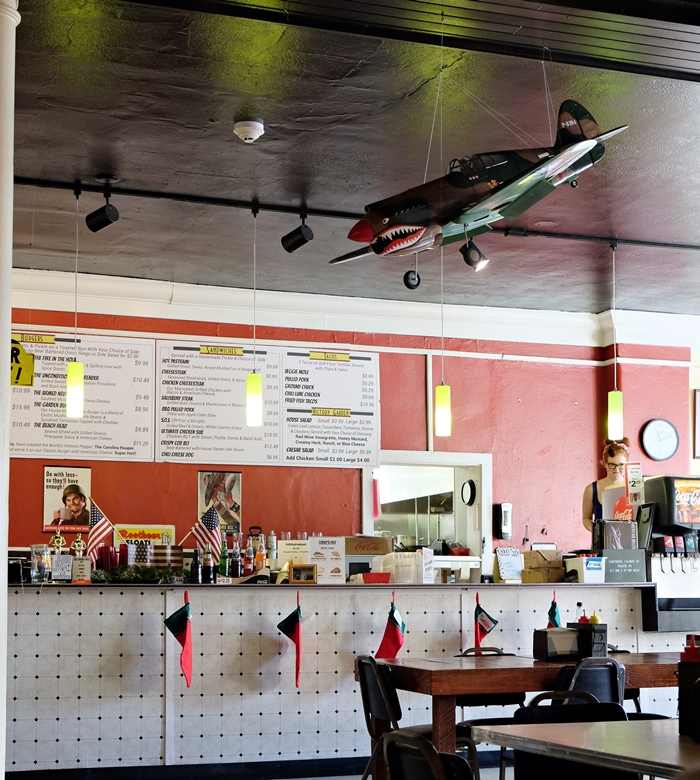 The theming was fun, and the food was good, but we did feel like it was a little pricey for what it was.
After lunch we went back to the trolley stop and had our experience with watching a full trolley pass us by, so we decided to walk to our next intended stop instead….which was nice because it gave us a chance to see some of Savannah at a slower pace than from the trolley. We made our way over to Lafayette Square, where there were several places were interested in seeing. I talk about the Cathedral of Saint John the Baptist: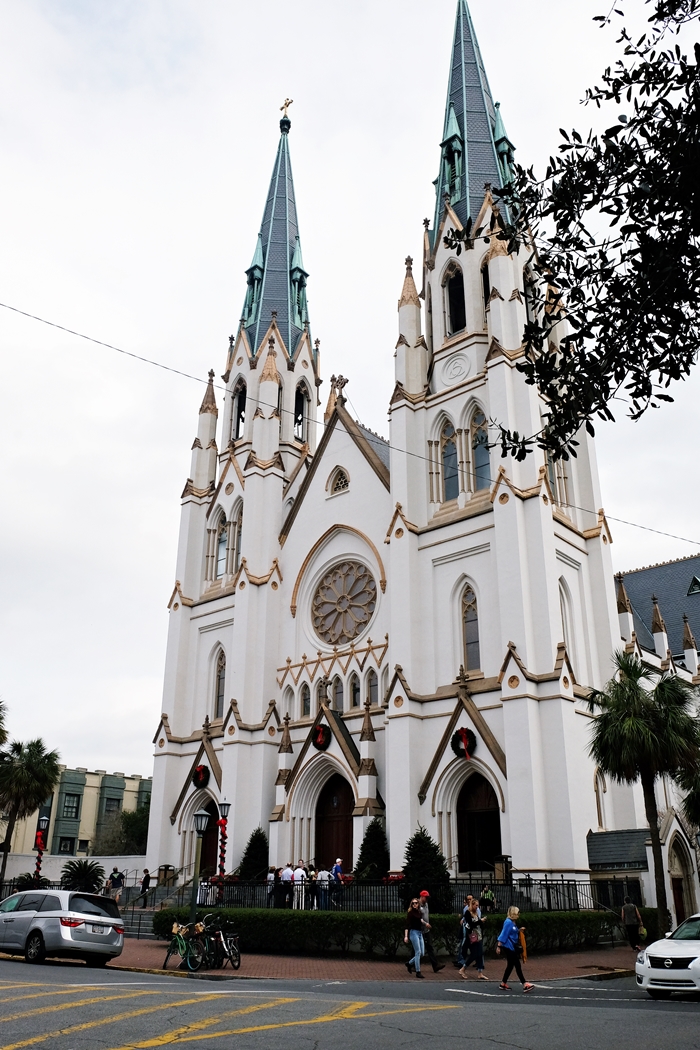 And touring the Andrew Low House: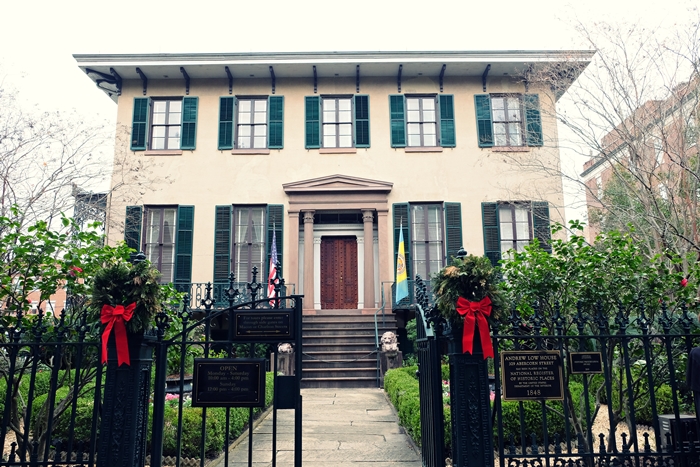 …on my other blog, Boxy Colonial, in my post on design and architecture in Savannah. We also toured the childhood home of writer Flannery O' Connor :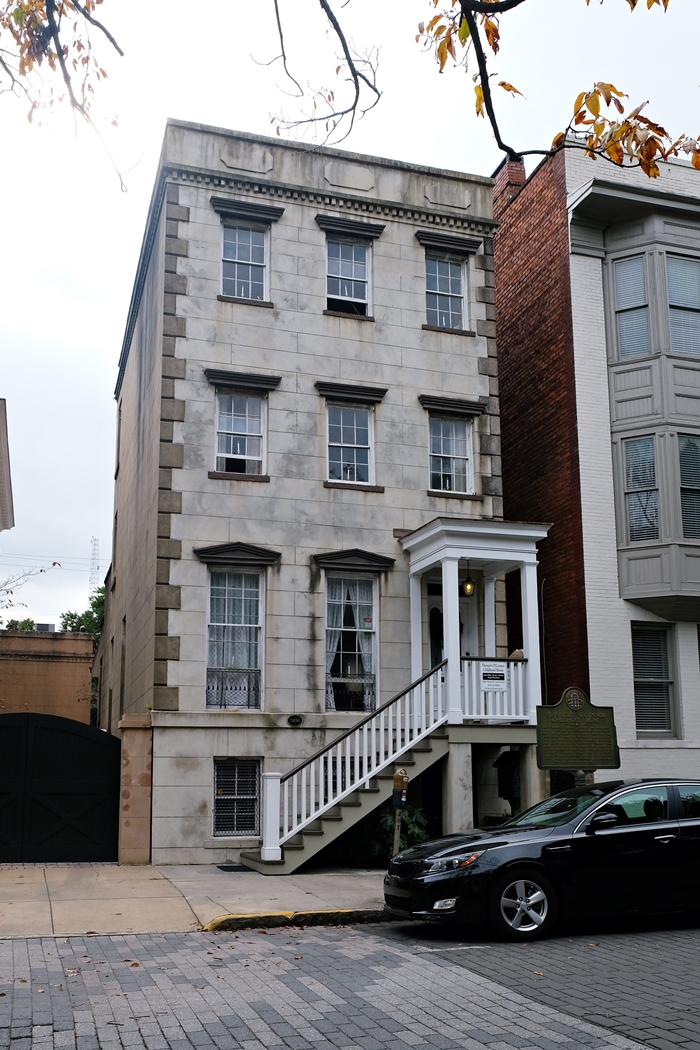 Even though the average kid isn't (and probably shouldn't be) familiar with O'Connor's work, this is a great, casual tour for kids who might be bored with some of the more opulent historic home tours around town. It's a small house (and a relatively short, 30 minute tour) restored to look how it would have during the Depression, and it focuses on stories from O'Connor's early childhood (like the time she taught a chicken to walk backwards), so it's very approachable for kids. Gus sat this one out with Dave and Abe, but he wished he had gone; it got good reviews from both Ari and Milo. And I think Abe likely would have done fine with it as well.
Our very knowledgeable and enthusiastic tour guide took us through the two stories of the house that O'Connor occupied with her family. Anything with a pink ribbon on it is original to the house: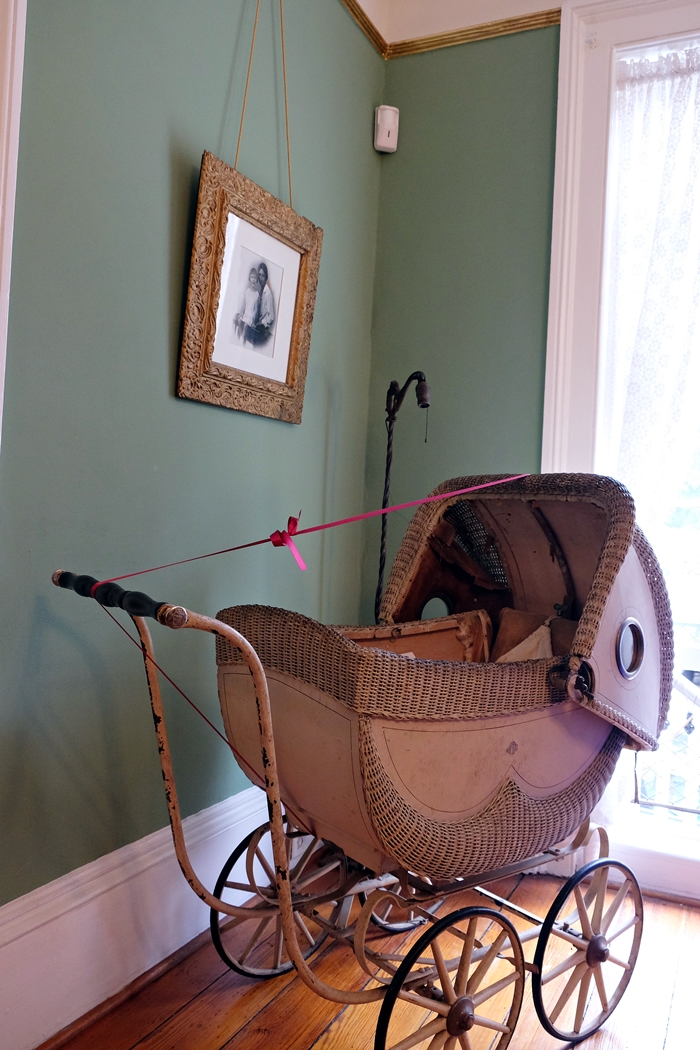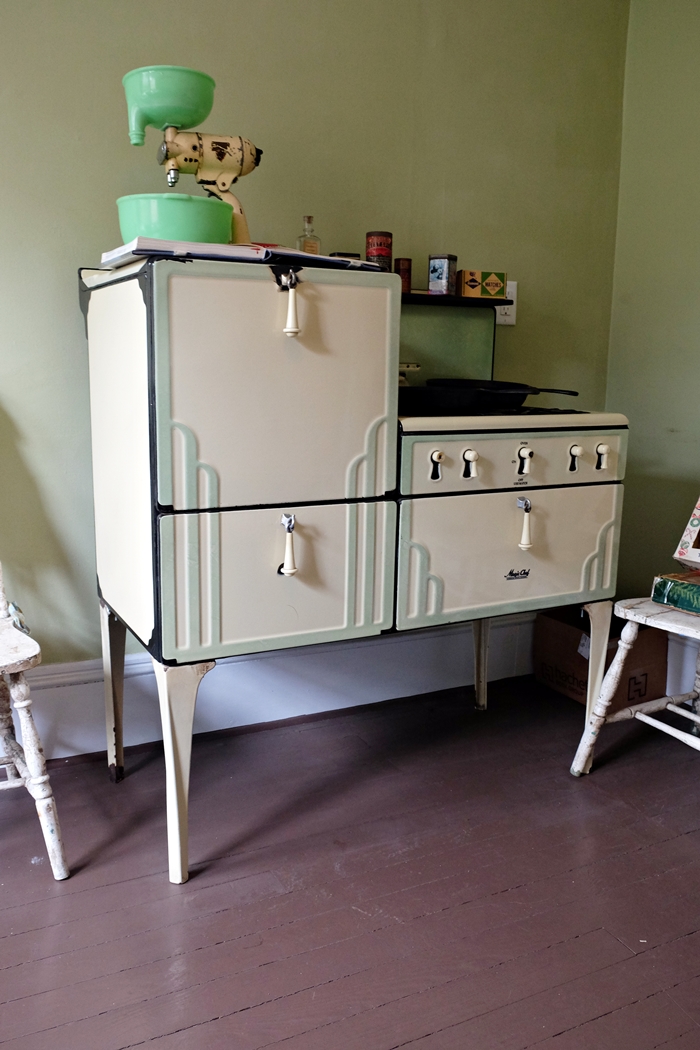 Still decorated for Christmas (my photos of the tree in the front room didn't turn out well):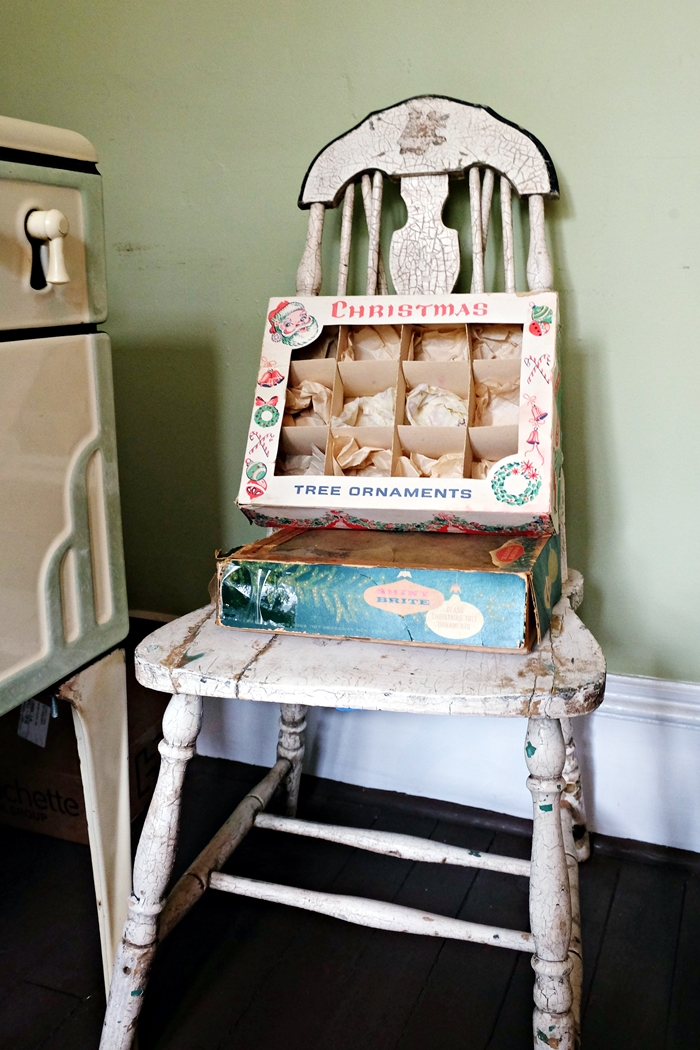 Upstairs we saw Flannery O'Connor's bedroom: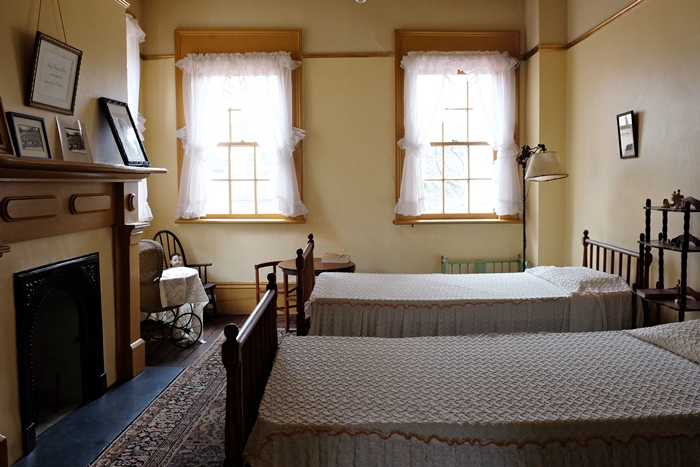 And then her parents' bedroom, complete with the fascinating crib-like contraption the young Flannery O'Connor slept in, with netting to keep mosquitoes away: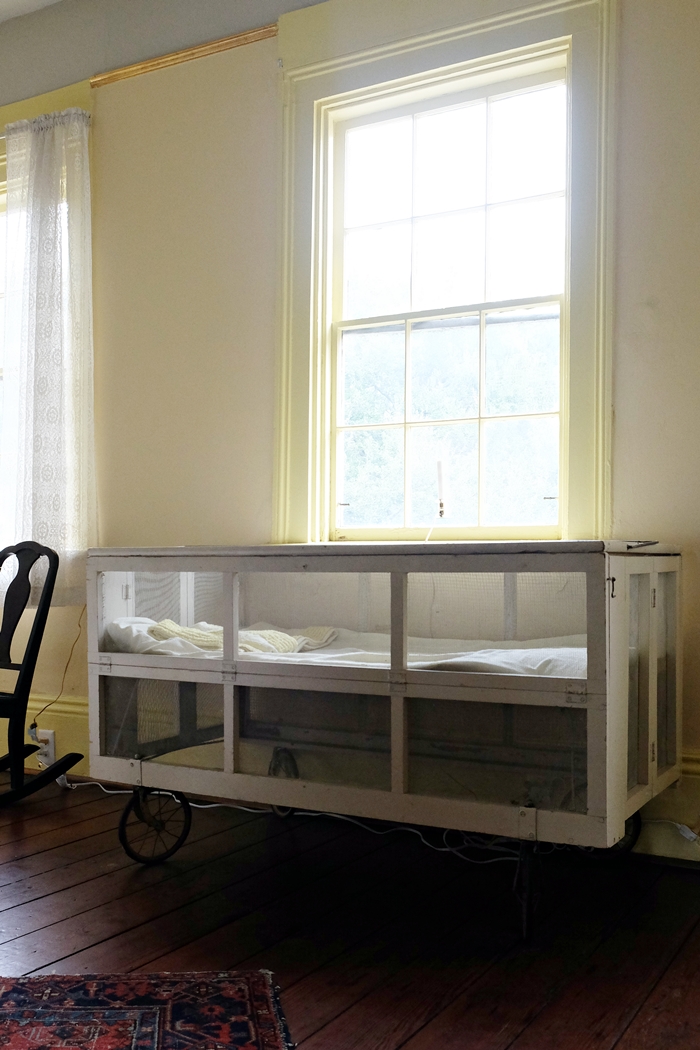 You can also check out the small garden in back of the house, where the backwards chicken walking (allegedly) took place.
Admission to the house is a very reasonable $6 for adults and free for kids under 16.
After our tour, we got back on the trolley and finished up the rest of the loop. We did get off one more time, in hopes of picking up some ice cream at Leopold's, but, alas, the line was almost an hour long. We had the ice cream there last year and it's good, but it's not THAT good. I don't think any ice cream is good enough to wait in line for an hour with a not quite four year old for.
Thanks to Visit Savannah for providing passes for some of the attractions mentioned. I was not otherwise compensated, and all opinions are my own.
Save
SaveSave