Travel dates: June 14-16, 2016
Sometimes when we're researching a destination and reading campground reviews, there's a pretty clear favorite that stands out above all the others in the area and makes for an easy decision. Gettysburg, though, has an abundance of close, well reviewed campgrounds, and we had a little trouble making up our minds which one to try. Which is a nice problem to have, of course.
In the end, we went with Gettysburg Campground because….well, I don't remember why. But, at any rate, we were (mostly) pleased with our choice.
Gettysburg Campground is a big, bustling place with tons of amenities and activities, and even an onsite RV repair place. It felt busy while we were there even though it wasn't nearly full; it might be a little much for our tastes on a summer weekend.
Reservations/Arrival: We were here for two nights midweek in the middle of June. We booked well in advance, but the campground wasn't nearly full while we were there. But most of the open spaces were the water/electric only sites; it looked like most of the full hookups were taken.
One interesting thing to note is that check-out time here is 2:00 and check-in time is 3:00. This actually worked really well for us, as we had a long drive the day we arrived and didn't get there until evening, and then we took full advantage of the late check-out time and were able to take a half day to see more of the area….but it's a good bit later than most check-in times, so make sure you plan accordingly.
Prices range from $43/night for a weekday, off season W/E site up to $72/night for a W/E/S site on a holiday weekend. Good Sam discount offered. $5 extra for more than 4 people per site (age 6 and up).
Campsites:  We booked a water/electric site and were assigned to site 161 in the large, wooded section at the back of the campground: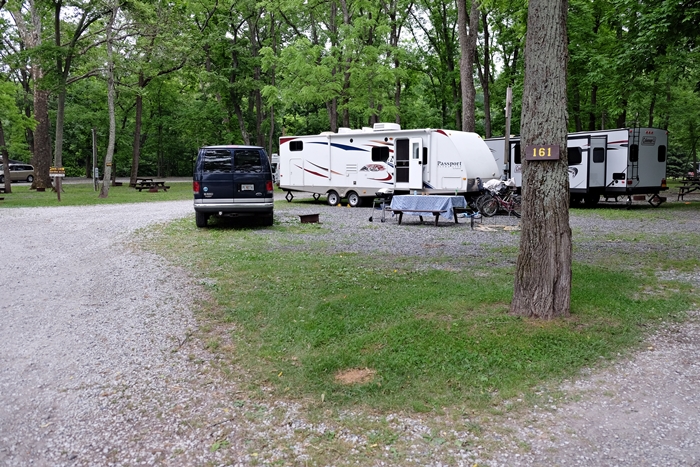 And some quirks of our particular site are the only real issues we had with the campground. This was one of the only pull throughs in the section (I don't remember, but I assume we requested a pull through when we booked). It was a little awkward to figure out how to get into it, and we ended up having to kind of make a loop around the campground to get lined up right.
And then we discovered that our site and the site next door shared a utility pole (i.e. there were two electric boxes, but both on the same post), with the result that we had to park very precisely and uncomfortably close to our neighbor. Our hookup sides were practically touching…not a huge deal, but just a little odd because otherwise our site was quite spacious AND our whole section of the campground looked like this: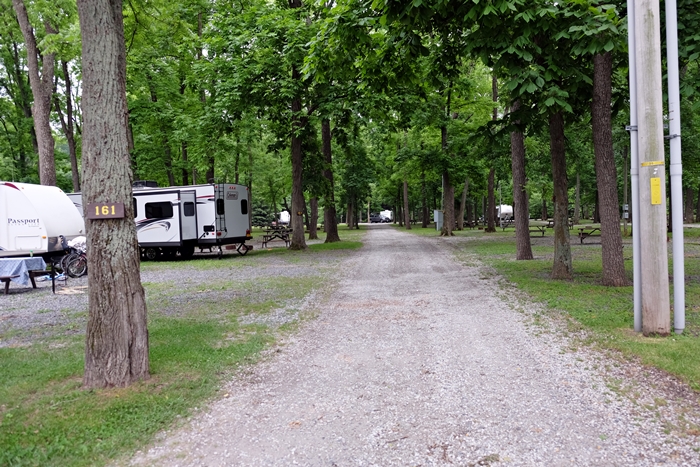 So there are our two trailers and then an ocean of empty sites.
The sites in this section were all nice and wooded, but they could use a bit of maintenance….they were all kind of thin, weedy gravel, and they'd had to paint yellow lines to show where the sites were supposed to begin and end. You can see what I'm talking about with the electric boxes here, too. It looks like these four small sites all share one pole:
Aside from the section we were in, most of the full hookup sites are closer to the front of the campground, group around the central area where the playground/field/store/etc. are. This area was much fuller while we were there, and the sites looked a little more cramped (although this could be because the section was fuller, really).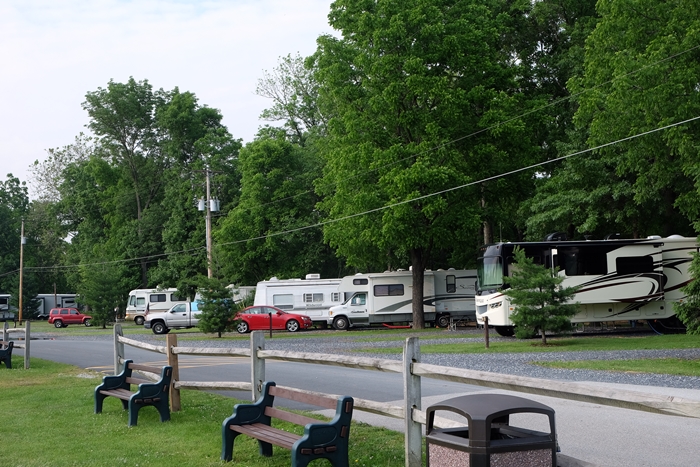 There were also a number of creekside sites in the very back of the campground, and these also seemed very popular.
Amenities and Activities: Gettysburg Campground is chock full of stuff to do: pool, mini-gold, big playground, softball field, volleyball, shuffleboard, pavilion, game room, fishing in the creek…..not a lot of planned activities while we were there since it was the middle of the week, but I'm sure they have lots going on during in season weekends.
We spent a lot of time on the sort of retro playground: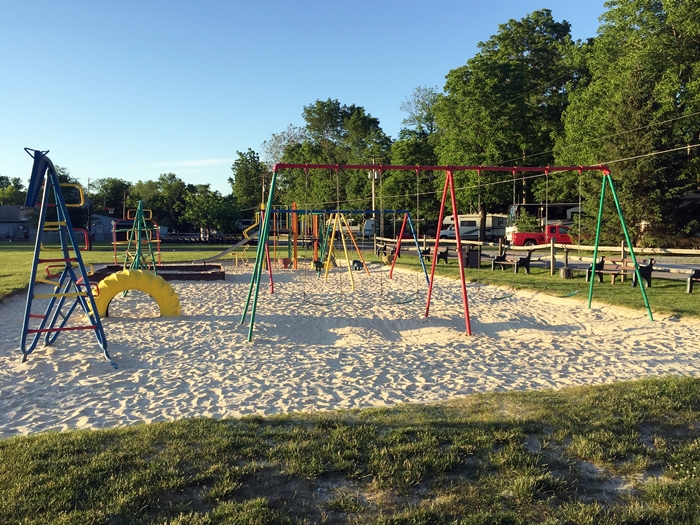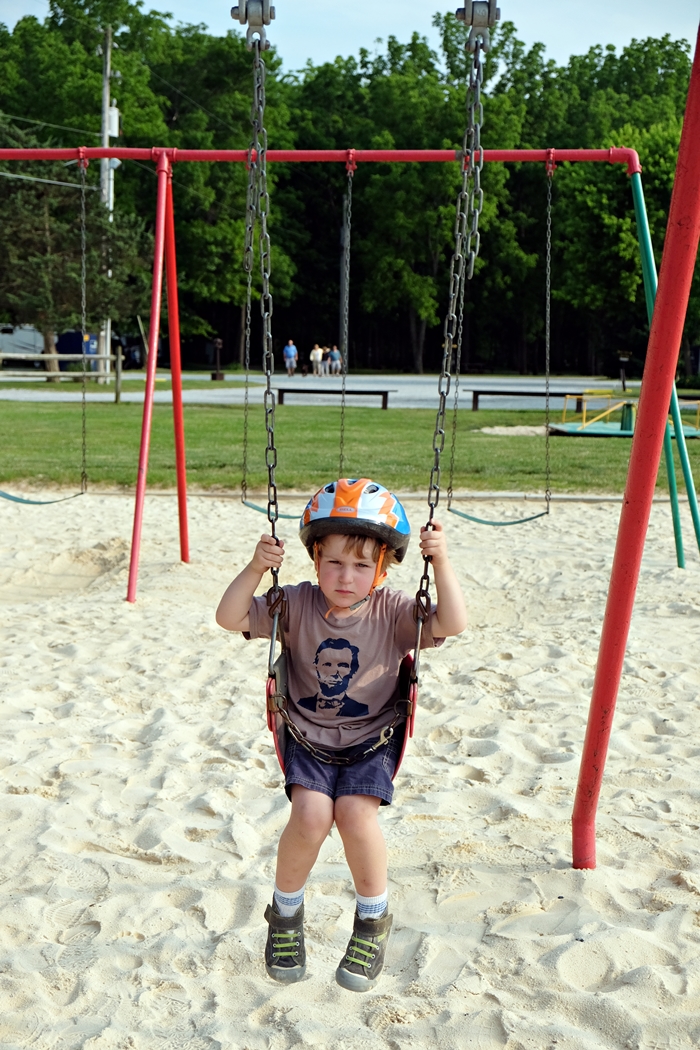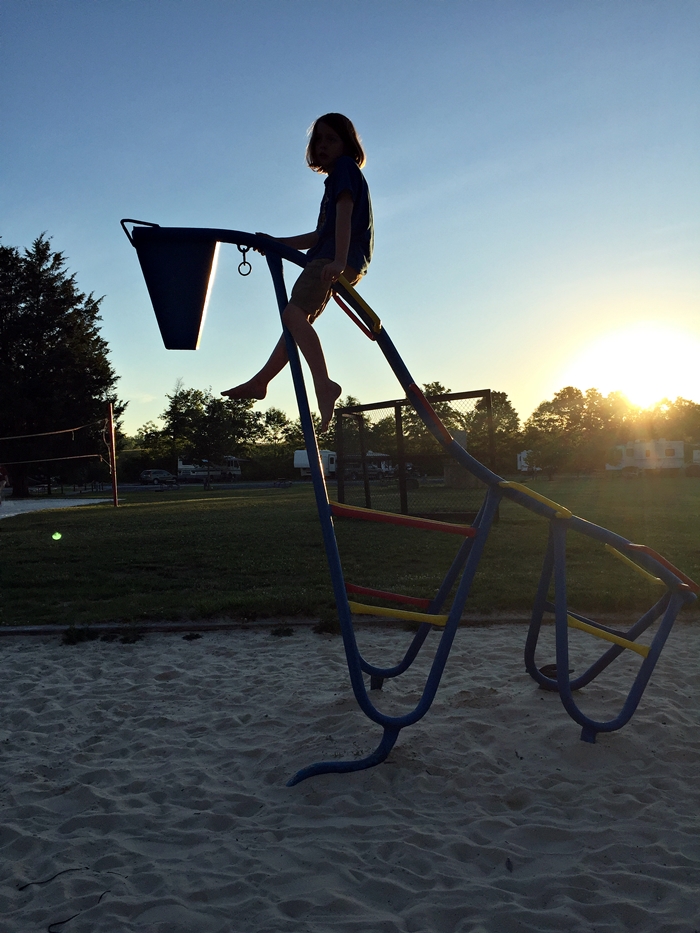 And of course we had to try out the hand dipped ice cream in the store (there's a whole separate area with a little ice cream shop/cafe):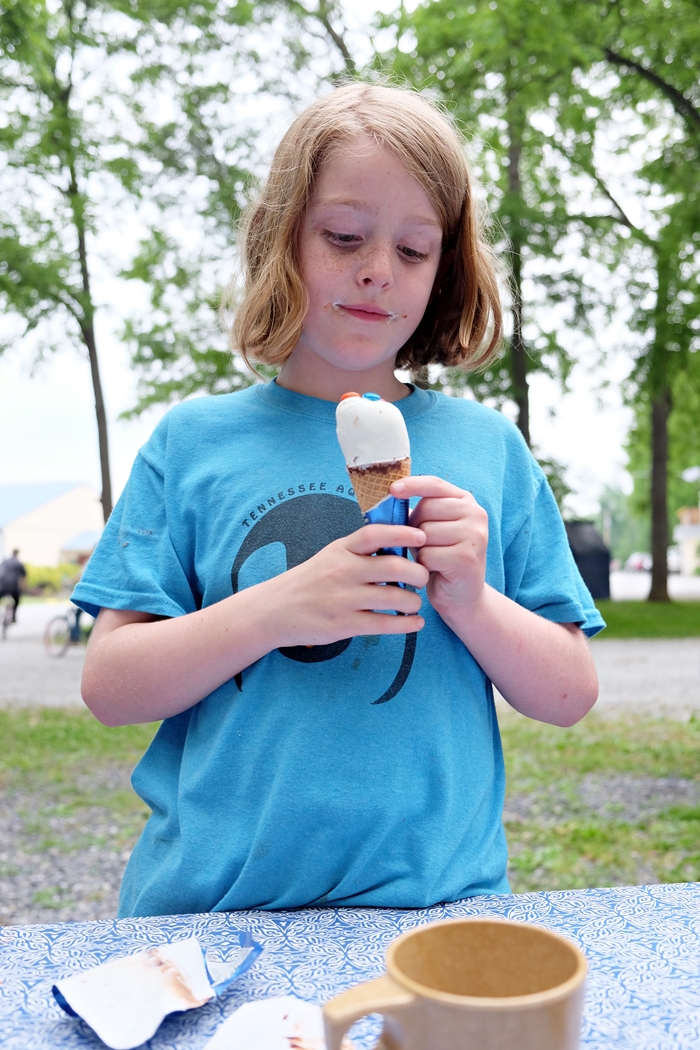 The bathhouse was right across from our site, and it was always clean (if a bit dated). I should perhaps mention, though, that it had the worst, cheapest toilet paper I've ever encountered in my life (and I'm not especially picky about my toilet paper). So there is that.
Location and Local Area: As the name might suggest, proximity to Gettysburg is the big draw for Gettysburg Campground. It's about 10 minutes to the National Park visitor center and a little closer to the town itself. There are campgrounds closer (at least one that I know of), but we went with this one because it had better reviews and was plenty close.
It was easy to access, although I'd add one cautionary note that if you have a bigger RV it's probably a good idea to avoid going through downtown Gettysburg. We did it, and it worked out fine, but it was a little tight.
More on what we did while we were staying here in the next post!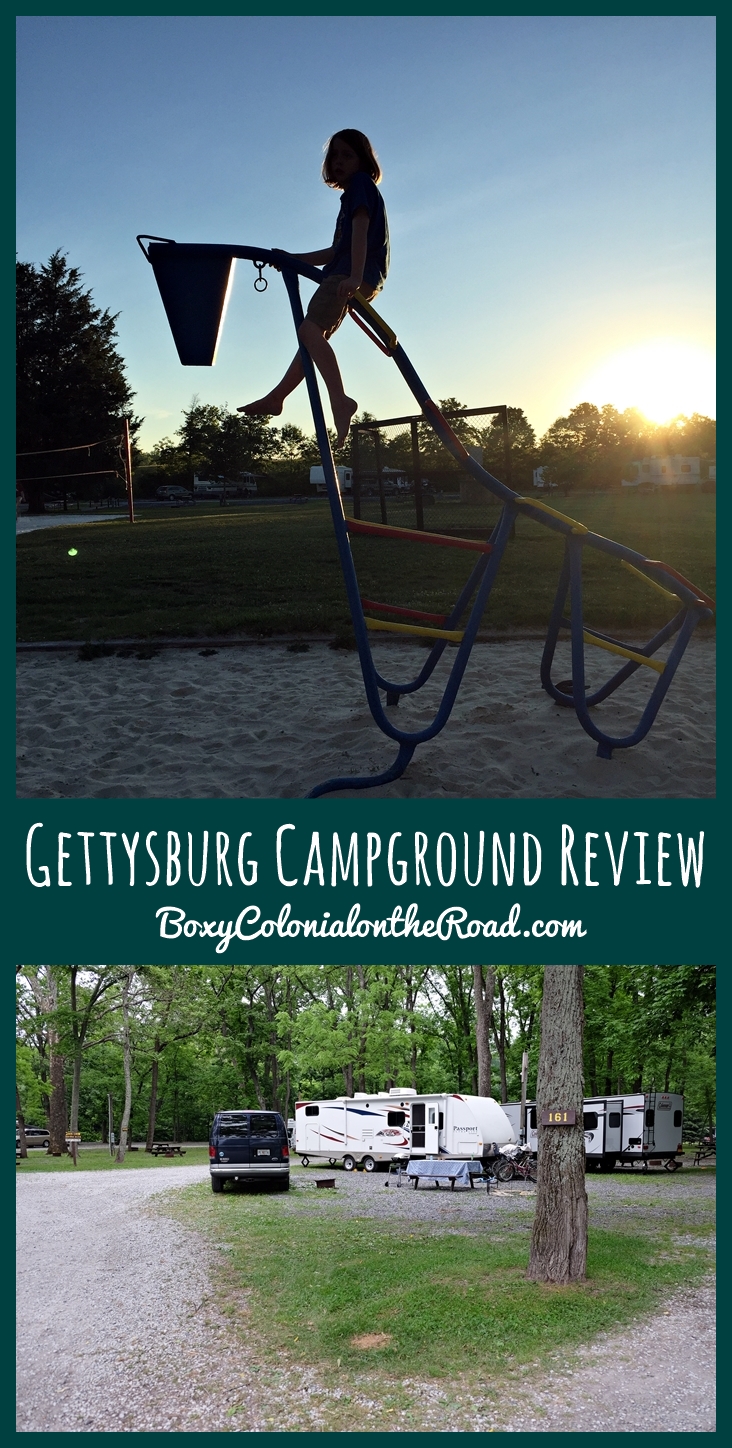 Save